KAC Interviews
June 13, 2016
Name:
Elizabeth Atterbury
Job:
Artist
Location:
Houston, TX
At what age did your interest in art begin, and what initially inspired you?
Like so many artists, I've been interested in art since I was a kid, but I'm not sure I'd call this the beginning. I loved drawing and working with clay. It was a pure, uncomplicated love. In high school, I became interested in looking at art, though making it suddenly felt difficult and confusing, so I stopped and focused on writing. I studied literary journalism in college, and in my third year I decided to take a photography class. That was the beginning. I went to Hampshire College where students custom-tailor their majors and spend the final year working exclusively on a single self-directed project. The writing professor I had worked with for three years - my mentor and the reason I had decided to come to this college - was on sabbatical and this somehow set me free - lost, albeit - to do what I pleased, and I chose photography. I spent a year making a body of work that, looking back, was a shamelessly indulgent self-exploration. Nevertheless, it was during college that I discovered the thing I love doing most. I was lucky to have teachers and classmates/friends who were and continue to make really amazing work. There was an unbounded, constant dialogue around process and making and ideas and these conversations still continue, 10 years later.
Regarding your process, how did you develop the concept of constructing and composing through the lens of a camera?
I started constructing compositions to photograph at the very end of graduate school in 2011. I was shooting at a parrot sanctuary and started making small props out of clay that looked like the charms and trinkets inside the bird enclosures. I incorporated some of these pieces into a still life called, "Composition for the Love Birds," and this picture was really the place of origin for the pictures I have been making for the last 5 years.
What is it like to work in both, 2D and 3D forms simultaneously? How do the processes relate and/or vary?
I love making both photographs and sculptures, though I still think of myself as a photographer who makes sculptures. Not that there is a need for labels. The processes feel pretty different for the most part. With the pictures, there is a sort of call and response for arriving at a given composition. It feels like a collaboration between me and my materials, with no premeditated layout for how a given picture will be structured. With the sculptures, there's a level of planning and drafting involved, and I'll often make drawings or models before making the actual piece.
Who are your art historical influences, and what about their work do you find moving?
lsamu Noguchi, Paul Outerbridge, Anthony Caro, Erin Shirreff, Carl Andre, Louise Neve Ison, Jan Groover, Brancusi, Richard Tuttle, Donald Judd ...
What do you do to unwind when you need to take a break from your studio?
I used to smoke cigarettes or go for runs, but that was before I had a baby. I loved smoking - the act, the ritual, the pause - but I quit a couple of years ago. Exercise has always been a good way for me to clear my head, though these days it's more walking and less running ... and often there is a baby attached to my body. I almost always unpack the day with my husband- a recap of the triumphs and defeats. This usually involves a beer.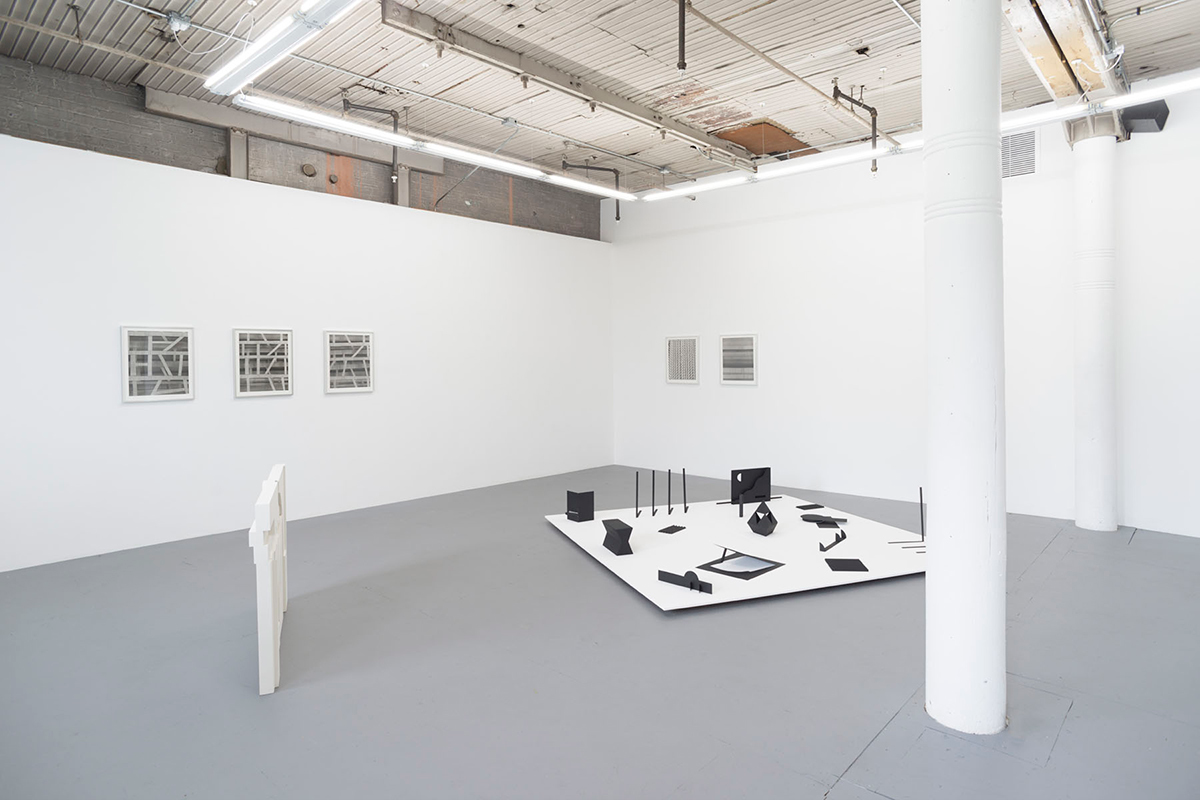 Elizabeth Atterbury, "Happy Sunny Jade" 2016, installation view