KAC Interviews
June 13, 2016
Name:
Tomás Díaz Cedeño
Job:
Artist
Location:
Mexico City, Mexico
What is your favorite creative material?
I like many materials. Everything can be useful, not only physical objects.
What might we find in the corner of your studio?
Many things. When I'm producing, my studio is a mess. The last thing I care about is keeping it clean. I use a few power tools for some kinds of production, and there's a lot of accidents and residual stuff that helps for future works. I try to keep in my studio everything that I find interesting in the process.
From the perspective of an emerging artist, what is your opinion of the art scene in Mexico City?
It's good and interesting by itself but also enriched by foreign artists that arrive to the city everyday looking for a cheap and interesting place to live and produce. I think this mixture is good, because diversity always puts in perspective local art production. Especially in a country with very strong nationalistic tradition. It's also well known that in the whole Mexican art scene there's very little professional art critique, that's its weakness. In parallel, there's also a very strong and consolidated art scene.
Where do you go to seek inspiration?
Inspiration is a tricky word. Maybe not for inspiration, but to try to figure things out, I love to take late night walks in parts of the city I've never been before. Mexico City is a place that can give a lot, but it also takes away in many ways.
You use a combination of media in your work; how did you discover these materials?
My work is very formal, so I always keep learning about these kinds of things. I also feel attraction for industrial processes and how things work in general. For a long time, I've been experimenting with a lot of stuff, and now I feel comfortable with the first results that come from this investigation.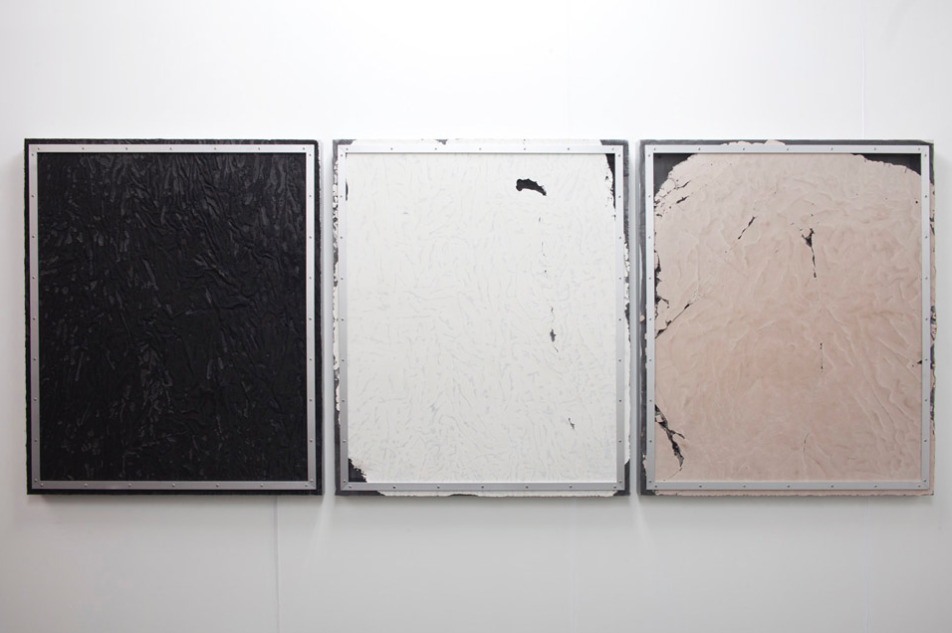 Tomás Díaz Cedeño, Untitled (Black, White, Flesh), 2015, Vel-mix, pigment, plastic mesh, aluminum