Tuesday, April 25, 2017 at 2:31 PM
Strikingly articulate and exceedingly experimental, artist Gabriel Dawe is breaking down barriers of a traditional male Mexican artist as he constructs geometric and fantastical illusions through the use of textile and thread. KAC had the pleasure to meet with Dawe in Dallas during his residency at Fairmont Hotel. Located in the bustling art district of downtown Dallas, Dawe innovatively transformed his temporary studio space into a colorful and dynamic solo exhibition.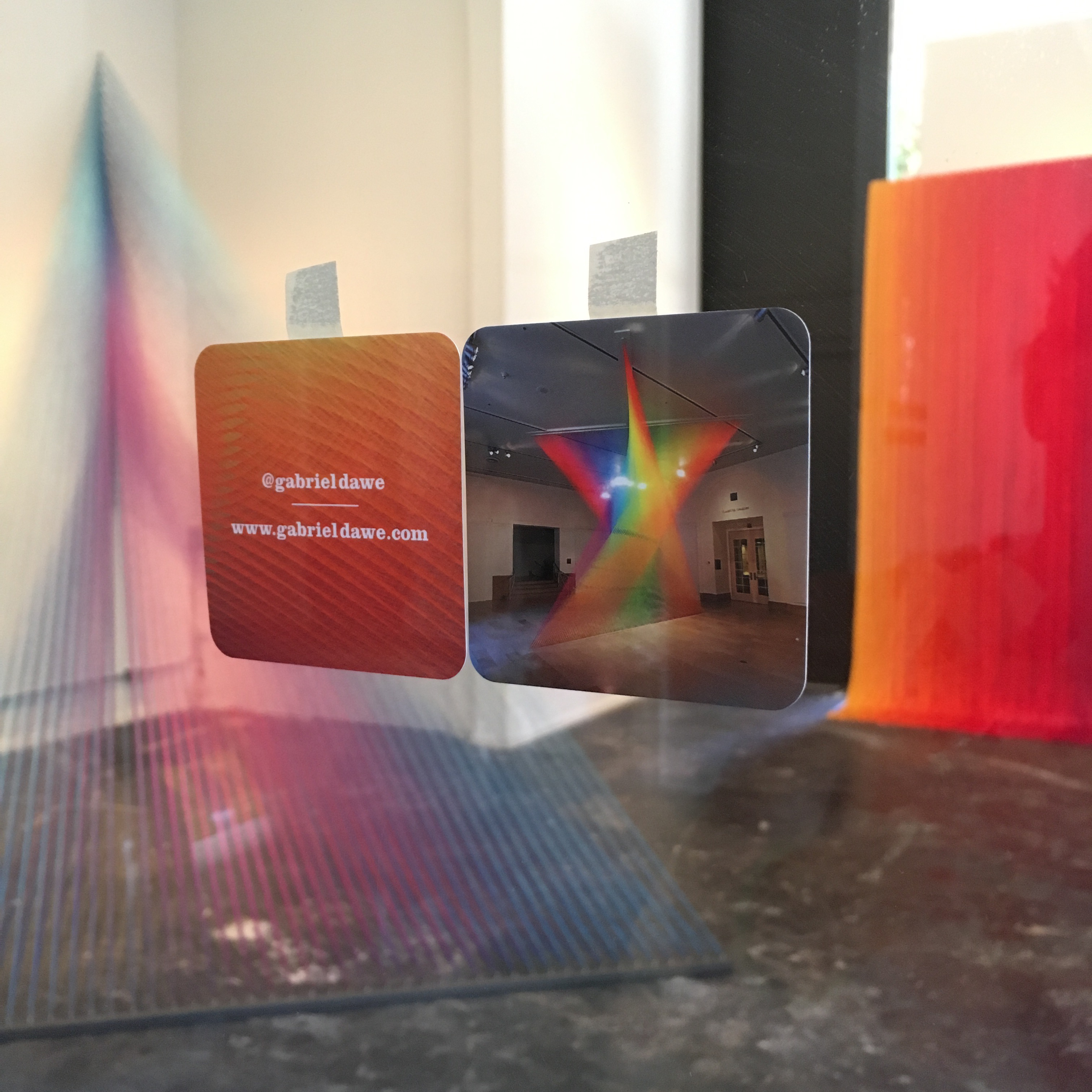 Dawe's studio at Fairmont Hotel in Dallas, Texas
Responding to the architecture and environment, Dawe's installations become an open dialogue between art and space. While this process creates unique, site-specific works of art, there is a found unity throughout his collection. Every installation is developed from the full color spectrum, resembling light rays. Only experimented once before, the installation presented in Dallas, explores the cooler side of the spectrum, staying exclusively with blues, violets, and shades of pink. Here Dawe begins to omit part of the color spectrum, a preliminary investigation into the absence of color. This new departure is one he addresses further in his current exhibition "Plexus 37" at Conduit Gallery.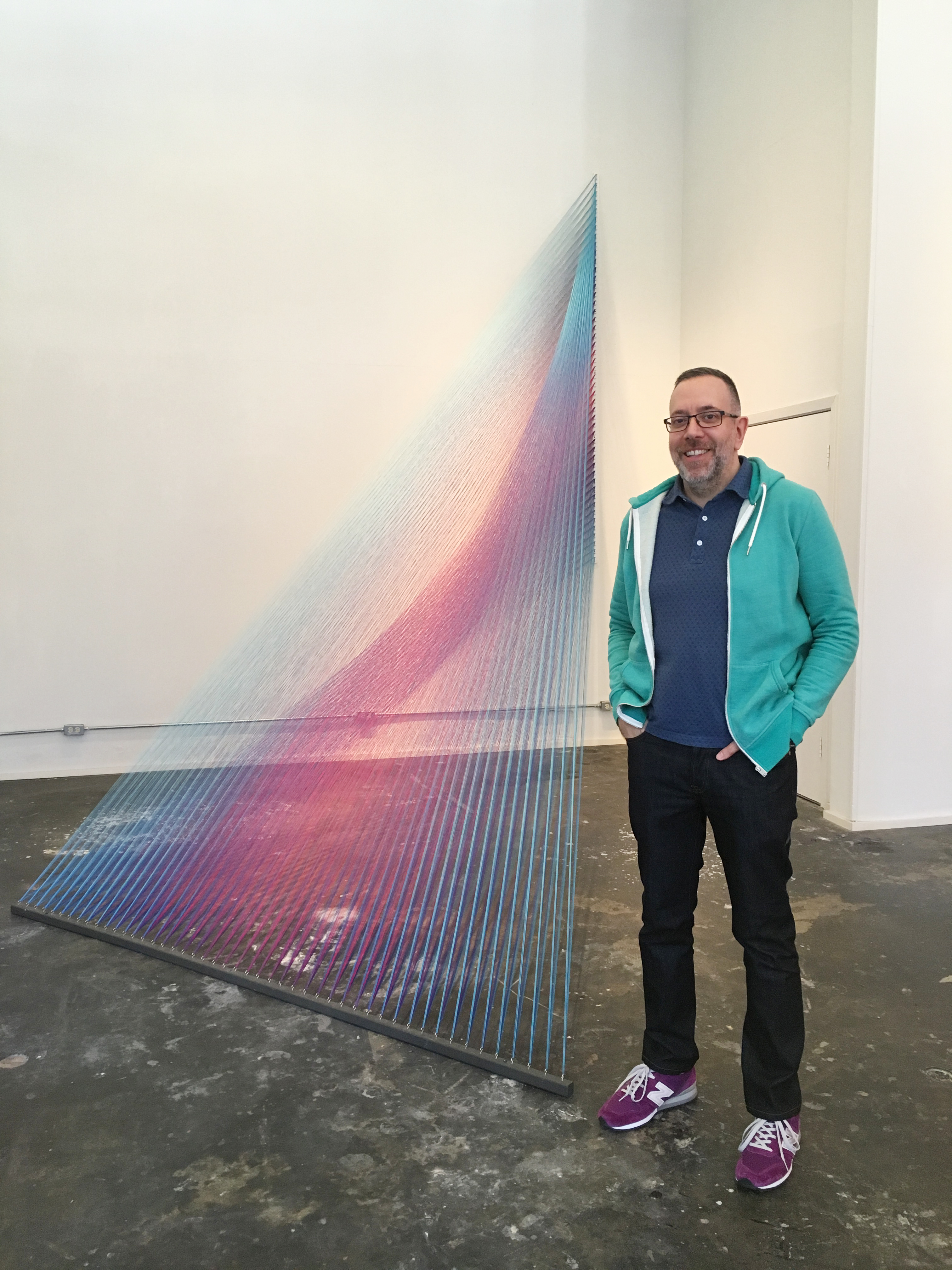 Dawe in front of his site-specific installation
Living and working in Dallas, locals have come to familiarize themselves with Dawe's brightly colored thread installations. Therefore he decidedly turned a 180 in his recent endeavor by masterfully abandoning color through the use of gray, silver, and black threads. The viewer is forced to see beyond the spectrum, cerebrating this omission to be not an act of defiance against that traditionally associated with color, but perhaps as a "silver lining" on what is next for the renowned artist and his forthcoming work.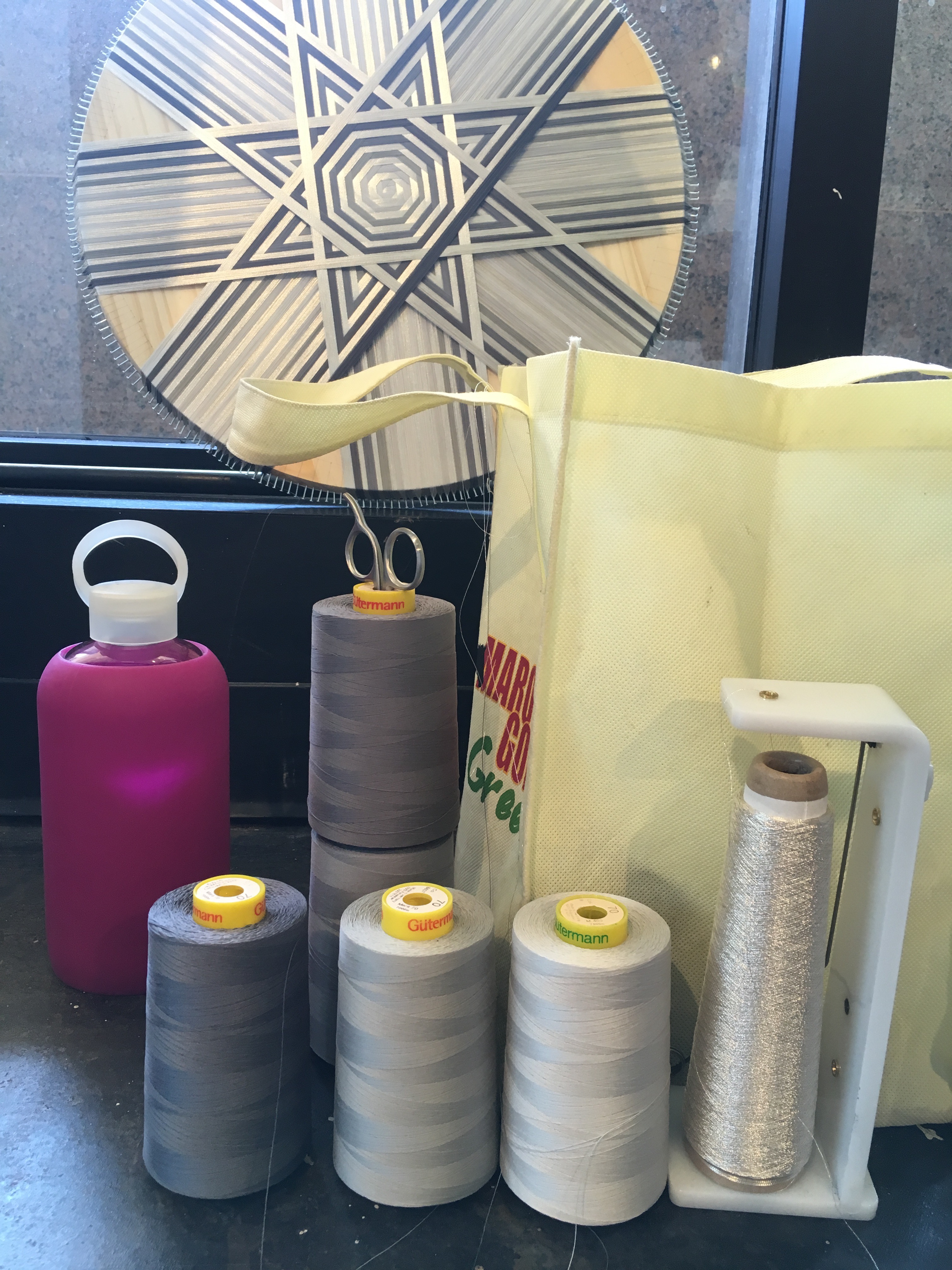 Spools of silver thread in front of a work in progress
Gabriel Dawe is represented in Dallas, Texas by Conduit Gallery. Dawe is on view now with Conduit Gallery through May 13, 2017.
Friday, June 24, 2016 at 10:23 AM
KAC got an exclusive look at our newest neighbor, Capsule Gallery. True to it's name, the tucked away space on Main Street is quaint yet open and full of fresh and innovative ideas.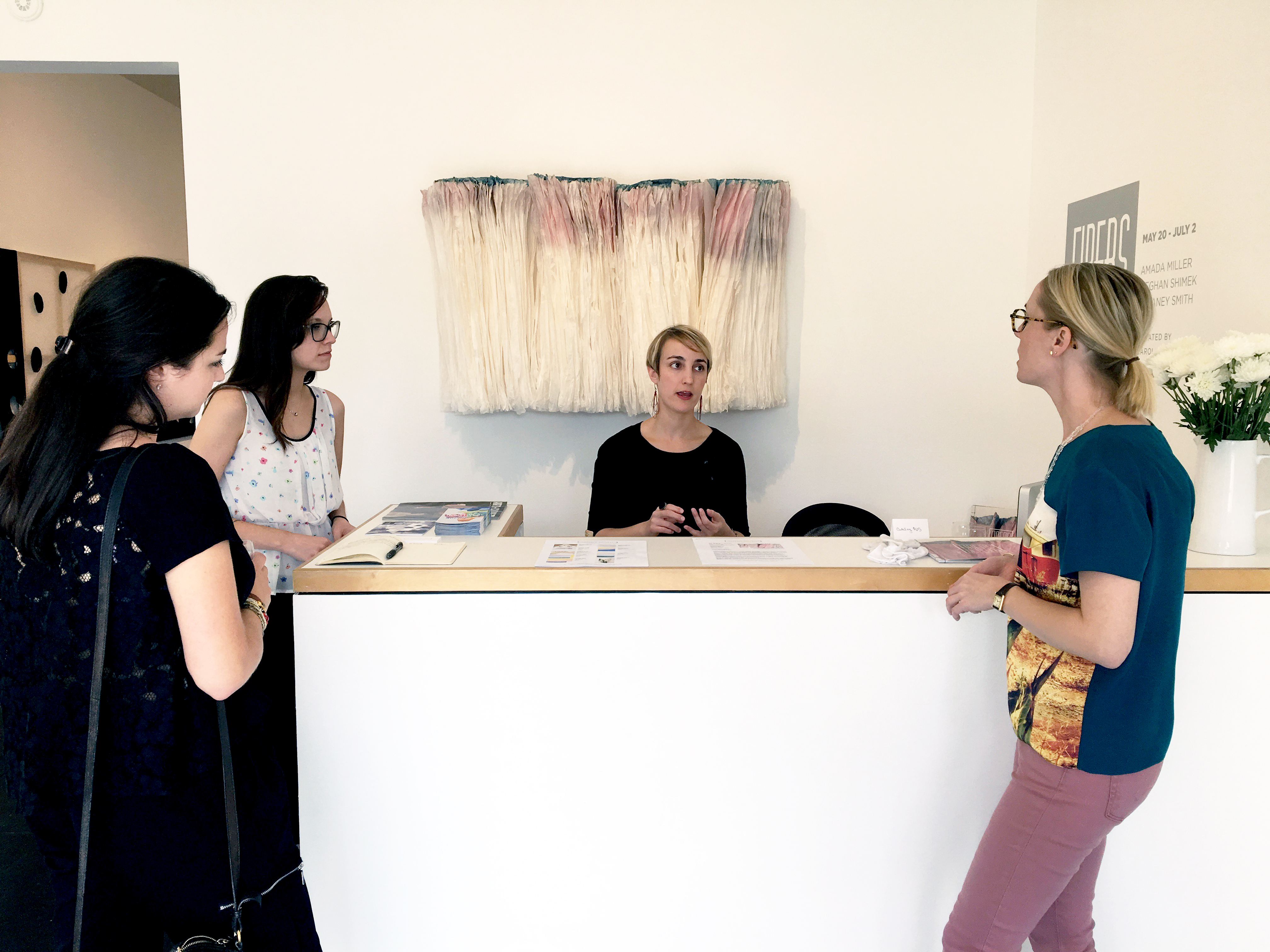 KAC discussing Fibers of Design with director of Capsule Gallery, Sarah Sudhoff, and gallery assistant, Taylor Cox
We had the pleasure of chatting with Capsule's owner and director, Sarah Sudhoff. Sarah's dynamic background reflects the gallery's whimsical and refined array of works. The innovative progarm combines contemporary photography and craft, representing emerging to established artists.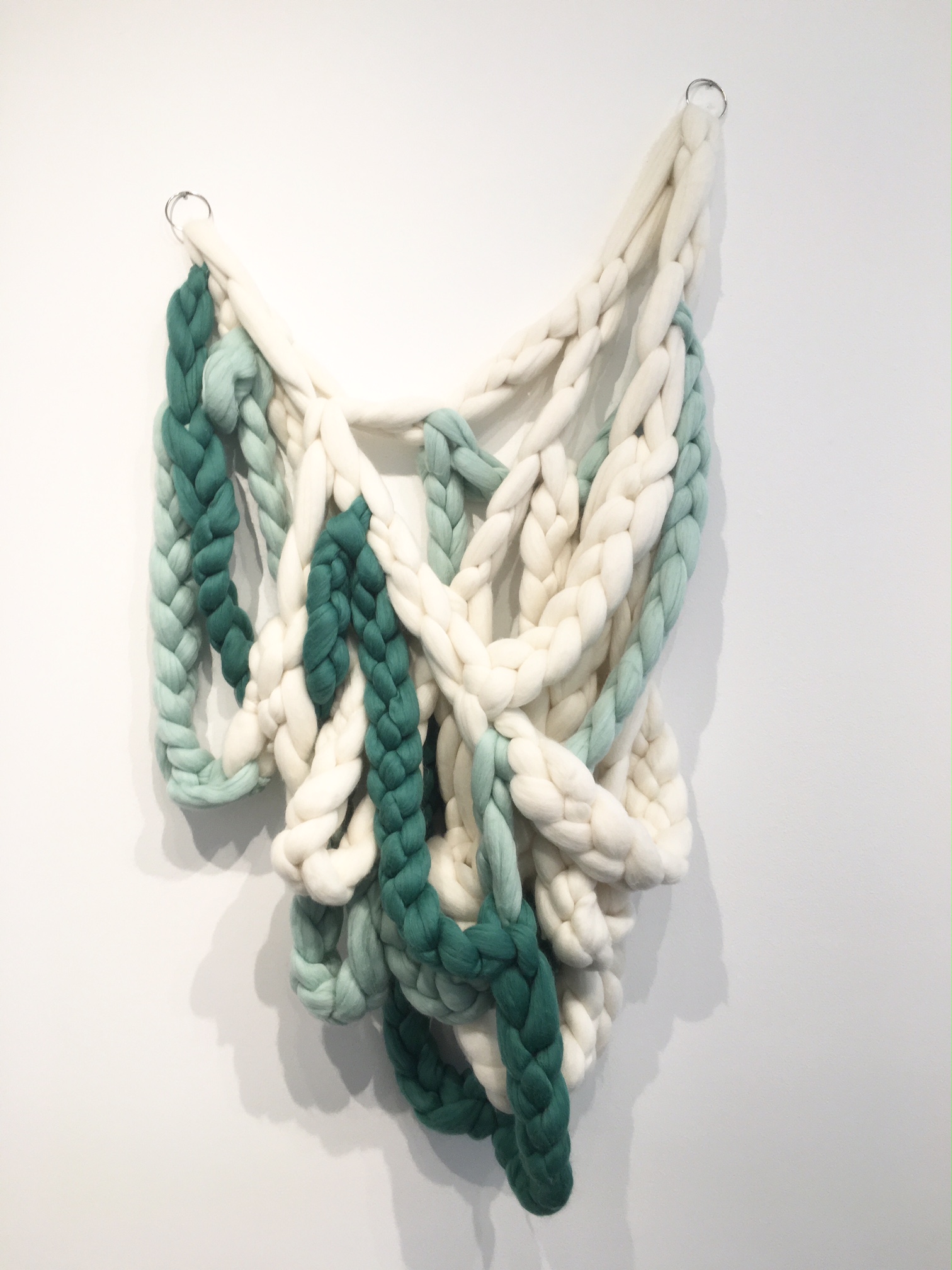 Ouray , Meghan Bogden Shimek in Fibers of Design
Capsule Gallery kicked off the summer with exhibition, Fibers of Design, featuring three craft artists, Amada Miller, Meghan Shimek, and Delaney Smith, who work in various textured mediums.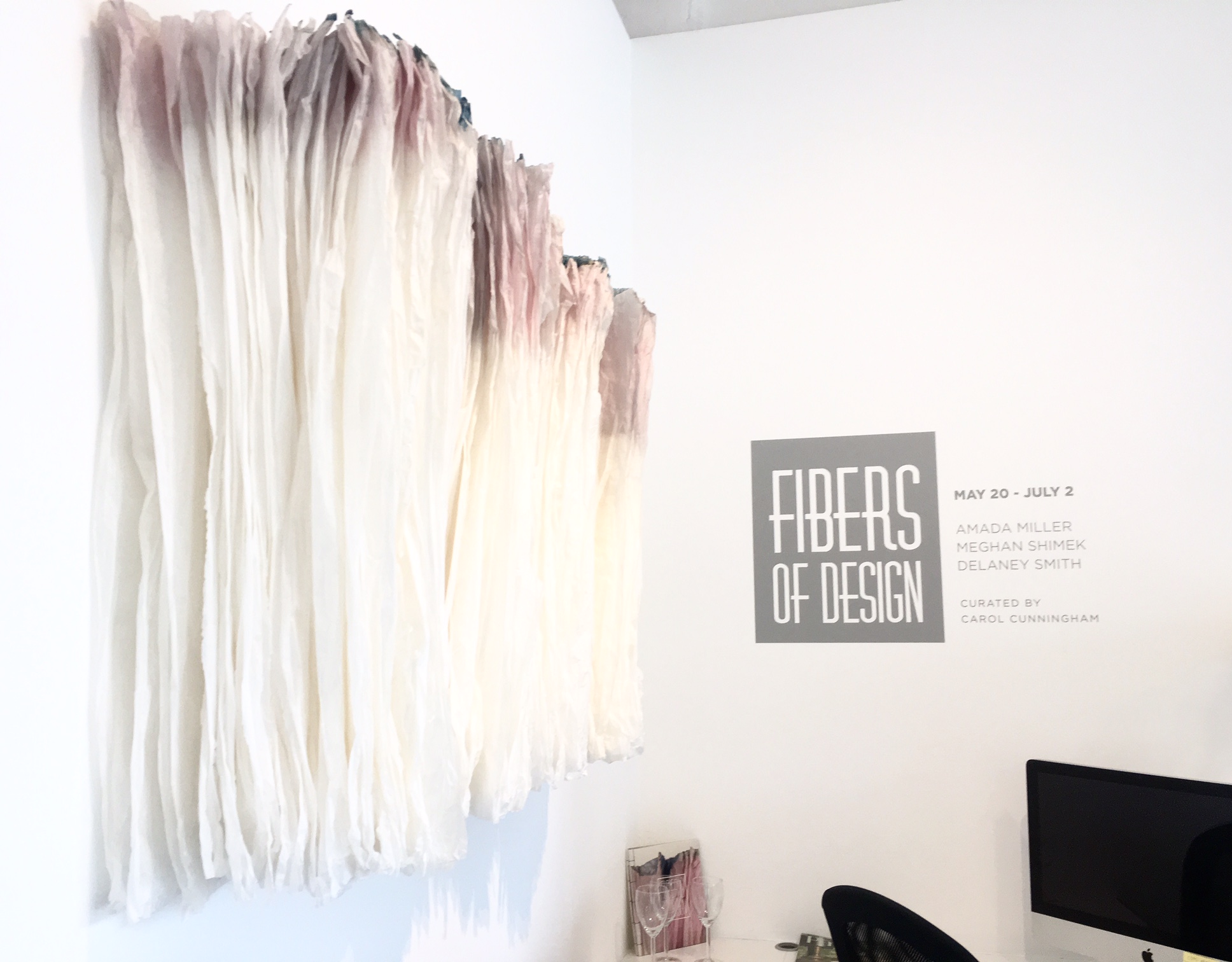 Signatures #17, Delaney Smith in Fibers of Design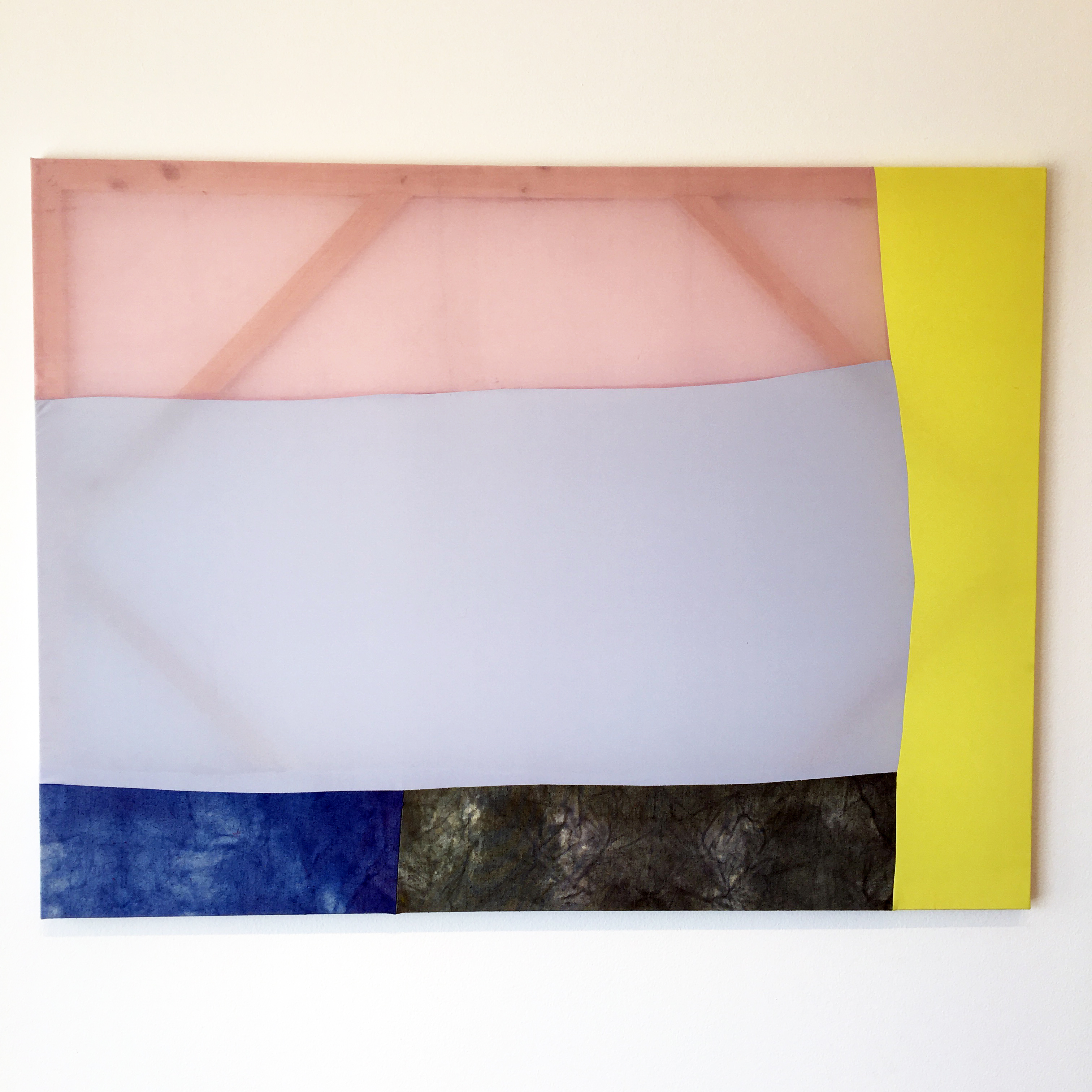 Untitled, Amada Miller in Fibers of Design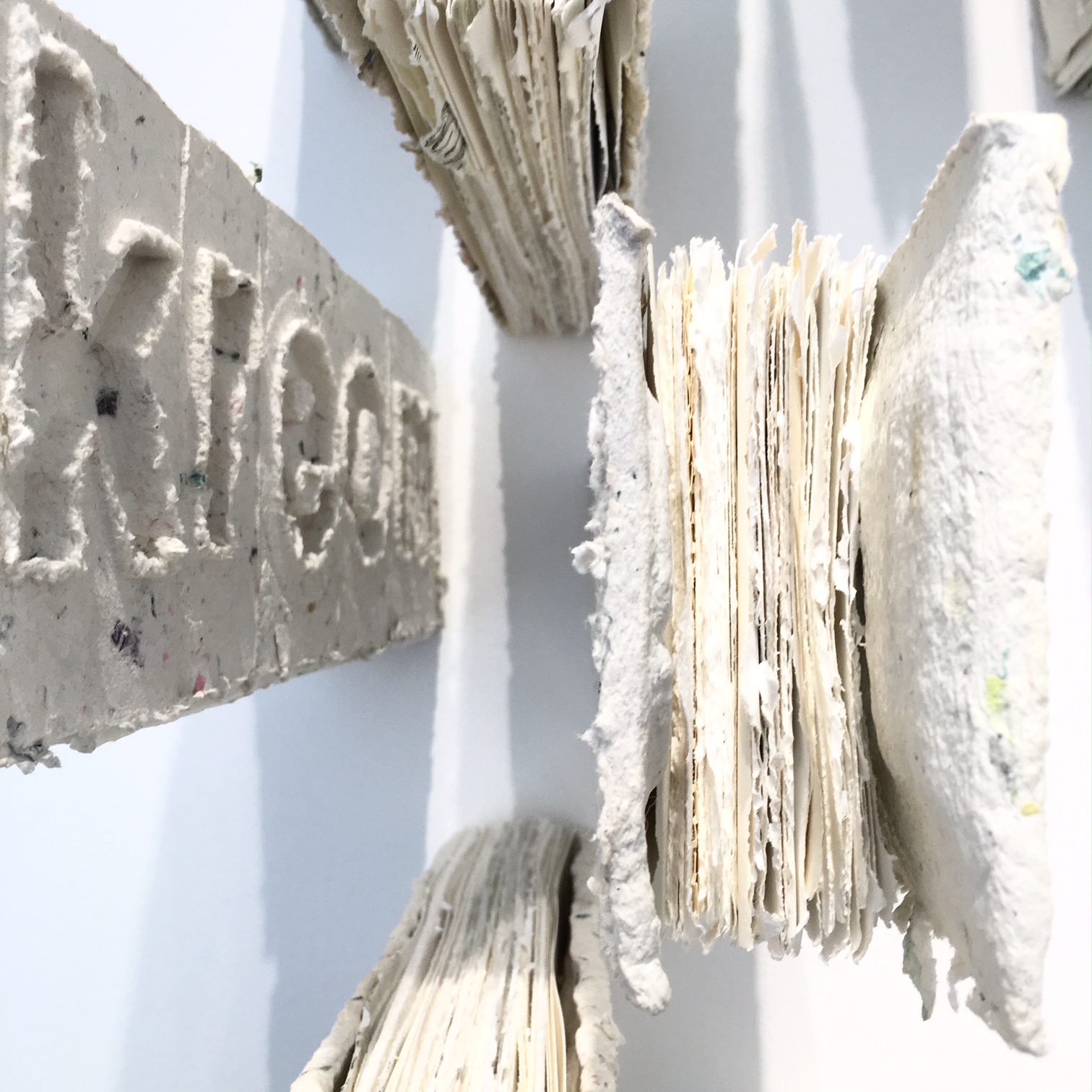 Knebix, Delaney Smith in Fibers of Design
Monday, April 11, 2016 at 9:38 AM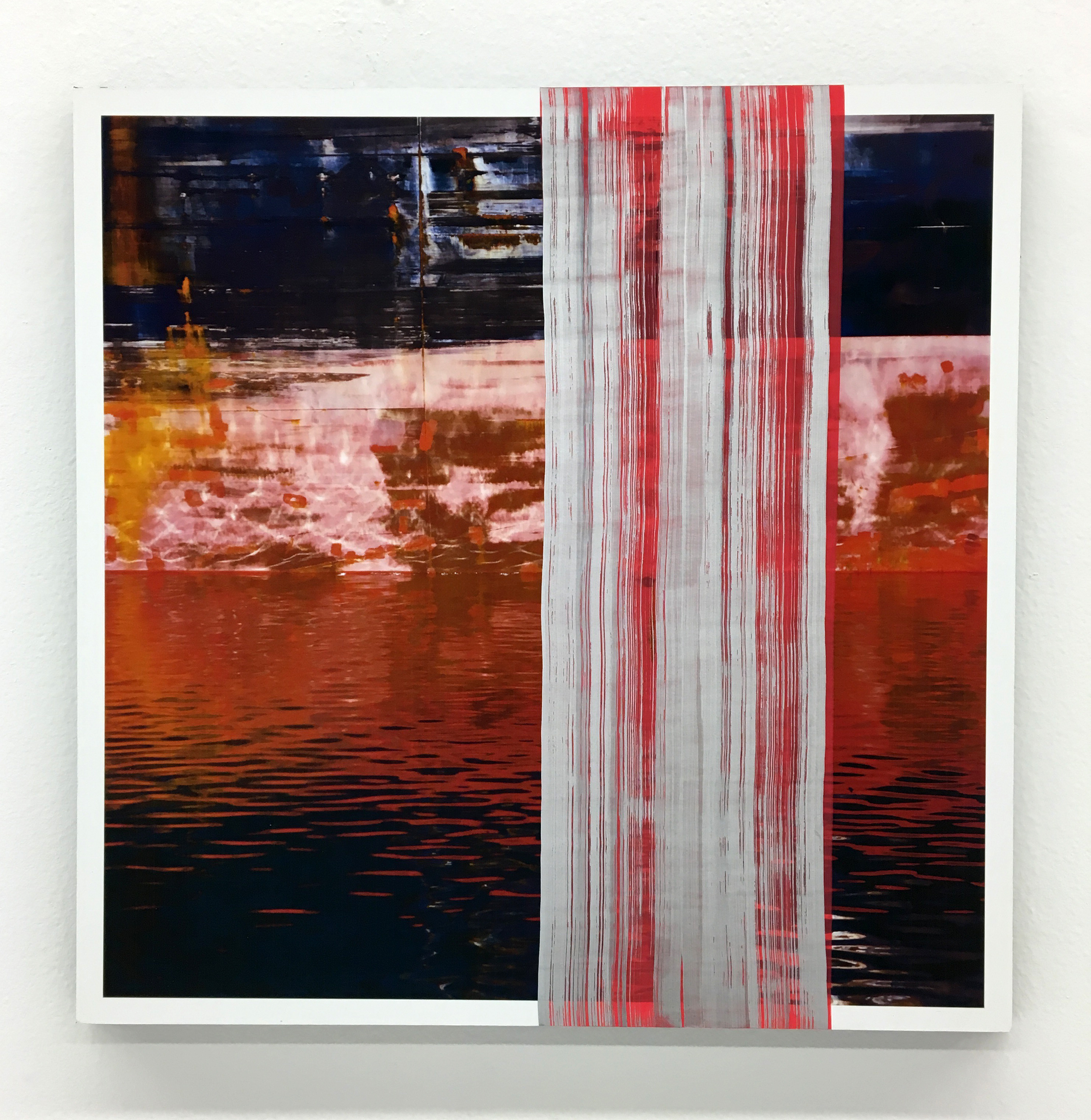 Casey Williams, Untitled, c.2012, acrylic on archival inkjet print. Exhibited at Art Palace Gallery.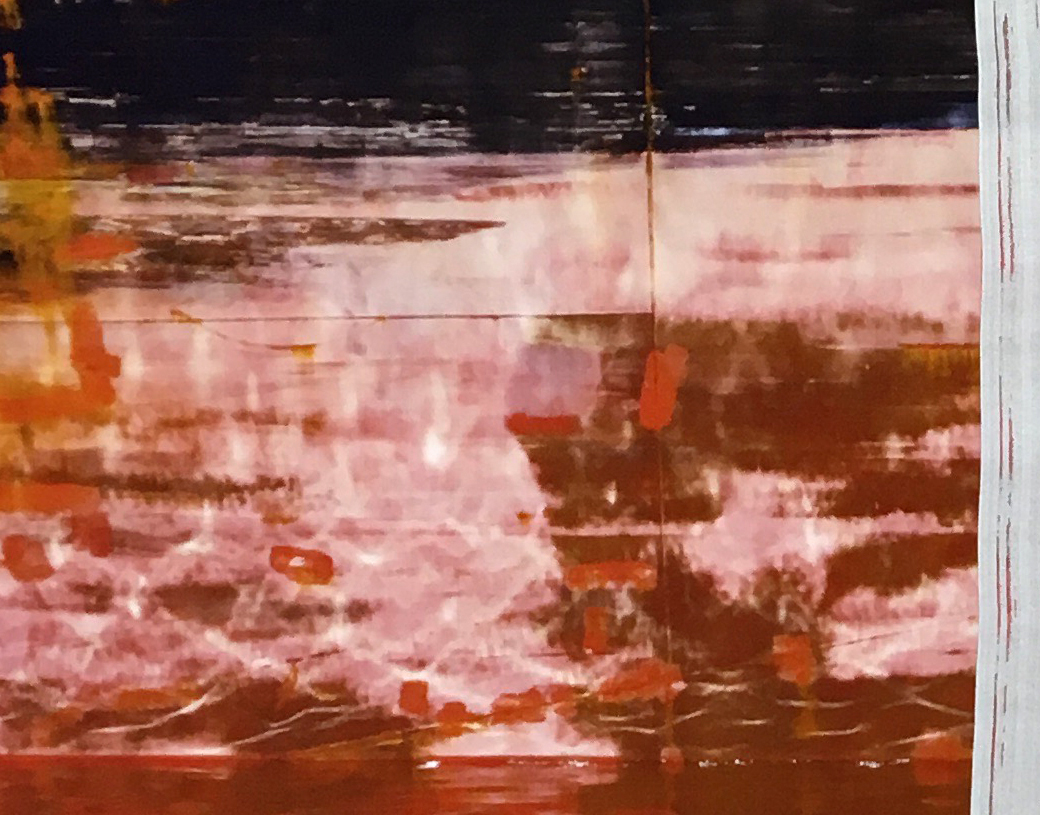 Casey Williams, Untitled (detail), c.2012, acrylic on archival inkjet print. Exhibited at Art Palace Gallery.
As a long time friend of Casey Williams we were delighted when Art Palace put on an exquisite show of never before seen works by Williams. In conjunction with Fotofest Biennial 2016, a discussion panel revolving around Williams' final works was organized by his wife, Jo Ann, studio assistant, Nick Merriweather, and the owner of Texas Gallery, Frederika Hunter. The dialogue between the three was a culmination of reminisicing over Williams' work style, the meaning behind his final series, and the lasting mark he has made on the Houston art scene.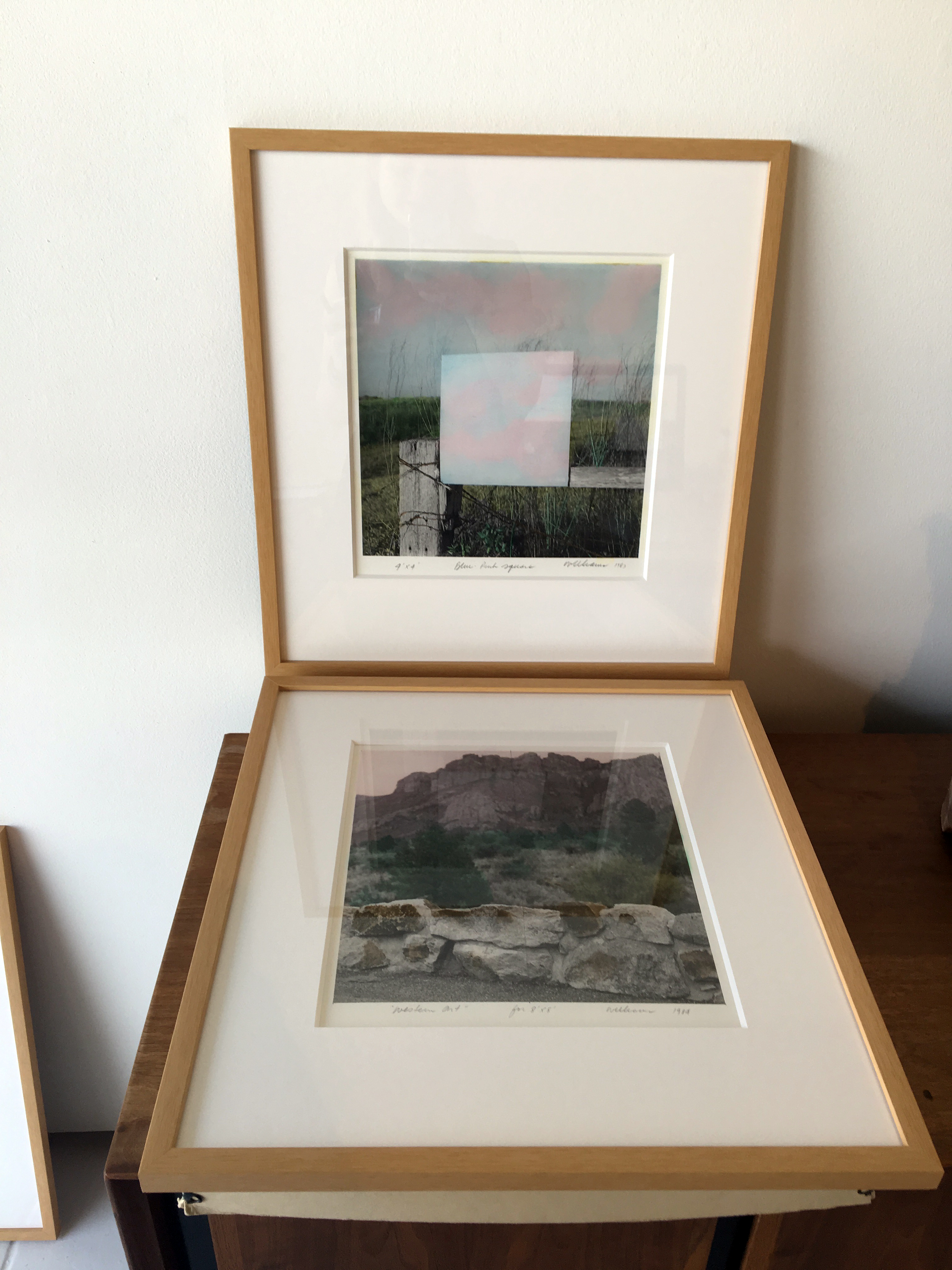 Casey Wiliams, Studies of 4 x 4 foot photographs
For Williams, expirimentaiton across all mediums and ideas is what led to his final series being known as the "painted-ons", where Williams would brush paint across his photographic images. Williams did not personally speak much about his art. However through Williams' life, it is indisputable of his love for the Houston ship channel and the influence it made on his work. Williams was particularly interested in the way a ship would float toward the surface as goods were unloaded, decreasing the ship's weight. The lower portion of the ship would then be repainted by the crewmen. The action of repainting is symbolic of Williams' paint strokes atop his own images. Many of the strokes are colors of blues and silvers, further symbolizing the shimmer and reflection of water and possibly an ode to his earlier silkscreen works, as well as becoming a meditative process for Williams.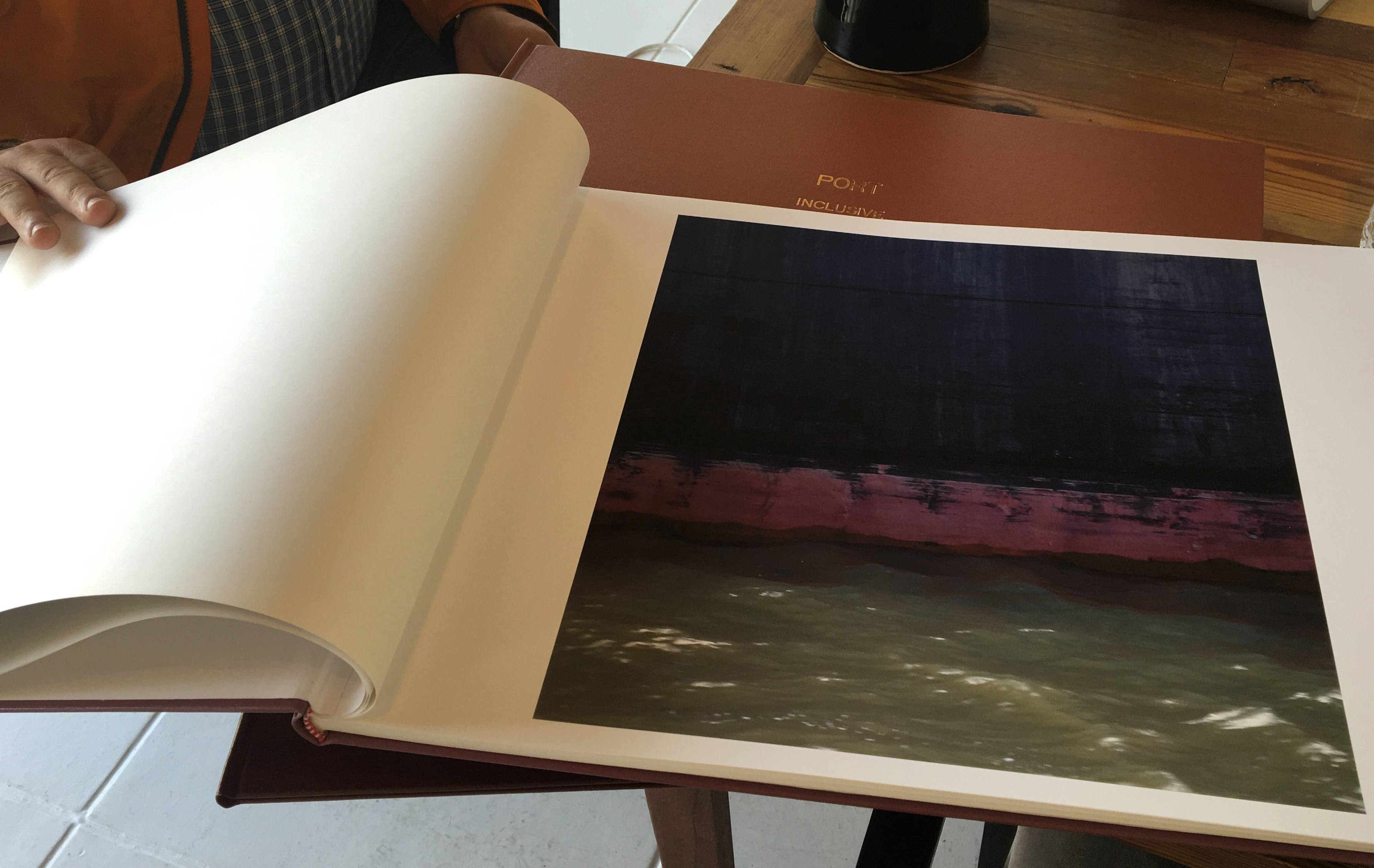 Book compiled of photography by Casey Wiliams
Casey Williams noticed details that many would naturally overlook. He forced the viewer to go somewhere they would normally bypass, giving a new perspective to the world. Williams was a master at opening up our eyes to beauty.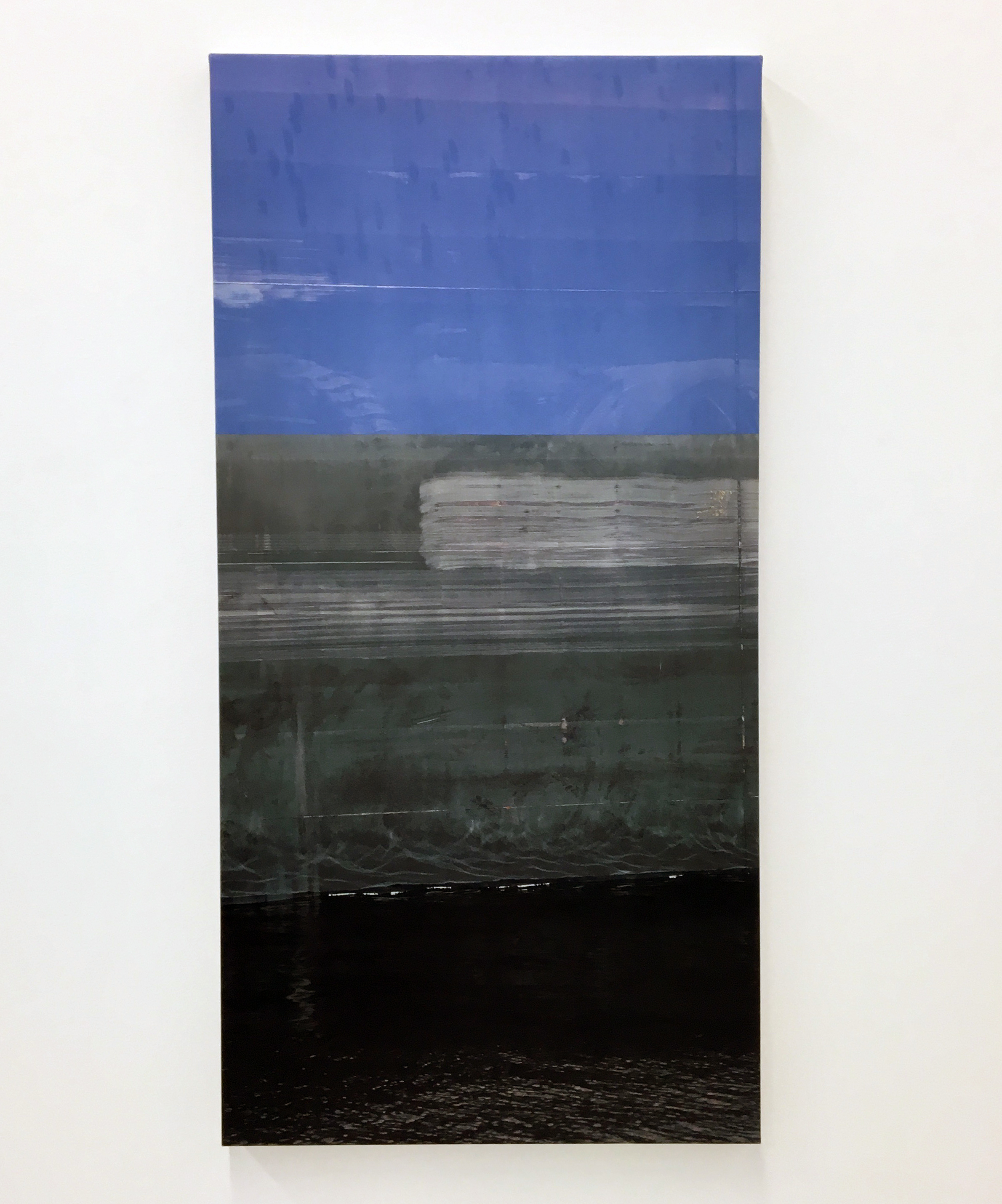 Casey Williams, Untitled, c. 2012, acrylic on archival inkjet print on satin. Exhibited at Art Palace Gallery.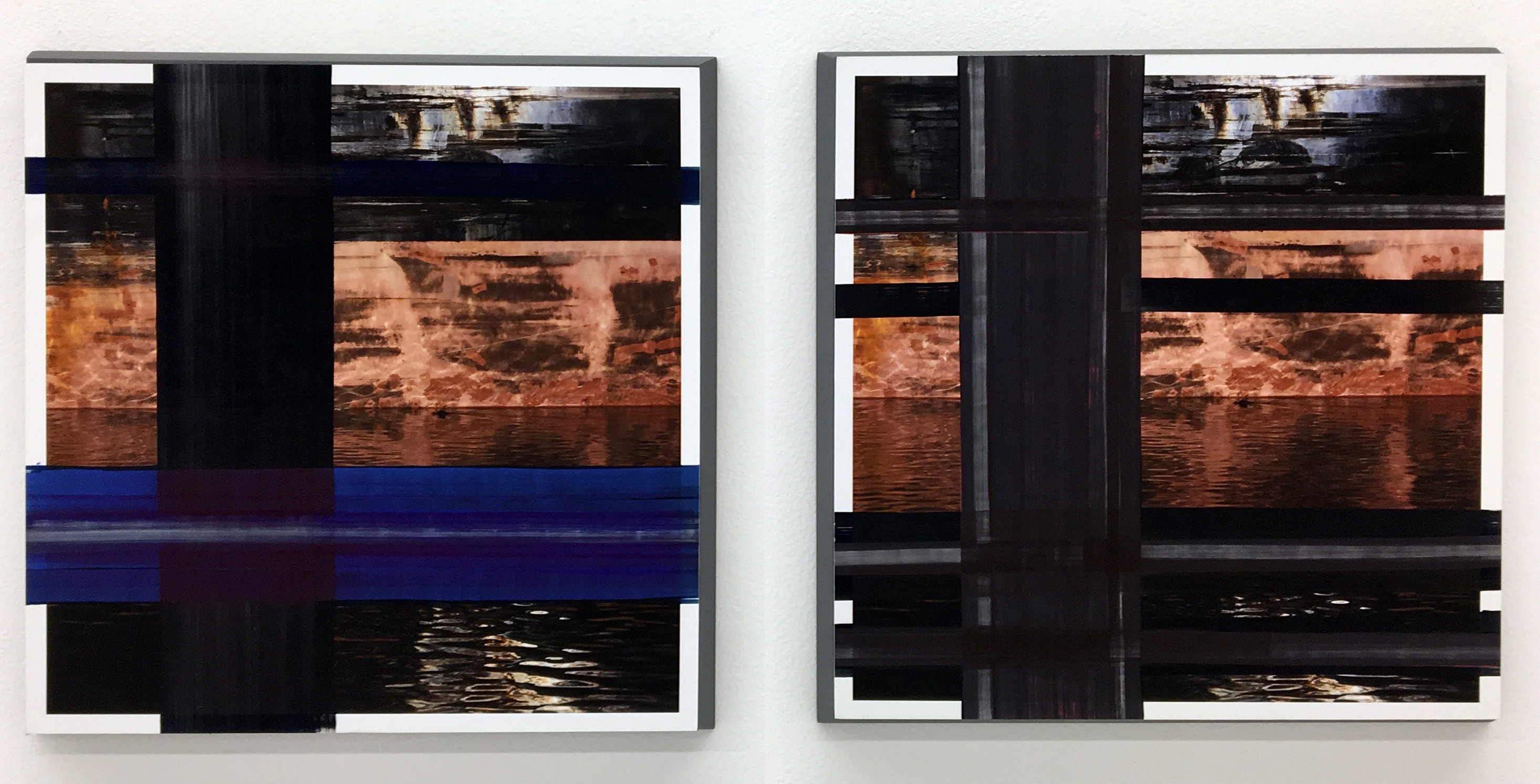 Casey Williams, Untitled & Untitled, c. 2012, acrylic on archivsl inkject print. Exhibited at Art Palace Gallery.
Friday, January 8, 2016 at 4 PM
As part of our biannual art rotation on HOK Architect's striking black signature wall, we are pleased to present David Aylsworth's dynamic painting titled Miss Farrah Fawcett from TV (for Ethan). Aylsworth's work is also being shown currently in Inman Gallery's newest exhibition: David Aylsworth: Sweet sweet sweet sweet sweet tea which opens January 8th and runs through February 20th. We are excited to support the expert work of Houston's own David Aylsworth.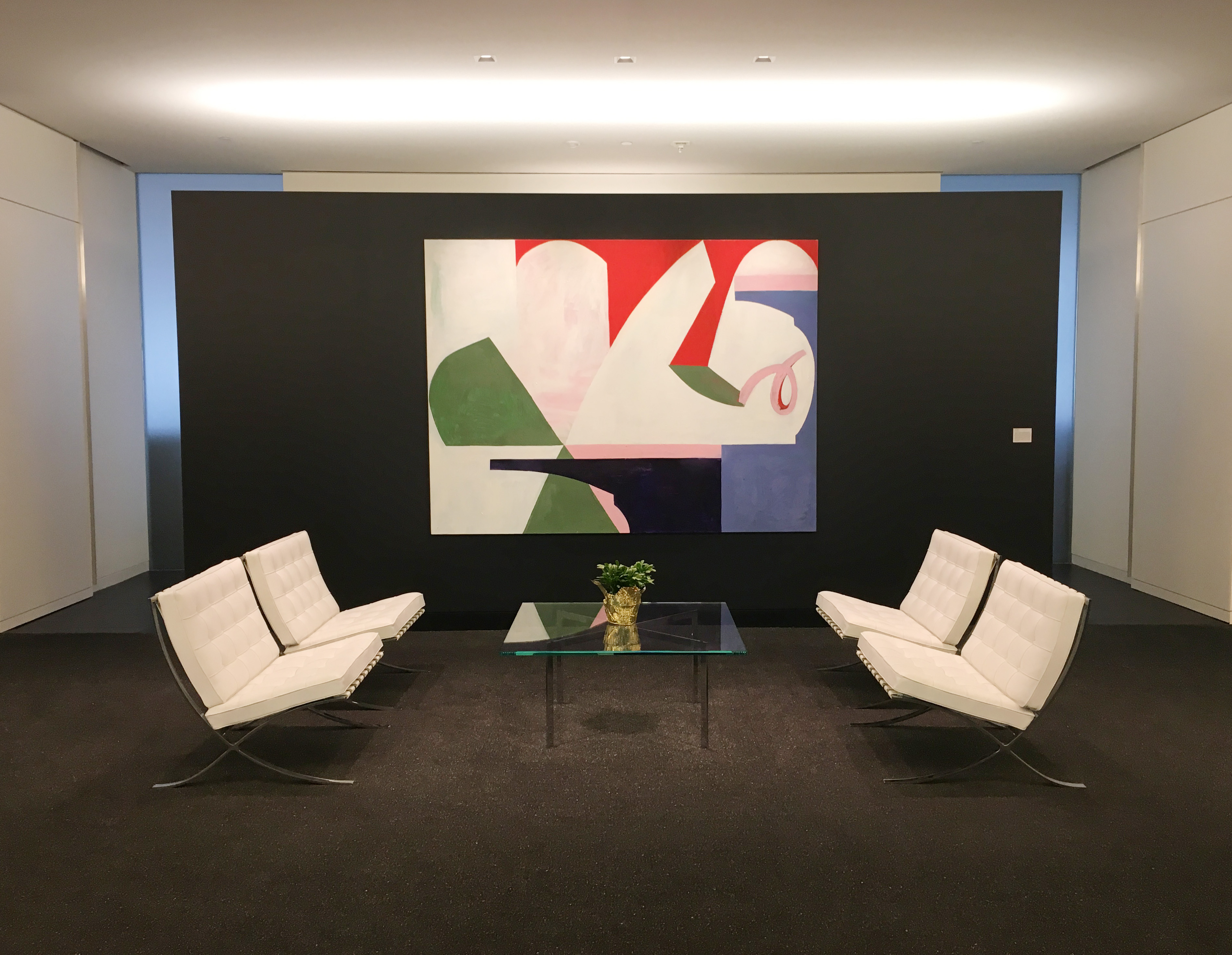 For Aylsworth, the action of painting is an intuitive process of discovery where the objective of perfection and precision is left behind. His paintings are laboriously constructed of innumerable layers of textured paint, often in shades of white, and vibrant shapes that infer depth and vitality. While most of Aylsworth's works are titled with and inspired by lyrics from musicals, Miss Farrah Fawcett from TV (for Ethan) is based on a drawing by his young nephew. Regardless of his muse, the paintings are always created from a place of exploration and authenticity.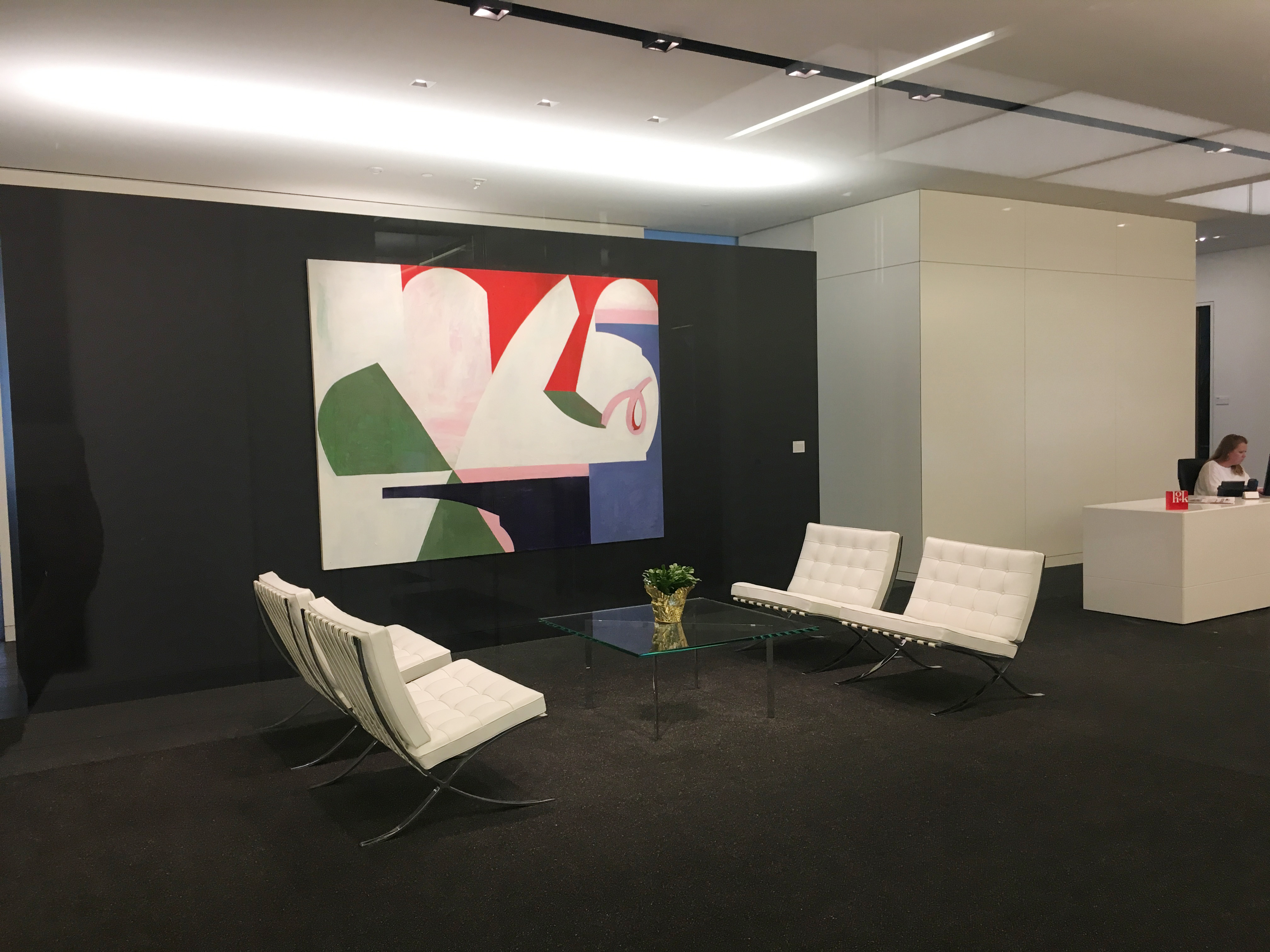 Thursday, April 30, 2015 at 3:53 PM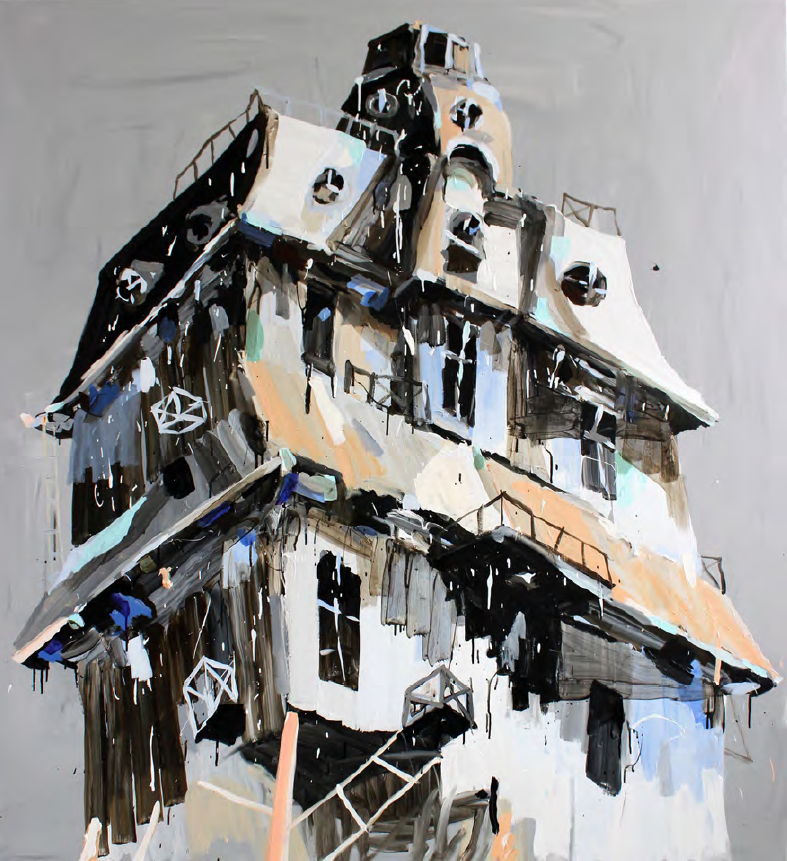 Mie Olise, Entering Closer, 2015, acrylic on canvas, 74.5 x 66.5 inches
We had the chance to preview Mie Olise's exhibition with the artist at Barbara Davis Gallery. After meeting Mie and enjoying her new body of work, it is clear her career is poised to reach new heights. The show opens Friday, May 1st and will run through June 12th. Contact us with inquiries.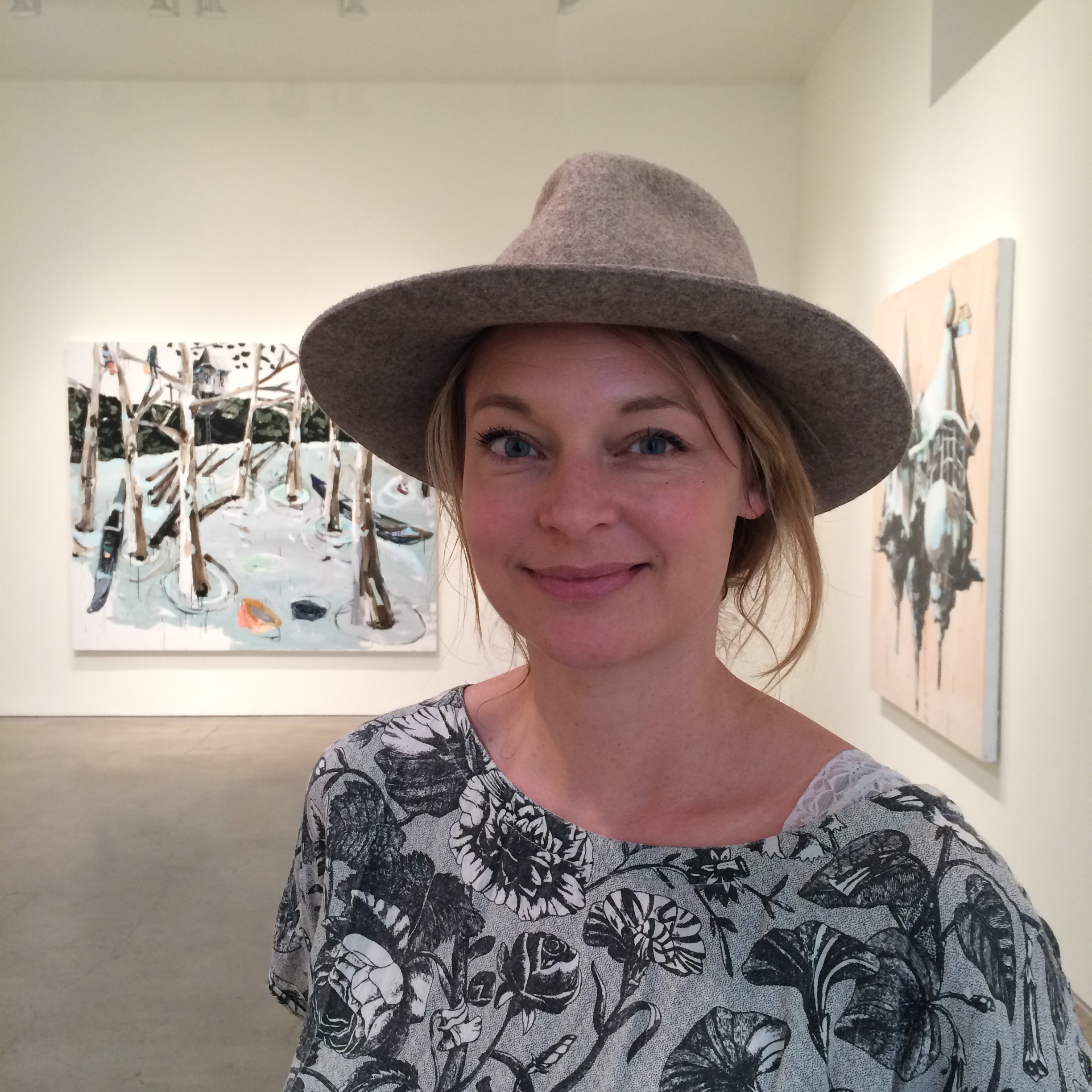 Mie Olise with Woodlands (back wall) and Entering Closer (right wall)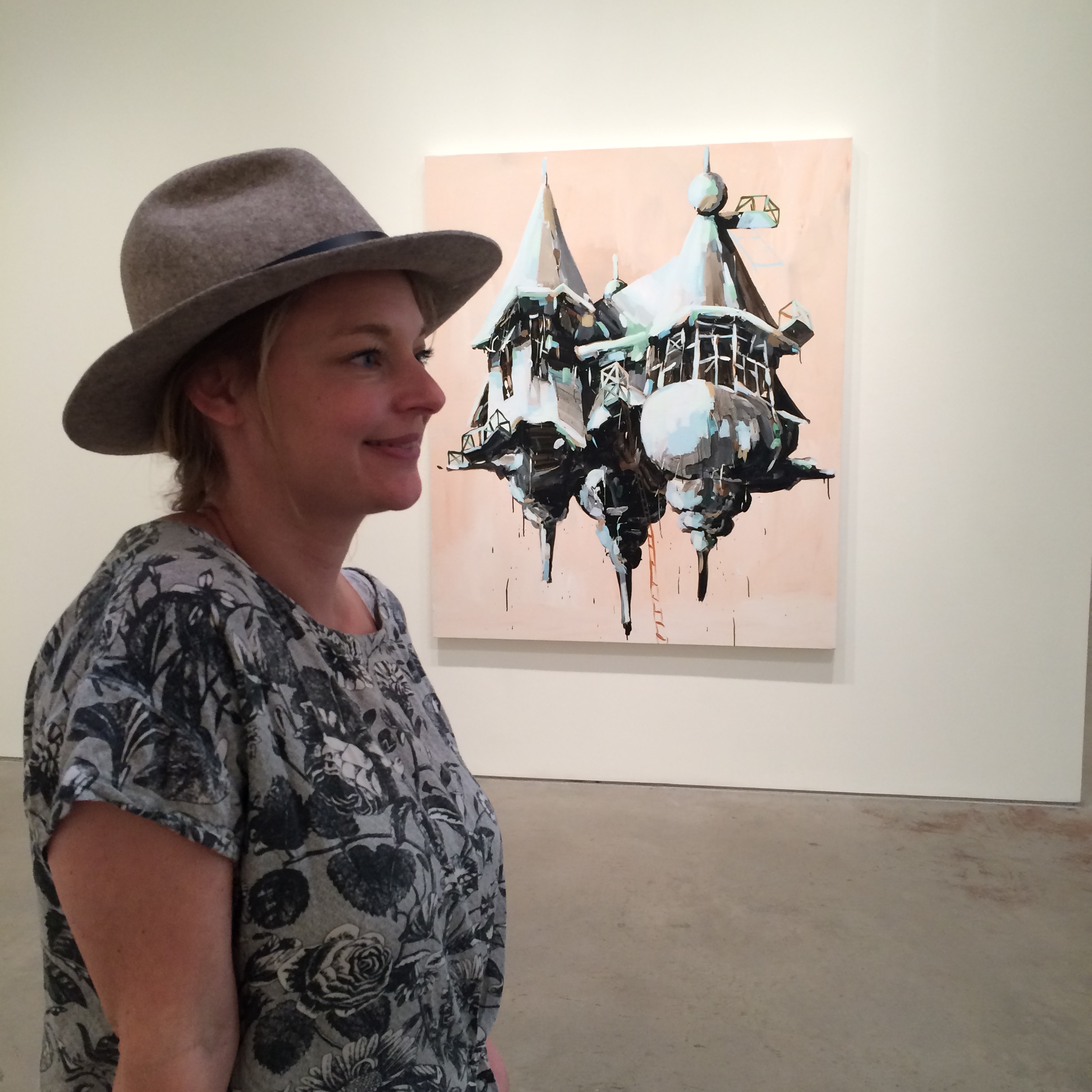 Mie Olise with Entering Closer