Friday, November 30, 2018 at 1:22 PM
PARK DISTRICT DALLAS
At the heart of the Dallas Arts District, a new mixed-use development recently unveiled their art collection at a public event last month. In collaboration with Trammell Crow Company, Kinzelman Art Consulting acquired 4 works of art for the lobby of their 900,000+ square foot office tower. Among these pieces are a wall-based sculpture by Olafur Eliasson, two site-specific commissions by Billy Childish and a 16 foot painting by Jennifer Bartlett.

Olafur Eliasson wall-based sculpture at Park District, Dallas.
The lobby's sleek open space is punctuated with a pristine Eliasson sculpture titled "The Breathing Moon." Eliasson's work examines consciousness and cultural conditions, and how they define human interaction and perception of the world around us. Nearby is Jennifer Bartlett's dynamic sky painting, consisting of a dense crosshatching that creates texture amid vibrant colors that illuminate the clouds in the composition.

Jennifer Bartlett painting at Park District, Dallas.
Two paintings commissioned by British artist Billy Childish are also included in the collection. In his emotive oil and charcoal paintings, Childish skillfully illustrates his signature fluid and gestural painting technique.

Billy Childish painting at Park District, Dallas.
ORRICK, HOUSTON
KAC recently completed a collection for LA-based law firm, Orrick's new Downtown, Houston office space. The space houses a diverse list of artists, both national and internationally represented, and includes works on paper, paintings and wall-based sculptural works.

Graham Caldwell installation and detail images at Orrick.
Among Orrick's collection are works by Matt Kleberg, Alex Katz, Katy Stone, Evan Robarts, Linda Martinello and others.

Evan Robarts and Matt Kleberg pieces at Orrick.​
Tuesday, August 14, 2018 at 10:31 AM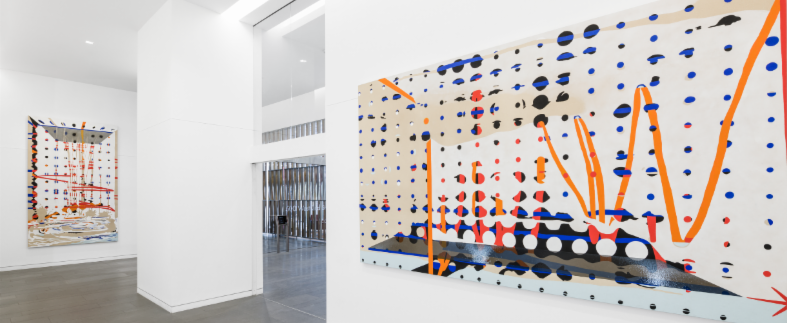 Ruello's commissions installed at 500 w 2nd.
Kinzelman Art Consulting partnered with Trammell Crow Company and CBRE on their new skyscraper located in Downtown, Austin. In close proximity to Austin's beloved Lady Bird Lake, the striking 500 West 2nd Street space, designed by Gensler, holds an impressive collection of tenants. The project goal was to activate the lobby with boldly infused color, and reflect Austin's iconic flare.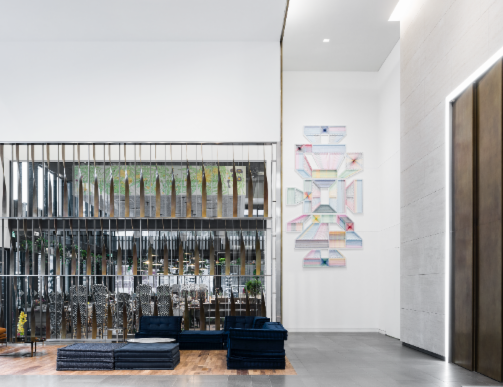 Esparza's wall-based sculpture in the lobby space.
"Art brings a new set of rules and compositions that juxtapose with architecture in ways that are unexpected and can be serendipitous. This building and lobby were conceived as hierarchic, one leading to the other and vice versa where momentary interruptions in the order allow for the individual to contemplate and enjoy being transported by the art."

- Tom Marsden, Associate, Gensler
El Paso-based artist Adrian Esparza, represented in Dallas by Cris Worley Fine Art, was selected to address the largest wall with his signature sarape artwork. This impressively sized piece, scaled specifically for the vertical wall, offers a visual push-pull effect with bold contrasting colors. The unique material usage in Esparza's work forms a natural dialogue across the lobby, where Erin Curtis's equally active cut and layered painting is installed. Although indicative of Curtis's body of work, this piece in particular is intended to mimic the rapid growth and vibrant spirit of Austin, TX, where Curtis also resides.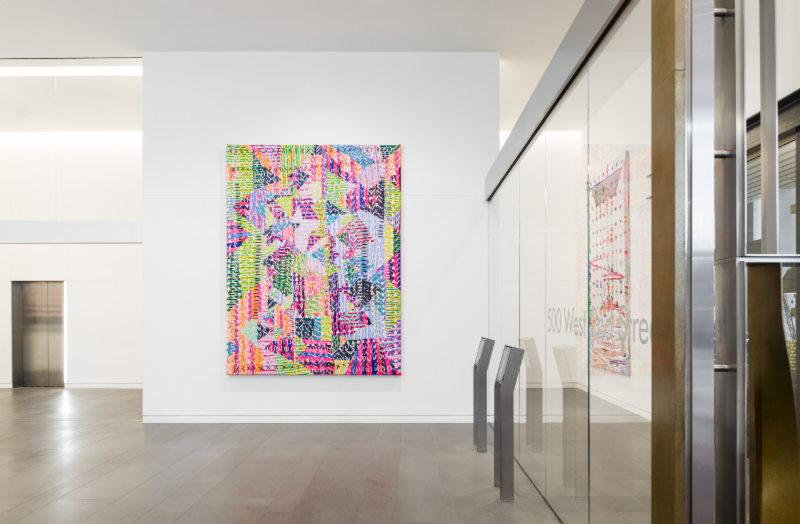 Curtis's cut and layered painting in the lobby space.
The collection continues around the corner with two large-scale paintings by Houston-based artist Robert Ruello, represented by Inman Gallery. These are Ruello's largest works to date, functioning as murals to tenants entering the building through the garage elevators. Ruello digitally renders his compositions, then carefully transfers them onto canvas using tracing paper and various densities of paint and flashe. This technique informs a unique visual language transitioning between moments of bold expression and negative space. The building's collection upstairs includes works on paper by Nicola Lopez and Ross Bleckner, and a site-specific installation by Paul Fleming.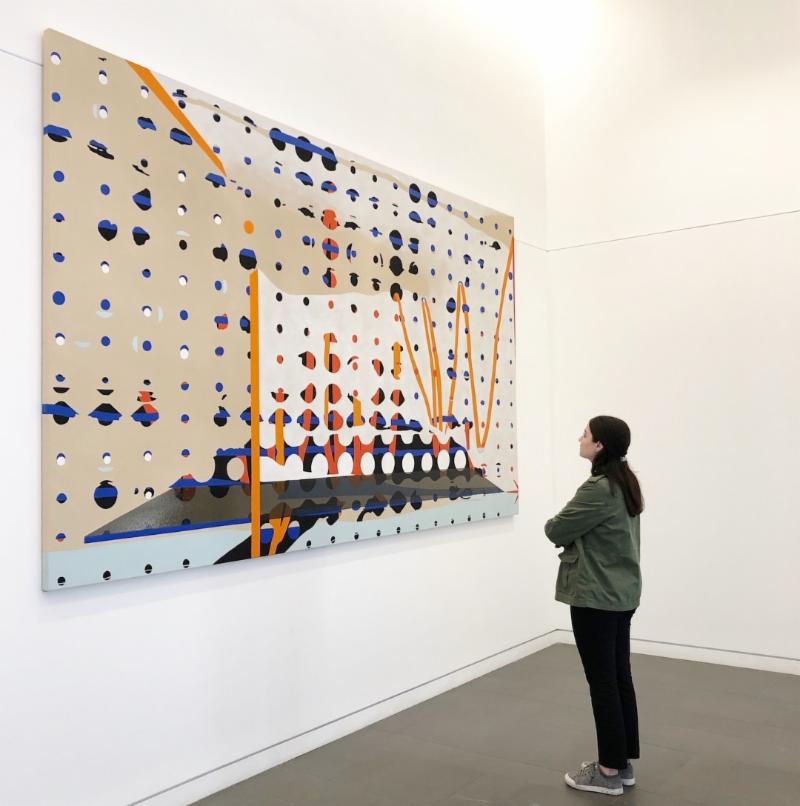 KAC admiring Ruello's painting.
" KAC was wonderful to work with and made the entire process of selecting, commissioning and installing each piece at 500 W 2nd Street stress free for the ownership team. The art has completed our lobby and activated the borders of the space while staying true with the original design intent. Our tenants enjoy the pop of color and the energy it brings to their daily life. "

-Kristi English, Development Manager, Trammell Crow Company
Friday, January 12, 2018 at 8:59 AM
In KAC's latest Interview, Houston-based painter and professor Bradley Kerl shares an inside look into what originally focused his creative journey towards painting, where his body of work is headed and exciting news about his growing family.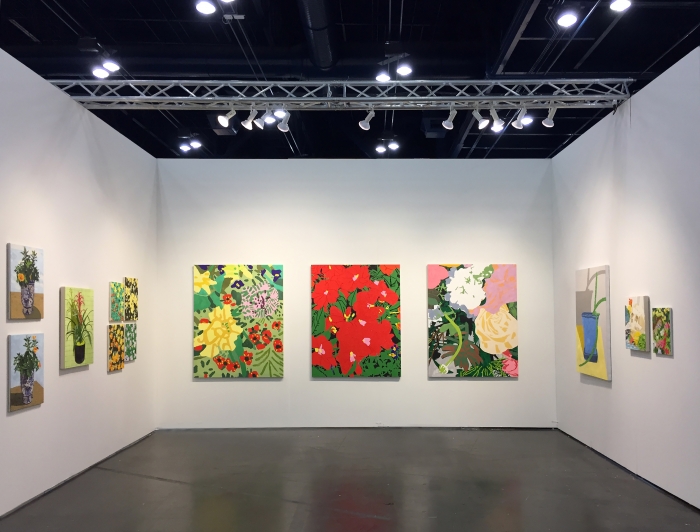 Kerl's work at Texas Contemporary Art Fair, 2016.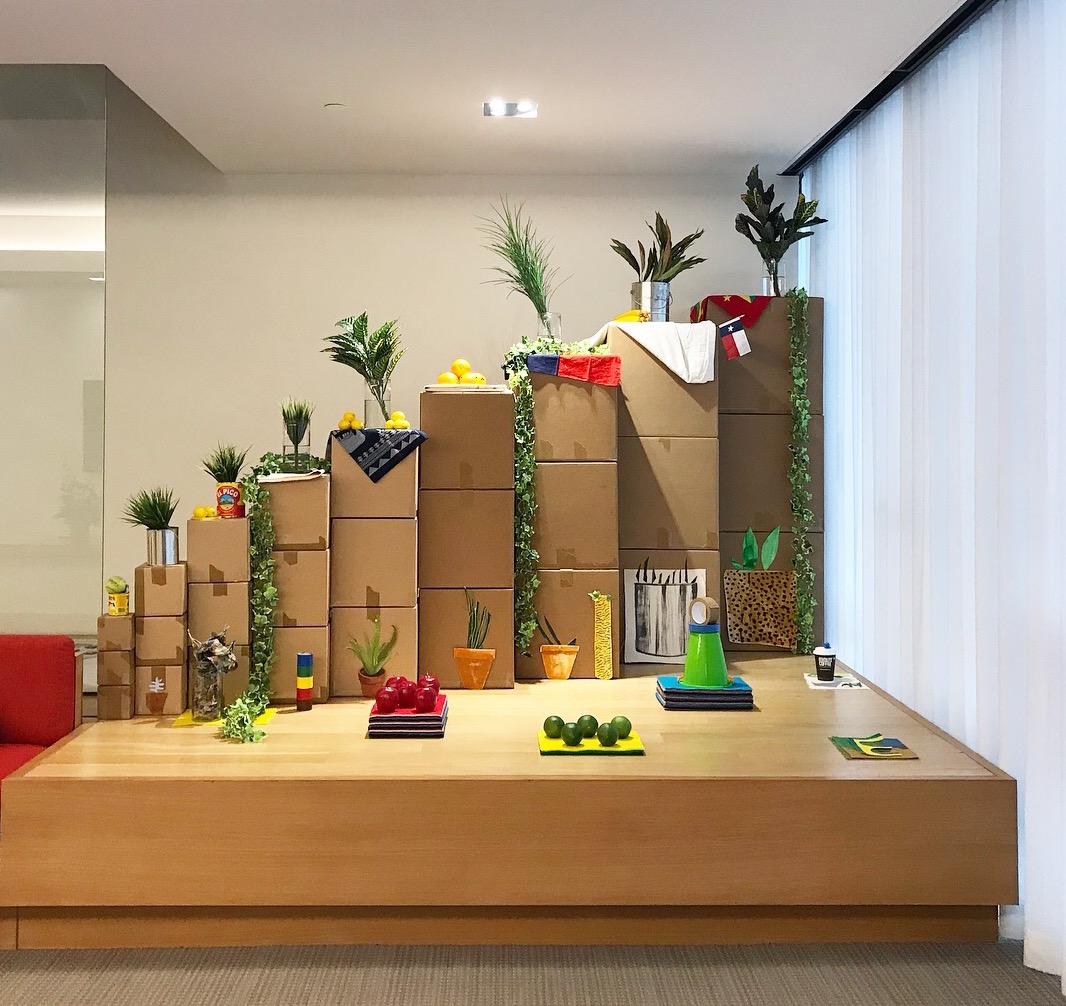 Kerl's site-specific still life set at Gensler, Houston.
Wednesday, July 12, 2017 at 11:06 AM
KAC announces a solo exhibition with Houston artist Hillevi Baar on view at Gensler Houston. The inspired creator of intricate installation-based works, Baar views herself as not only an artist but also as a facilitator who assists her medium of Mylar to reside in it's intended and natural state. Her active interplay with medium explores variations in form, often derived from interactions observed between wind, water, plant life and shadow play.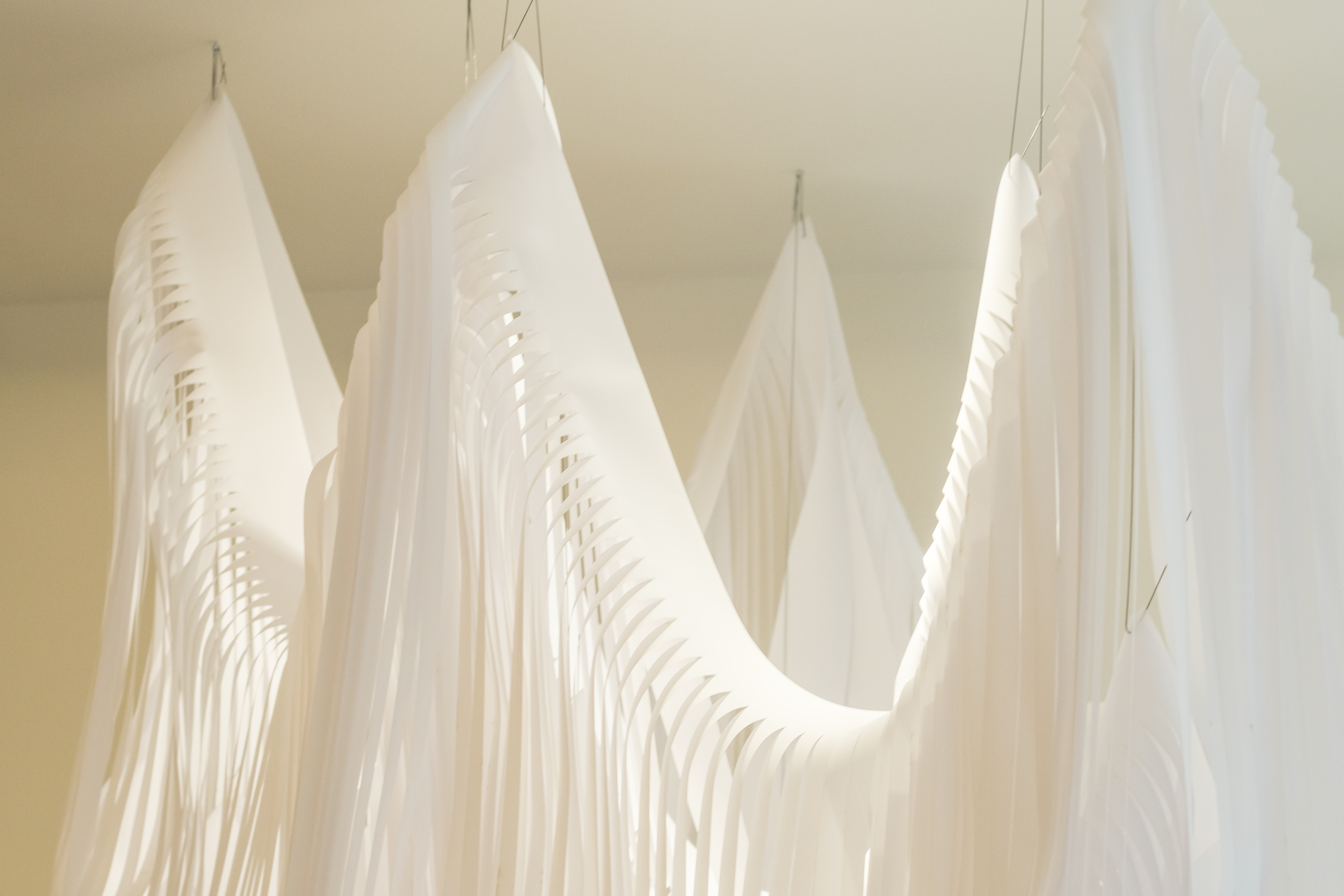 "Float" by Baar in Gensler's reception

Baar's experimentation with Mylar is particularly evident in "Float," a site-specific installation created for Gensler's reception. This elegant suspended sculpture investigates the balance between meticulous strategizing and spontaneous on-site manipulation in response to the environment. Baar began creating this piece by carefully scoring the Mylar to intentionally mimic the linear forms throughout Gensler's space.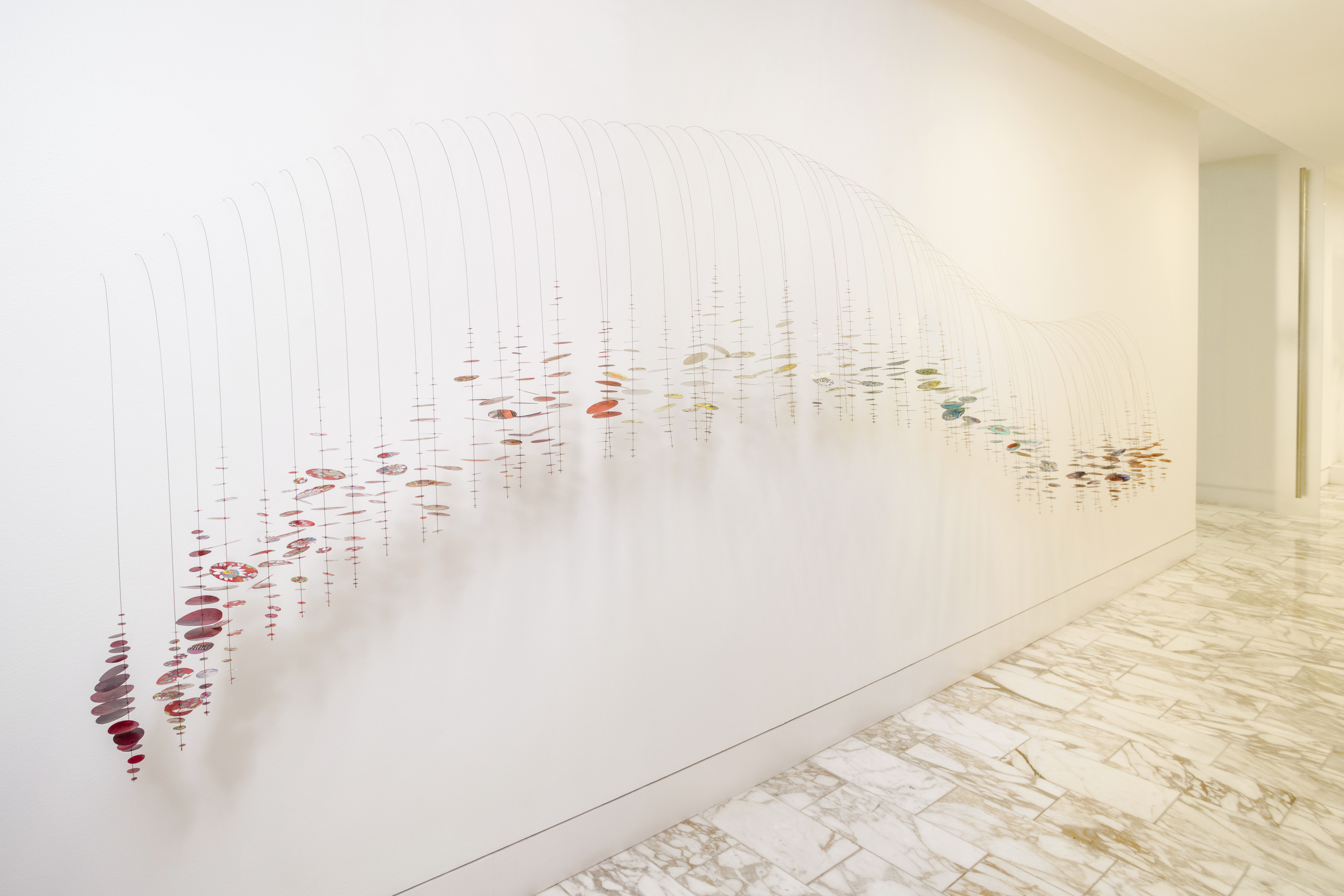 "Wild Flowers" by Baar in Gensler's Conference Corridor
References to nature are also seen in "Wild Flowers," a wave-like form installed along Gensler's Conference Corridor comprised of Mylar and steel pins resembling delicate branches. These complex elements seem to grow from the wall, fusing into one fluid shape that gently sways with the flow of foot traffic. These slight movements expose individualized drawings hidden between the intricate layers.
This interactive component allows the viewer to experience the piece in its entirety, while also inviting the study of each self-contained drawing. Conversely, "Unraveled" in the Coffee Corridor beckons the viewer to quietly approach the finely cut and tapering suspended Mylar sheet to fully experience the highly detailed graphite drawings within.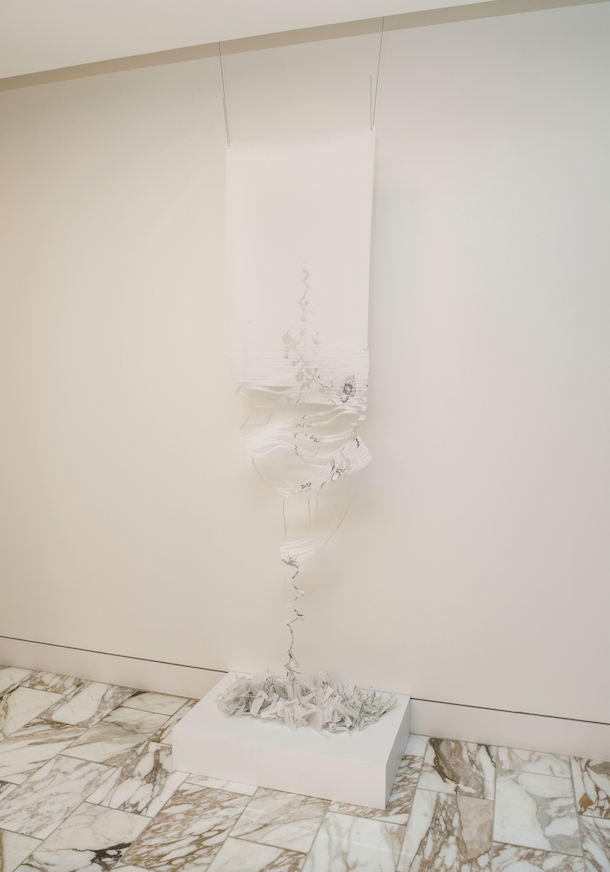 "Unraveled" by Baar in Gensler's Coffee Corridor
Baar is continuously experimenting with the dimensionality and boundaries of medium to transform the environments of numerous corporate and private spaces. This exhibition was curated by Kinzelman Art Consulting on behalf of Gensler.
Friday, February 3, 2017 at 9:21 AM
Portland based artist Elizabeth Atterbury talks art, inspiration, and the transition of being a new mother with KAC in our latest Interview Interview.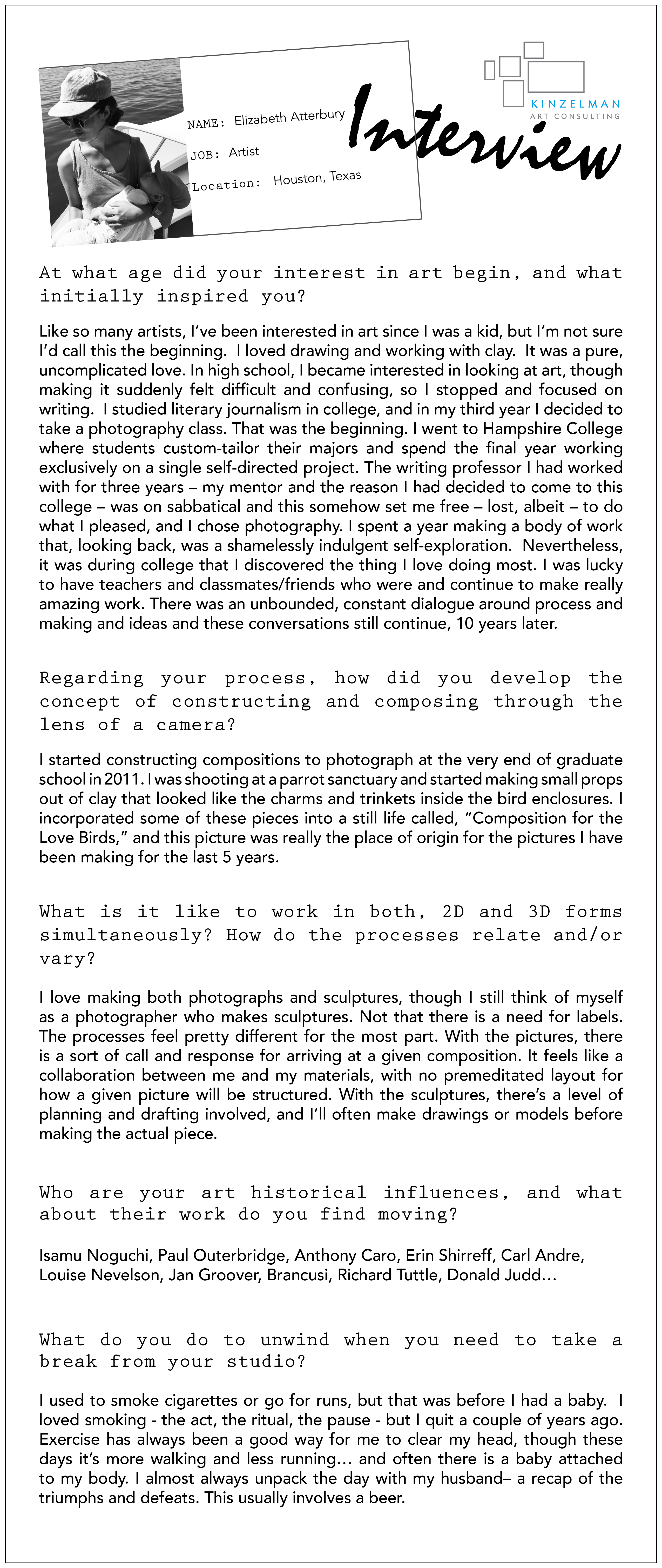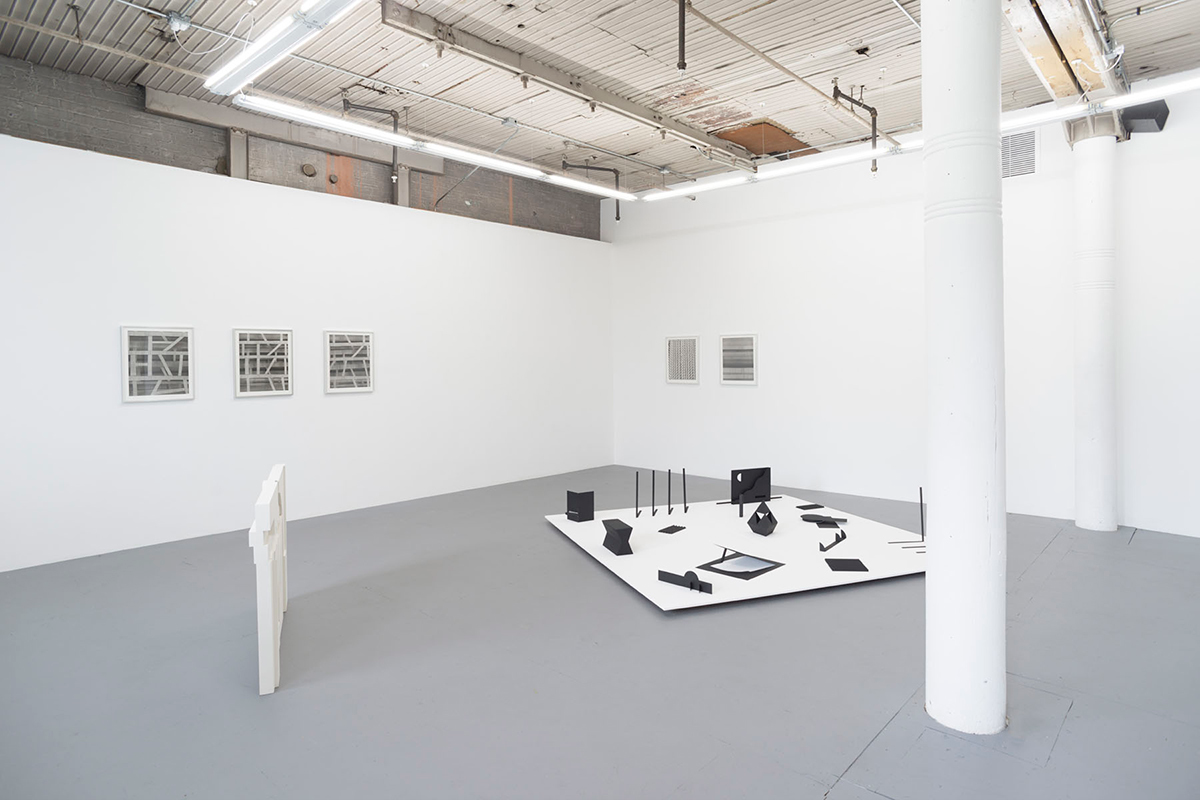 Elizabeth Atterbury, "Happy Sunny Jade" 2016, installation view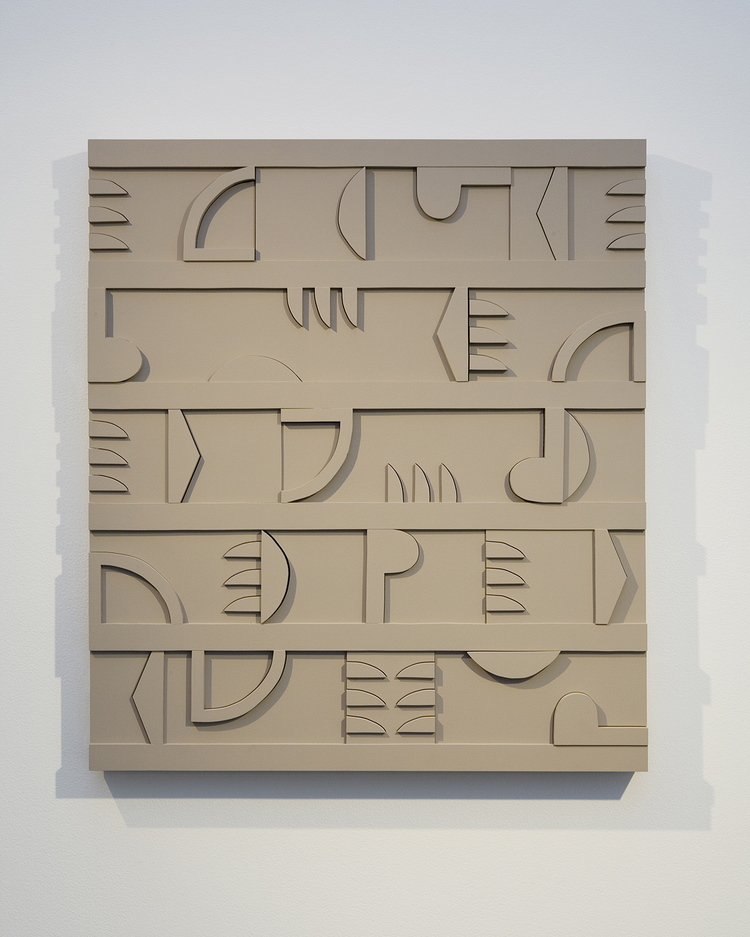 Elizabeth Atterbury, "Relief (Studio Taupe)," 2015, MDF, paint
Friday, January 13, 2017 at 10:59 AM
Myke Venable's work investigates the infinite potential and purity in shape indicating a visual representation of his own paired-down universe. From detailed sketches in an open notebook on the worktable to mathematical drawings tacked to the wall, Venable's studio is a perfect diagram of his working and theoretical process. During our visit, KAC viewed Venable's newest body of work and saw how his paintings have evolved into what they are today.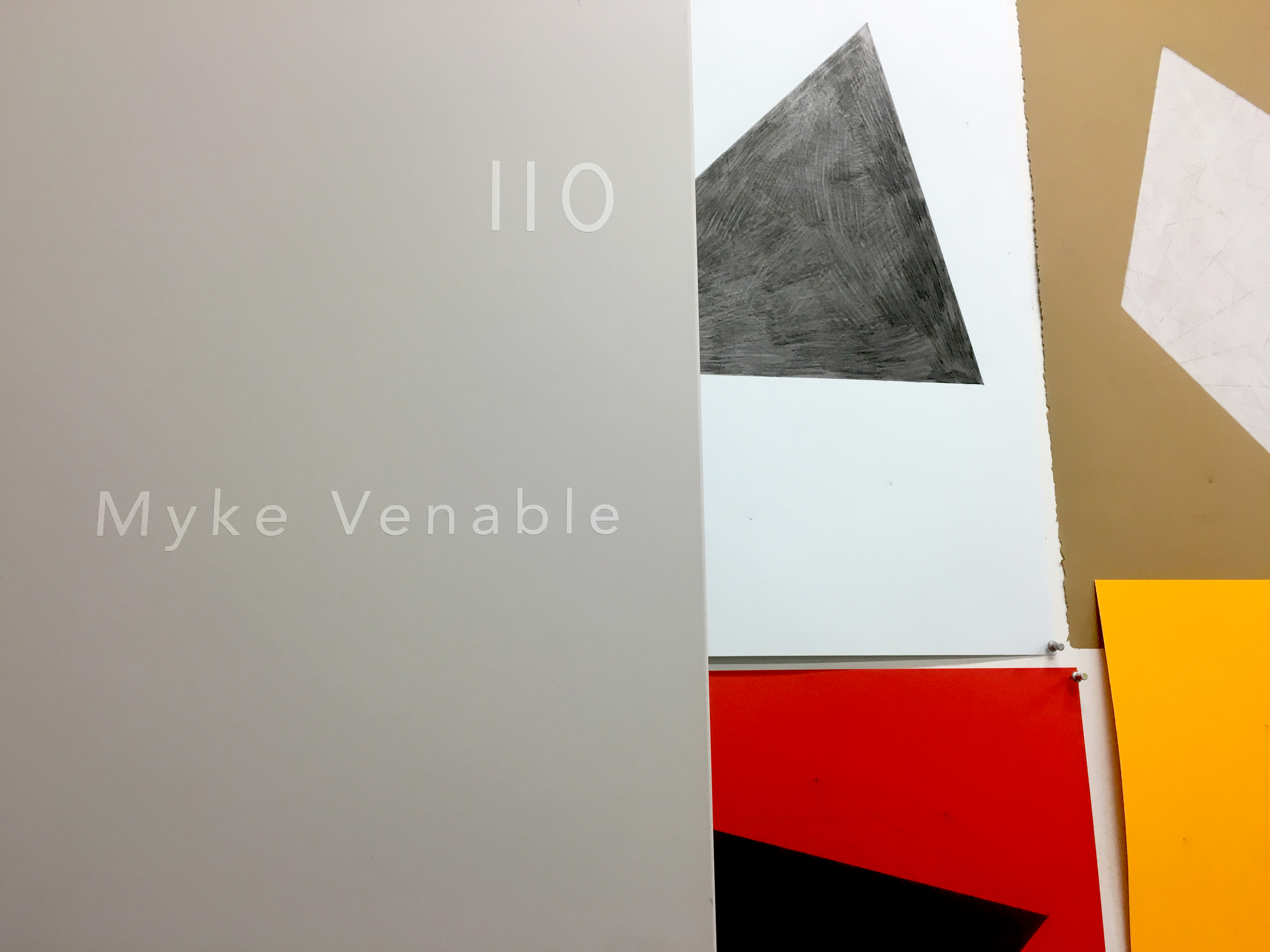 Door to Myke Venable's studio space
While teaching at The Art League in Houston, Venable rediscovered his love of drawing. He has since dedicated one of the largest walls in his small studio to colorful geometric explorations, mapping out on paper his ongoing study of the complex relationship between shape and color. While he views his drawings as independent works, they also serve as inspiration for shaping his large canvas and panel paintings.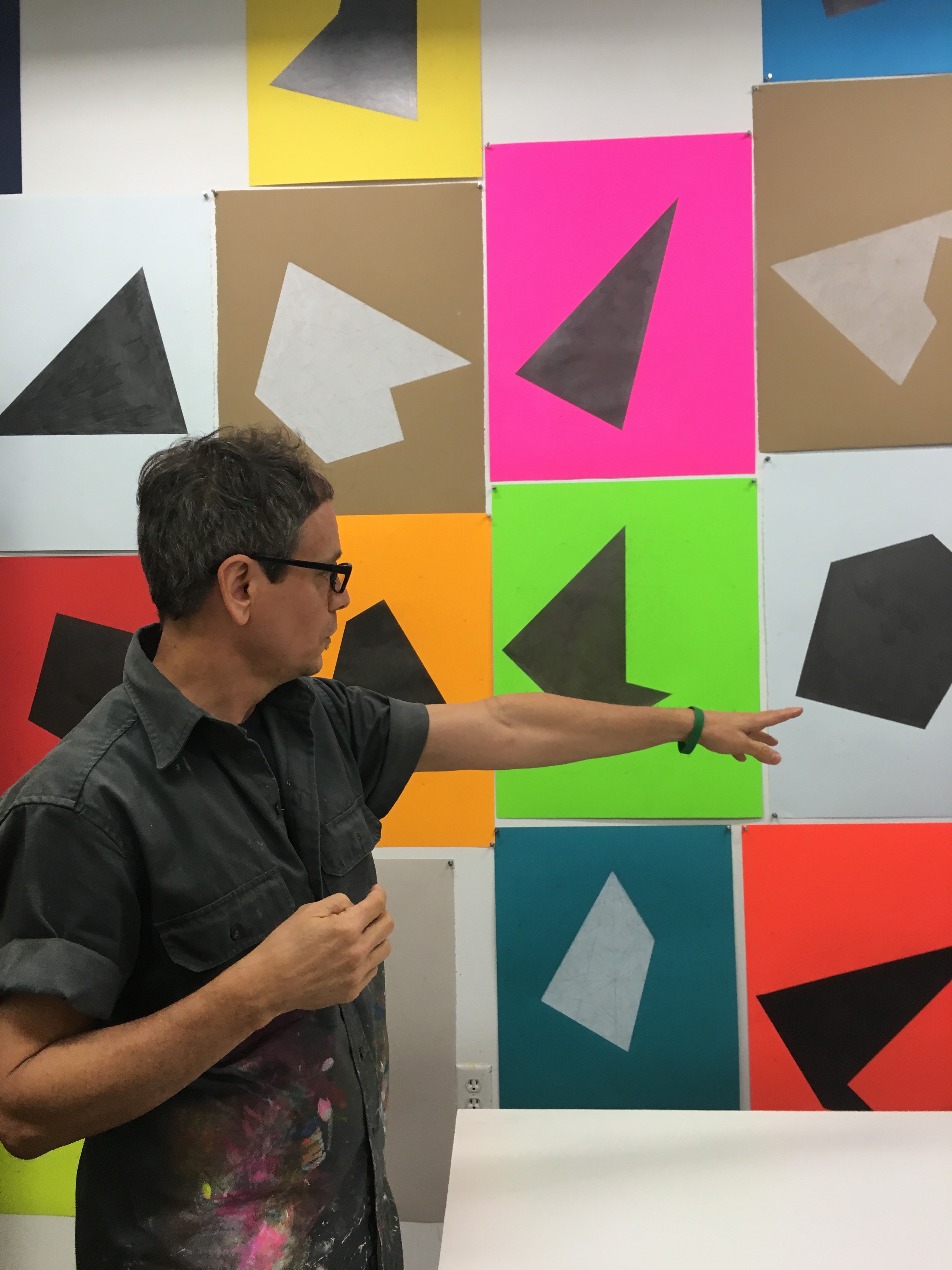 Venable with his geometric studies on paper
The drawings come to life on wood panels covered with pristine layers of acrylic paint squeezed straight from the tube. Mixing colors, he explains, would complicate his process of instinctually matching color and shape. Venable then focuses on creating thought provoking relationships through the particular arrangement of each element on the wall.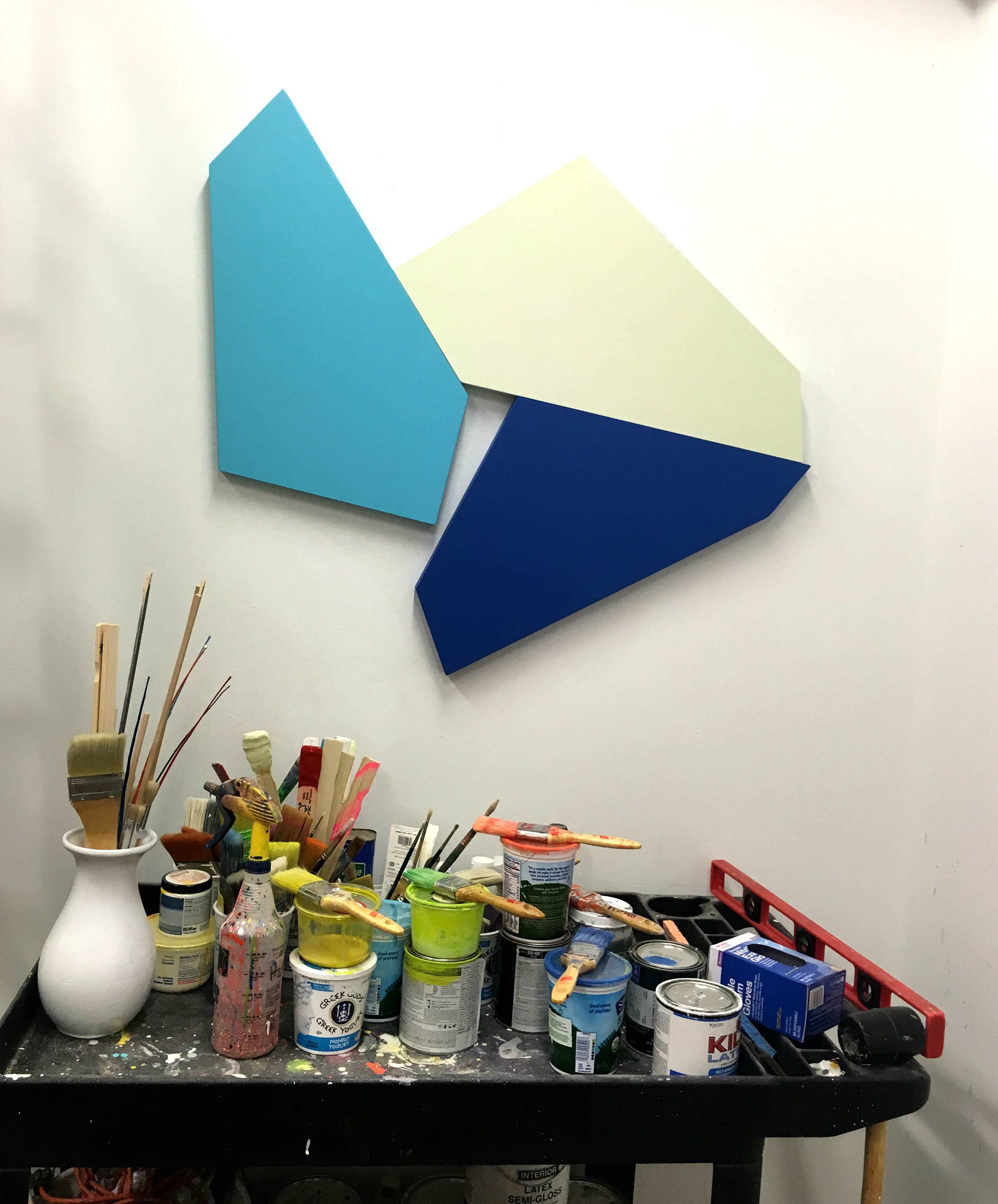 Cluster of Venable's paintings in his studio
Venable's newest paintings cleverly juxtapose not quite symmetrical shapes with slightly irregular placements and parings. Tension builds within the negative space between the paintings as they barely touch, leaving the viewer to question whether the forms are merging together, floating apart or statically coexisting. Every combination creates a new dynamic that alters the energy of the cluster itself, therefore impacting the space in which it resides.
Looking ahead, Myke seeks to push boundaries of depth, scale and color. Myke Venable is represented in Houston by Gallery Sonja Roesch where his next exhibition opens on January 21, 2017.
Monday, August 29, 2016 at 10:46 AM
Hidden at the end of a beautiful lot densely populated by lush Houston greenery, Libbie Masterson's studio feels like her own personal oasis. The high ceilings and large windows yield a flood of soft natural light ideal for viewing her vast array of work including photographs, paintings, watercolors, glass mosaics and even stage set maquettes.
Masterson's lively persona is a striking counterpart to her tranquil, contemplative work. Our studio visit began with a look at her new glass mosaics, an extended exploration of her large-scale installation at the Houston Hobby Airport. These works are heavily influenced not only by Masterson's affinity for nature, but also music. Masterson shared her life-long fantasy of composing a symphony, and explained to KAC how she incorporates this hidden passion into her work by listening to songs on repeat and allowing the music to dictate the emotional direction of each mosaic.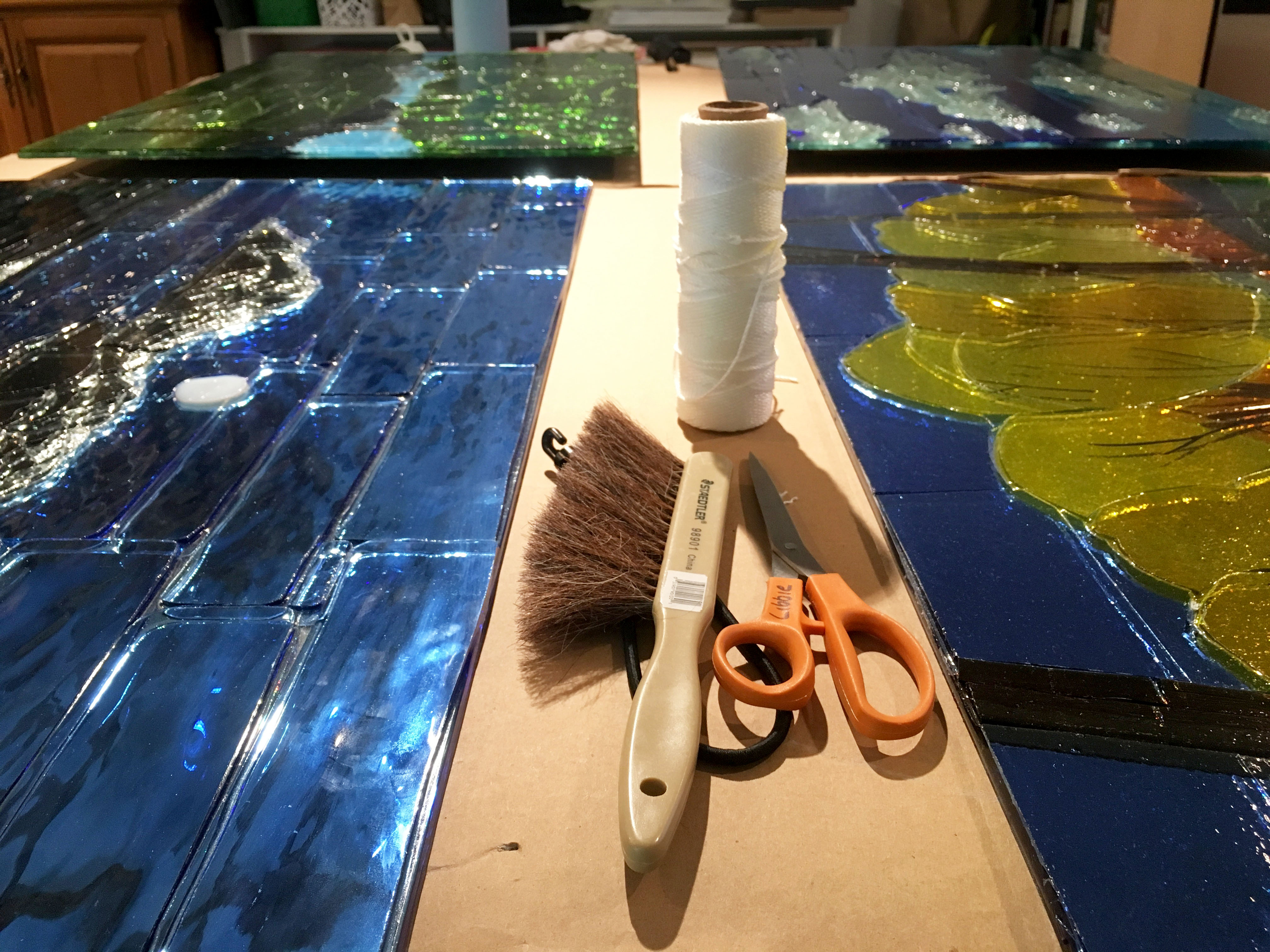 Close up of Masterson's glass mosaics
The imaginative glass compositions provide a splash of color to Masterson's otherwise monochromatic studio, filled with icy landscape photographs of deep grays, blues, and whites. These mesmerizing and meditative photos are back-lit and displayed as illuminated light boxes. Masterson walked us through the rewarding process of working with the light boxes, and calculating the perfect hue and strength of light to properly enhance the imagery without overpowering it.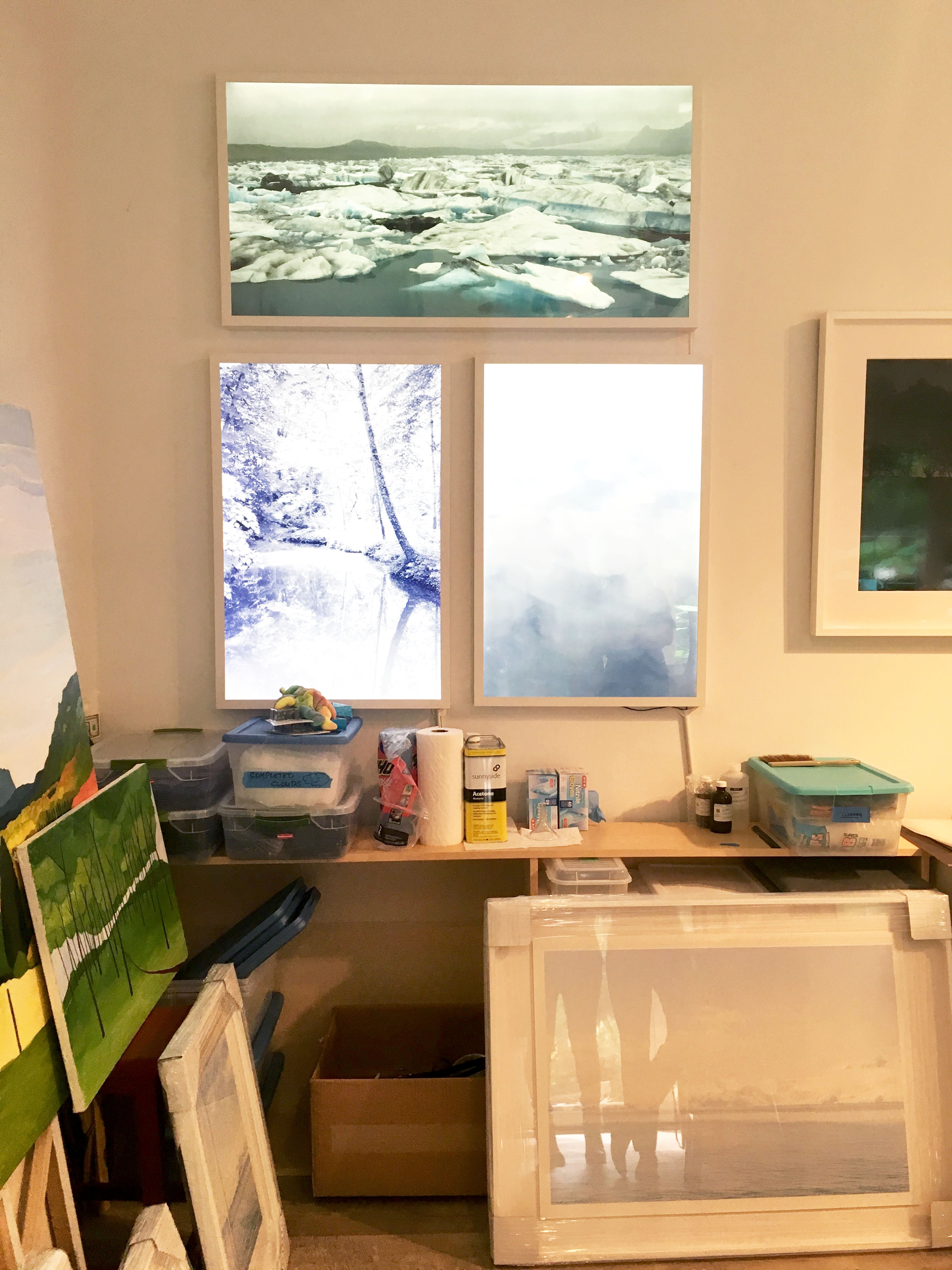 Masterson's light box photographs
Masterson's dream project: set design for an entire opera! Her infinite sources of inspiration and matching talent pose a promising future of endless possibilities and exploration. Be sure to attend her upcoming exhibition, opening September 10th 2016 at Catherine Couturier Gallery, who represents Masterson in Houston.
Tuesday, July 12, 2016 at 2:35 PM
On our latest studio visit, KAC got an inside look at Sharon Engelstein's eclectic studio, settled in the core of Houston's Museum District. Engelstein's studio is a breath of creative fresh air, fully equipped with a professional-grade kiln, her collection of colorful children's toys and all other essential elements to her creative process.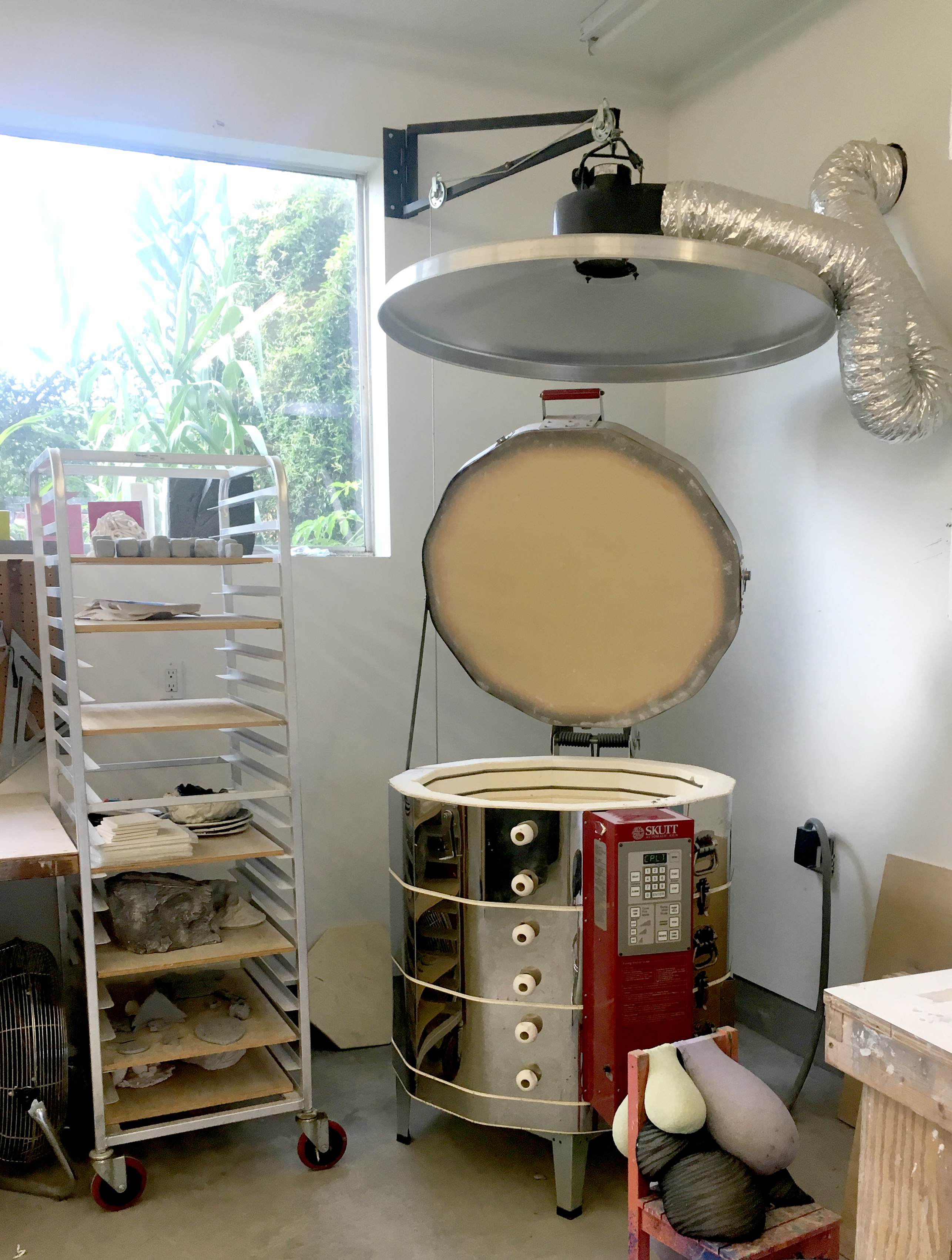 Sharon Engelstein's kiln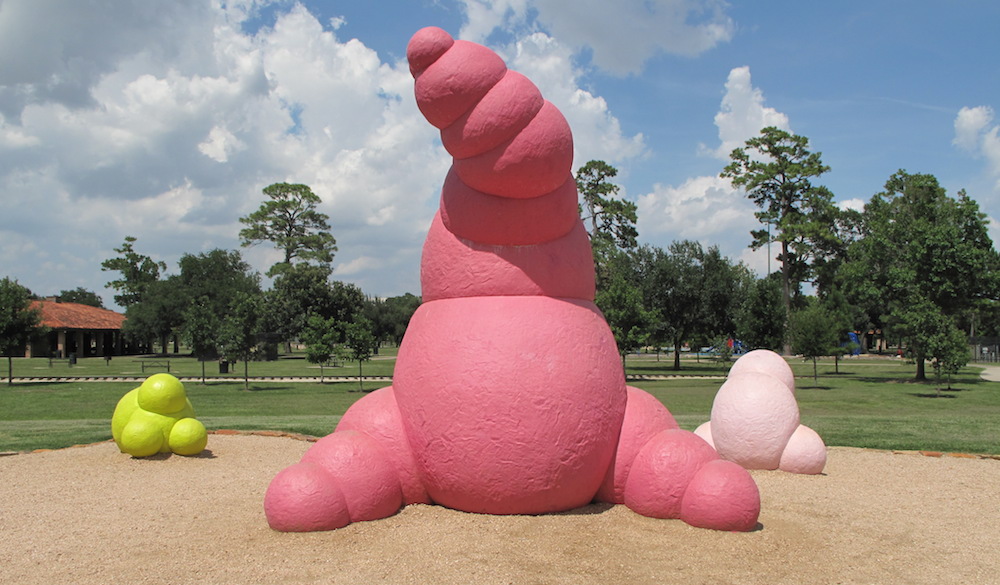 Engelstein's "Dillidiidae" at Hermann Park

Engelstein is commonly known for her sculpture "Dillidiidae" that is currently on view in Hermann Park. This exuberant piece has served the community as a public art landmark for the past two years. Her imaginative and anthropomorphic forms range in scale, material, and purpose, and KAC was eager to see what's currently cooking in her studio.

​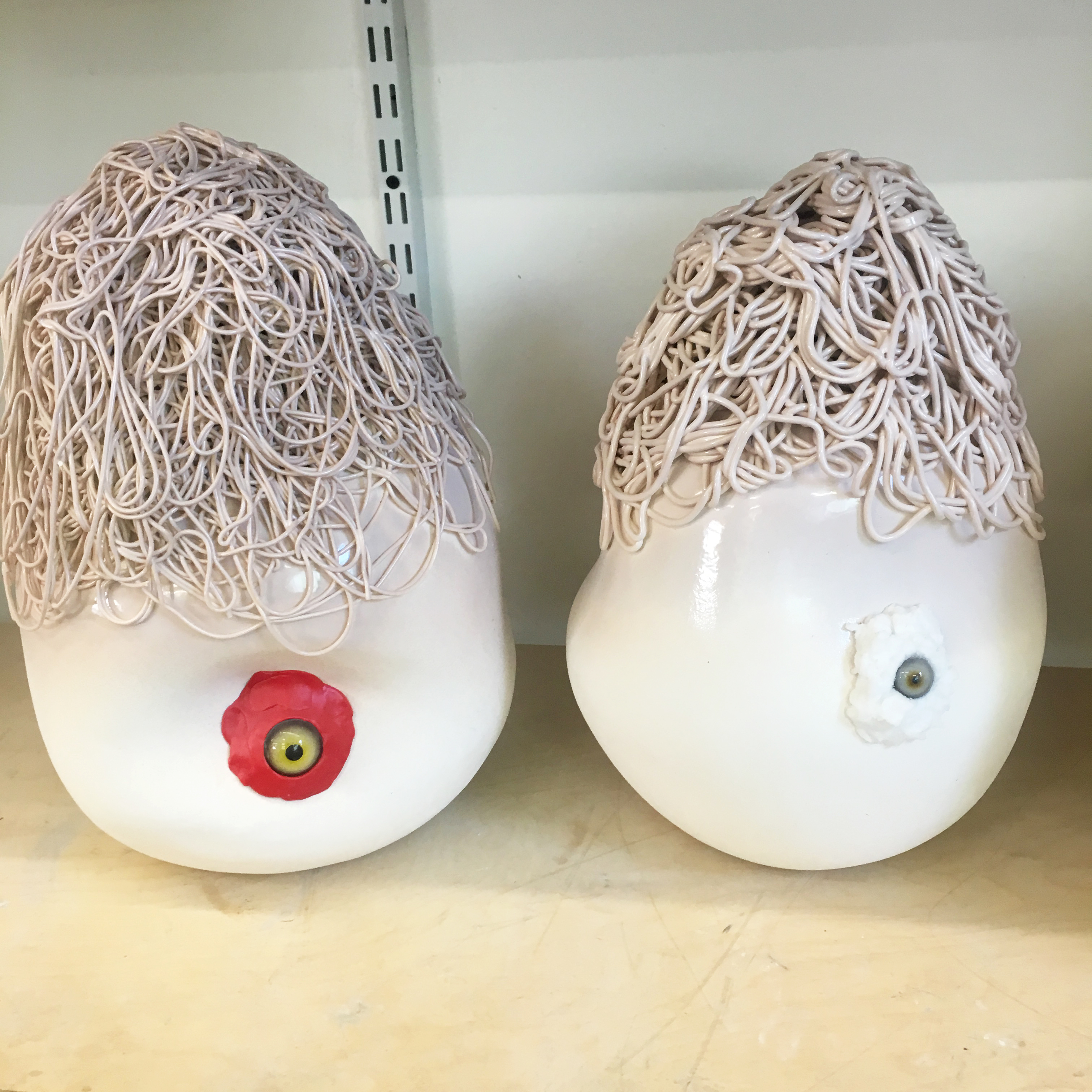 Ceramic sculptures, "Feel Fine I" and "Feel Fine II"
Upon expressing our curiosity, Engelstein proudly revealed her growing collection of small organic clay sculptures. While staying true to her barnacle-like forms, she has temporarily stepped away from her meticulous planning process that traditionally plays a significant role in her work. This shift encourages Engelstein to work more intimately within her studio, allowing her sculptures to evolve into their own individual identities.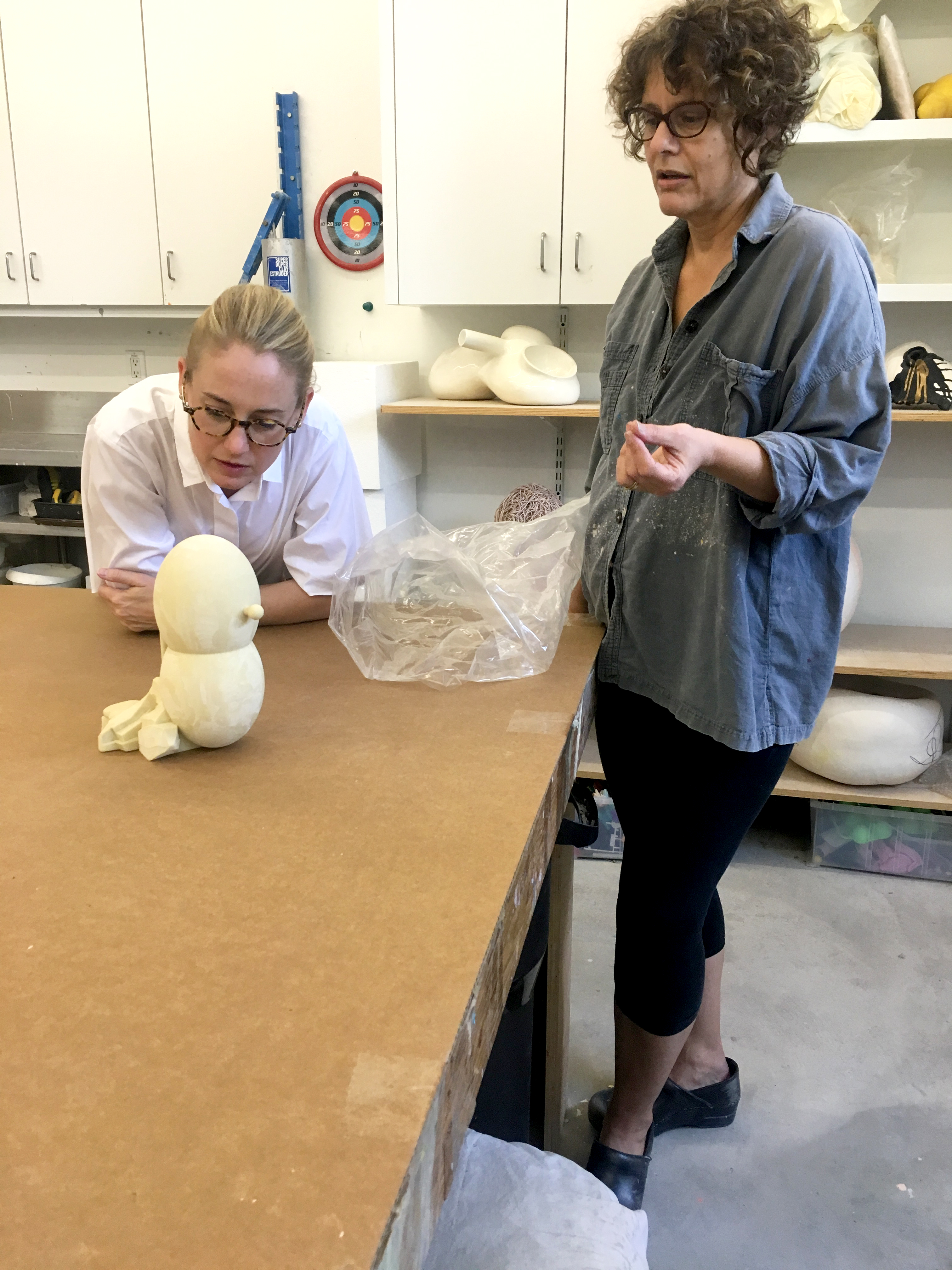 Adrienne taking a closer look at one of Engelstein's 3-D printed works
We can expect to see great things from Engelstein, who says her best work has yet to come. Sharon is represented in Houston by Devin Borden Gallery and will have her next exhibition in 2017.



Engelstein's work in progress clay sculpture
Wednesday, June 29, 2016 at 10:28 AM
KAC asked Curator of The Menil Collection, Michelle White for an inside look into her daily life and points of inspiration. See what this Houston art community power house has to say.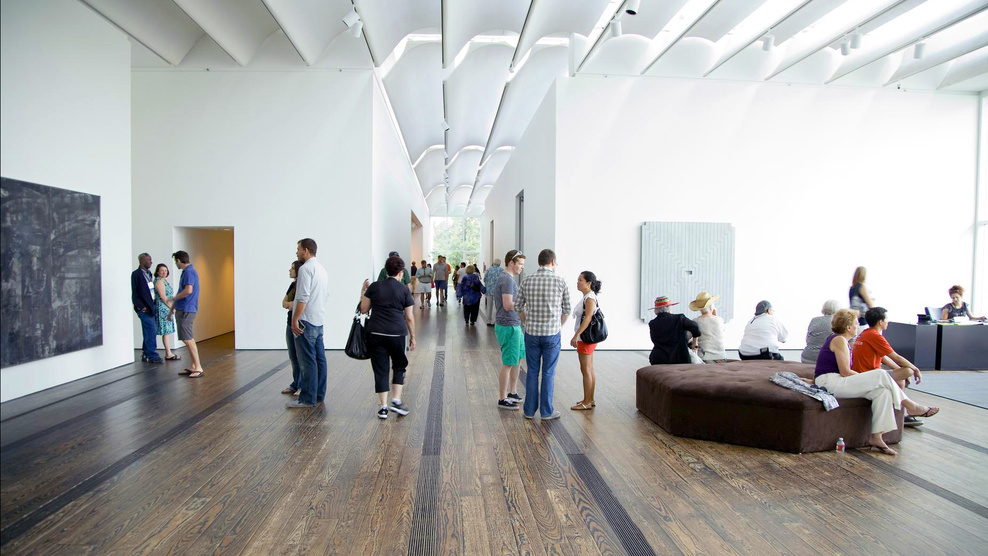 Inside of The Menil Collection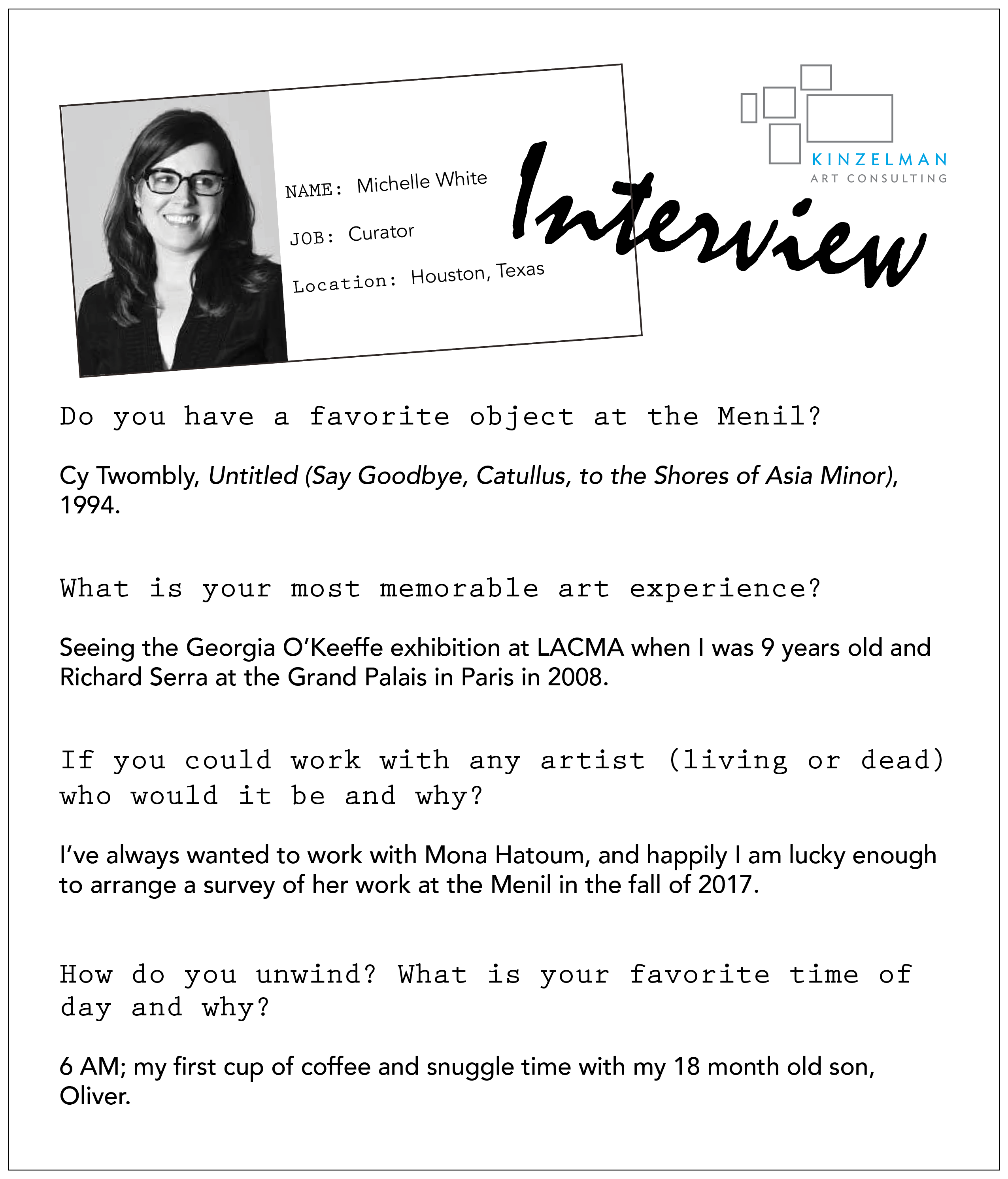 Friday, June 24, 2016 at 10:23 AM
KAC got an exclusive look at our newest neighbor, Capsule Gallery. True to it's name, the tucked away space on Main Street is quaint yet open and full of fresh and innovative ideas.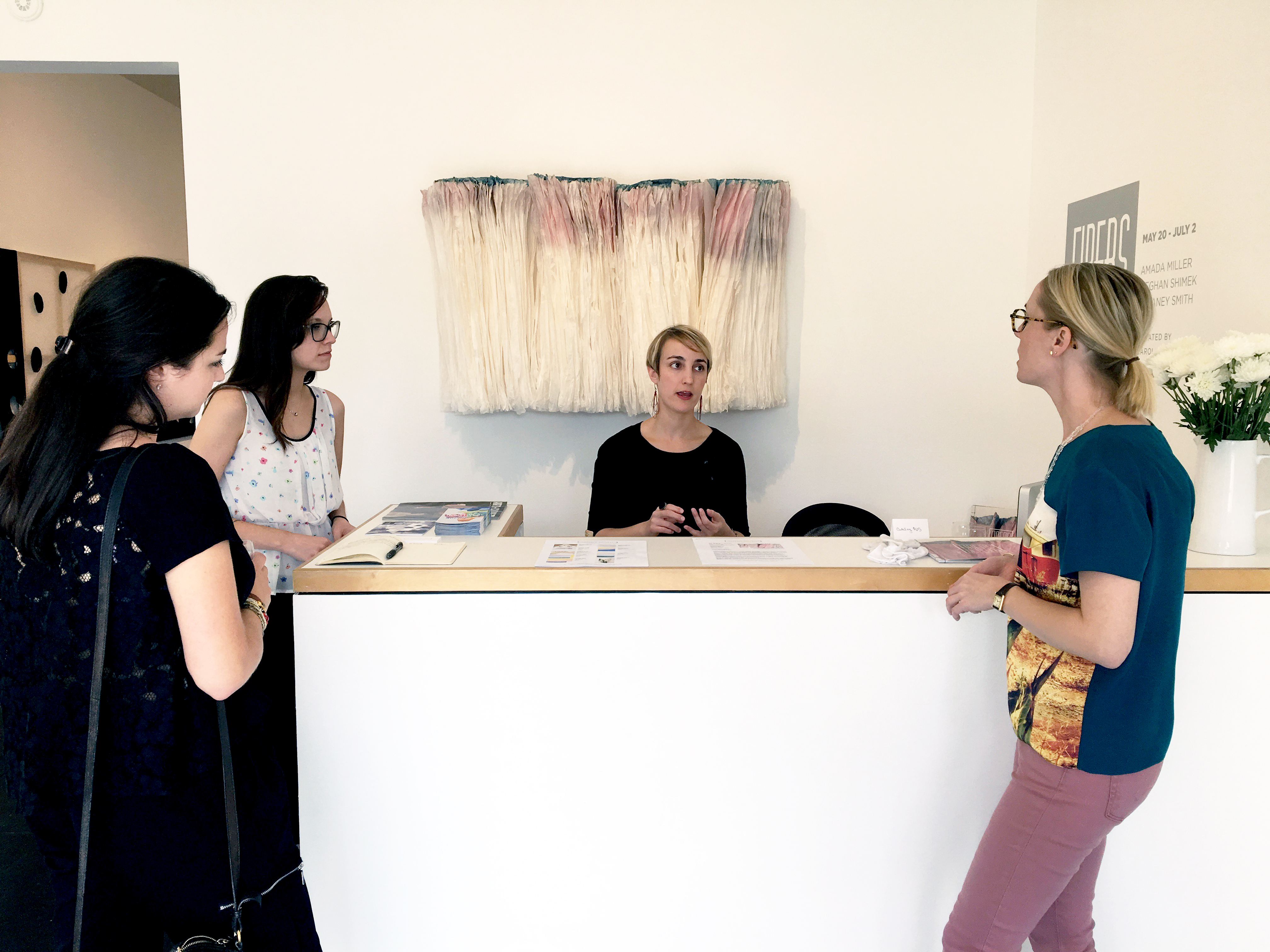 KAC discussing Fibers of Design with director of Capsule Gallery, Sarah Sudhoff, and gallery assistant, Taylor Cox
We had the pleasure of chatting with Capsule's owner and director, Sarah Sudhoff. Sarah's dynamic background reflects the gallery's whimsical and refined array of works. The innovative progarm combines contemporary photography and craft, representing emerging to established artists.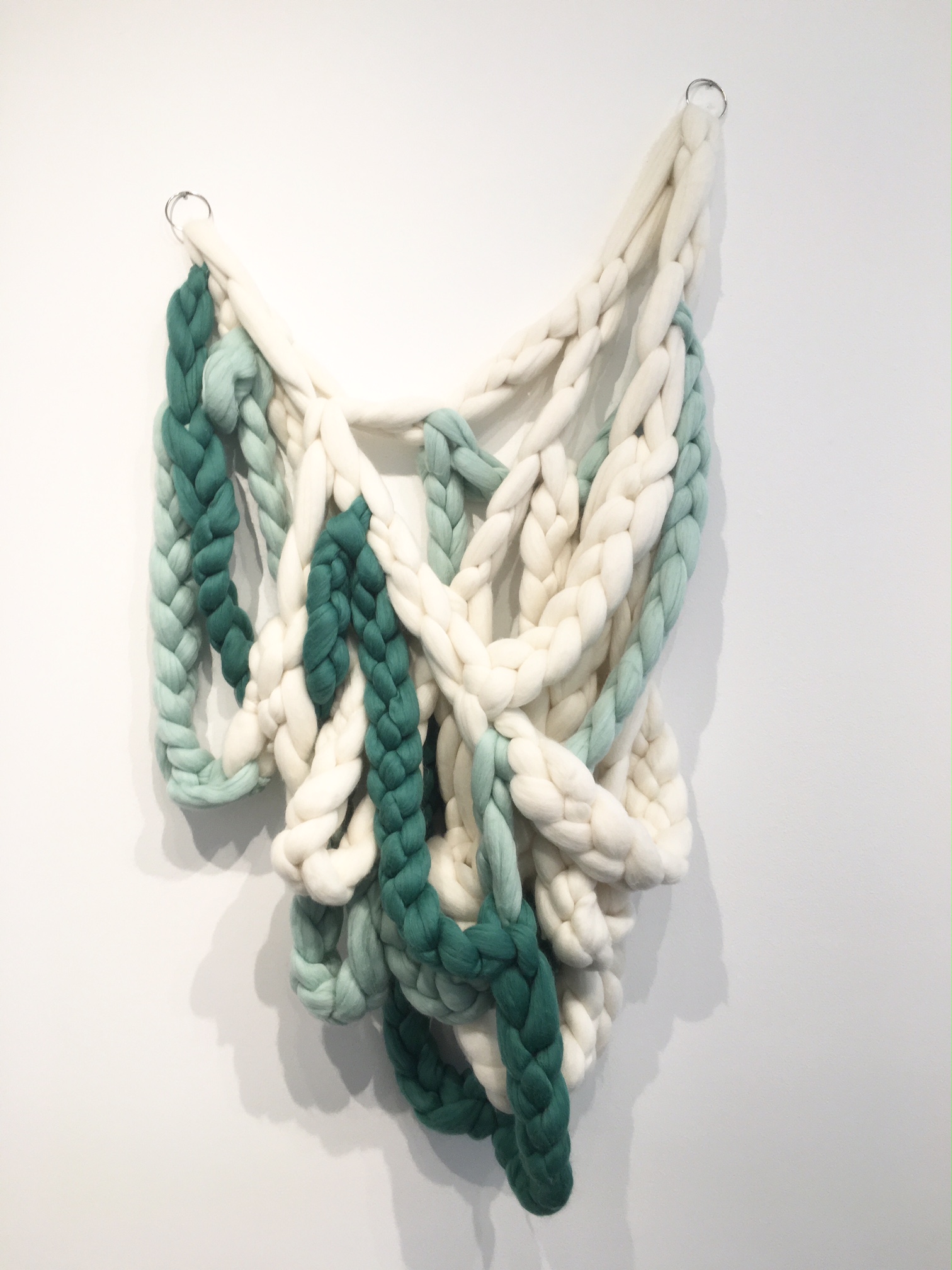 Ouray , Meghan Bogden Shimek in Fibers of Design
Capsule Gallery kicked off the summer with exhibition, Fibers of Design, featuring three craft artists, Amada Miller, Meghan Shimek, and Delaney Smith, who work in various textured mediums.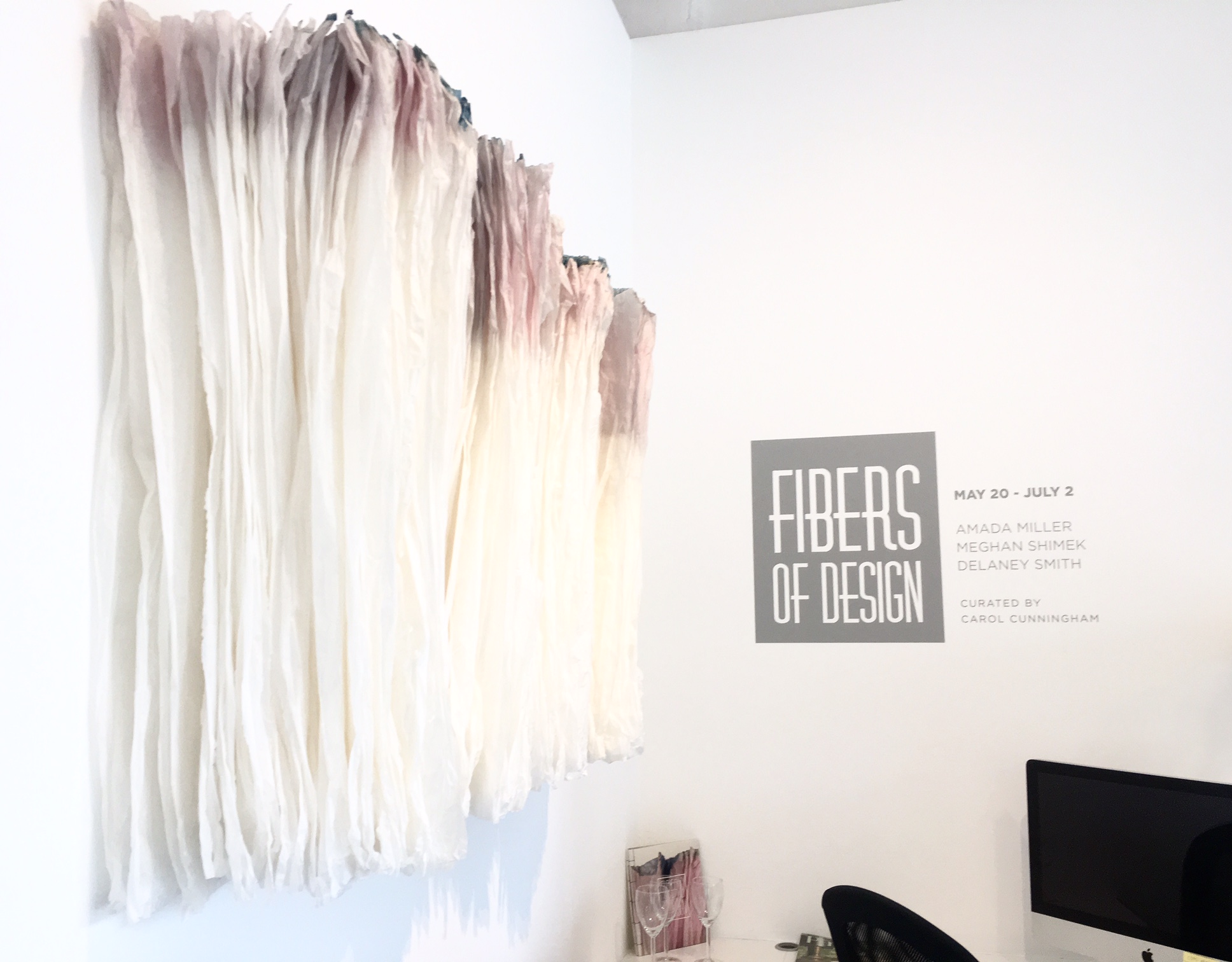 Signatures #17, Delaney Smith in Fibers of Design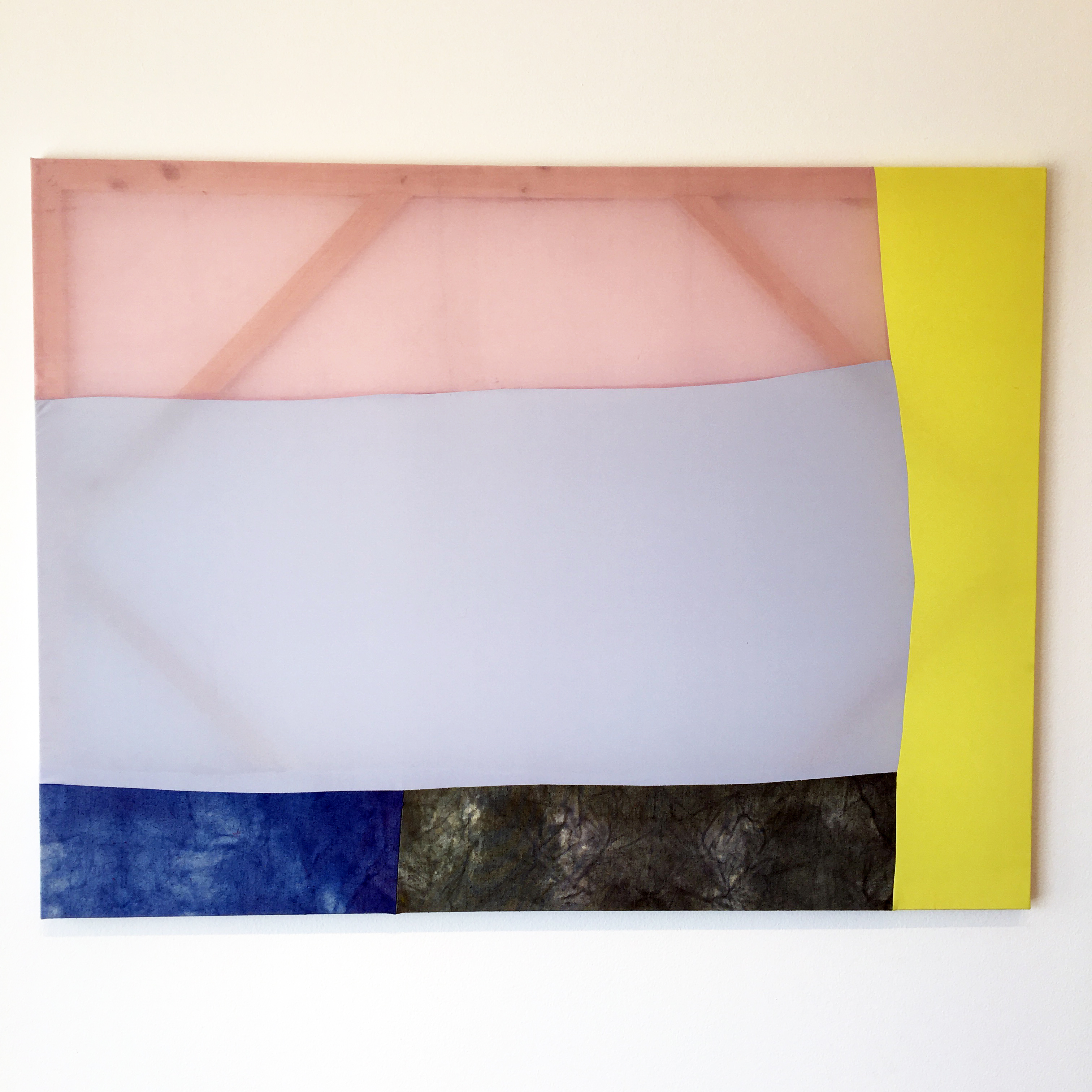 Untitled, Amada Miller in Fibers of Design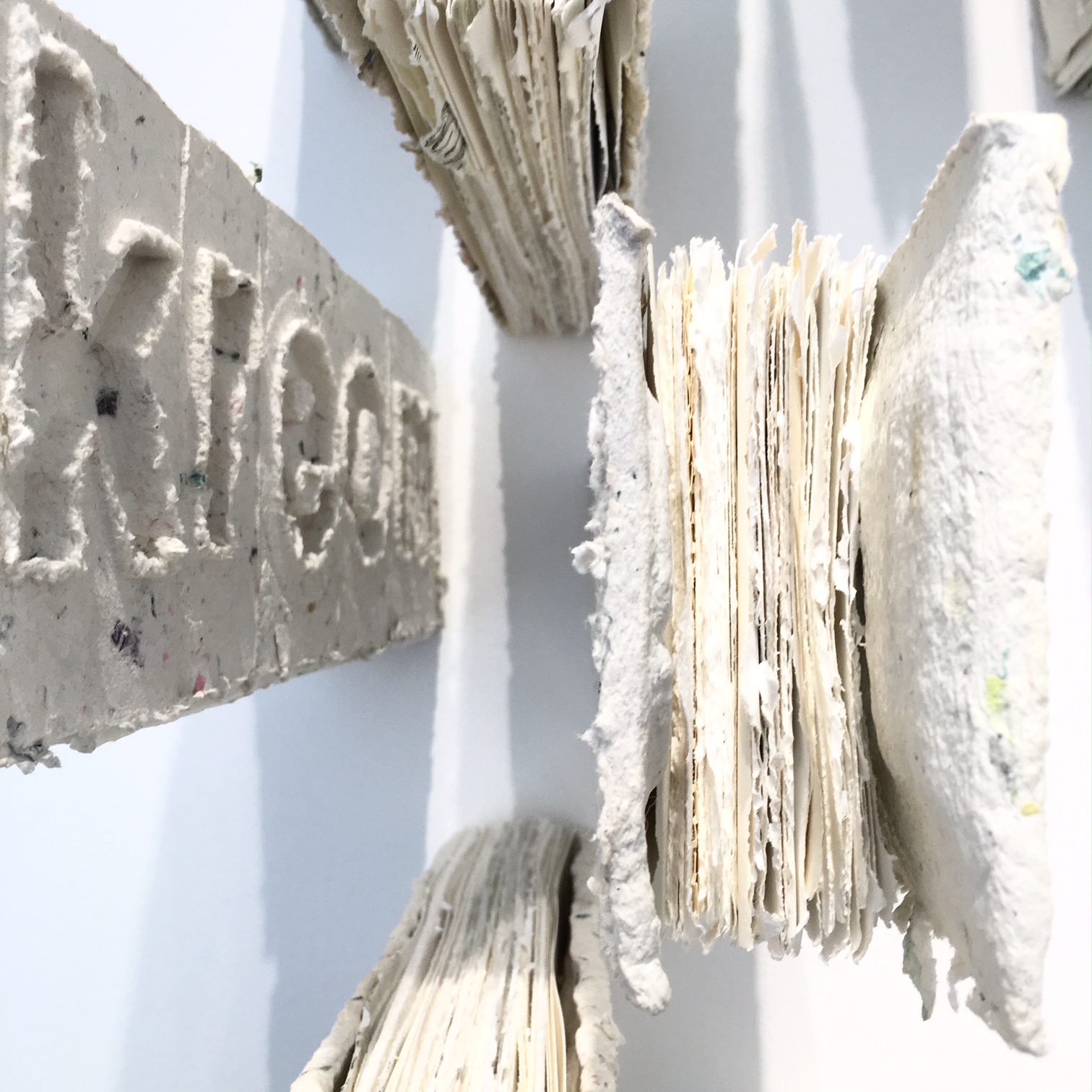 Knebix, Delaney Smith in Fibers of Design
Tuesday, June 14, 2016 at 3:20 PM
Texas based artist, Michael Kennaugh, talks art with KAC. In this exclusive interview Kennaugh describes his experience in the growing Houston art scene and the colorful inspiration behind his process. He also reveals a glimpse into his forthcoming body of work.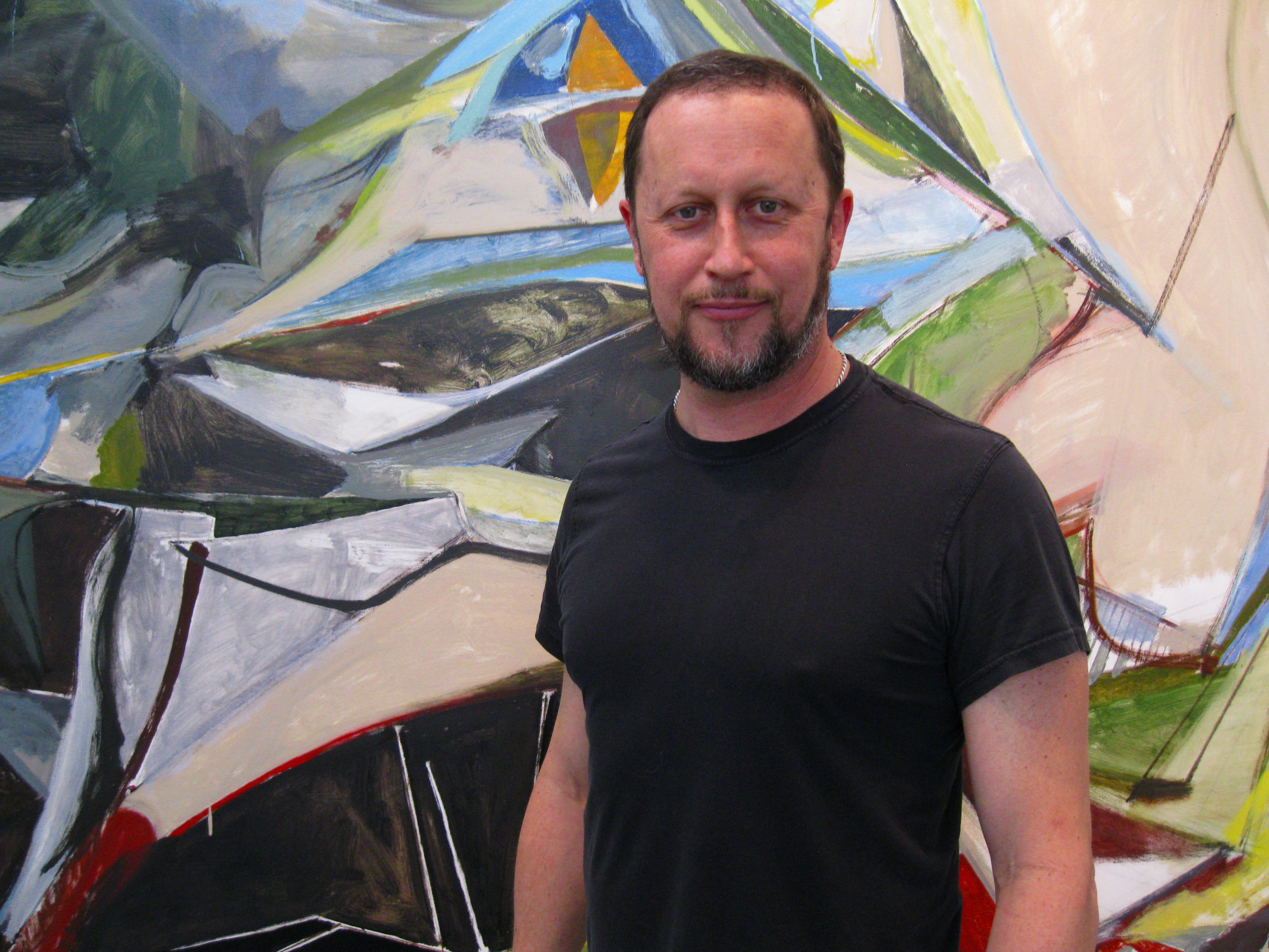 Michael Kennaugh, artist
Monday, April 25, 2016 at 11:53 AM
KAC got together with Rainey Knudson for an exclusive interview discussing the forthcoming April 30th OFF ROAD event with William Wegman. Here is what Founder and Publisher of the Texas arts online magazine, Glasstire, has to say.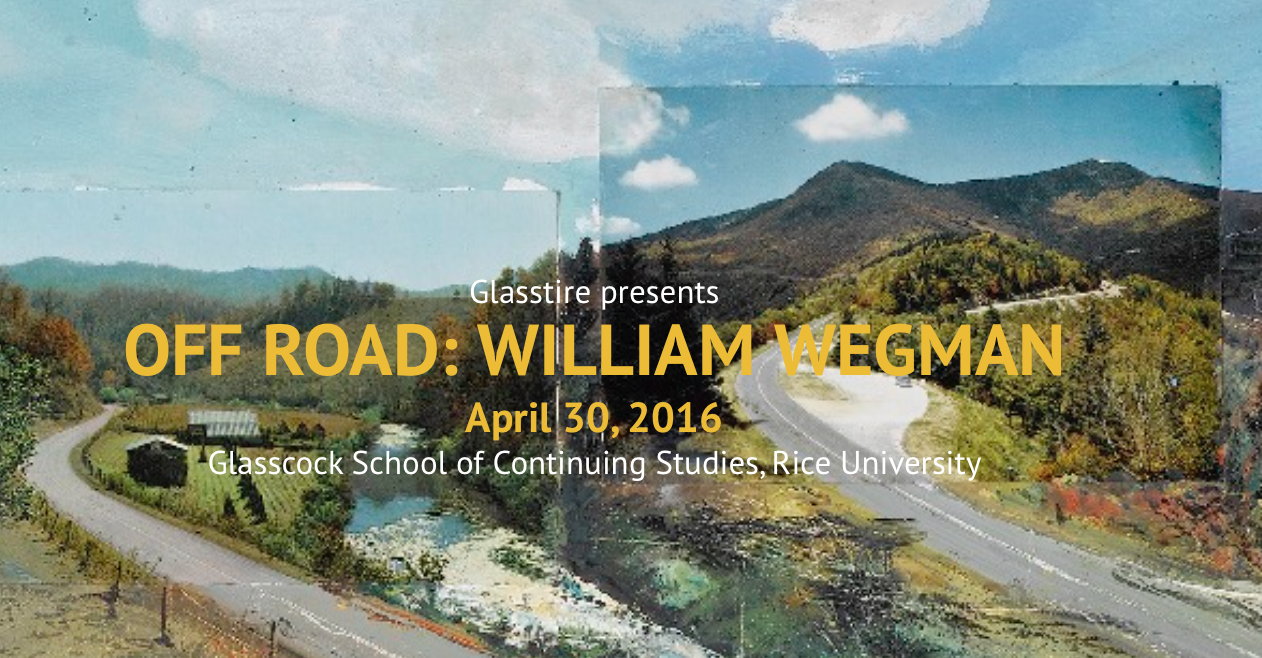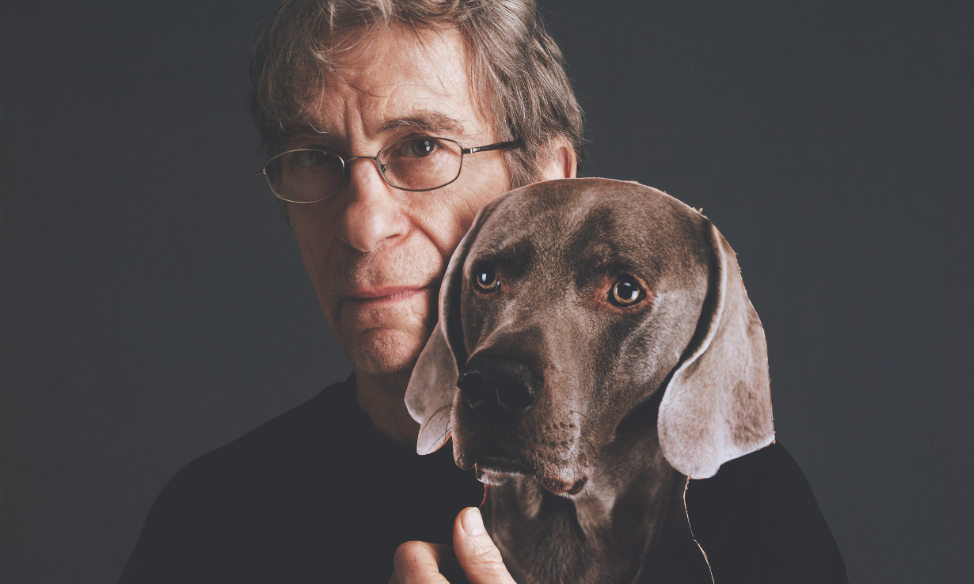 William Wegman, speaker at OFF ROAD 2016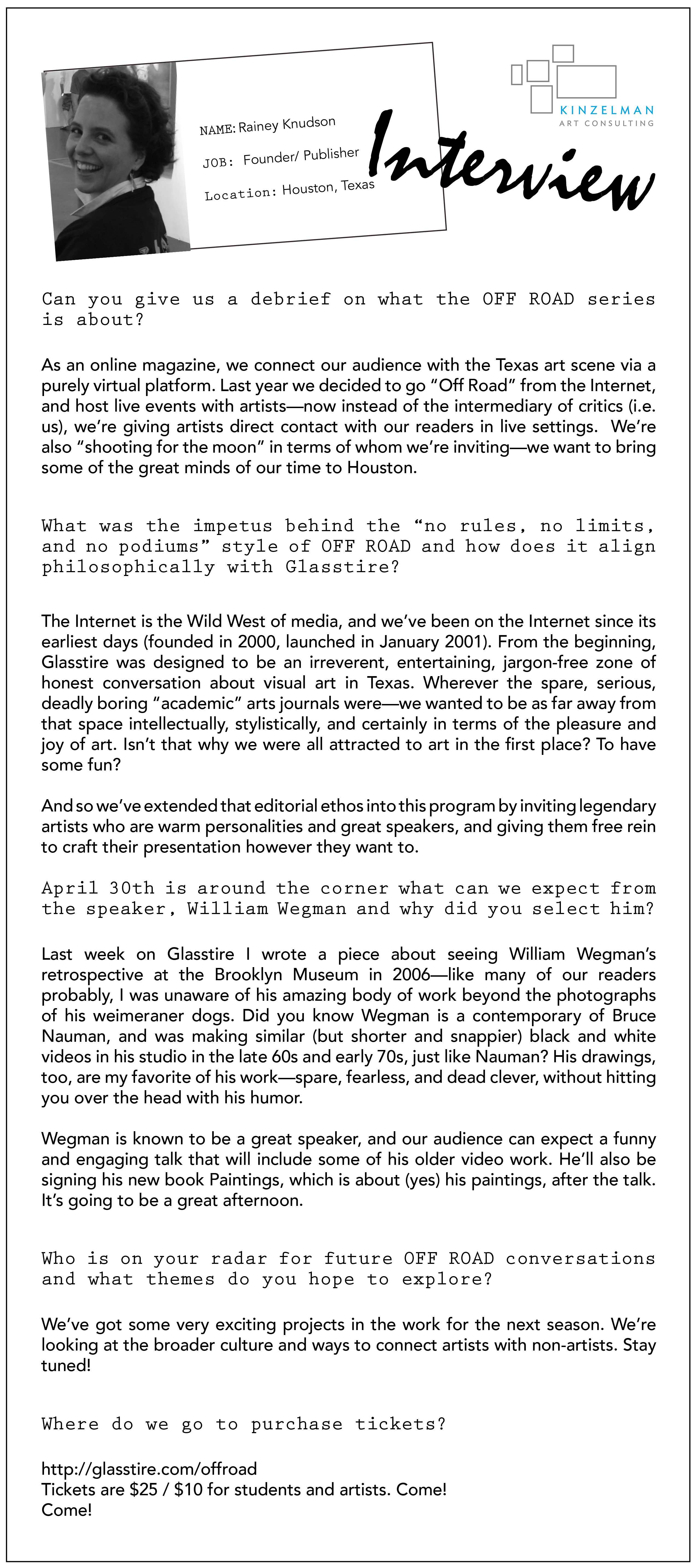 Thursday, April 14, 2016 at 2:40 PM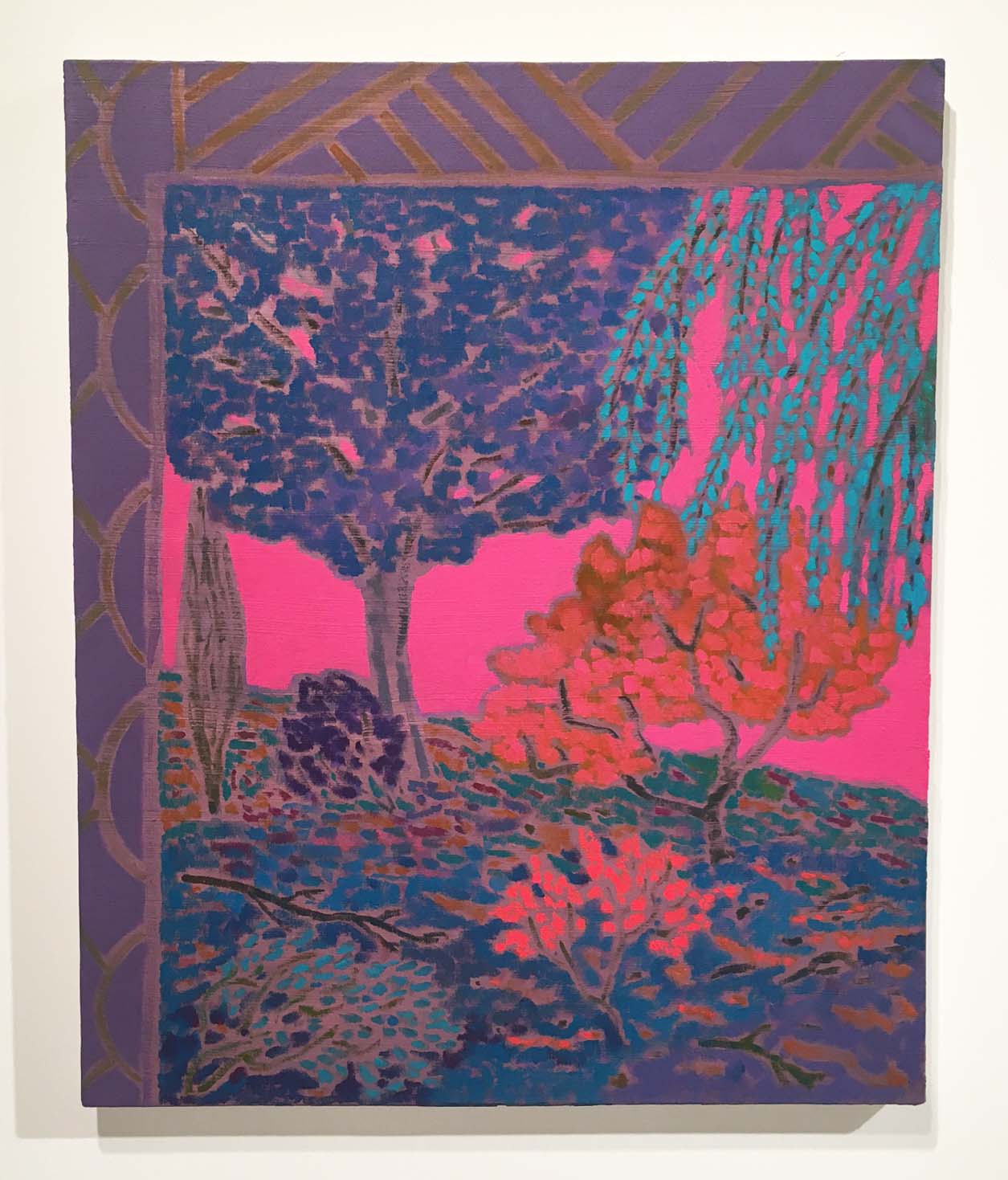 John McAllister at Carl Freedman Gallery in London, England
KAC is on the road to the Dallas Art Fair. We hit the ground running Thursday morning to be among the first to preview the fair. We are excited that the fair is getting stronger with the addition of new dealers, such as Carl Freedman, London, and Taymour Grahne Gallery, New York. We have also connected with our old friends: Wendi Norris, San Francisco, Lisa Cooley, New York, Bitforms, New York, and Tally Dunn, Dallas.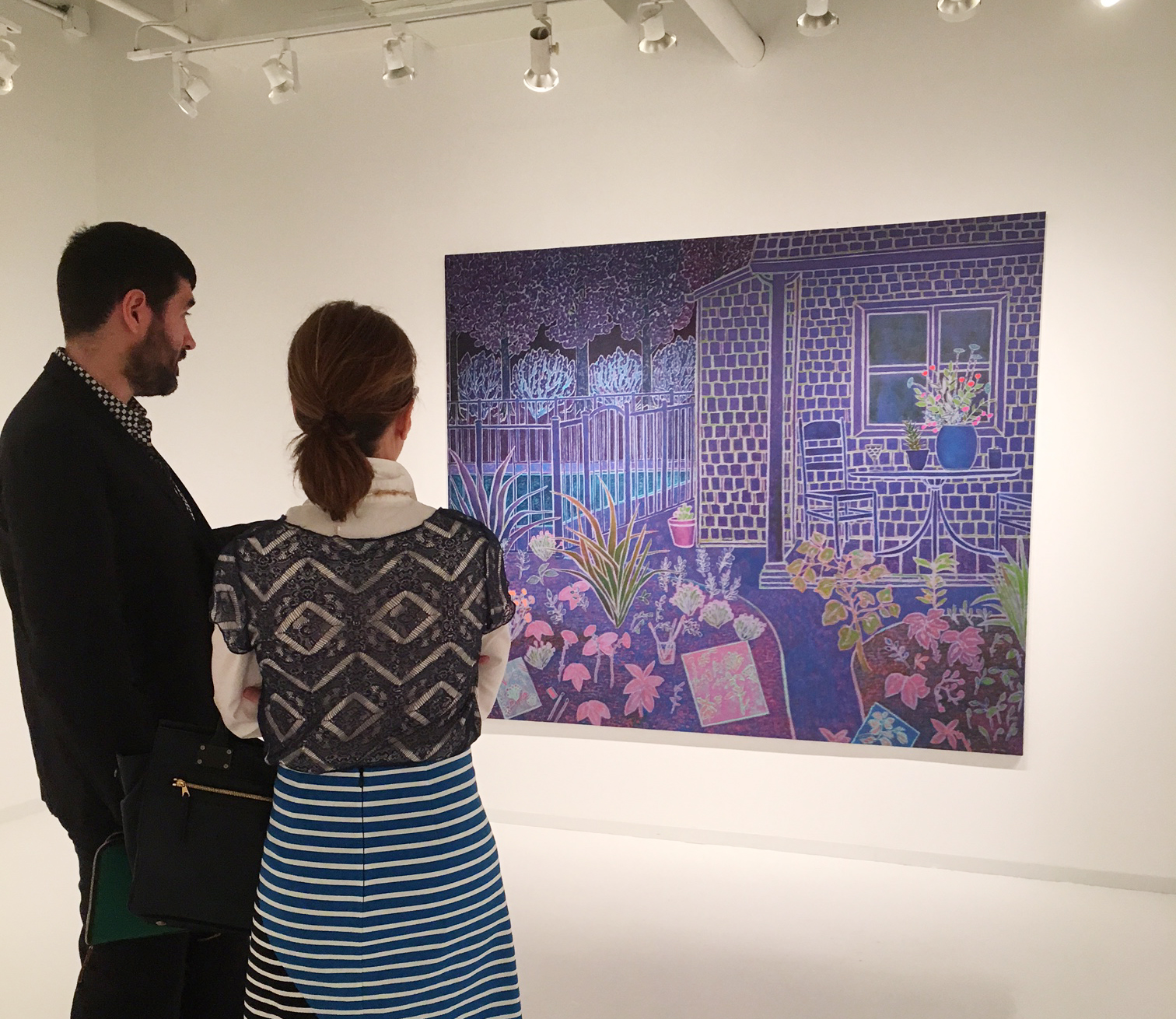 Julie Kinzelman & Robert Diamond, Director of Carl Freedman Gallery, discussing John McAllister's celestial sometimes, 2014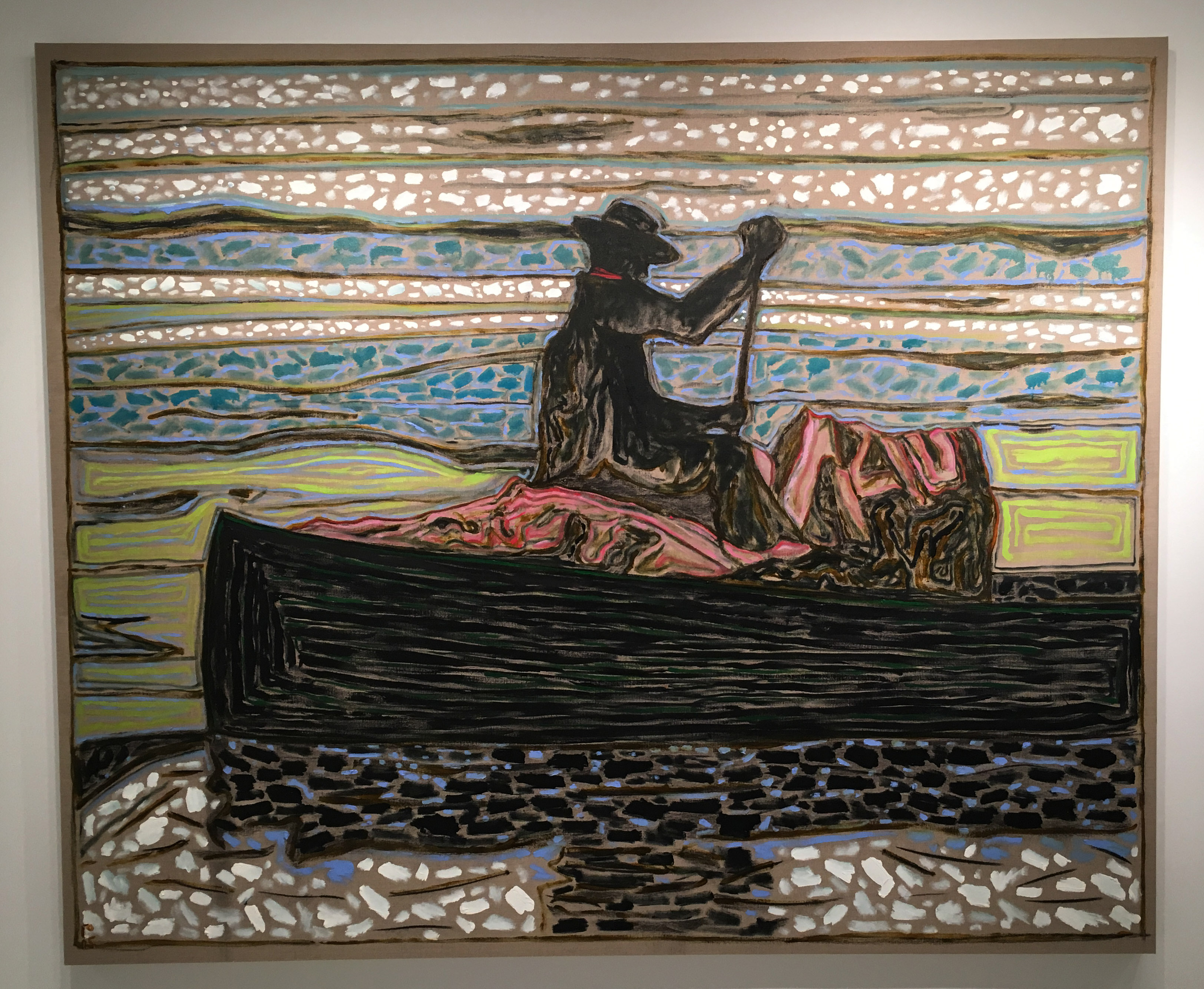 Billy Childish, alaska fur packer, 2015 at Carl Freedman Gallery in London, England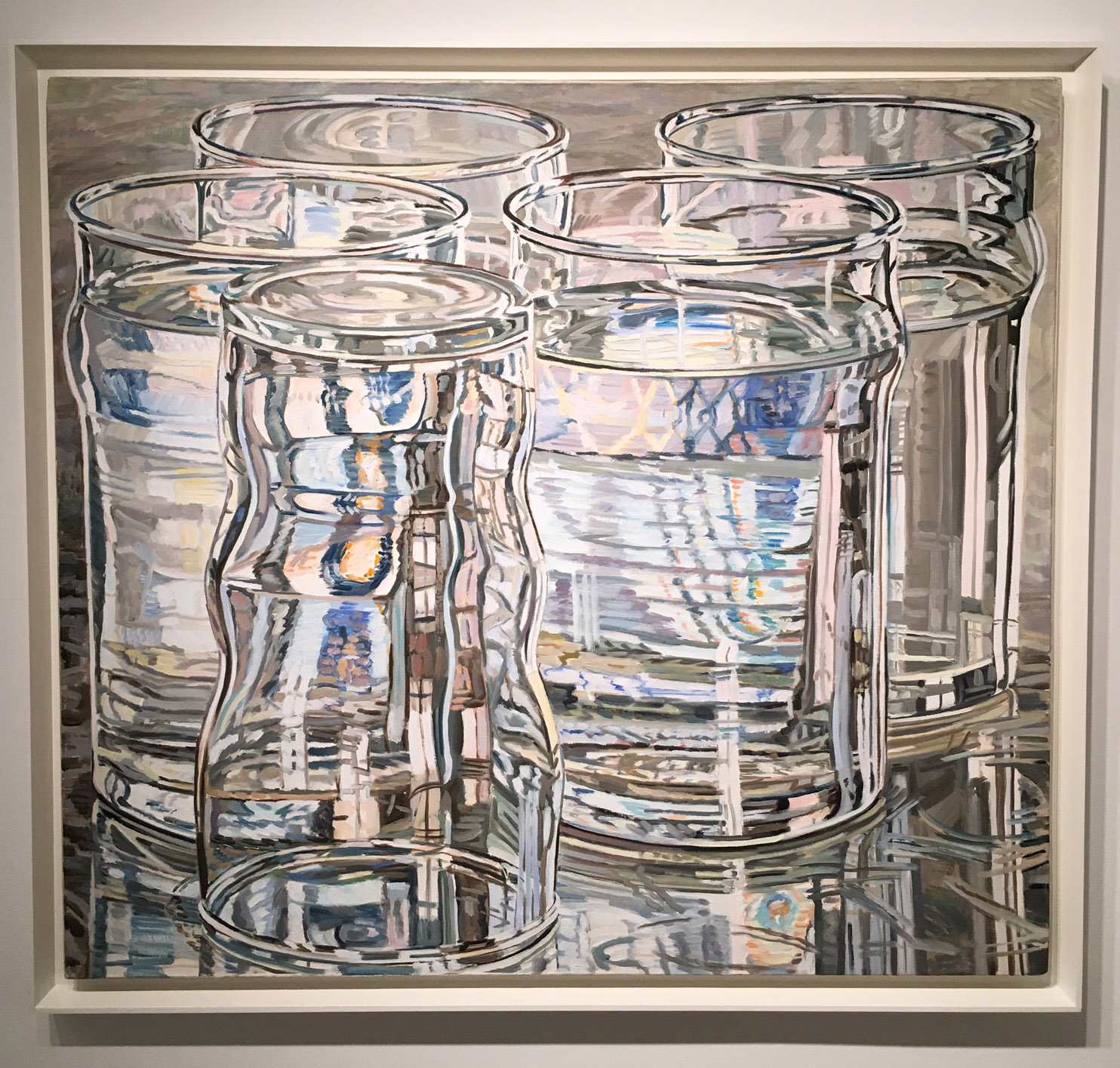 Janet Fish, Five Tall Glasses, One Dawn Morning, 1975 at DC Moore Gallery in New York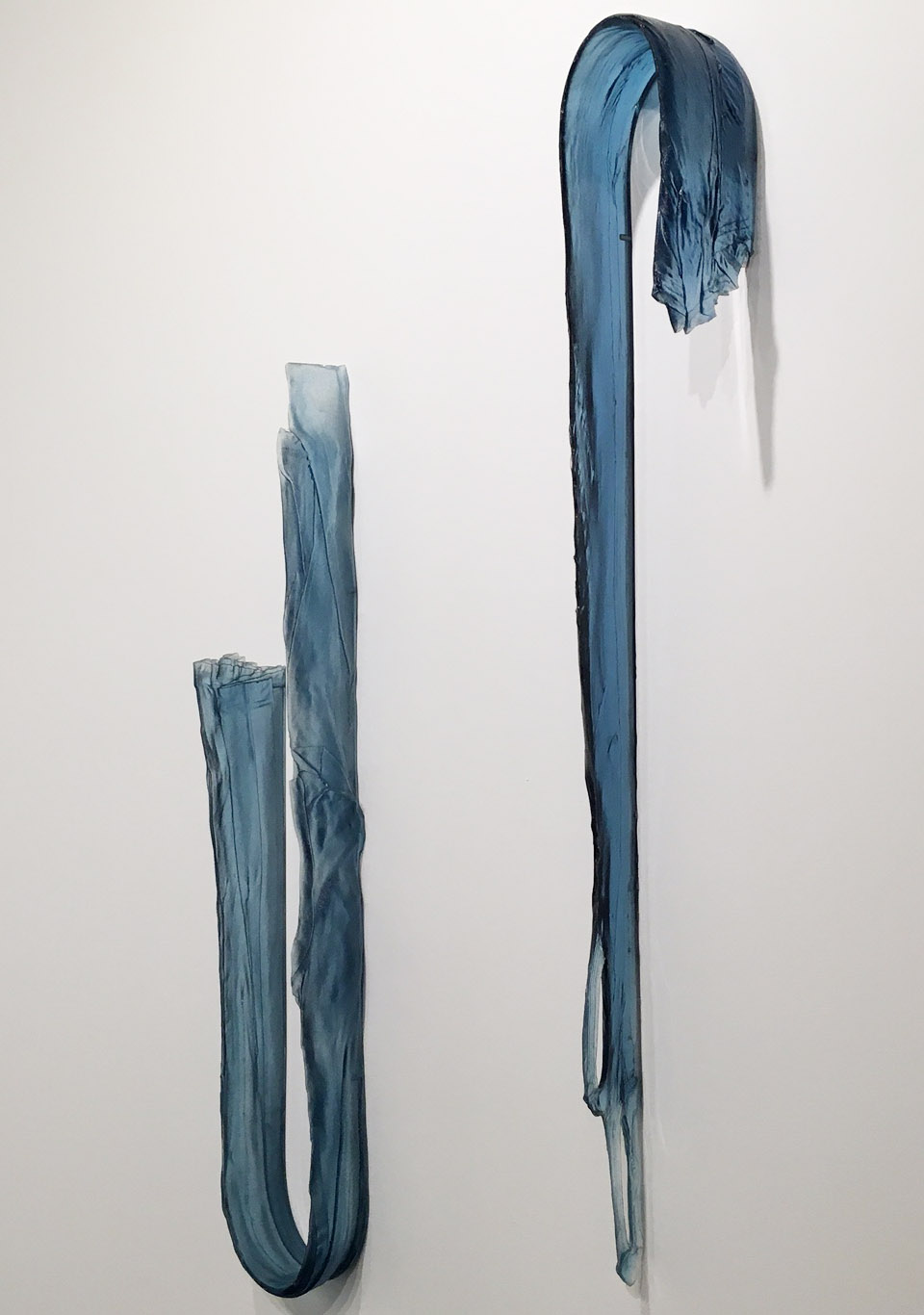 Alice Channer, Soft Shell Series, 2013 at Lisa Cooley Gallery in New York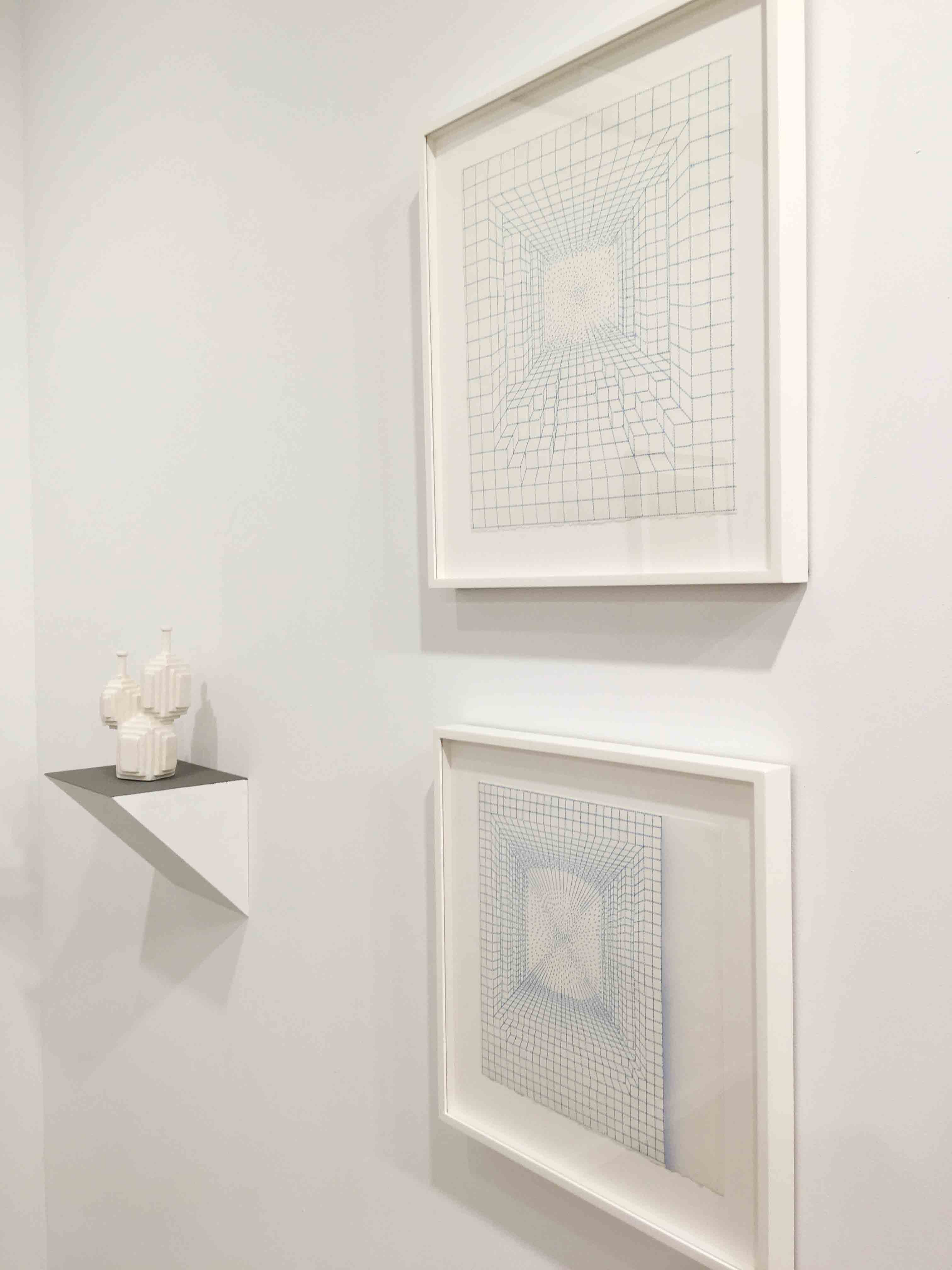 Will Yackulic, Until the End, My Dear and Module 2.2 (Sculpture), 2014-16 at Gregory Lind Gallery in San Francisco, California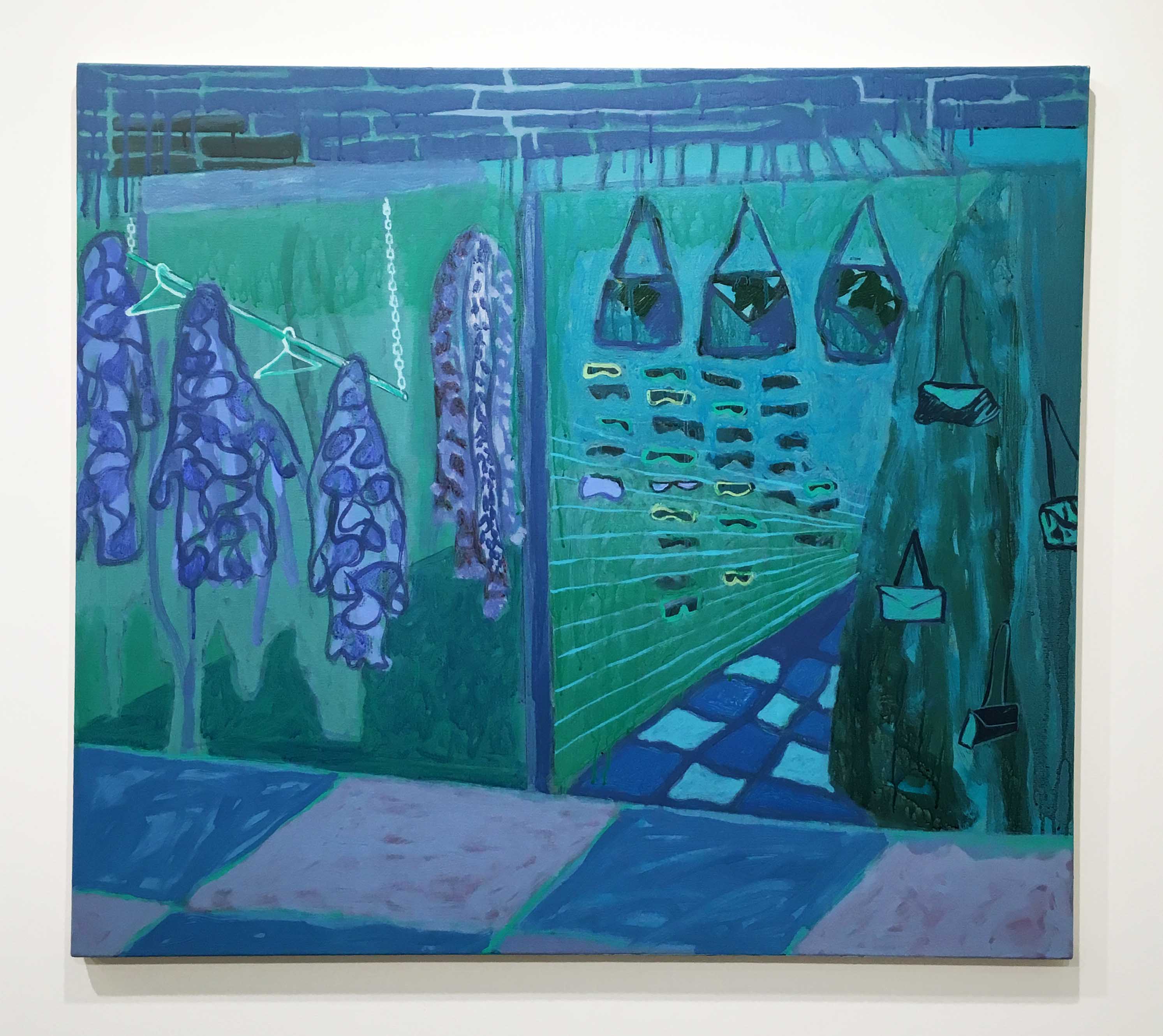 Tyson Reeder, Blue Store, 2015 featured in the booth for CANADA, New York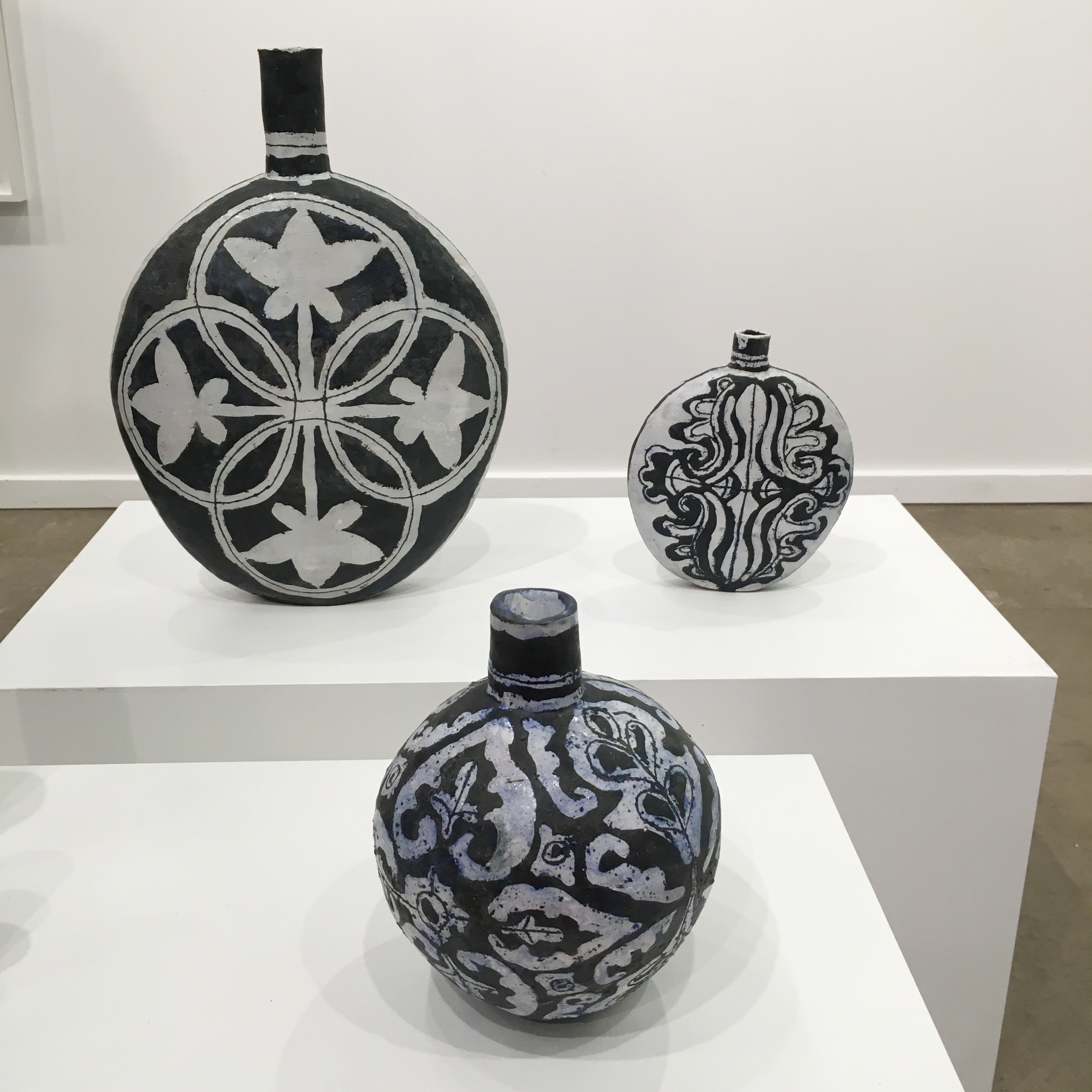 Elisabeth Kley featured in the booth for CANADA in New York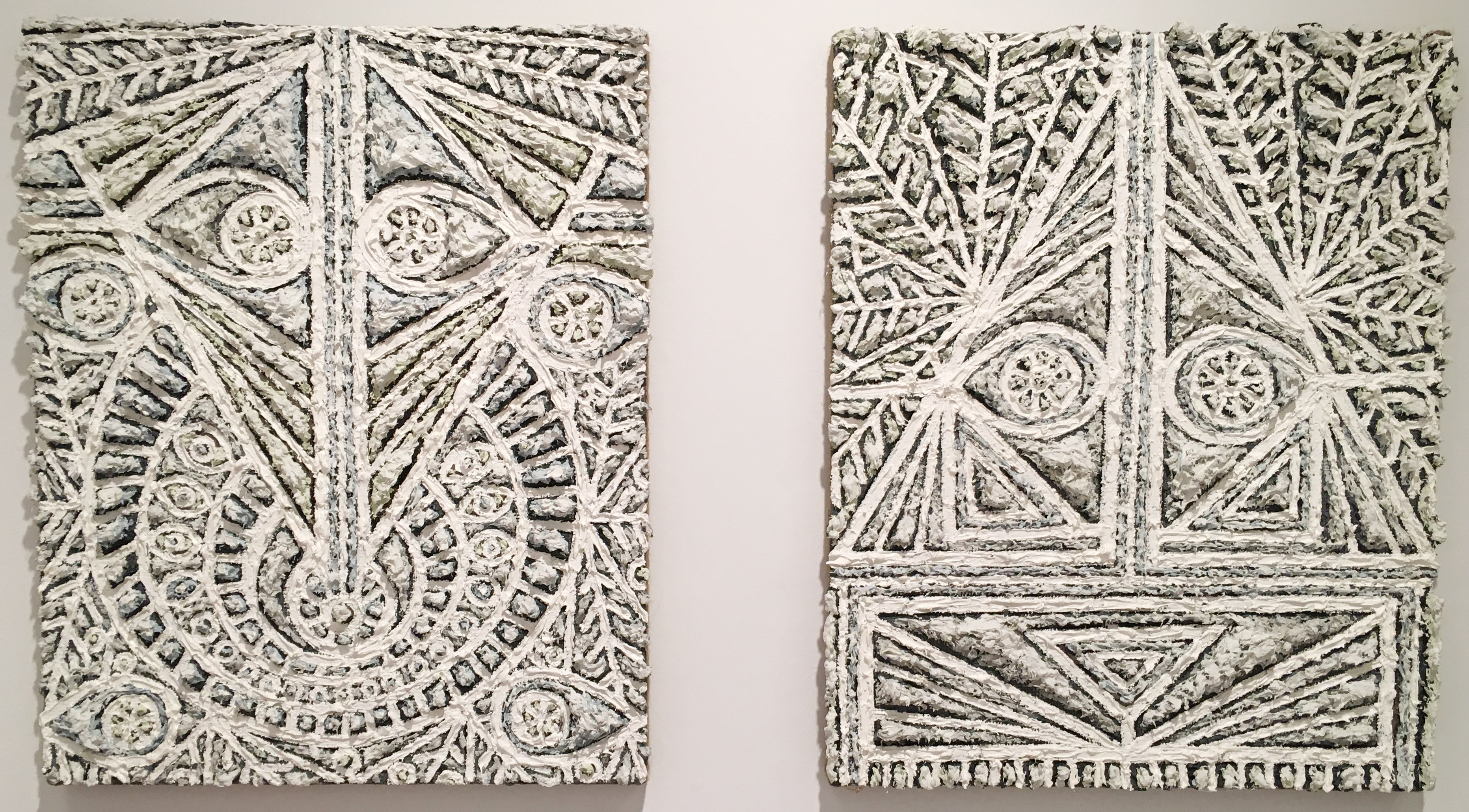 Helen Rebekah Garber, Crowley Heads, 2015 at Gallery Wendi Norris in San Francisco, California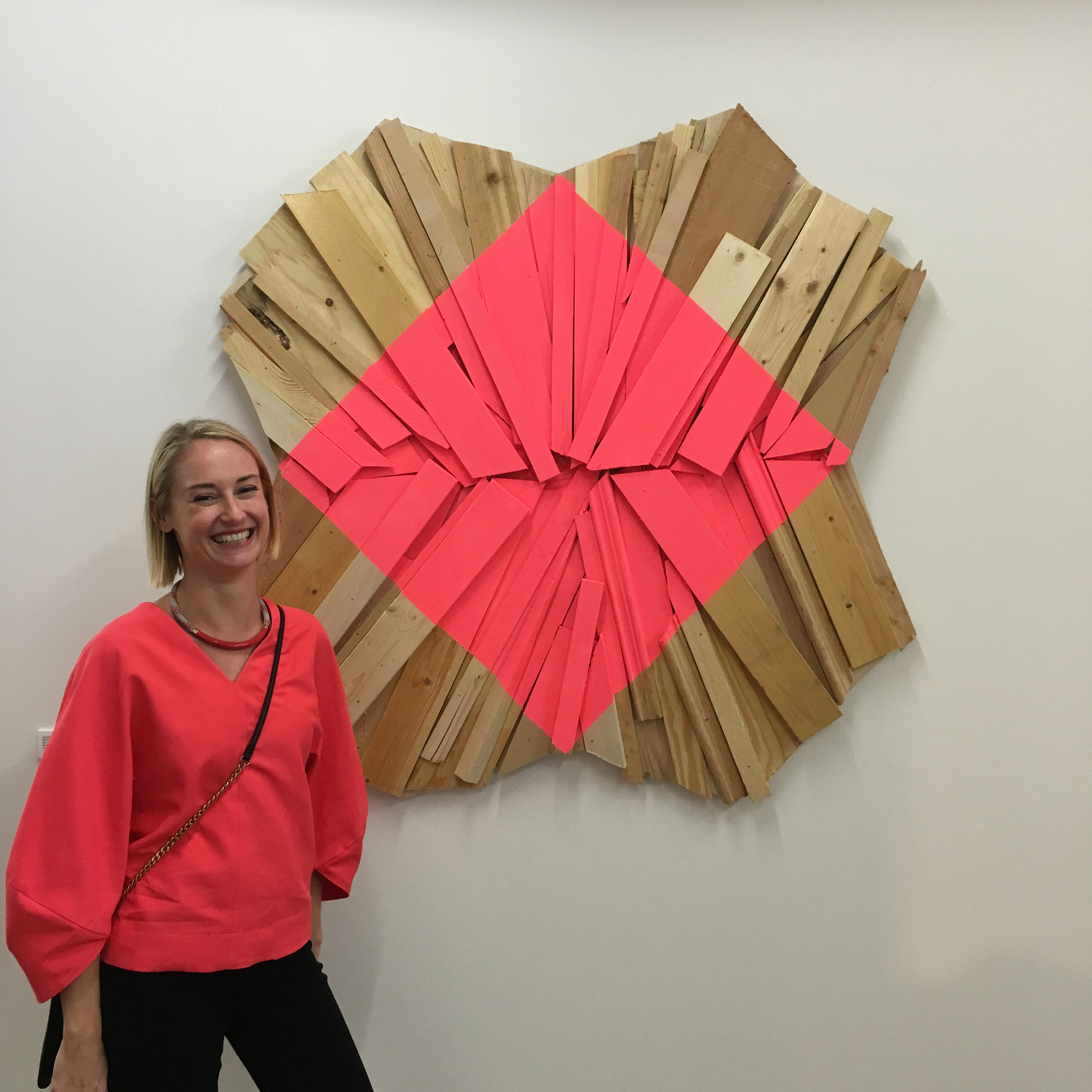 Adrienne cleverly matching with Jay Shinn's Flat Prism, 2016 at Louise Alexander Gallery in Sardinia, Italy
Monday, April 11, 2016 at 9:38 AM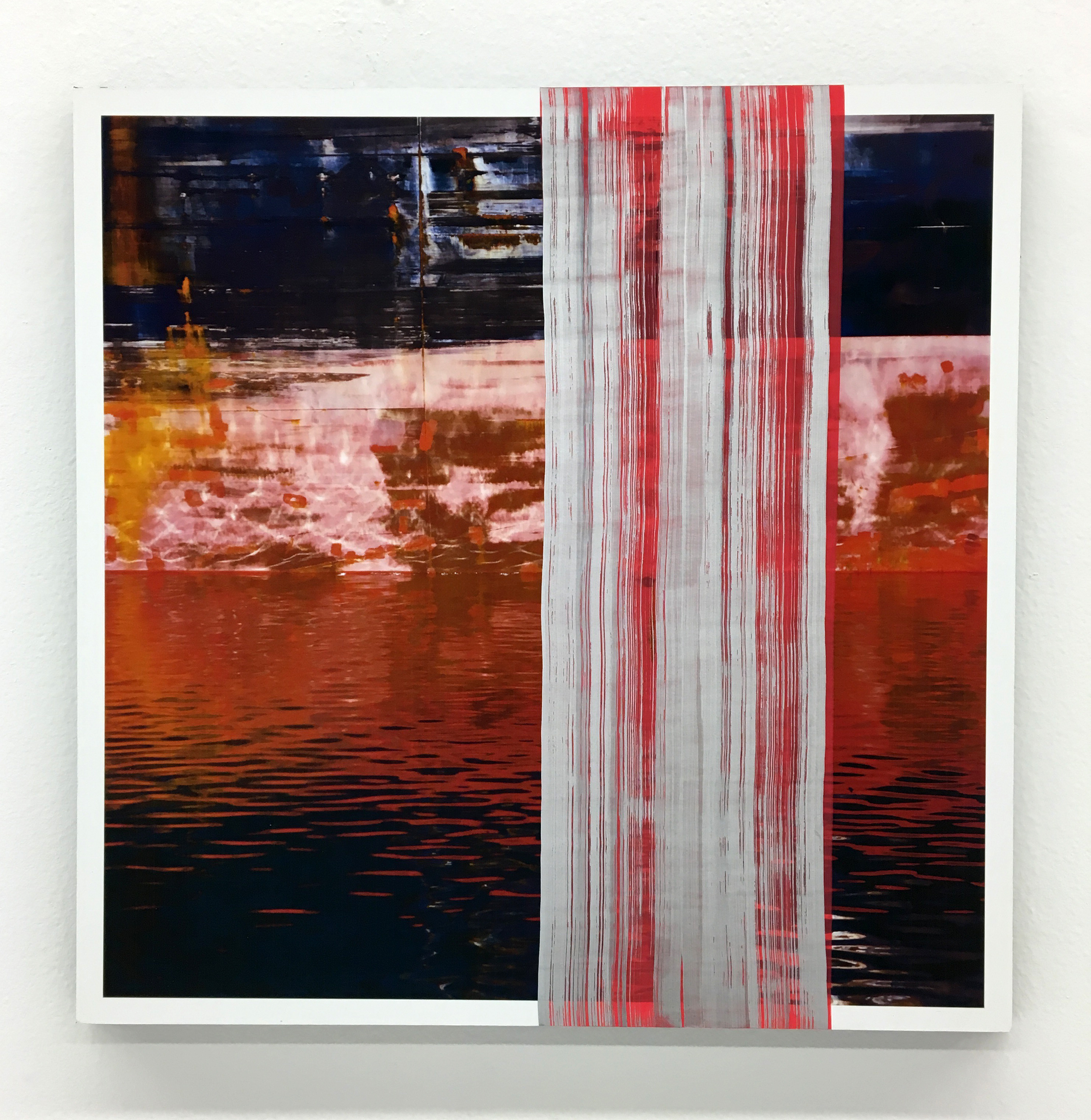 Casey Williams, Untitled, c.2012, acrylic on archival inkjet print. Exhibited at Art Palace Gallery.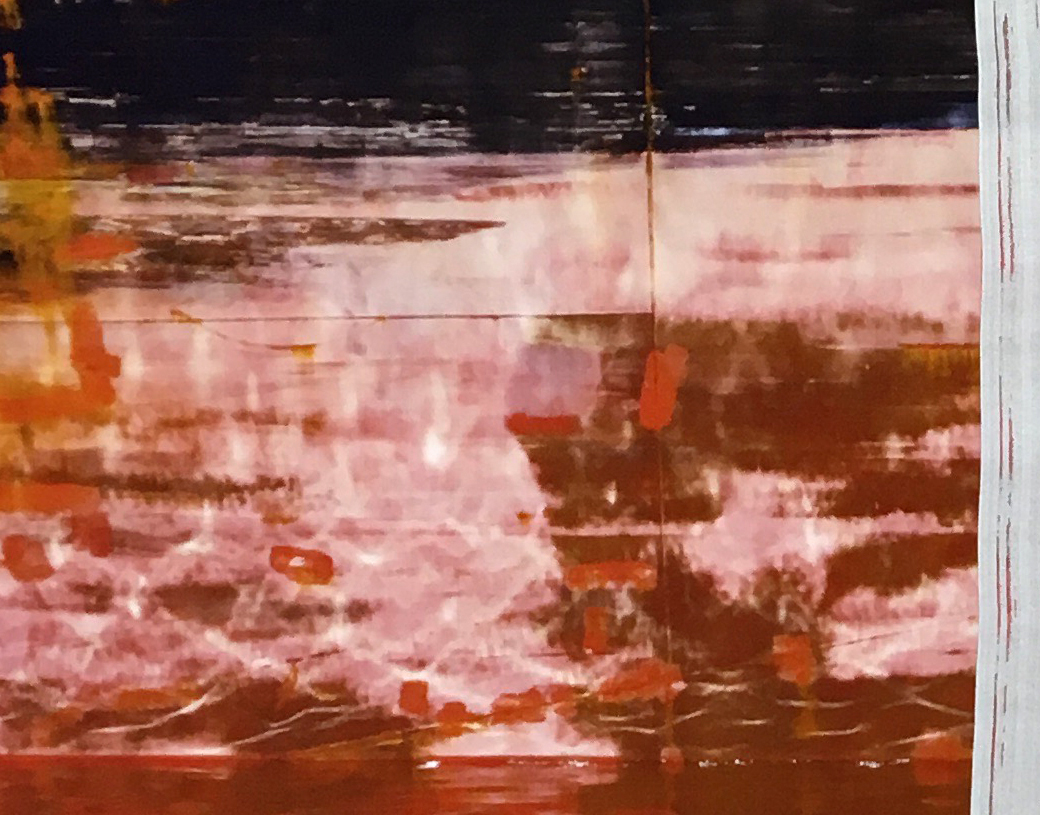 Casey Williams, Untitled (detail), c.2012, acrylic on archival inkjet print. Exhibited at Art Palace Gallery.
As a long time friend of Casey Williams we were delighted when Art Palace put on an exquisite show of never before seen works by Williams. In conjunction with Fotofest Biennial 2016, a discussion panel revolving around Williams' final works was organized by his wife, Jo Ann, studio assistant, Nick Merriweather, and the owner of Texas Gallery, Frederika Hunter. The dialogue between the three was a culmination of reminisicing over Williams' work style, the meaning behind his final series, and the lasting mark he has made on the Houston art scene.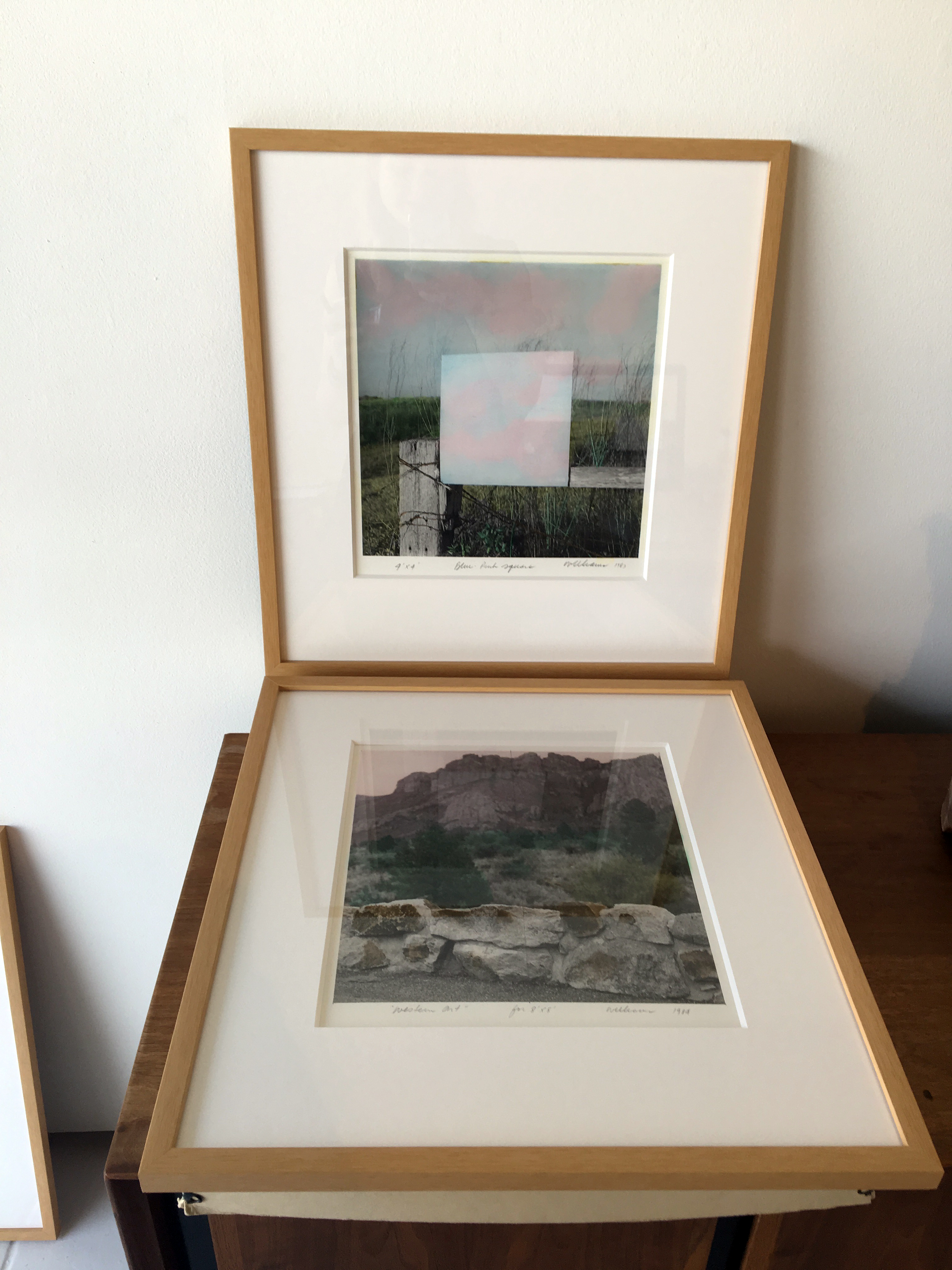 Casey Wiliams, Studies of 4 x 4 foot photographs
For Williams, expirimentaiton across all mediums and ideas is what led to his final series being known as the "painted-ons", where Williams would brush paint across his photographic images. Williams did not personally speak much about his art. However through Williams' life, it is indisputable of his love for the Houston ship channel and the influence it made on his work. Williams was particularly interested in the way a ship would float toward the surface as goods were unloaded, decreasing the ship's weight. The lower portion of the ship would then be repainted by the crewmen. The action of repainting is symbolic of Williams' paint strokes atop his own images. Many of the strokes are colors of blues and silvers, further symbolizing the shimmer and reflection of water and possibly an ode to his earlier silkscreen works, as well as becoming a meditative process for Williams.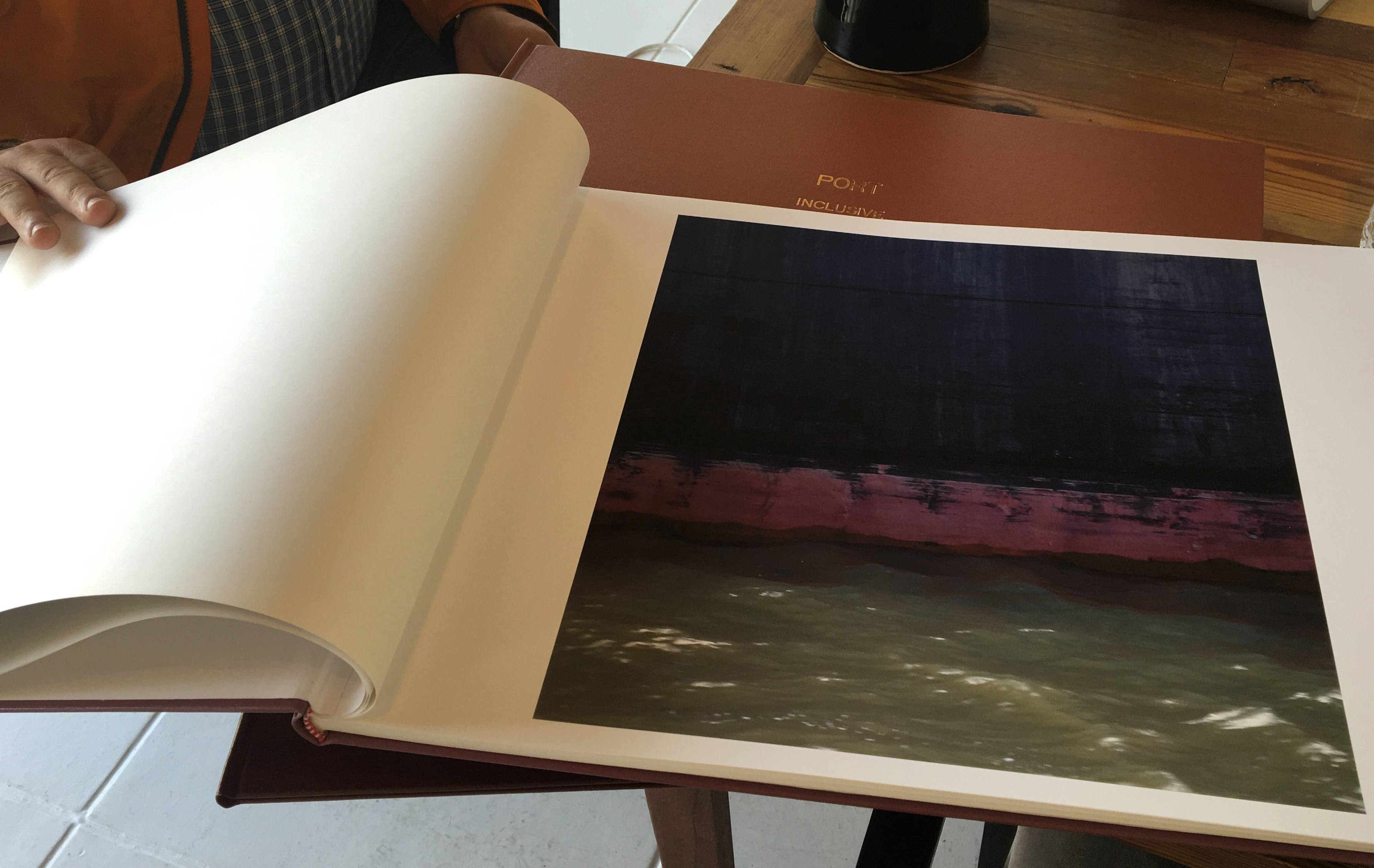 Book compiled of photography by Casey Wiliams
Casey Williams noticed details that many would naturally overlook. He forced the viewer to go somewhere they would normally bypass, giving a new perspective to the world. Williams was a master at opening up our eyes to beauty.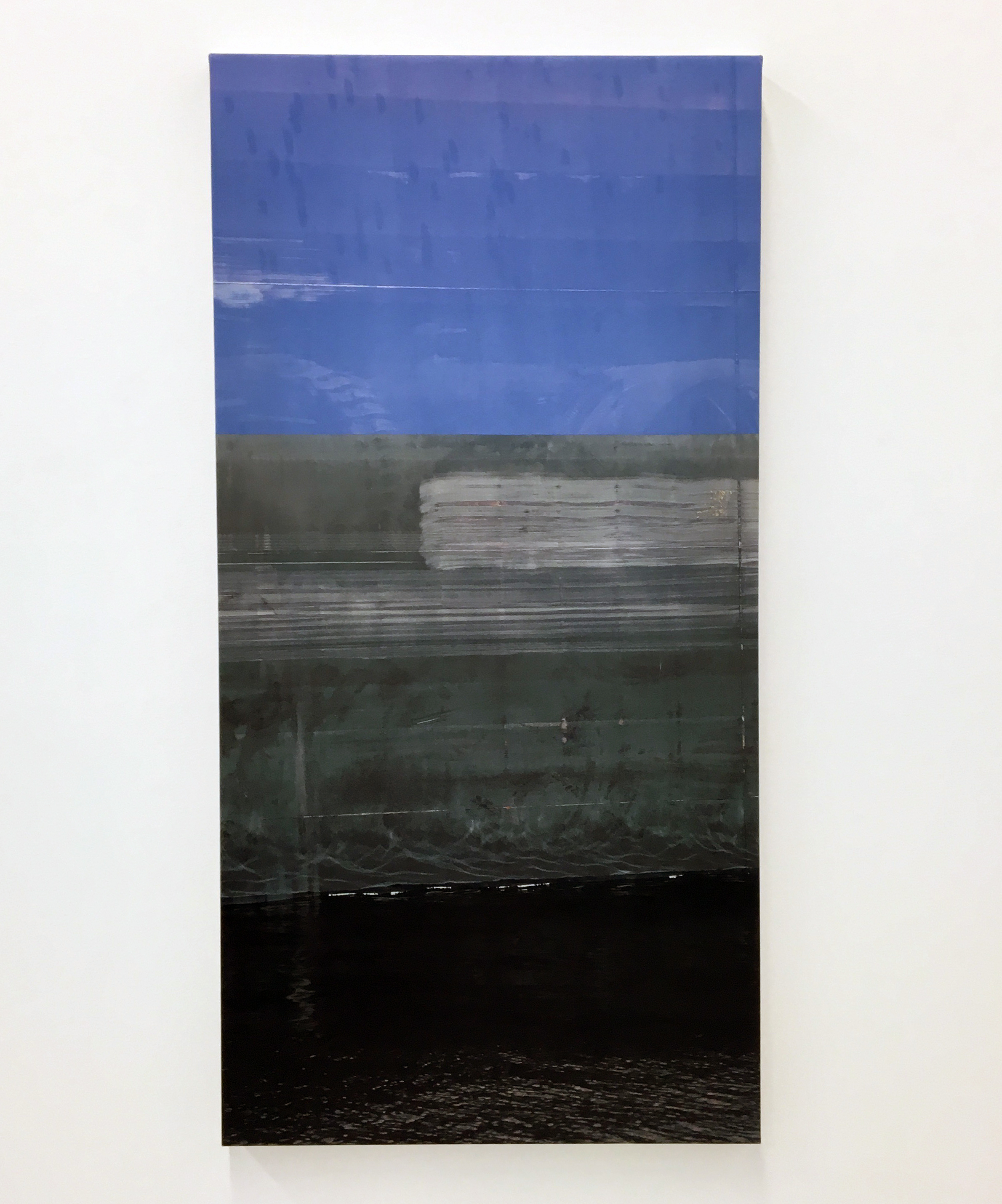 Casey Williams, Untitled, c. 2012, acrylic on archival inkjet print on satin. Exhibited at Art Palace Gallery.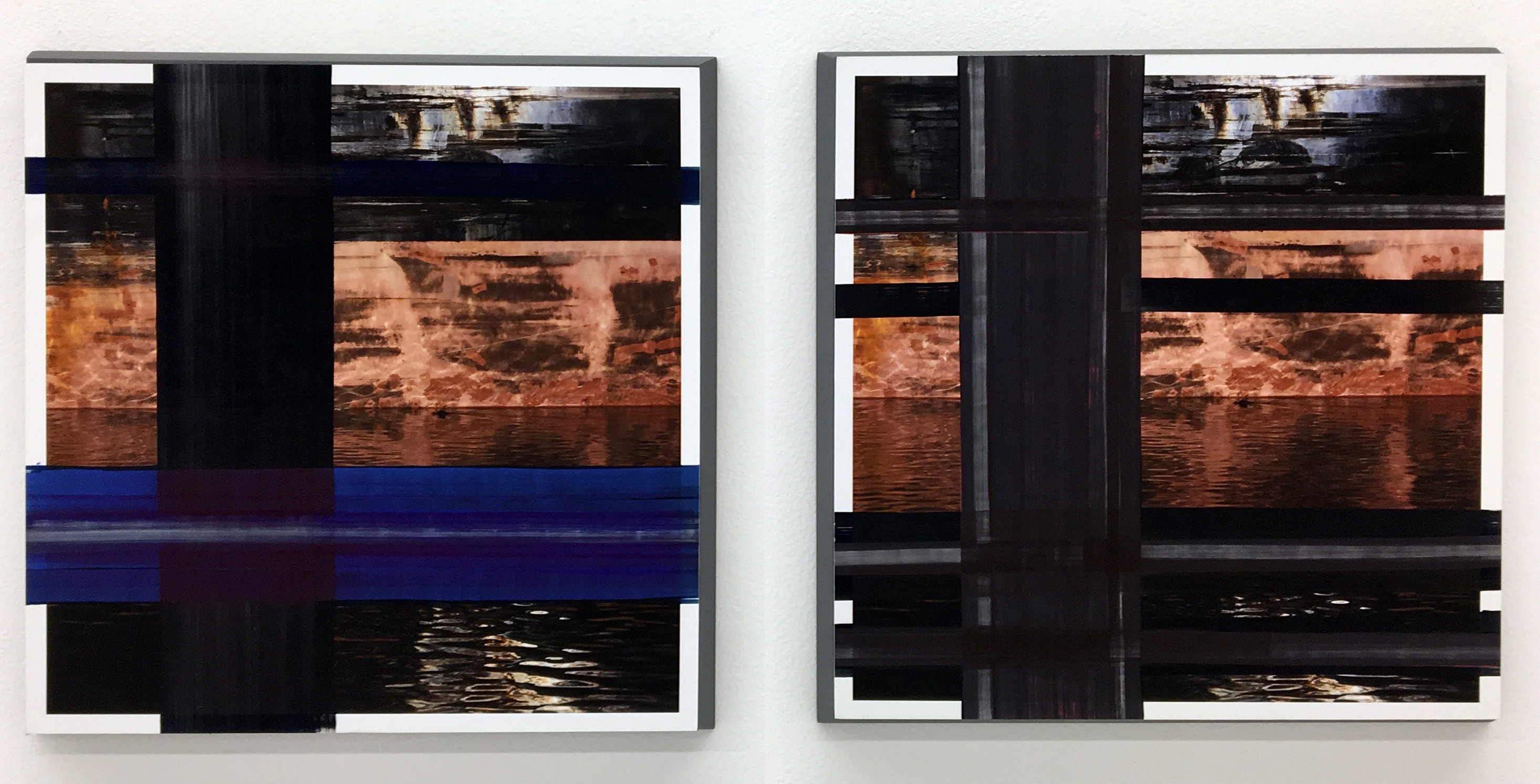 Casey Williams, Untitled & Untitled, c. 2012, acrylic on archivsl inkject print. Exhibited at Art Palace Gallery.
Wednesday, January 21, 2015 at 2:26 PM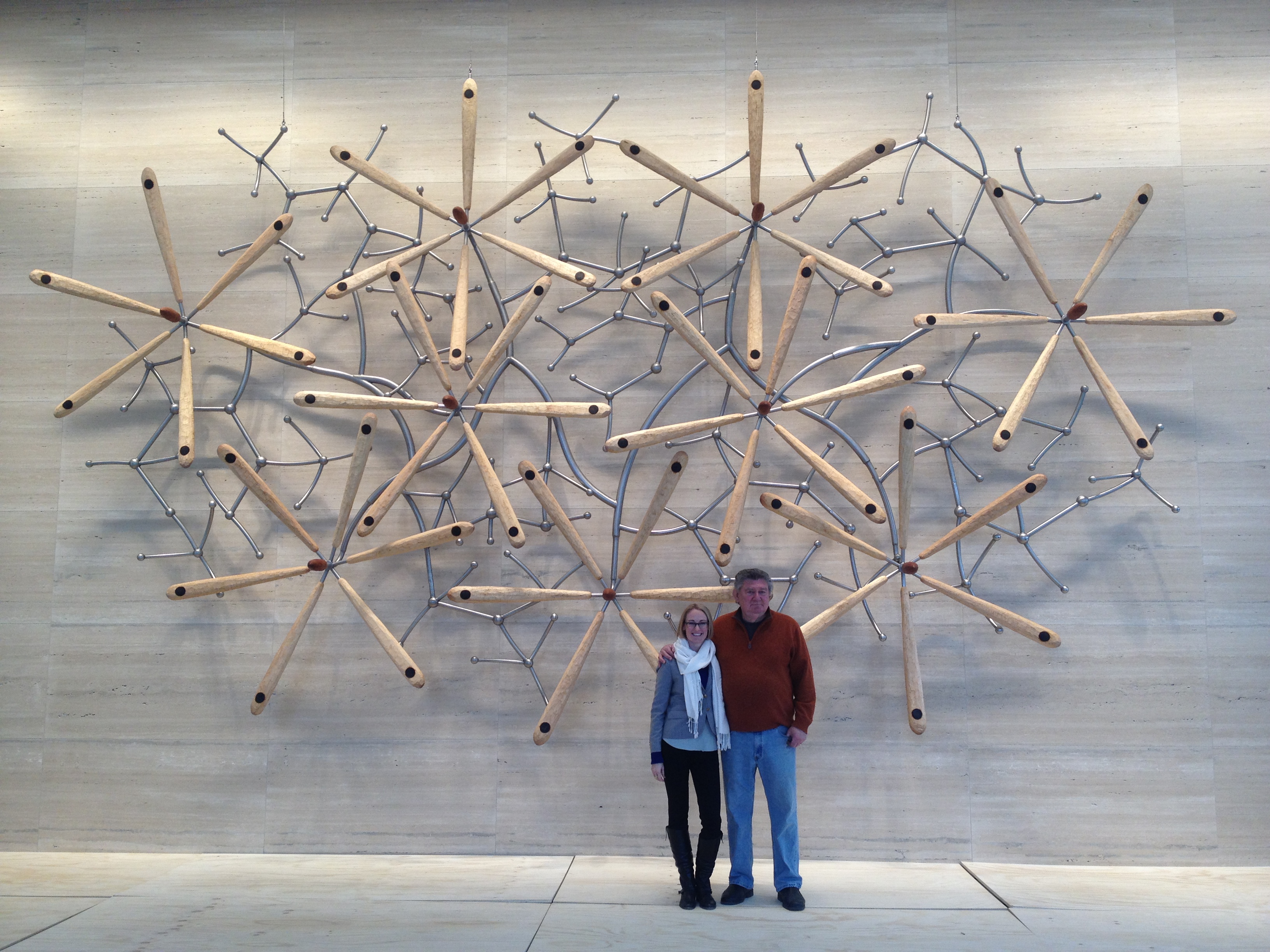 James Surls and Adrienne Johnson
James Surls flourishes in Houston! We were excited to have the opportunity to work with this Texas art icon on his site-specific suspended work that measures an impressive 14' x 25' x 19". Surls' Nature's Language resides in and enhances a corporate lobby in the Woodlands.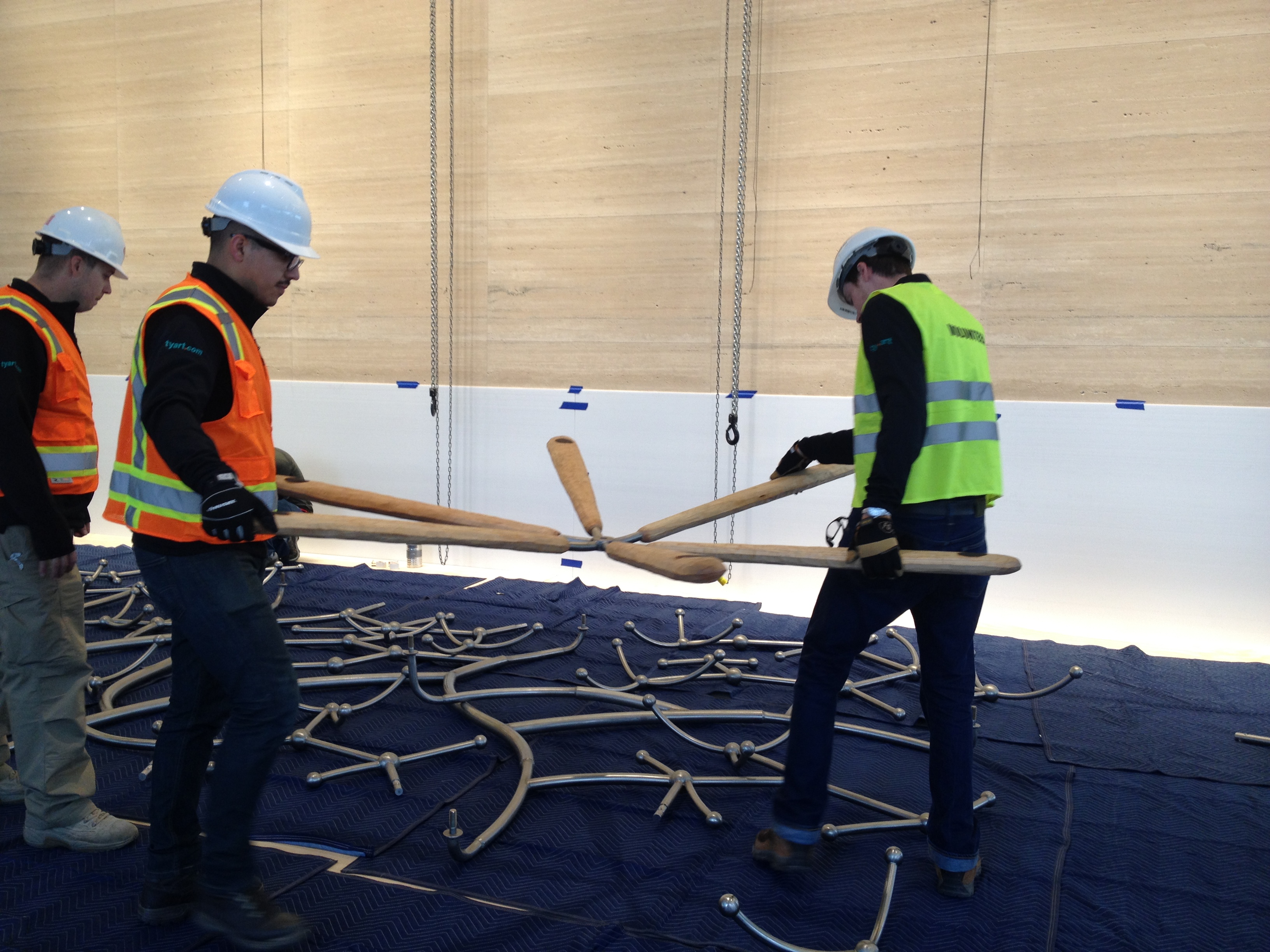 TYart Art Handling expertly installing the sculpture