Wednesday, March 28, 2018 at 12:35 PM
When the Australian mining company, BHP announced their plans to construct a 600,000 square foot sky scraper designed by Pickard Chilton of New Haven, Connecticut along the bustling Post Oak Boulevard in Houston, Kinzelman Art was honored to be selected to place a prominent work of art within the refined lobby. On behalf of BHP and in partnership with Gensler, KAC led the process of selecting New York based artist, Sharon Louden, represented by Morgan Lehman Gallery to create a site-specific sculpture suspended from the 30 foot high lobby ceiling.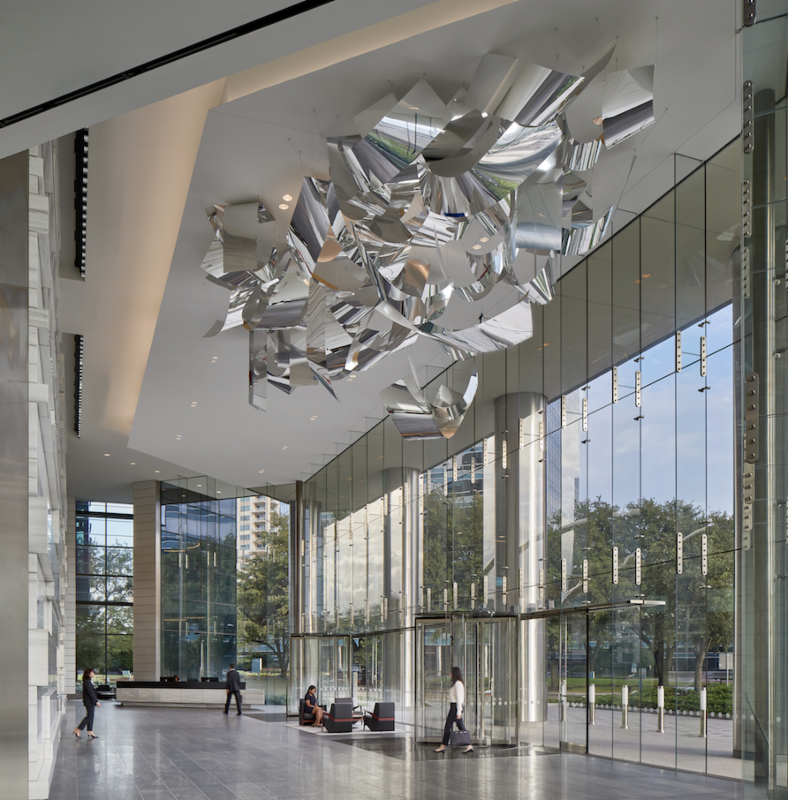 Louden's site-specific installation
Louden's ongoing exploration of compelling materials such as large swaths of mirror-polished aluminum set the stage for a dynamic, yet refined installation. The cascading sculpture creates a fluid composition that one could relate to the mining industry and natural geological formations. Among the multi-faceted aspects of the overall work of art is its ability to physically reflect the surrounding environment and changing light as well as the movement of pedestrians below.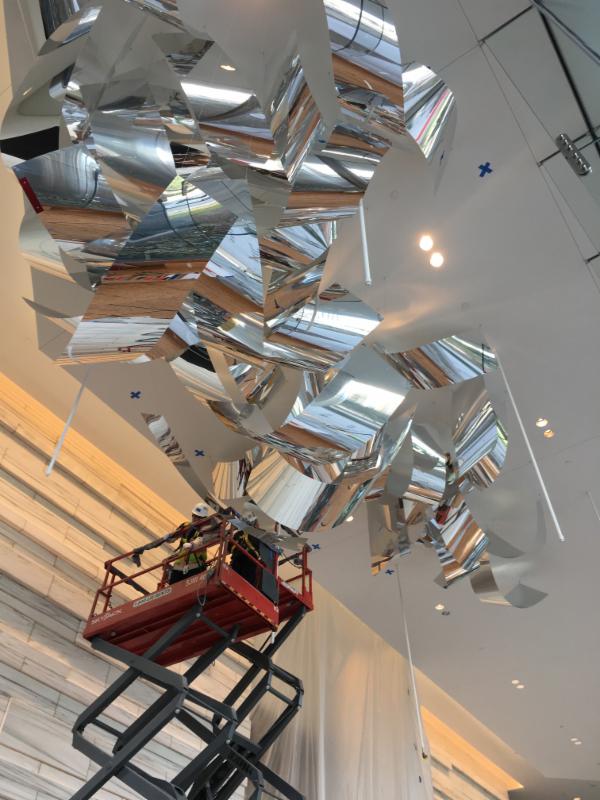 installation image
CLICK HERE to watch Glasstire's artist interview.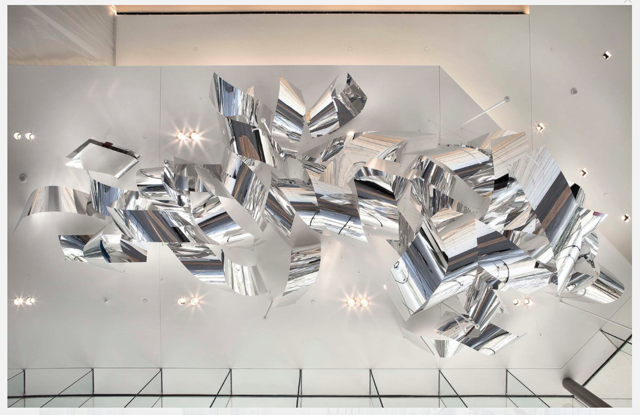 Ground view of Louden's installation
This project was completed in collaboration with representatives of BHP, Pickard Chilton, Gensler, Harvey Builders, Cushman & Wakefield, Morgan Lehman Gallery, and TYart Museum Quality Services.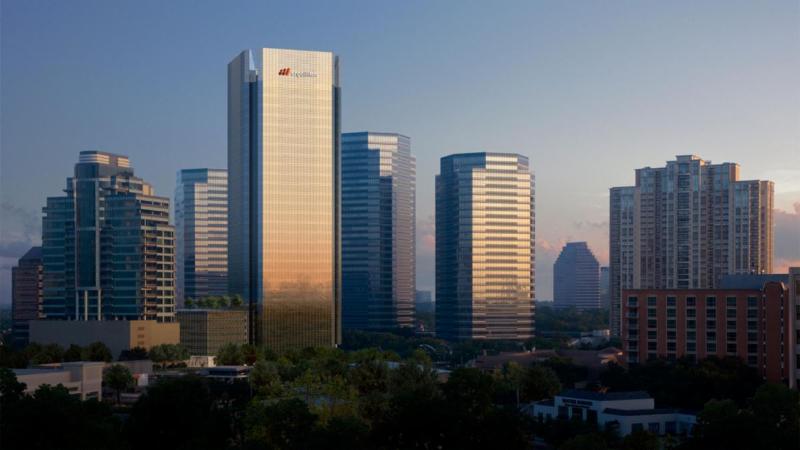 BHP building in Post Oak, Houston
Friday, January 12, 2018 at 8:59 AM
In KAC's latest Interview, Houston-based painter and professor Bradley Kerl shares an inside look into what originally focused his creative journey towards painting, where his body of work is headed and exciting news about his growing family.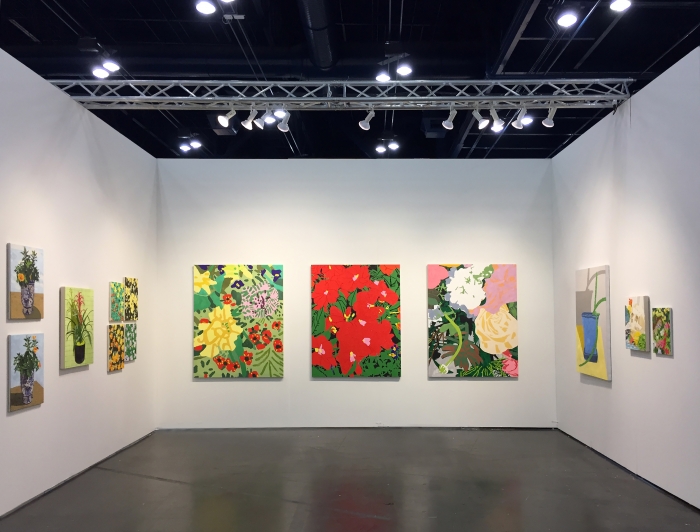 Kerl's work at Texas Contemporary Art Fair, 2016.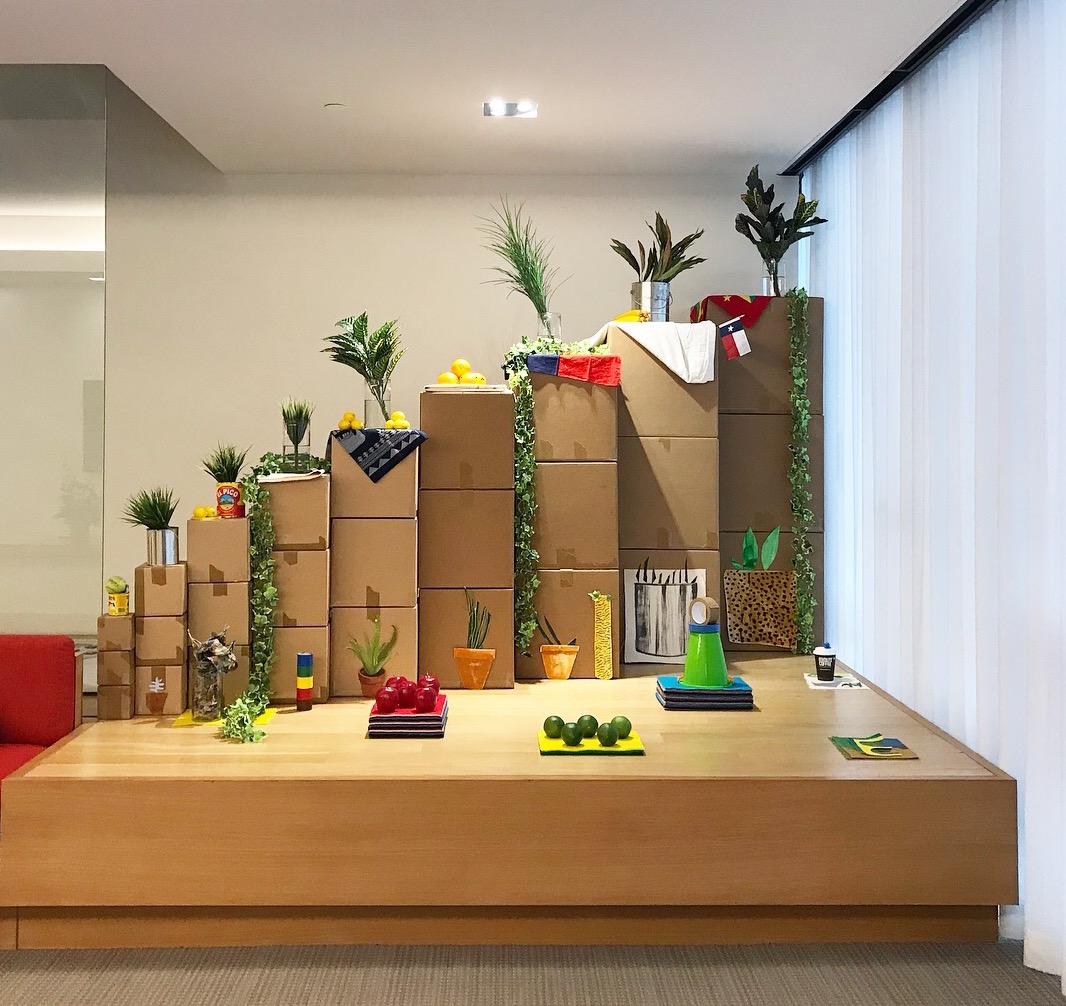 Kerl's site-specific still life set at Gensler, Houston.
Wednesday, July 12, 2017 at 11:06 AM
KAC announces a solo exhibition with Houston artist Hillevi Baar on view at Gensler Houston. The inspired creator of intricate installation-based works, Baar views herself as not only an artist but also as a facilitator who assists her medium of Mylar to reside in it's intended and natural state. Her active interplay with medium explores variations in form, often derived from interactions observed between wind, water, plant life and shadow play.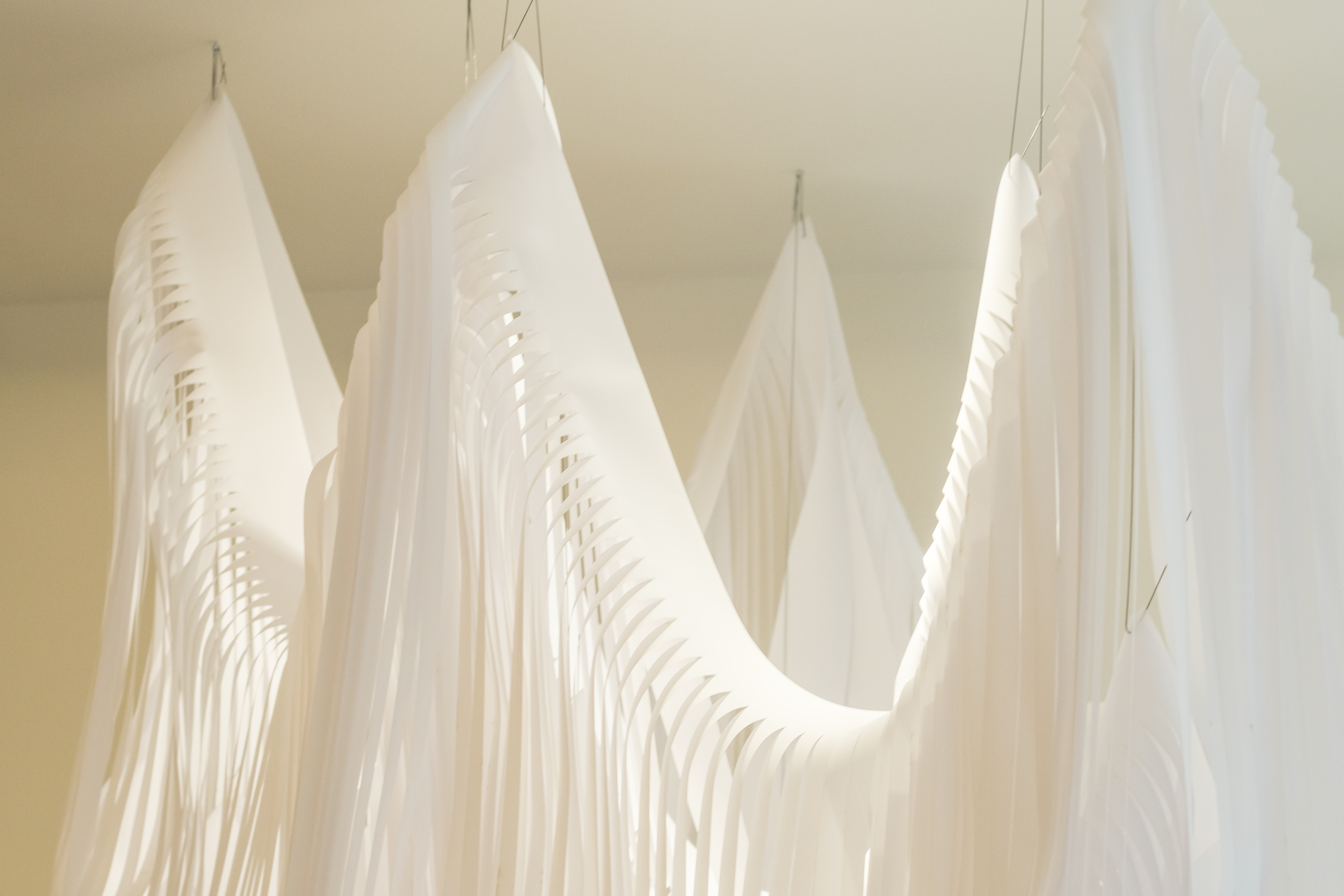 "Float" by Baar in Gensler's reception

Baar's experimentation with Mylar is particularly evident in "Float," a site-specific installation created for Gensler's reception. This elegant suspended sculpture investigates the balance between meticulous strategizing and spontaneous on-site manipulation in response to the environment. Baar began creating this piece by carefully scoring the Mylar to intentionally mimic the linear forms throughout Gensler's space.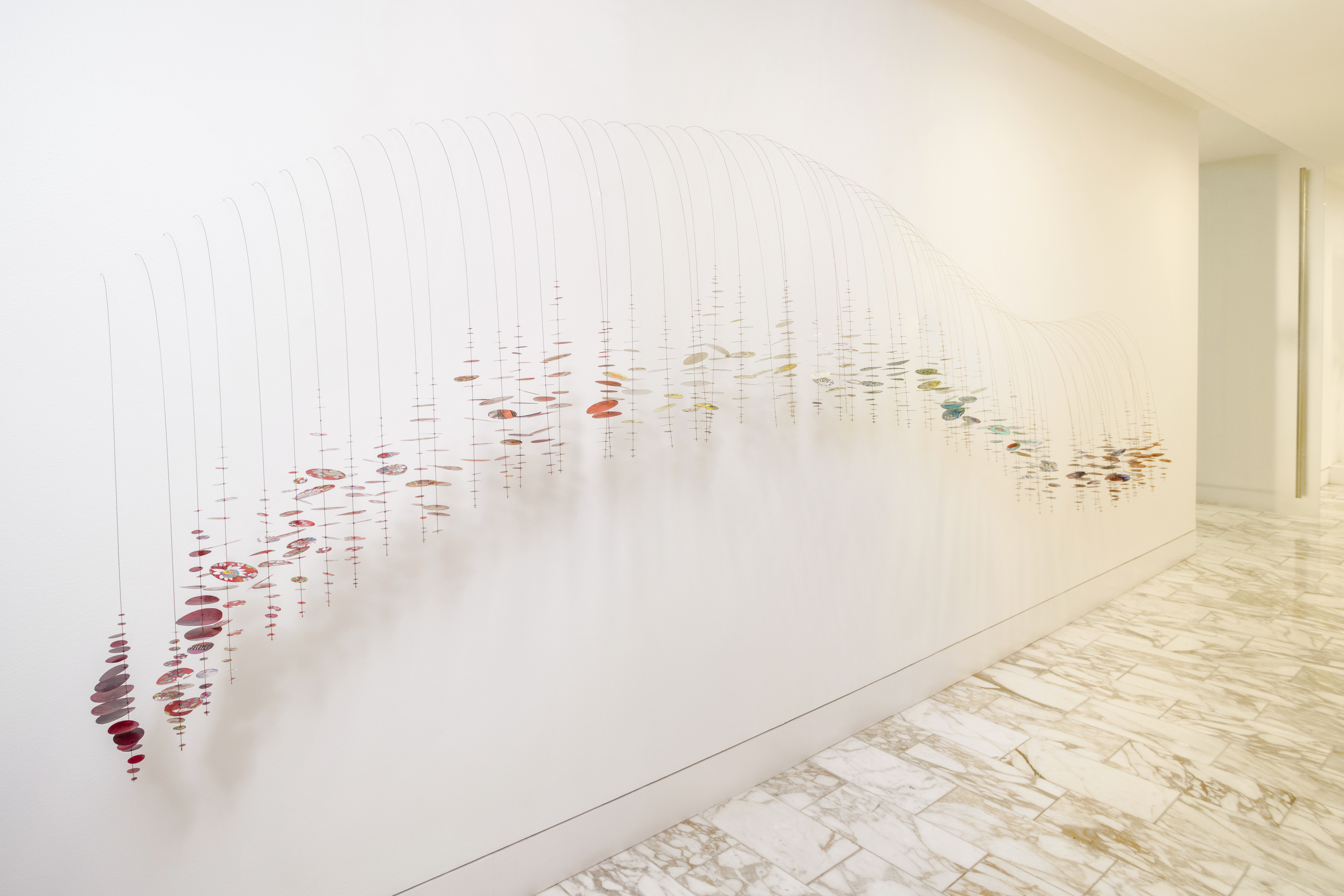 "Wild Flowers" by Baar in Gensler's Conference Corridor
References to nature are also seen in "Wild Flowers," a wave-like form installed along Gensler's Conference Corridor comprised of Mylar and steel pins resembling delicate branches. These complex elements seem to grow from the wall, fusing into one fluid shape that gently sways with the flow of foot traffic. These slight movements expose individualized drawings hidden between the intricate layers.
This interactive component allows the viewer to experience the piece in its entirety, while also inviting the study of each self-contained drawing. Conversely, "Unraveled" in the Coffee Corridor beckons the viewer to quietly approach the finely cut and tapering suspended Mylar sheet to fully experience the highly detailed graphite drawings within.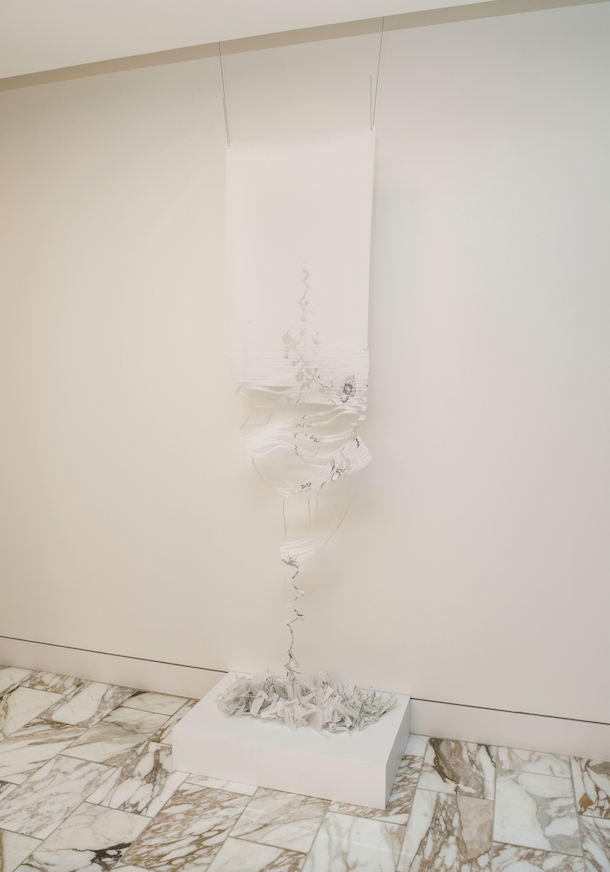 "Unraveled" by Baar in Gensler's Coffee Corridor
Baar is continuously experimenting with the dimensionality and boundaries of medium to transform the environments of numerous corporate and private spaces. This exhibition was curated by Kinzelman Art Consulting on behalf of Gensler.
Tuesday, April 25, 2017 at 2:31 PM
Strikingly articulate and exceedingly experimental, artist Gabriel Dawe is breaking down barriers of a traditional male Mexican artist as he constructs geometric and fantastical illusions through the use of textile and thread. KAC had the pleasure to meet with Dawe in Dallas during his residency at Fairmont Hotel. Located in the bustling art district of downtown Dallas, Dawe innovatively transformed his temporary studio space into a colorful and dynamic solo exhibition.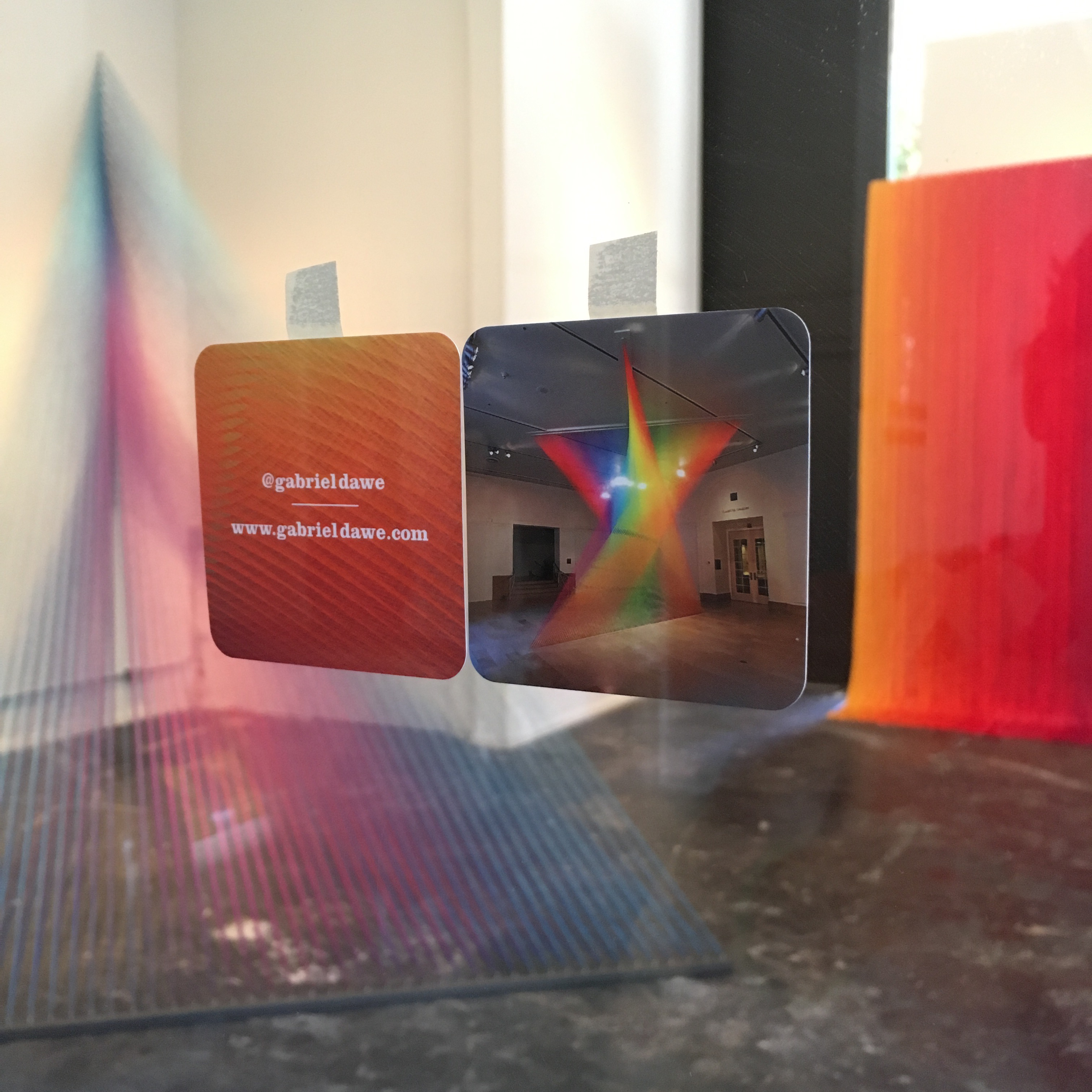 Dawe's studio at Fairmont Hotel in Dallas, Texas
Responding to the architecture and environment, Dawe's installations become an open dialogue between art and space. While this process creates unique, site-specific works of art, there is a found unity throughout his collection. Every installation is developed from the full color spectrum, resembling light rays. Only experimented once before, the installation presented in Dallas, explores the cooler side of the spectrum, staying exclusively with blues, violets, and shades of pink. Here Dawe begins to omit part of the color spectrum, a preliminary investigation into the absence of color. This new departure is one he addresses further in his current exhibition "Plexus 37" at Conduit Gallery.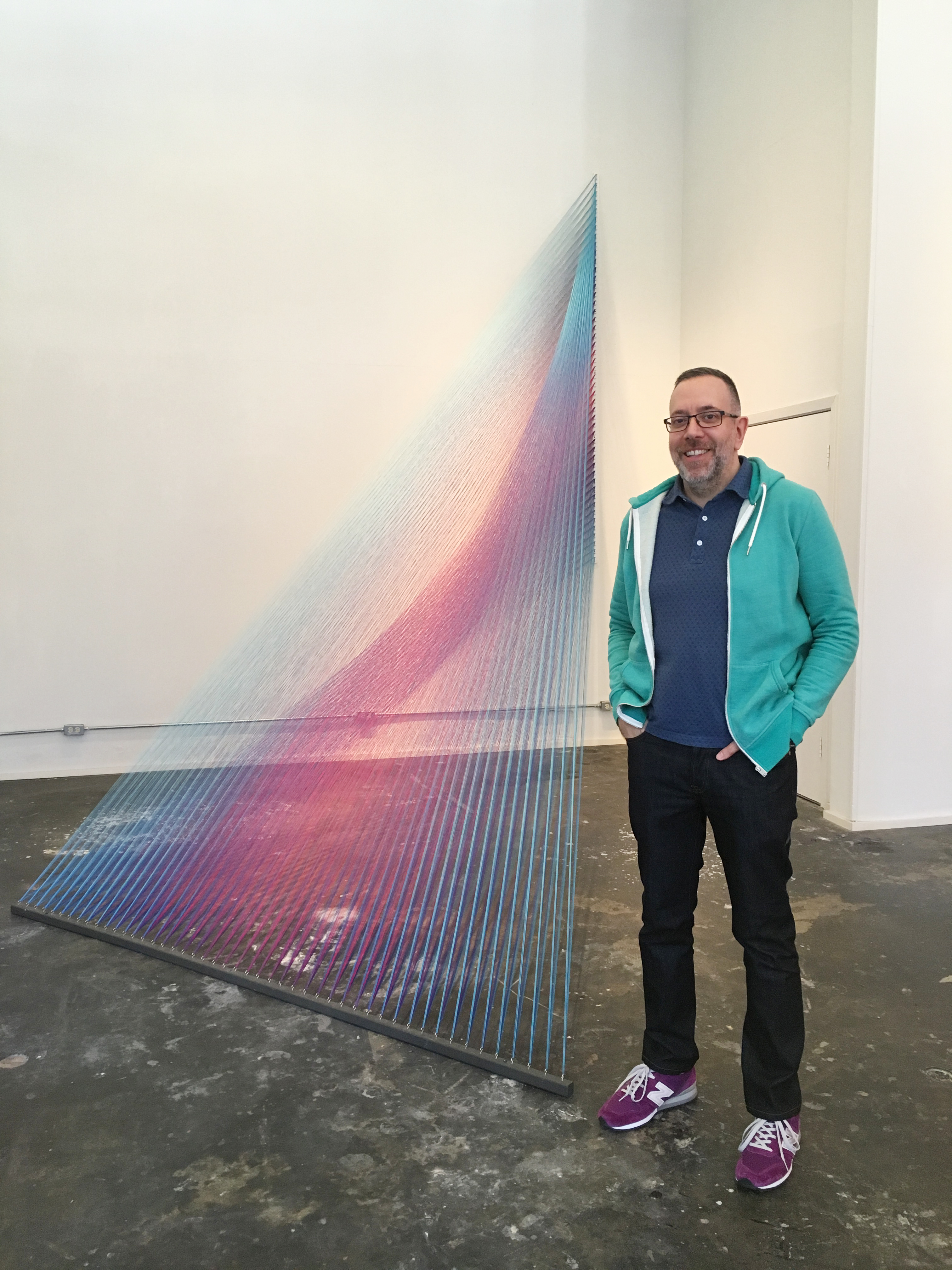 Dawe in front of his site-specific installation
Living and working in Dallas, locals have come to familiarize themselves with Dawe's brightly colored thread installations. Therefore he decidedly turned a 180 in his recent endeavor by masterfully abandoning color through the use of gray, silver, and black threads. The viewer is forced to see beyond the spectrum, cerebrating this omission to be not an act of defiance against that traditionally associated with color, but perhaps as a "silver lining" on what is next for the renowned artist and his forthcoming work.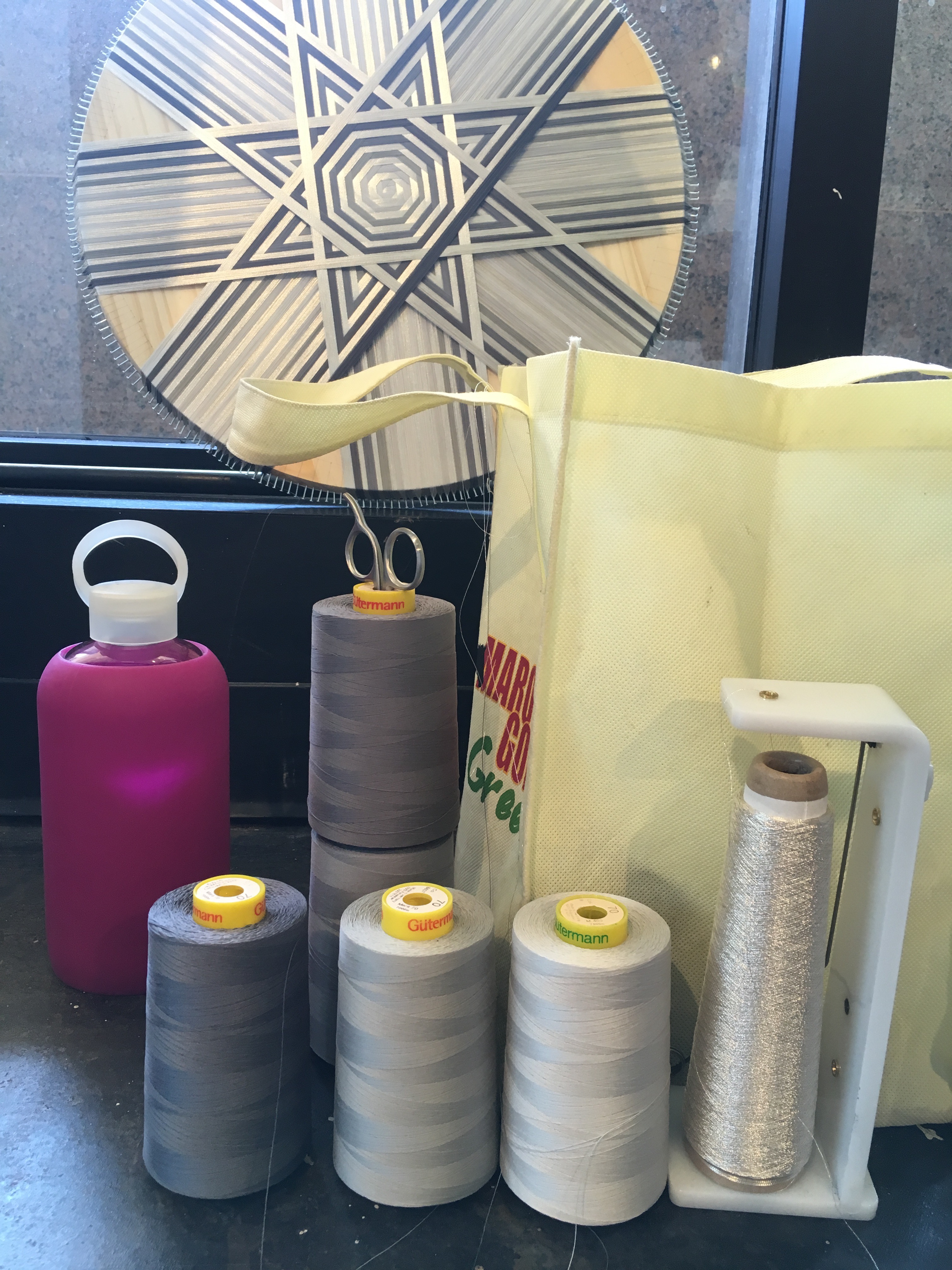 Spools of silver thread in front of a work in progress
Gabriel Dawe is represented in Dallas, Texas by Conduit Gallery. Dawe is on view now with Conduit Gallery through May 13, 2017.
Friday, February 3, 2017 at 9:21 AM
Portland based artist Elizabeth Atterbury talks art, inspiration, and the transition of being a new mother with KAC in our latest Interview Interview.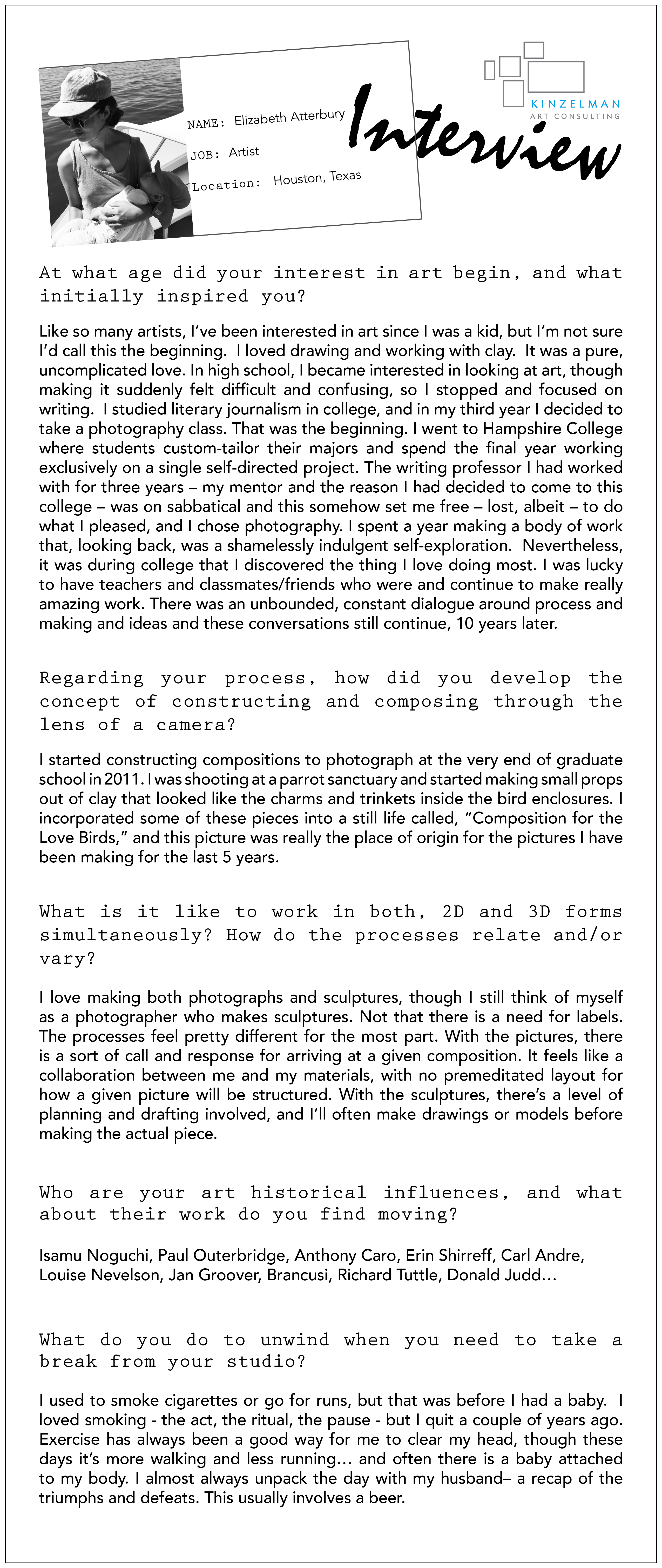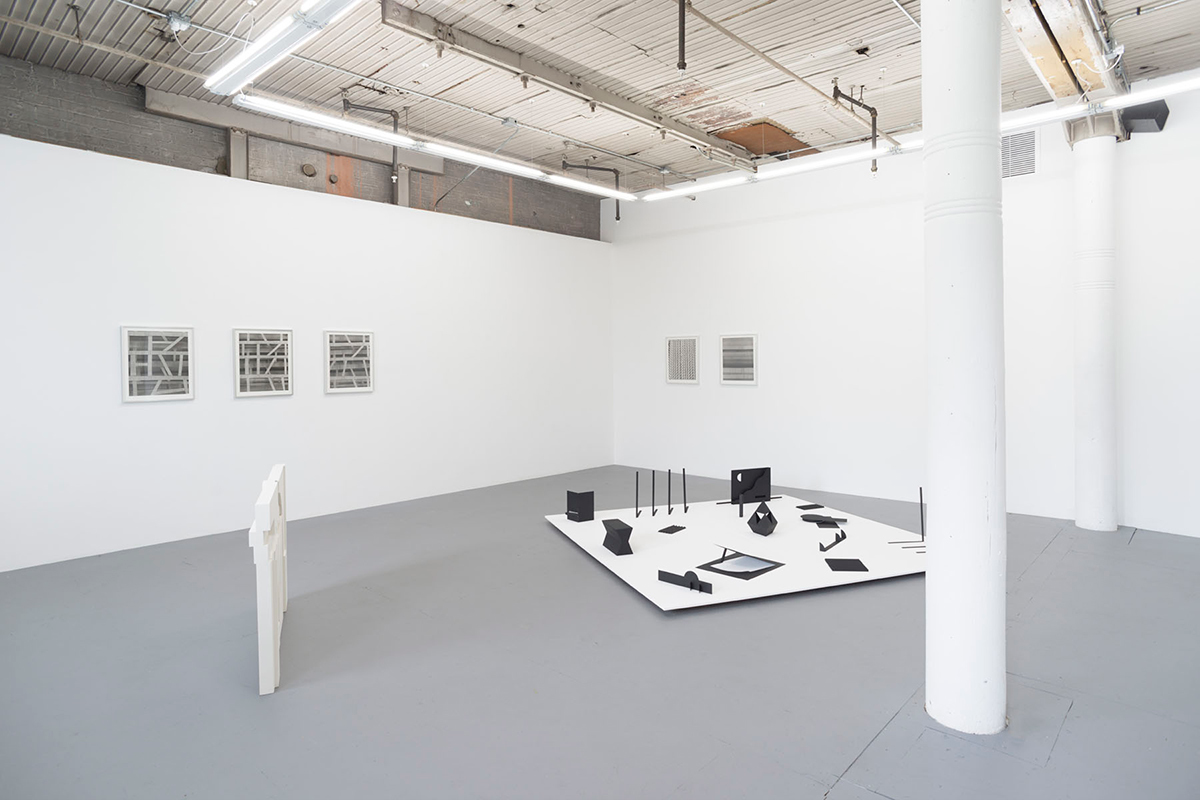 Elizabeth Atterbury, "Happy Sunny Jade" 2016, installation view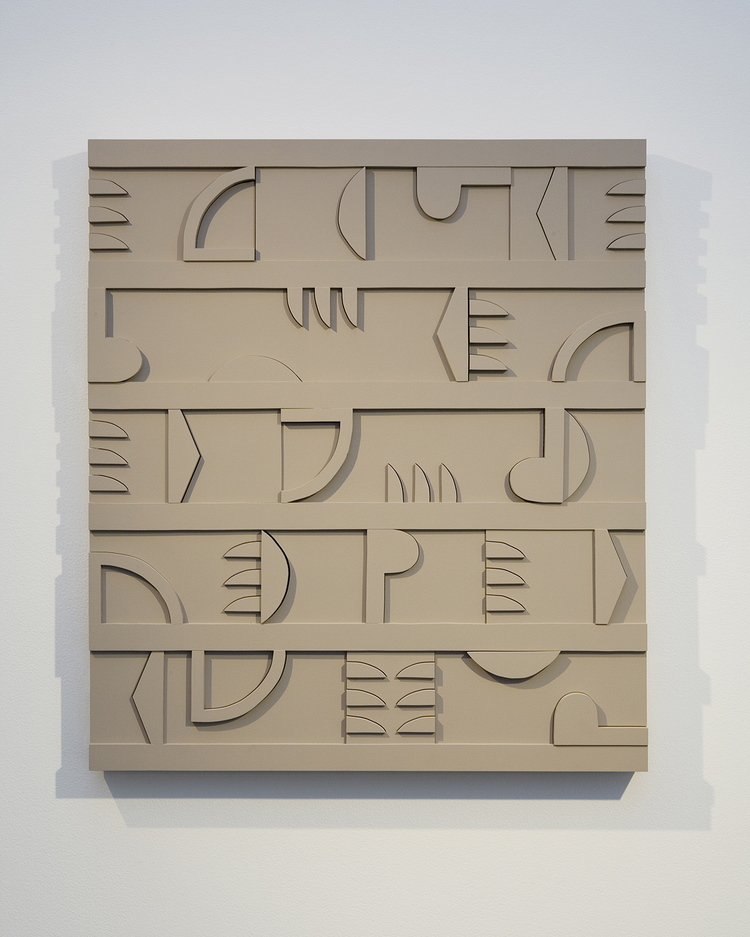 Elizabeth Atterbury, "Relief (Studio Taupe)," 2015, MDF, paint
Friday, January 13, 2017 at 10:59 AM
Myke Venable's work investigates the infinite potential and purity in shape indicating a visual representation of his own paired-down universe. From detailed sketches in an open notebook on the worktable to mathematical drawings tacked to the wall, Venable's studio is a perfect diagram of his working and theoretical process. During our visit, KAC viewed Venable's newest body of work and saw how his paintings have evolved into what they are today.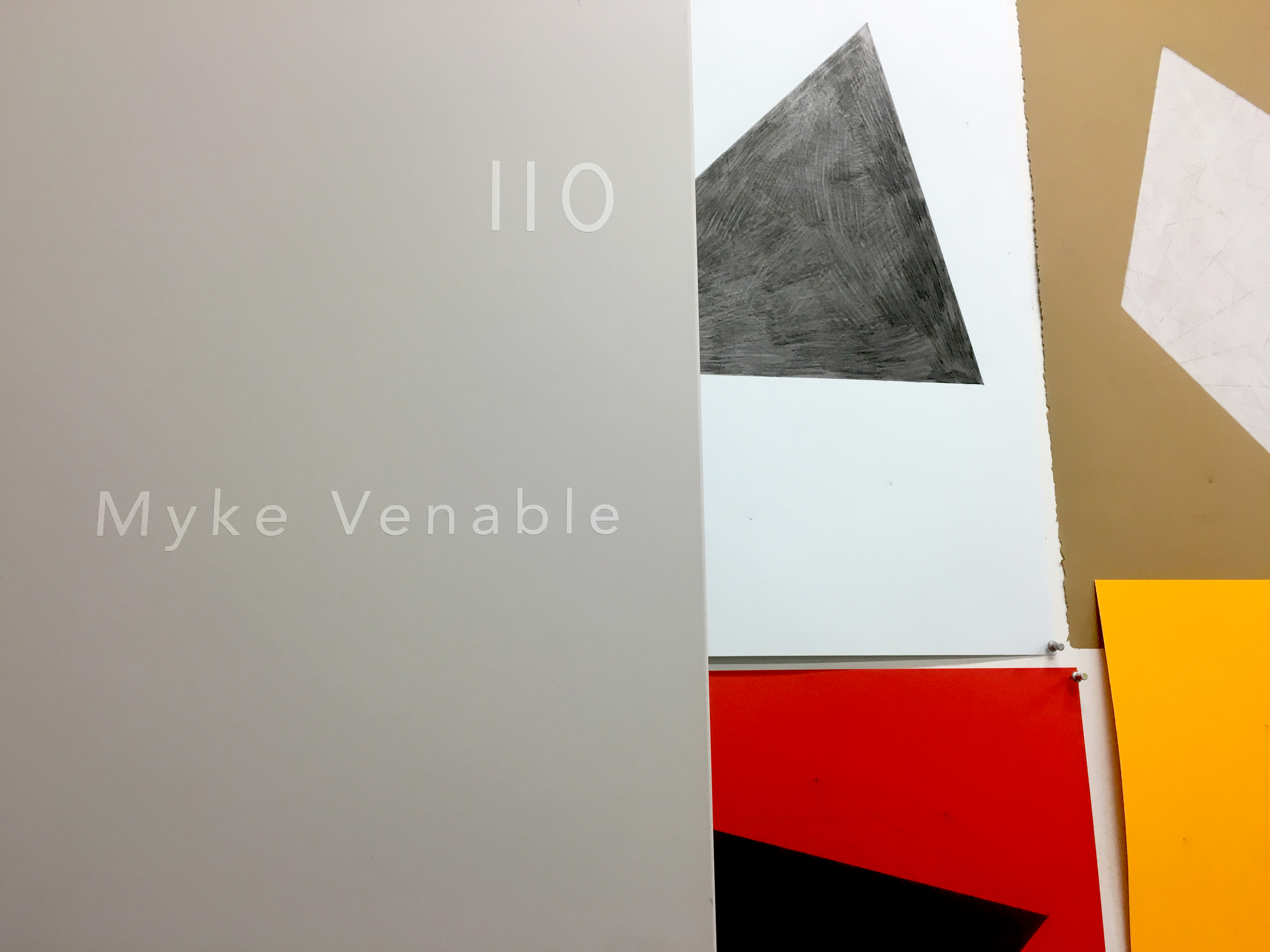 Door to Myke Venable's studio space
While teaching at The Art League in Houston, Venable rediscovered his love of drawing. He has since dedicated one of the largest walls in his small studio to colorful geometric explorations, mapping out on paper his ongoing study of the complex relationship between shape and color. While he views his drawings as independent works, they also serve as inspiration for shaping his large canvas and panel paintings.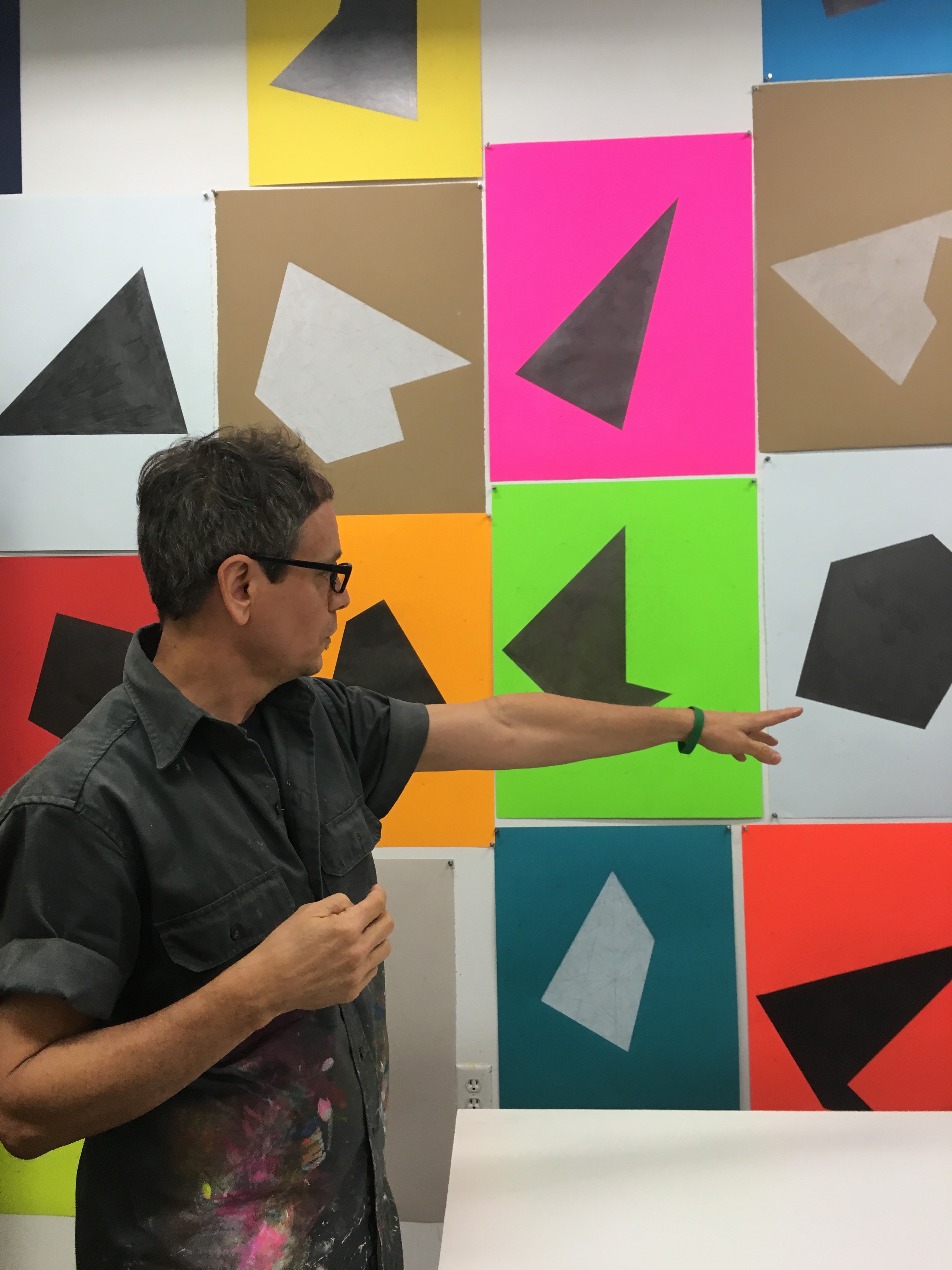 Venable with his geometric studies on paper
The drawings come to life on wood panels covered with pristine layers of acrylic paint squeezed straight from the tube. Mixing colors, he explains, would complicate his process of instinctually matching color and shape. Venable then focuses on creating thought provoking relationships through the particular arrangement of each element on the wall.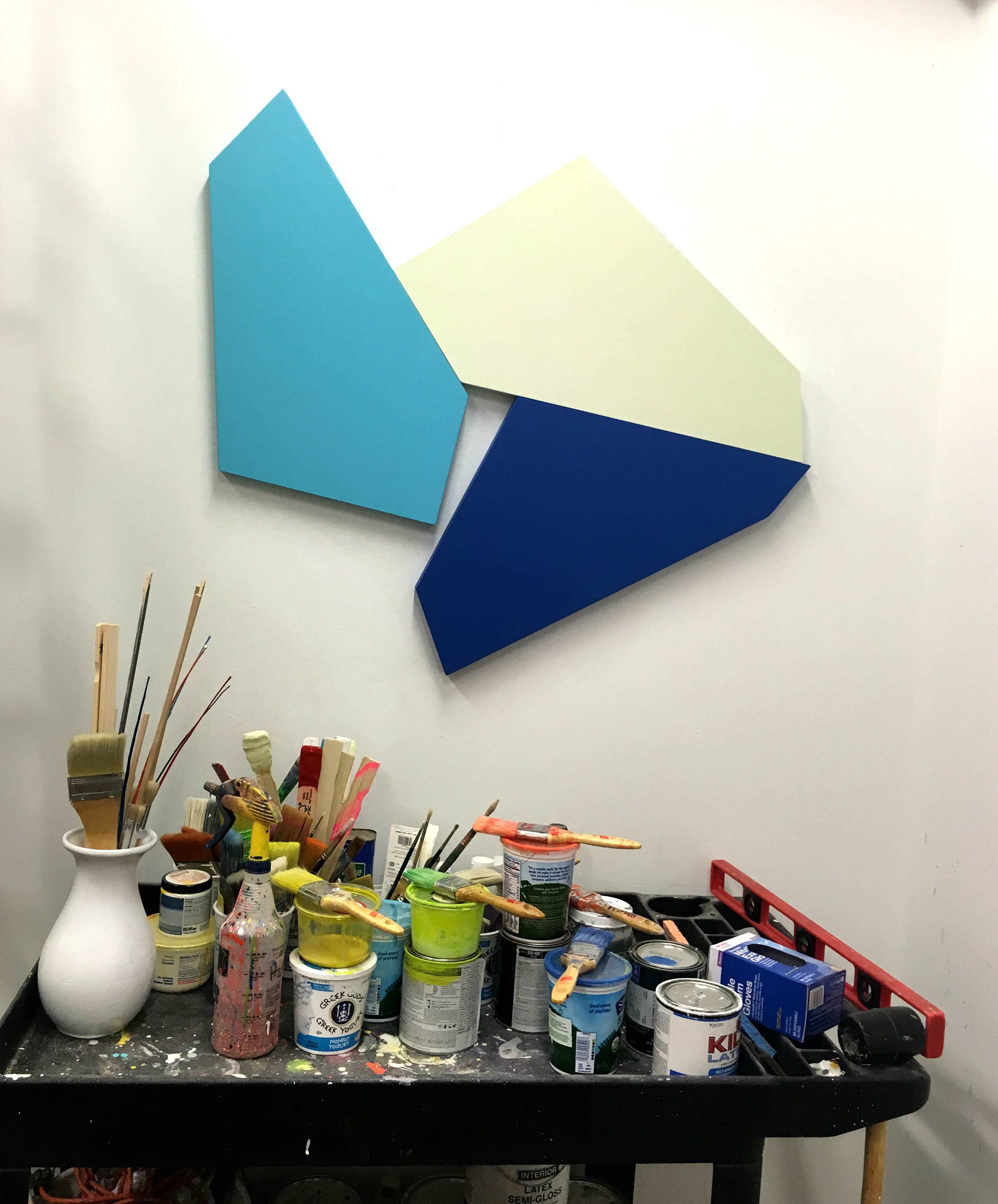 Cluster of Venable's paintings in his studio
Venable's newest paintings cleverly juxtapose not quite symmetrical shapes with slightly irregular placements and parings. Tension builds within the negative space between the paintings as they barely touch, leaving the viewer to question whether the forms are merging together, floating apart or statically coexisting. Every combination creates a new dynamic that alters the energy of the cluster itself, therefore impacting the space in which it resides.
Looking ahead, Myke seeks to push boundaries of depth, scale and color. Myke Venable is represented in Houston by Gallery Sonja Roesch where his next exhibition opens on January 21, 2017.
Monday, August 29, 2016 at 10:46 AM
Hidden at the end of a beautiful lot densely populated by lush Houston greenery, Libbie Masterson's studio feels like her own personal oasis. The high ceilings and large windows yield a flood of soft natural light ideal for viewing her vast array of work including photographs, paintings, watercolors, glass mosaics and even stage set maquettes.
Masterson's lively persona is a striking counterpart to her tranquil, contemplative work. Our studio visit began with a look at her new glass mosaics, an extended exploration of her large-scale installation at the Houston Hobby Airport. These works are heavily influenced not only by Masterson's affinity for nature, but also music. Masterson shared her life-long fantasy of composing a symphony, and explained to KAC how she incorporates this hidden passion into her work by listening to songs on repeat and allowing the music to dictate the emotional direction of each mosaic.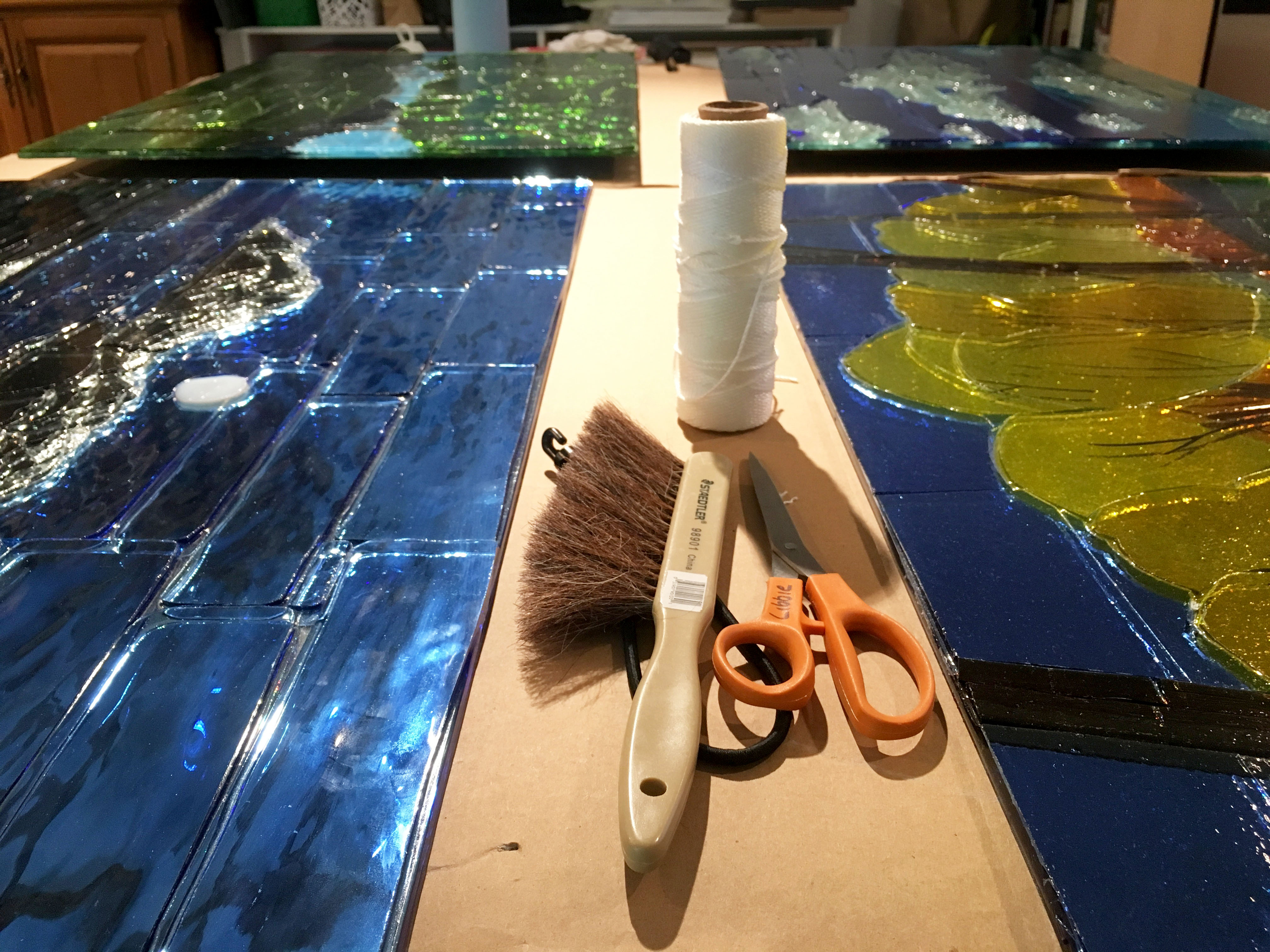 Close up of Masterson's glass mosaics
The imaginative glass compositions provide a splash of color to Masterson's otherwise monochromatic studio, filled with icy landscape photographs of deep grays, blues, and whites. These mesmerizing and meditative photos are back-lit and displayed as illuminated light boxes. Masterson walked us through the rewarding process of working with the light boxes, and calculating the perfect hue and strength of light to properly enhance the imagery without overpowering it.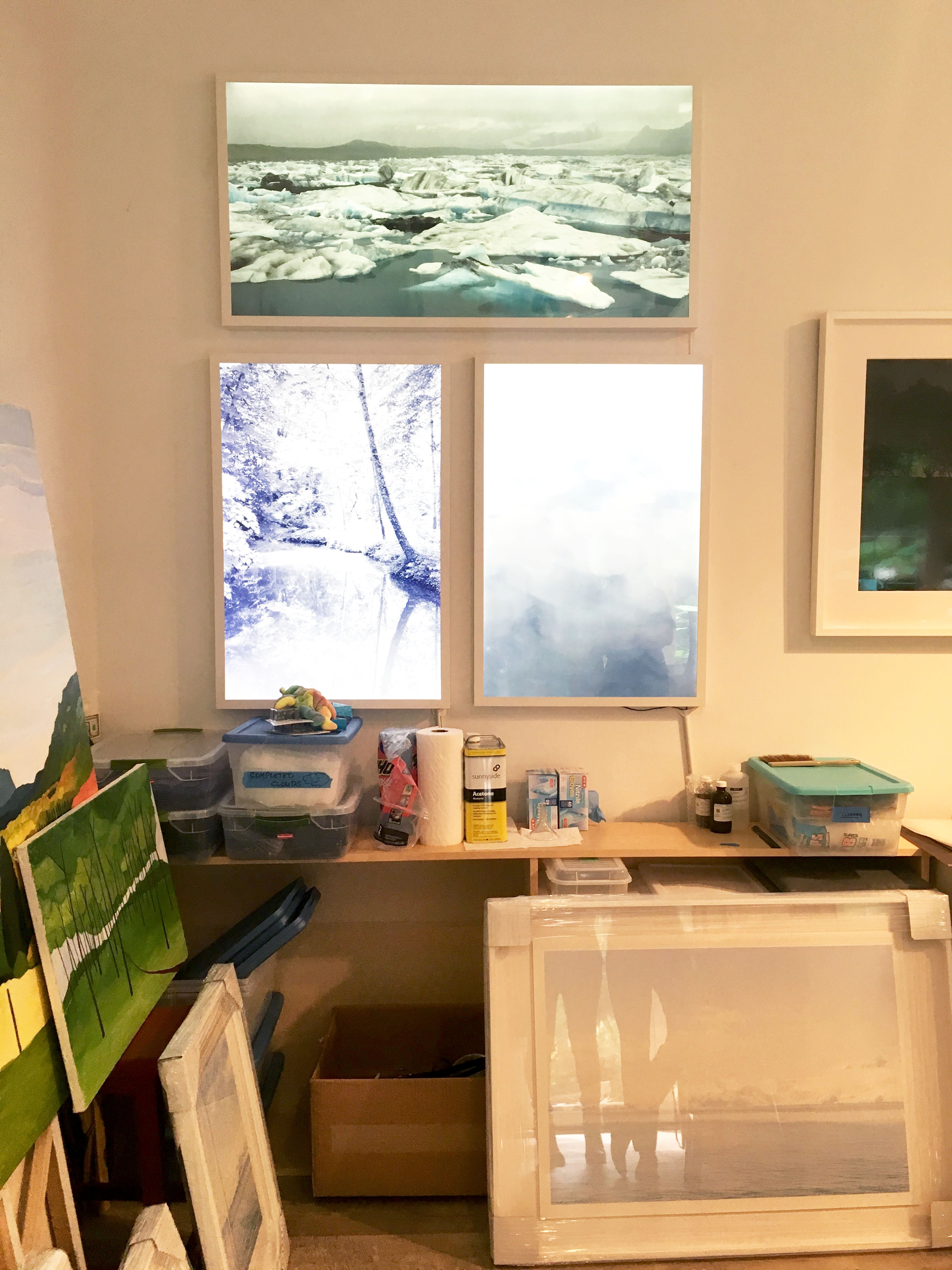 Masterson's light box photographs
Masterson's dream project: set design for an entire opera! Her infinite sources of inspiration and matching talent pose a promising future of endless possibilities and exploration. Be sure to attend her upcoming exhibition, opening September 10th 2016 at Catherine Couturier Gallery, who represents Masterson in Houston.
Thursday, April 28, 2016 at 11:25 AM
Founder and Director of bitforms gallery, Steve Sacks, gives us the inside scoop on his quirky upbringing, his futuristic gallery, and his twenty-first century go-to technological tool in this exlusive interview with KAC.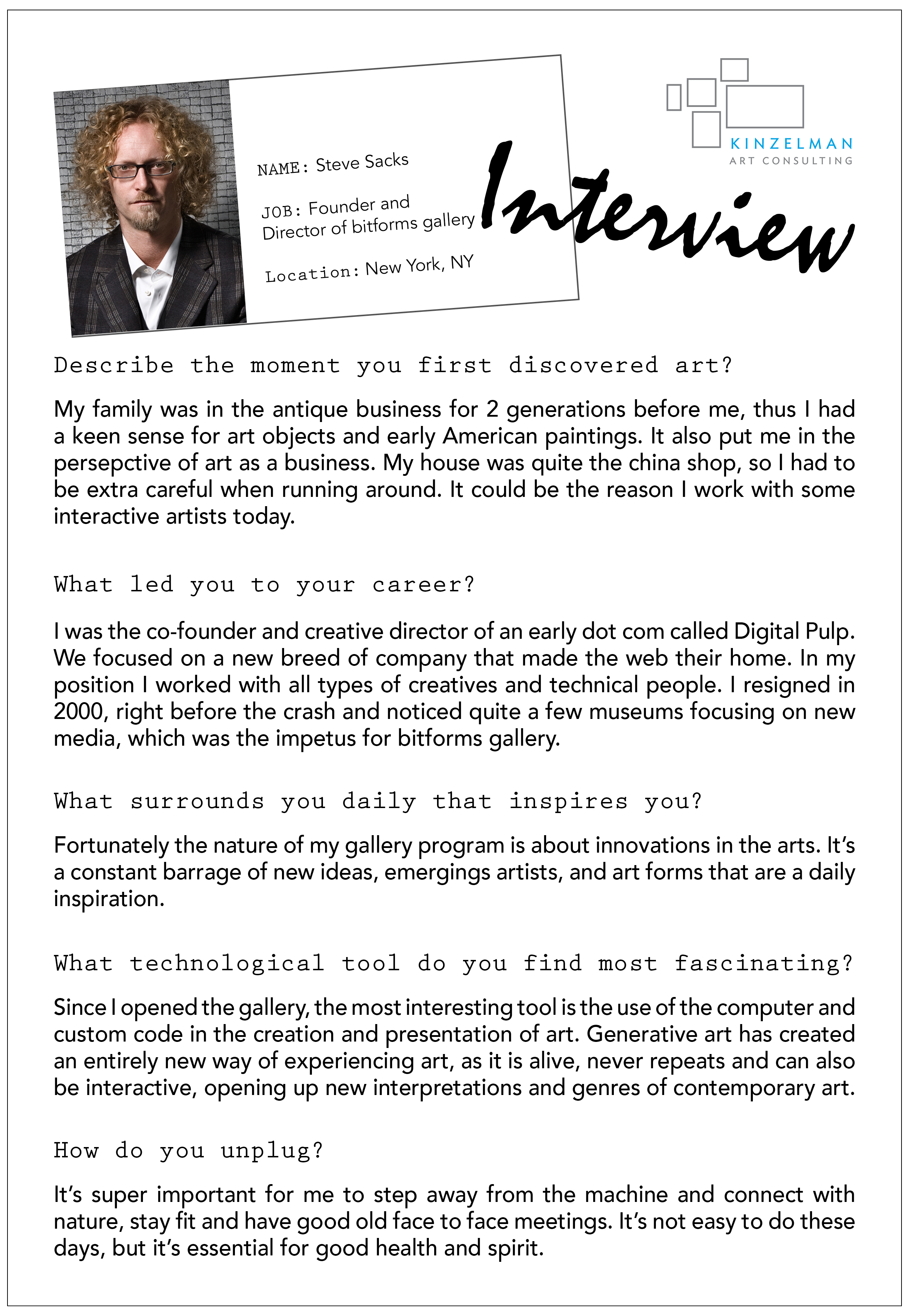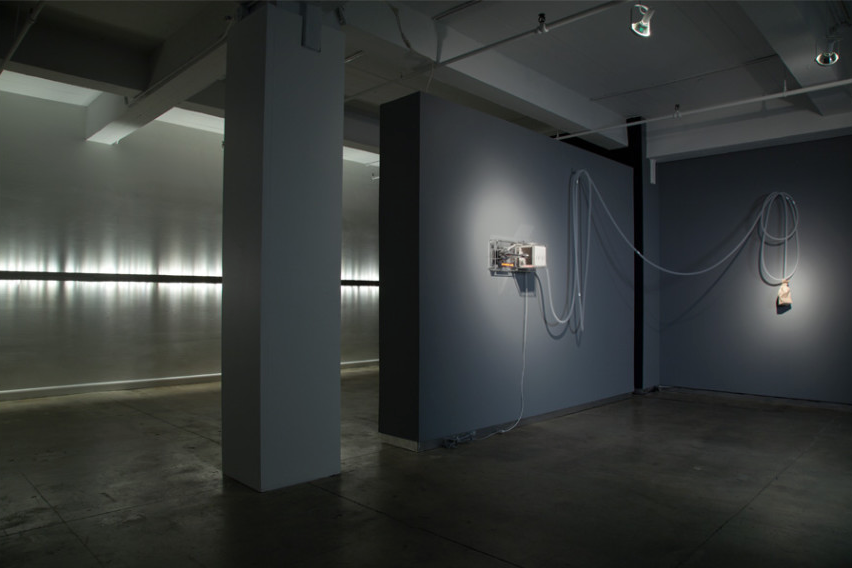 Inside view of bitforms gallery
Monday, April 11, 2016 at 9:38 AM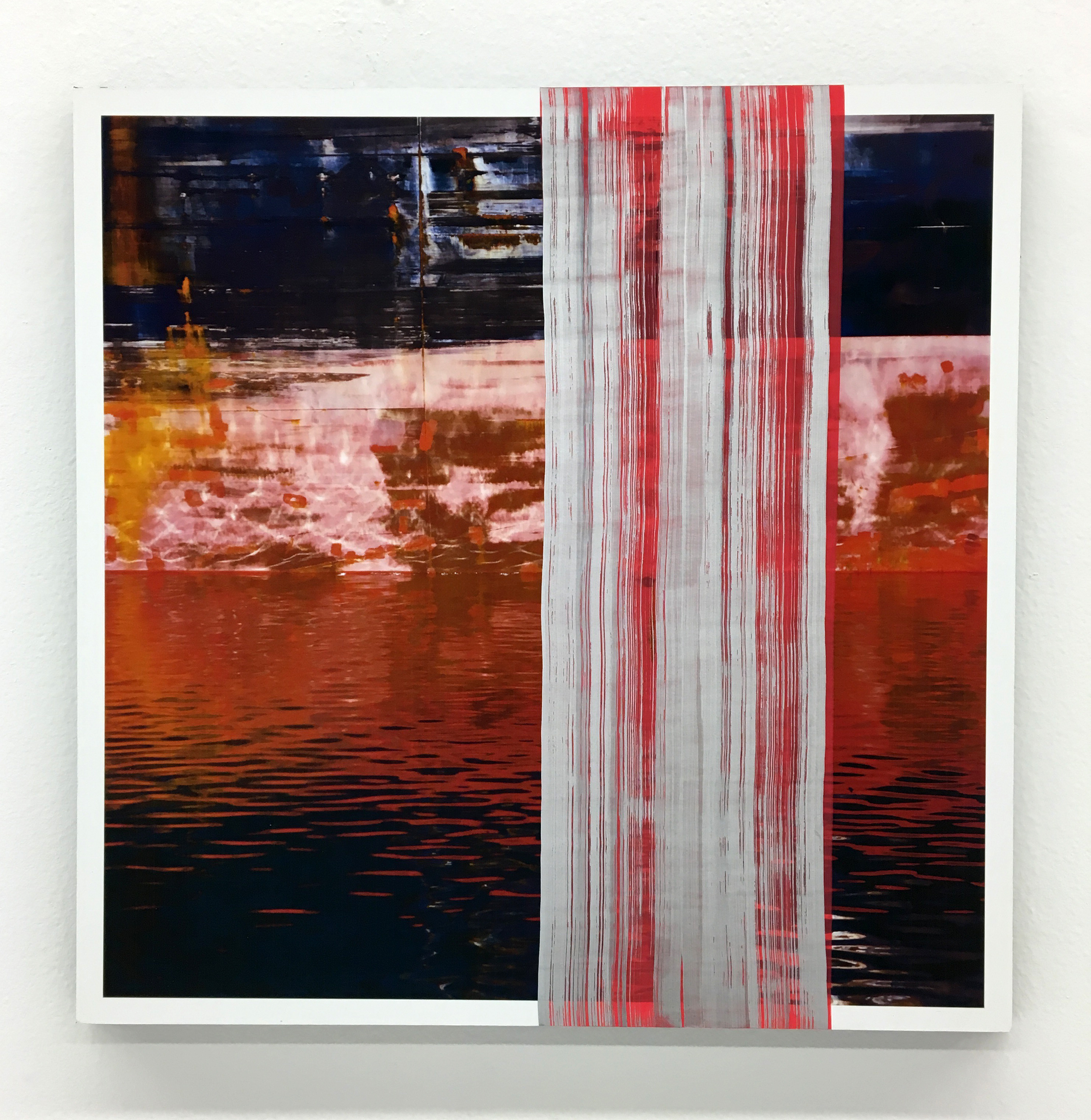 Casey Williams, Untitled, c.2012, acrylic on archival inkjet print. Exhibited at Art Palace Gallery.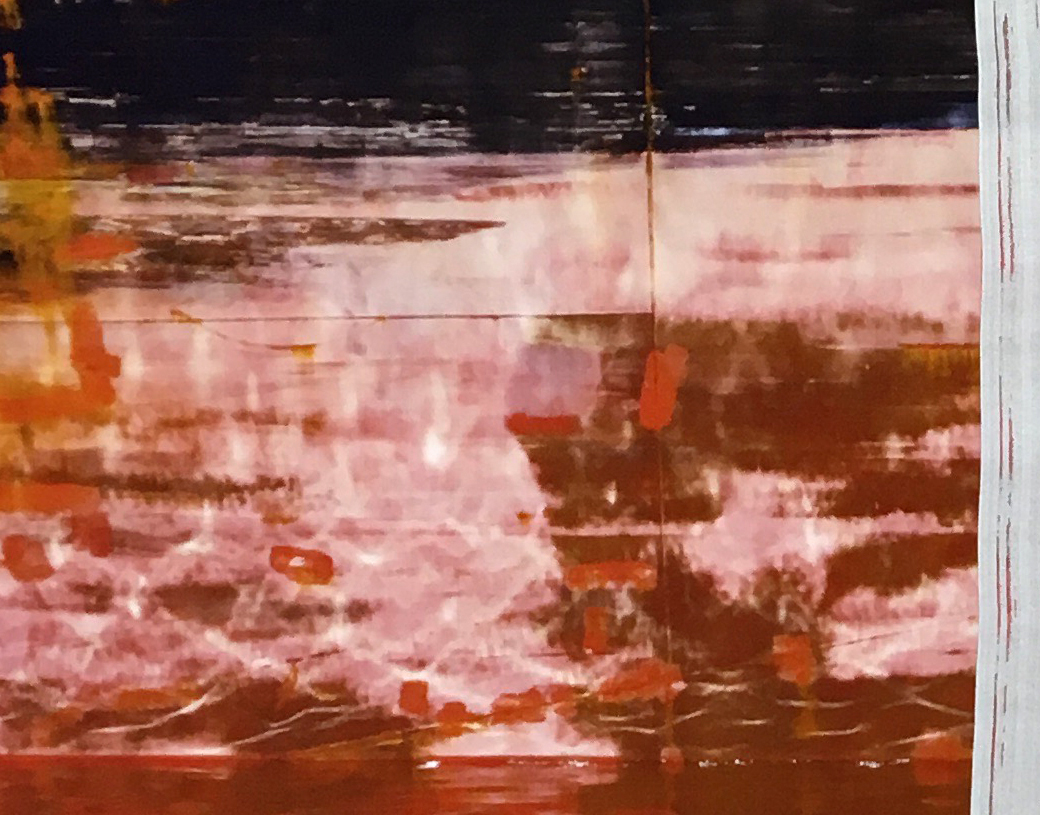 Casey Williams, Untitled (detail), c.2012, acrylic on archival inkjet print. Exhibited at Art Palace Gallery.
As a long time friend of Casey Williams we were delighted when Art Palace put on an exquisite show of never before seen works by Williams. In conjunction with Fotofest Biennial 2016, a discussion panel revolving around Williams' final works was organized by his wife, Jo Ann, studio assistant, Nick Merriweather, and the owner of Texas Gallery, Frederika Hunter. The dialogue between the three was a culmination of reminisicing over Williams' work style, the meaning behind his final series, and the lasting mark he has made on the Houston art scene.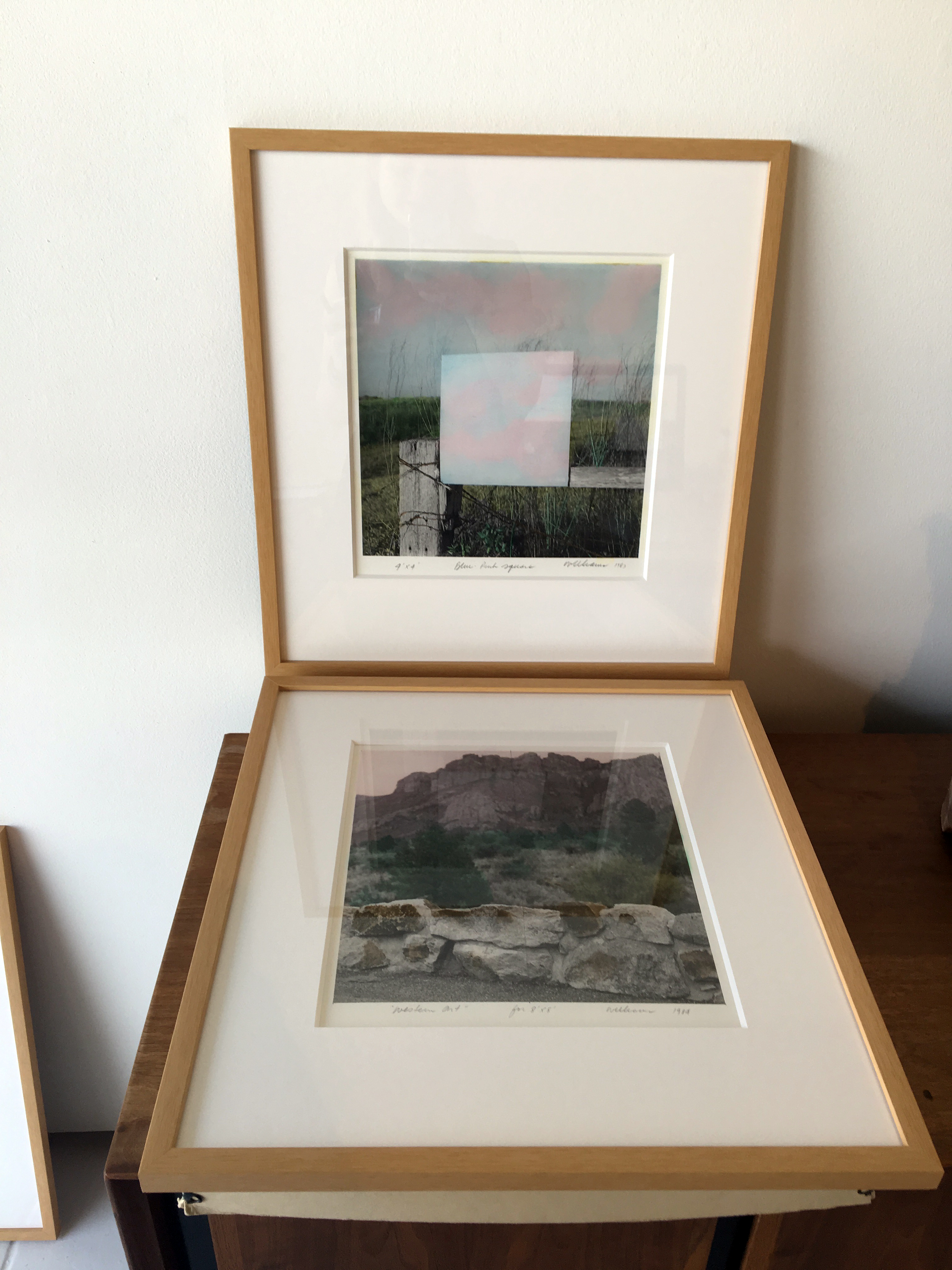 Casey Wiliams, Studies of 4 x 4 foot photographs
For Williams, expirimentaiton across all mediums and ideas is what led to his final series being known as the "painted-ons", where Williams would brush paint across his photographic images. Williams did not personally speak much about his art. However through Williams' life, it is indisputable of his love for the Houston ship channel and the influence it made on his work. Williams was particularly interested in the way a ship would float toward the surface as goods were unloaded, decreasing the ship's weight. The lower portion of the ship would then be repainted by the crewmen. The action of repainting is symbolic of Williams' paint strokes atop his own images. Many of the strokes are colors of blues and silvers, further symbolizing the shimmer and reflection of water and possibly an ode to his earlier silkscreen works, as well as becoming a meditative process for Williams.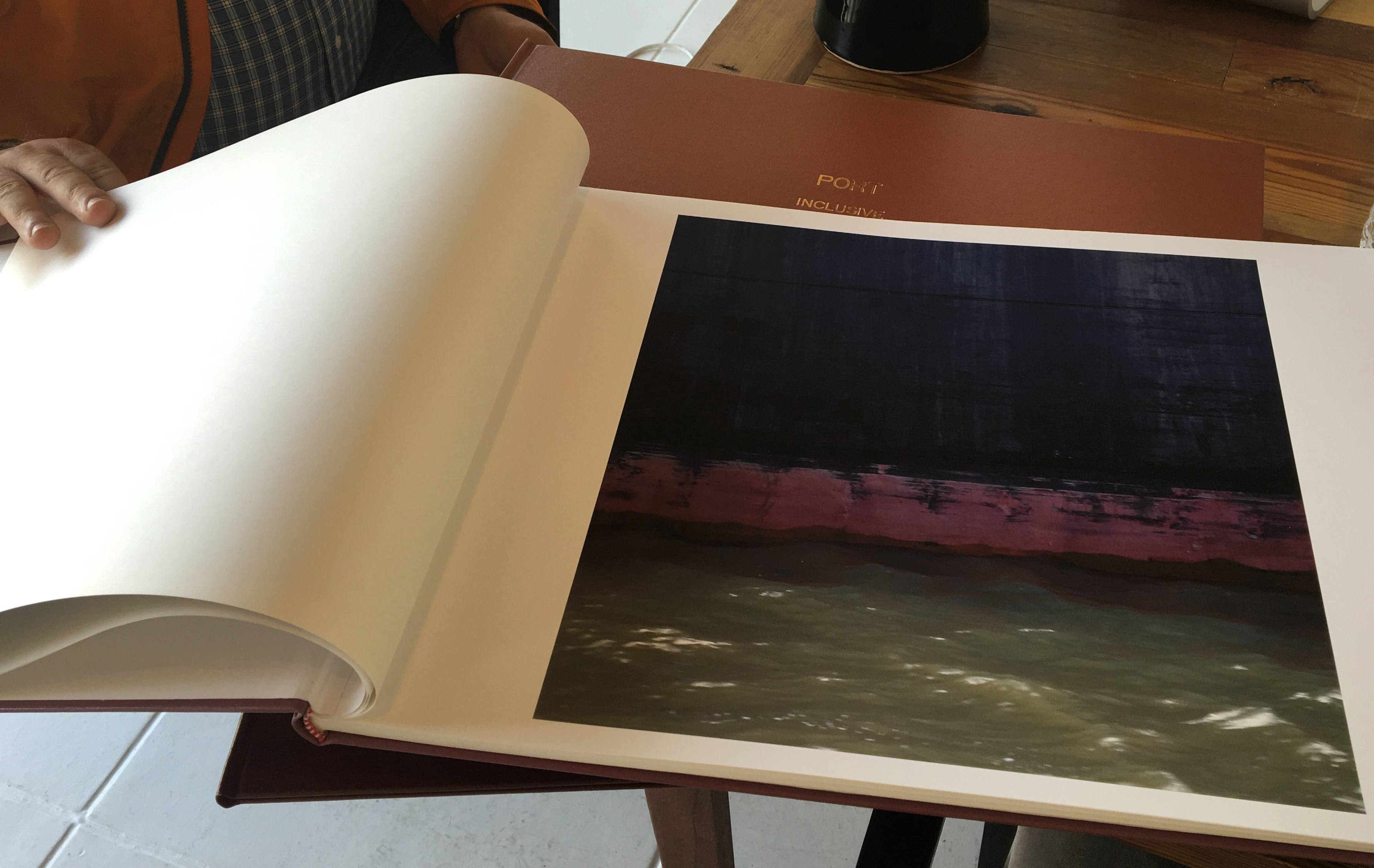 Book compiled of photography by Casey Wiliams
Casey Williams noticed details that many would naturally overlook. He forced the viewer to go somewhere they would normally bypass, giving a new perspective to the world. Williams was a master at opening up our eyes to beauty.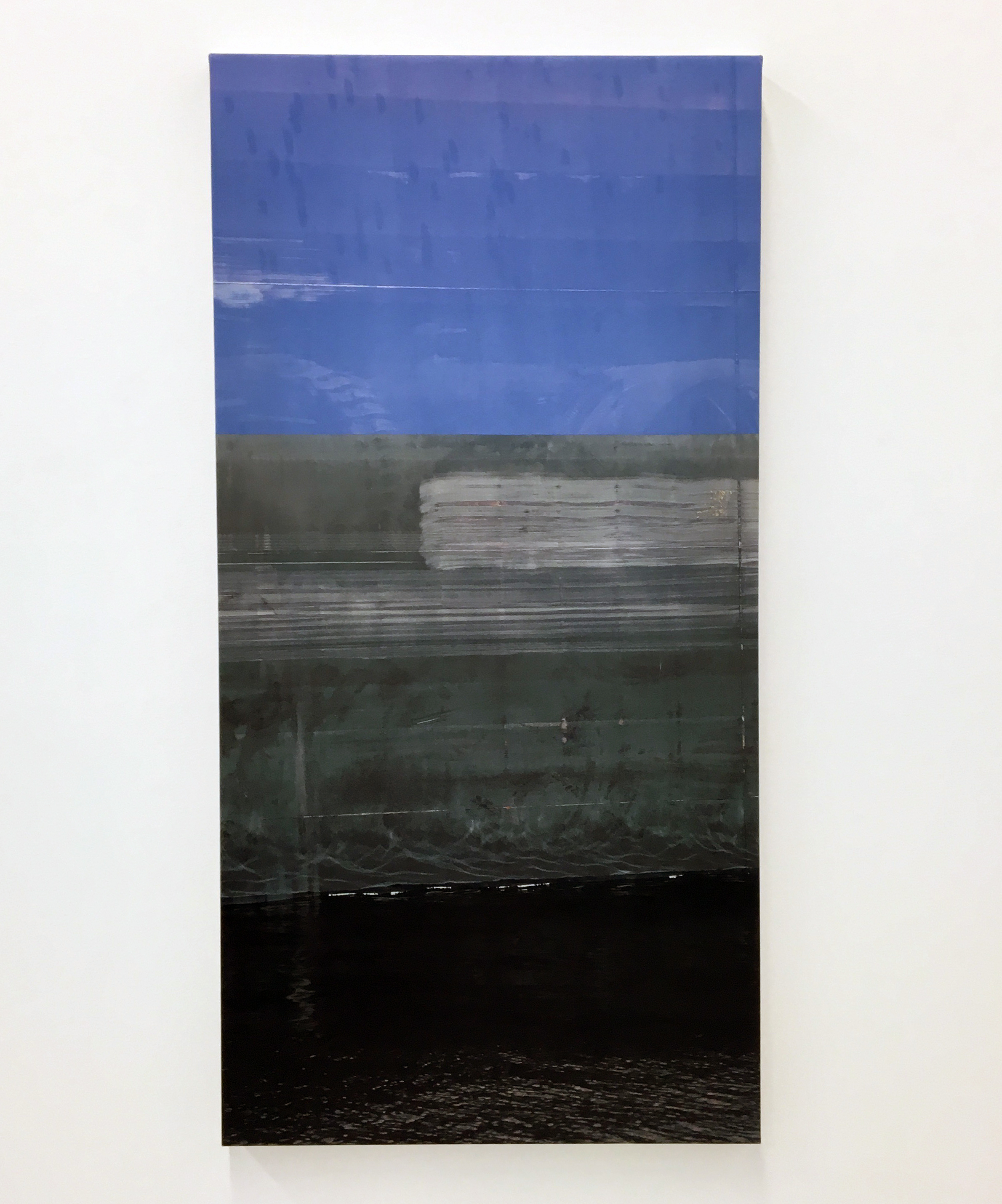 Casey Williams, Untitled, c. 2012, acrylic on archival inkjet print on satin. Exhibited at Art Palace Gallery.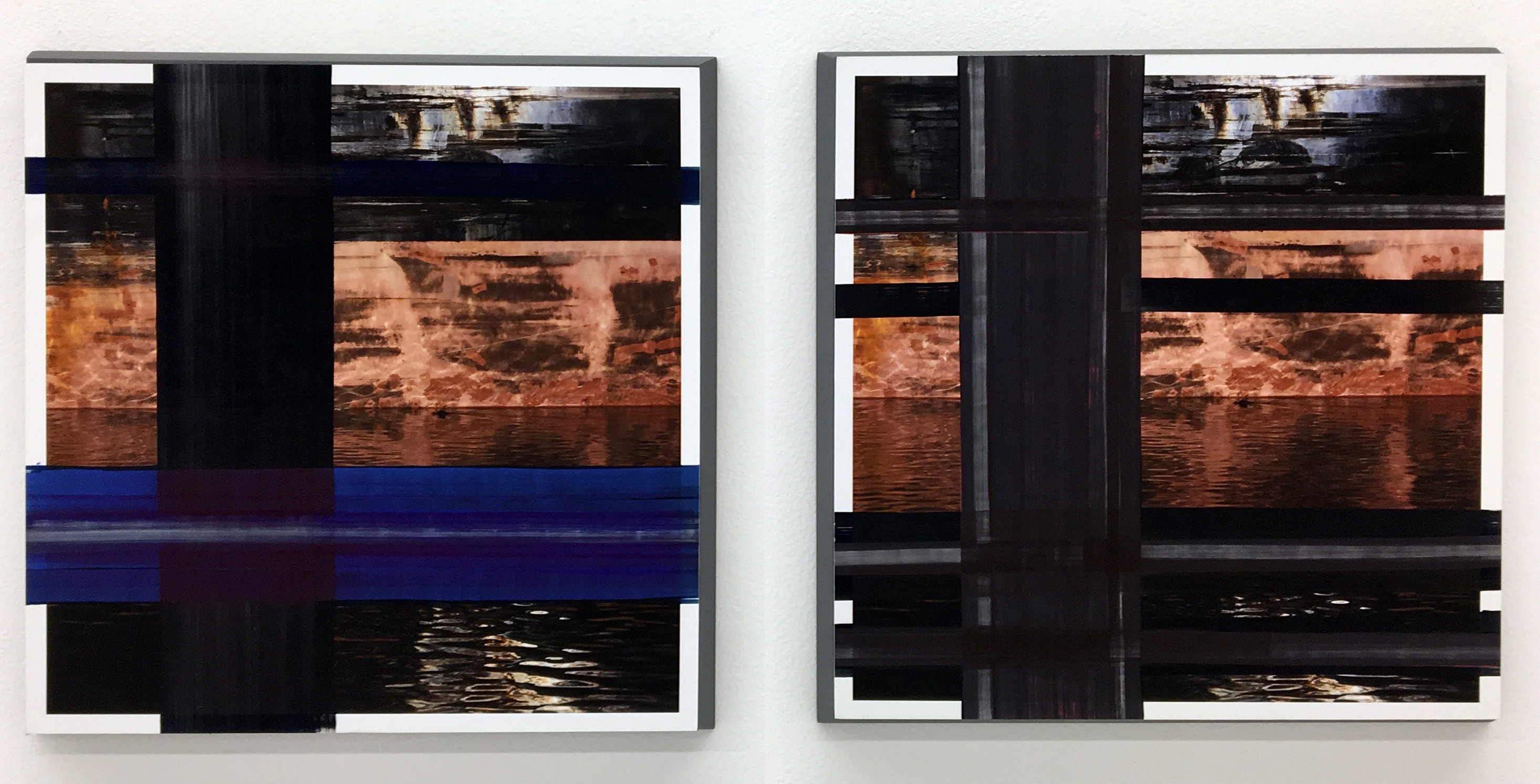 Casey Williams, Untitled & Untitled, c. 2012, acrylic on archivsl inkject print. Exhibited at Art Palace Gallery.
Thursday, February 25, 2016 at 4 AM
While we were in Mexico City, we had the pleasure of doing a studio visit with Tomás Díaz Cedeño. We were initally introducted to Cedeño at the Texas Contemporary Art Fair in 2015 at Yautepec Gallery, so we were eager to meet him and learn more about his intruguing process. Take a look at our Let's Talk Art Interview with Cedeño for more on his inspiration and reflections on being an artist in Mexico City.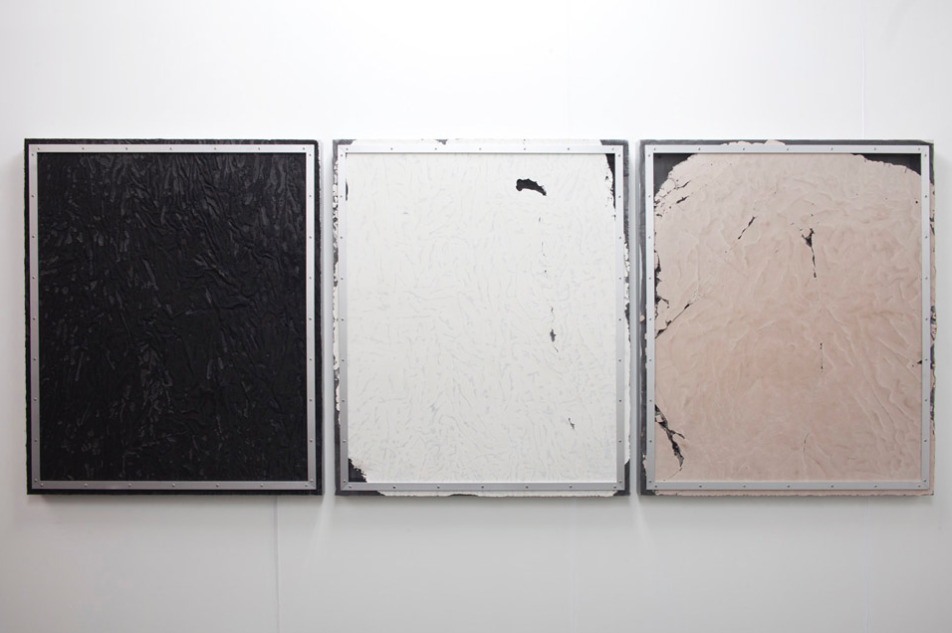 Tomás Díaz Cedeño, Untitled (Black, White, Flesh), 2015, Vel-mix, pigment, plastic mesh, aluminum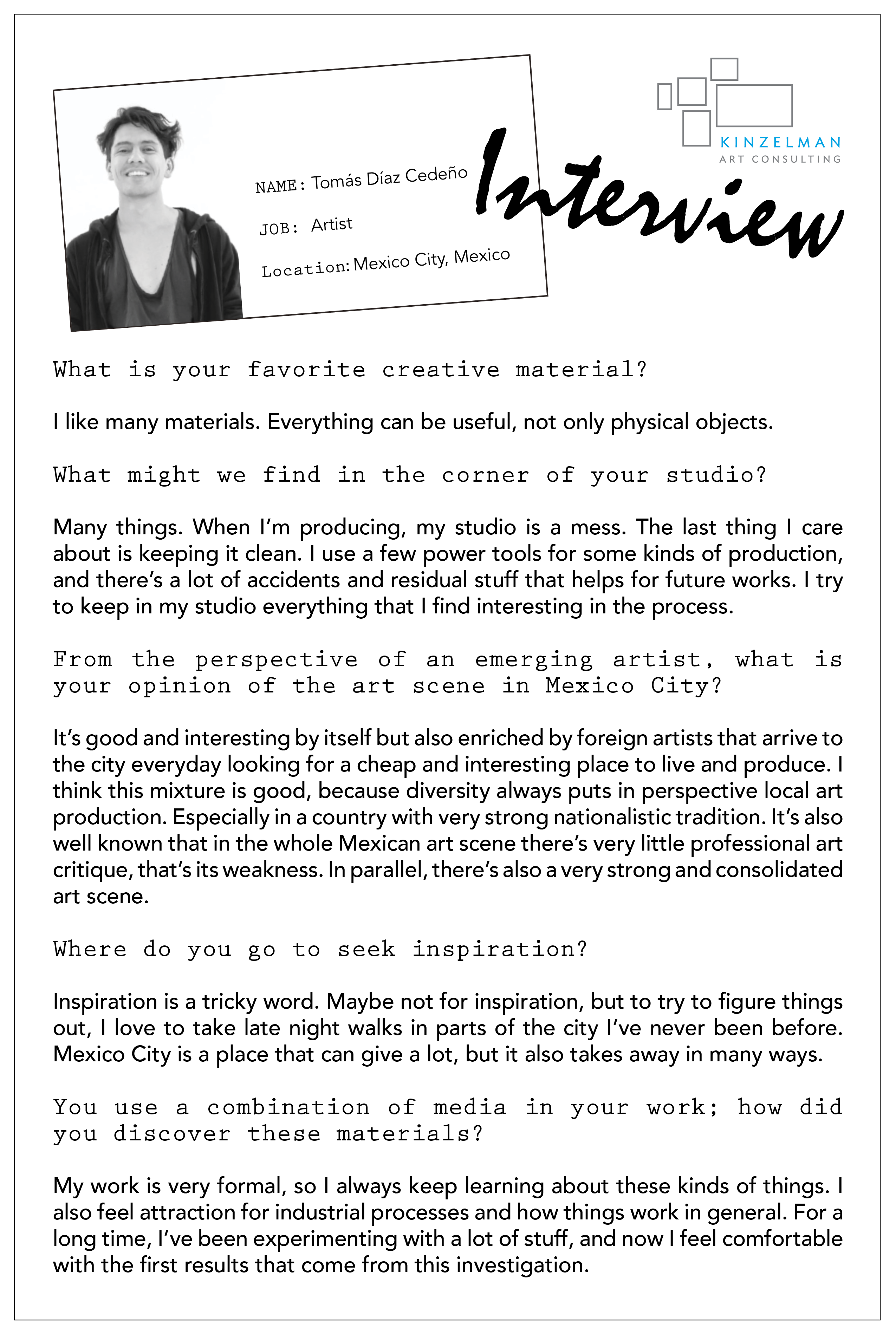 Friday, December 4, 2015 at 12 PM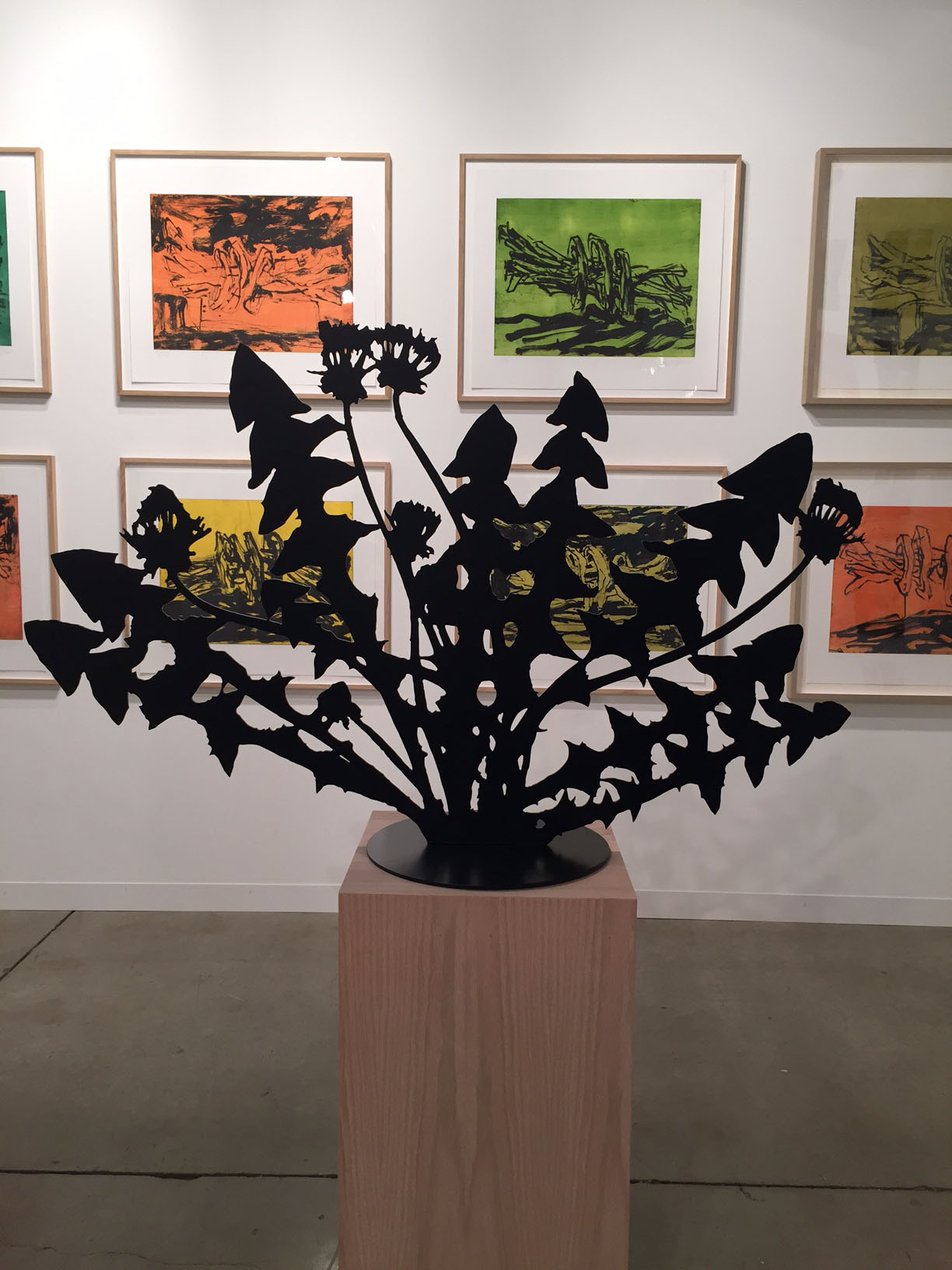 A clever installation of works by Paul Morrison at Galerie Sabine Knust's booth at Art Basel. Sculpture: Dandelion, powder coated steel. Prints: Hesperidium, 2007, woodcuts, Edition of 15.
After 4 days, 8 art fairs, and nearly 700 gallery booths, we are eager to report a selection of the many impressive artworks on view in Miami this week. Reflecting back, we picked up on a recurring theme that we see as a sign of the times: many artists are creating work that evidences the ubiquitous presence of technology in society, while others are returning to handmade traditional craft media such as ceramic and textile. Here is selection of our favorite finds from Art Basel, Untitled, Pulse, NADA, and Miami Project.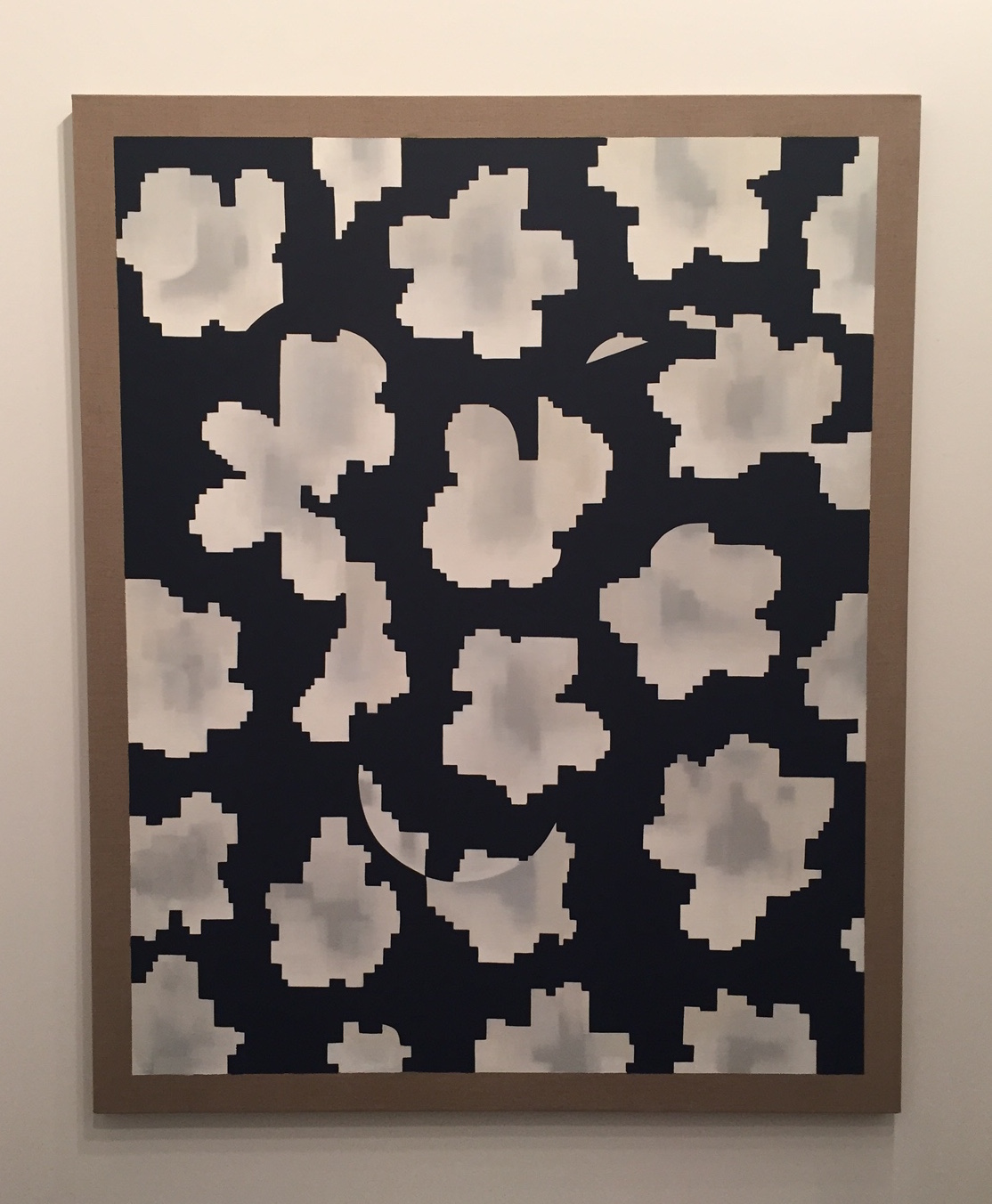 Digitally inspired work by Laeh Glenn on view in Altman Siegel's booth at NADA. Flowers, 2015, acrylic on linen.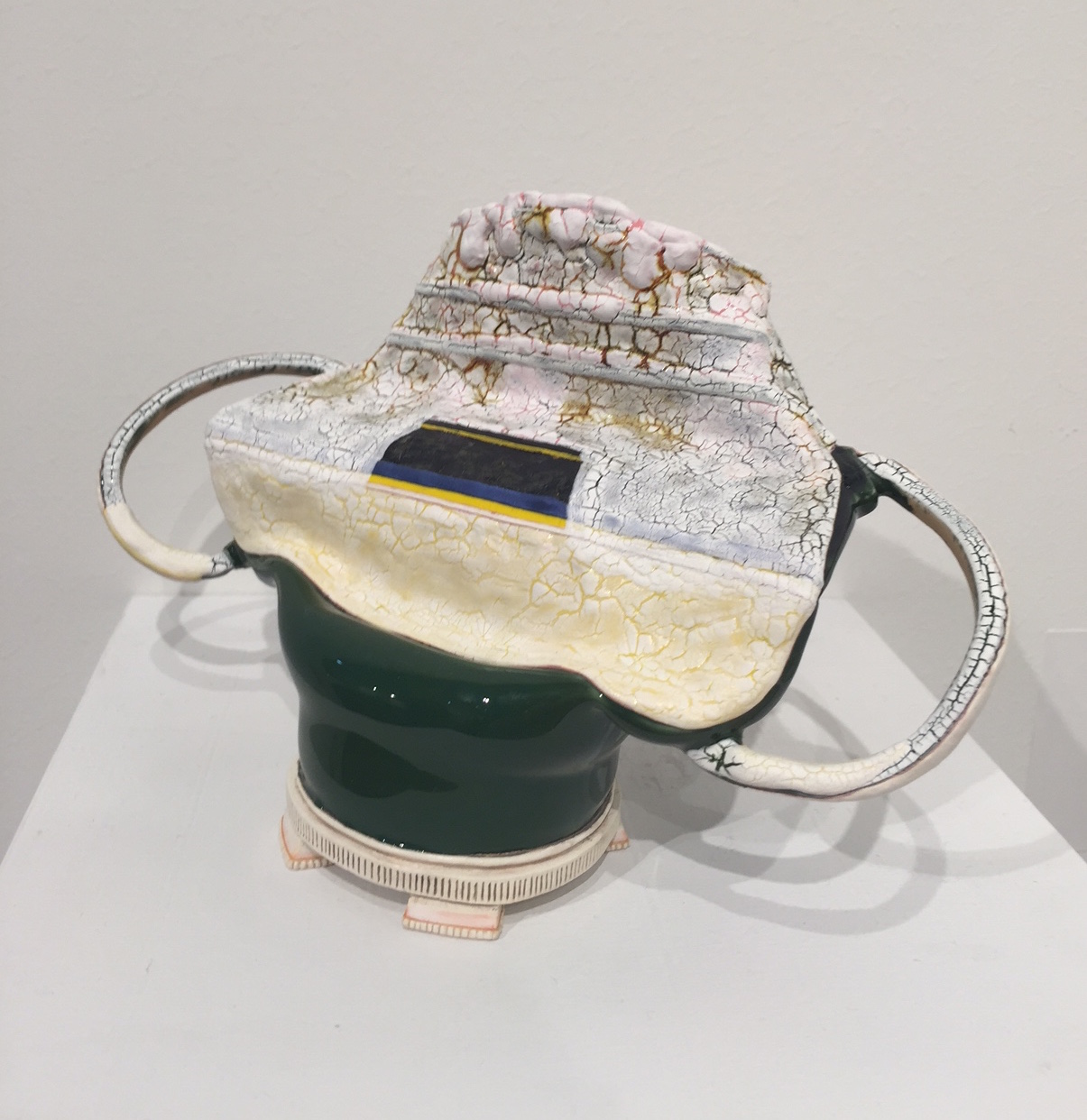 Kathy Butterly, Tangsome, 2015, clay, glaze. Exhibited at Tibor de Nagy Gallery at Pulse.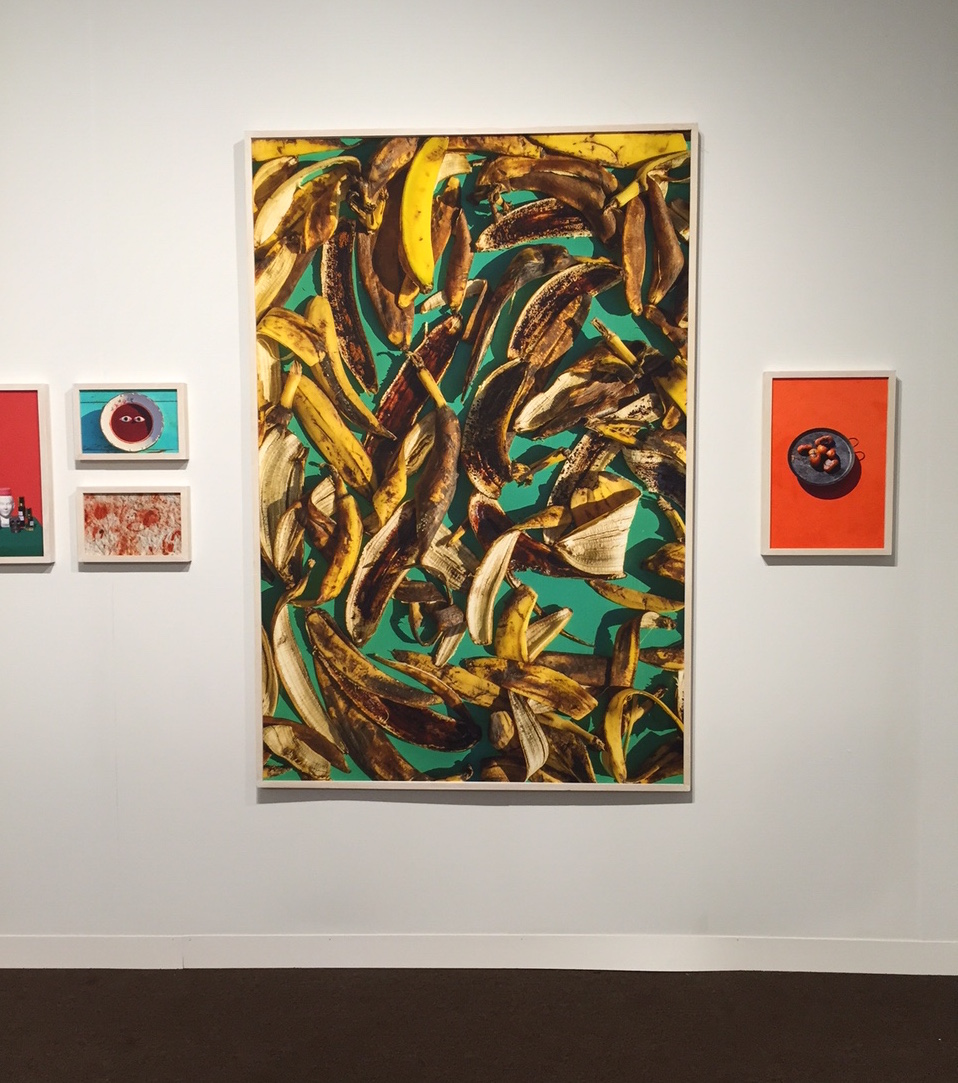 Quirky and mesmerizing photos by Joaquin Trujillo at De Soto Gallery on view at Pulse. Center: Platanos y Café (Mexico), 2015 archival pigment print.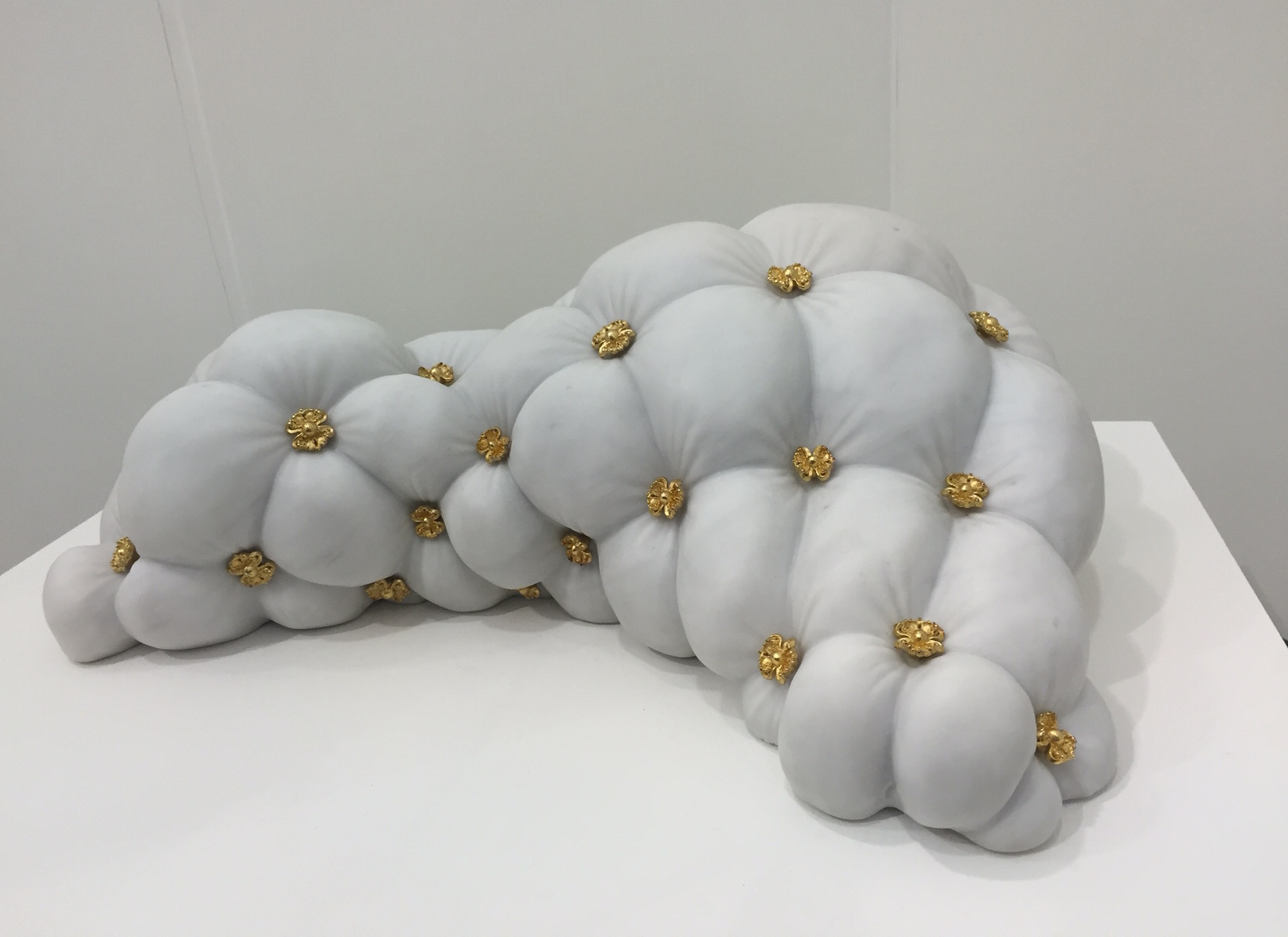 Jonathan Monaghan, Agnus Dei (After Zurbarán), 2015, Carrara marble and 3D printed steel. Bitforms Gallery at Untitled.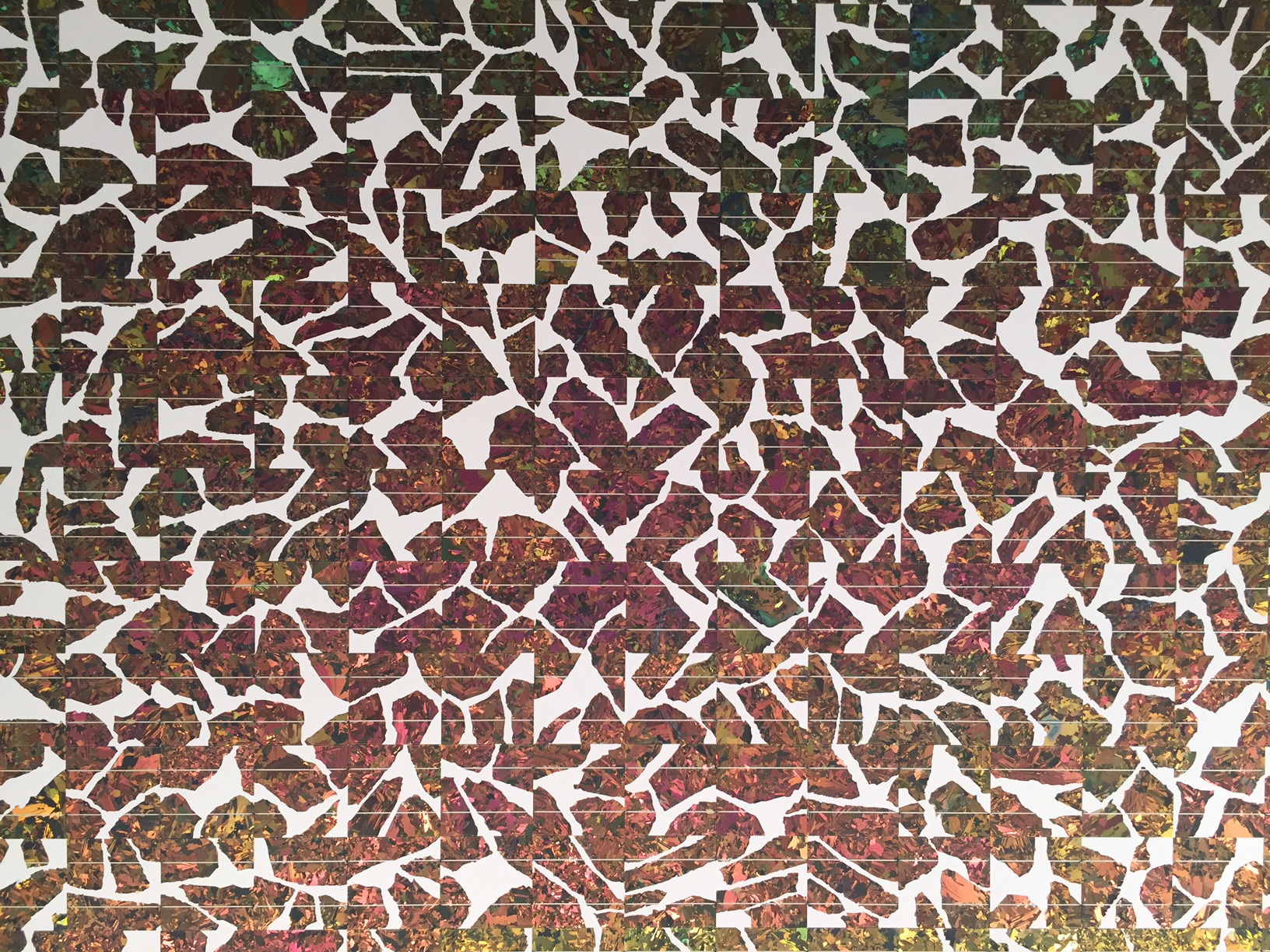 Technology inspired, mixed media work by Allora & Calzadilla in Lisson Gallery's booth at Art Basel. Solar Catastrophe, 2015, broken solar cells on canvas.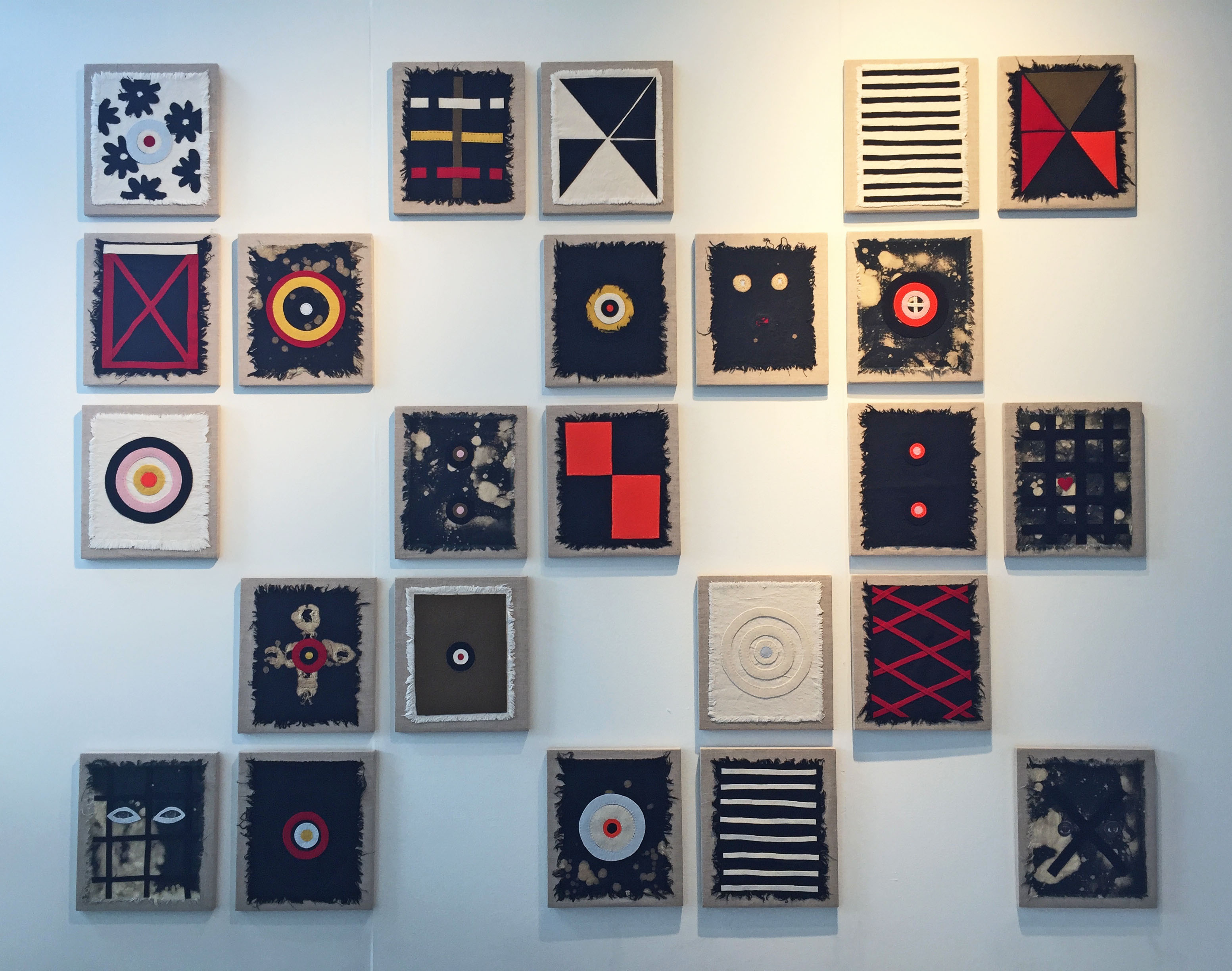 Assorted textile collages by Diana Guerrero-Maciá at Traywick on view at Miami Project. Siblings of the Sun, 2015, wool, cotton, thread on Belgian linen.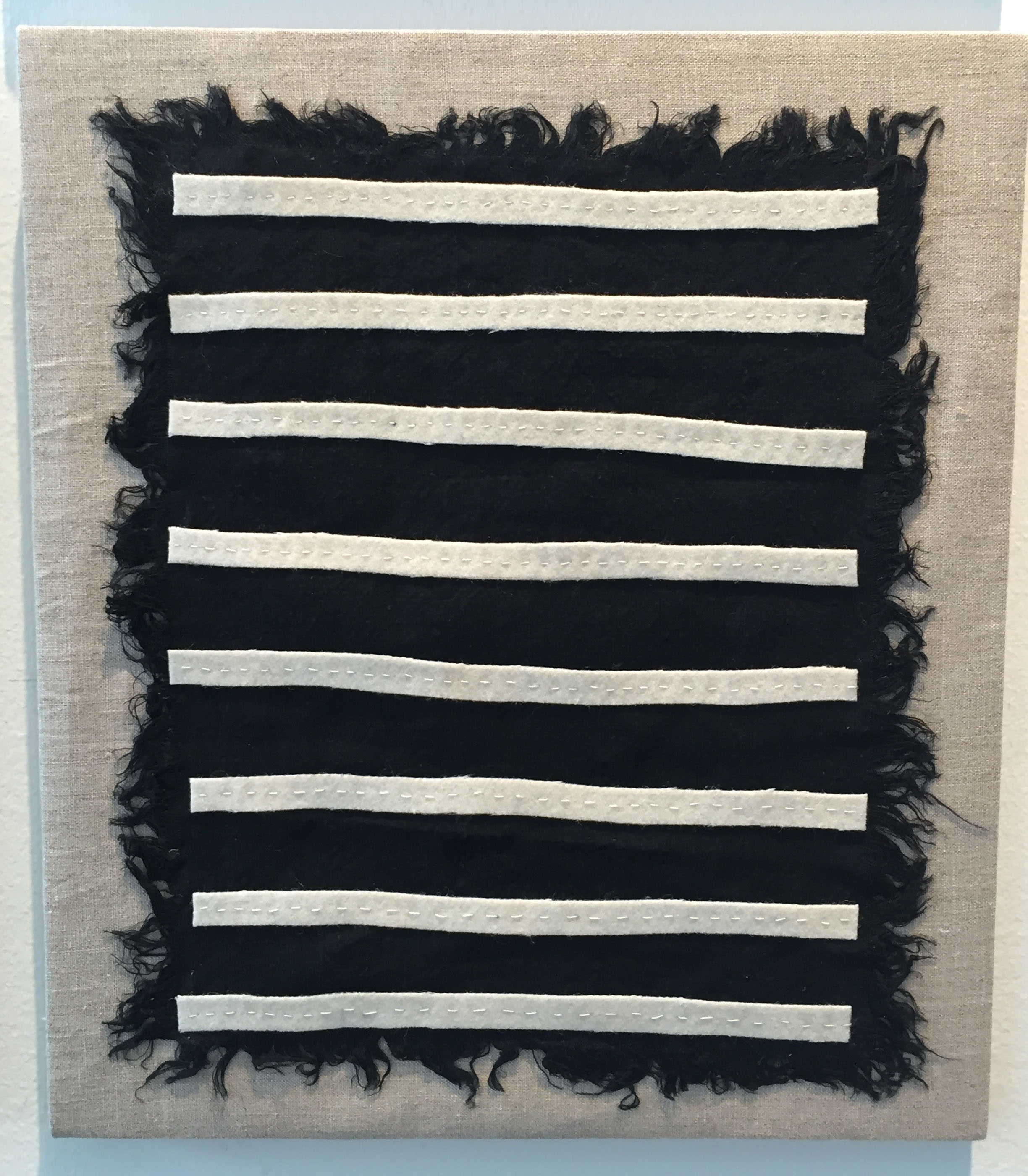 Detail: Diana Guerrero-Maciá, Siblings of the Sun, 2015, wool, cotton, thread on Belgian linen.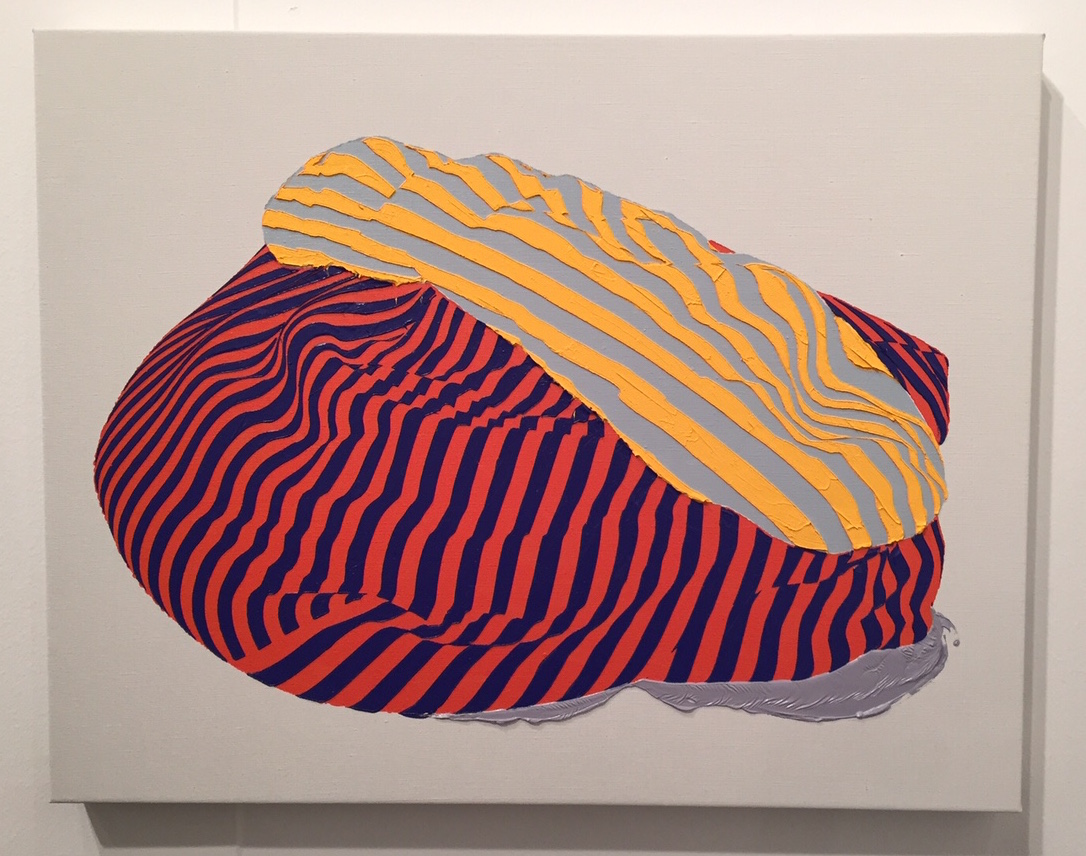 Alex Dodge uses computer generated patterns to create his paintings. Belfast, 2015, oil on canvas. On view at Klaus von Nichtssagend Gallery at NADA.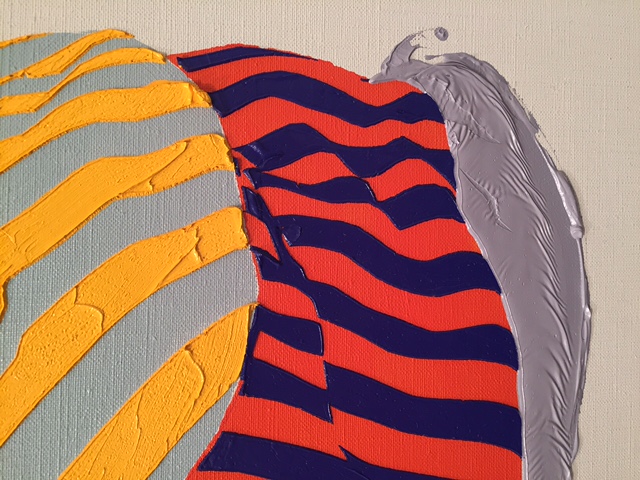 Detail: Alex Dodge, Belfast, 2015, oil on canvas.
Thursday, October 1, 2015 at 5 PM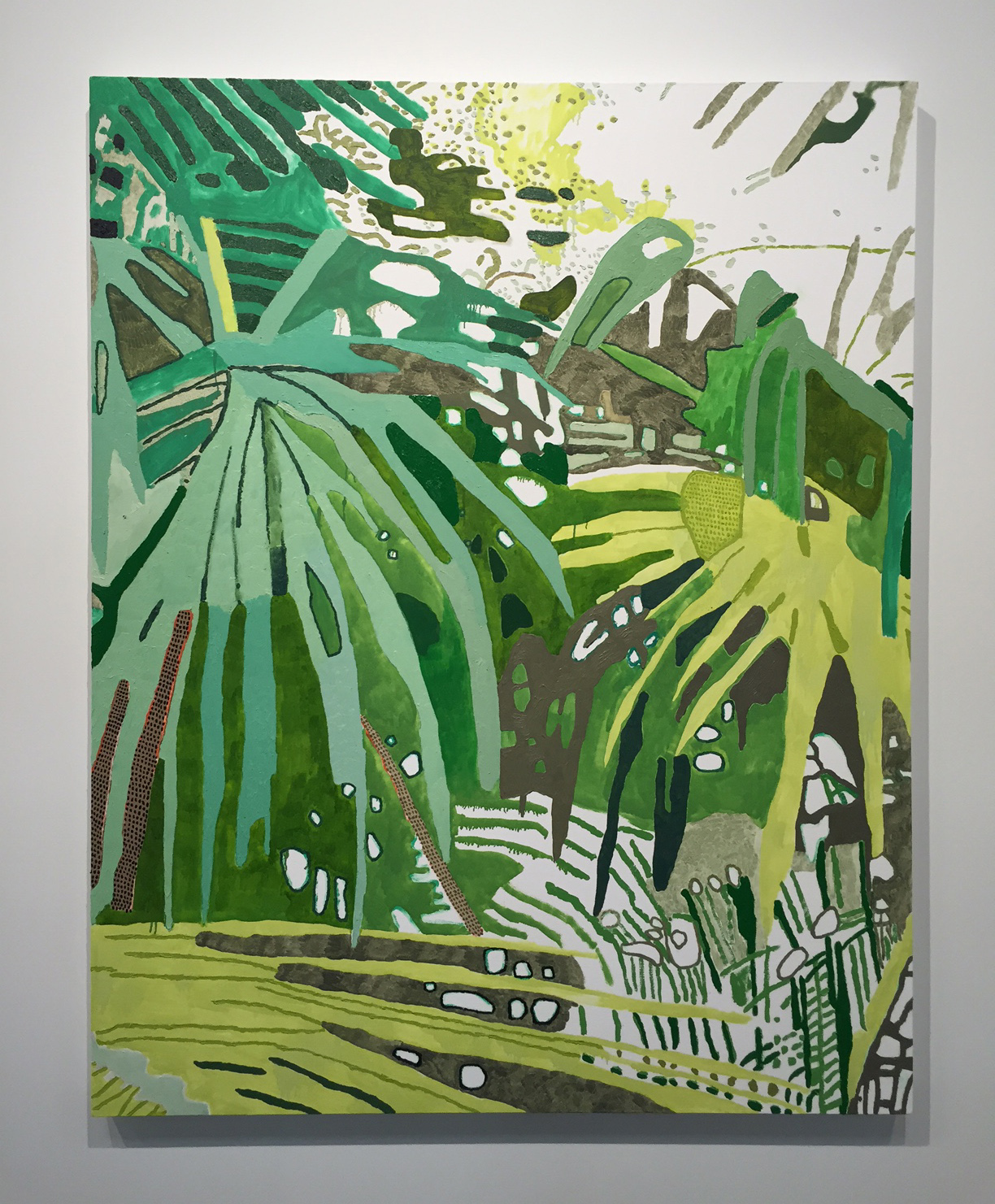 Bradley Kerl at Art Palace Gallery
We previewed the fifth edition of the Texas Contemporary Art Fair, and wanted to share some of our first impressions and stand-out works. We encourage everyone to attend the fair and post your faves with #LetsTalkArt. Stay tuned for more highlights throughout the weekend from Kinzelman Art via Instagram, Twitter, and Facebook. If you would like more information on these works feel free to contact us.

Tomás Díaz Cedeño at Yautepec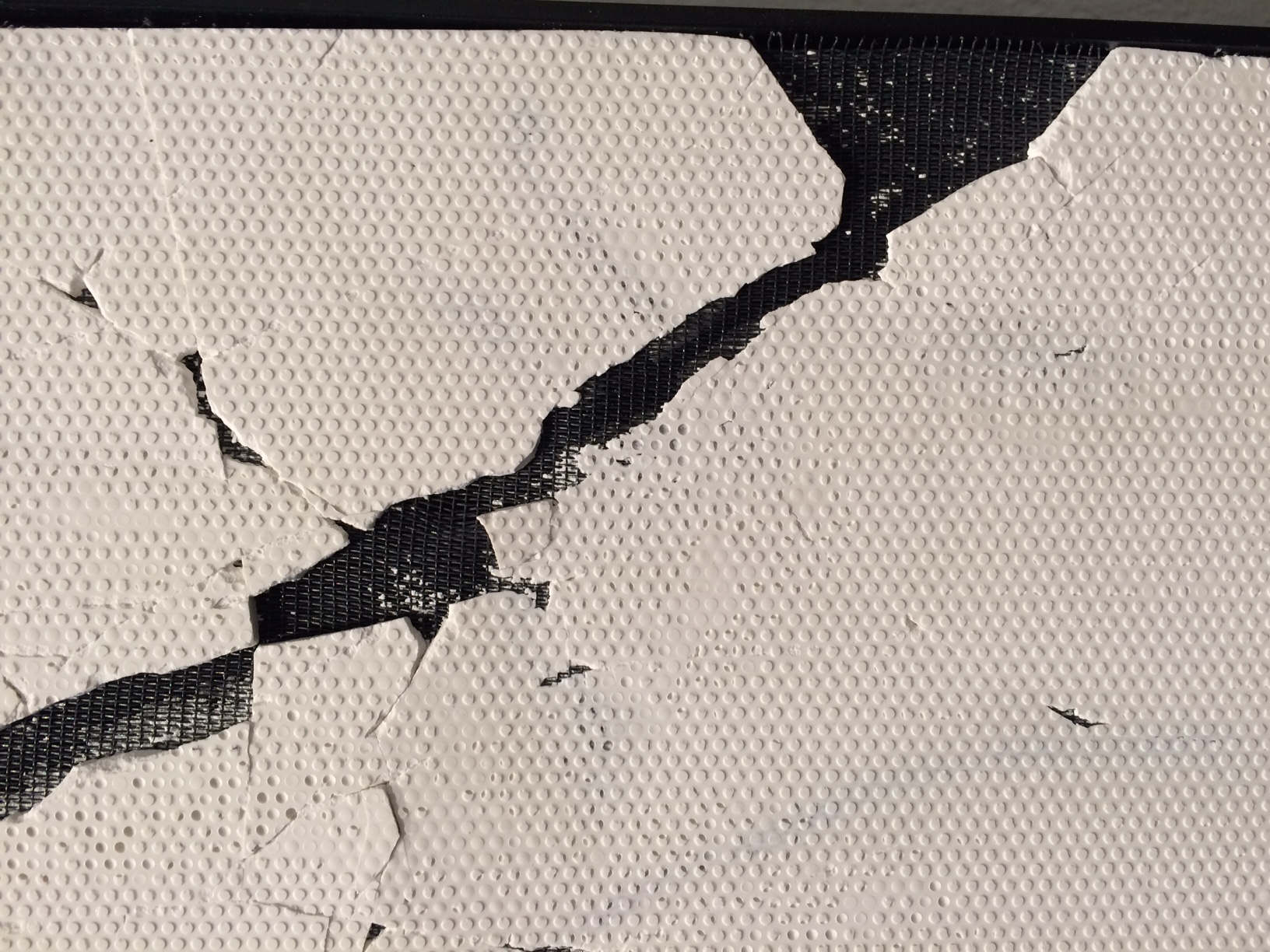 Detail of Tomás Díaz Cedeño at Yautepec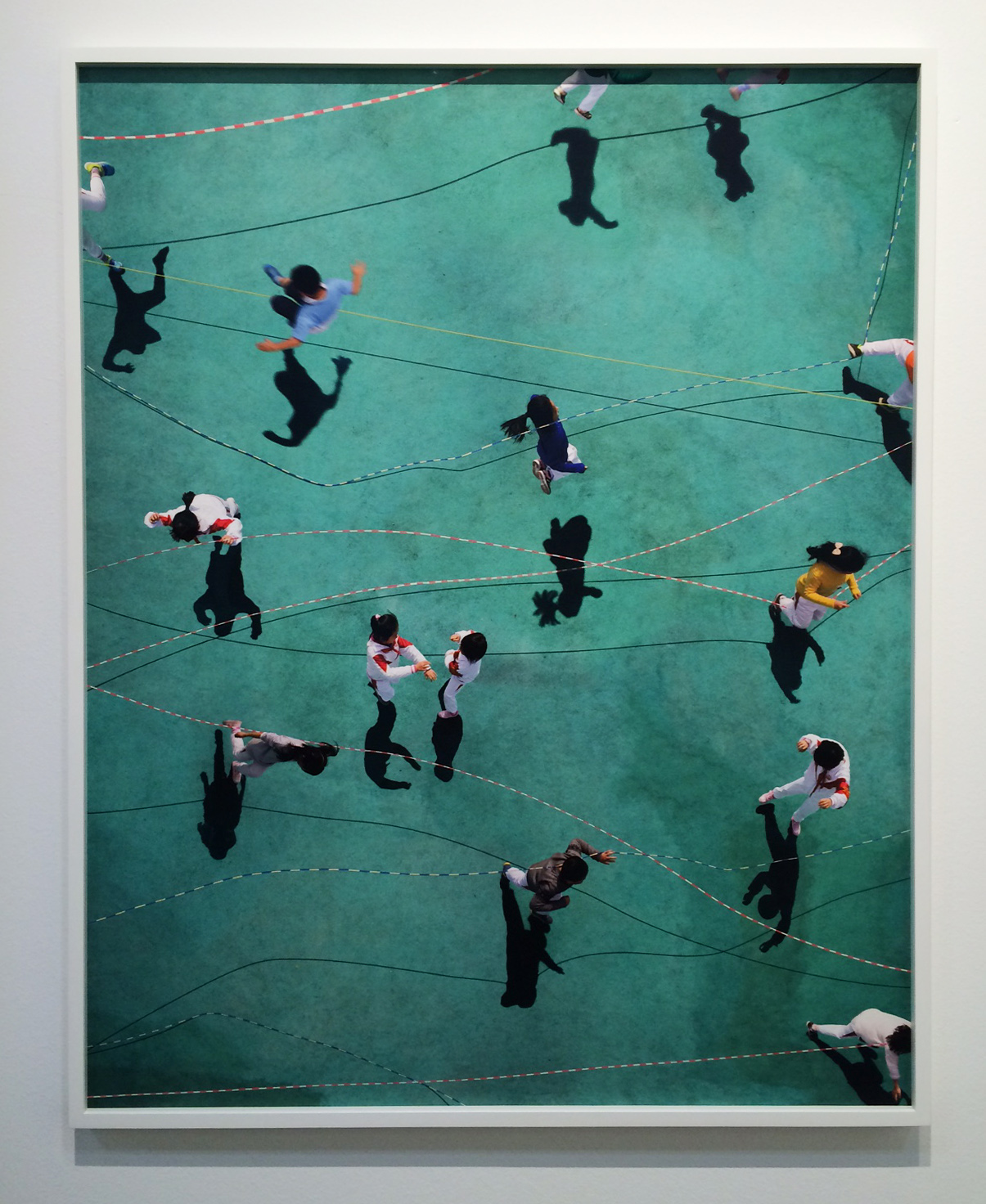 Katrin Korfmann at Kopeikin Gallery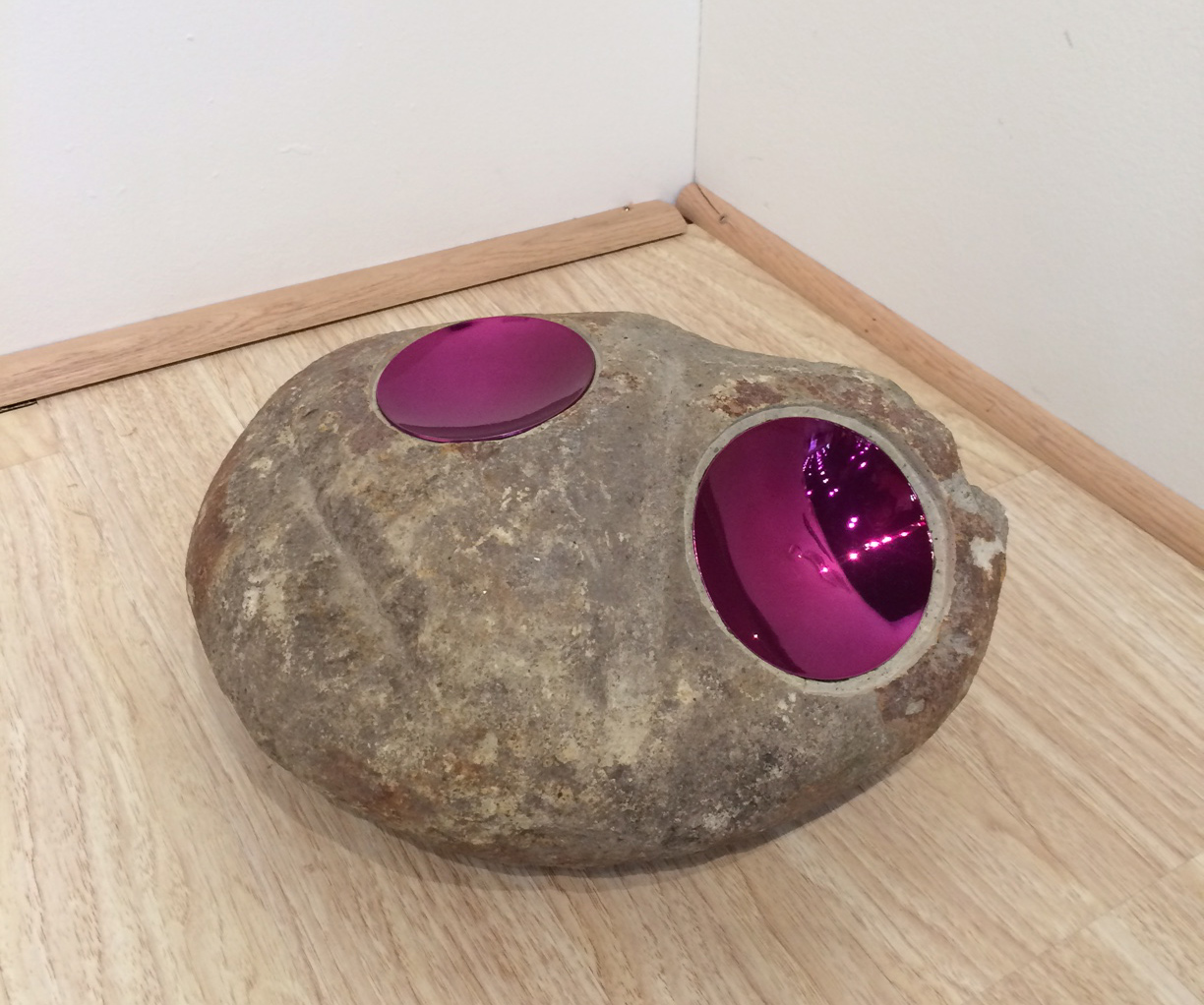 Héctor Falcón at Galeria Enrique Guerrero
Friday, September 18, 2015 at 5 PM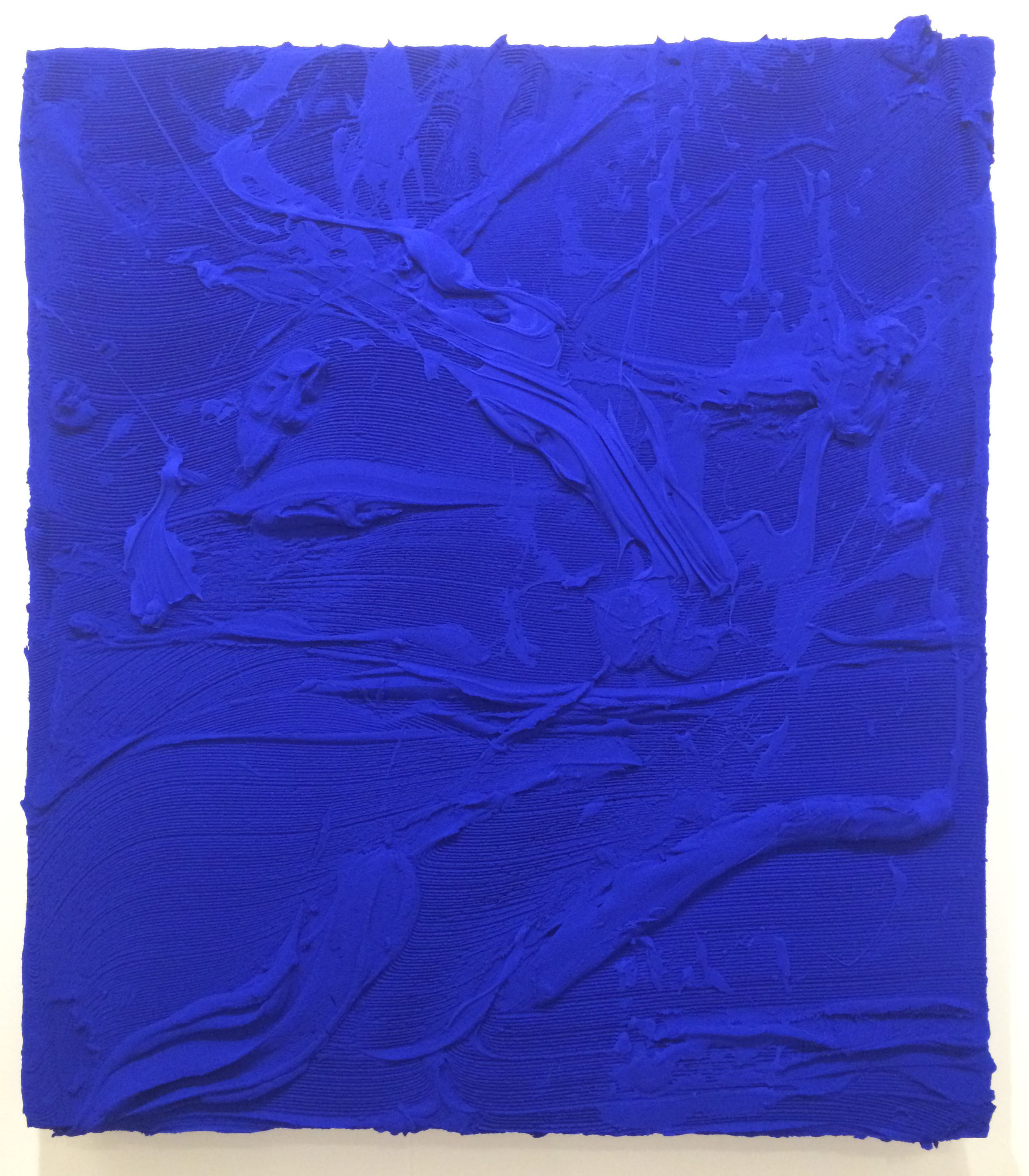 Jason Martin, 2015, mixed media on aluminum (ultramarine blue) at Galerie Forsblom
With an impressive roster of 140 galleries from around the world, EXPO Chicago has delivered a vast selection of world class contemporary art. We are spending the weekend in the windy city to explore the many high-caliber art works and art programs on view. After our first day at the fair, a number of works have already caught our eye.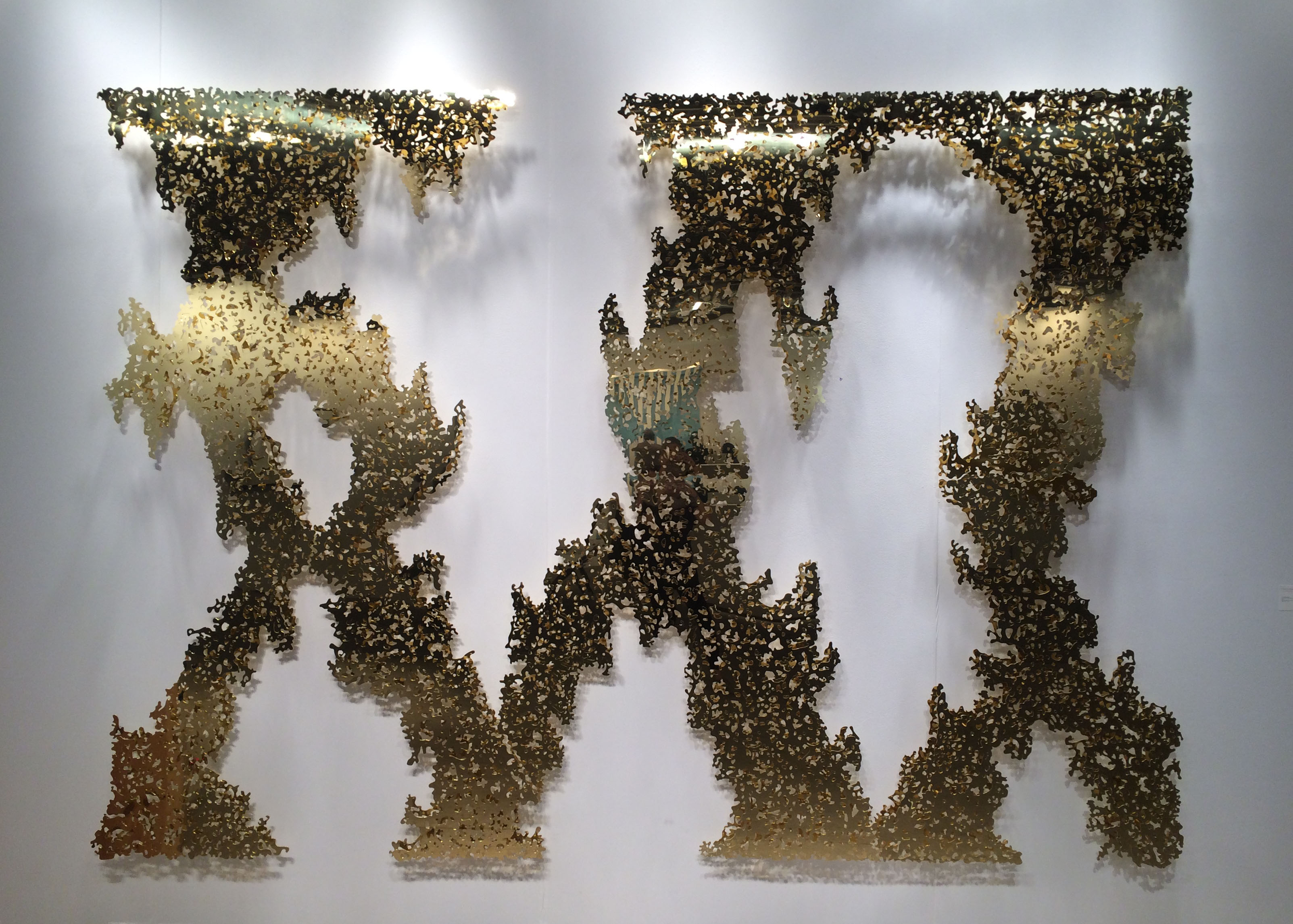 Wall installation by Teresita Fernández, Ghost Vines (Yellow Gold), 2015, brass at Anthony Meier Fine Arts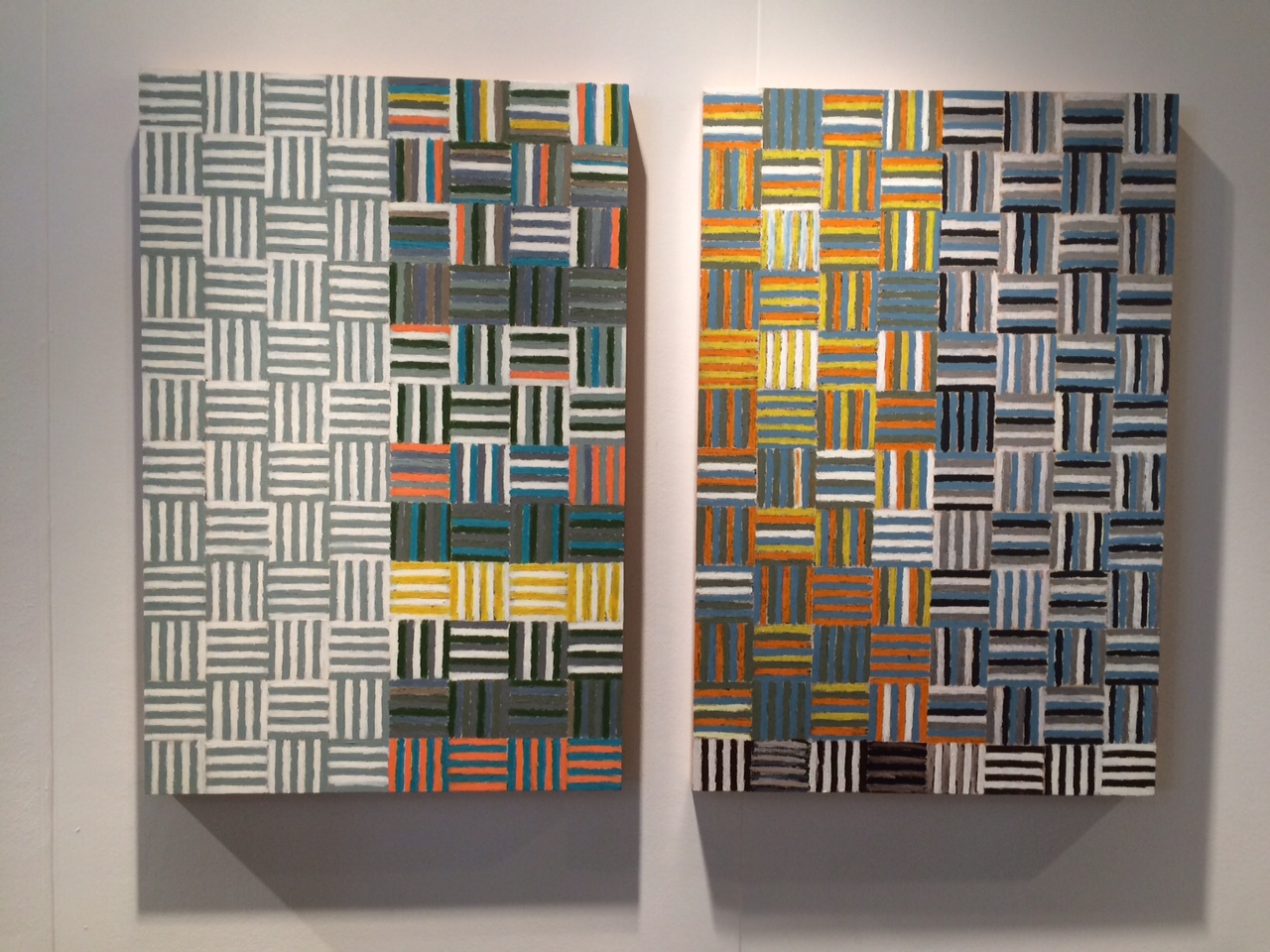 Impressive biographical works by McArthur Binion, Sketch VII and VIII (Looking for Grey): For: Three Movements of Sunlight, 2013, laser print collage, oil paint stick, and Staonal crayon on panel, at Kavi Gupta Gallery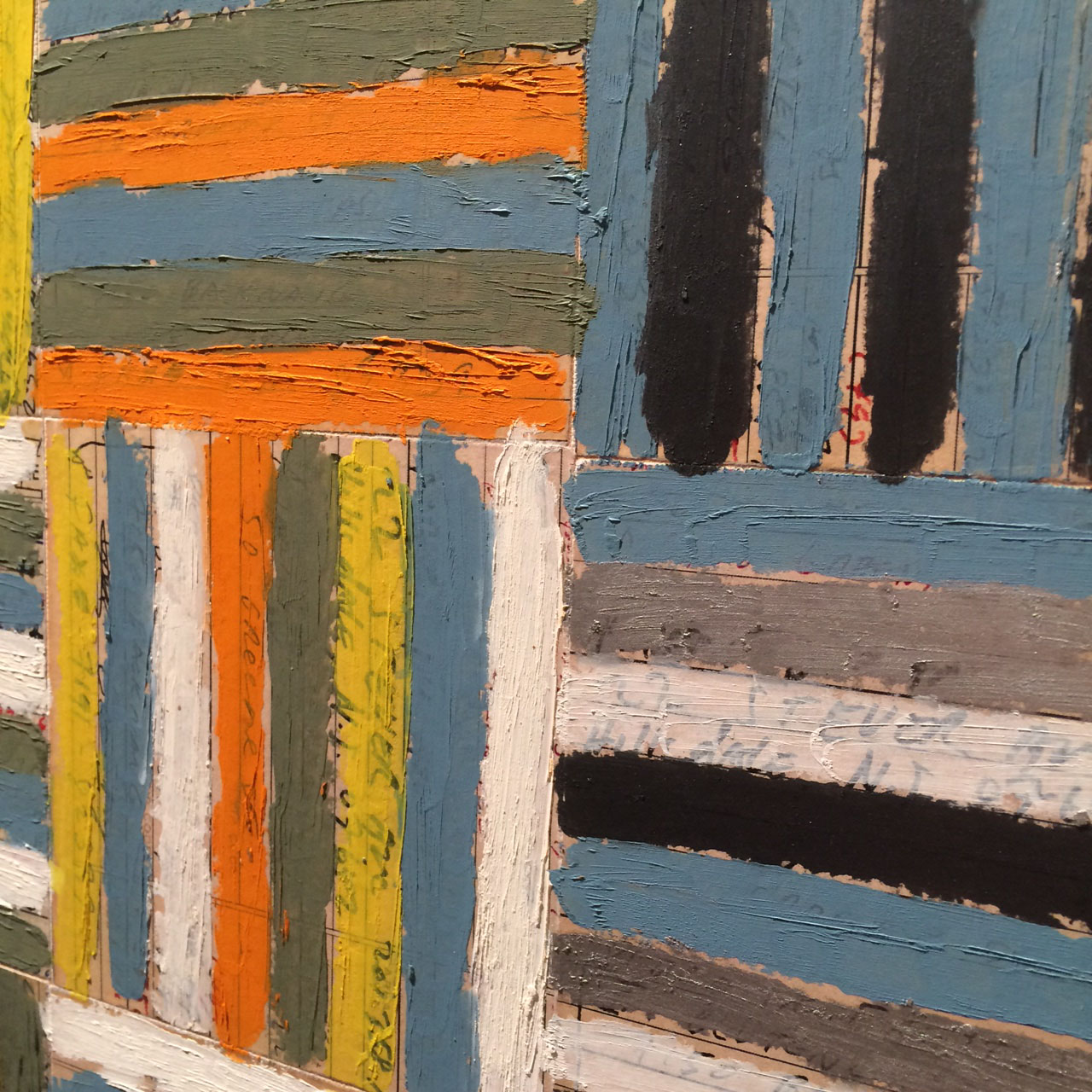 Detail: McArthur Binion, Sketch VIII (Looking for Grey): For: Three Movements of Sunlight, 2013, laser print collage, oil paint stick, and Staonal crayon on panel, at Kavi Gupta Gallery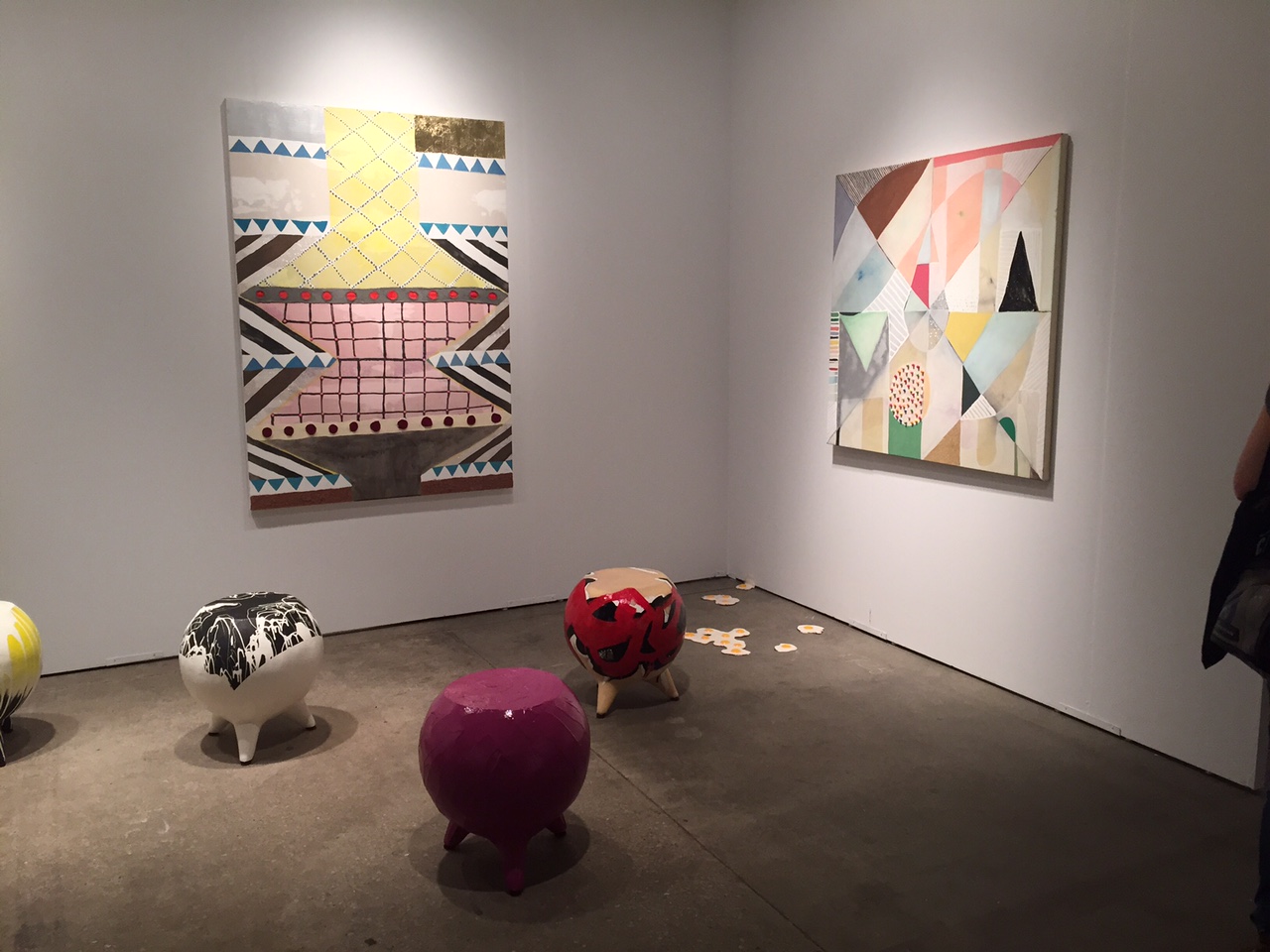 Laurel Sparks (works on canvas) and Christopher Chiappa (stools and eggs) at Kate Werble Gallery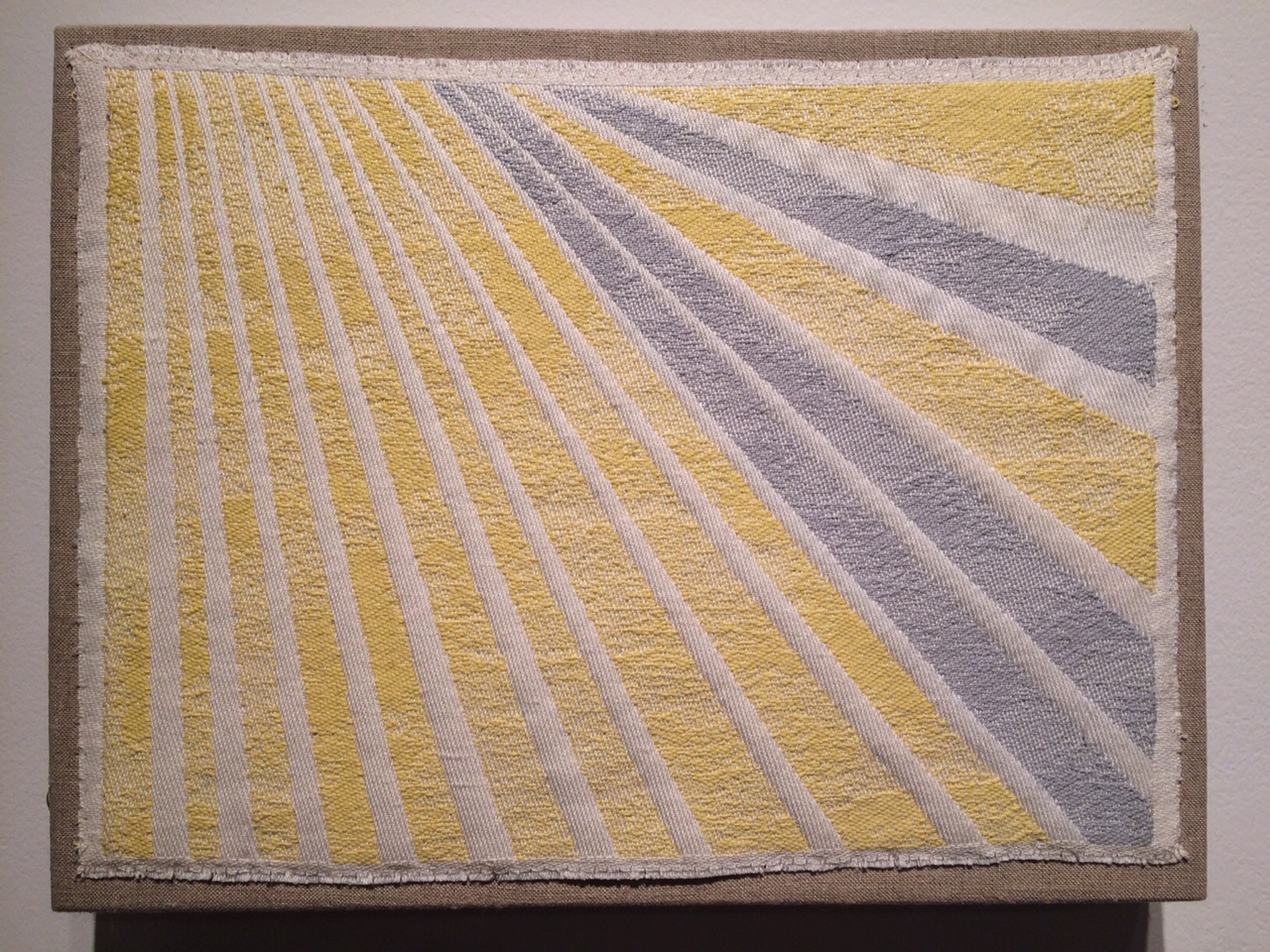 Christy Matson, Rays in Tan/Yellow, 2013, cotton, linen, tencil at Volume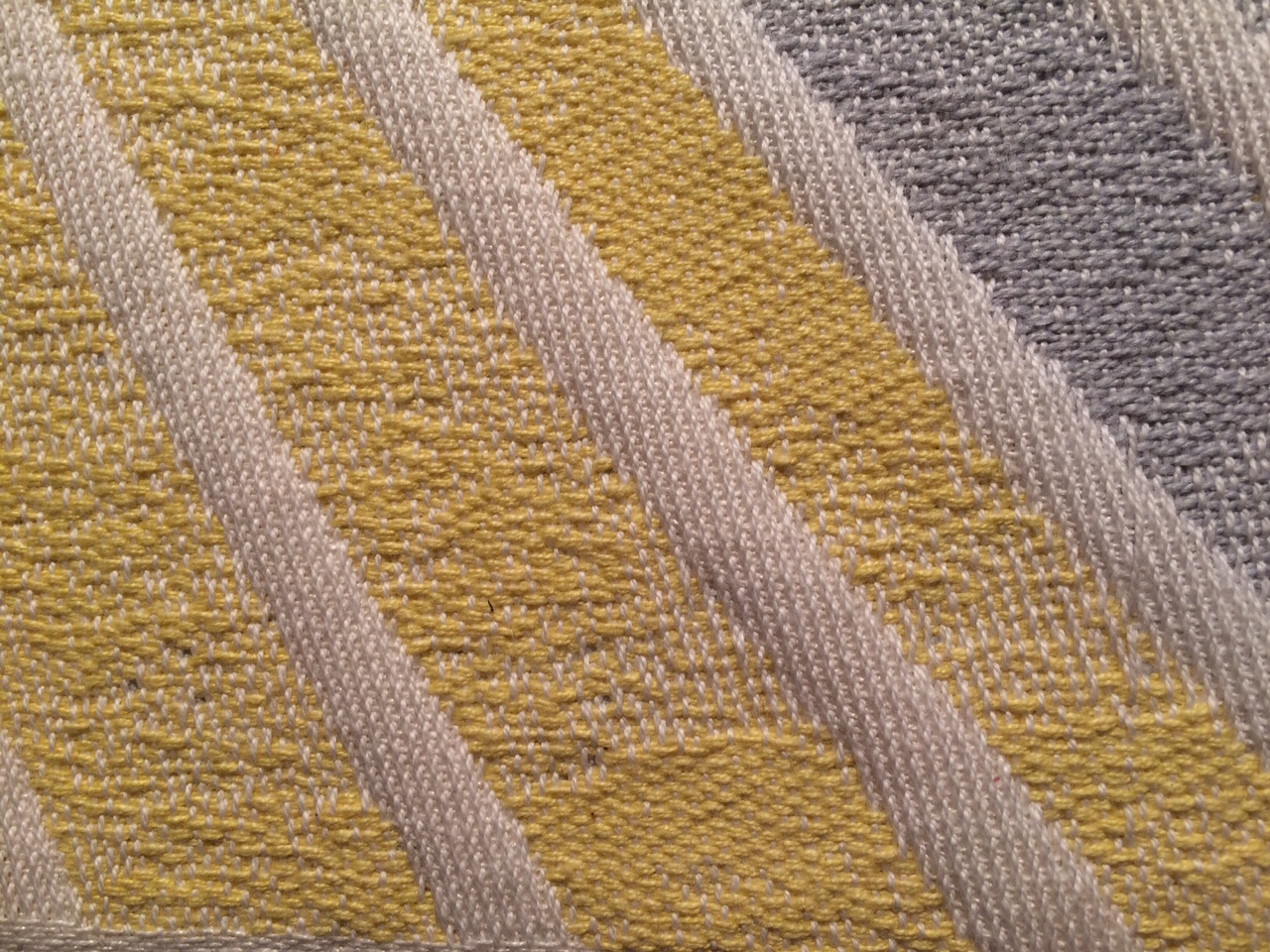 Detail: Christy Matson, Rays in Tan/Yellow, 2013, cotton, linen, tencil at Volume Gallery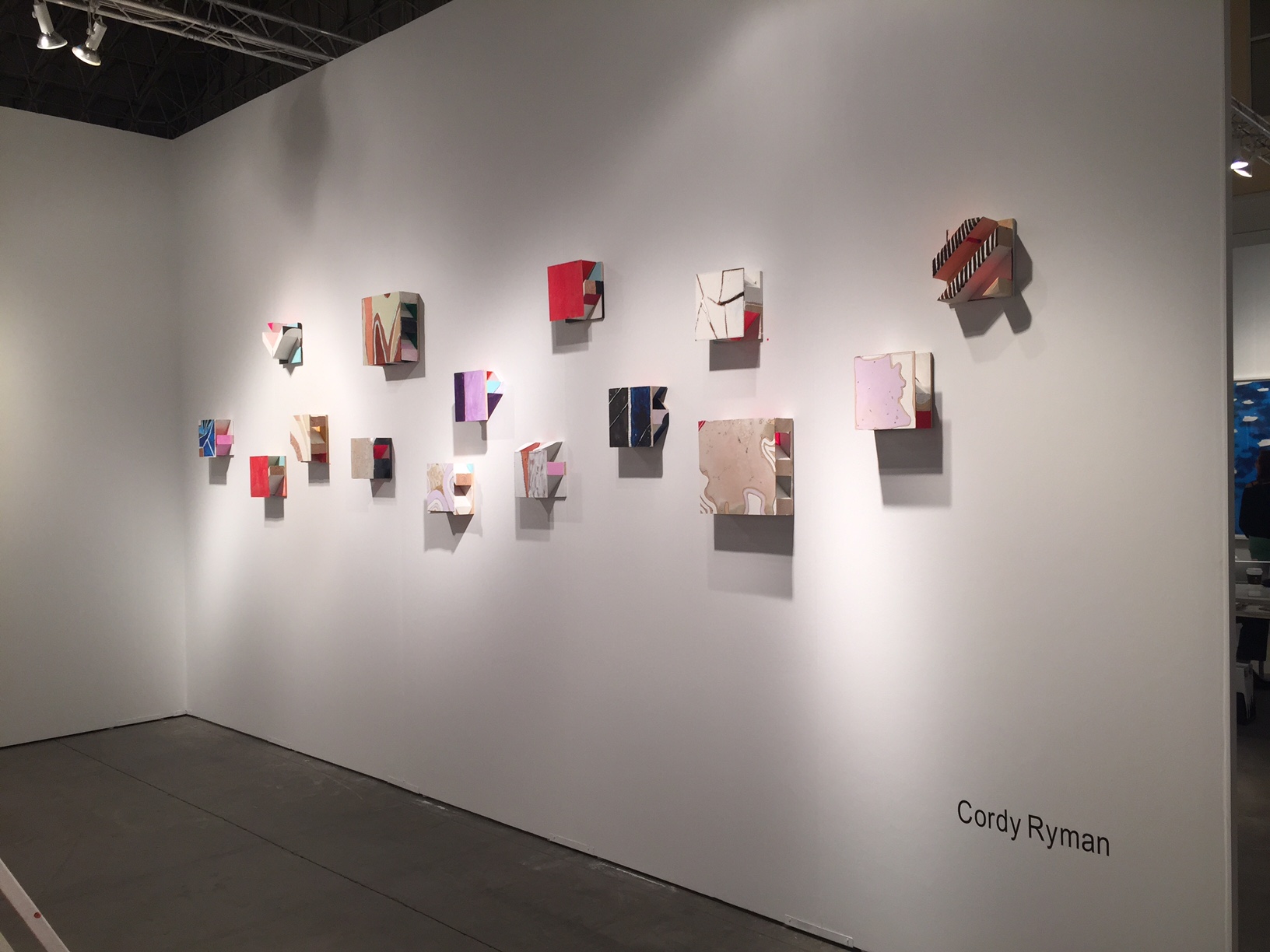 Cordy Ryman wall installation at Galerie Zürcher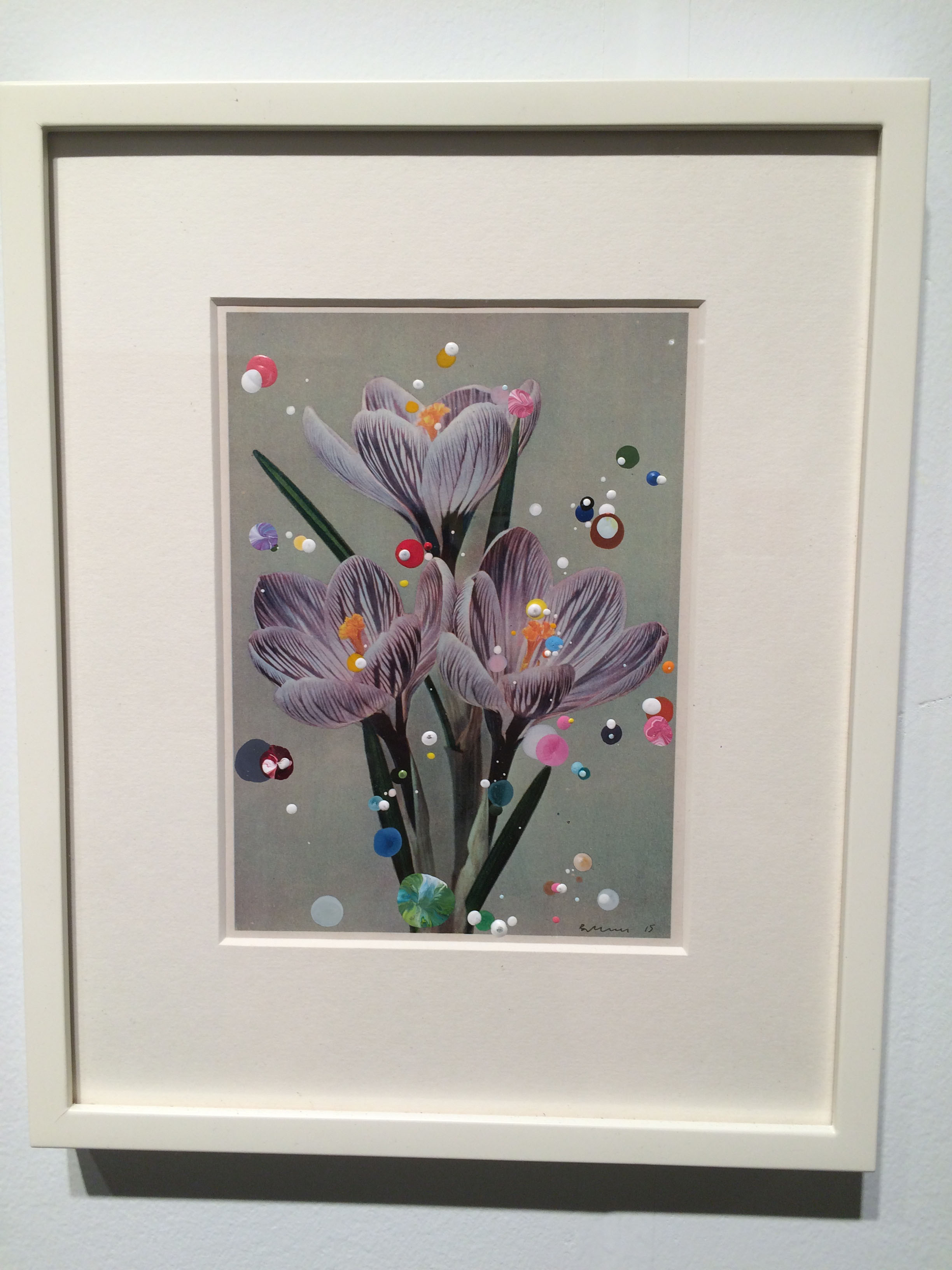 Sebastiaan Bremer, acrylic paint and ink on vintage lithograph at Hales Gallery
Monday, April 13, 2015 at 3:58 PM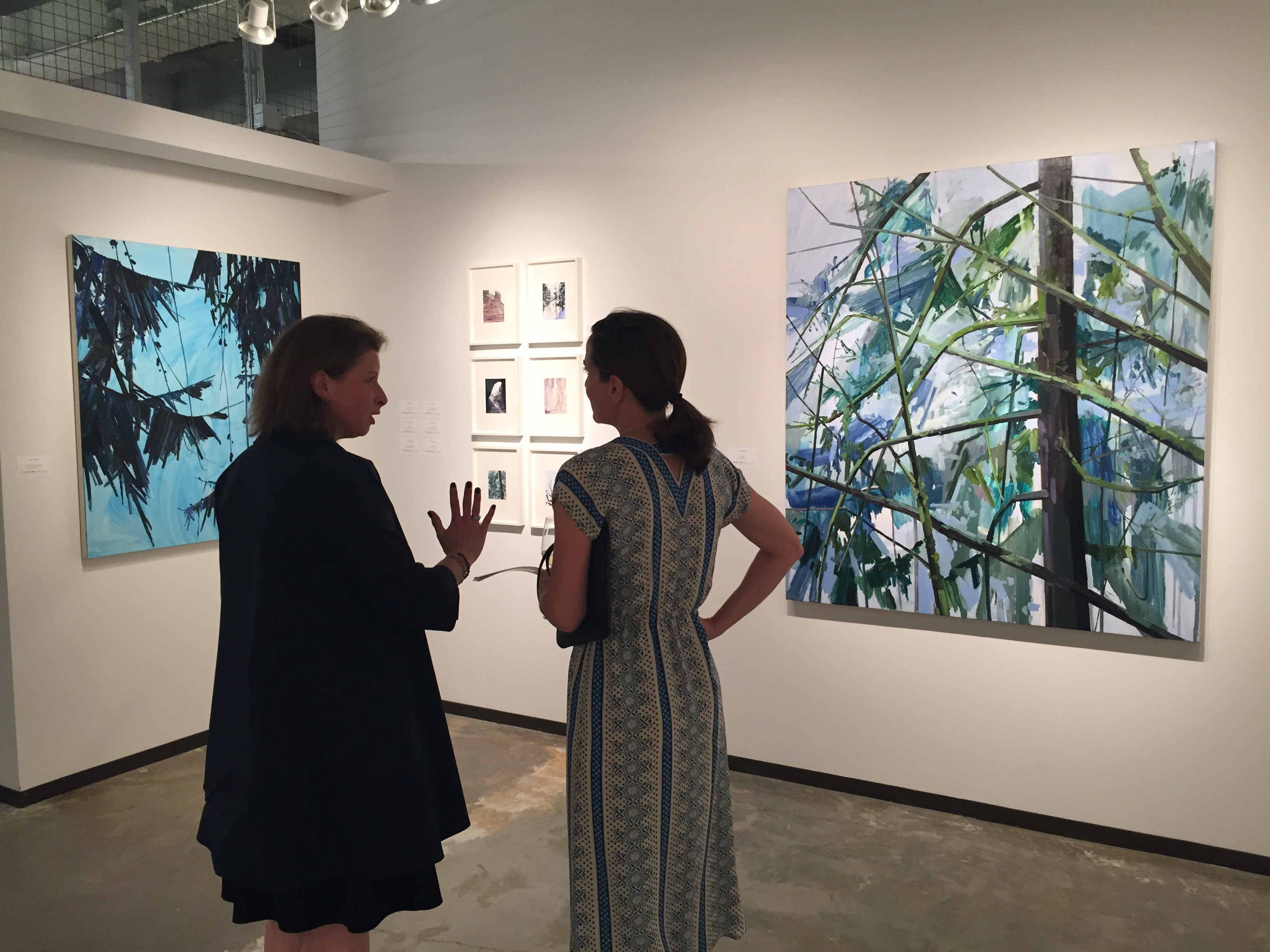 Julie speaking with Heidi of DC Moore Gallery about Claire Sherman's beautiful landscape paintings
This year, the Dallas Art Fair played host to nearly 100 galleries. We enjoyed exploring and admiring the breadth of top-notch art exhibited. After seeing it all, here is a shortlist of our most coveted works. Reach out to us if you are interested in more information about these or other artists we found.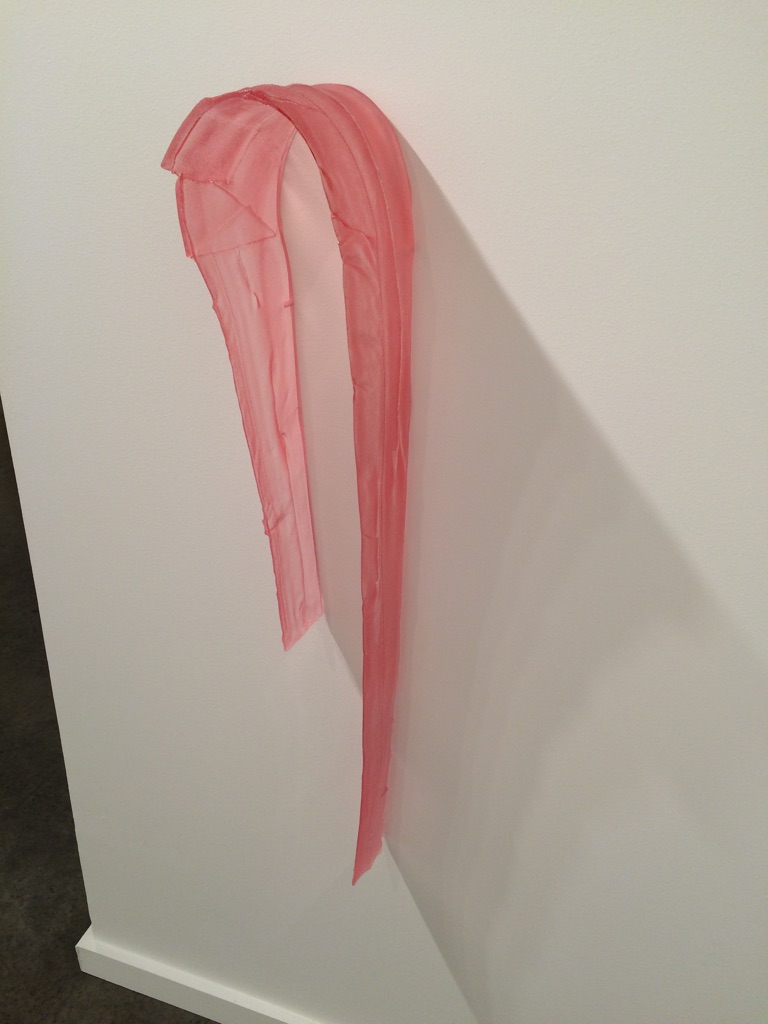 Alice Channer's gestural resin sculpture at Lisa Cooley Gallery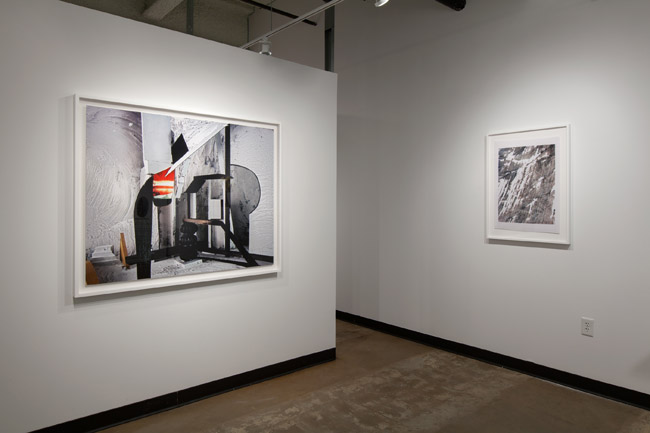 Yamini Nayar's and Chloe Sells' captivating photographs at Gallery Wendi Norris. Photo courtesy of Gallery Wendi Norris.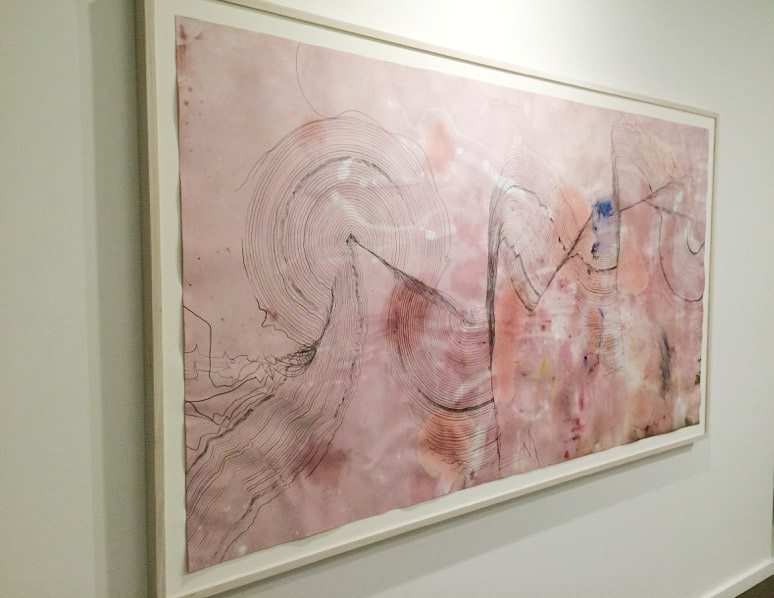 Jay Heikes, Music for Minor Planets (Ekberg), 2015 at Federica Schiavo Gallery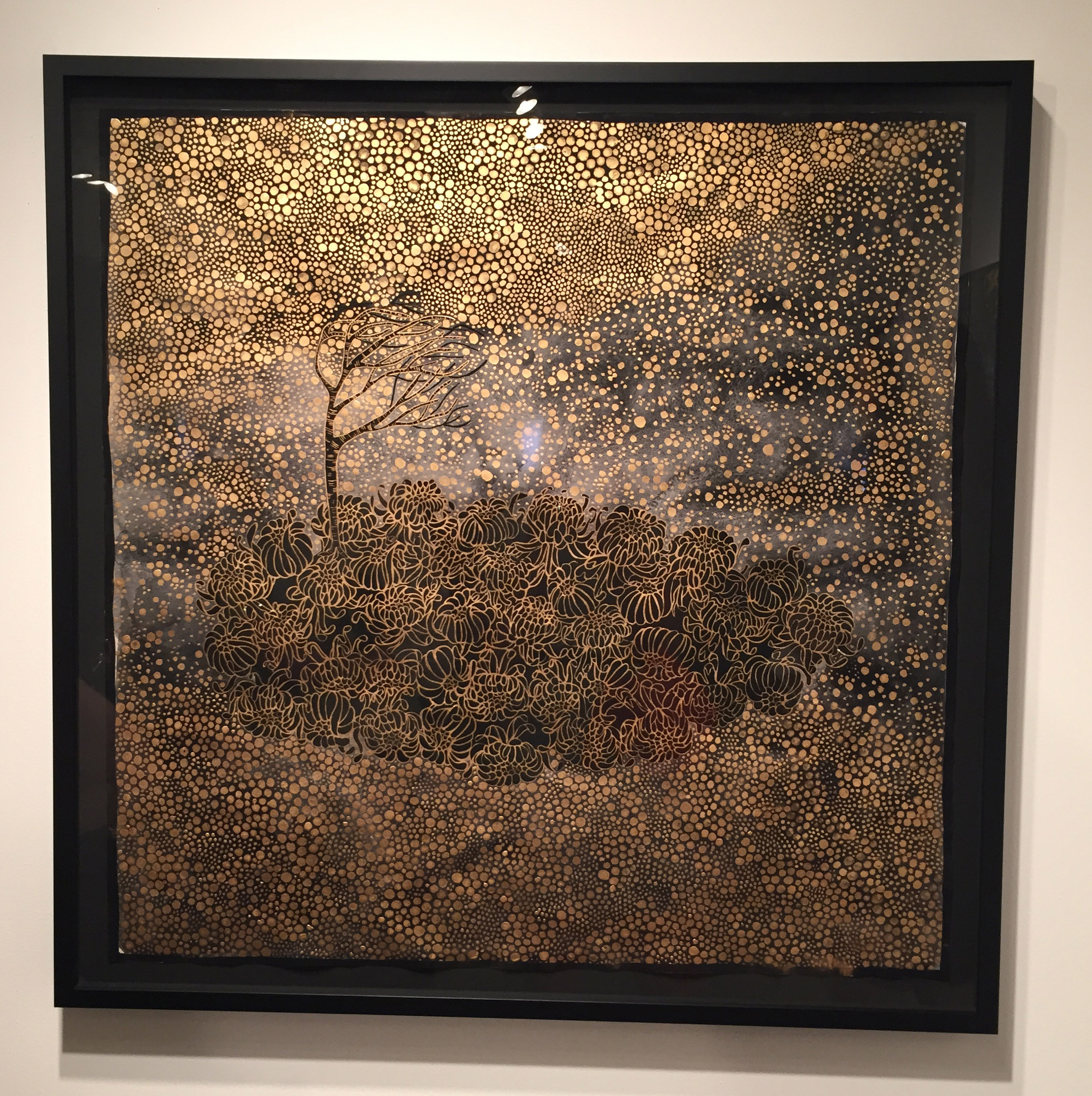 Crystal Liu, the sky, "I wonder", 2015 at Hosfelt Gallery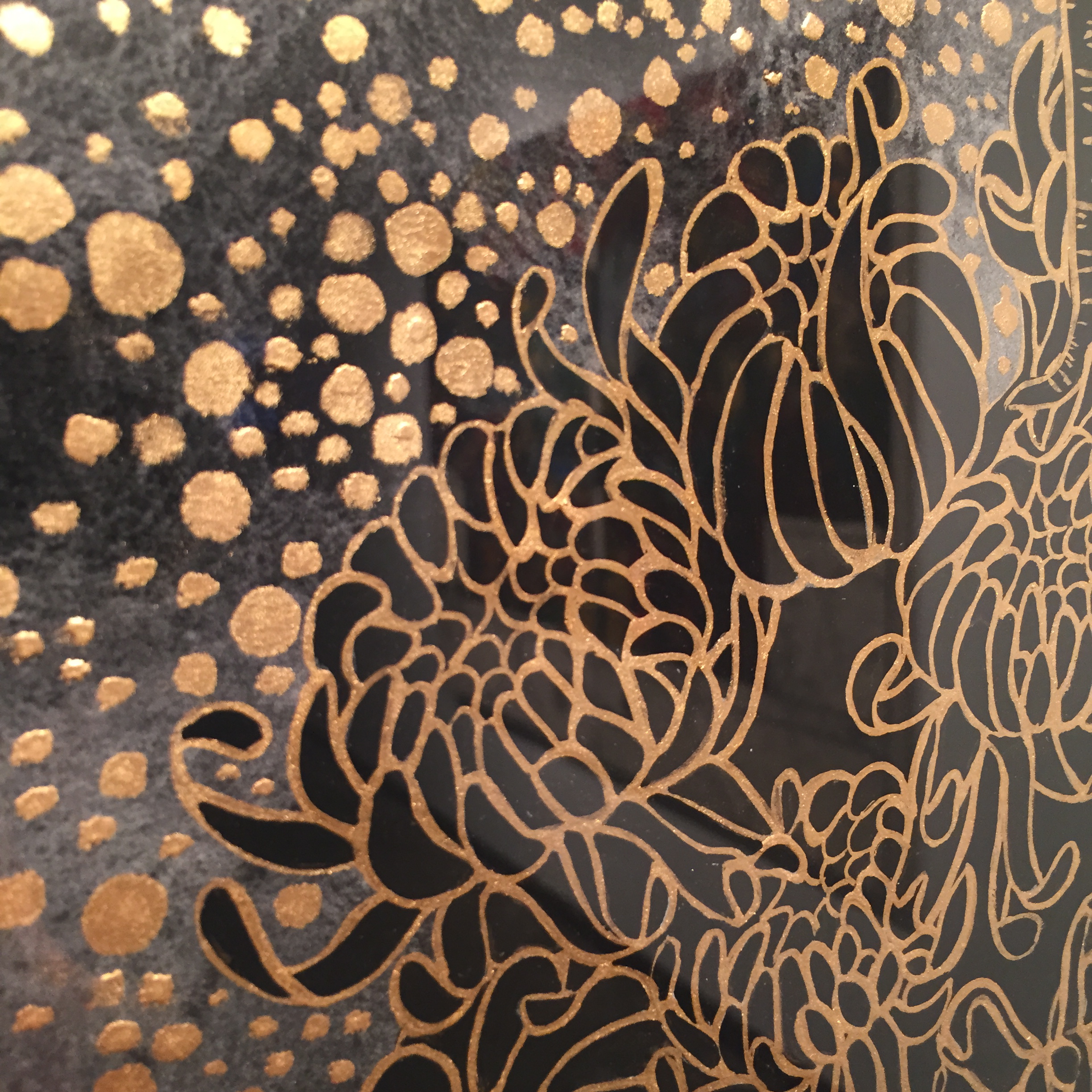 Detail of Crystal Liu, the sky, "I wonder", 2015 at Hosfelt Gallery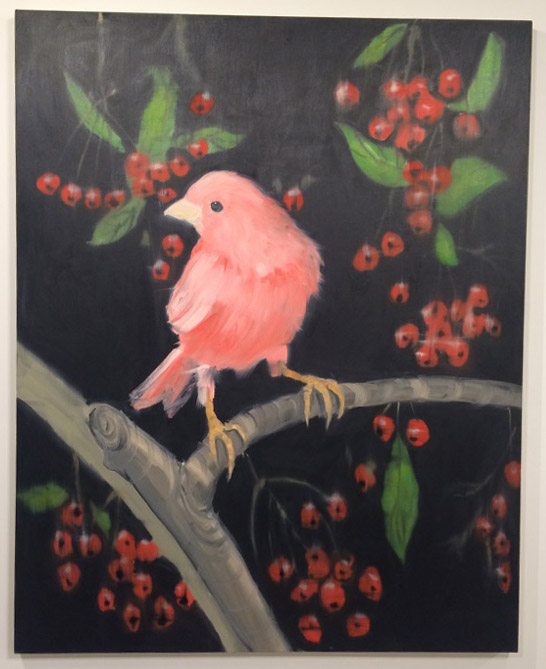 Ann Craven, Stepping Out With Cherries, 2011 at Maccarone Gallery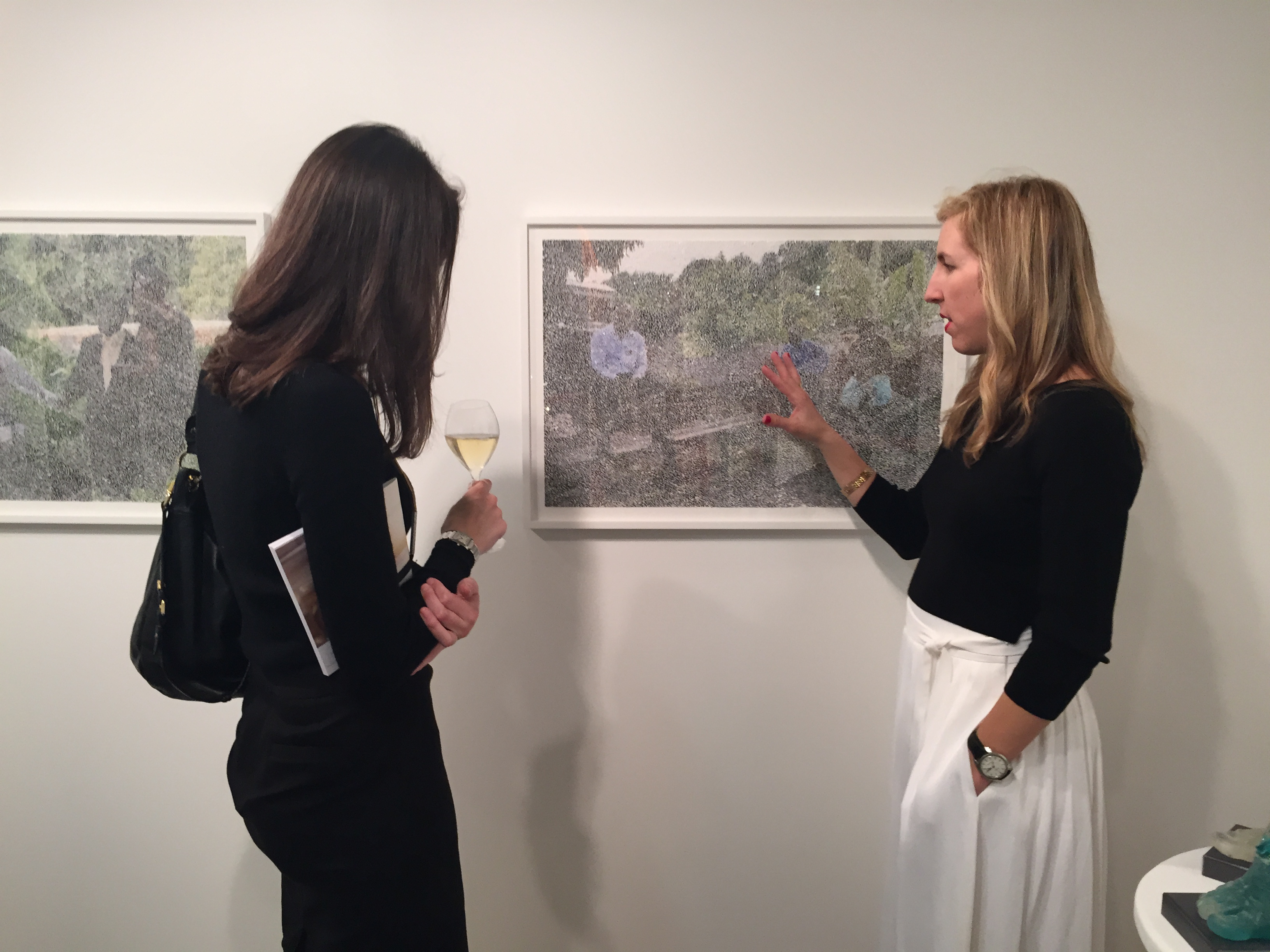 Julia discussing Paul Anthony Smith's work at Zieher Smith & Horton Gallery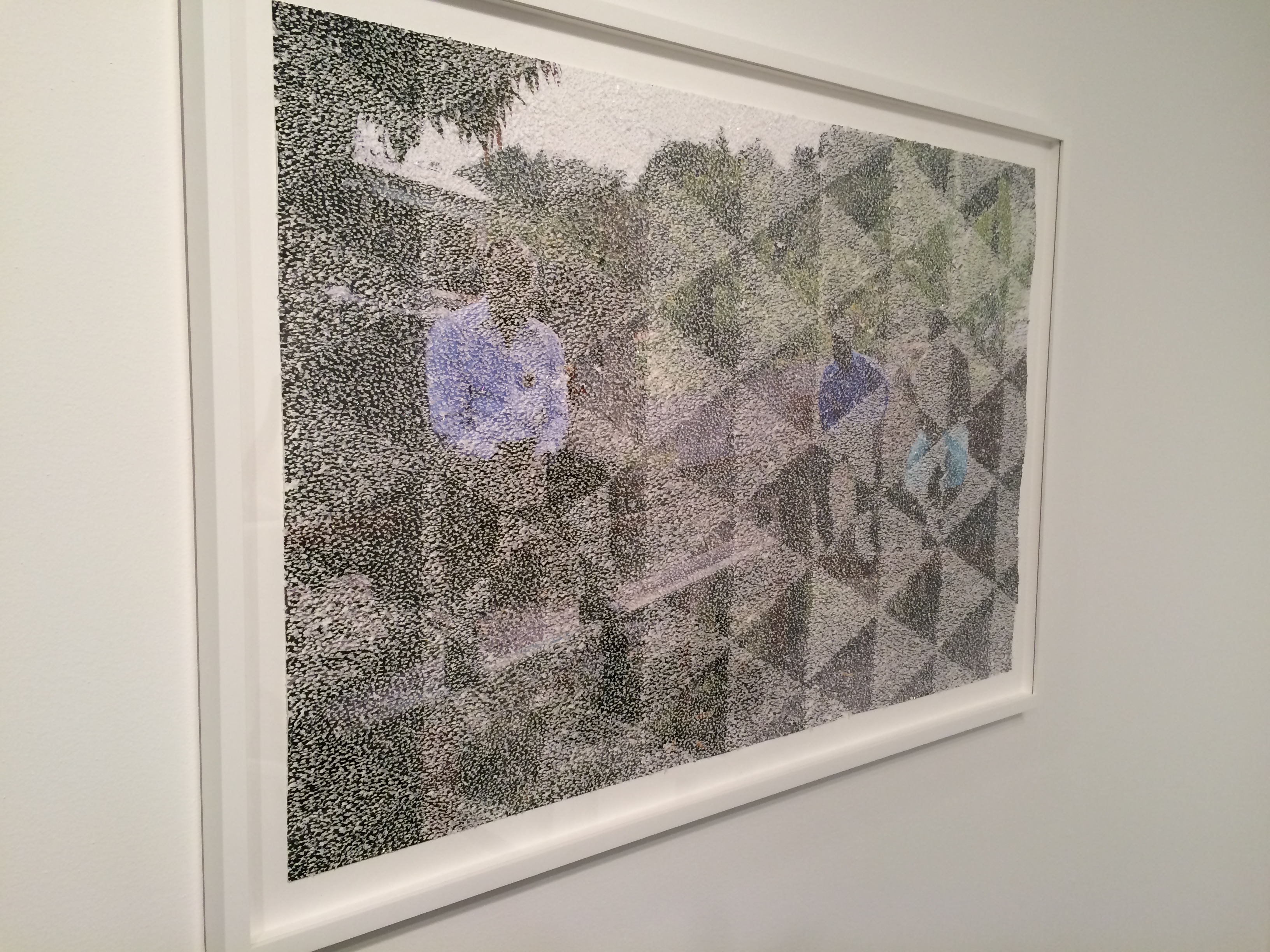 Paul Anthony Smith, Diamond Mango #1, 2015 at Zieher Smith & Horton Gallery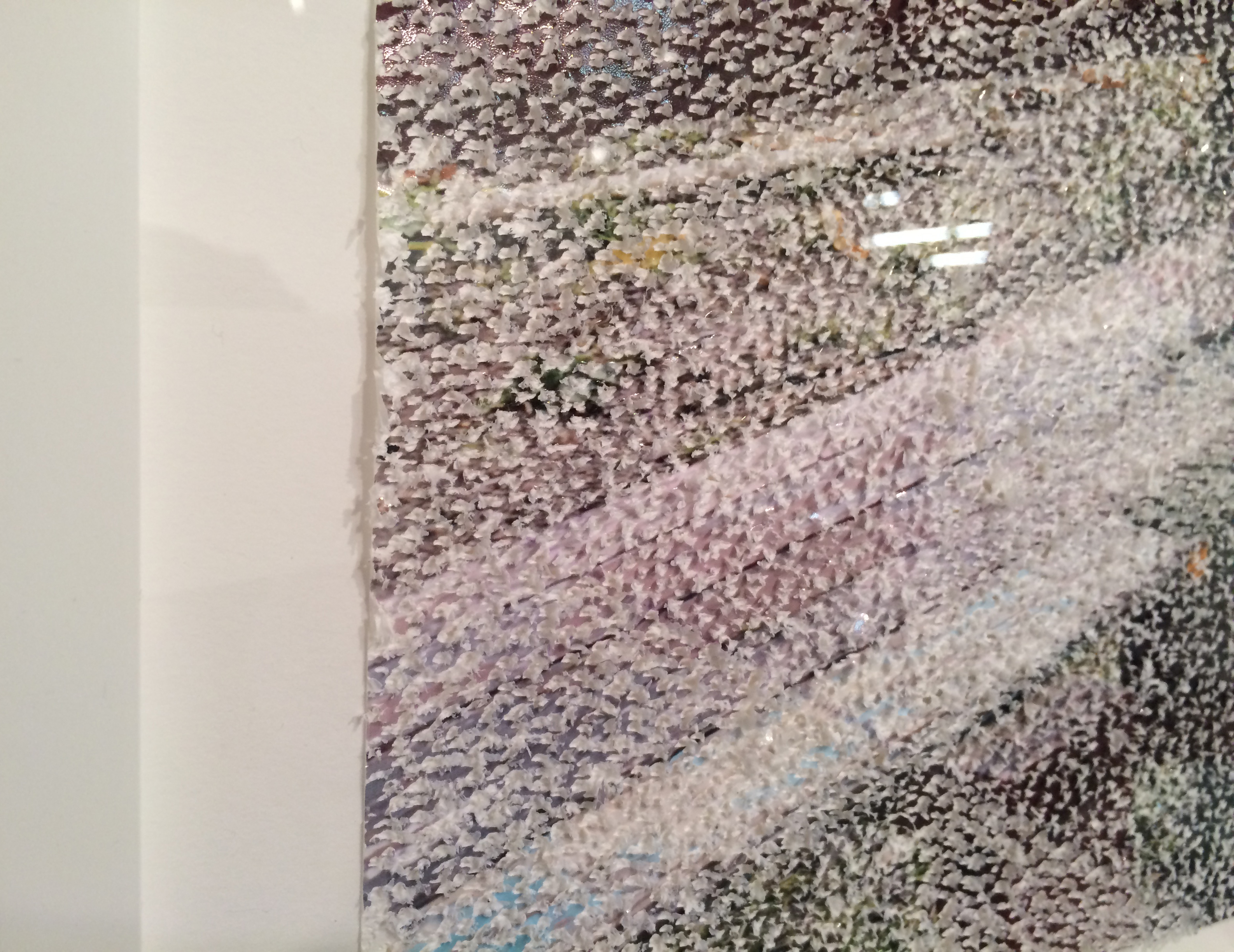 Detail of Paul Anthony Smith's work at Zieher Smith & Horton Gallery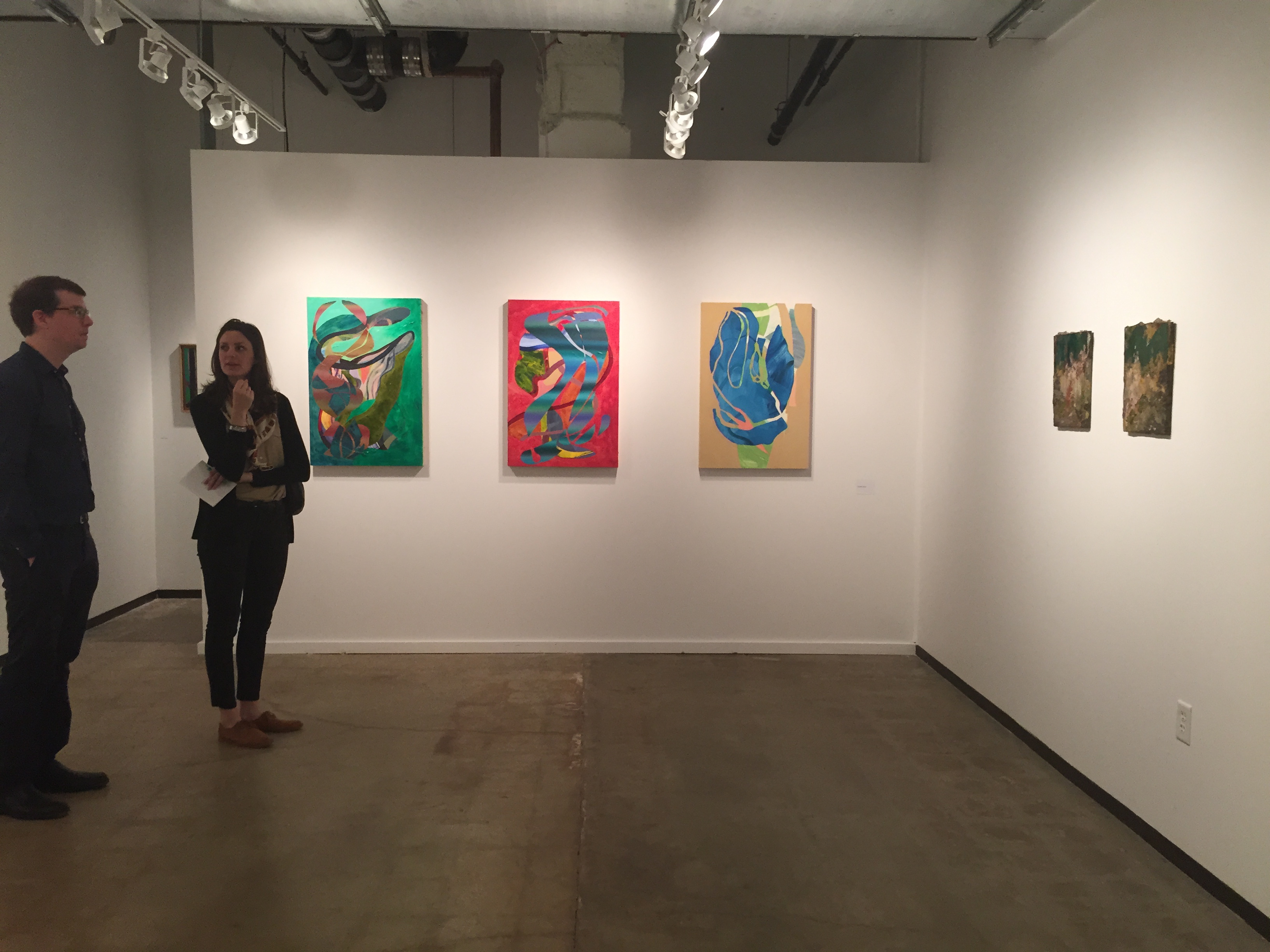 Julia at Jack Geary Gallery's booth discussing the work of Richard Jacobs (back wall) and Lina Puerta (right wall)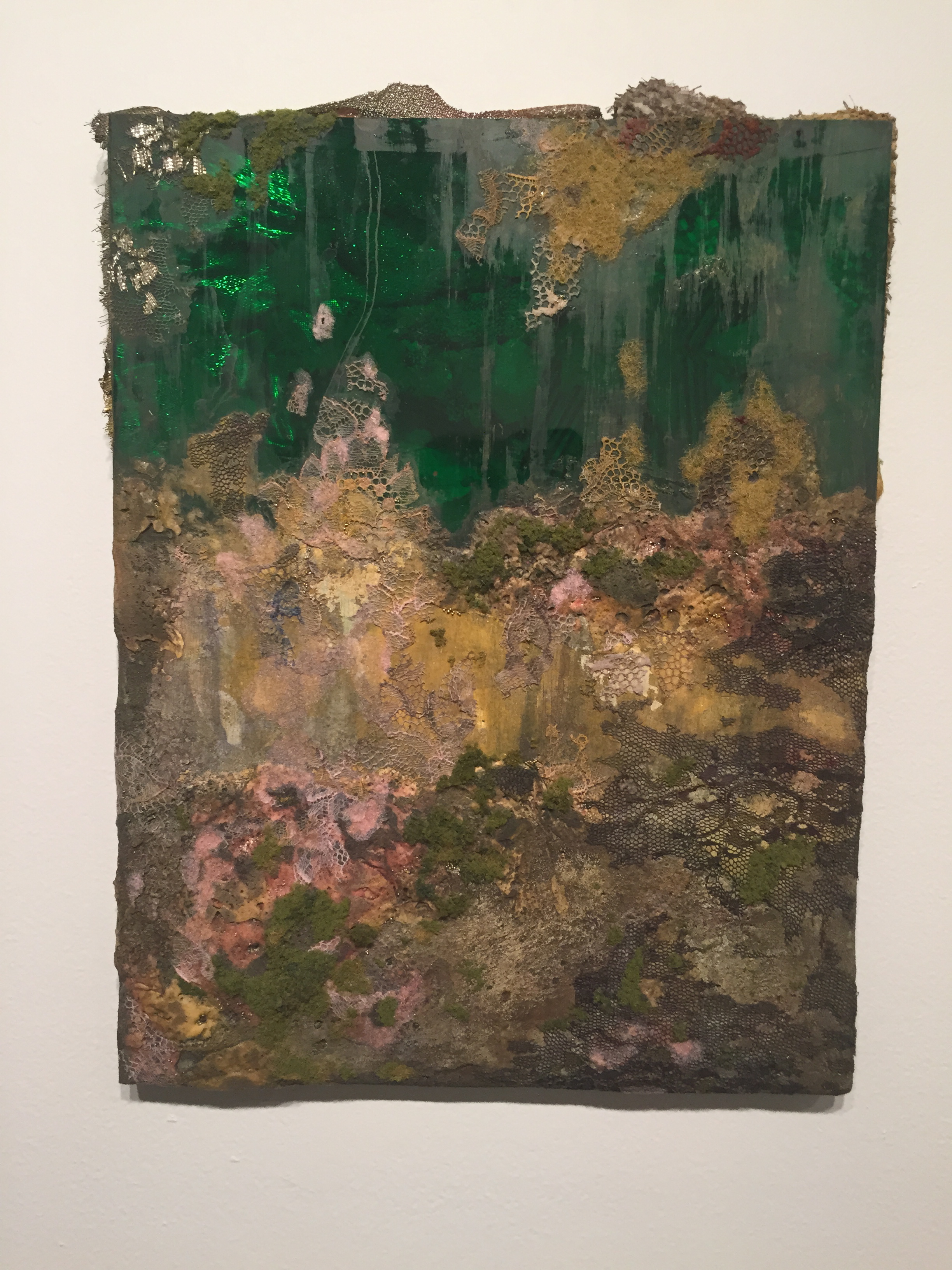 Lina Puerta, Untitled (Green 2), 2014 at Jack Geary Gallery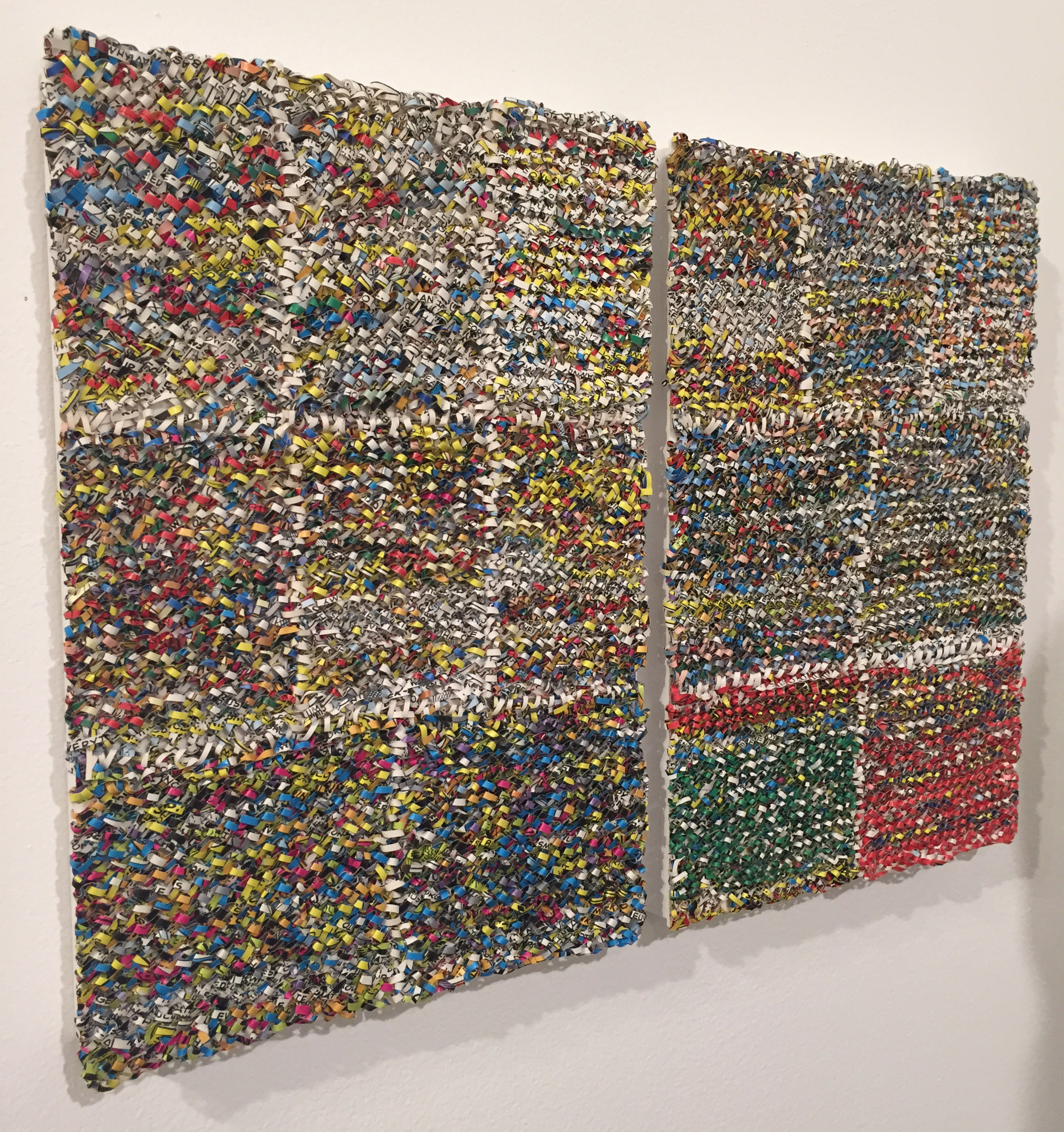 Stefana McClure, The Amazing Spiderman (How Green Was My Goblin!), 2015, knitted comics at Josée Bienvenu Gallery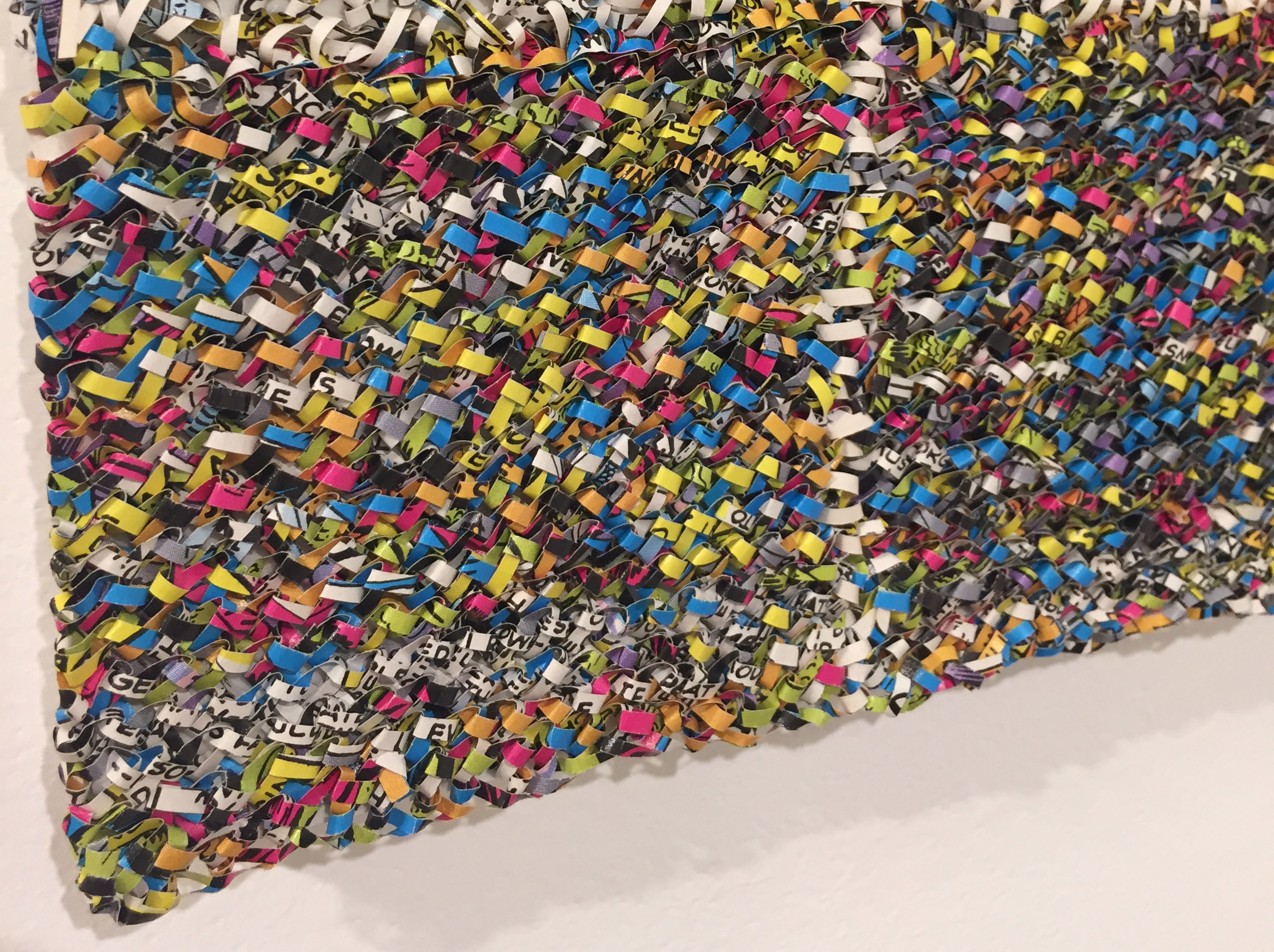 Detail of Stefana McClure, The Amazing Spiderman (How Green Was My Goblin!), 2015, at Josée Bienvenu Gallery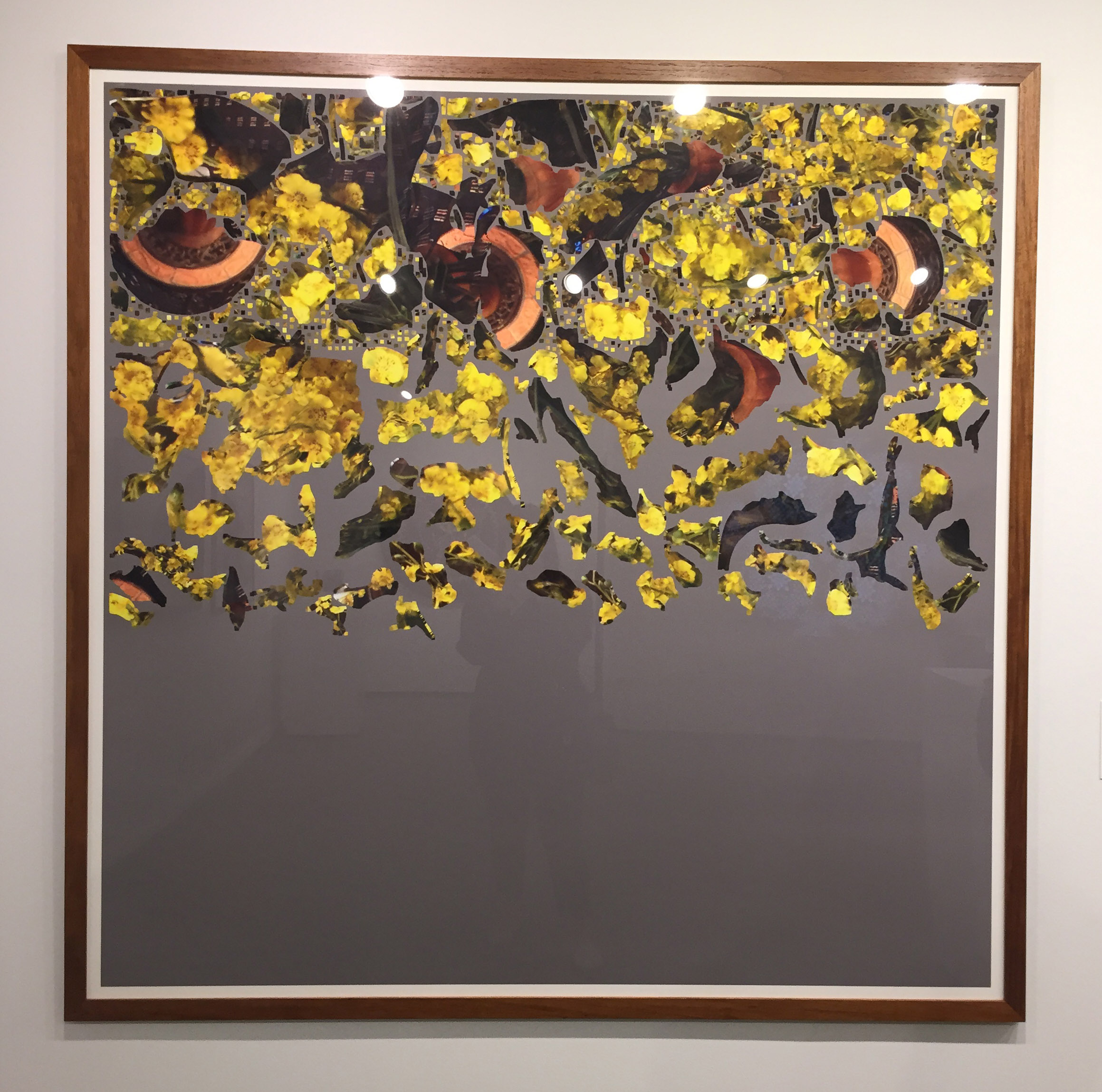 Clement Valla, Tex_archive 688272 0, 2015, digitally exploded objects at Zhulong Gallery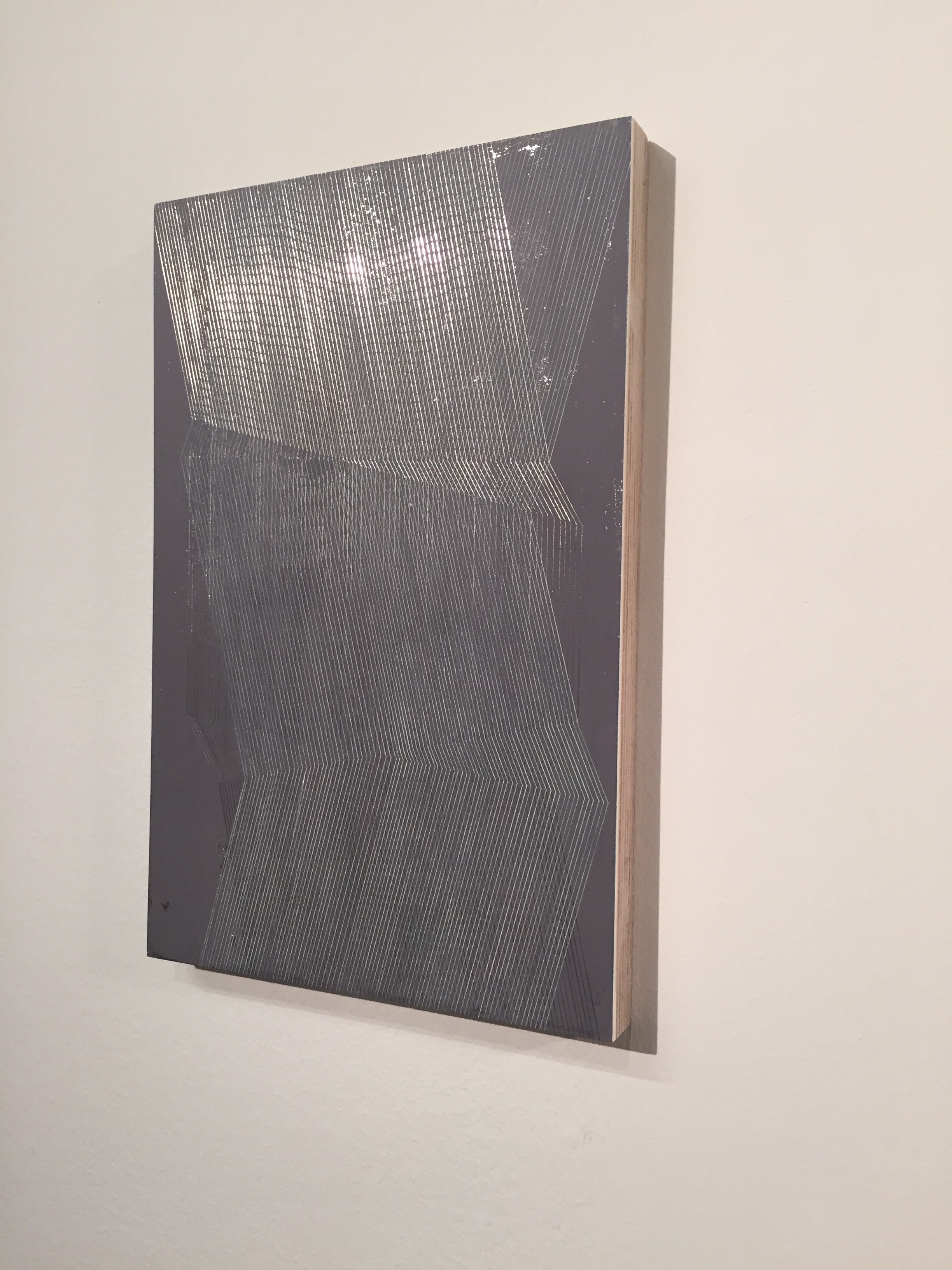 Yoshiaki Mochizuki, Untitled 9/20, 2013 at Marlborough Chelsea Gallery
Friday, December 12, 2014 at 12 PM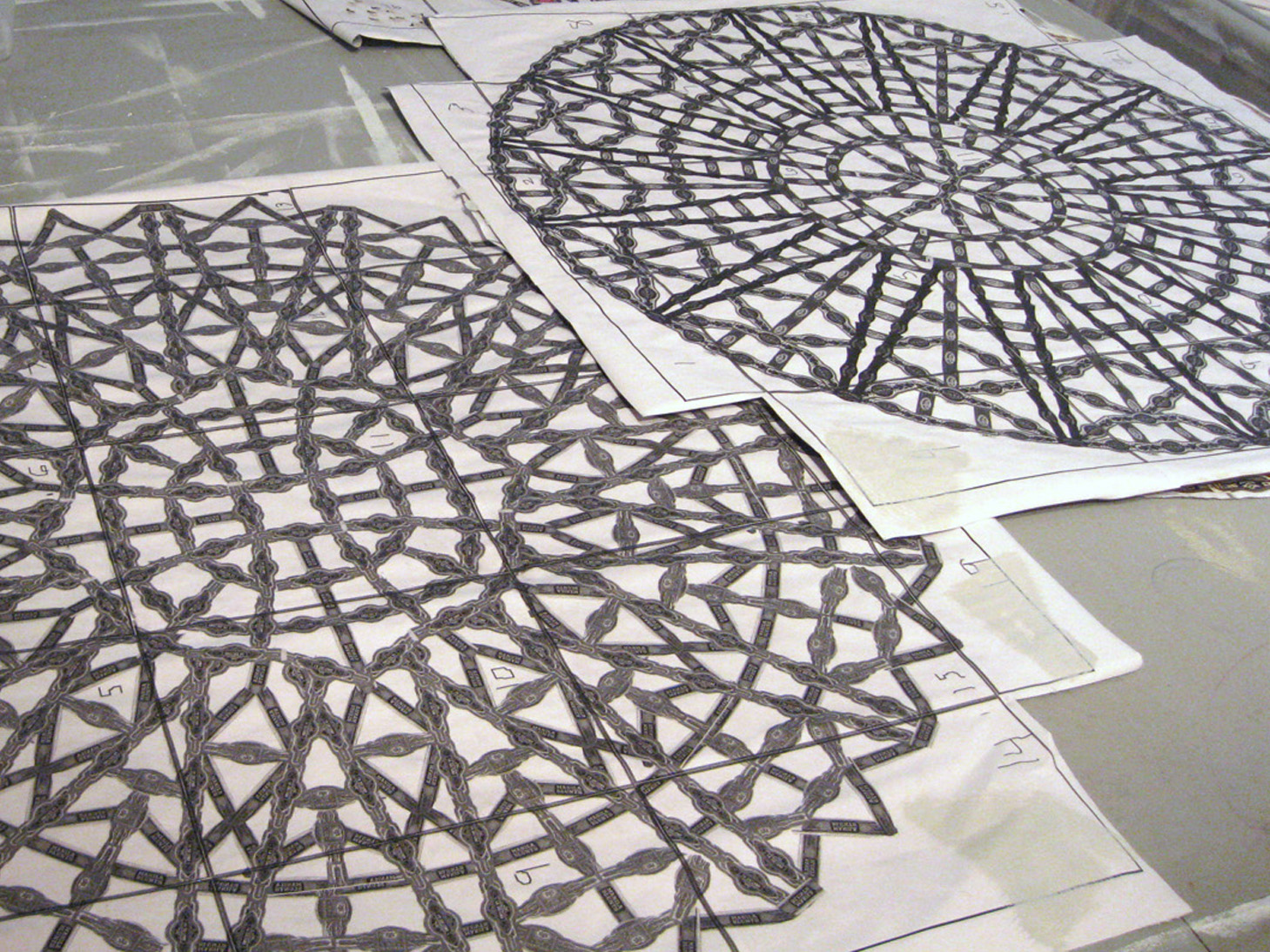 Troy Dugas's templates
Houston's premier downtown private dining venue, The Petroleum Club, is moving to a new location, and we are excited to be working with them to commission artwork that is a reflection of their history, their mission, and their new space. The four artists selected, Troy Dugas, Joshua Goss, Reinhard Ziegler, and Nancy Lorenz are hard at work on their commissions, and we wanted to share some images of their progress. See the completed works on our blog or find them at The Club in early 2015.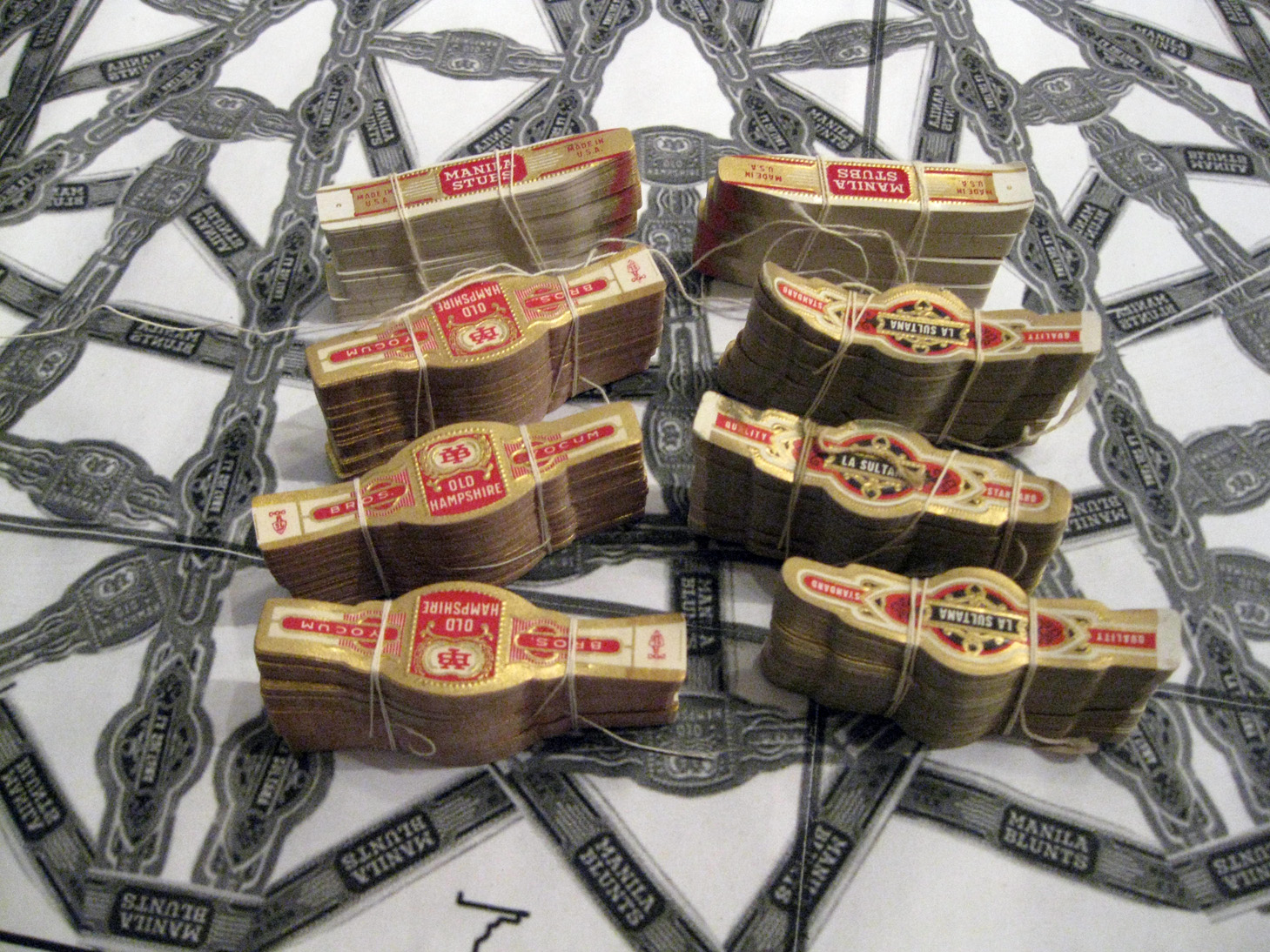 Troy Dugas's cigar labels on top of of his templates
​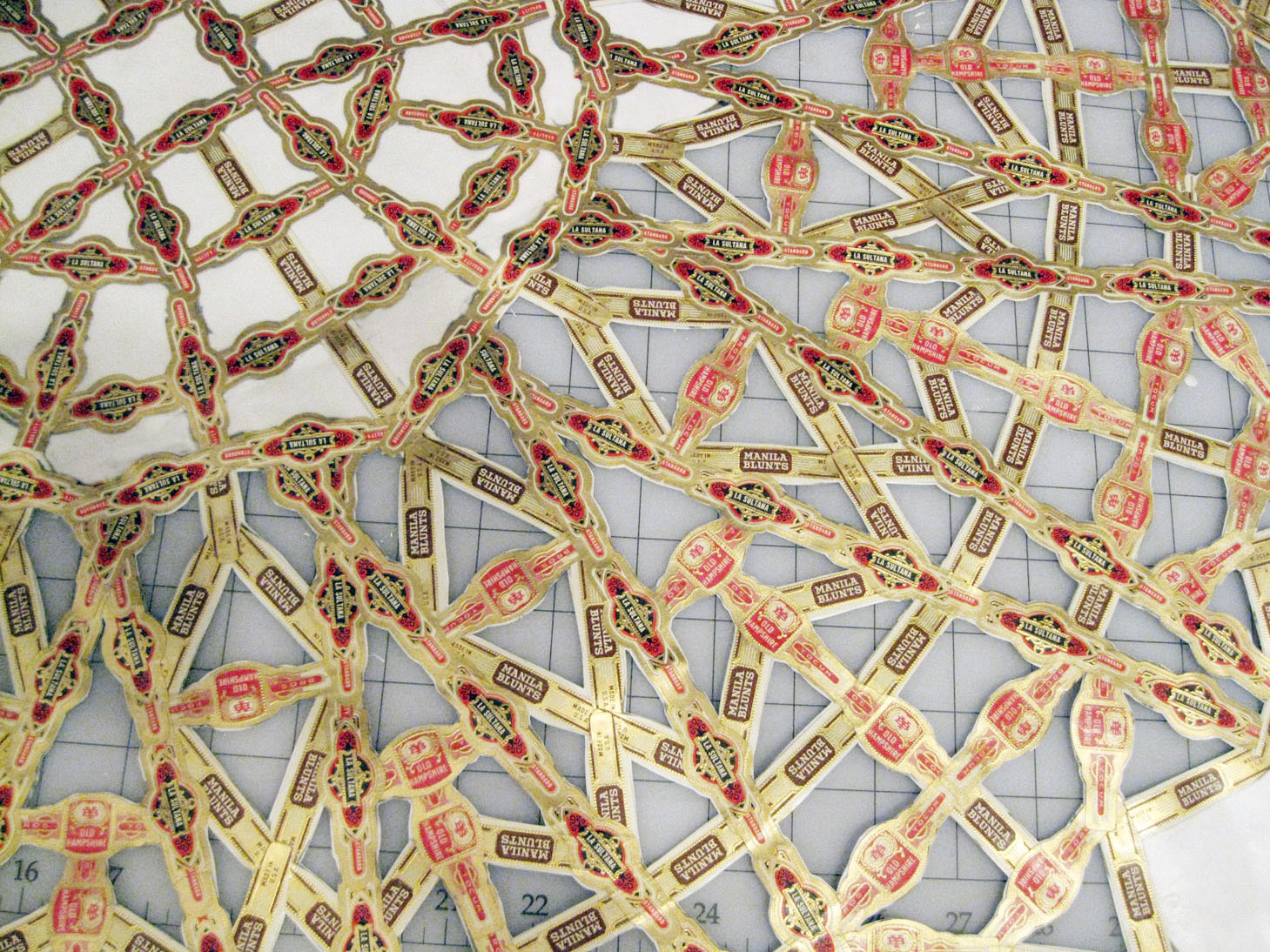 Troy Dugas's cigar labels in place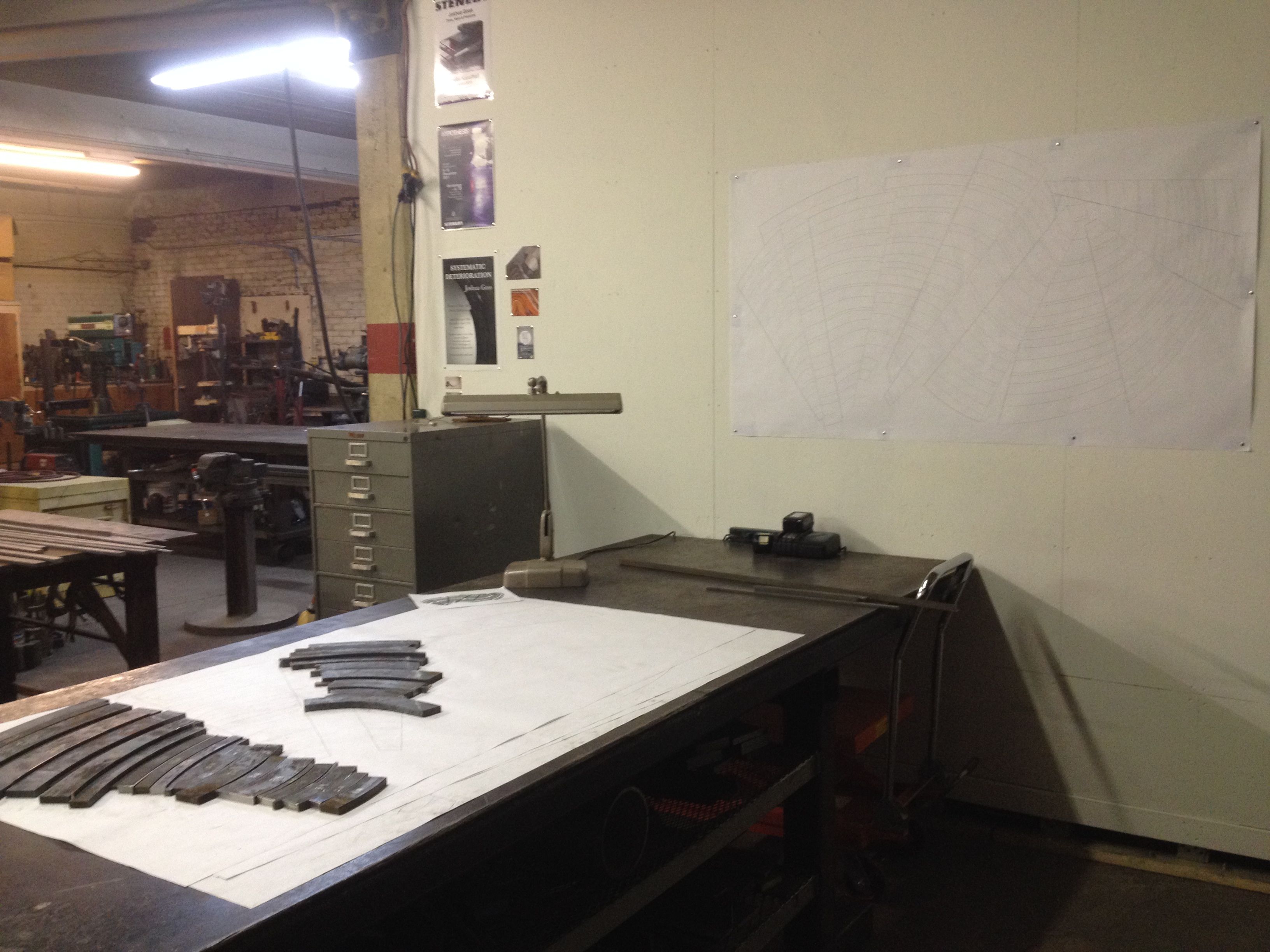 Joshua Goss, piecing together the sections of his wall-mounted sculpture under a to-scale sketch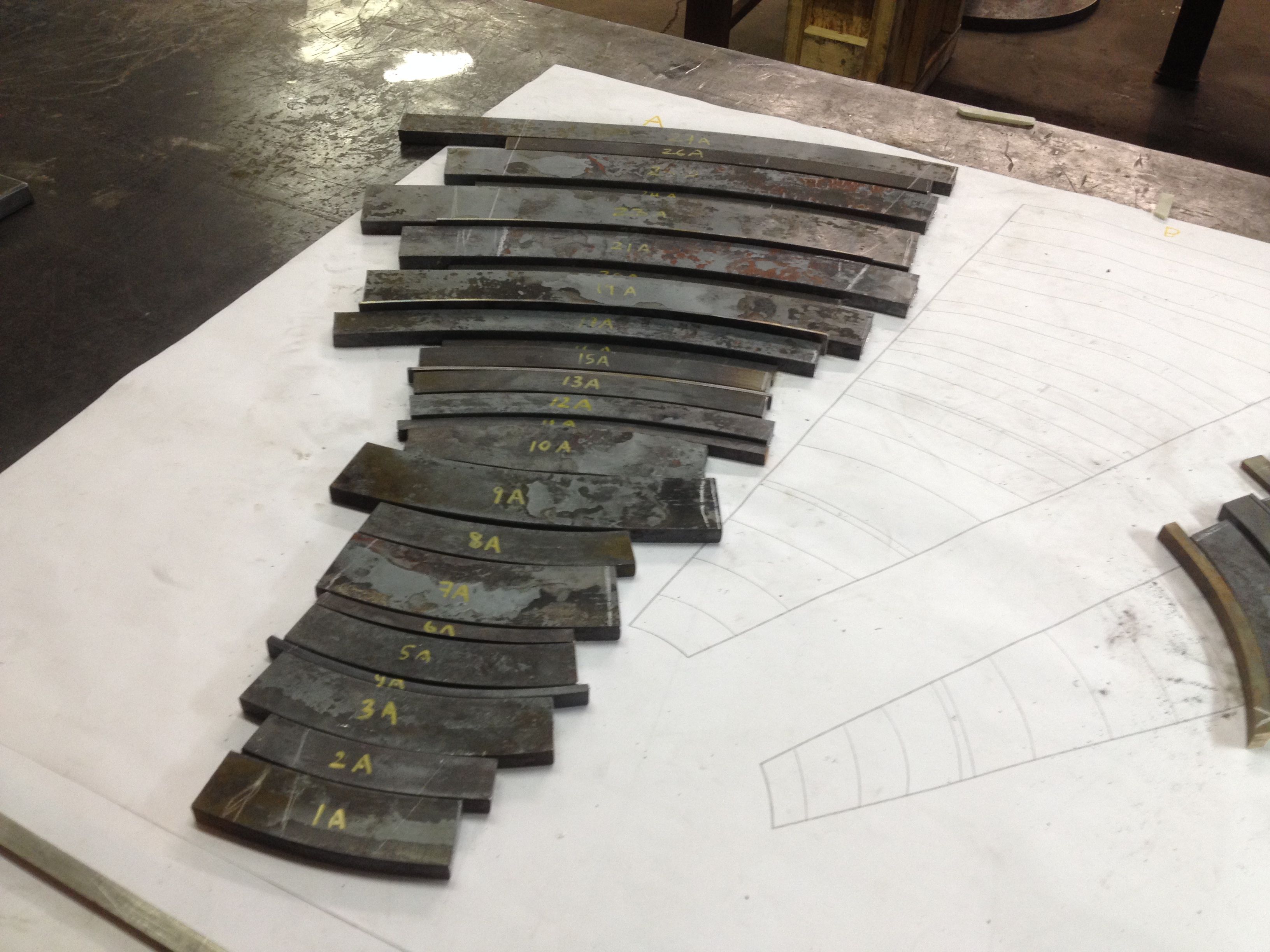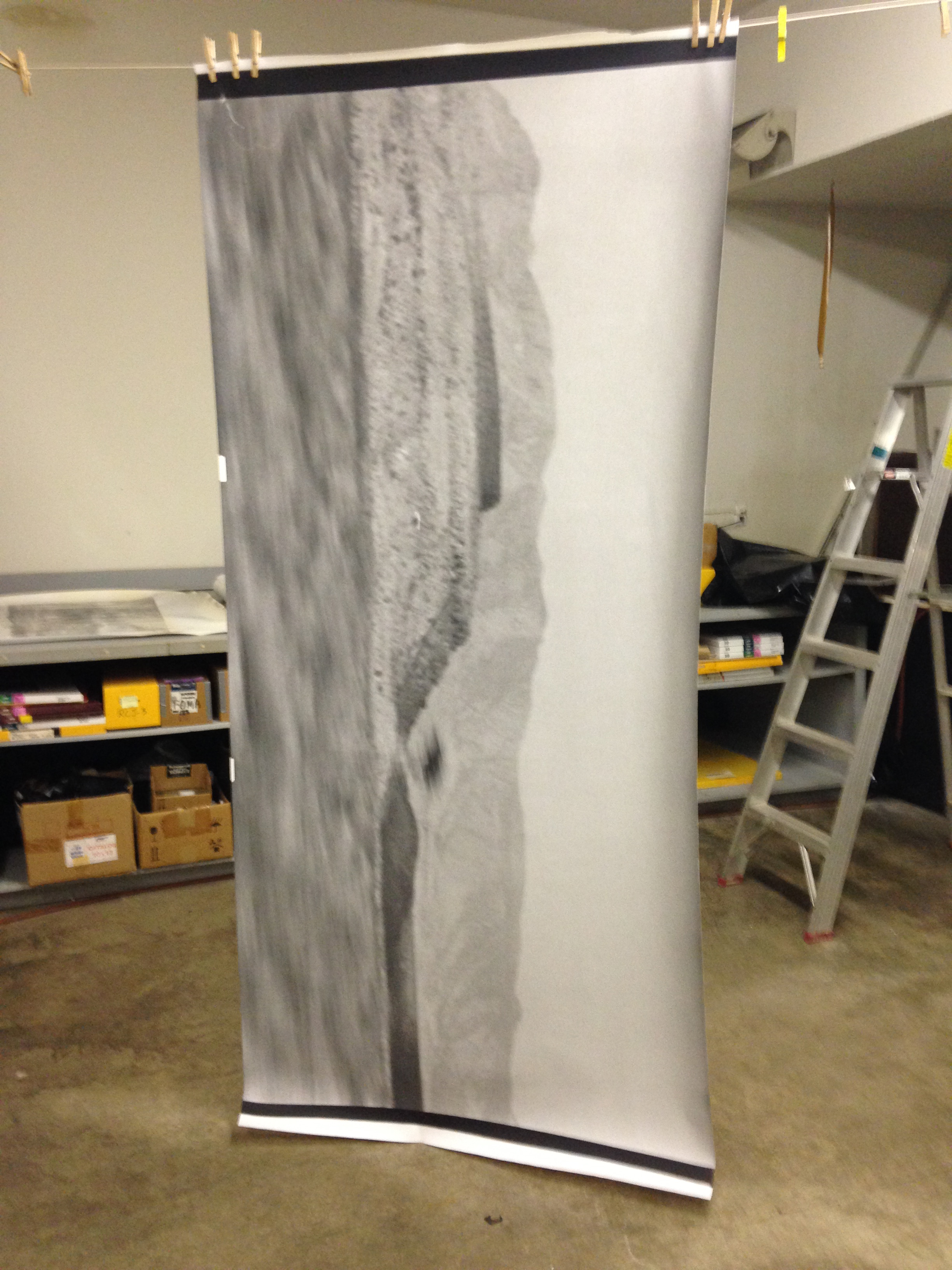 Reinhard Ziegler's photograph drying before the application of pastel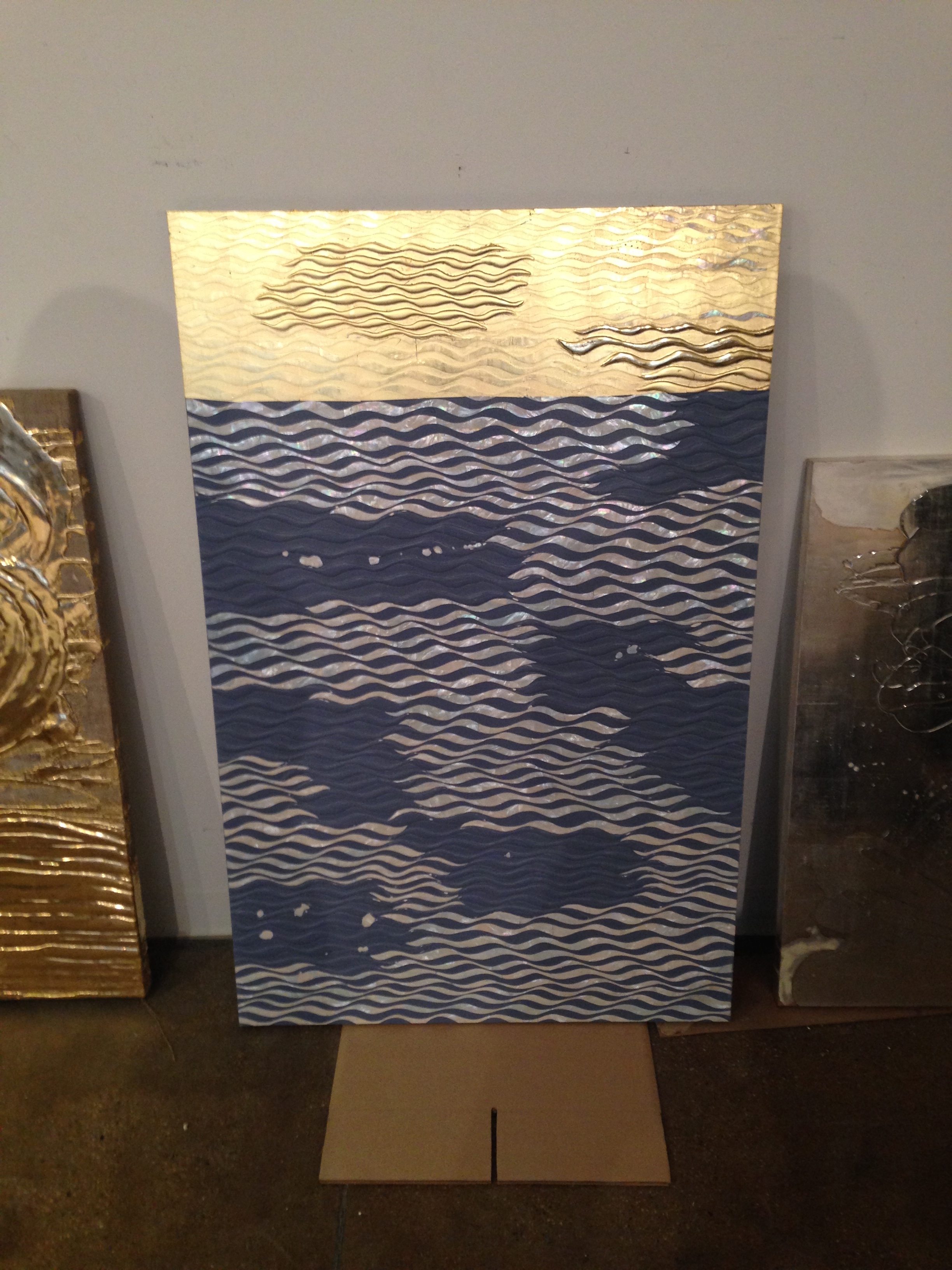 Nancy Lorenz has started to apply gold leaf to the upper portion of the work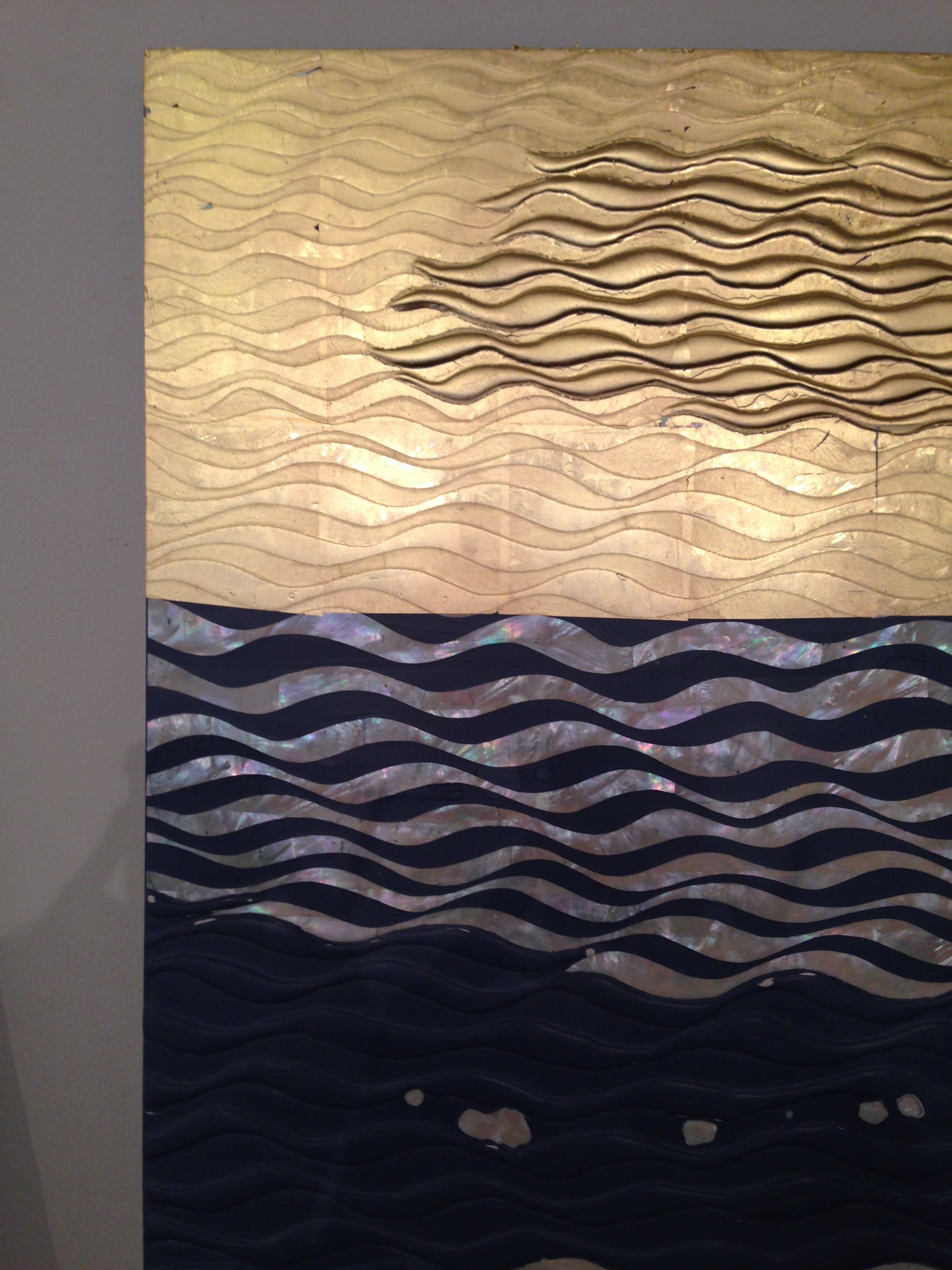 Nancy Lorenz applies gold leaf over the blue and inlaid mother of pearl, then the gold is rubbed away to reveal the mother of pearl below