Friday, February 3, 2017 at 9:21 AM
Portland based artist Elizabeth Atterbury talks art, inspiration, and the transition of being a new mother with KAC in our latest Interview Interview.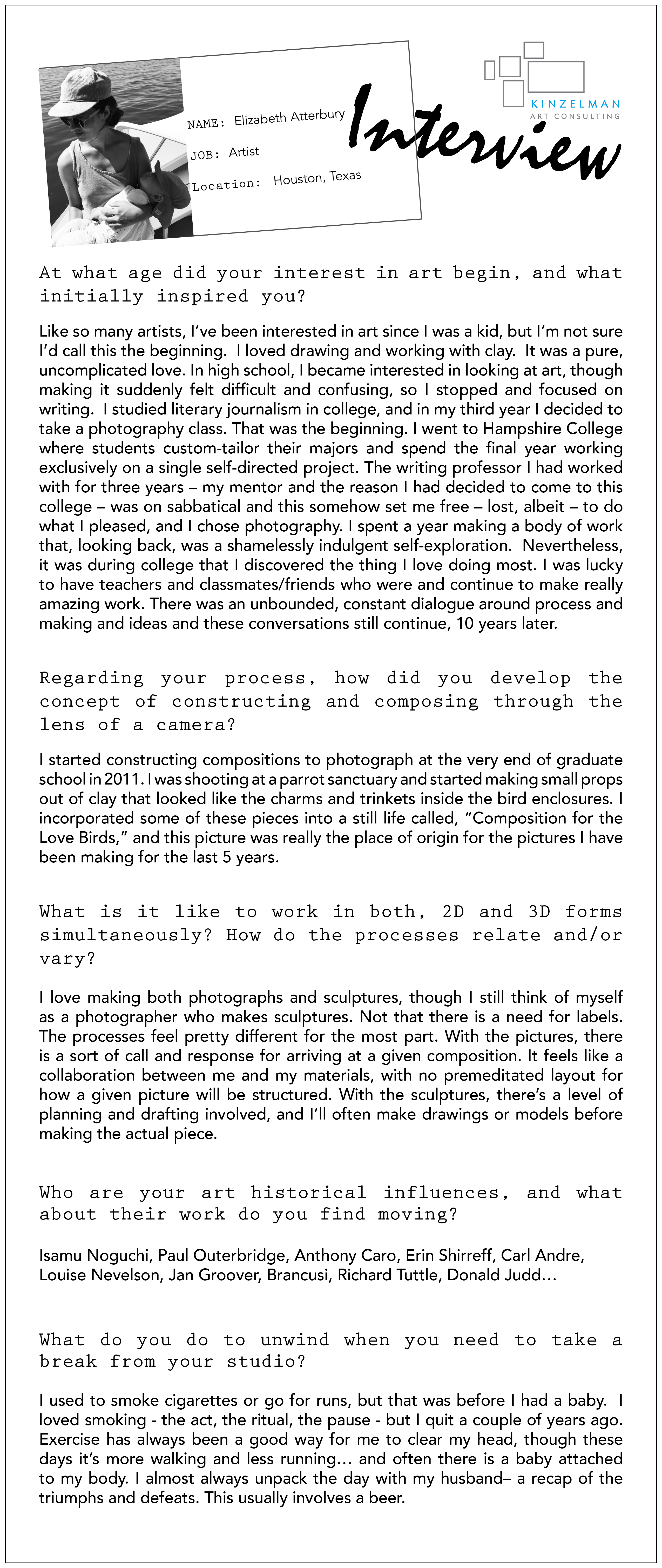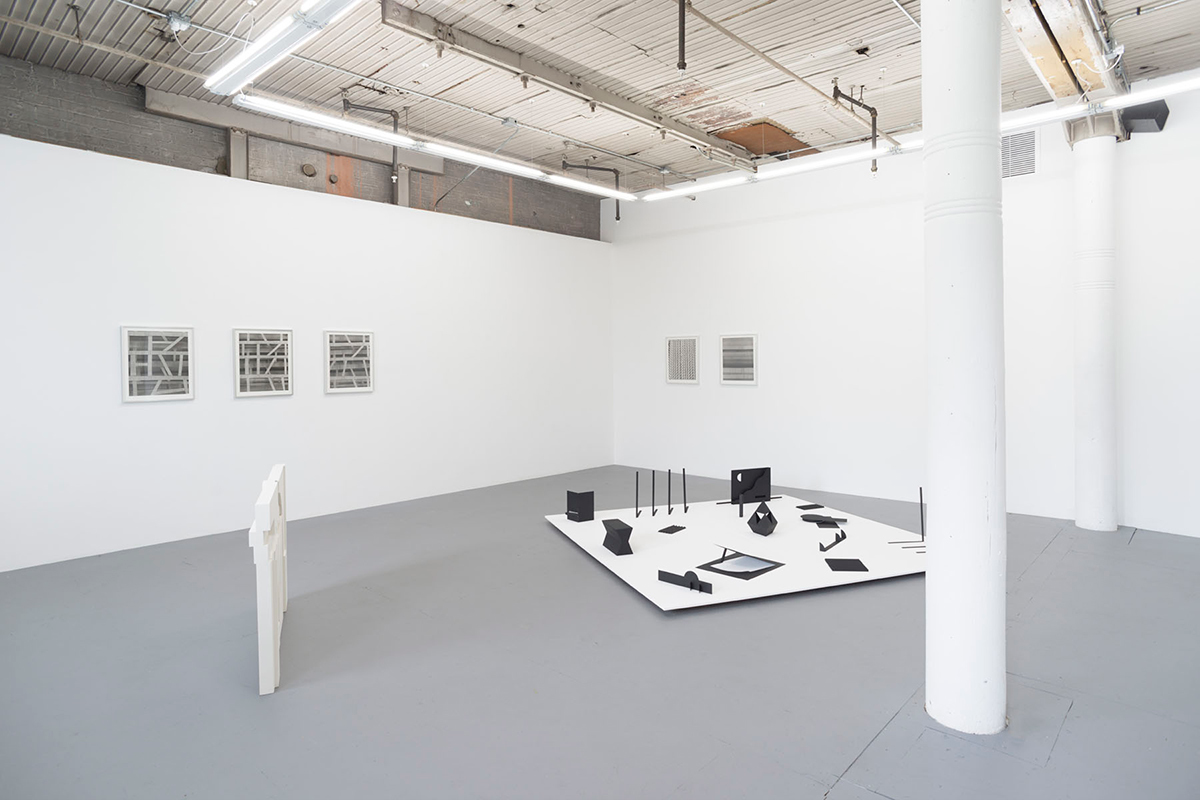 Elizabeth Atterbury, "Happy Sunny Jade" 2016, installation view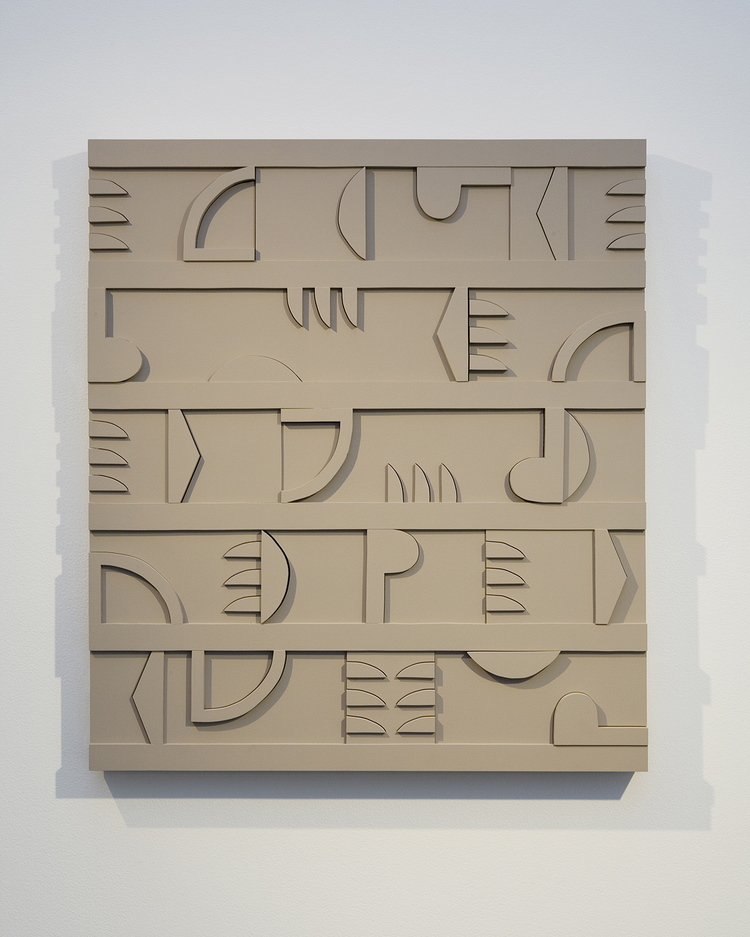 Elizabeth Atterbury, "Relief (Studio Taupe)," 2015, MDF, paint
Friday, January 13, 2017 at 10:59 AM
Myke Venable's work investigates the infinite potential and purity in shape indicating a visual representation of his own paired-down universe. From detailed sketches in an open notebook on the worktable to mathematical drawings tacked to the wall, Venable's studio is a perfect diagram of his working and theoretical process. During our visit, KAC viewed Venable's newest body of work and saw how his paintings have evolved into what they are today.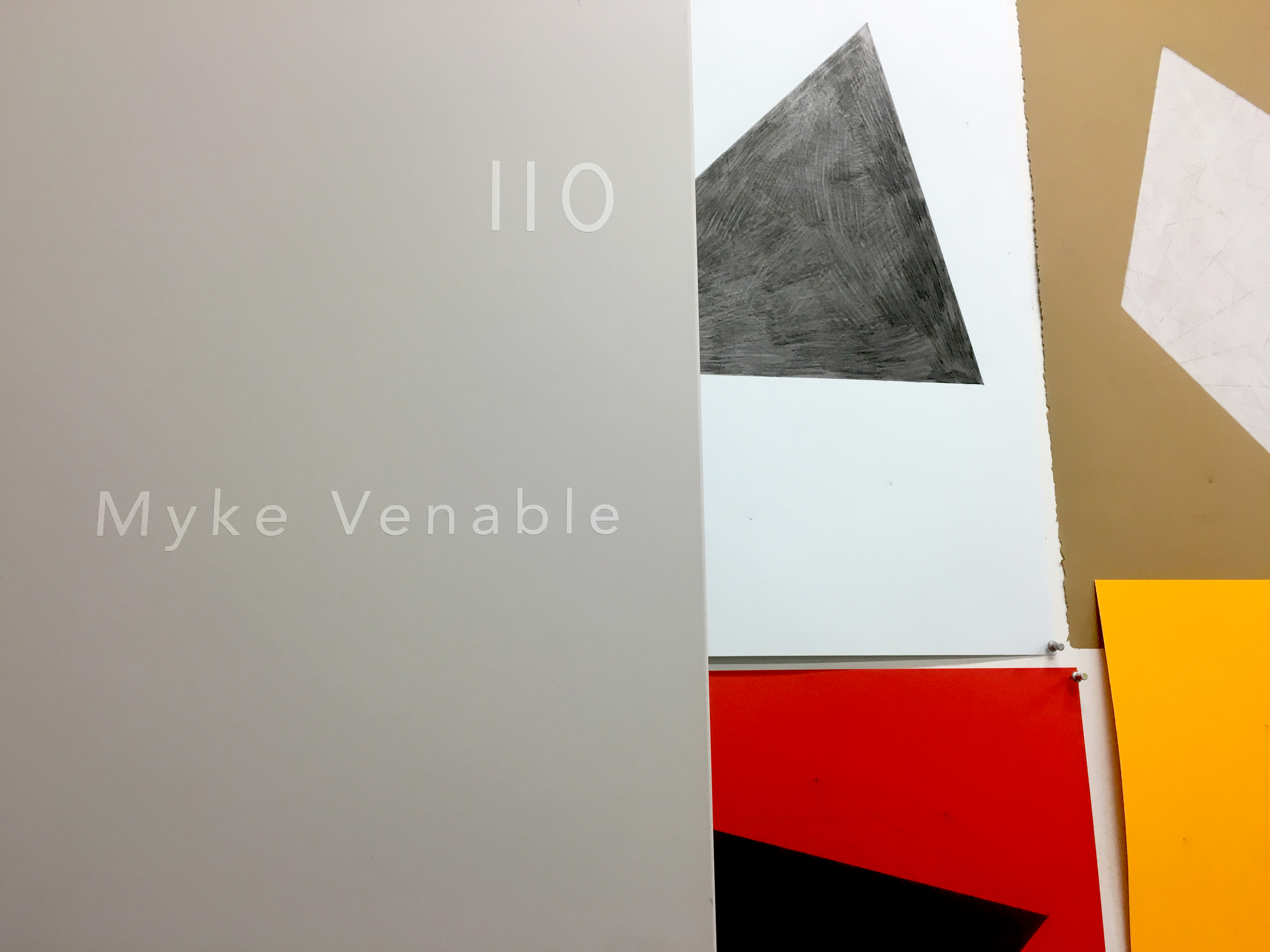 Door to Myke Venable's studio space
While teaching at The Art League in Houston, Venable rediscovered his love of drawing. He has since dedicated one of the largest walls in his small studio to colorful geometric explorations, mapping out on paper his ongoing study of the complex relationship between shape and color. While he views his drawings as independent works, they also serve as inspiration for shaping his large canvas and panel paintings.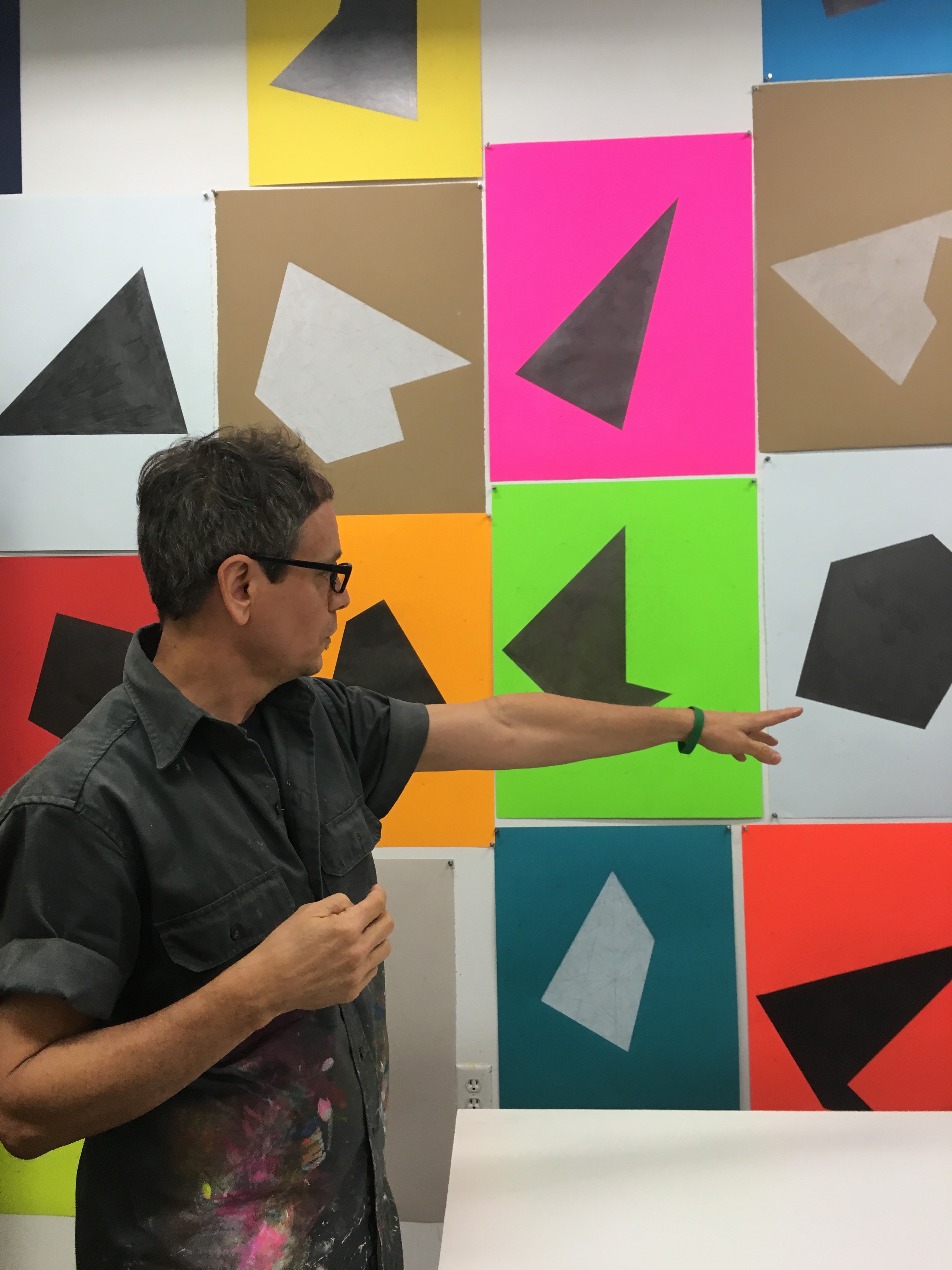 Venable with his geometric studies on paper
The drawings come to life on wood panels covered with pristine layers of acrylic paint squeezed straight from the tube. Mixing colors, he explains, would complicate his process of instinctually matching color and shape. Venable then focuses on creating thought provoking relationships through the particular arrangement of each element on the wall.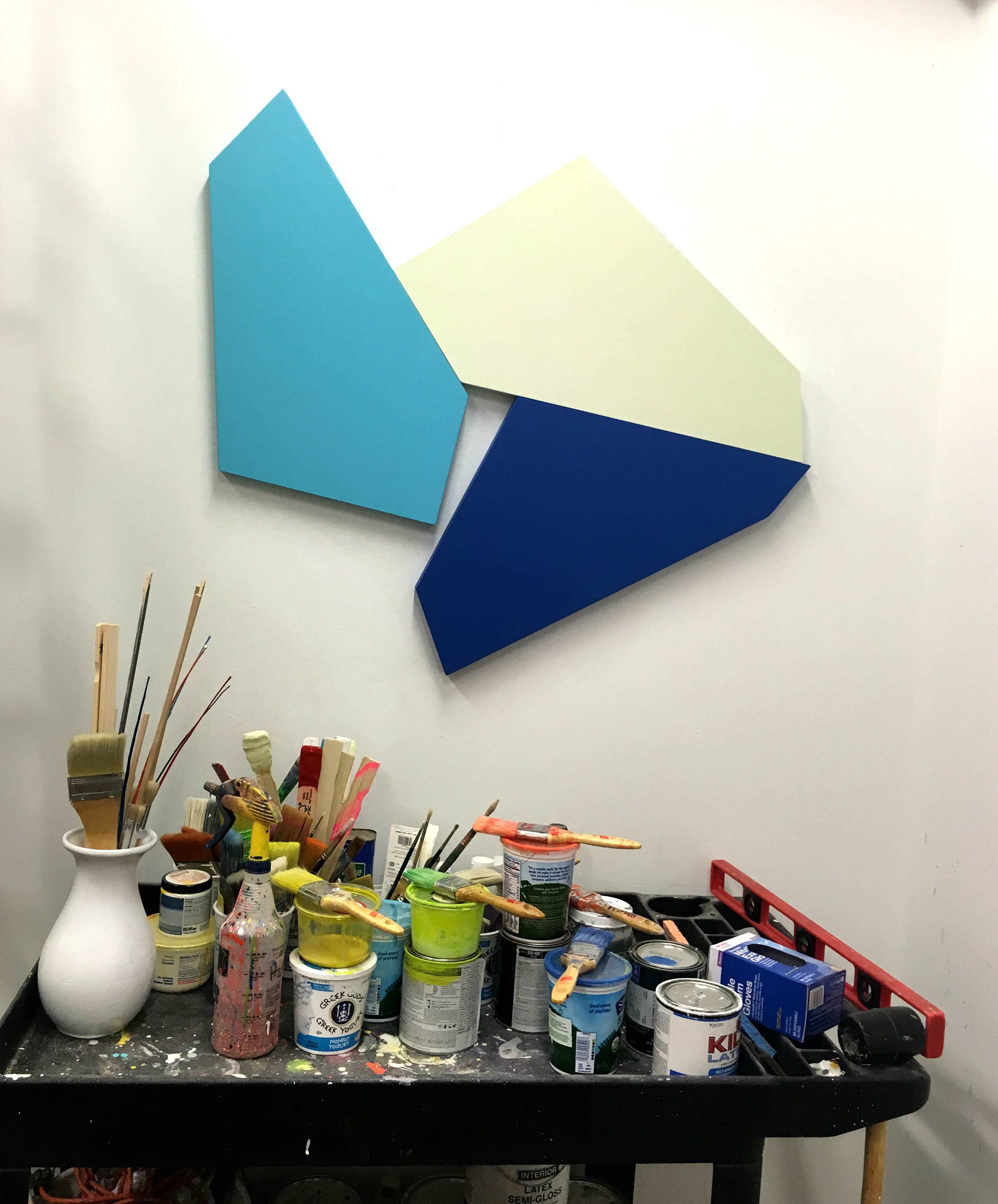 Cluster of Venable's paintings in his studio
Venable's newest paintings cleverly juxtapose not quite symmetrical shapes with slightly irregular placements and parings. Tension builds within the negative space between the paintings as they barely touch, leaving the viewer to question whether the forms are merging together, floating apart or statically coexisting. Every combination creates a new dynamic that alters the energy of the cluster itself, therefore impacting the space in which it resides.
Looking ahead, Myke seeks to push boundaries of depth, scale and color. Myke Venable is represented in Houston by Gallery Sonja Roesch where his next exhibition opens on January 21, 2017.
Monday, August 29, 2016 at 10:46 AM
Hidden at the end of a beautiful lot densely populated by lush Houston greenery, Libbie Masterson's studio feels like her own personal oasis. The high ceilings and large windows yield a flood of soft natural light ideal for viewing her vast array of work including photographs, paintings, watercolors, glass mosaics and even stage set maquettes.
Masterson's lively persona is a striking counterpart to her tranquil, contemplative work. Our studio visit began with a look at her new glass mosaics, an extended exploration of her large-scale installation at the Houston Hobby Airport. These works are heavily influenced not only by Masterson's affinity for nature, but also music. Masterson shared her life-long fantasy of composing a symphony, and explained to KAC how she incorporates this hidden passion into her work by listening to songs on repeat and allowing the music to dictate the emotional direction of each mosaic.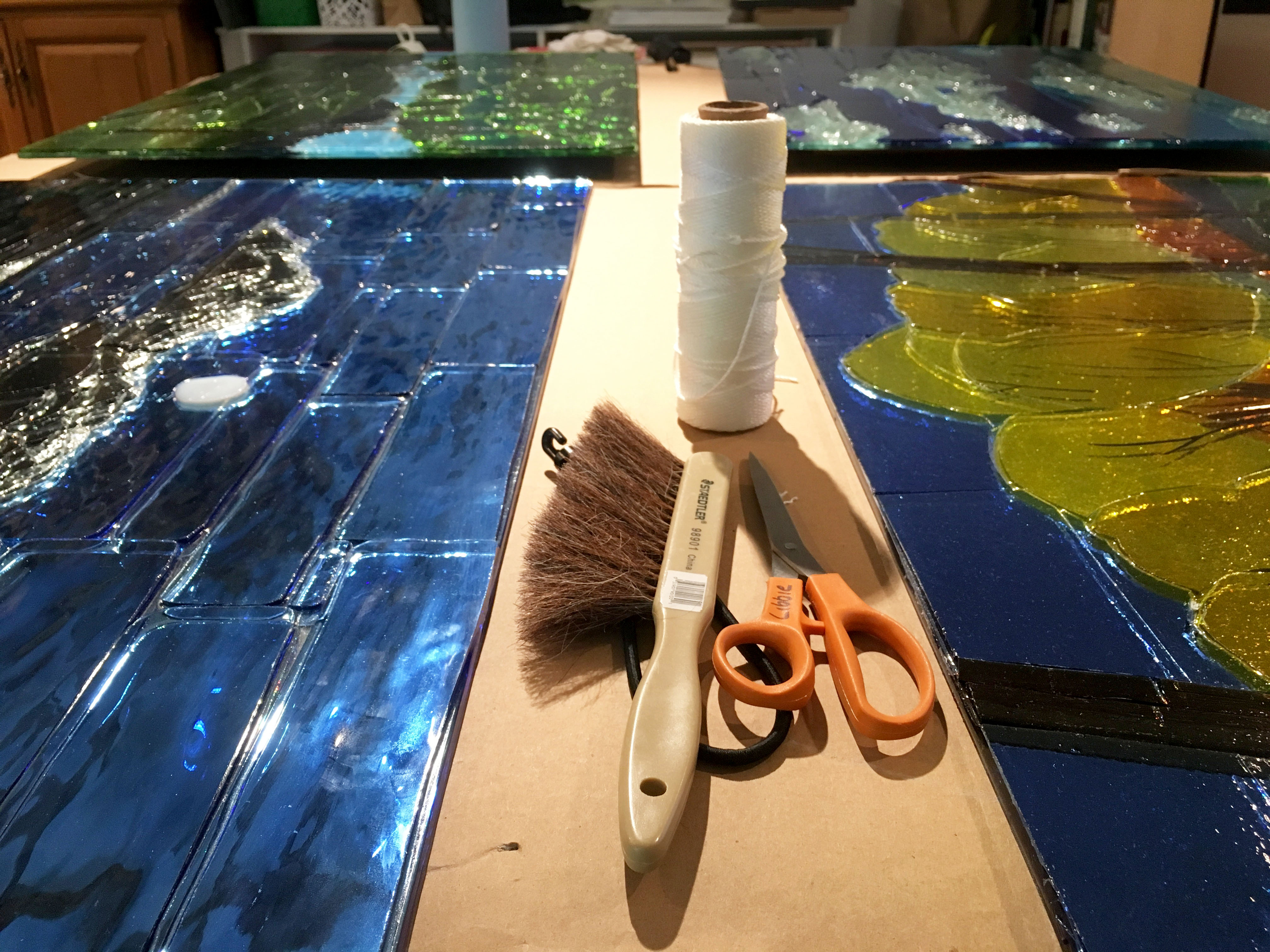 Close up of Masterson's glass mosaics
The imaginative glass compositions provide a splash of color to Masterson's otherwise monochromatic studio, filled with icy landscape photographs of deep grays, blues, and whites. These mesmerizing and meditative photos are back-lit and displayed as illuminated light boxes. Masterson walked us through the rewarding process of working with the light boxes, and calculating the perfect hue and strength of light to properly enhance the imagery without overpowering it.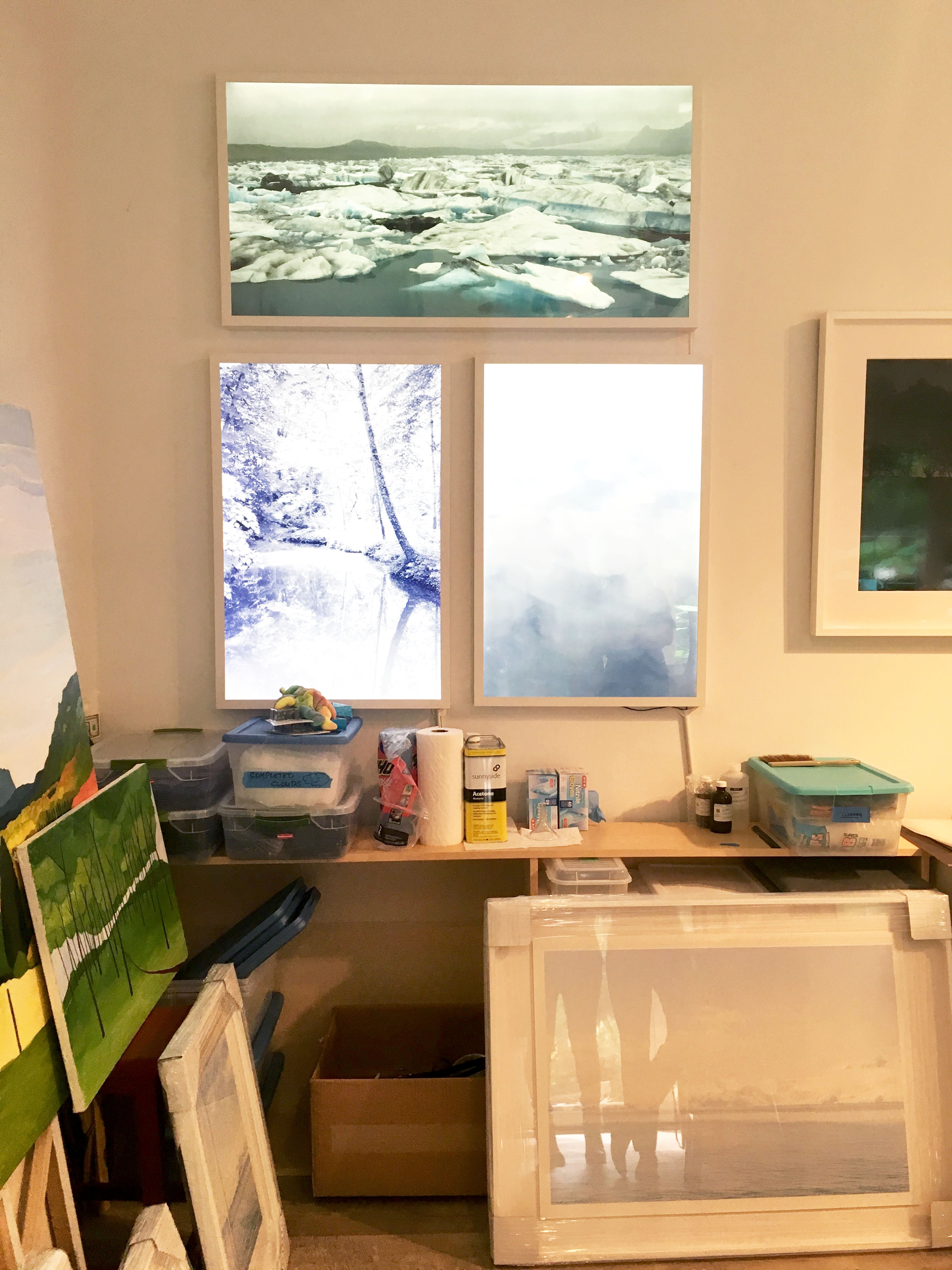 Masterson's light box photographs
Masterson's dream project: set design for an entire opera! Her infinite sources of inspiration and matching talent pose a promising future of endless possibilities and exploration. Be sure to attend her upcoming exhibition, opening September 10th 2016 at Catherine Couturier Gallery, who represents Masterson in Houston.
Tuesday, June 14, 2016 at 3:20 PM
Texas based artist, Michael Kennaugh, talks art with KAC. In this exclusive interview Kennaugh describes his experience in the growing Houston art scene and the colorful inspiration behind his process. He also reveals a glimpse into his forthcoming body of work.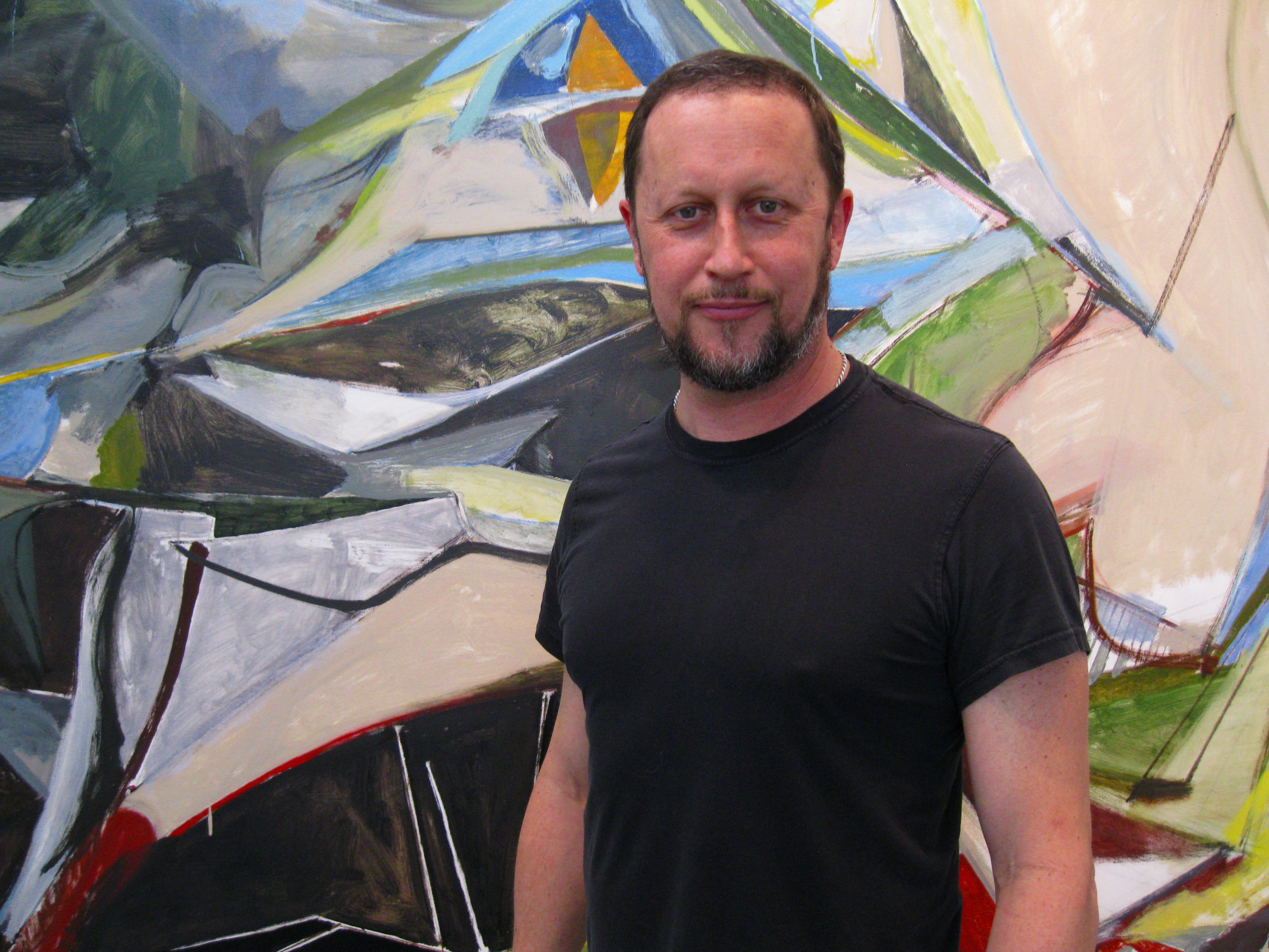 Michael Kennaugh, artist
Tuesday, February 23, 2016 at 10:20 AM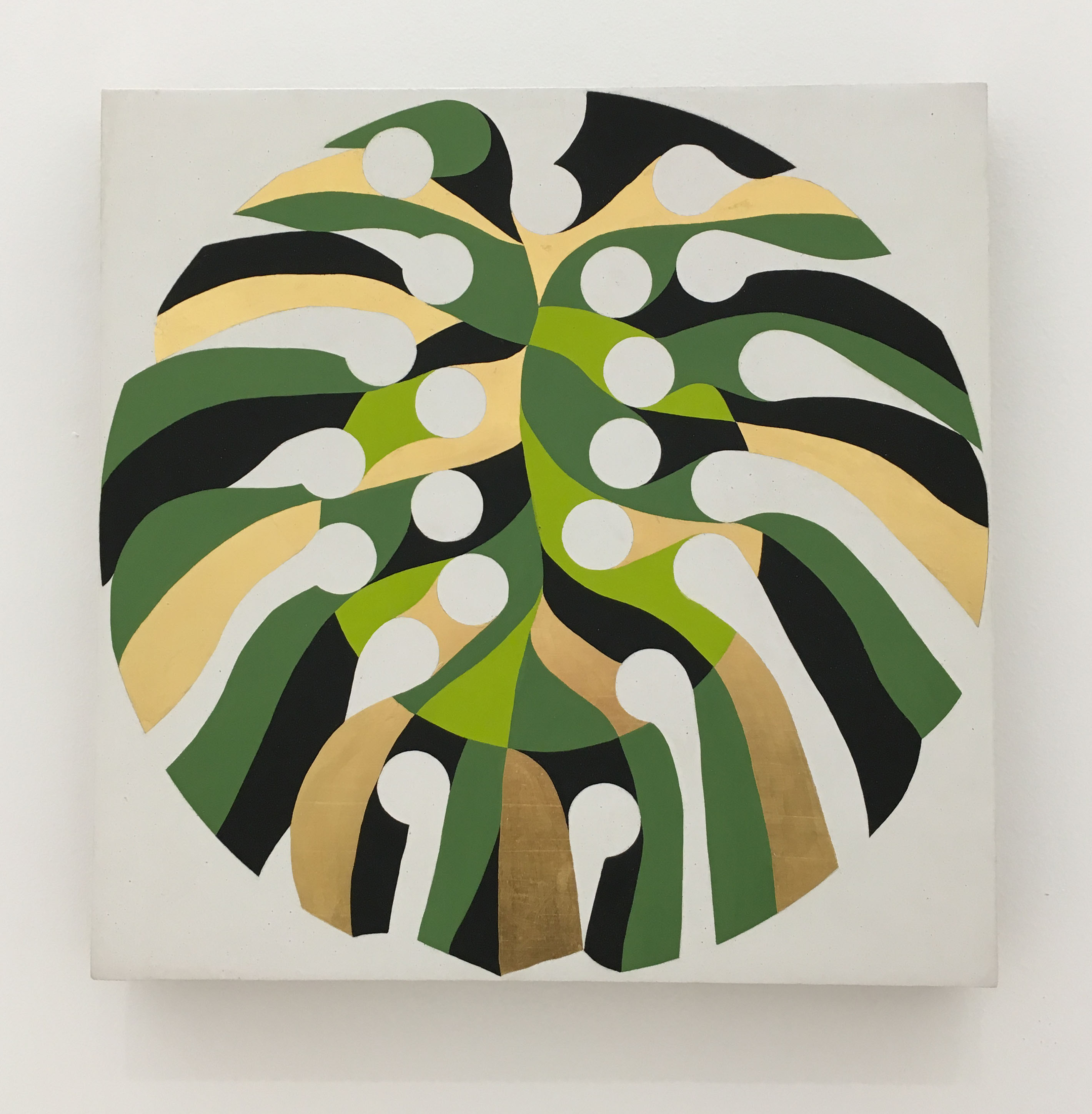 Garbriel Orozco at the Jumex Collection
After our recent visit to Mexico City, it is clear that the city's burgeoning art scene lives up to its hype. After being introduced to several impressive Mexico City galleries at the Texas Contemporary Art Fair, we were excited to explore what else the city had to offer. During our stay, we managed to visit multiple museums and galleries, an artist's studio, and two art fairs, Zona Maco and Material. Every experience left us continually impressed by the fresh perspective within this growing arts community. Below are a few of our favorite works from the weekend.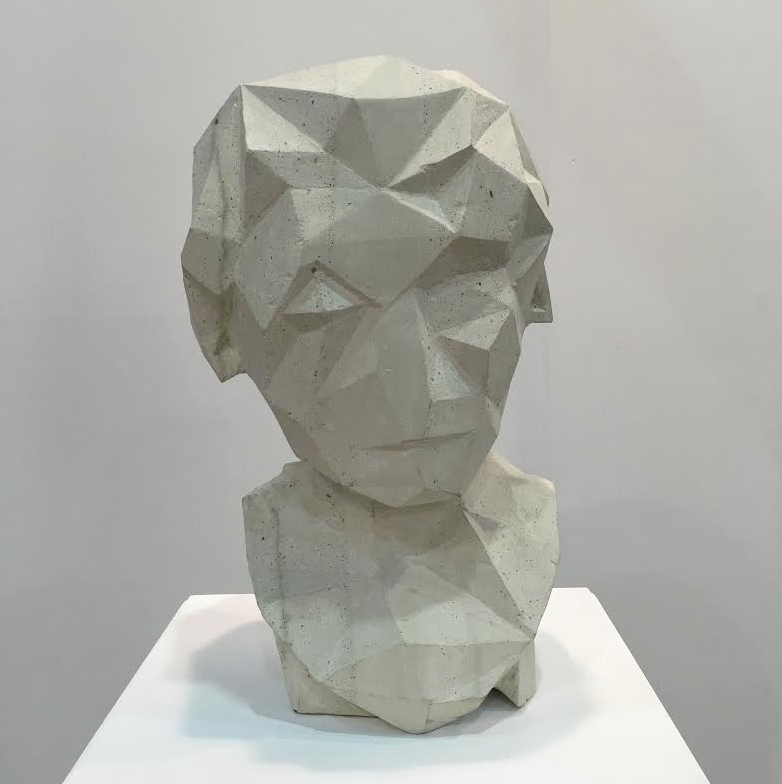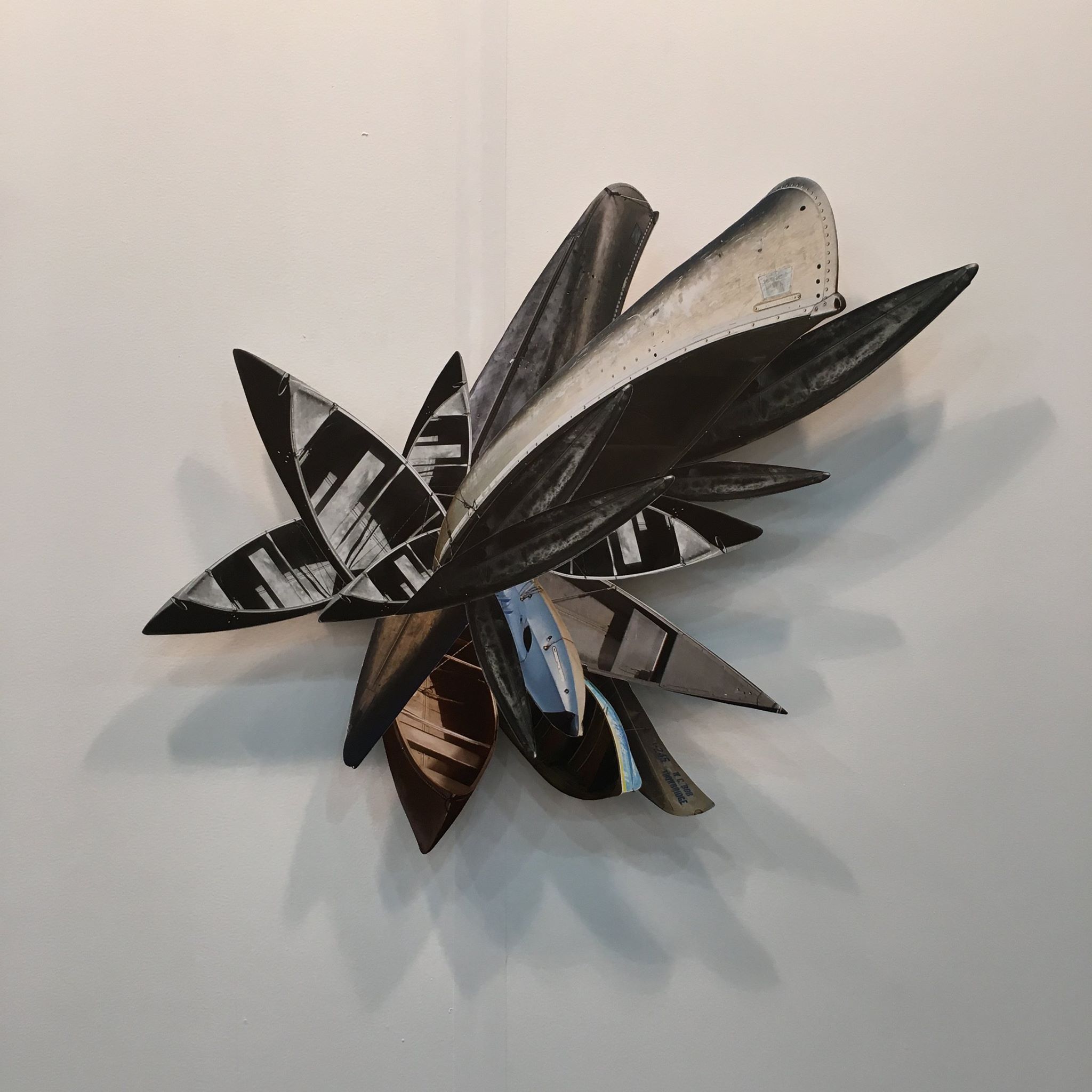 Julieta Aranda at the OMR Gallery Nancy Rubins at Gagosian Gallery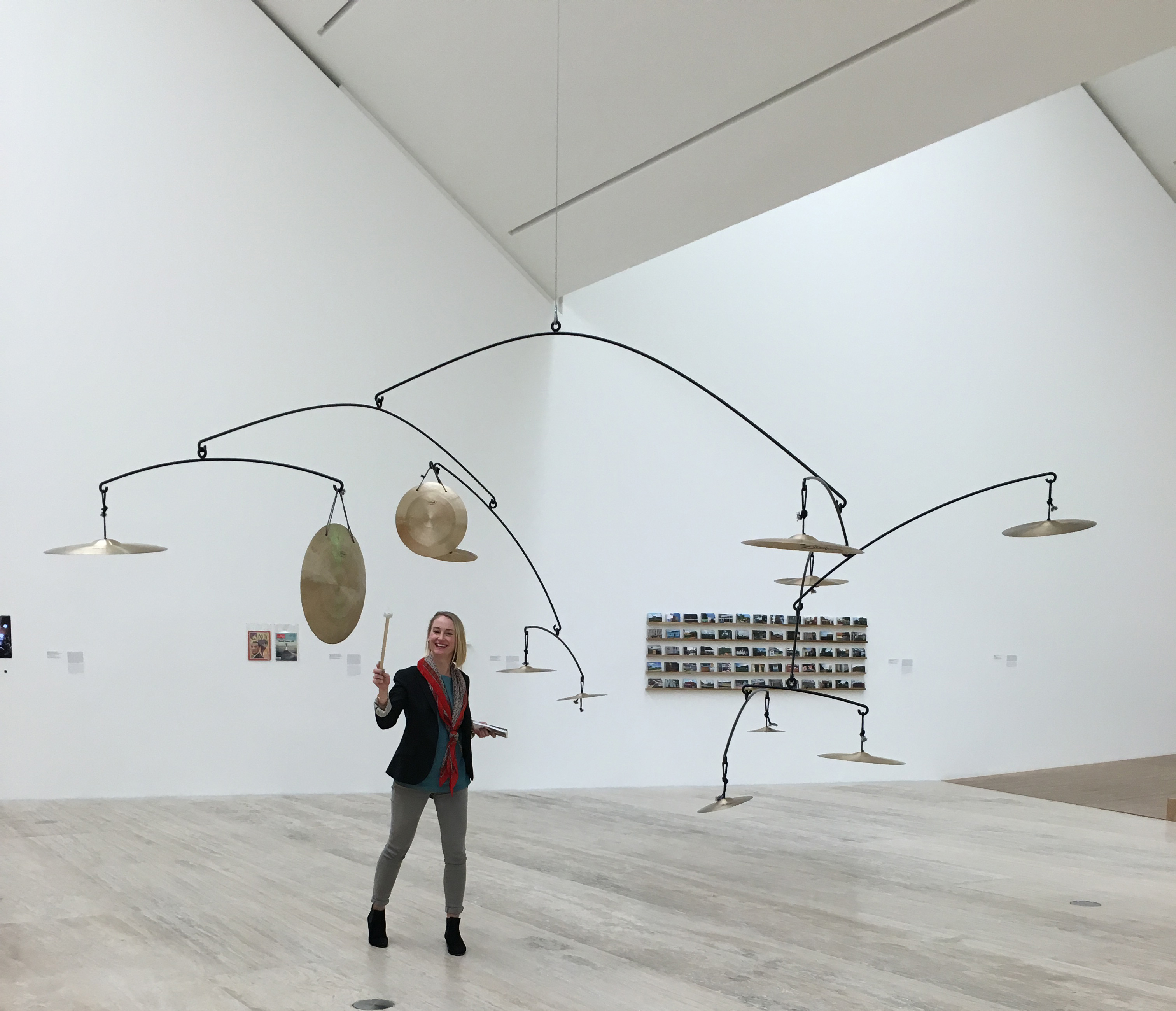 KAC's Adrienne Johnson at Under the Same Sun: Art from Latin America Today at the Jumex Collection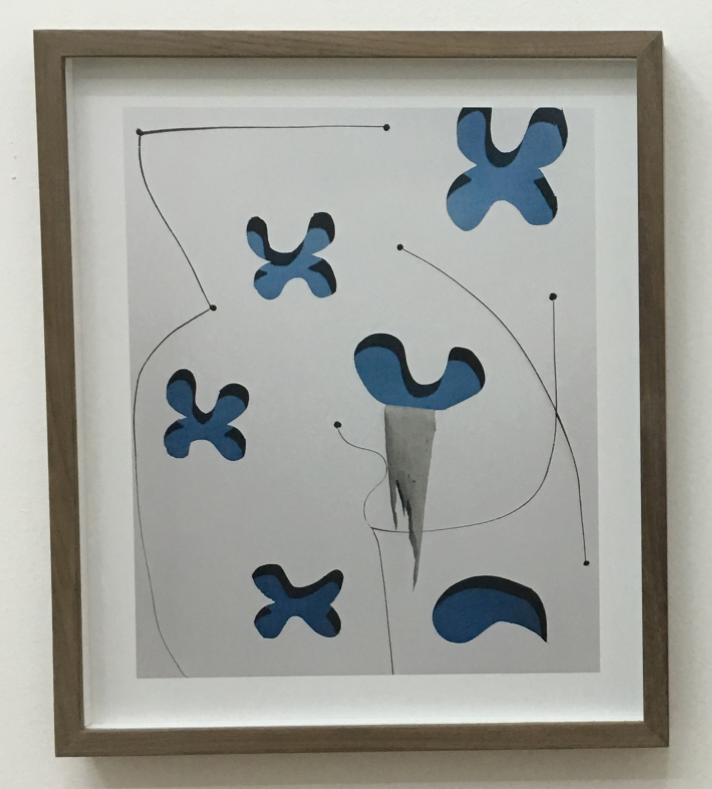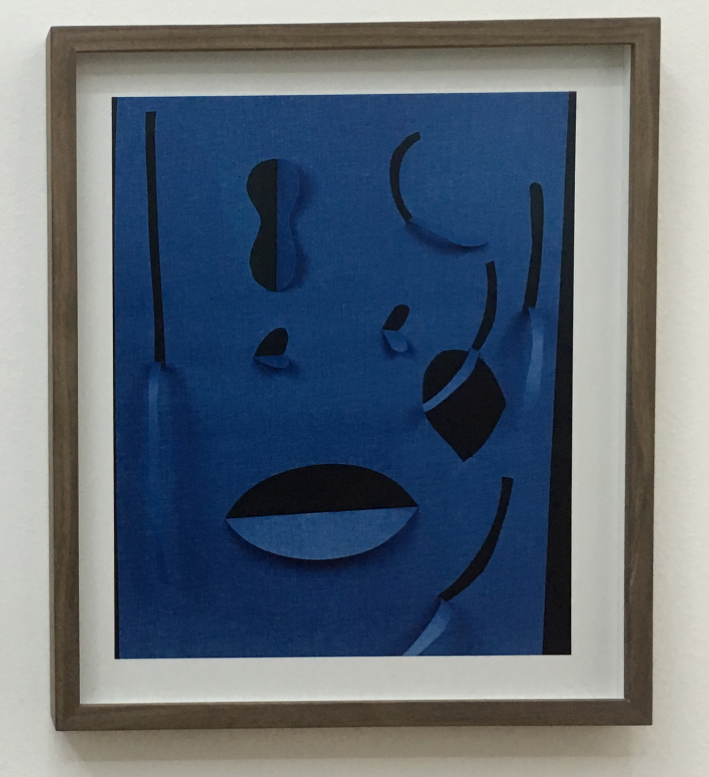 Elizabeth Atterbury at Document Space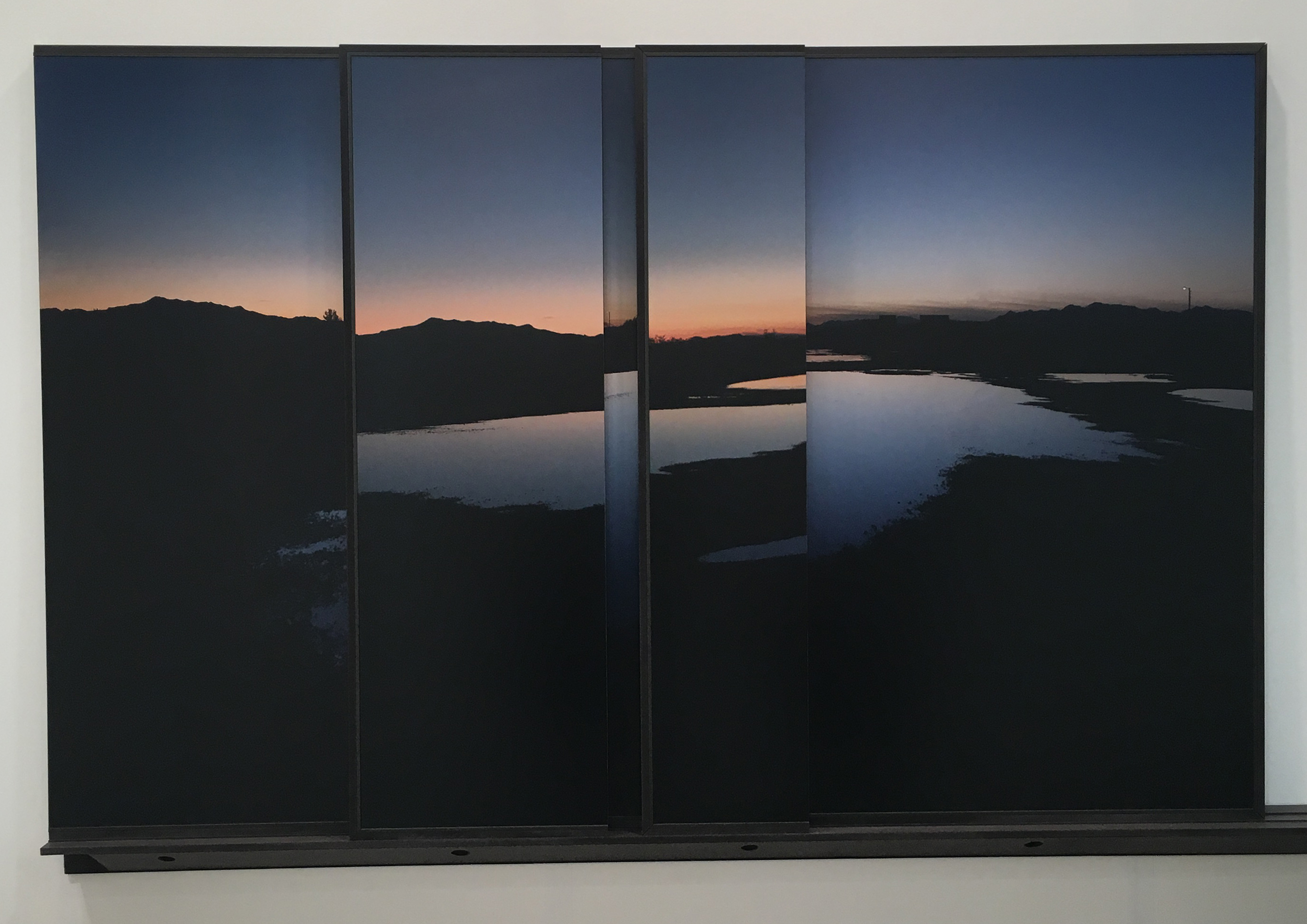 Carlos Irijalba at Galería Moisés Pérez de Albéniz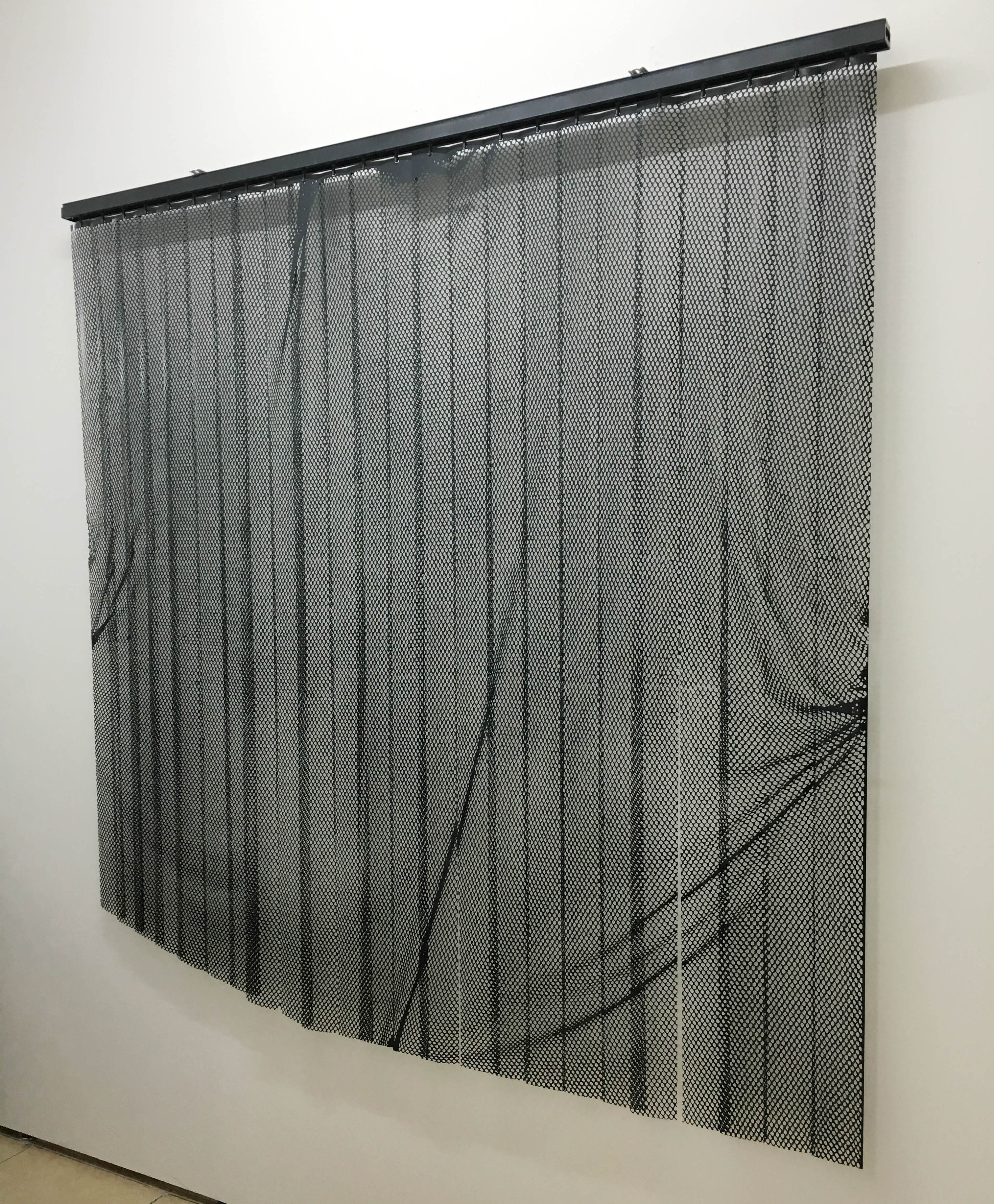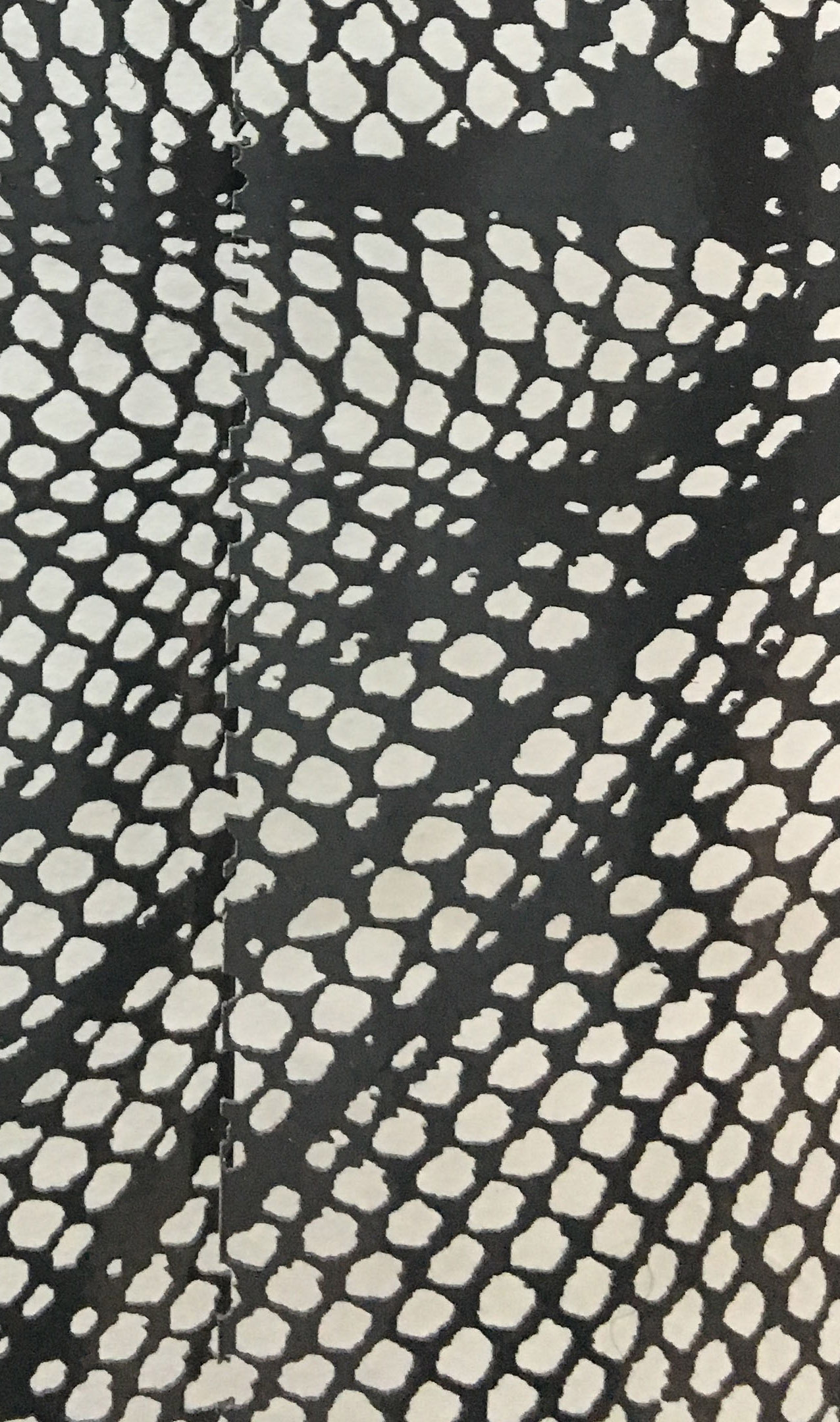 Kim Ye at JAUS Kim Ye (detail) at JAUS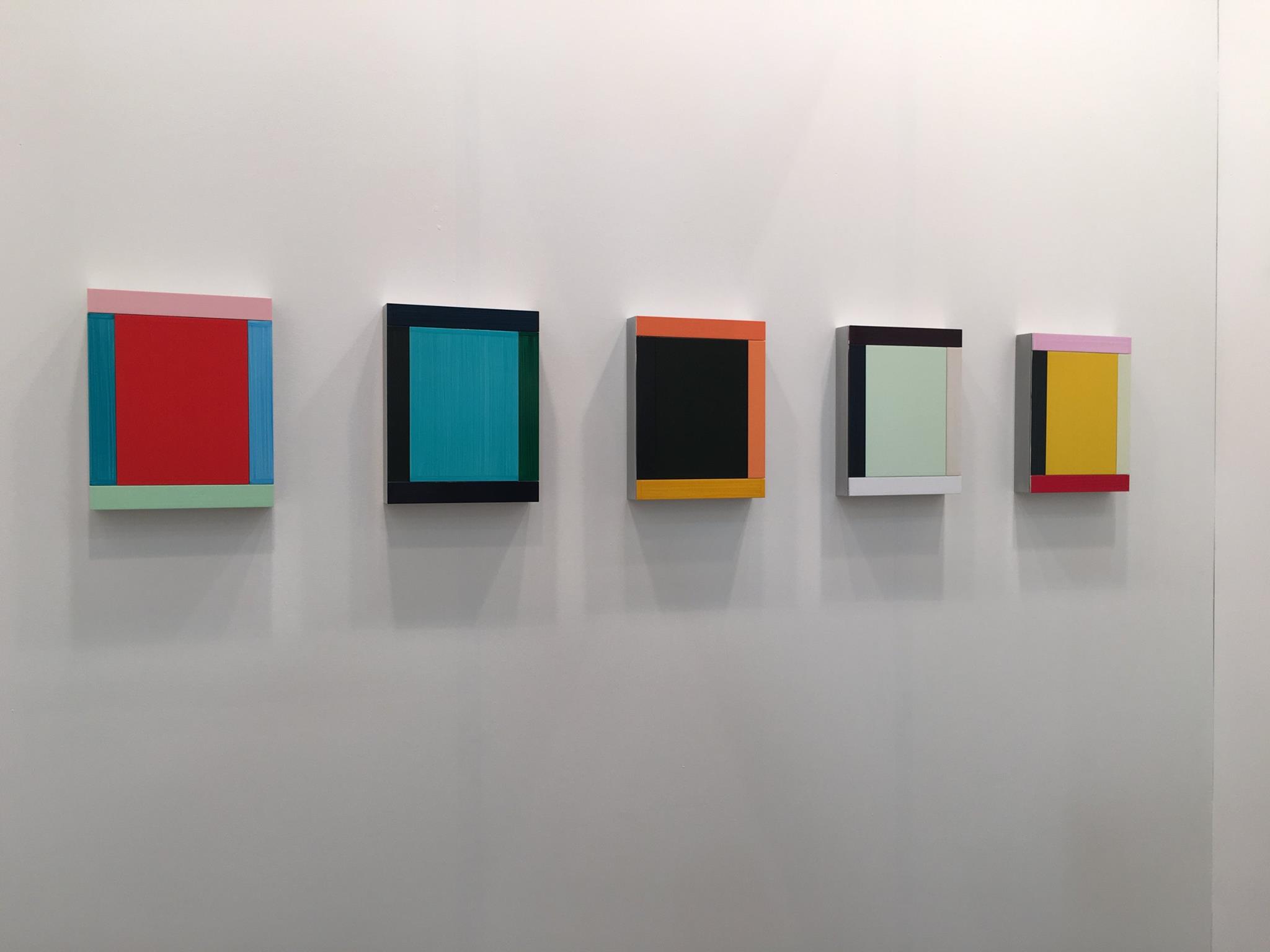 Imi Knoebel at Von Bartha Gallery
Friday, January 8, 2016 at 4 PM
As part of our biannual art rotation on HOK Architect's striking black signature wall, we are pleased to present David Aylsworth's dynamic painting titled Miss Farrah Fawcett from TV (for Ethan). Aylsworth's work is also being shown currently in Inman Gallery's newest exhibition: David Aylsworth: Sweet sweet sweet sweet sweet tea which opens January 8th and runs through February 20th. We are excited to support the expert work of Houston's own David Aylsworth.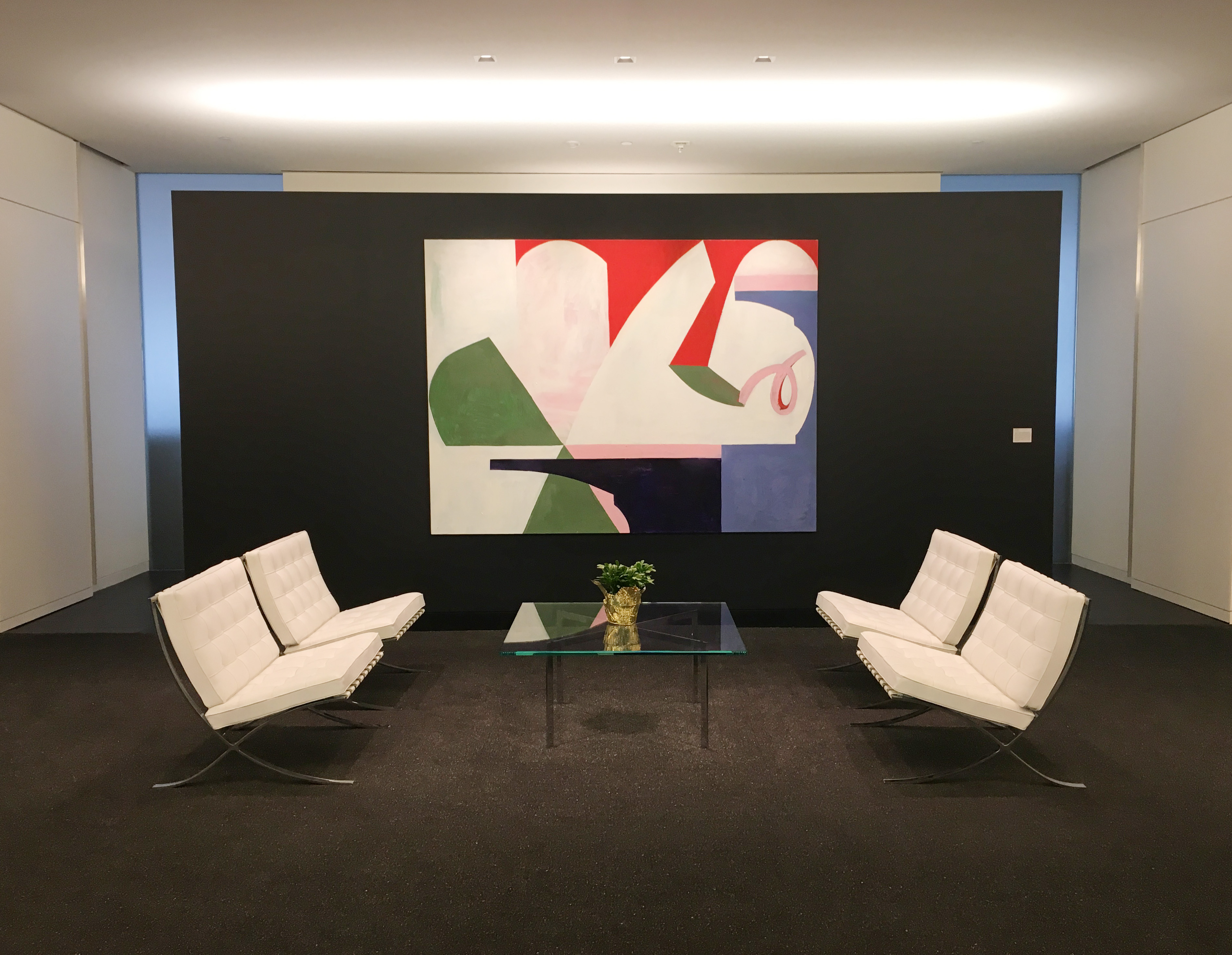 For Aylsworth, the action of painting is an intuitive process of discovery where the objective of perfection and precision is left behind. His paintings are laboriously constructed of innumerable layers of textured paint, often in shades of white, and vibrant shapes that infer depth and vitality. While most of Aylsworth's works are titled with and inspired by lyrics from musicals, Miss Farrah Fawcett from TV (for Ethan) is based on a drawing by his young nephew. Regardless of his muse, the paintings are always created from a place of exploration and authenticity.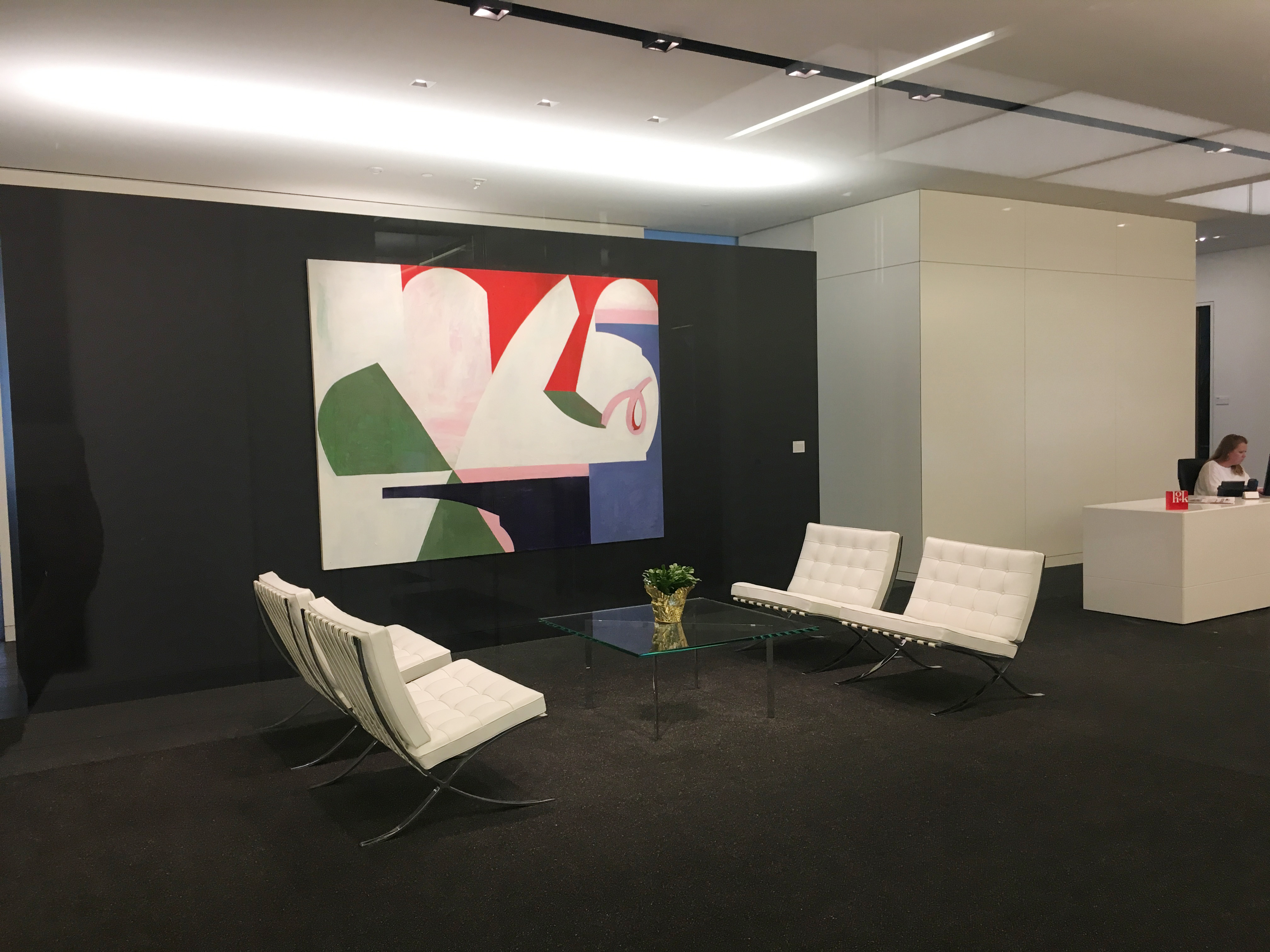 Friday, December 4, 2015 at 12 PM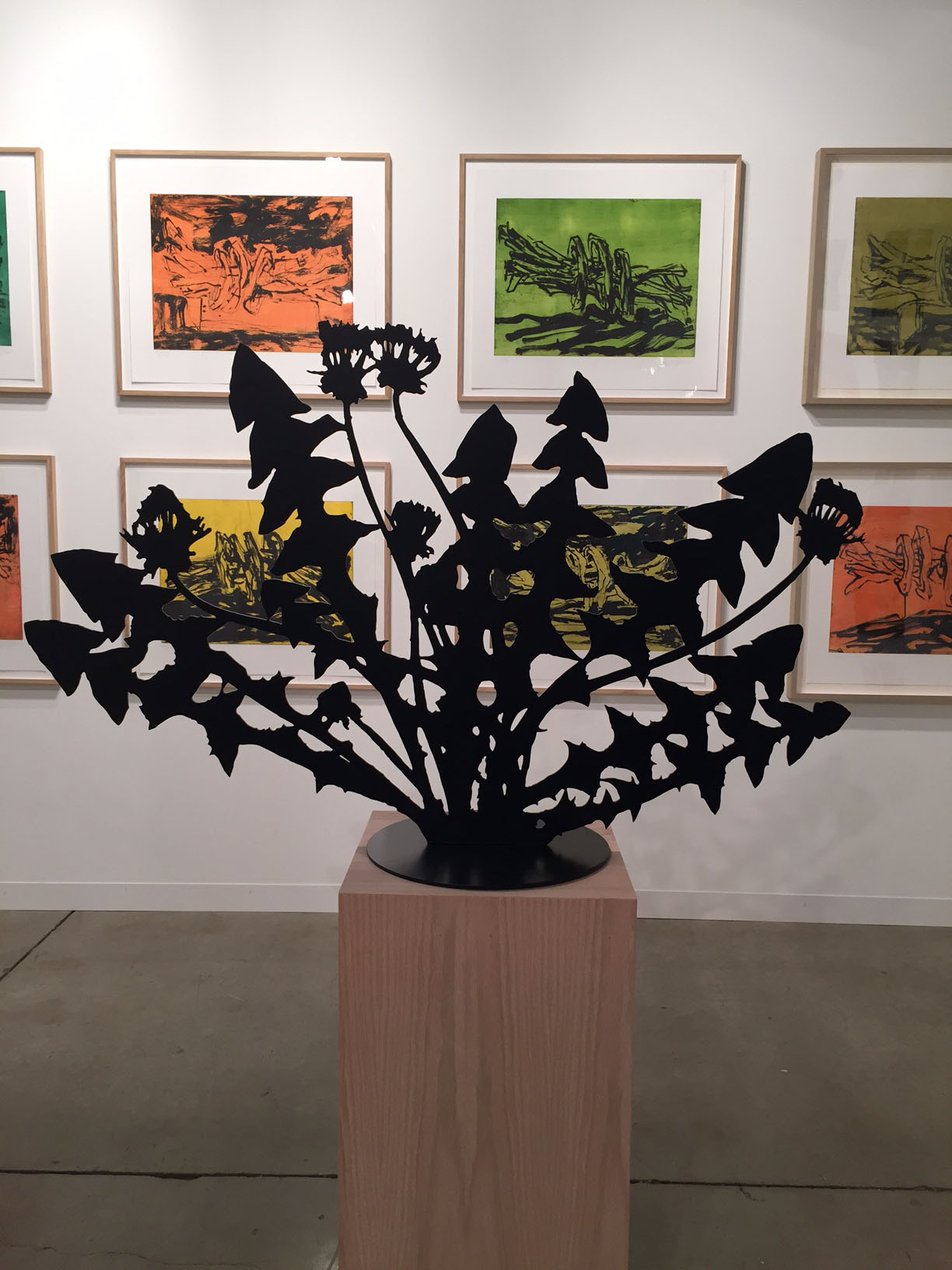 A clever installation of works by Paul Morrison at Galerie Sabine Knust's booth at Art Basel. Sculpture: Dandelion, powder coated steel. Prints: Hesperidium, 2007, woodcuts, Edition of 15.
After 4 days, 8 art fairs, and nearly 700 gallery booths, we are eager to report a selection of the many impressive artworks on view in Miami this week. Reflecting back, we picked up on a recurring theme that we see as a sign of the times: many artists are creating work that evidences the ubiquitous presence of technology in society, while others are returning to handmade traditional craft media such as ceramic and textile. Here is selection of our favorite finds from Art Basel, Untitled, Pulse, NADA, and Miami Project.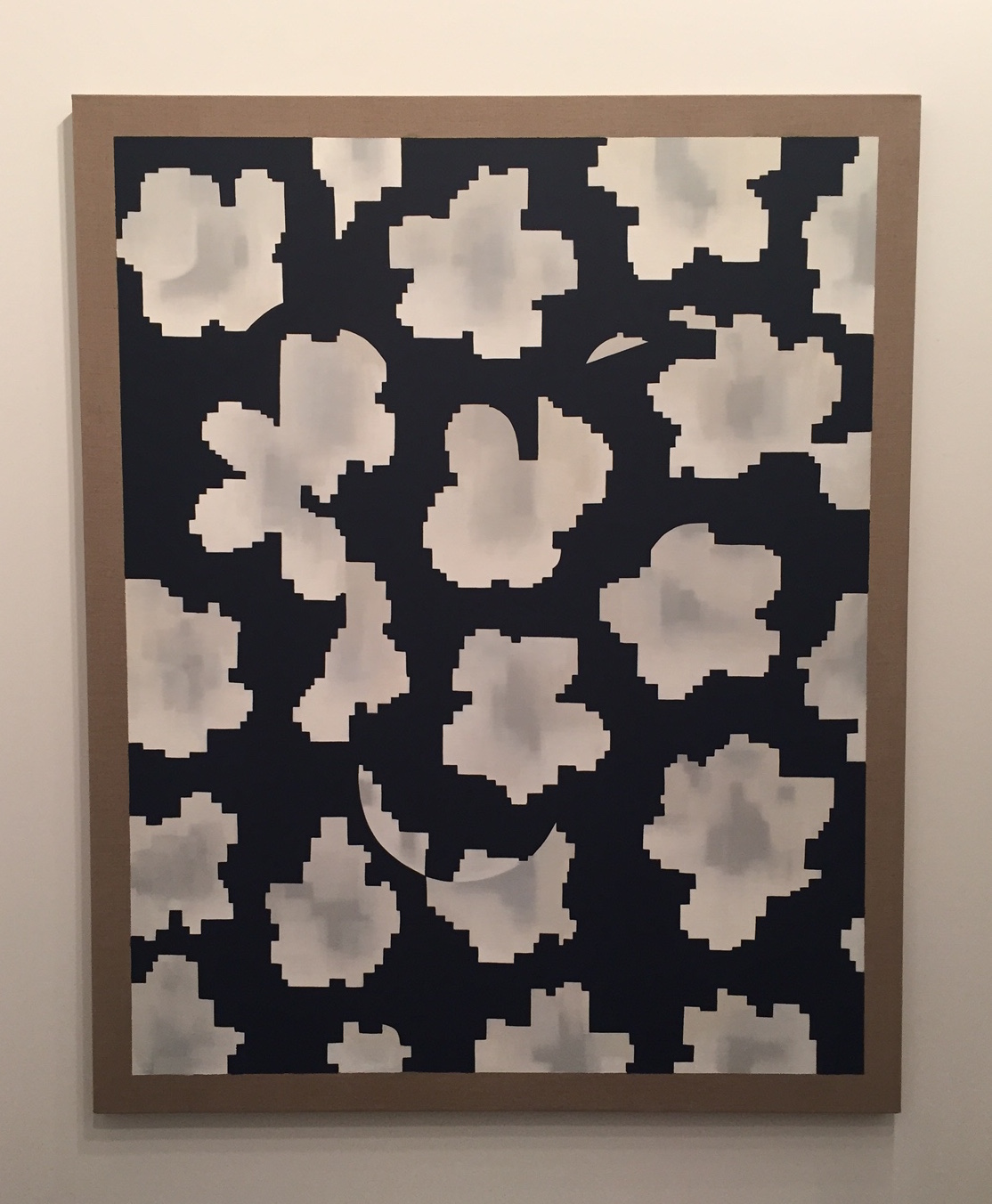 Digitally inspired work by Laeh Glenn on view in Altman Siegel's booth at NADA. Flowers, 2015, acrylic on linen.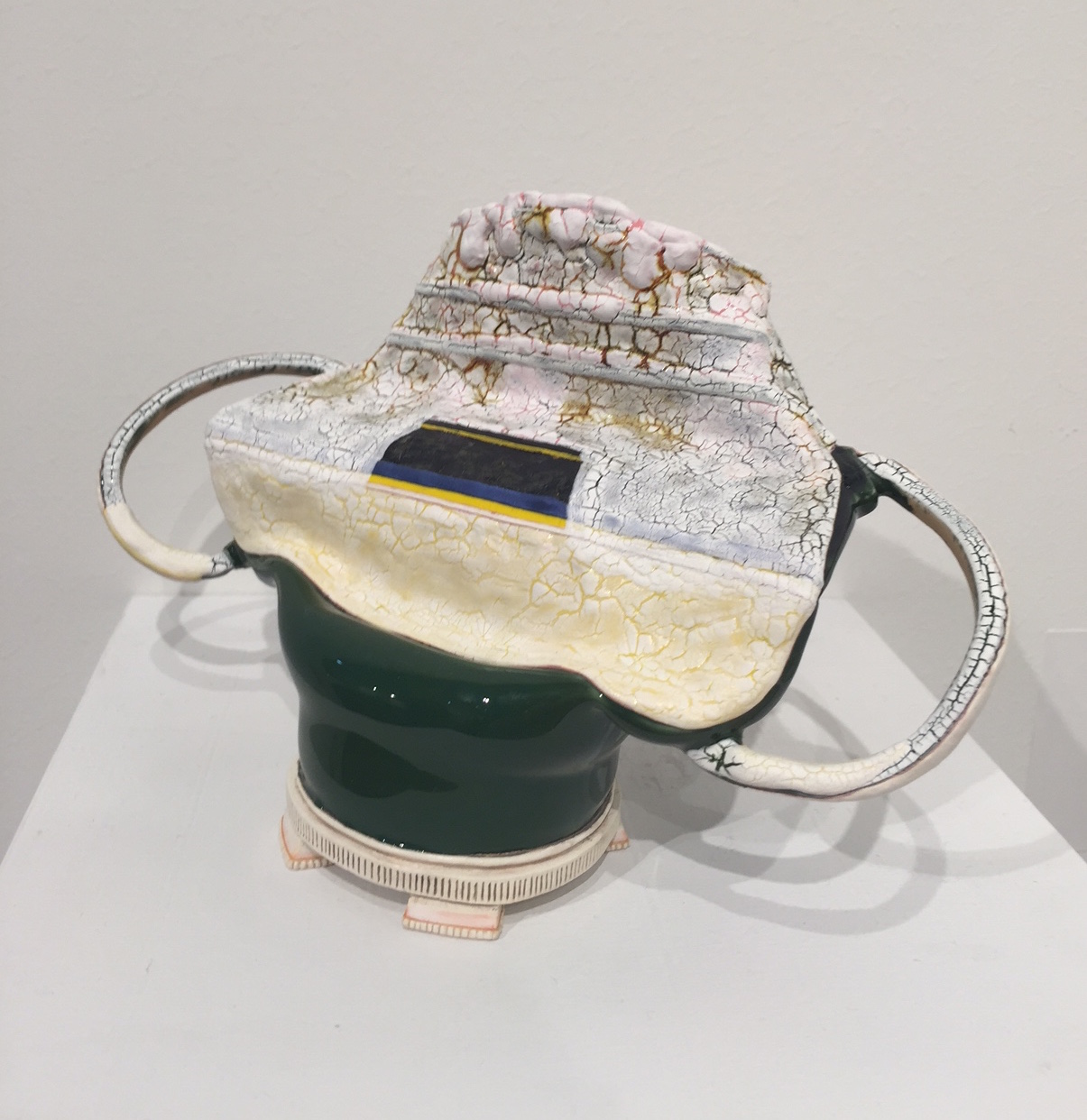 Kathy Butterly, Tangsome, 2015, clay, glaze. Exhibited at Tibor de Nagy Gallery at Pulse.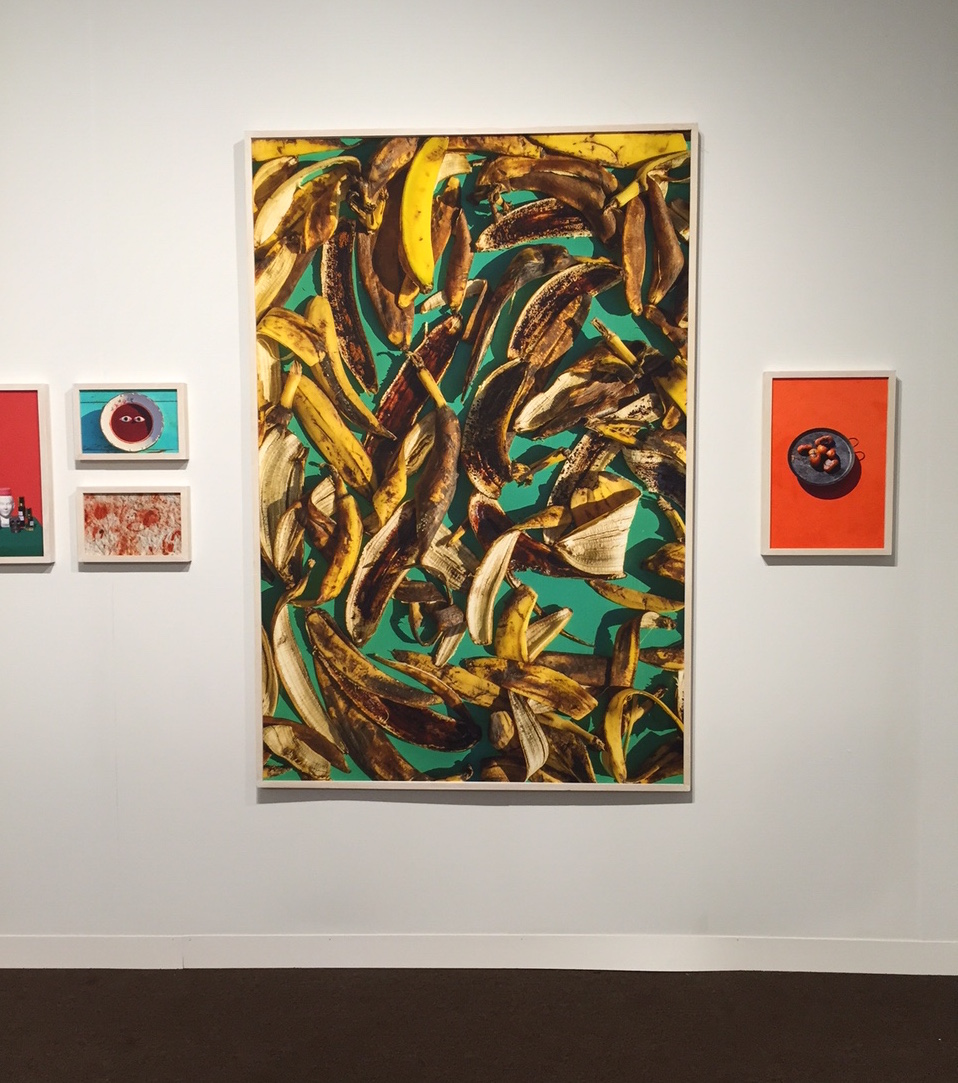 Quirky and mesmerizing photos by Joaquin Trujillo at De Soto Gallery on view at Pulse. Center: Platanos y Café (Mexico), 2015 archival pigment print.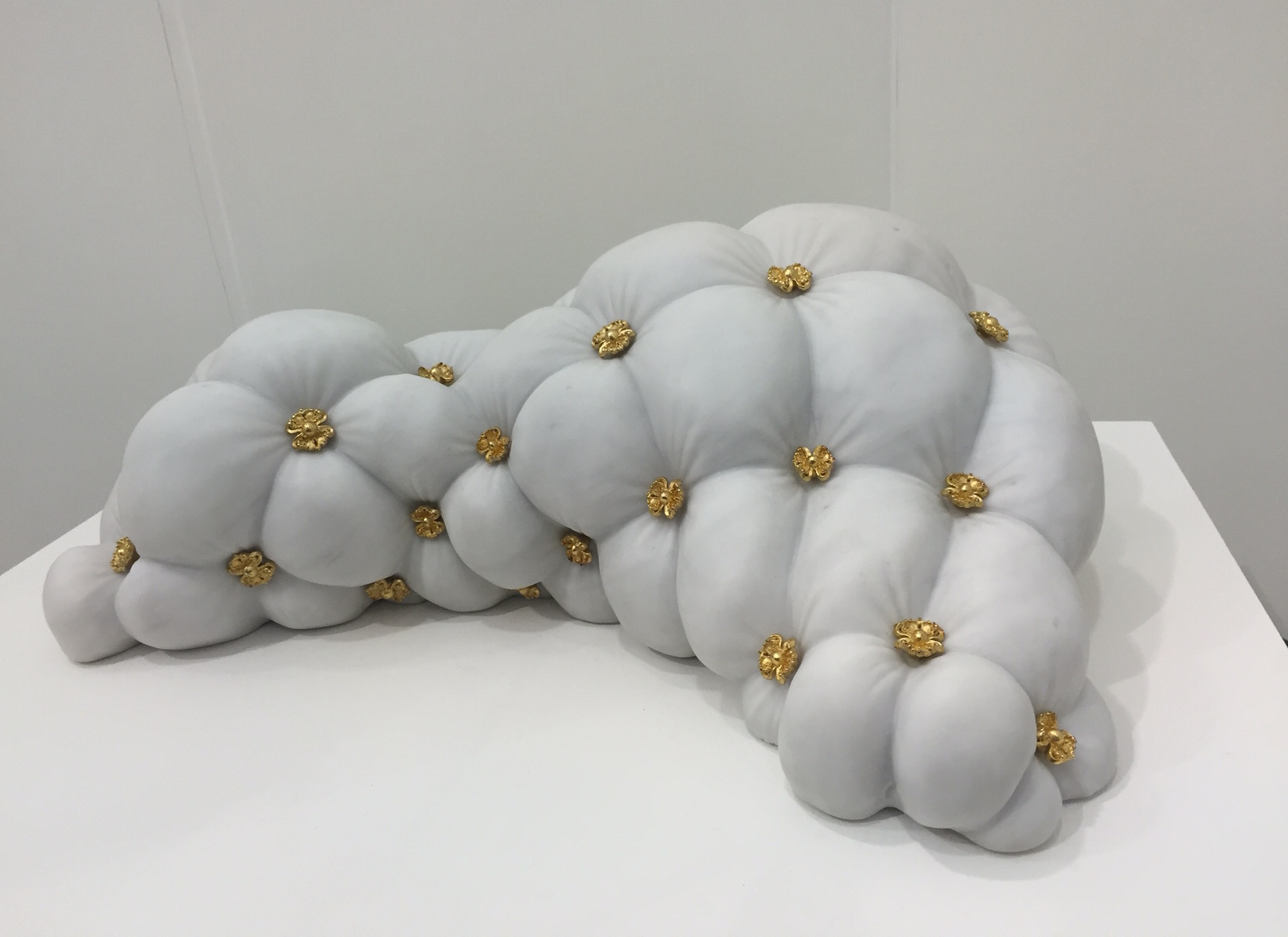 Jonathan Monaghan, Agnus Dei (After Zurbarán), 2015, Carrara marble and 3D printed steel. Bitforms Gallery at Untitled.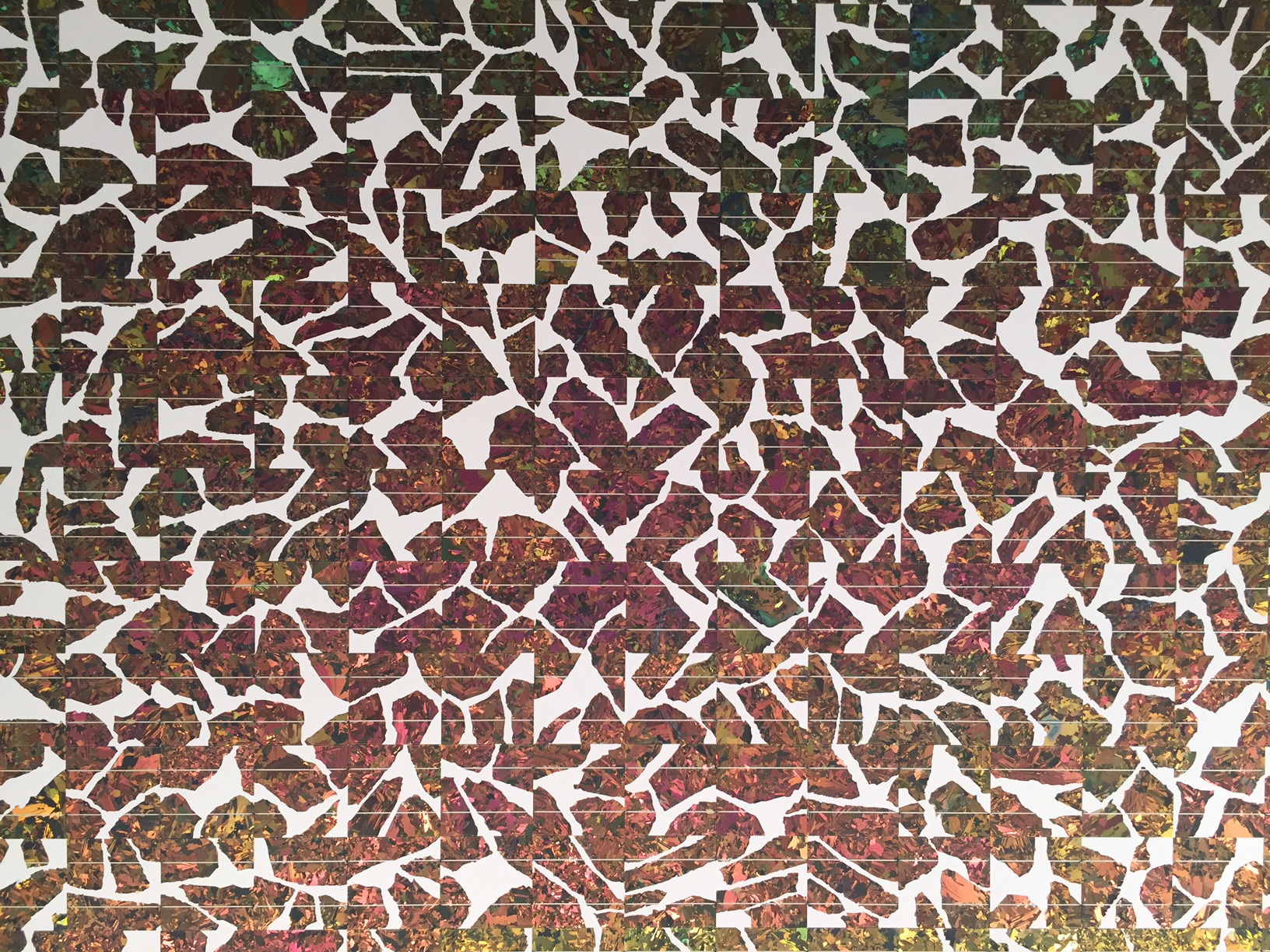 Technology inspired, mixed media work by Allora & Calzadilla in Lisson Gallery's booth at Art Basel. Solar Catastrophe, 2015, broken solar cells on canvas.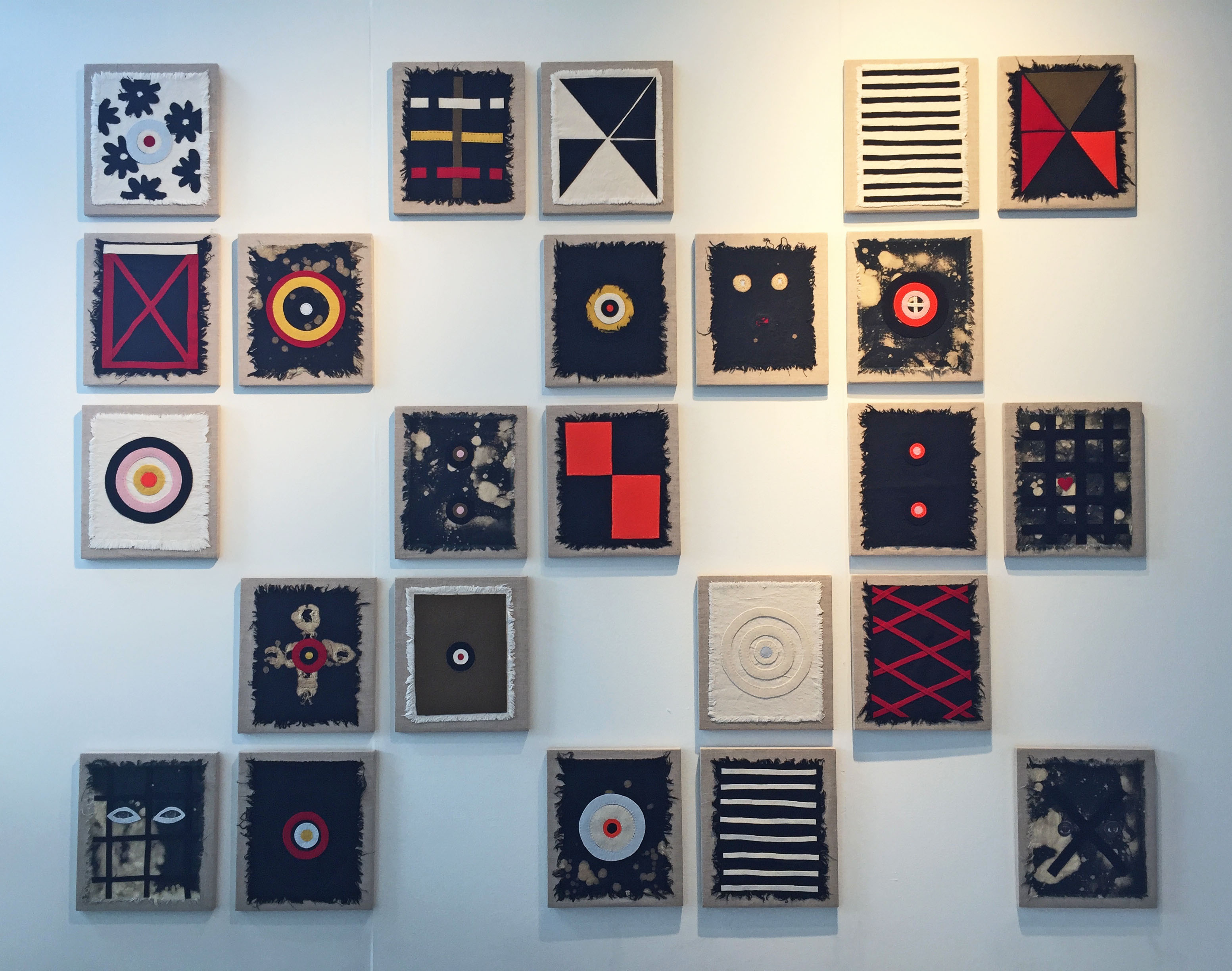 Assorted textile collages by Diana Guerrero-Maciá at Traywick on view at Miami Project. Siblings of the Sun, 2015, wool, cotton, thread on Belgian linen.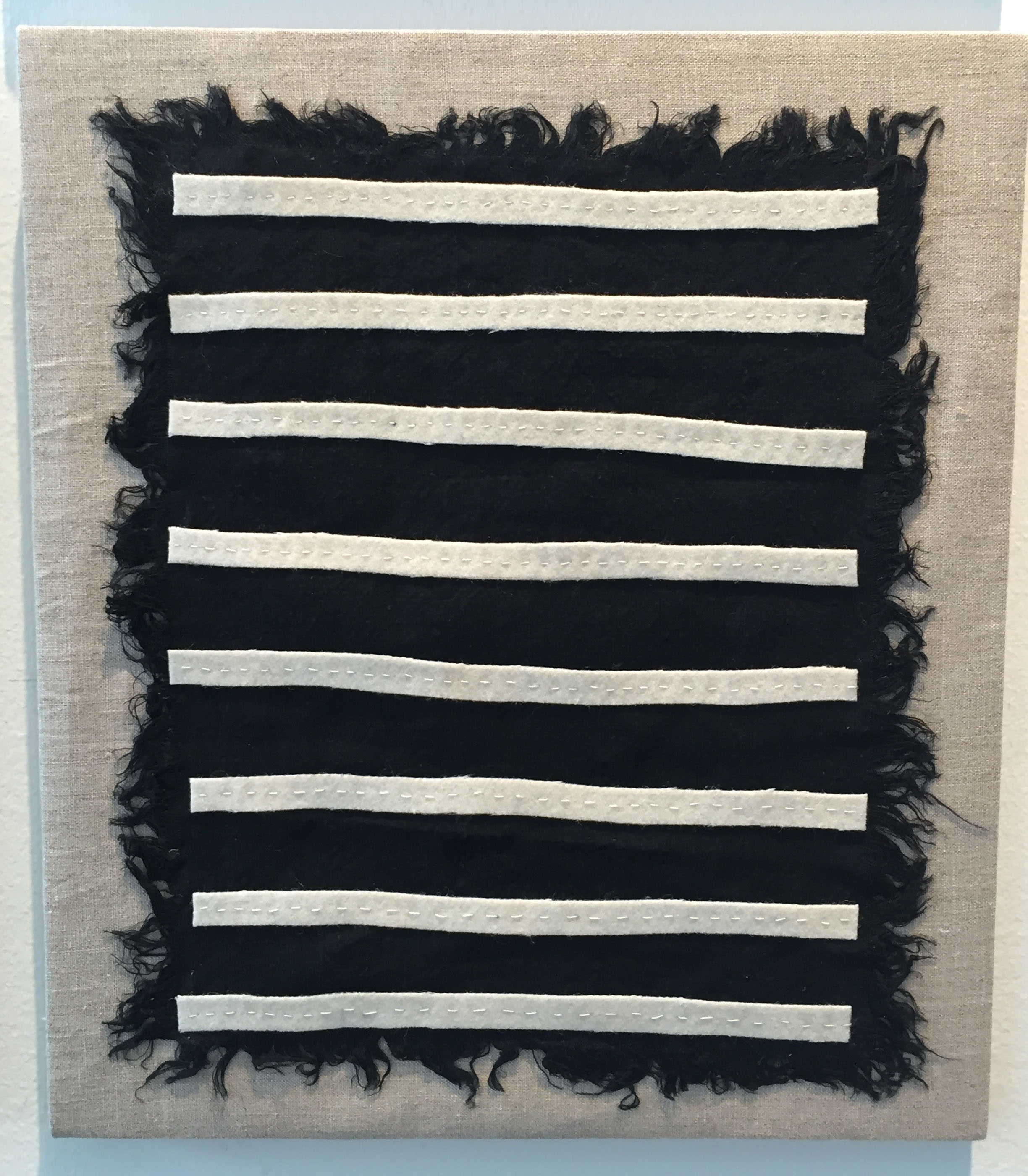 Detail: Diana Guerrero-Maciá, Siblings of the Sun, 2015, wool, cotton, thread on Belgian linen.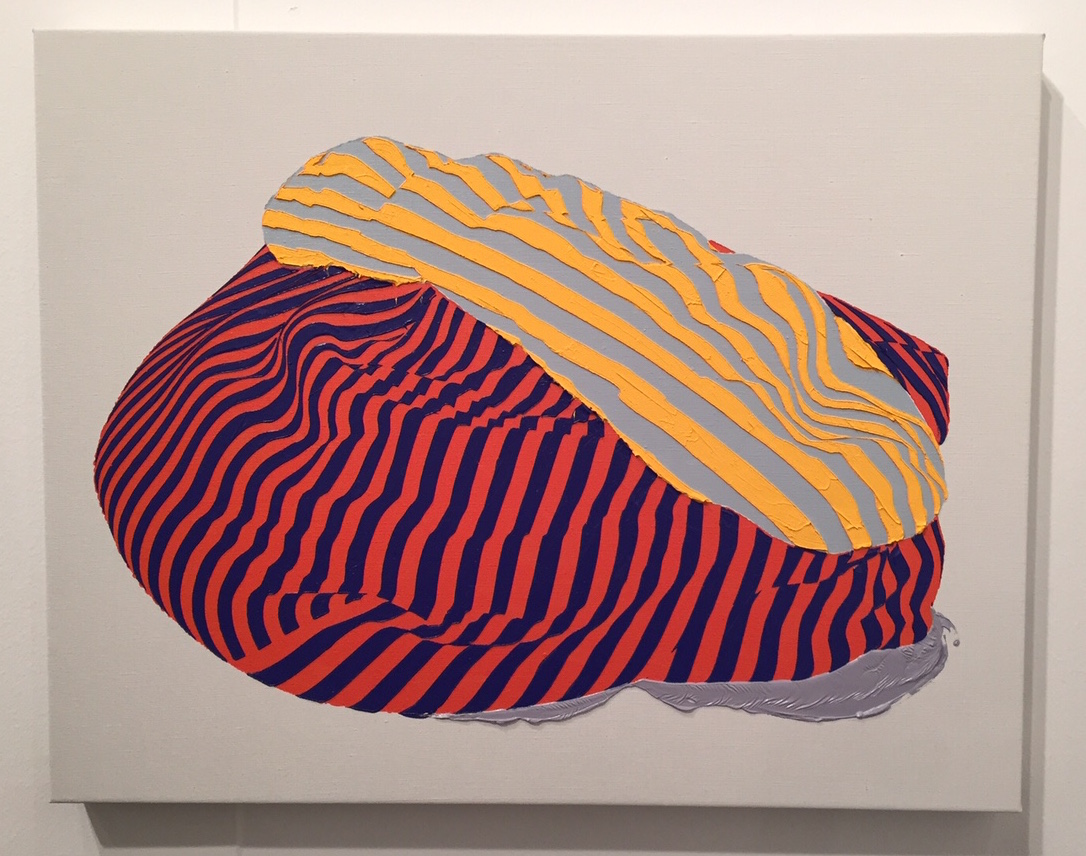 Alex Dodge uses computer generated patterns to create his paintings. Belfast, 2015, oil on canvas. On view at Klaus von Nichtssagend Gallery at NADA.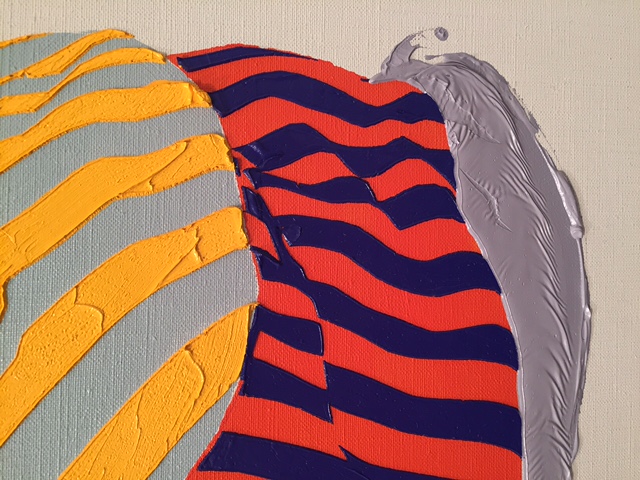 Detail: Alex Dodge, Belfast, 2015, oil on canvas.
Thursday, October 1, 2015 at 5 PM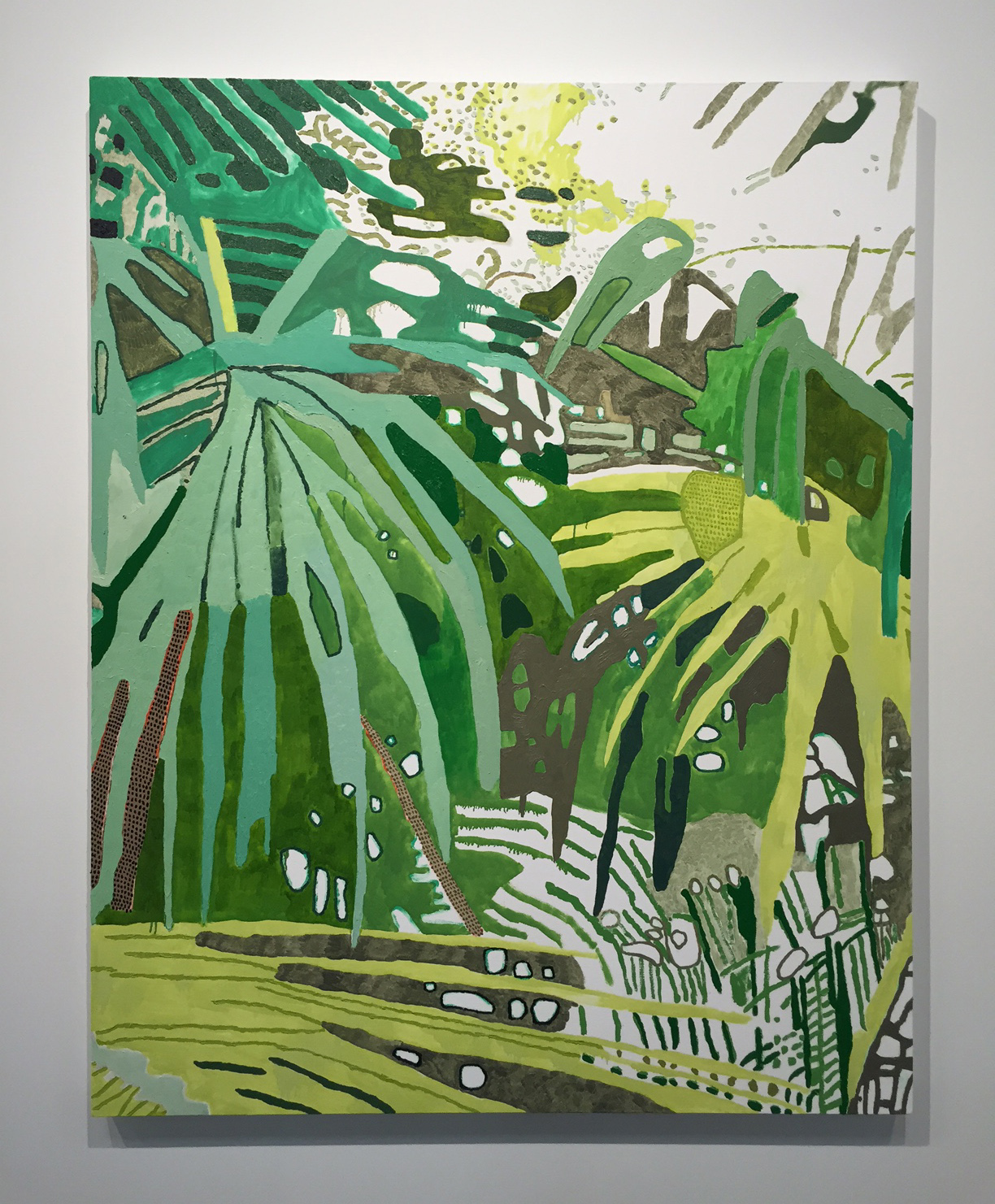 Bradley Kerl at Art Palace Gallery
We previewed the fifth edition of the Texas Contemporary Art Fair, and wanted to share some of our first impressions and stand-out works. We encourage everyone to attend the fair and post your faves with #LetsTalkArt. Stay tuned for more highlights throughout the weekend from Kinzelman Art via Instagram, Twitter, and Facebook. If you would like more information on these works feel free to contact us.

Tomás Díaz Cedeño at Yautepec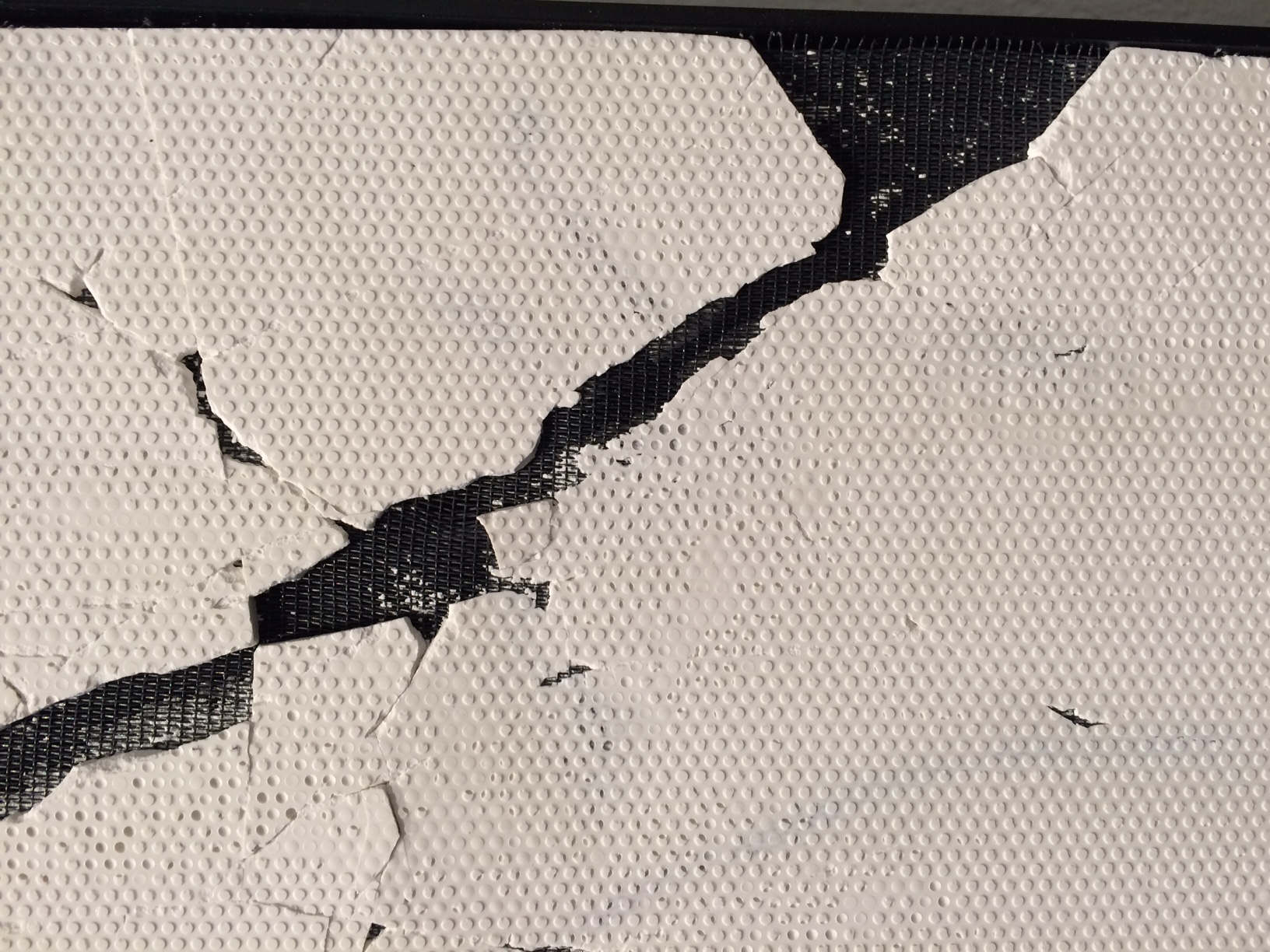 Detail of Tomás Díaz Cedeño at Yautepec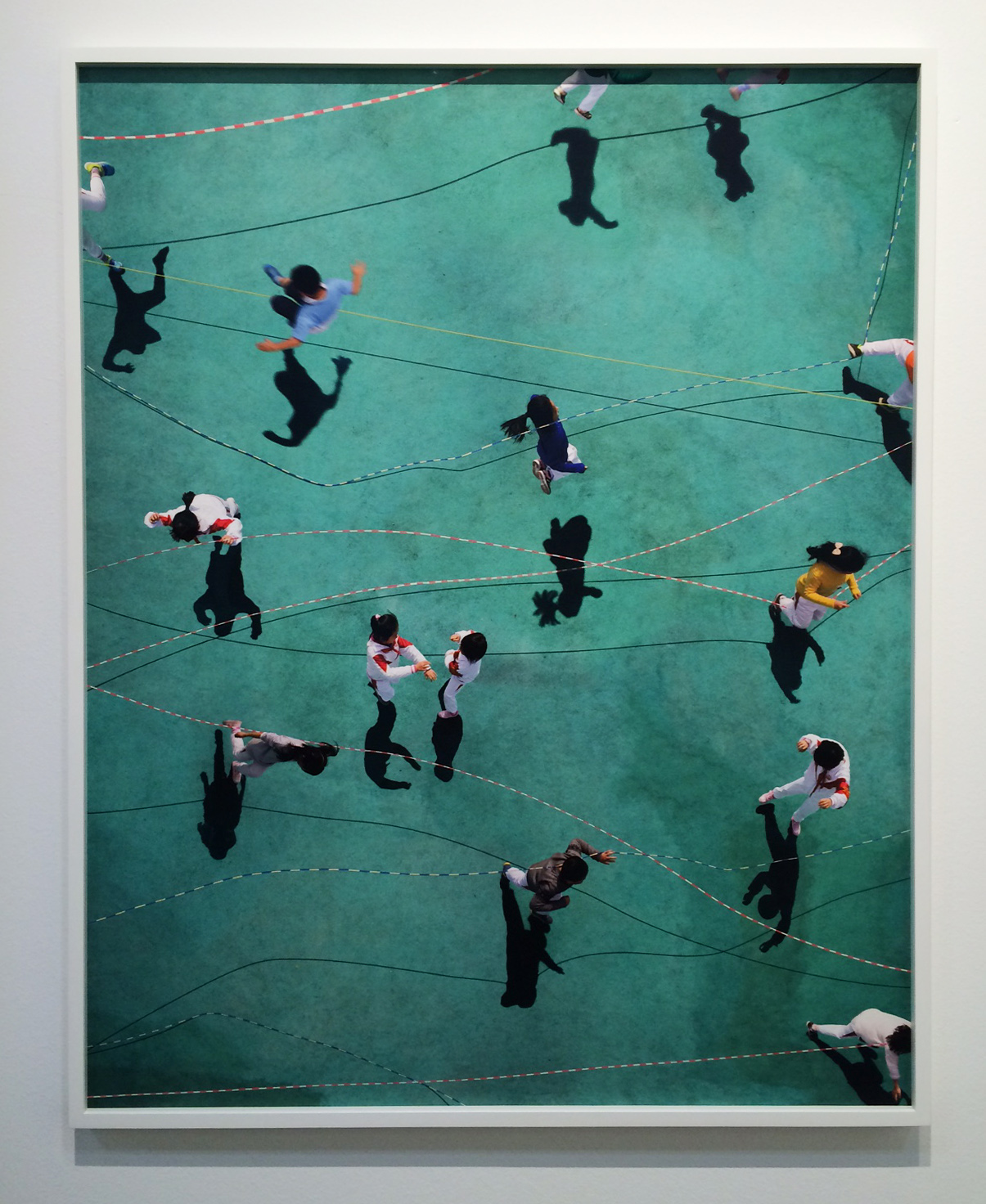 Katrin Korfmann at Kopeikin Gallery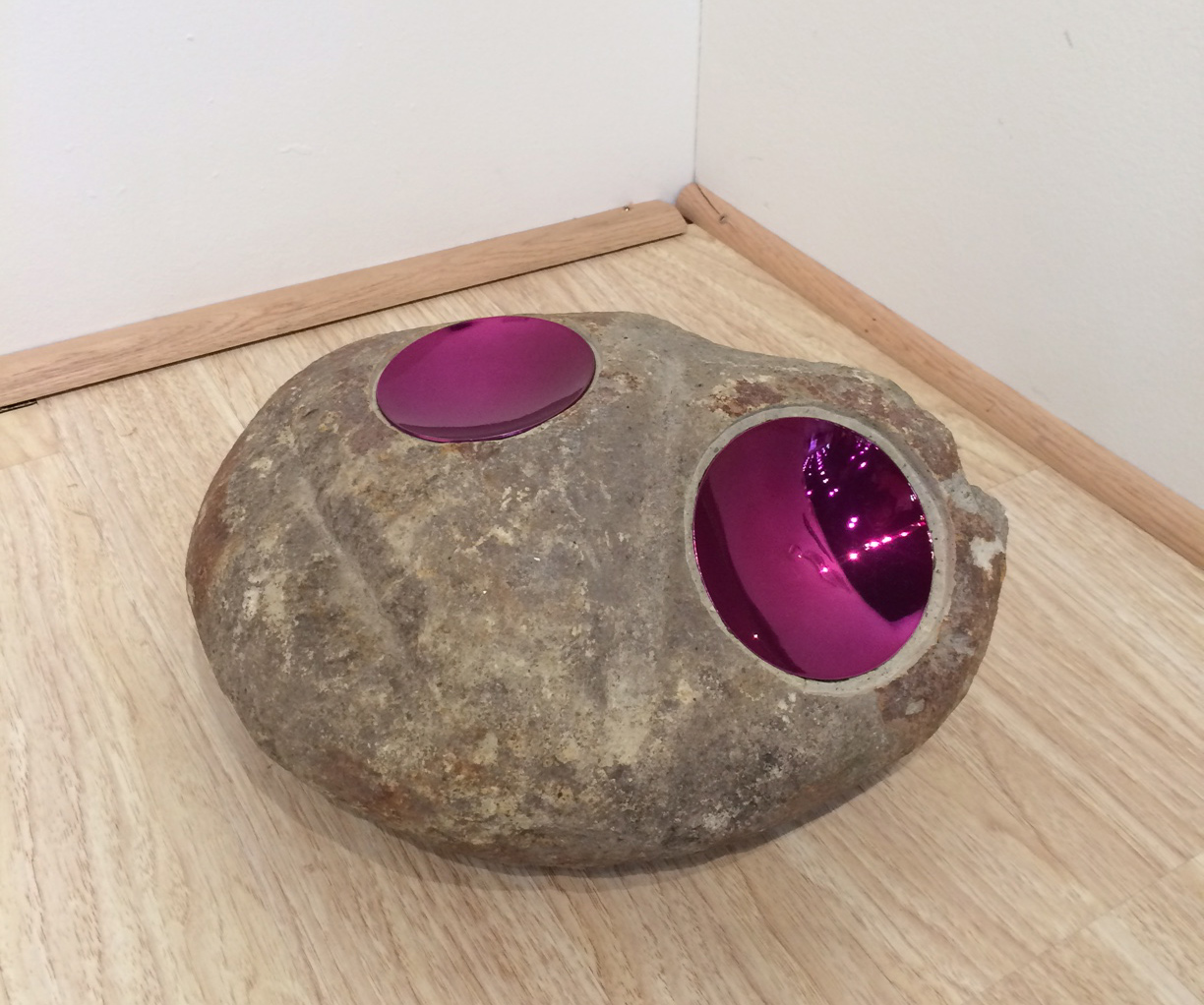 Héctor Falcón at Galeria Enrique Guerrero
Friday, September 18, 2015 at 5 PM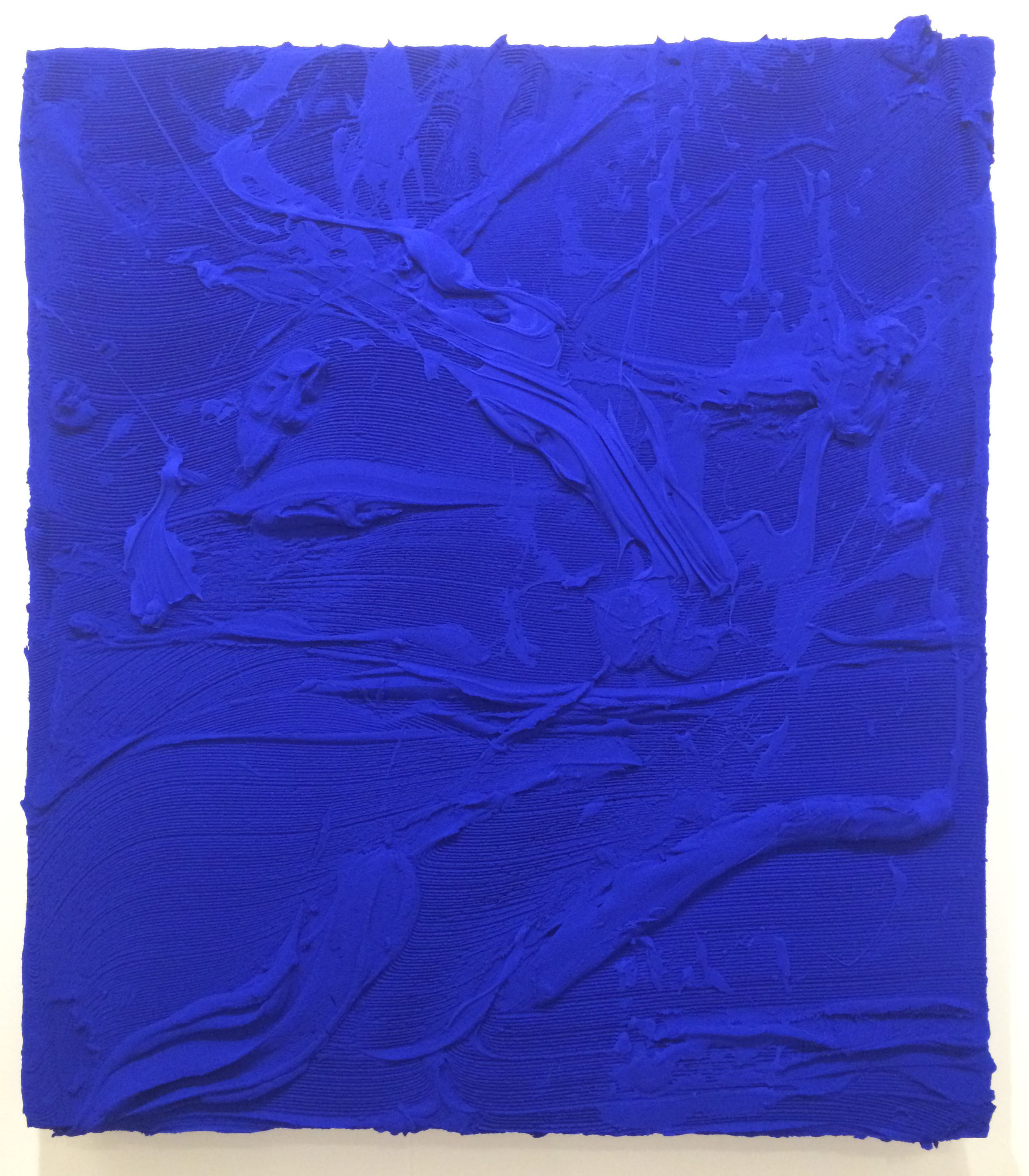 Jason Martin, 2015, mixed media on aluminum (ultramarine blue) at Galerie Forsblom
With an impressive roster of 140 galleries from around the world, EXPO Chicago has delivered a vast selection of world class contemporary art. We are spending the weekend in the windy city to explore the many high-caliber art works and art programs on view. After our first day at the fair, a number of works have already caught our eye.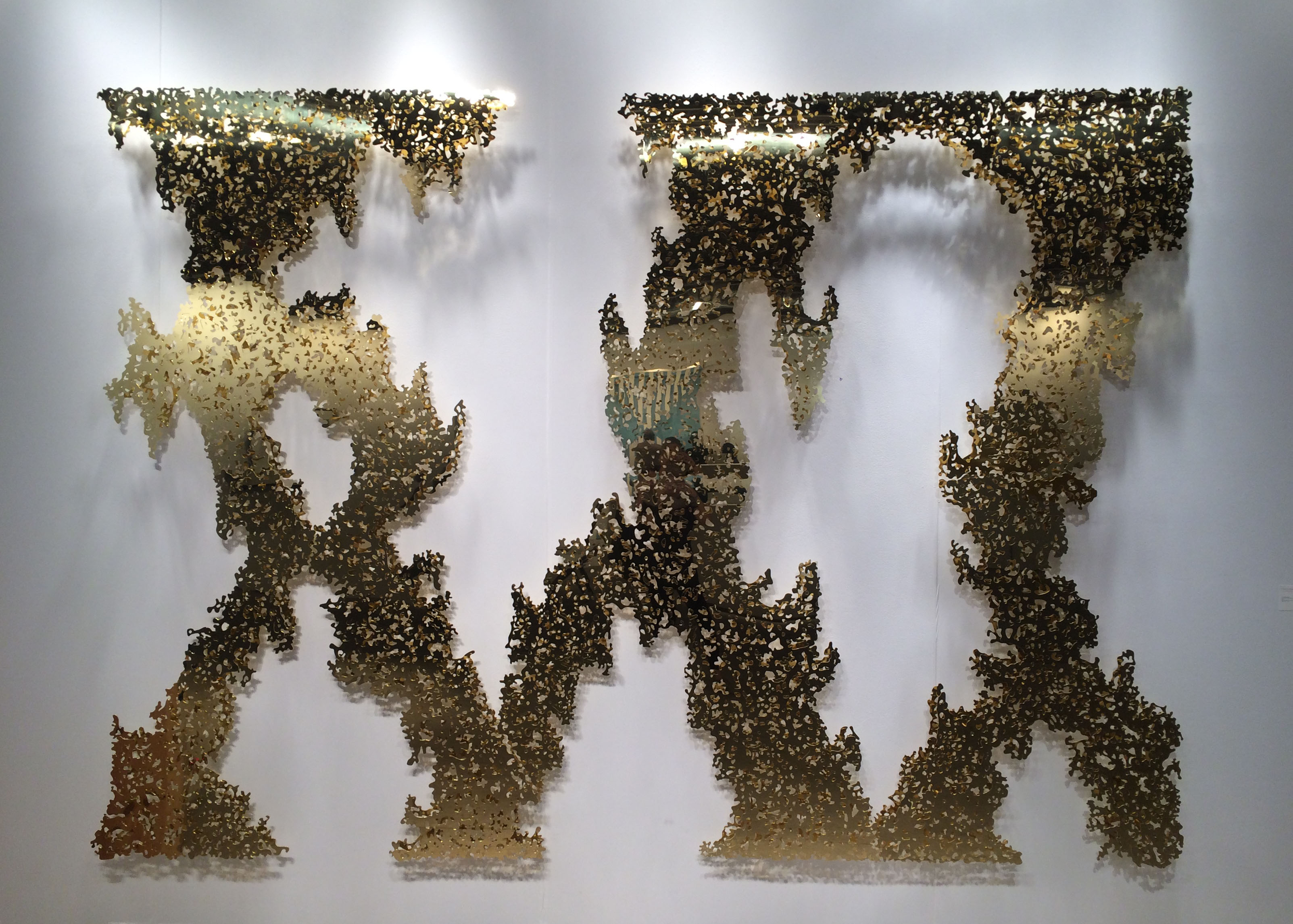 Wall installation by Teresita Fernández, Ghost Vines (Yellow Gold), 2015, brass at Anthony Meier Fine Arts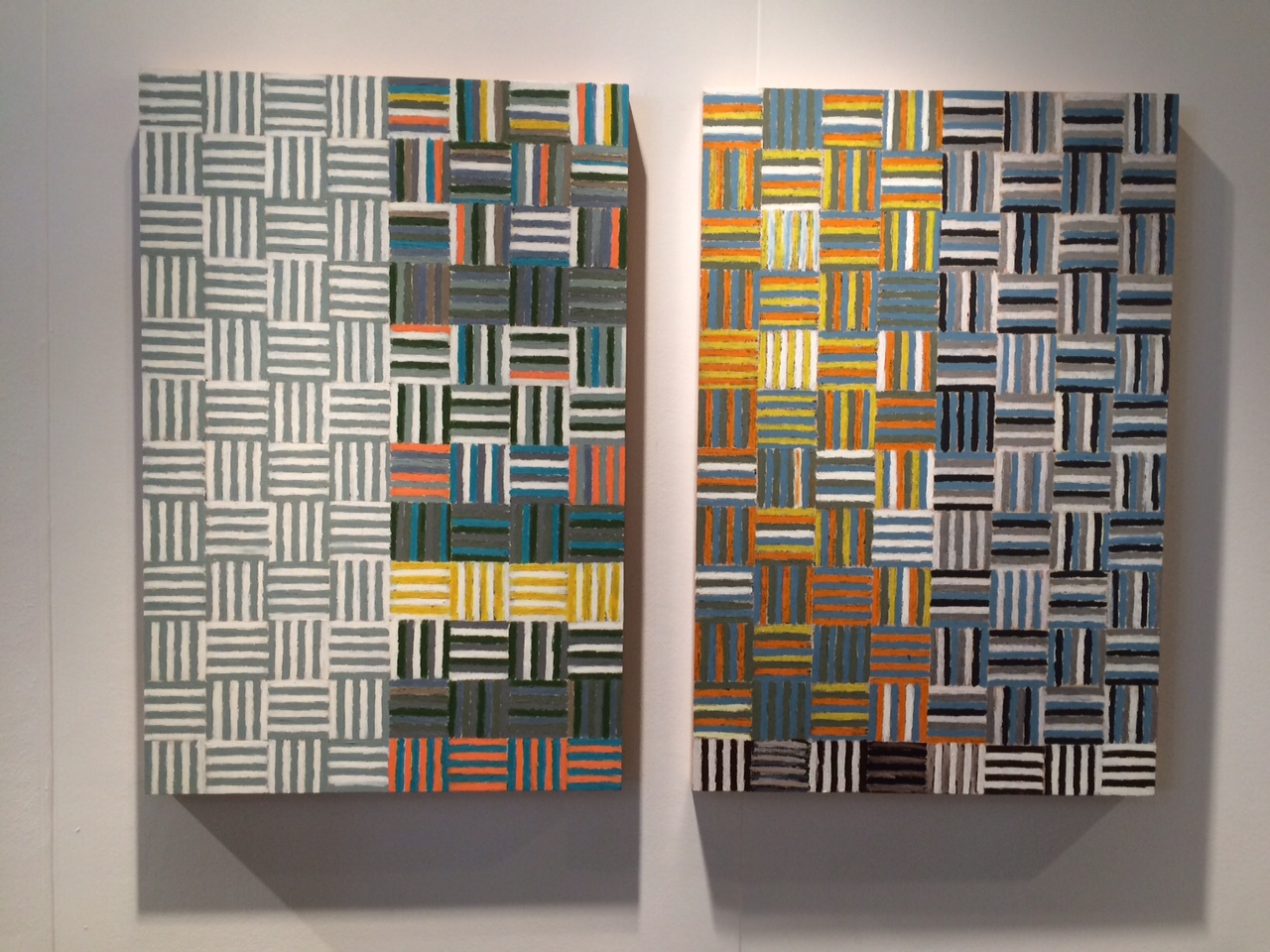 Impressive biographical works by McArthur Binion, Sketch VII and VIII (Looking for Grey): For: Three Movements of Sunlight, 2013, laser print collage, oil paint stick, and Staonal crayon on panel, at Kavi Gupta Gallery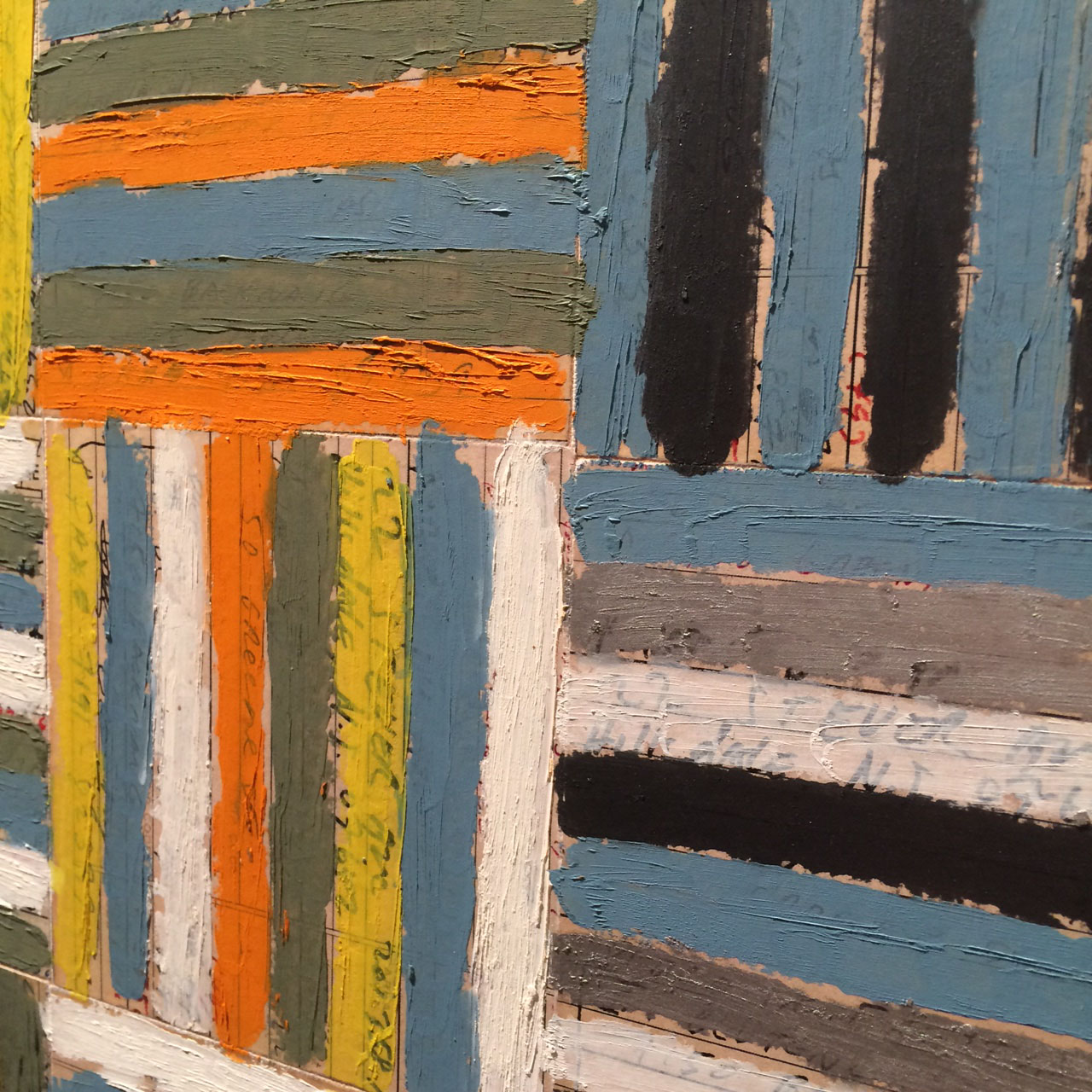 Detail: McArthur Binion, Sketch VIII (Looking for Grey): For: Three Movements of Sunlight, 2013, laser print collage, oil paint stick, and Staonal crayon on panel, at Kavi Gupta Gallery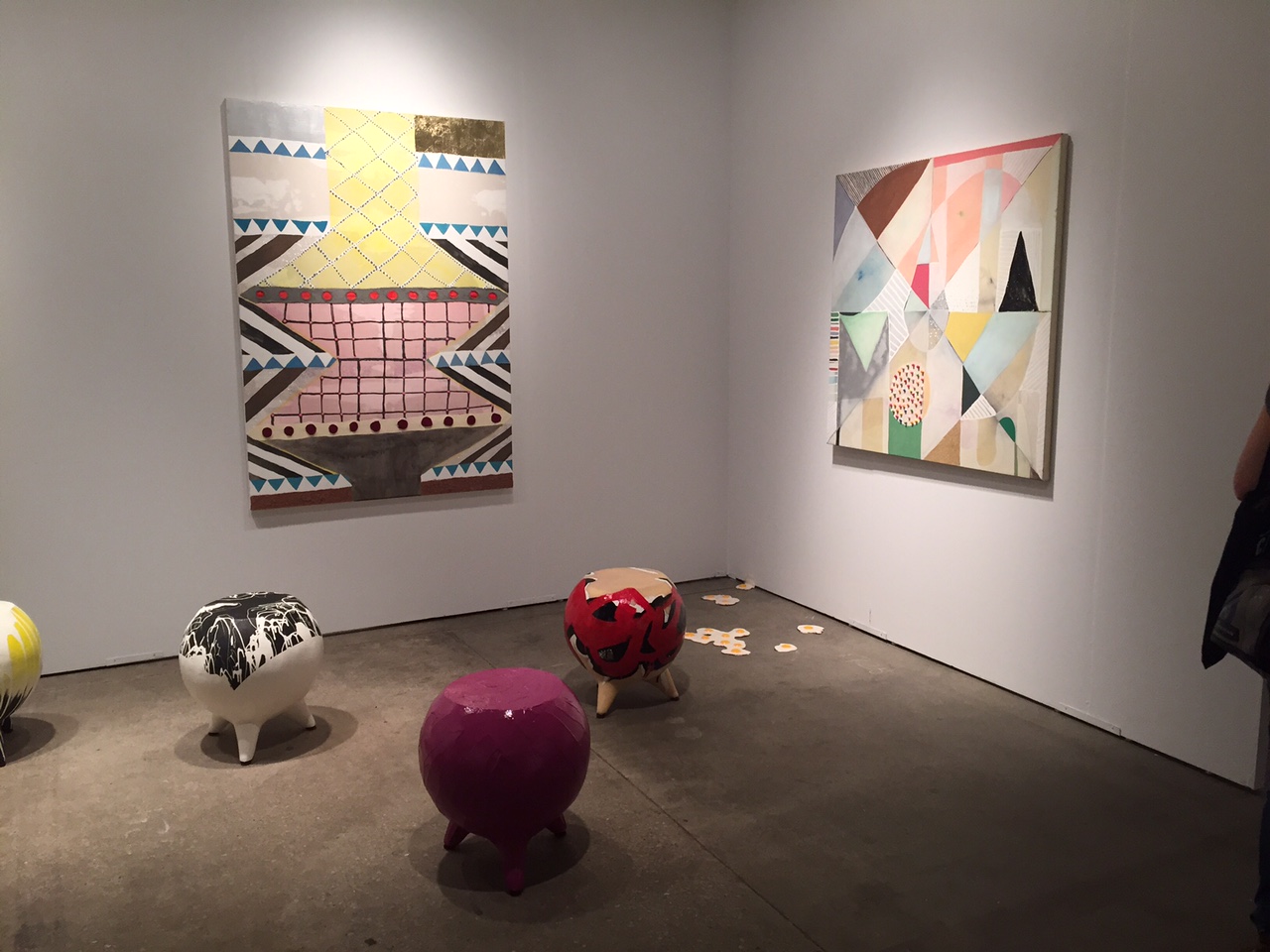 Laurel Sparks (works on canvas) and Christopher Chiappa (stools and eggs) at Kate Werble Gallery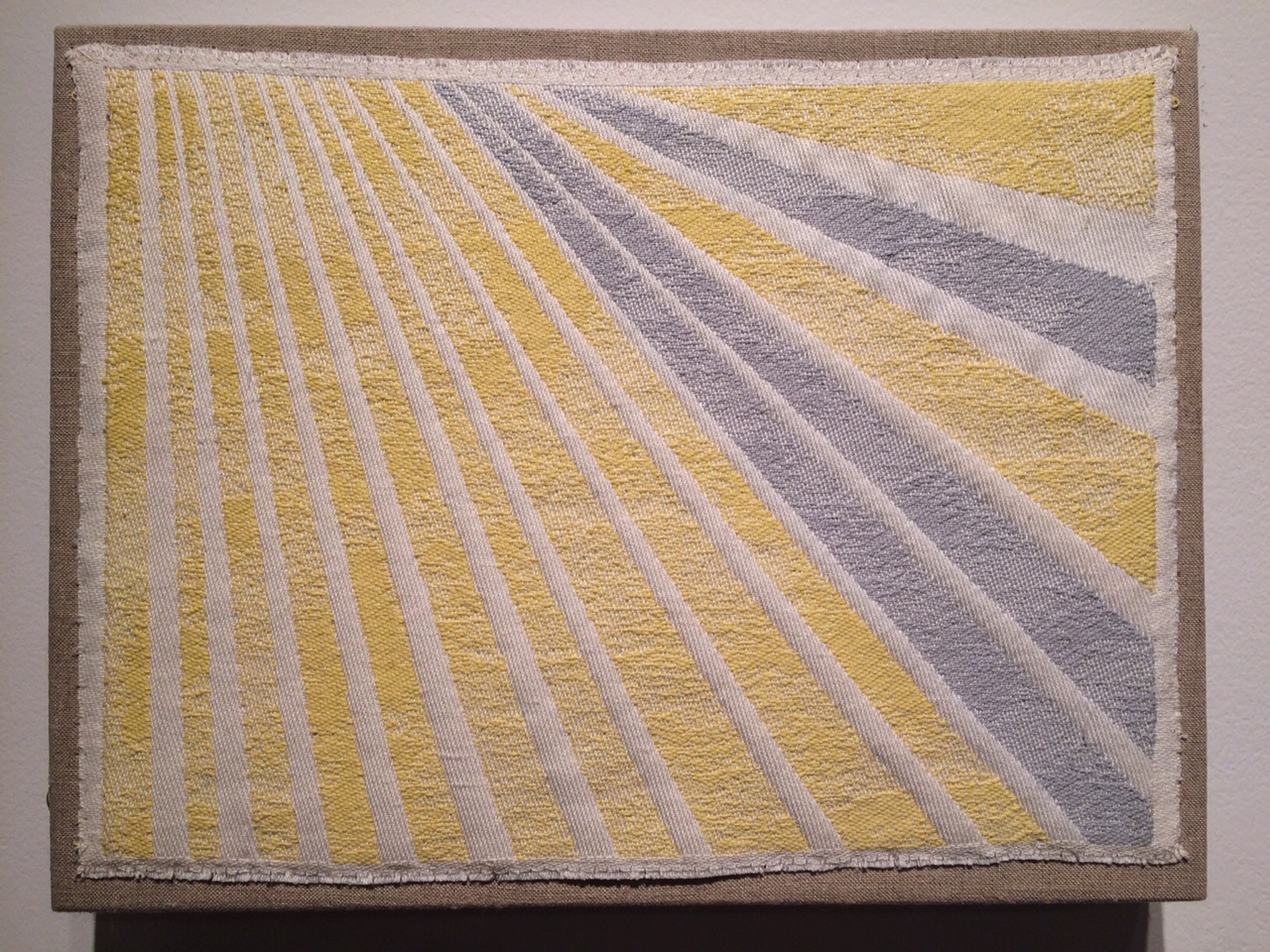 Christy Matson, Rays in Tan/Yellow, 2013, cotton, linen, tencil at Volume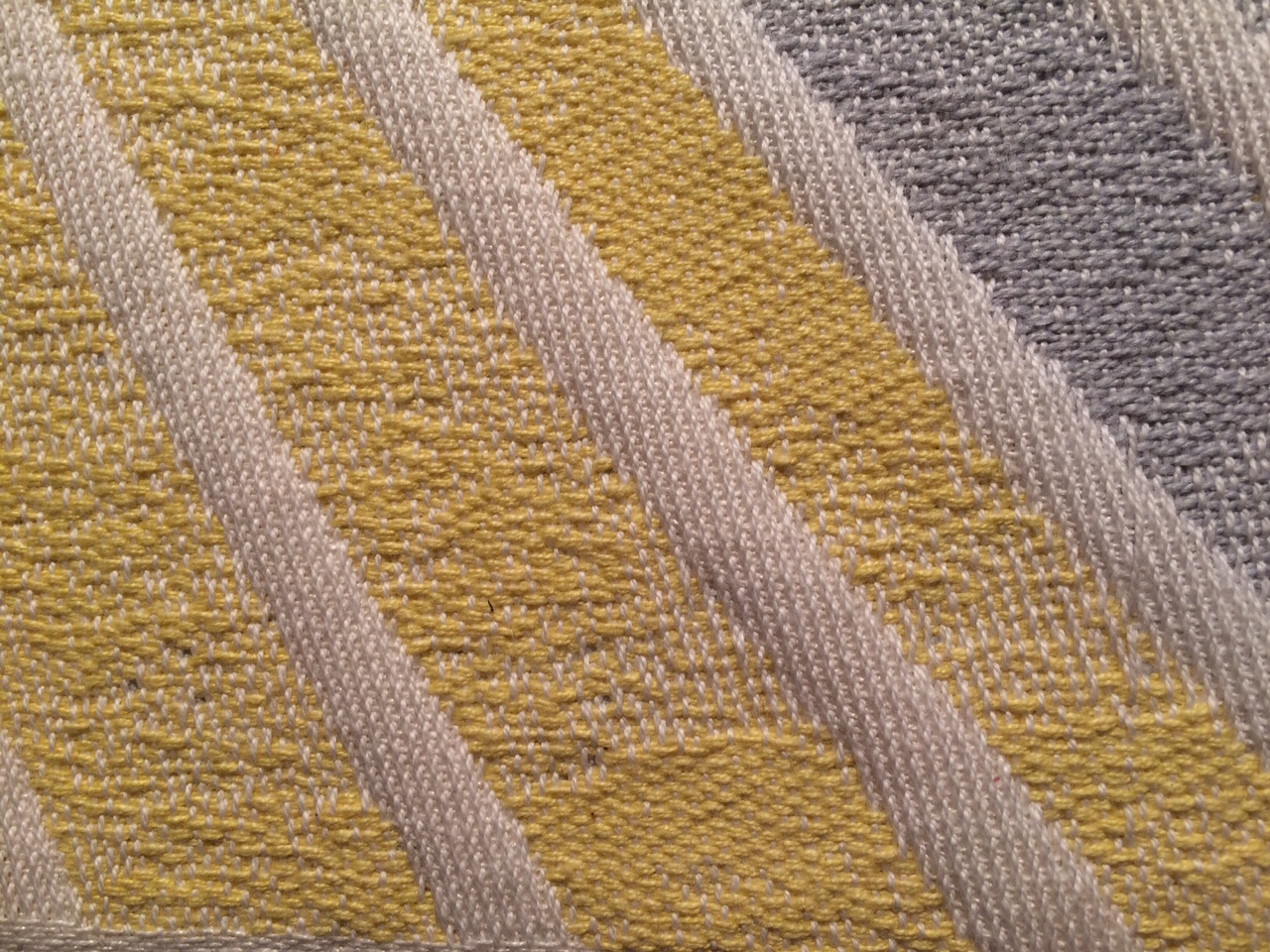 Detail: Christy Matson, Rays in Tan/Yellow, 2013, cotton, linen, tencil at Volume Gallery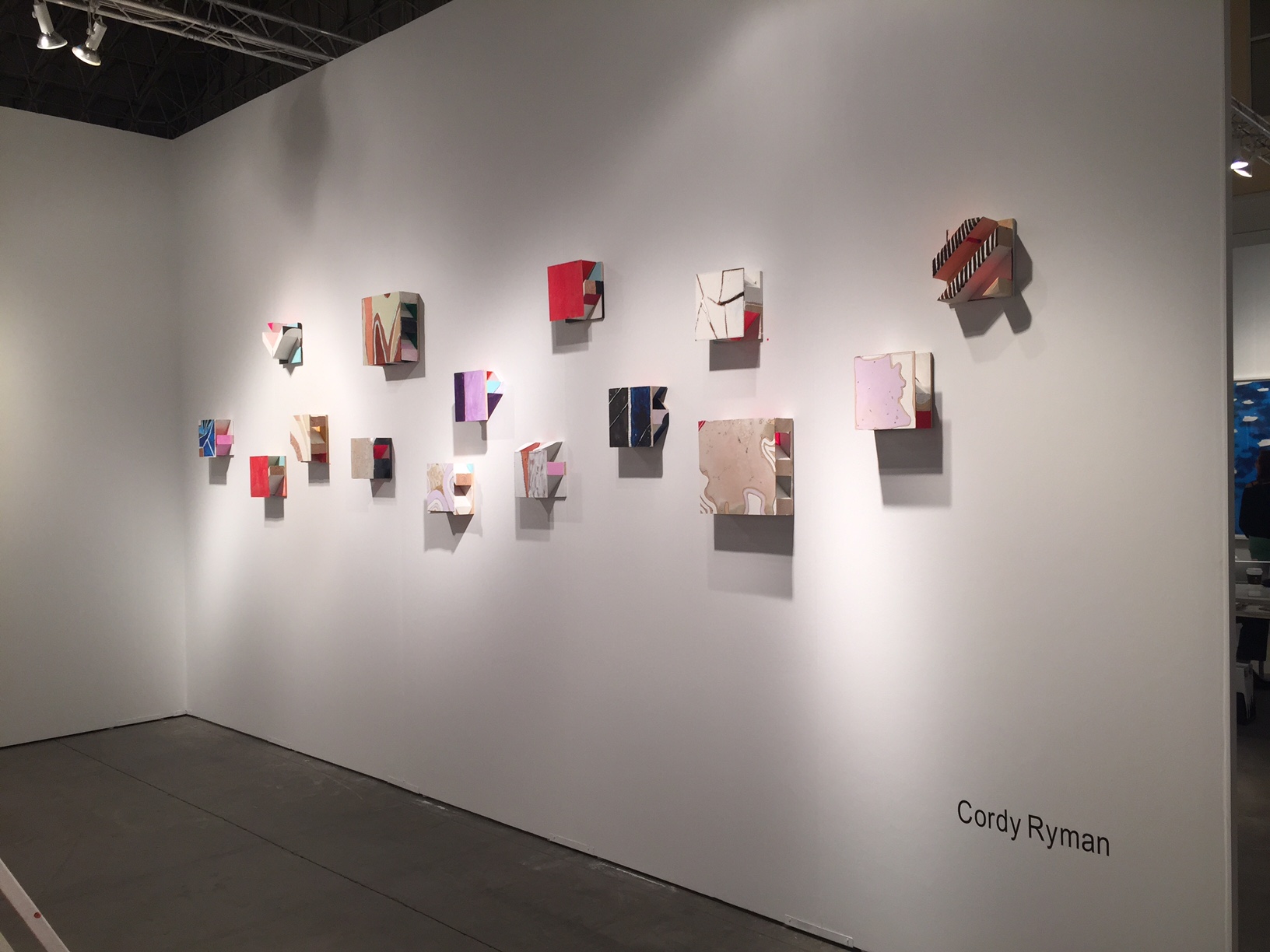 Cordy Ryman wall installation at Galerie Zürcher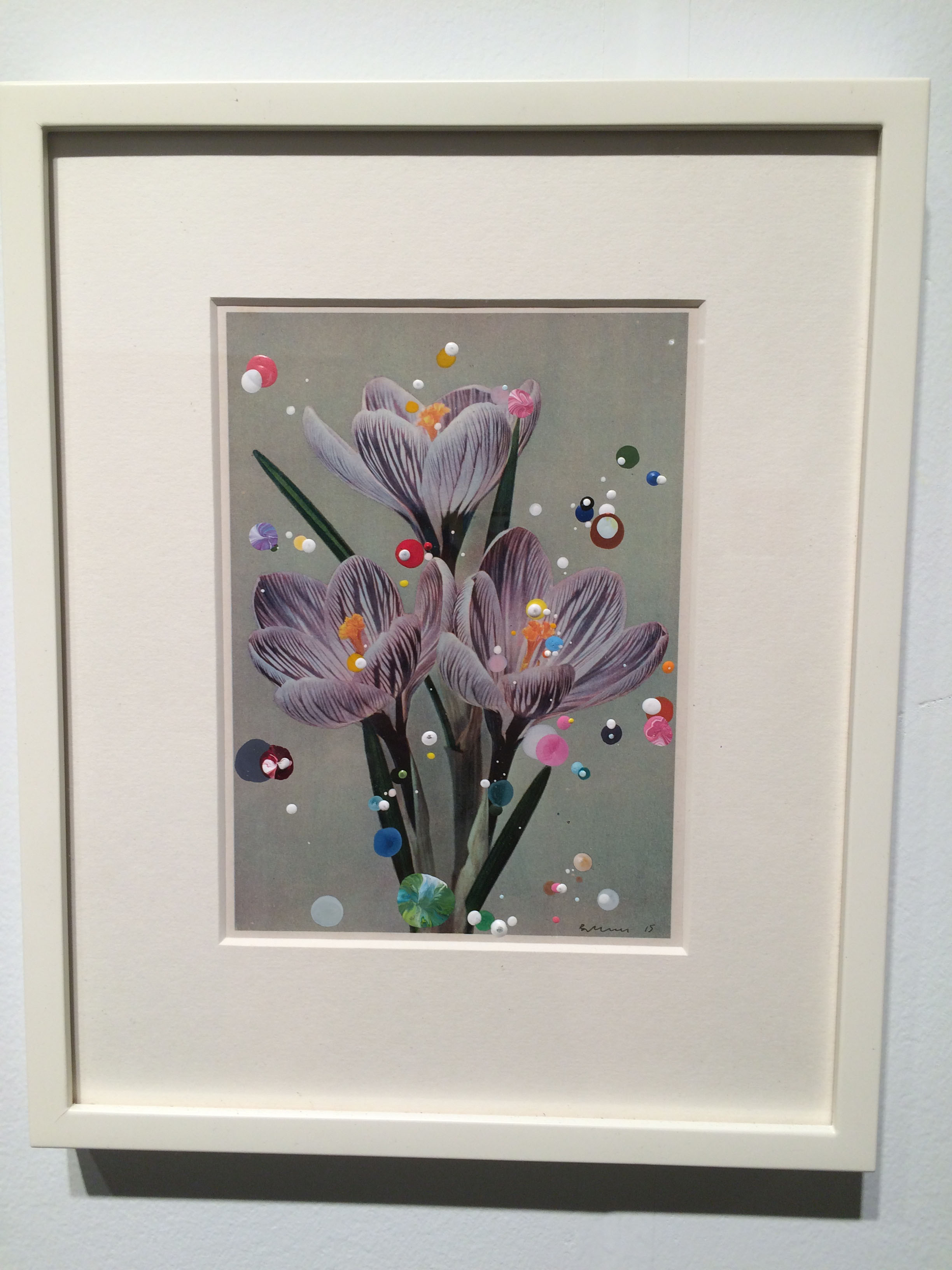 Sebastiaan Bremer, acrylic paint and ink on vintage lithograph at Hales Gallery
Thursday, April 30, 2015 at 3:53 PM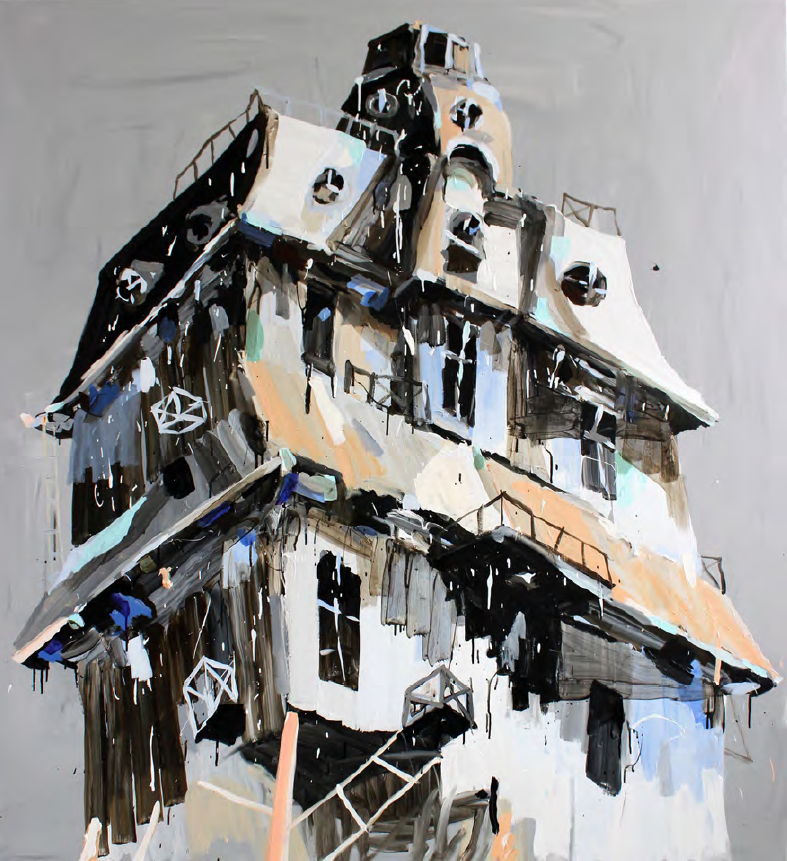 Mie Olise, Entering Closer, 2015, acrylic on canvas, 74.5 x 66.5 inches
We had the chance to preview Mie Olise's exhibition with the artist at Barbara Davis Gallery. After meeting Mie and enjoying her new body of work, it is clear her career is poised to reach new heights. The show opens Friday, May 1st and will run through June 12th. Contact us with inquiries.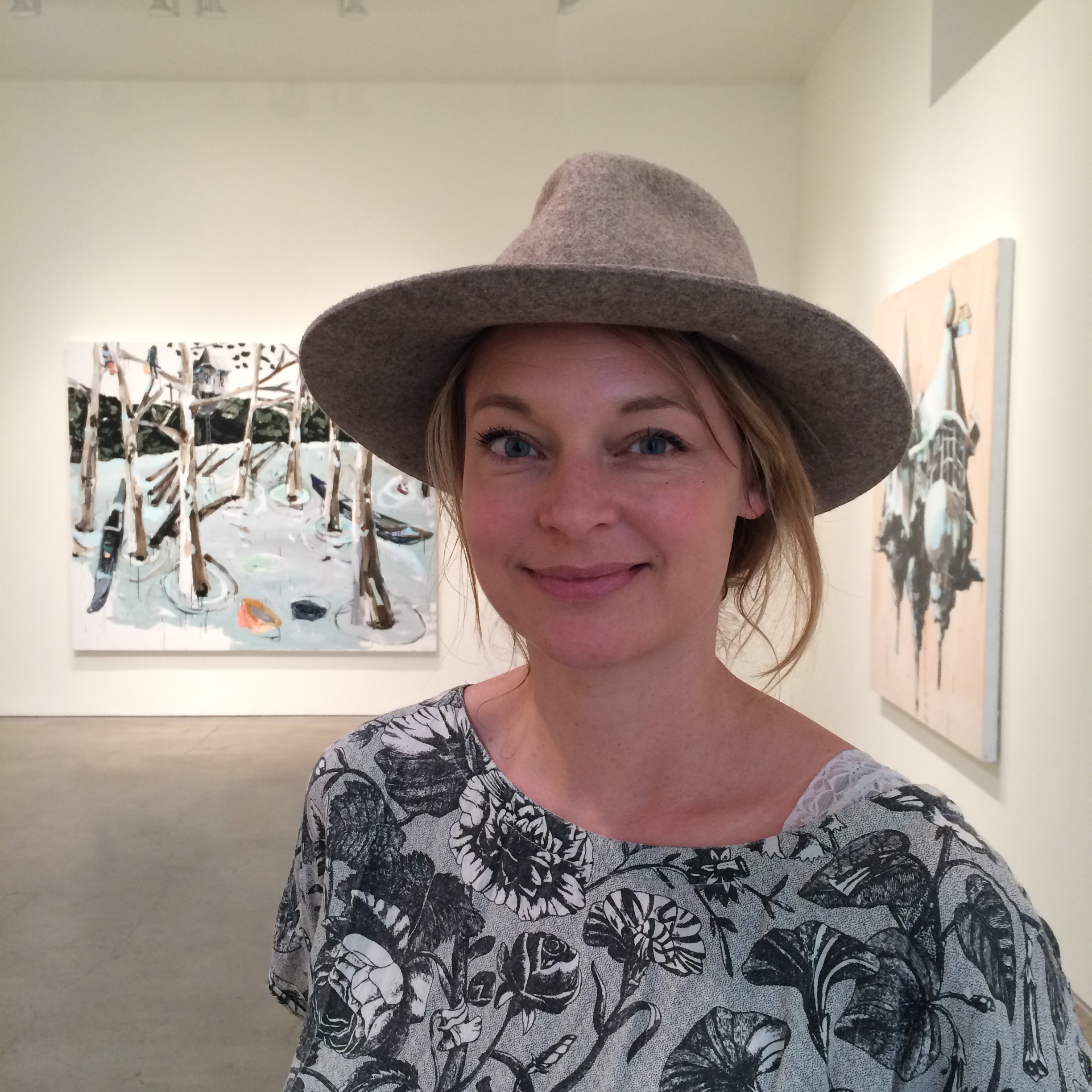 Mie Olise with Woodlands (back wall) and Entering Closer (right wall)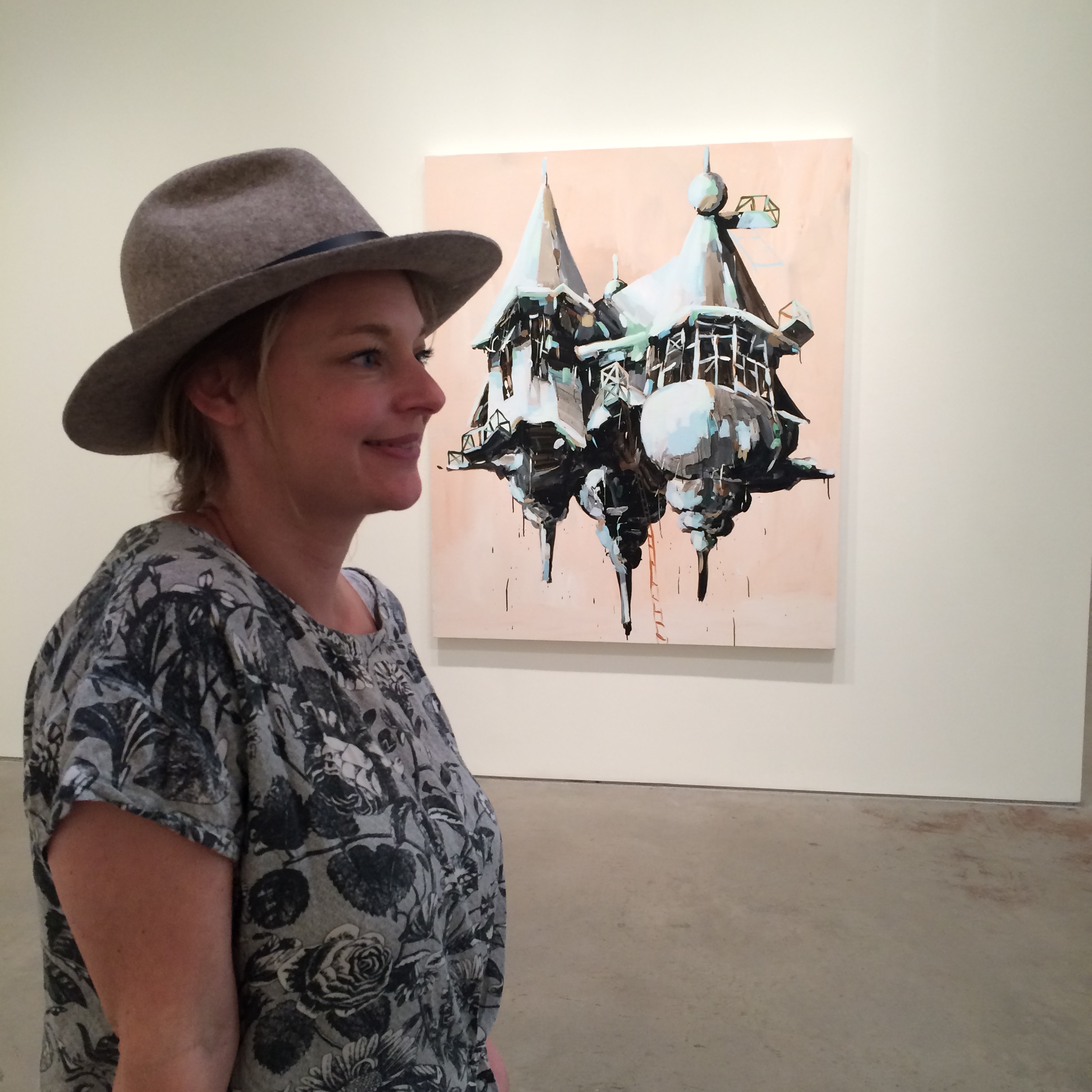 Mie Olise with Entering Closer
Monday, April 13, 2015 at 3:58 PM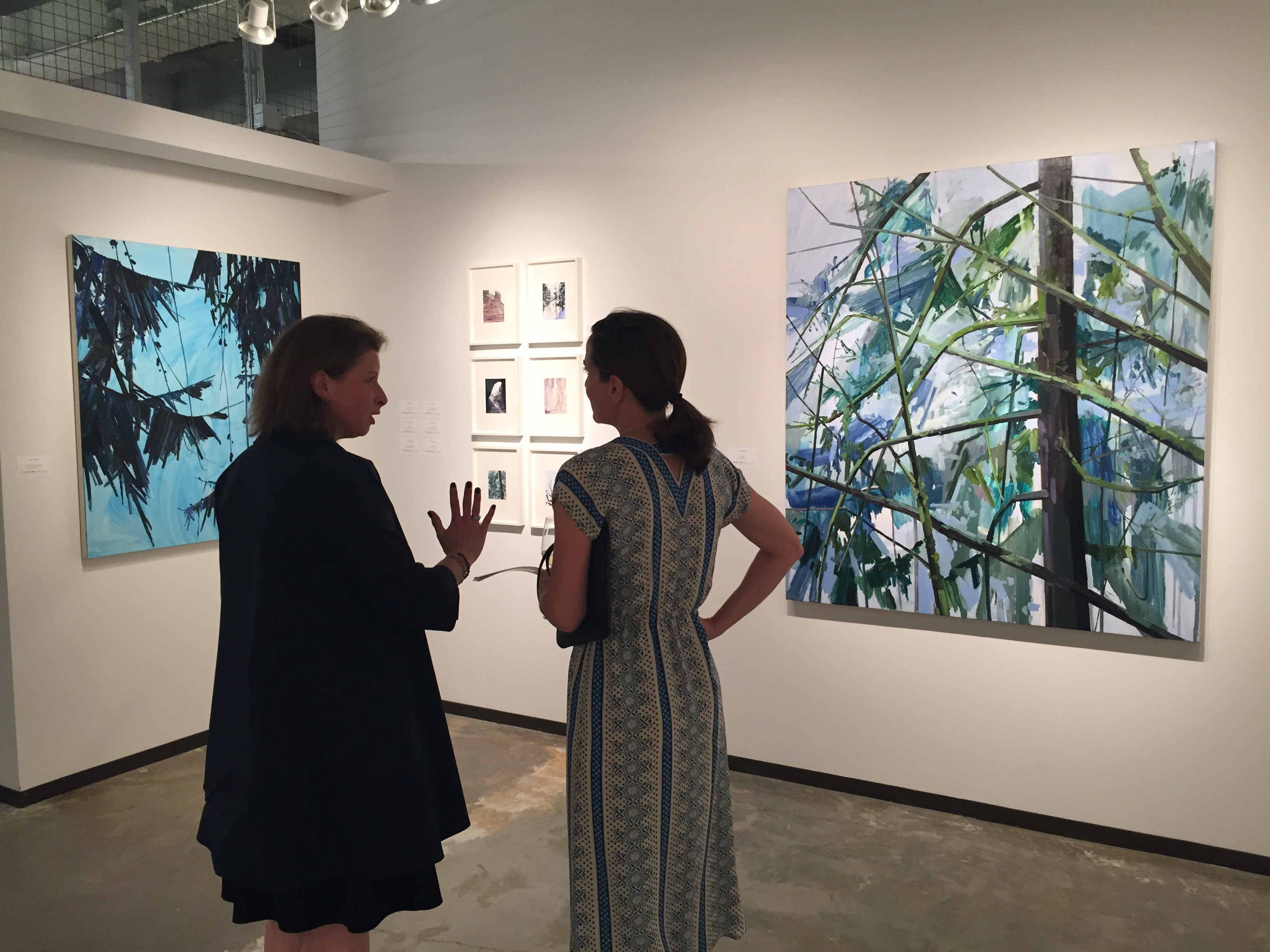 Julie speaking with Heidi of DC Moore Gallery about Claire Sherman's beautiful landscape paintings
This year, the Dallas Art Fair played host to nearly 100 galleries. We enjoyed exploring and admiring the breadth of top-notch art exhibited. After seeing it all, here is a shortlist of our most coveted works. Reach out to us if you are interested in more information about these or other artists we found.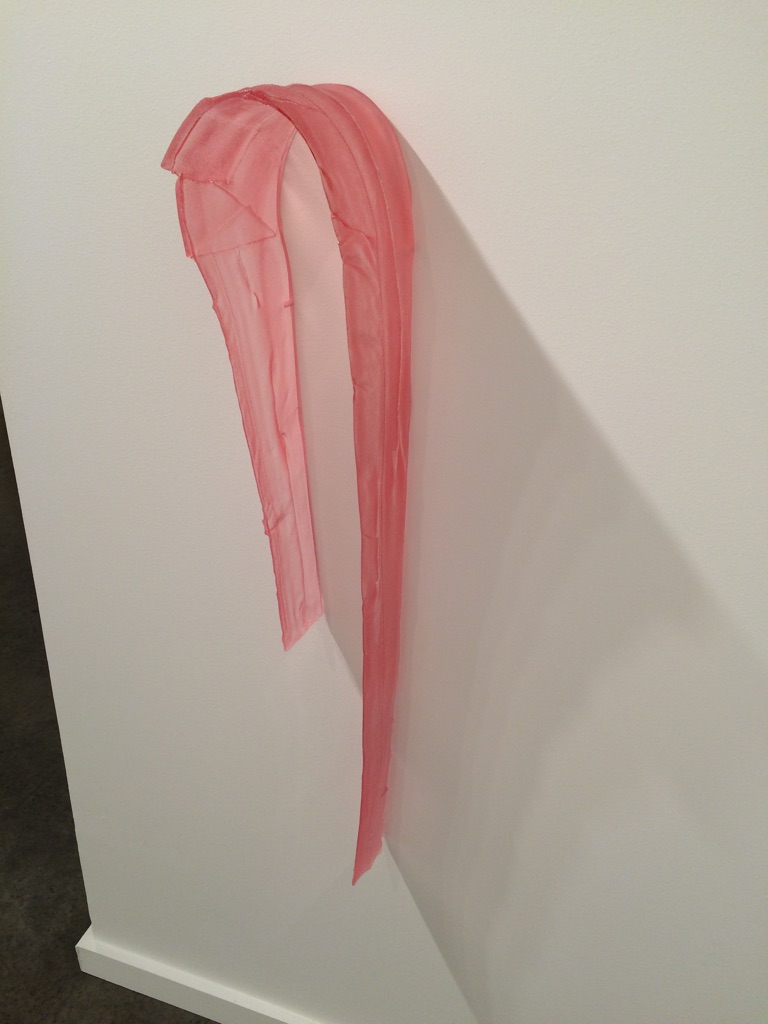 Alice Channer's gestural resin sculpture at Lisa Cooley Gallery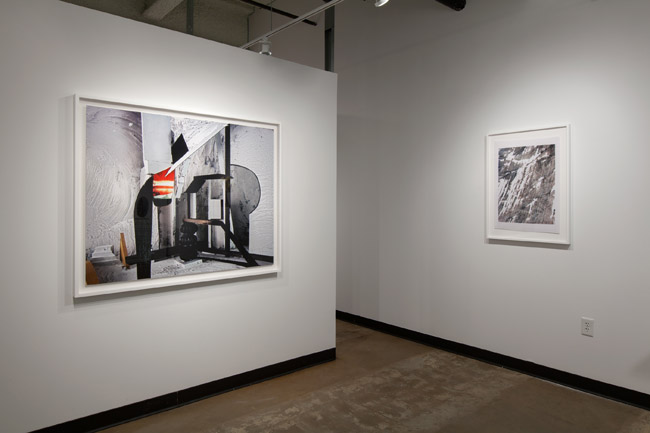 Yamini Nayar's and Chloe Sells' captivating photographs at Gallery Wendi Norris. Photo courtesy of Gallery Wendi Norris.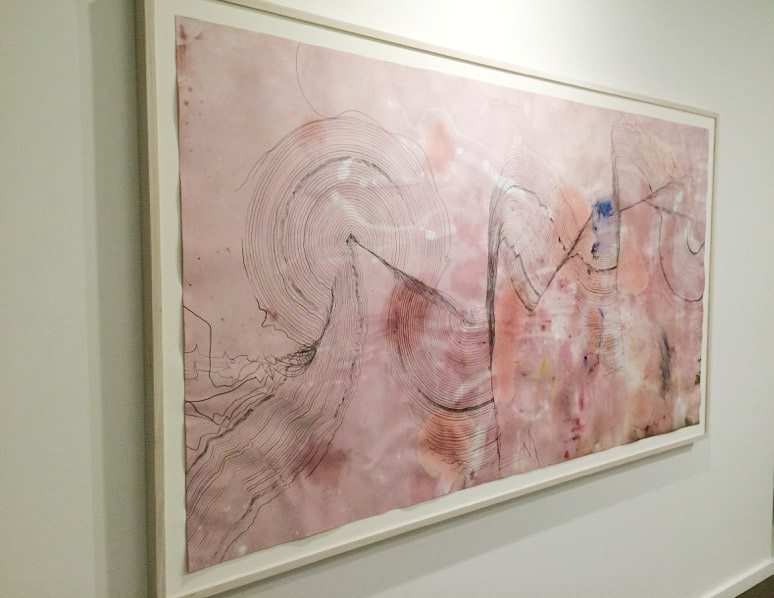 Jay Heikes, Music for Minor Planets (Ekberg), 2015 at Federica Schiavo Gallery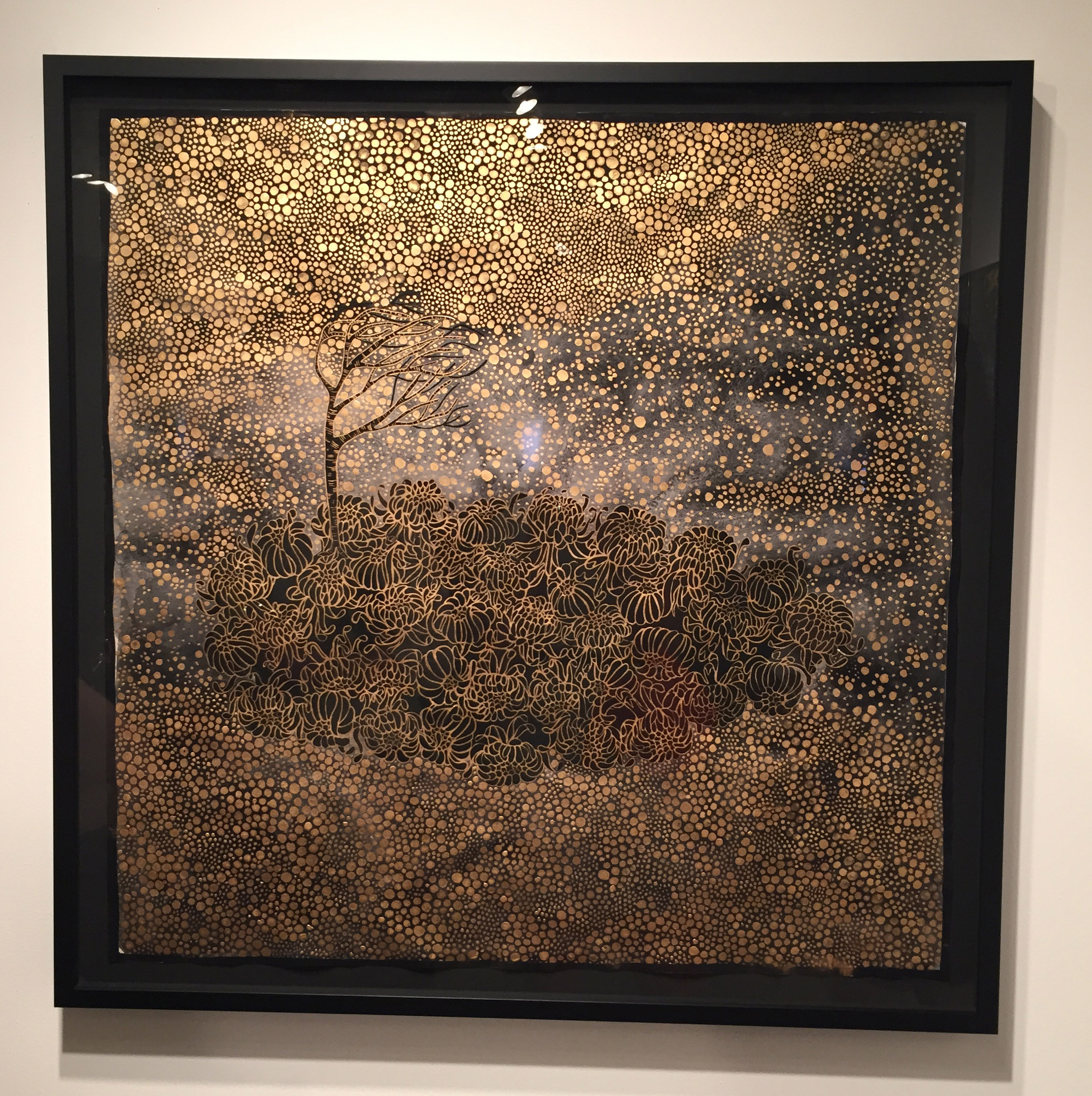 Crystal Liu, the sky, "I wonder", 2015 at Hosfelt Gallery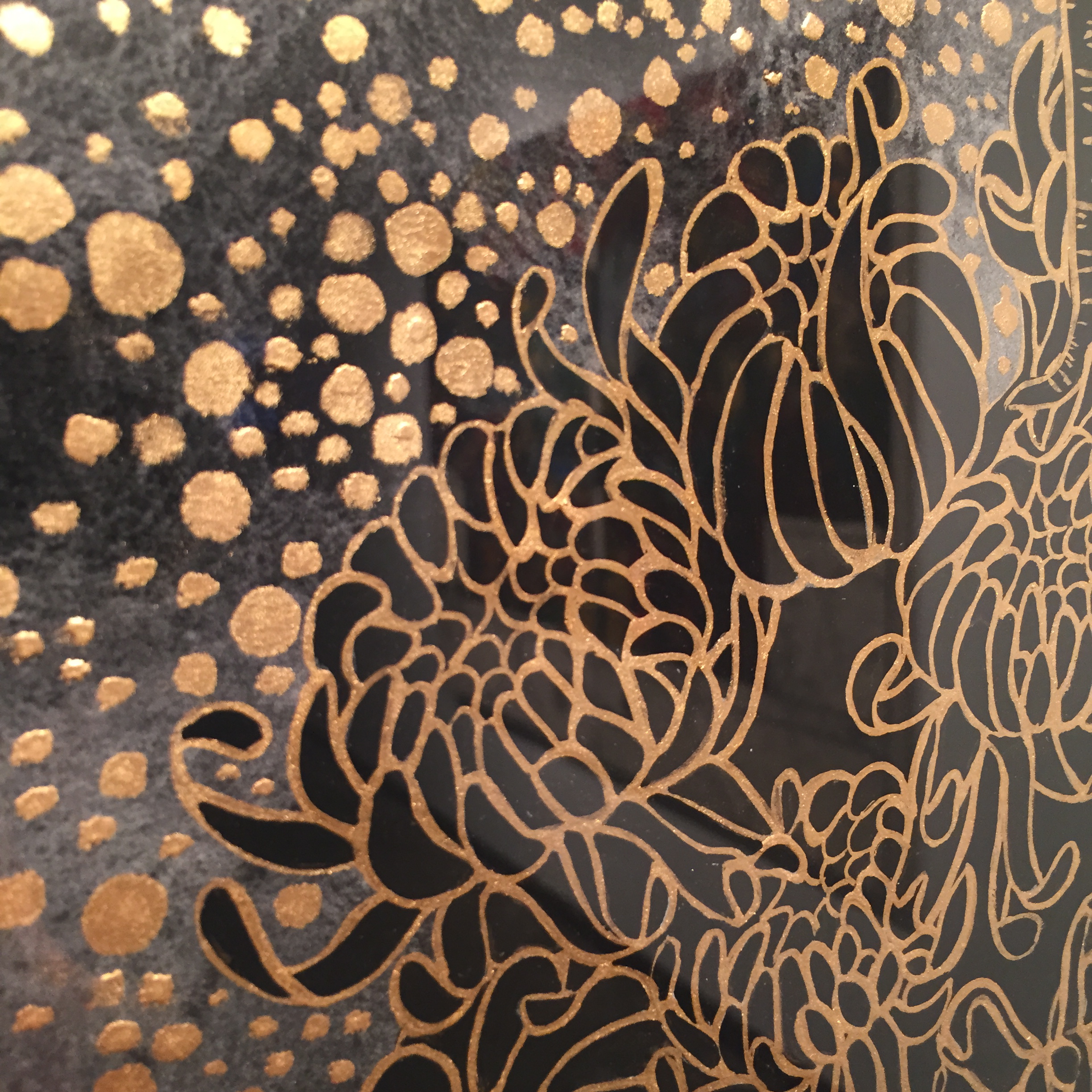 Detail of Crystal Liu, the sky, "I wonder", 2015 at Hosfelt Gallery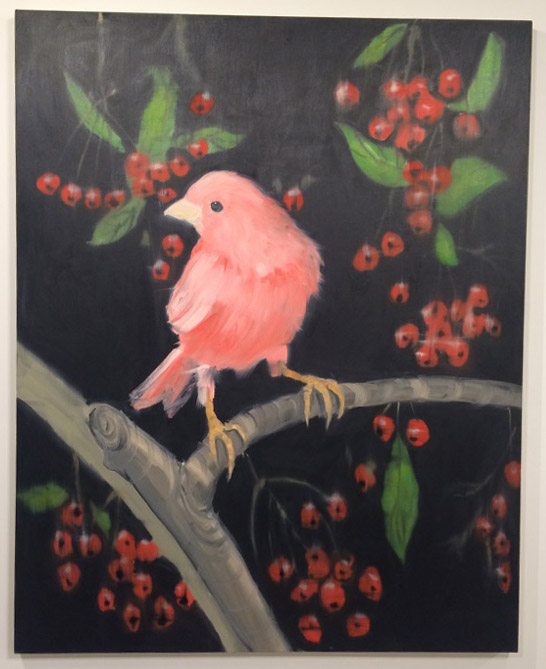 Ann Craven, Stepping Out With Cherries, 2011 at Maccarone Gallery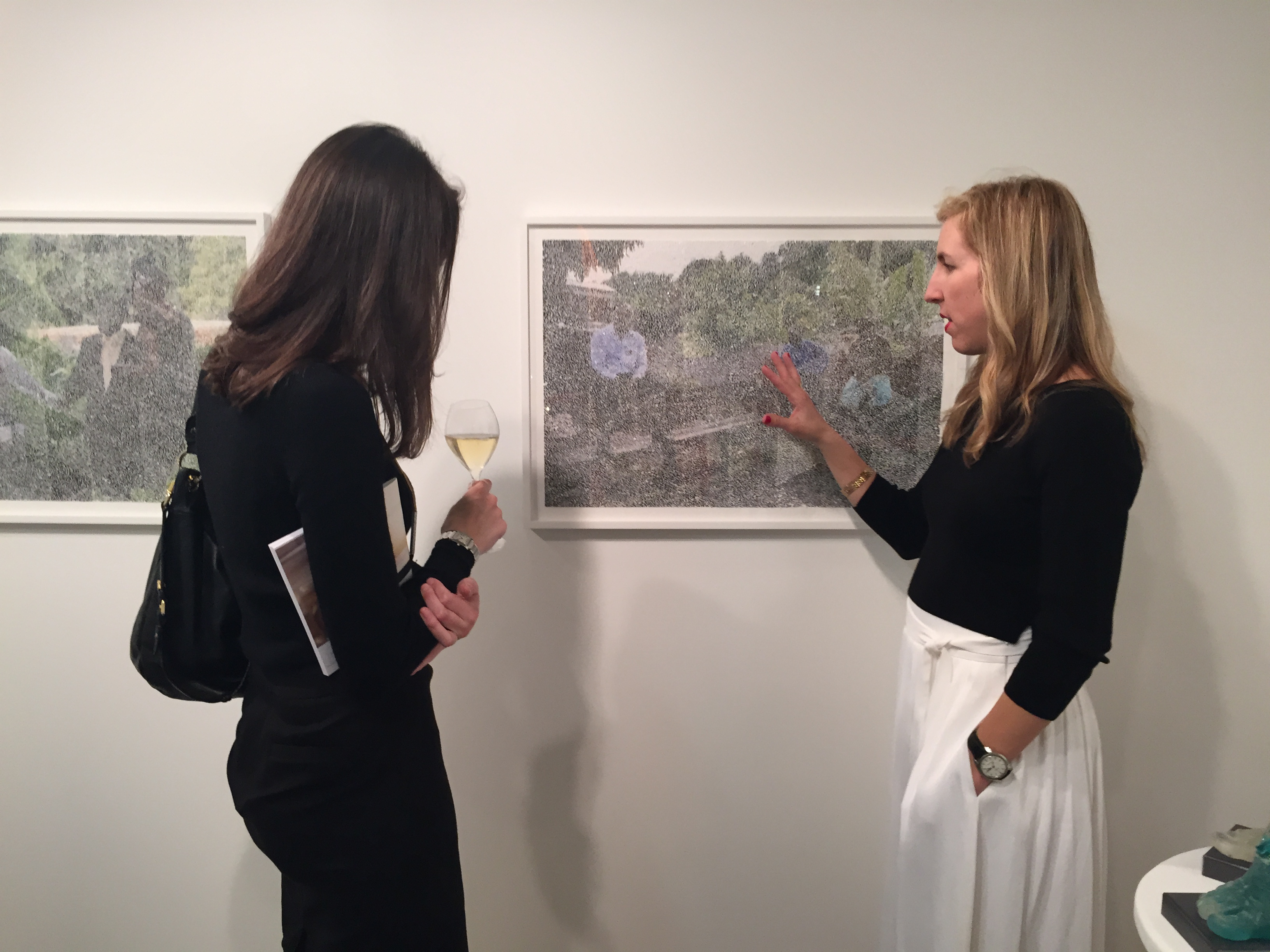 Julia discussing Paul Anthony Smith's work at Zieher Smith & Horton Gallery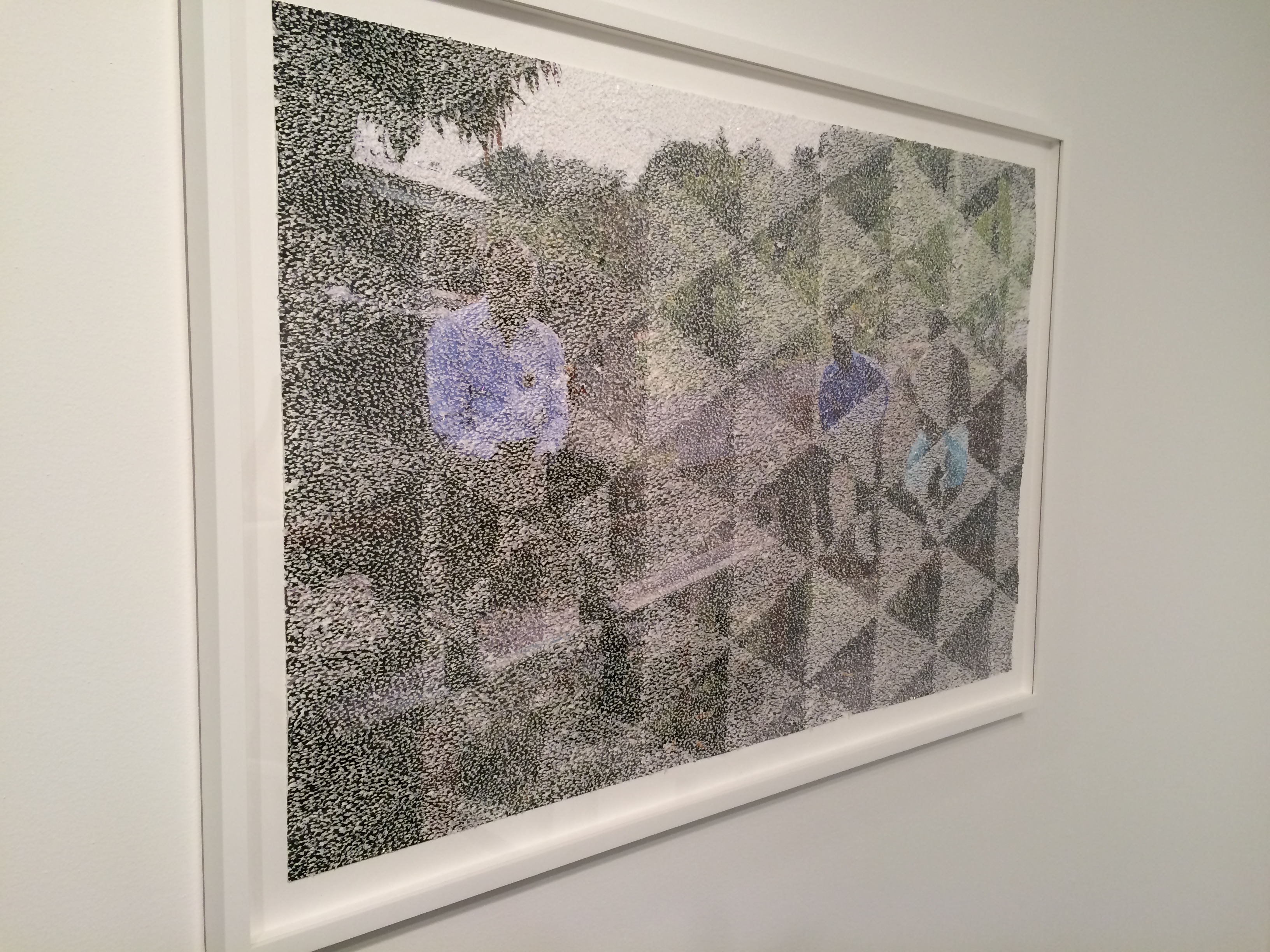 Paul Anthony Smith, Diamond Mango #1, 2015 at Zieher Smith & Horton Gallery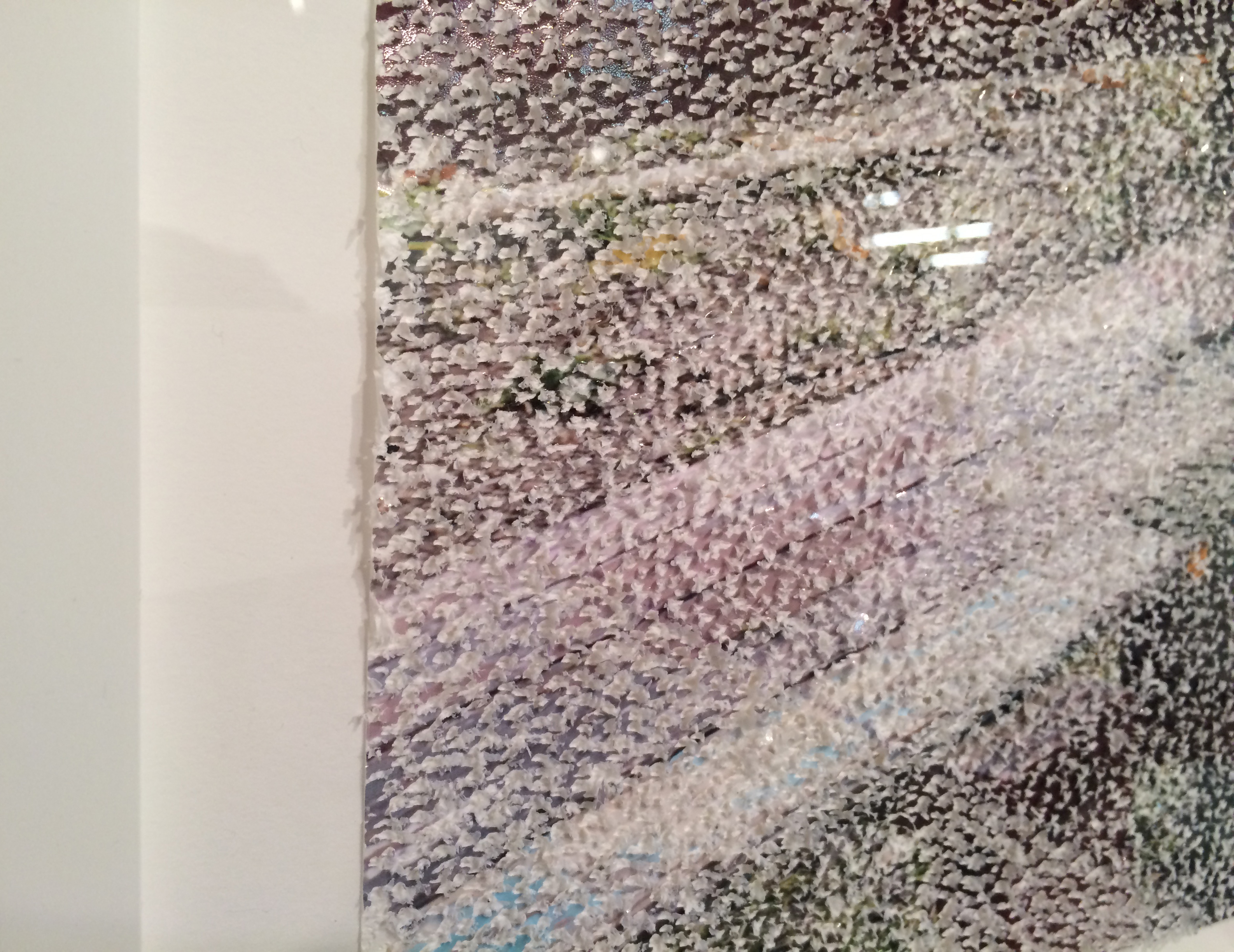 Detail of Paul Anthony Smith's work at Zieher Smith & Horton Gallery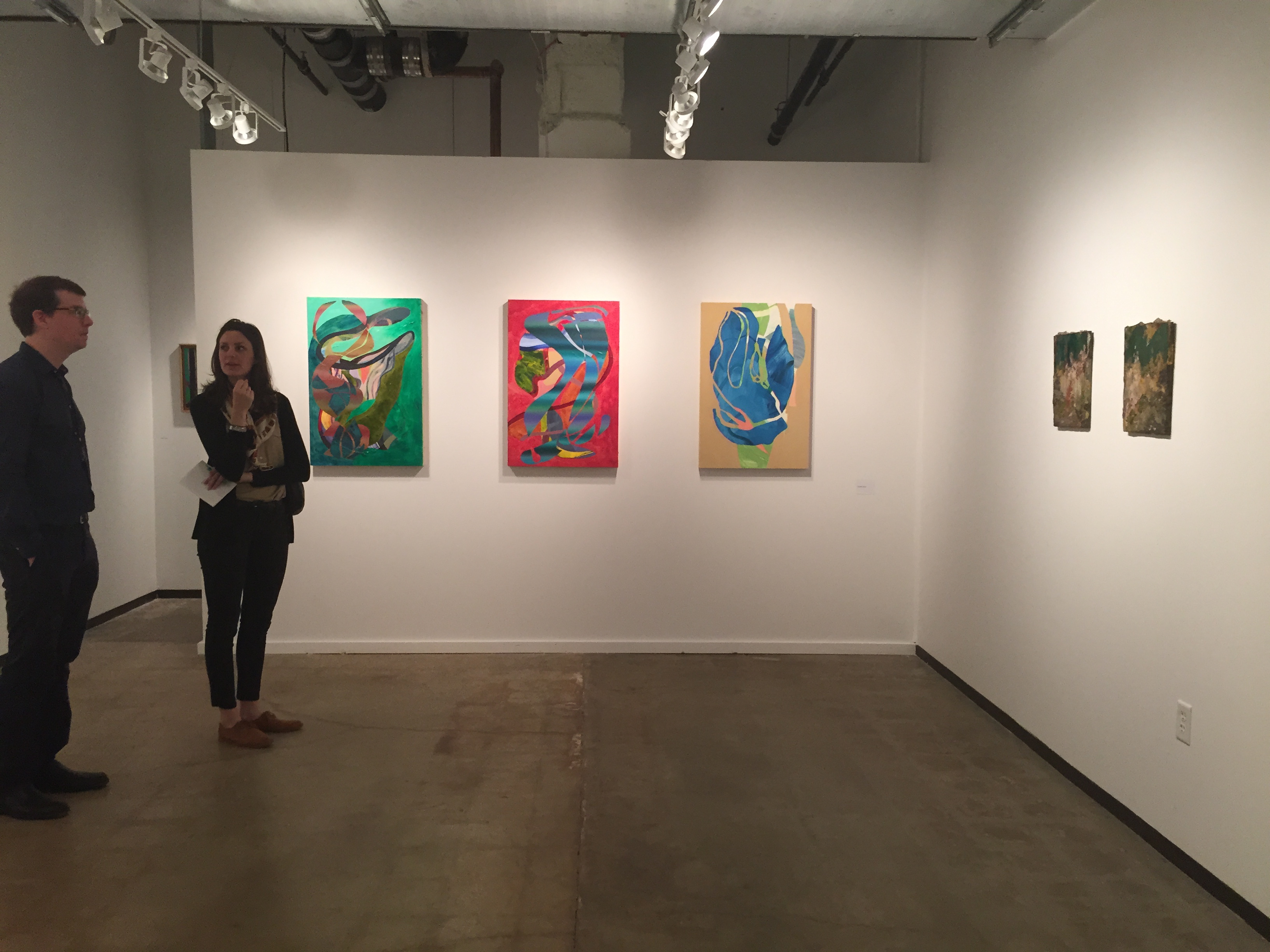 Julia at Jack Geary Gallery's booth discussing the work of Richard Jacobs (back wall) and Lina Puerta (right wall)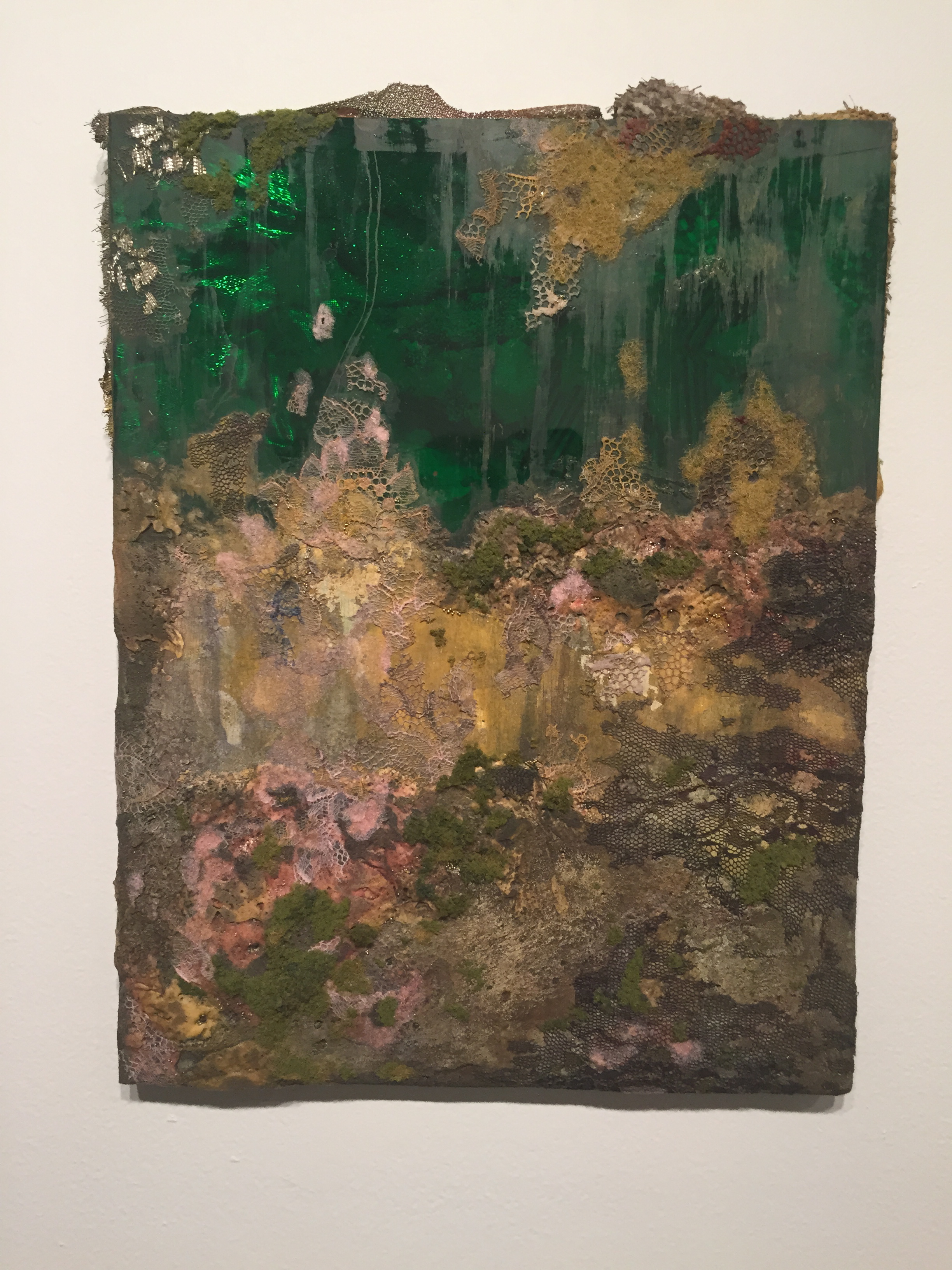 Lina Puerta, Untitled (Green 2), 2014 at Jack Geary Gallery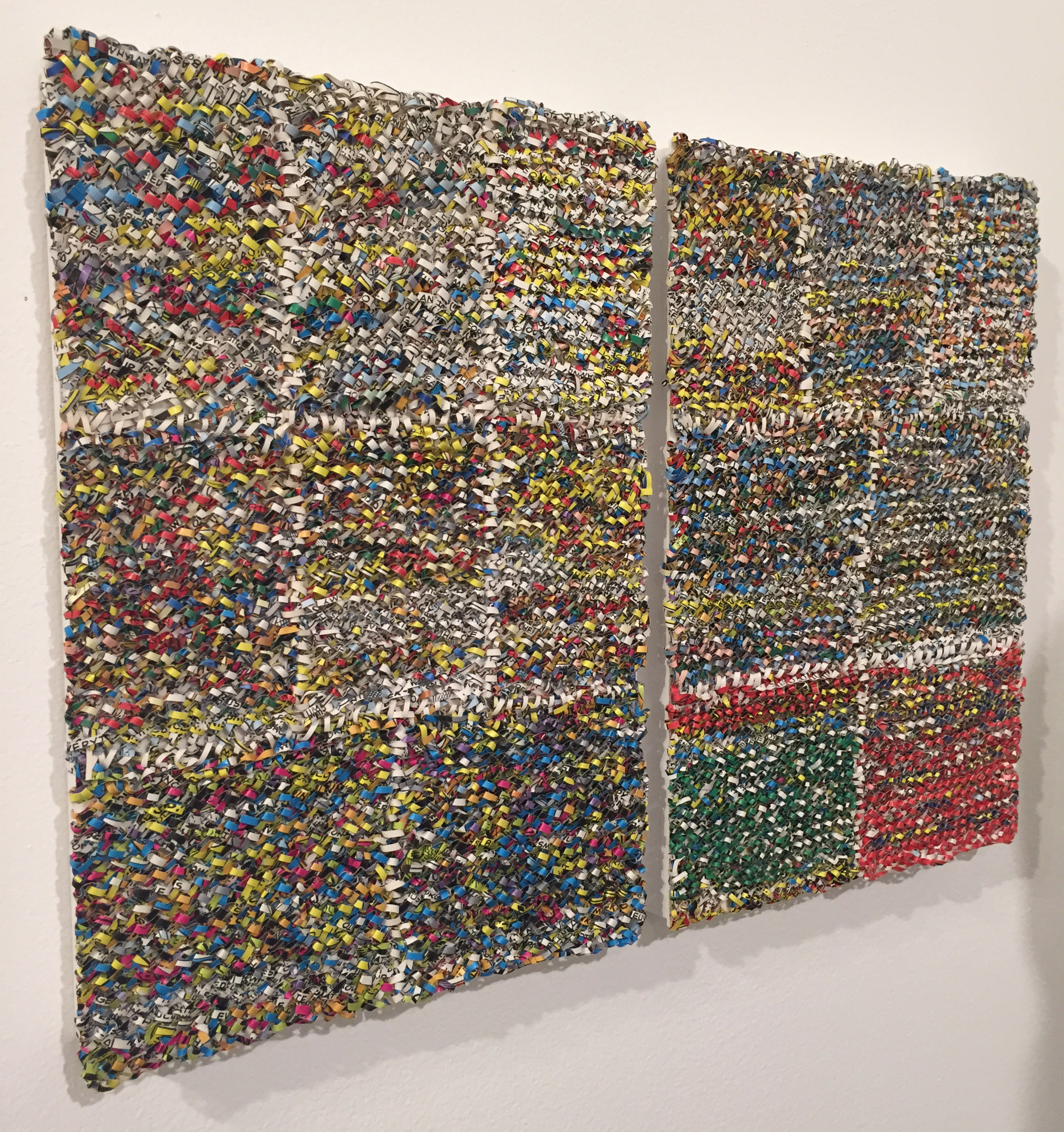 Stefana McClure, The Amazing Spiderman (How Green Was My Goblin!), 2015, knitted comics at Josée Bienvenu Gallery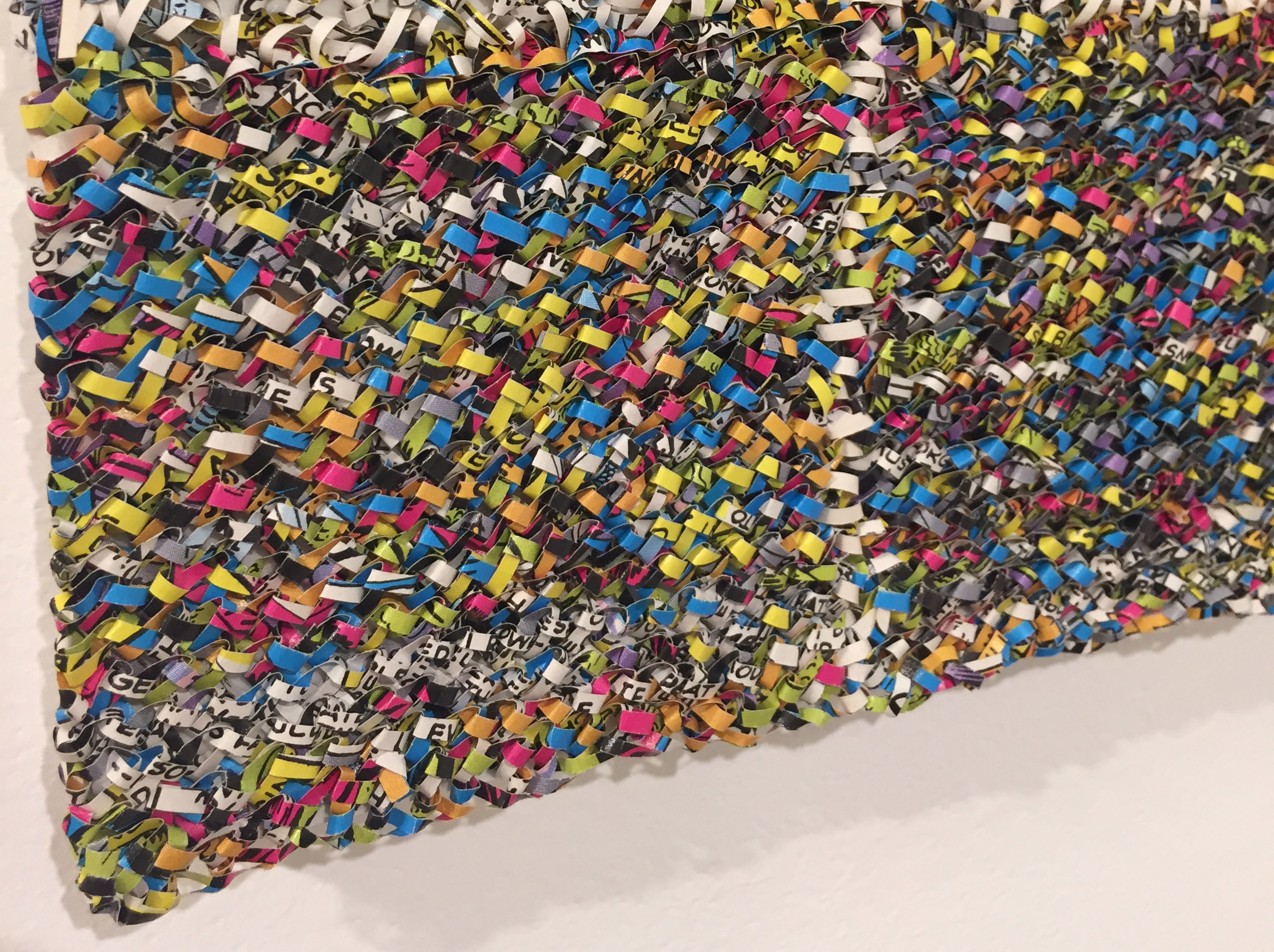 Detail of Stefana McClure, The Amazing Spiderman (How Green Was My Goblin!), 2015, at Josée Bienvenu Gallery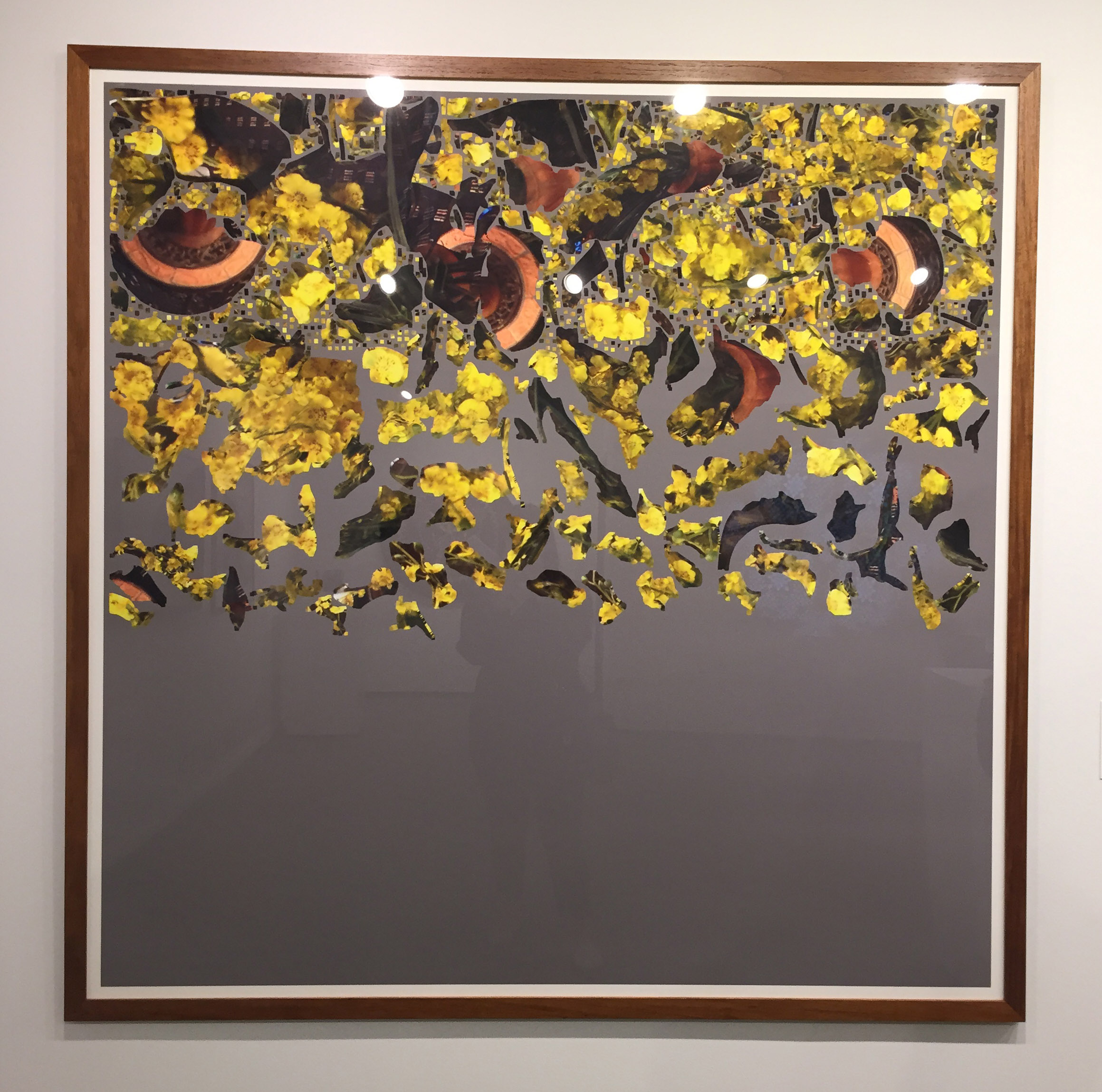 Clement Valla, Tex_archive 688272 0, 2015, digitally exploded objects at Zhulong Gallery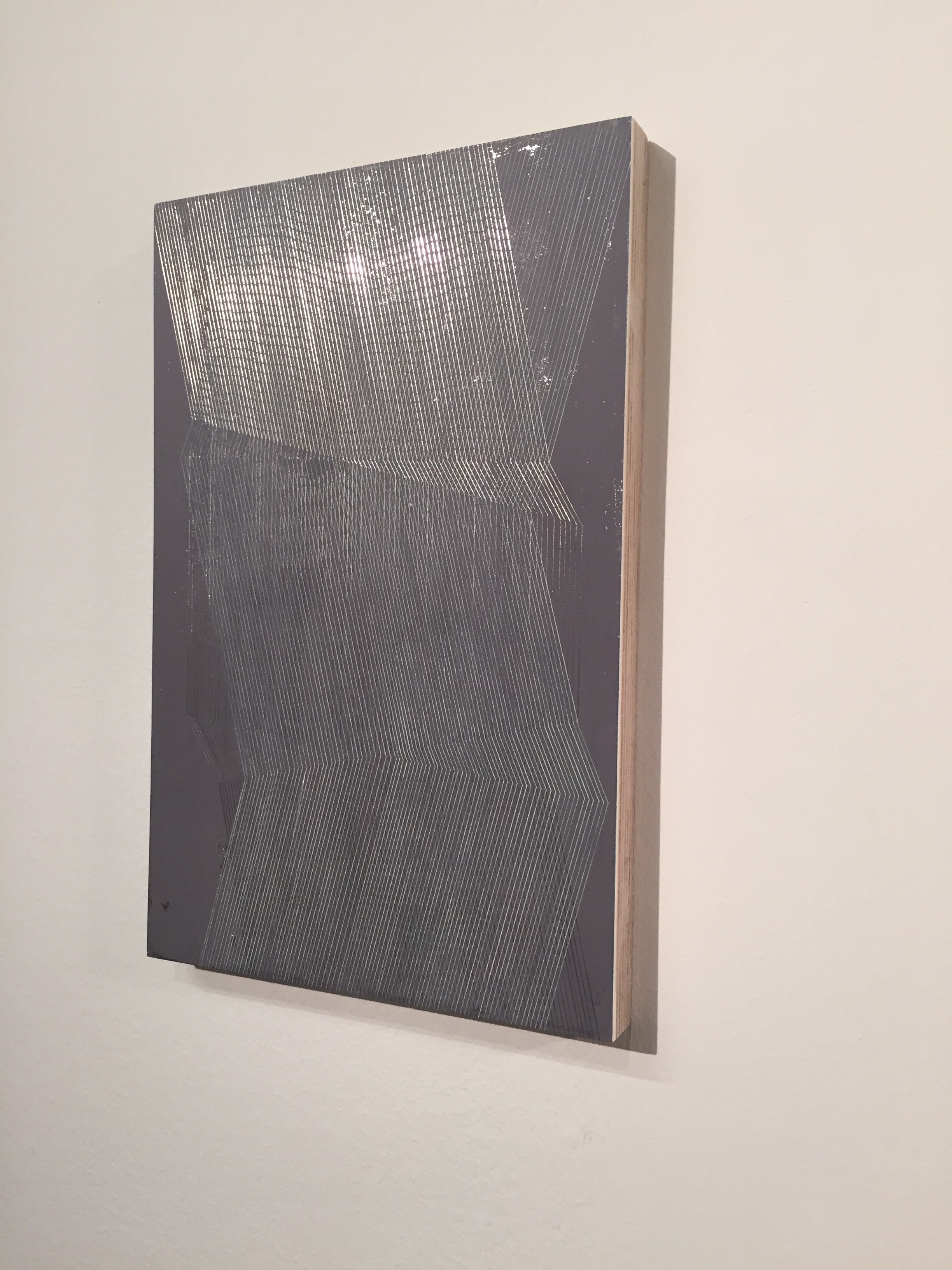 Yoshiaki Mochizuki, Untitled 9/20, 2013 at Marlborough Chelsea Gallery
Sunday, March 8, 2015 at 10:02 AM
We braved the frigid New York temperatures to explore what this spring's New York art fairs had to offer. Below are a few of our highlights from The Armory Show, SCOPE, art on paper, VOLTA, and Pulse. While we were in Chelsea, we also made a stop at Morgan Lehman Gallery to check out their current Aaron Wexler show.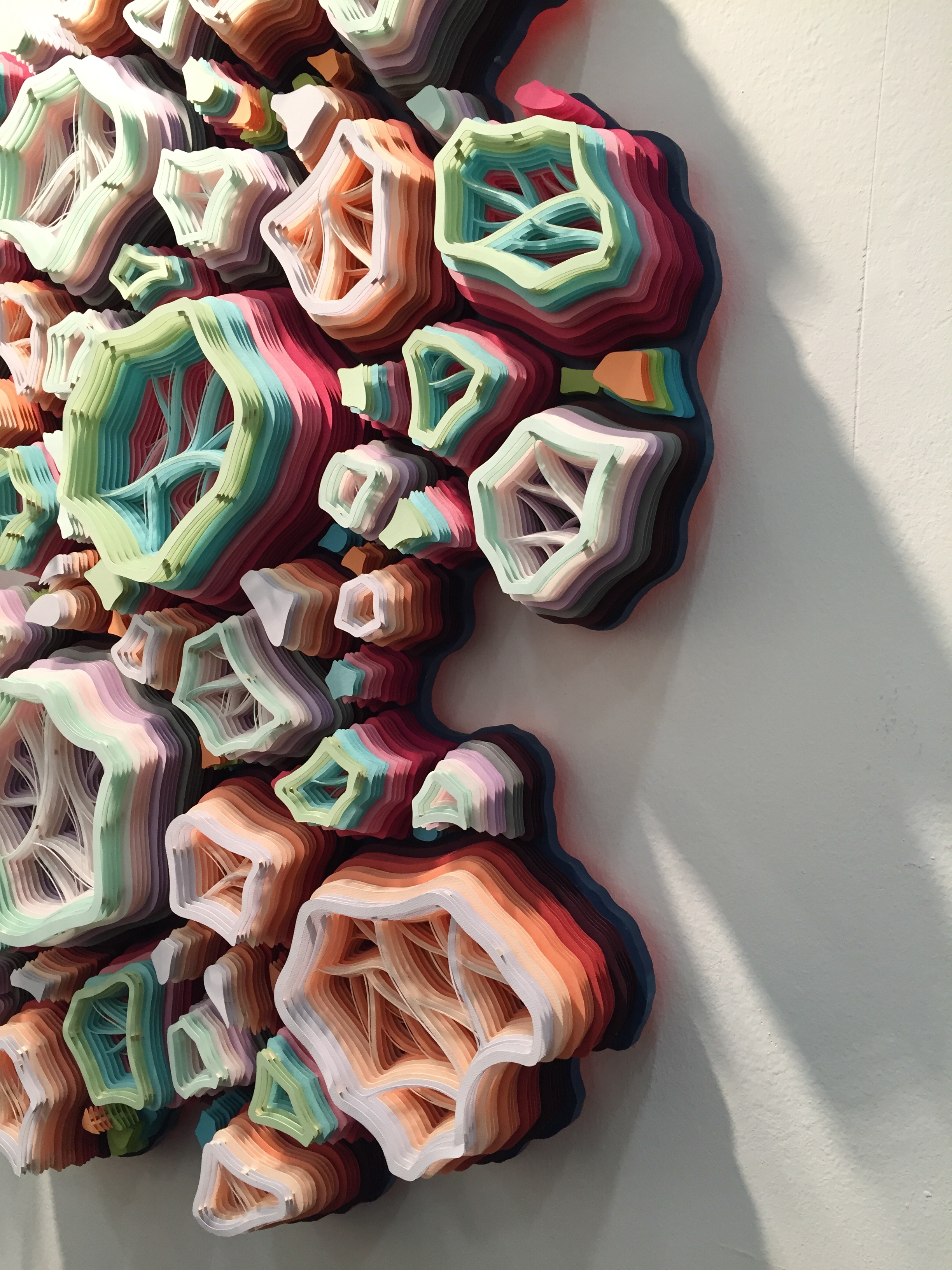 Charles Clary at Kenise Barnes Fine Art, found at the art on paper art fair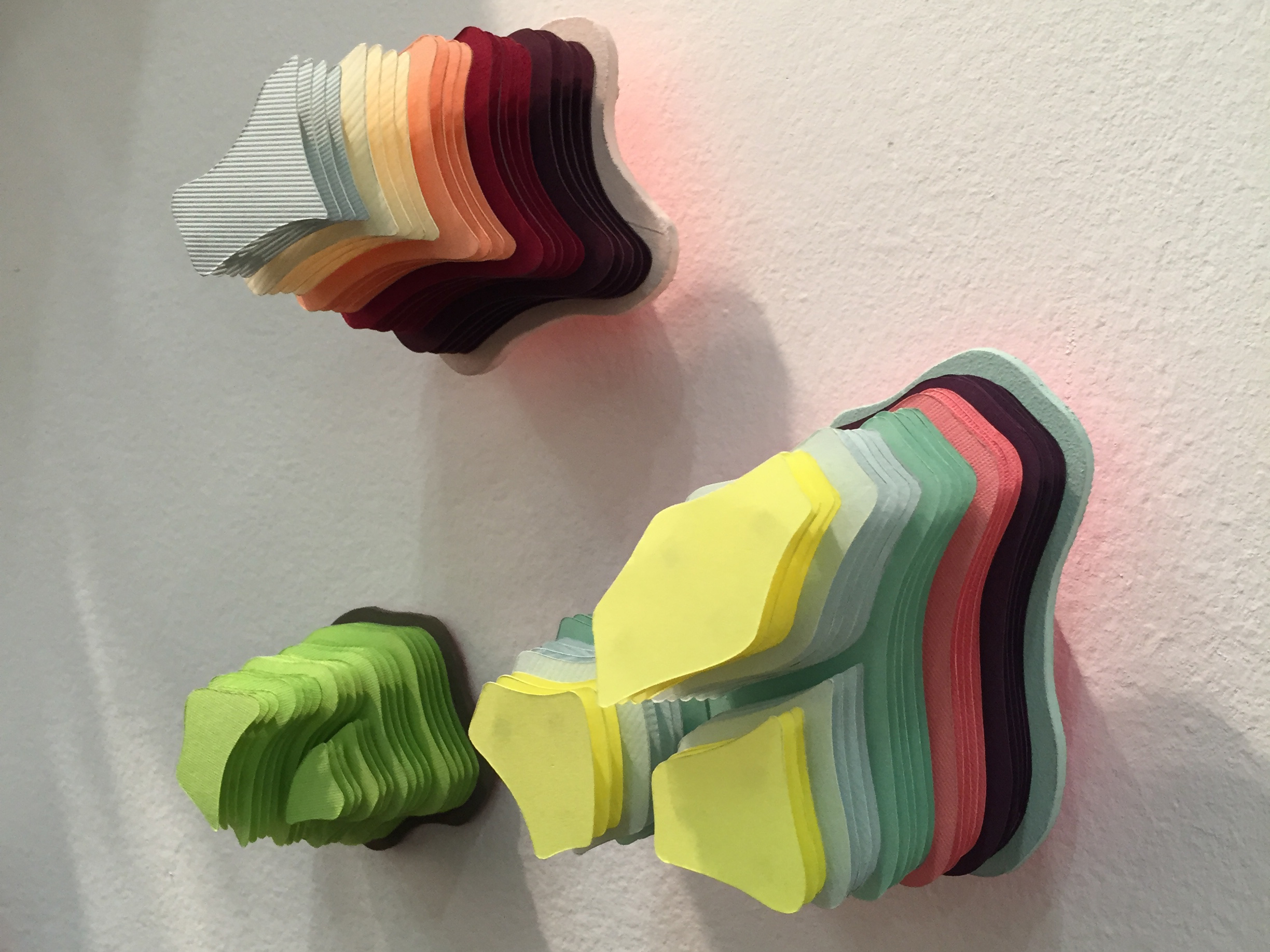 Detail of Charles Clary at Kenise Barnes Fine Art, found at the art on paper art fair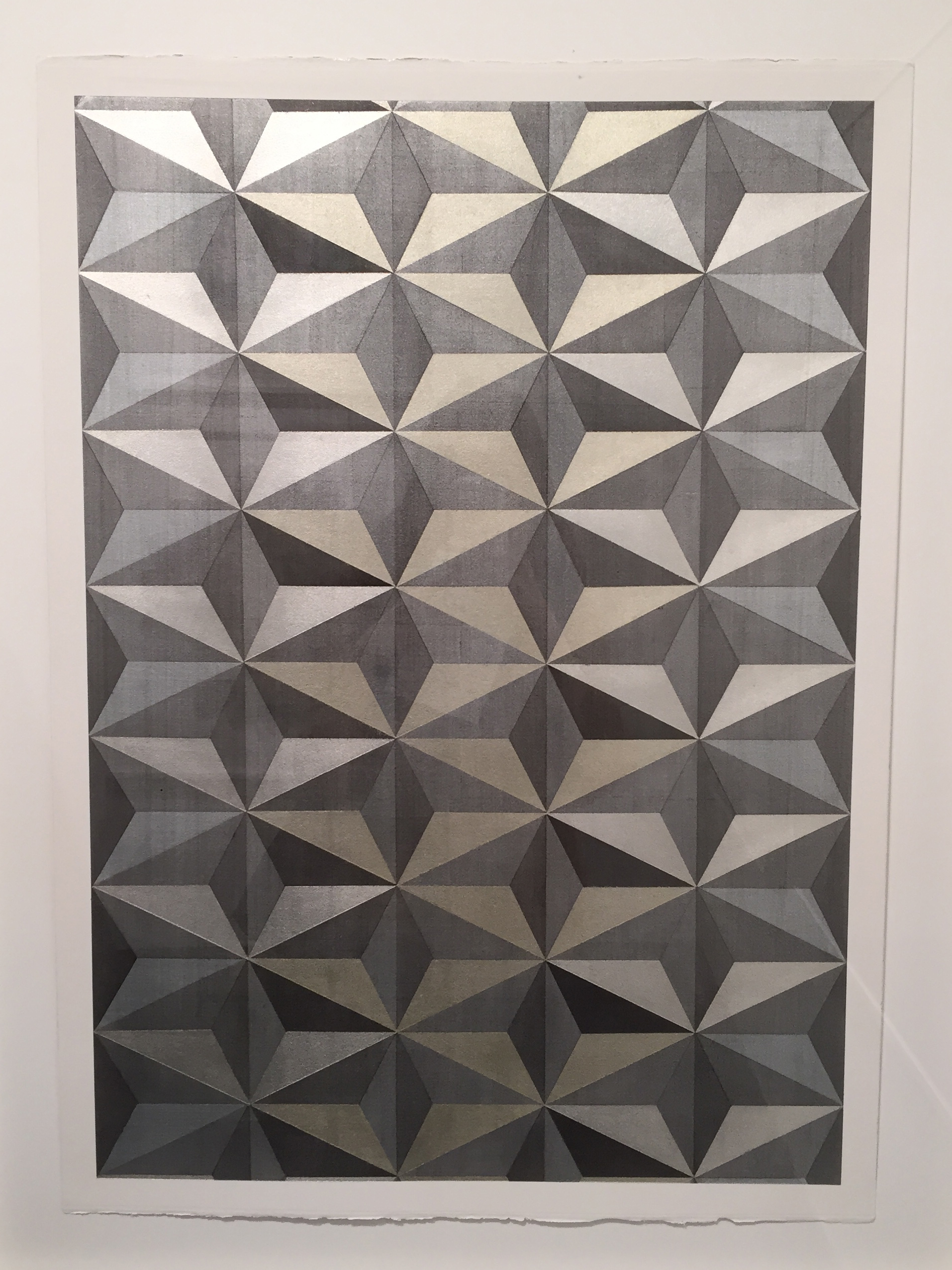 Gianluca Franzese at K. Imperial Fine Art, found at the art on paper art fair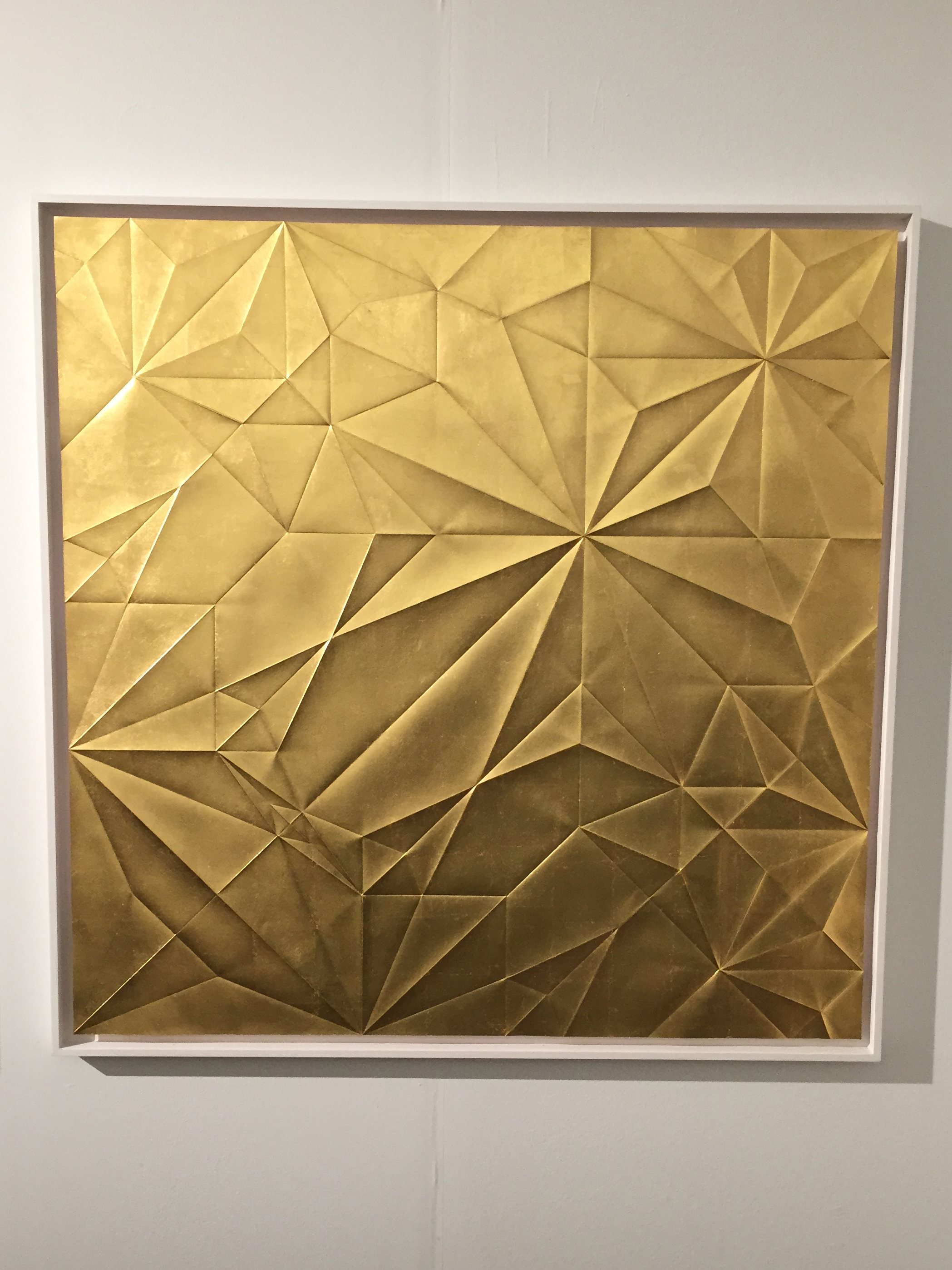 Sipho Mabona's origami series at AUREUS Contemporary, found at the SCOPE art fair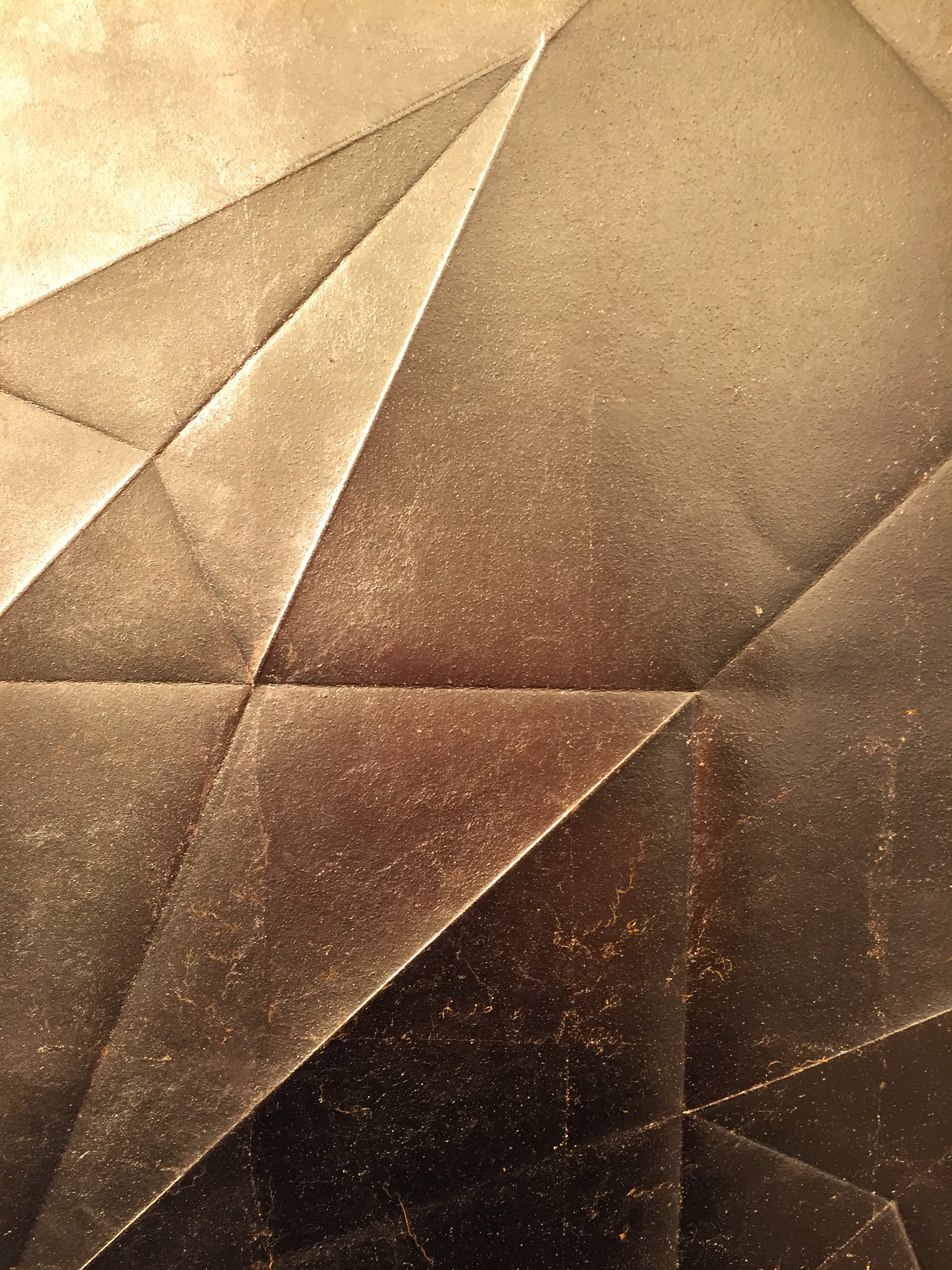 Detail of Sipho Mabona's origami series at AUREUS Contemporary, found at the SCOPE art fair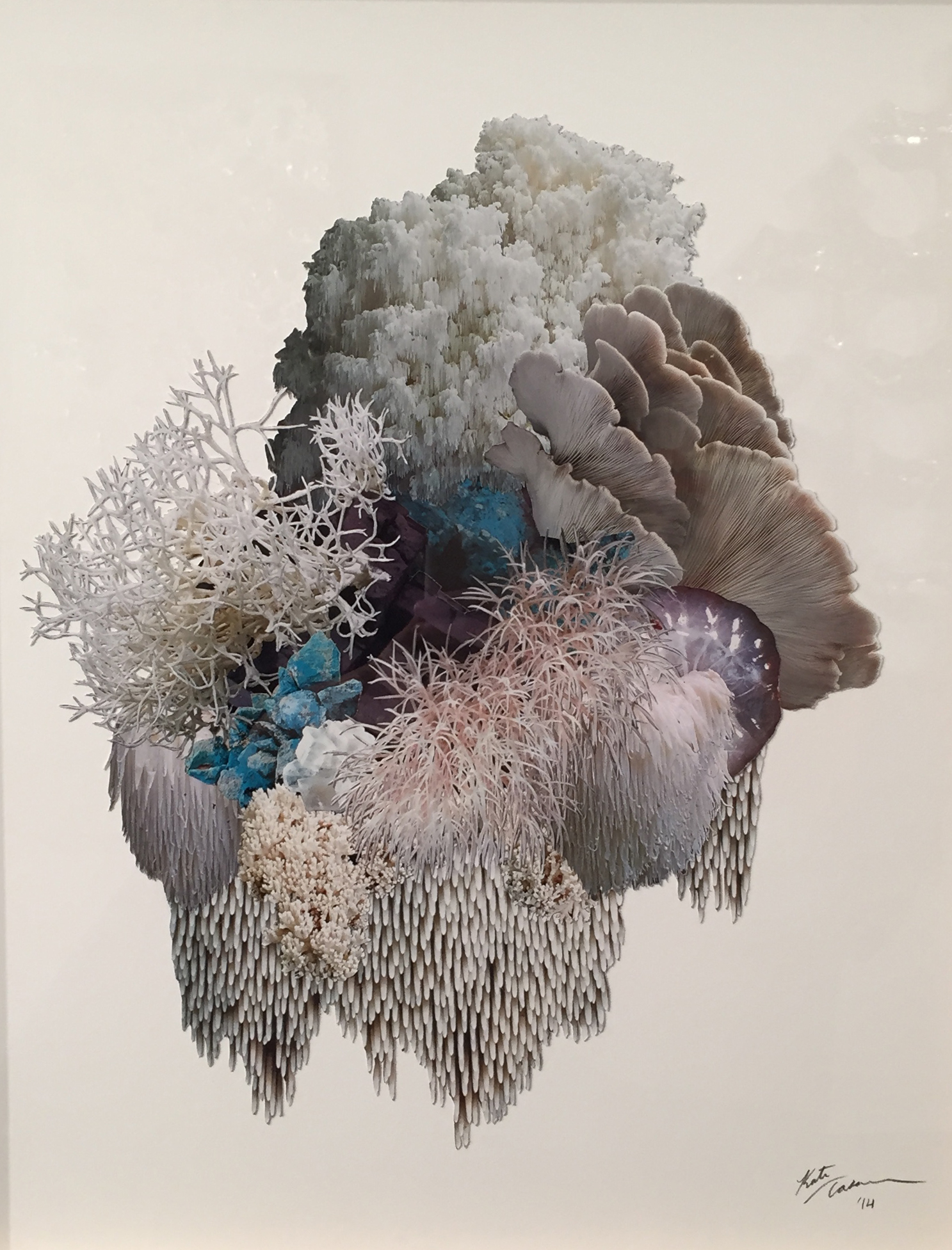 Kate Casanova at Instinct Art Gallery, found at the SCOPE art fair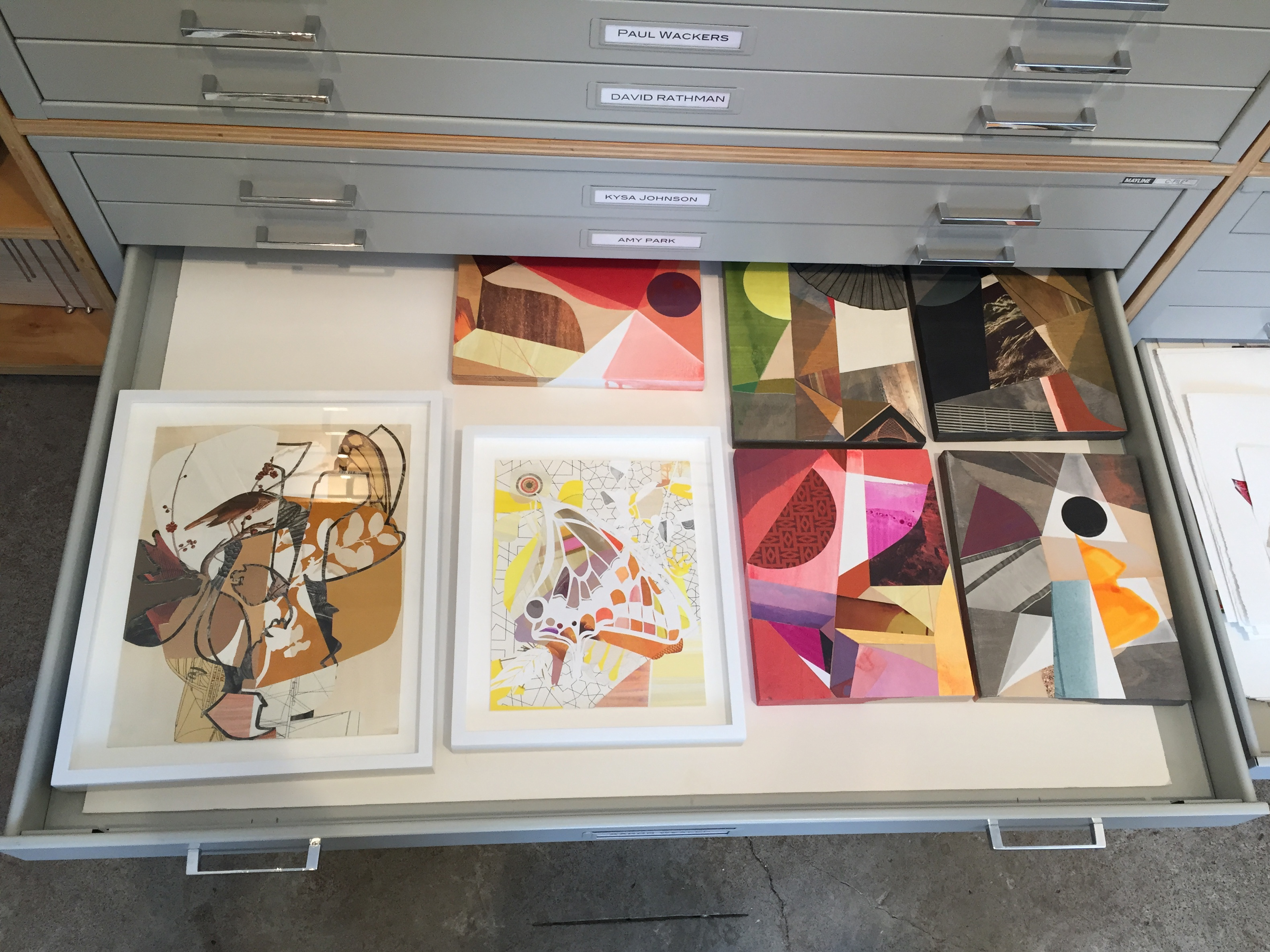 A drawer of Aaron Wexlers at Morgan Lehman Gallery
Friday, September 19, 2014 at 4:21 PM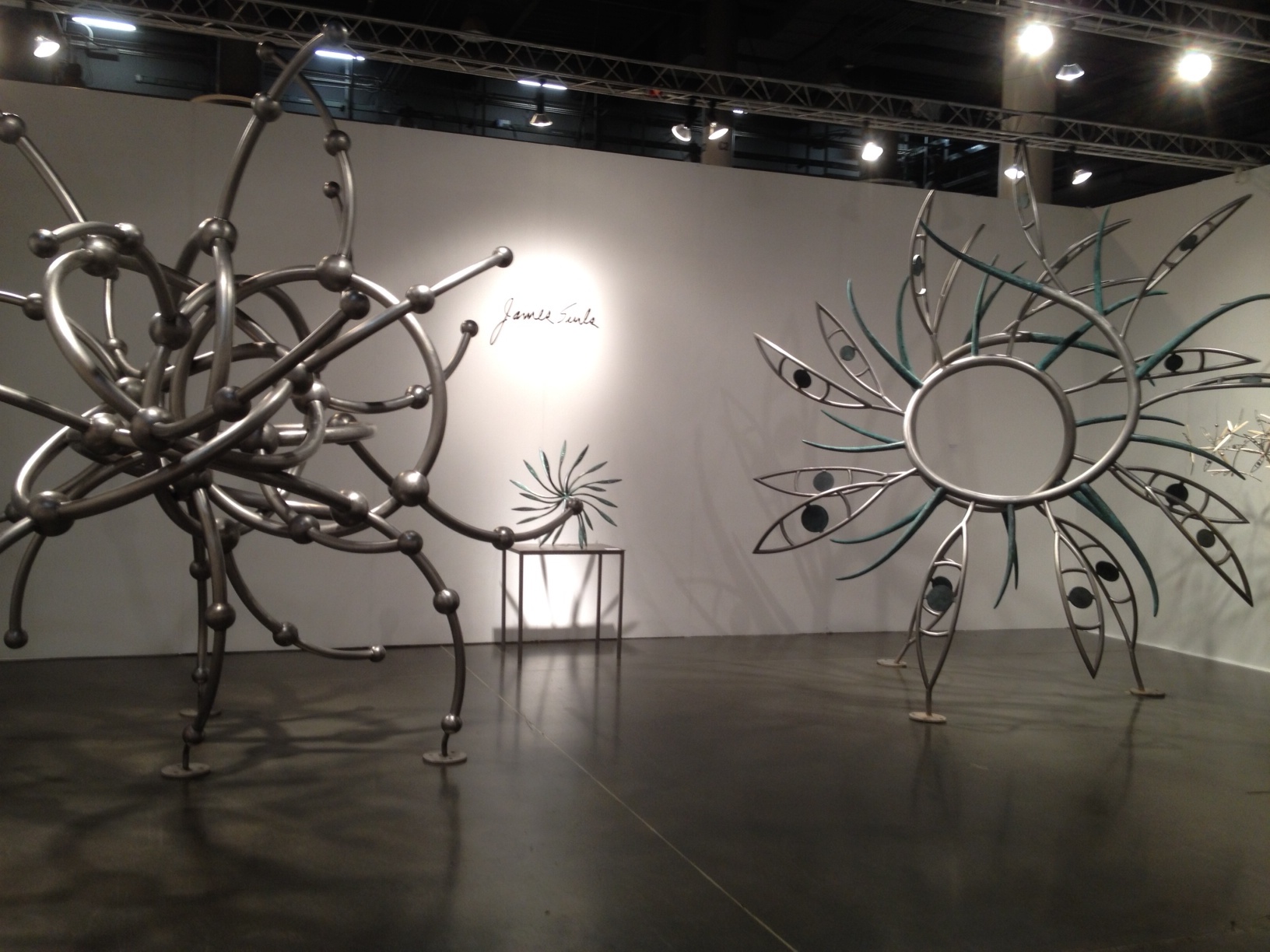 James Surls at Linda Clarke Art - Wade Wilson Art
The swooping and spiraling James Surls sculptures stole the show at HFAF this year, and of the many other beautiful programs on view, we especially enjoyed Art Nouveau Gallery and Shoshana Wayne Gallery. Below are some of our most coveted finds at this year's fair.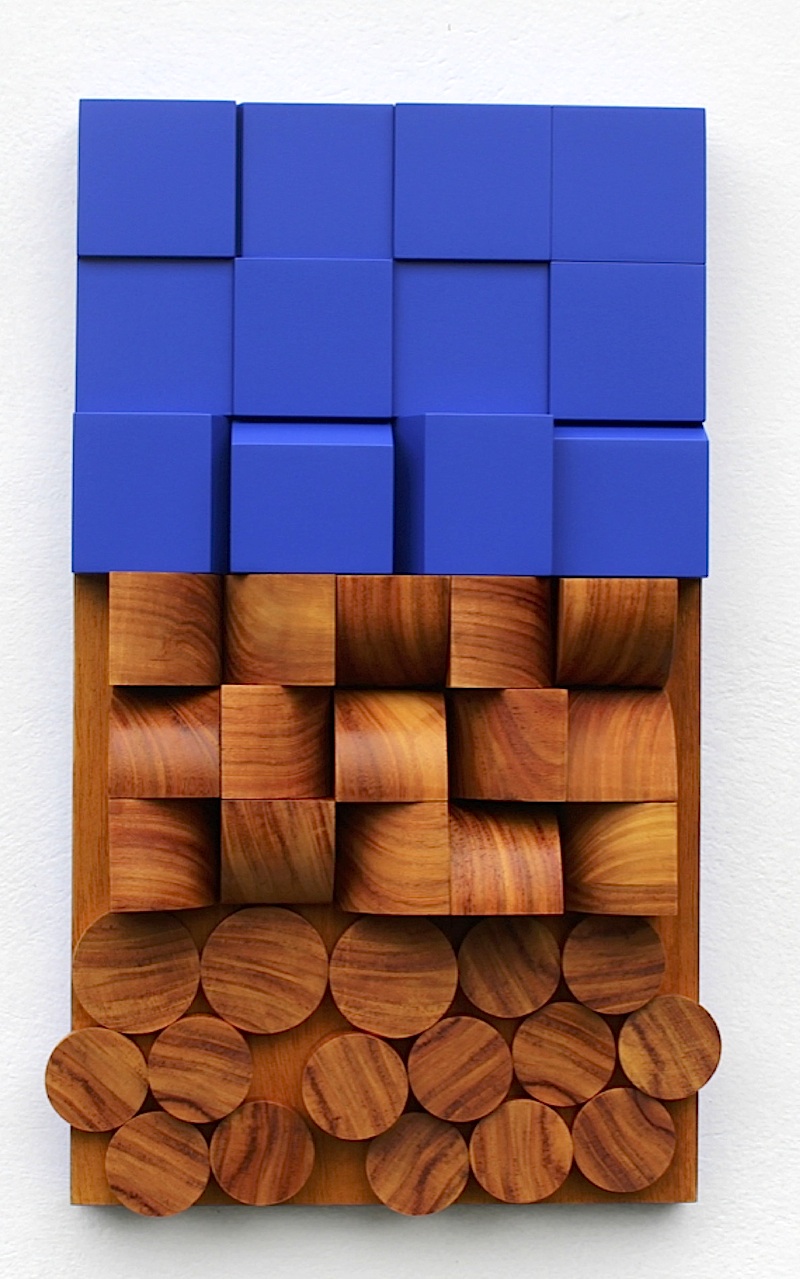 João Carlos Galváo at Art Nouveau Gallery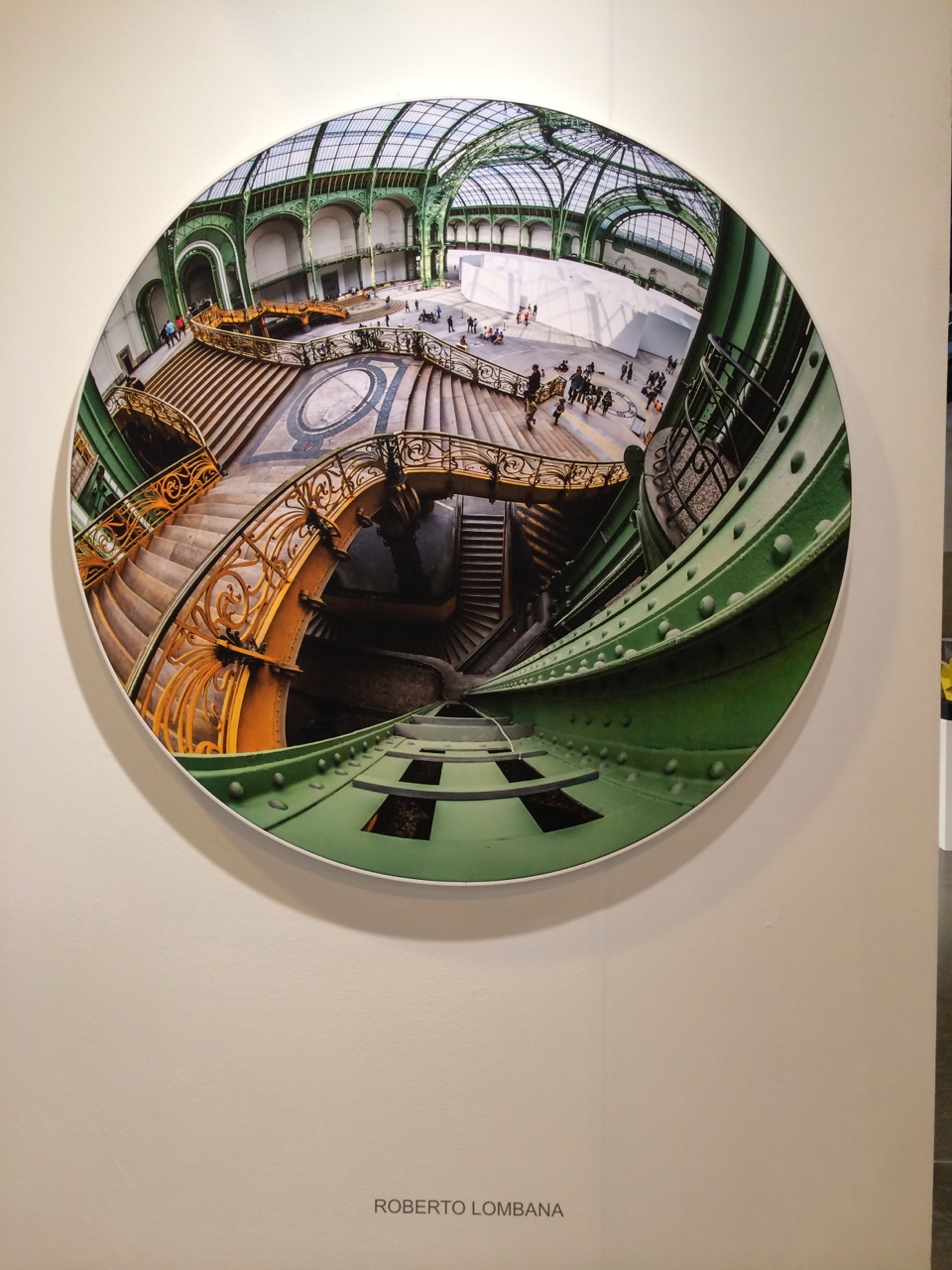 Roberto Lombana at Art Nouveau Gallery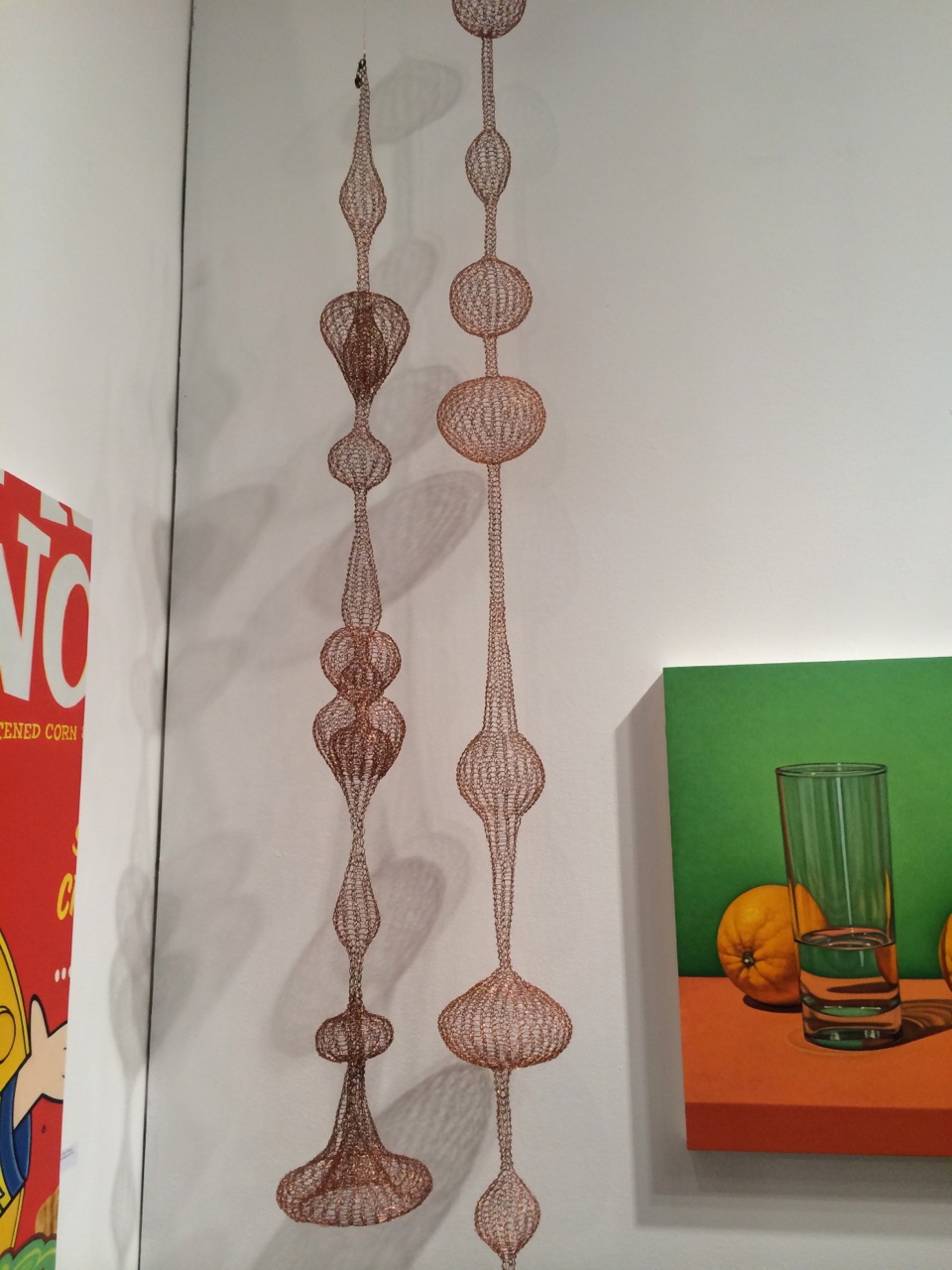 D'lisa Creager at George Billis Gallery - LA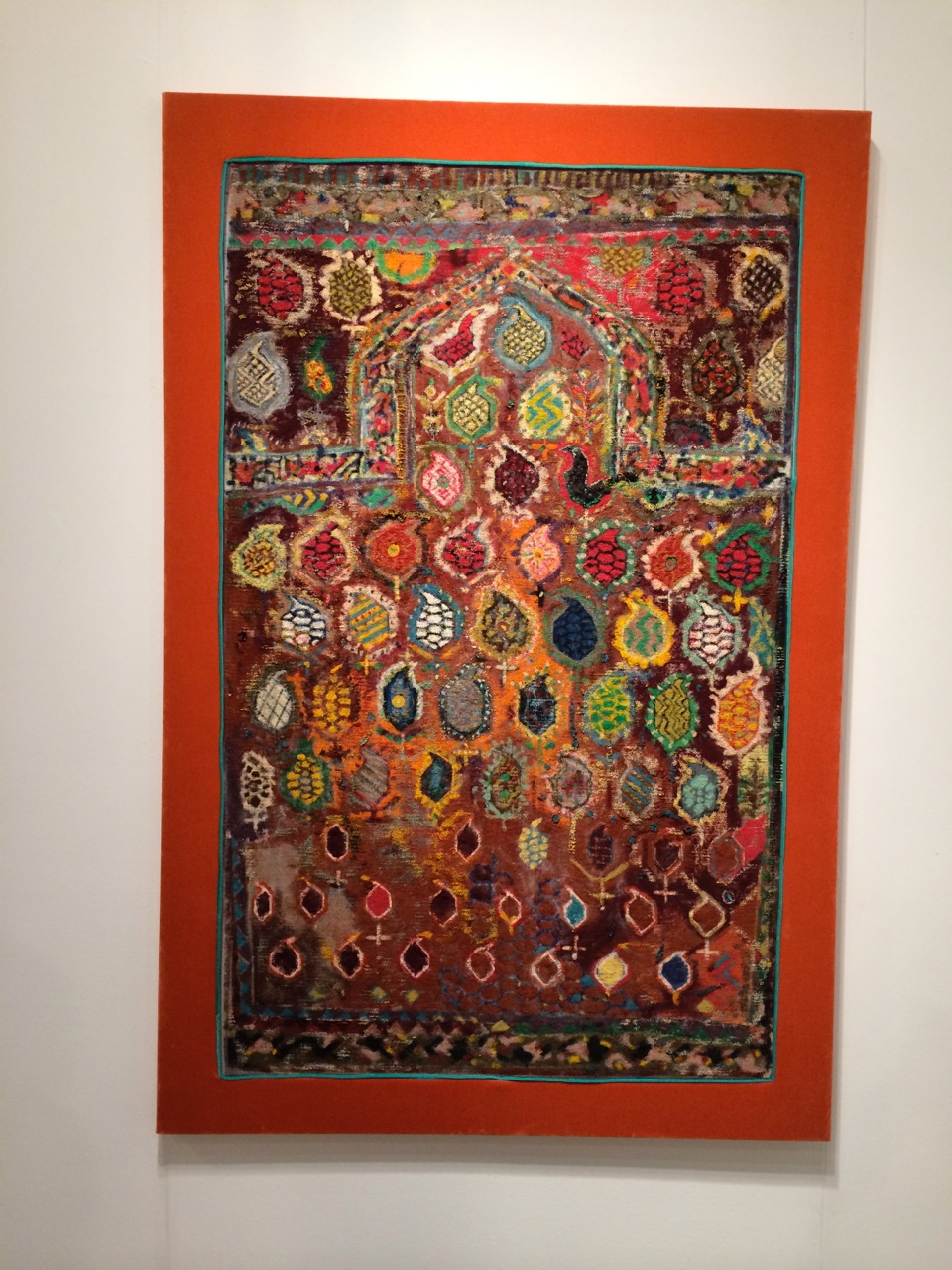 Izhar Patkin at Shoshana Wayne Gallery
Wednesday, August 6, 2014 at 8 PM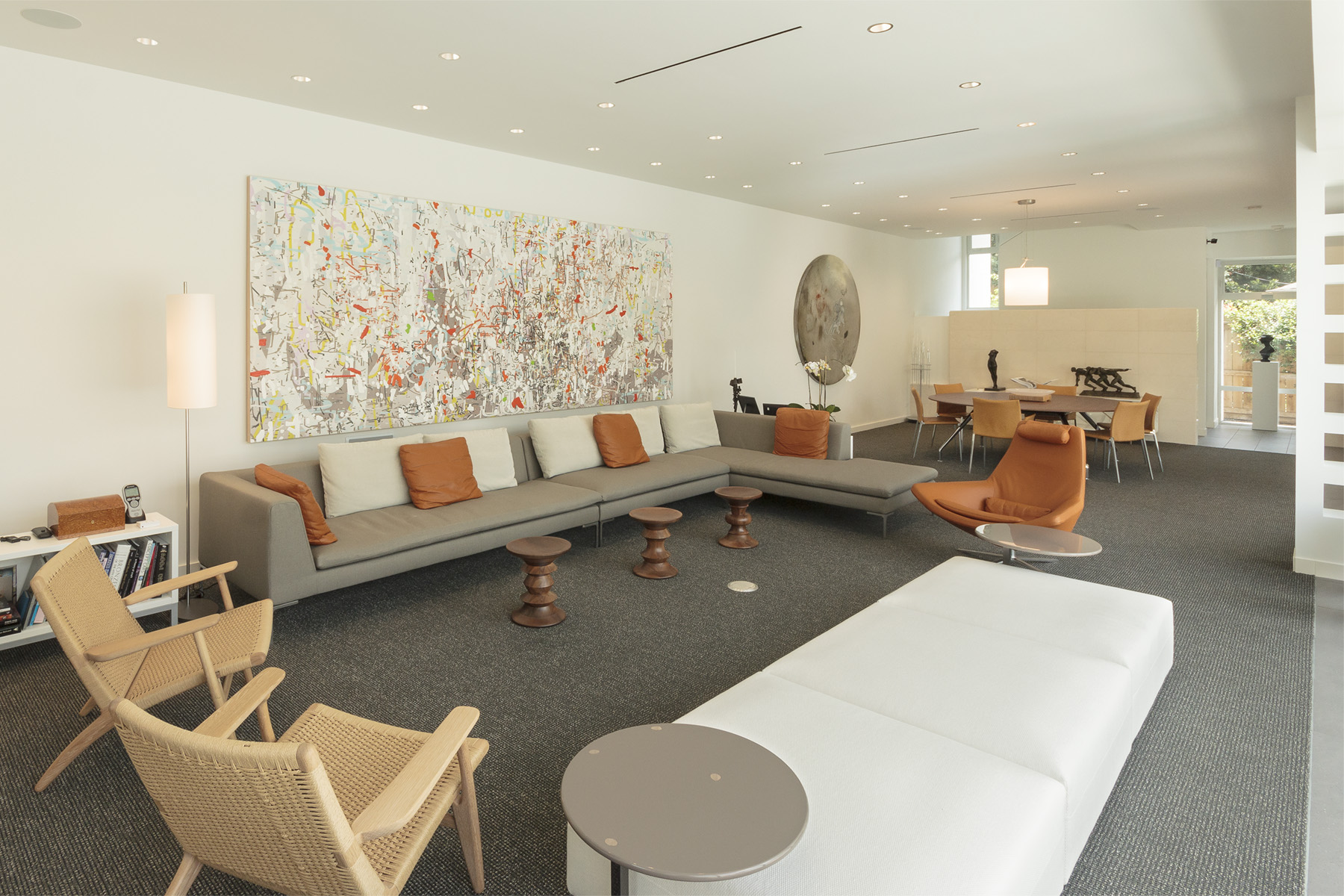 From left: Amy Ellingson, Darren Waterston, and Nick Hornby
What happens when an interior and product designer builds his own home AND loves art? A complete masterpiece! A bold sense of design and unflinching aesthetic permeates each small detail. Designed with art in mind, the home naturally creates visual frames for ideal viewing from multiple vantage points allowing the art to play its own starring role.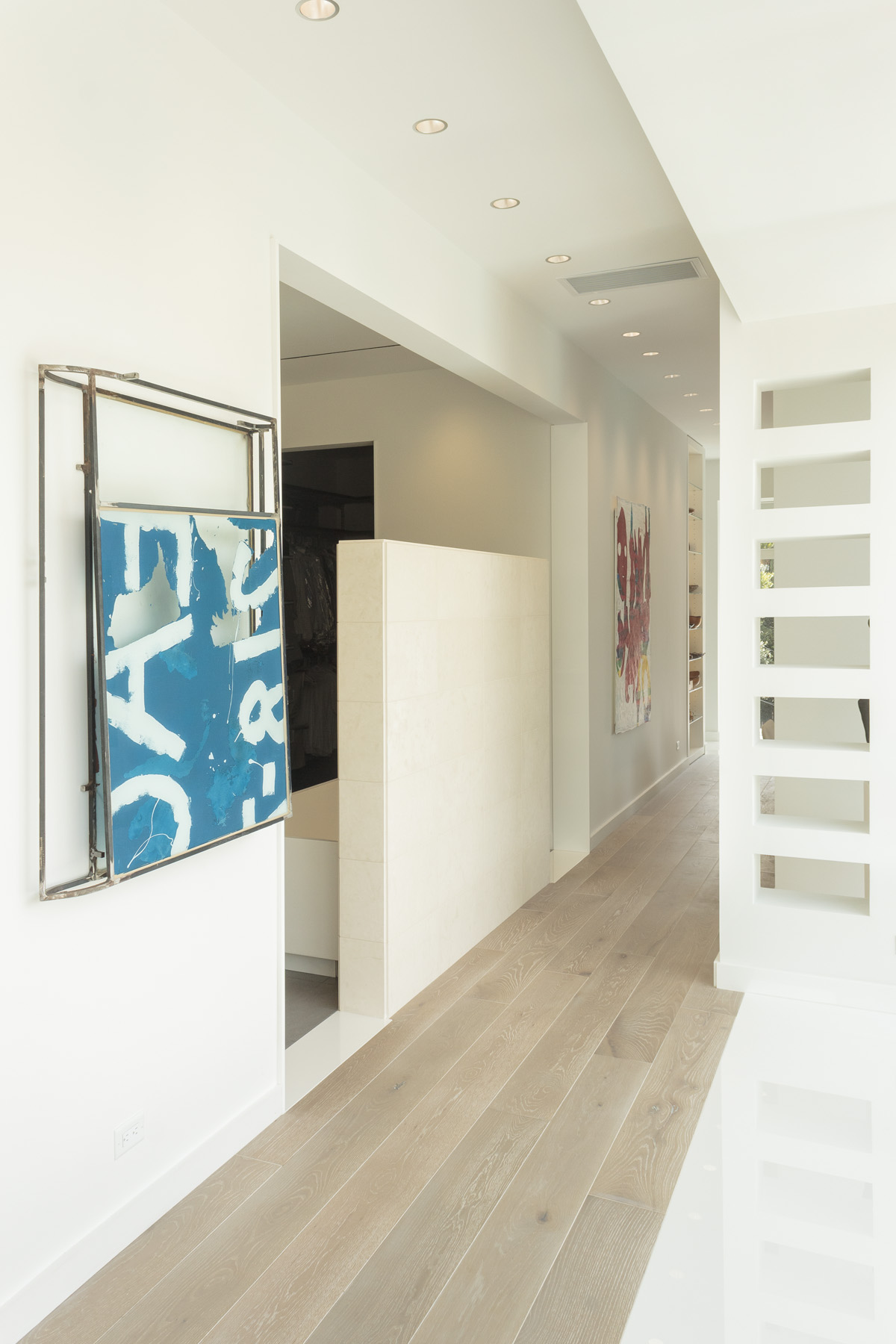 From left: Rob Fischer and Bo Joseph
Friday, July 25, 2014 at 4:23 PM