Tuesday, August 14, 2018 at 10:31 AM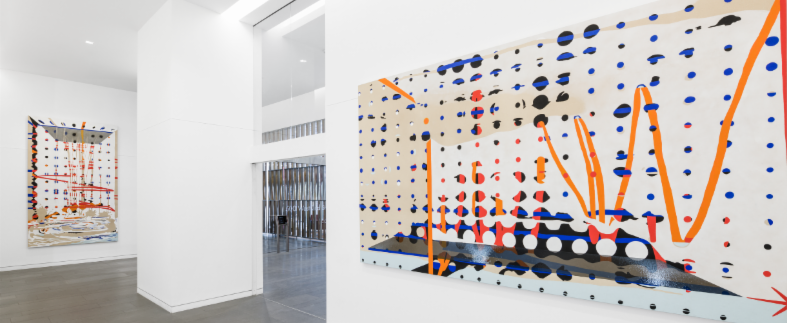 Ruello's commissions installed at 500 w 2nd.
Kinzelman Art Consulting partnered with Trammell Crow Company and CBRE on their new skyscraper located in Downtown, Austin. In close proximity to Austin's beloved Lady Bird Lake, the striking 500 West 2nd Street space, designed by Gensler, holds an impressive collection of tenants. The project goal was to activate the lobby with boldly infused color, and reflect Austin's iconic flare.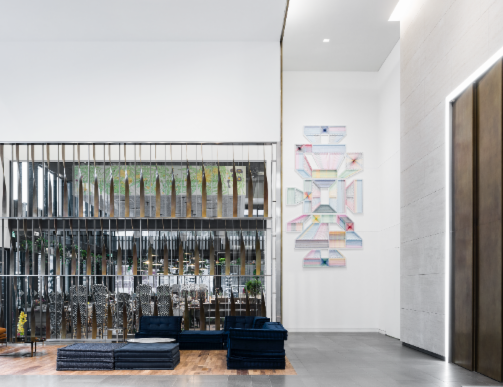 Esparza's wall-based sculpture in the lobby space.
"Art brings a new set of rules and compositions that juxtapose with architecture in ways that are unexpected and can be serendipitous. This building and lobby were conceived as hierarchic, one leading to the other and vice versa where momentary interruptions in the order allow for the individual to contemplate and enjoy being transported by the art."

- Tom Marsden, Associate, Gensler
El Paso-based artist Adrian Esparza, represented in Dallas by Cris Worley Fine Art, was selected to address the largest wall with his signature sarape artwork. This impressively sized piece, scaled specifically for the vertical wall, offers a visual push-pull effect with bold contrasting colors. The unique material usage in Esparza's work forms a natural dialogue across the lobby, where Erin Curtis's equally active cut and layered painting is installed. Although indicative of Curtis's body of work, this piece in particular is intended to mimic the rapid growth and vibrant spirit of Austin, TX, where Curtis also resides.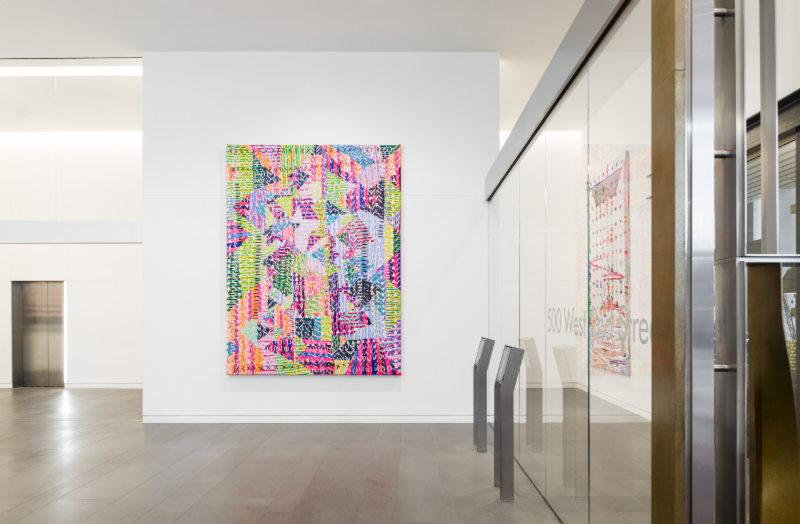 Curtis's cut and layered painting in the lobby space.
The collection continues around the corner with two large-scale paintings by Houston-based artist Robert Ruello, represented by Inman Gallery. These are Ruello's largest works to date, functioning as murals to tenants entering the building through the garage elevators. Ruello digitally renders his compositions, then carefully transfers them onto canvas using tracing paper and various densities of paint and flashe. This technique informs a unique visual language transitioning between moments of bold expression and negative space. The building's collection upstairs includes works on paper by Nicola Lopez and Ross Bleckner, and a site-specific installation by Paul Fleming.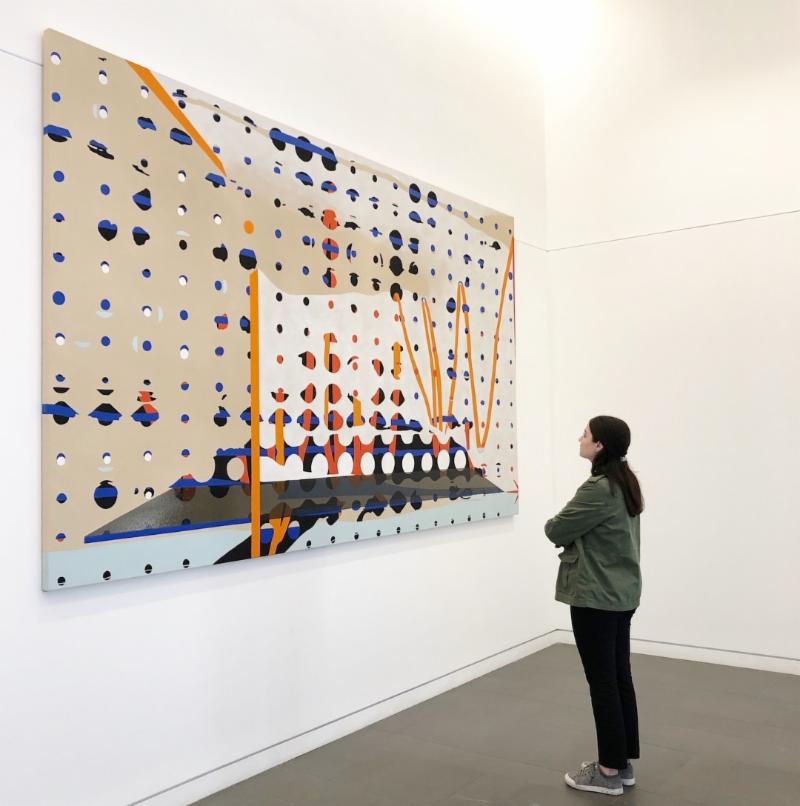 KAC admiring Ruello's painting.
" KAC was wonderful to work with and made the entire process of selecting, commissioning and installing each piece at 500 W 2nd Street stress free for the ownership team. The art has completed our lobby and activated the borders of the space while staying true with the original design intent. Our tenants enjoy the pop of color and the energy it brings to their daily life. "

-Kristi English, Development Manager, Trammell Crow Company