Monday, November 28, 2016 at 3:49 PM
Trammel Crow's Energy Center 5
Kinzelman Art is proud to announce the completion of two site-specific commissions created for Trammel Crow's Energy Center 5 building lobby located in the Houston Energy Corridor. In May 2016 we installed these unique works of art by artists, Val Britton and Ara Peterson enhancing the elegance of the interiors and infusing energy into the lobby.
"Many of my colleagues are not familiar with the dynamics and environments of the art world, therefore it can certainly be intimidating to approach, but working with Julie and her team, we found that the process was very inviting and approachable. The two artists that were selected were highly vetted, and we all feel we selected two representative pieces that are spot on for the opportunity." - Cody Armbrister, Senior Managing Director, CBRE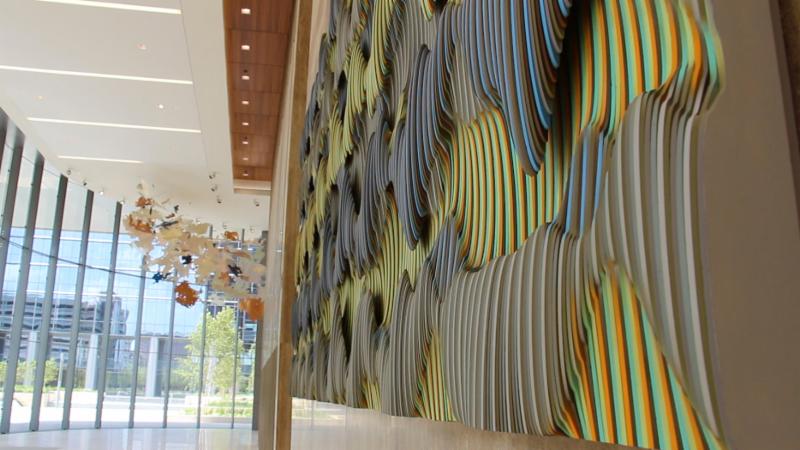 Ara Peterson, "Travertine Wavepack" and Val Britton, "Continental Collision"
Vitol
With more than 40 offices worldwide, international energy trading company, Vitol, has one of its largest operations in the Upper Kirby neighborhood of Houston, Texas. Kinzelman Art organized the relocation and exhibition of Vitol's art collection, (as managed by Kinzelman Art since 2010), to Vitol's new award winning offices designed by interior architecture firm, PDR Corporation. Successfully working in tandem with one another, the modern art collection and the sophisticated interior architecture expands one's experience of the typical corporate environment by creating a progressive, museum-like work place environment.
"We have an appreciation and understanding of the unique role that art can have in the workplace. Over the years, Julie and her team have been instrumental in the selection of new pieces to add to our collection. Our new work space was designed to intentionally highlight certain works, so proper selection and placement was critical. Kinzelman Art made that process very simple and the end result is better than what we had initially envisioned." -Scott Adams, HR and Administration, Vitol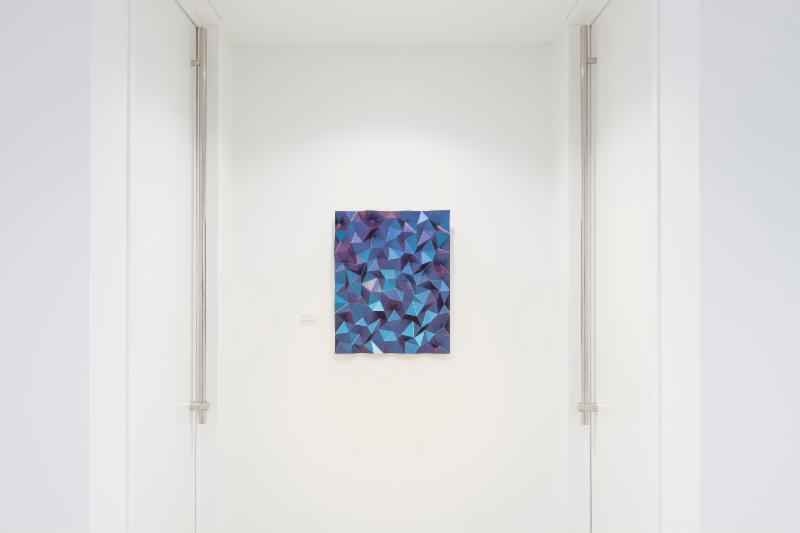 Christian Eckart, "Hexagonal Perturbation​"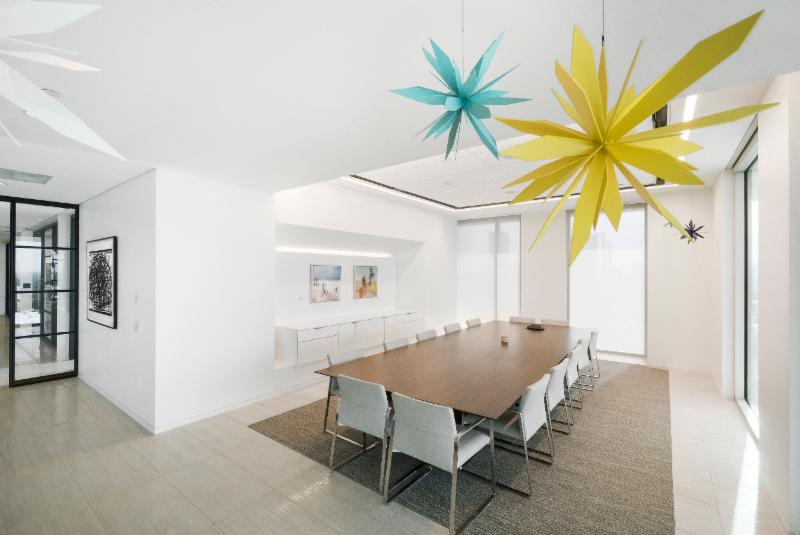 Terry Winters, "Picture Cell", Rusty Scruby, "Family" and "Blue Bucket", and Hana Hillerova, "Houston Can You Hear Me?"
Monday, August 29, 2016 at 10:46 AM
Hidden at the end of a beautiful lot densely populated by lush Houston greenery, Libbie Masterson's studio feels like her own personal oasis. The high ceilings and large windows yield a flood of soft natural light ideal for viewing her vast array of work including photographs, paintings, watercolors, glass mosaics and even stage set maquettes.
Masterson's lively persona is a striking counterpart to her tranquil, contemplative work. Our studio visit began with a look at her new glass mosaics, an extended exploration of her large-scale installation at the Houston Hobby Airport. These works are heavily influenced not only by Masterson's affinity for nature, but also music. Masterson shared her life-long fantasy of composing a symphony, and explained to KAC how she incorporates this hidden passion into her work by listening to songs on repeat and allowing the music to dictate the emotional direction of each mosaic.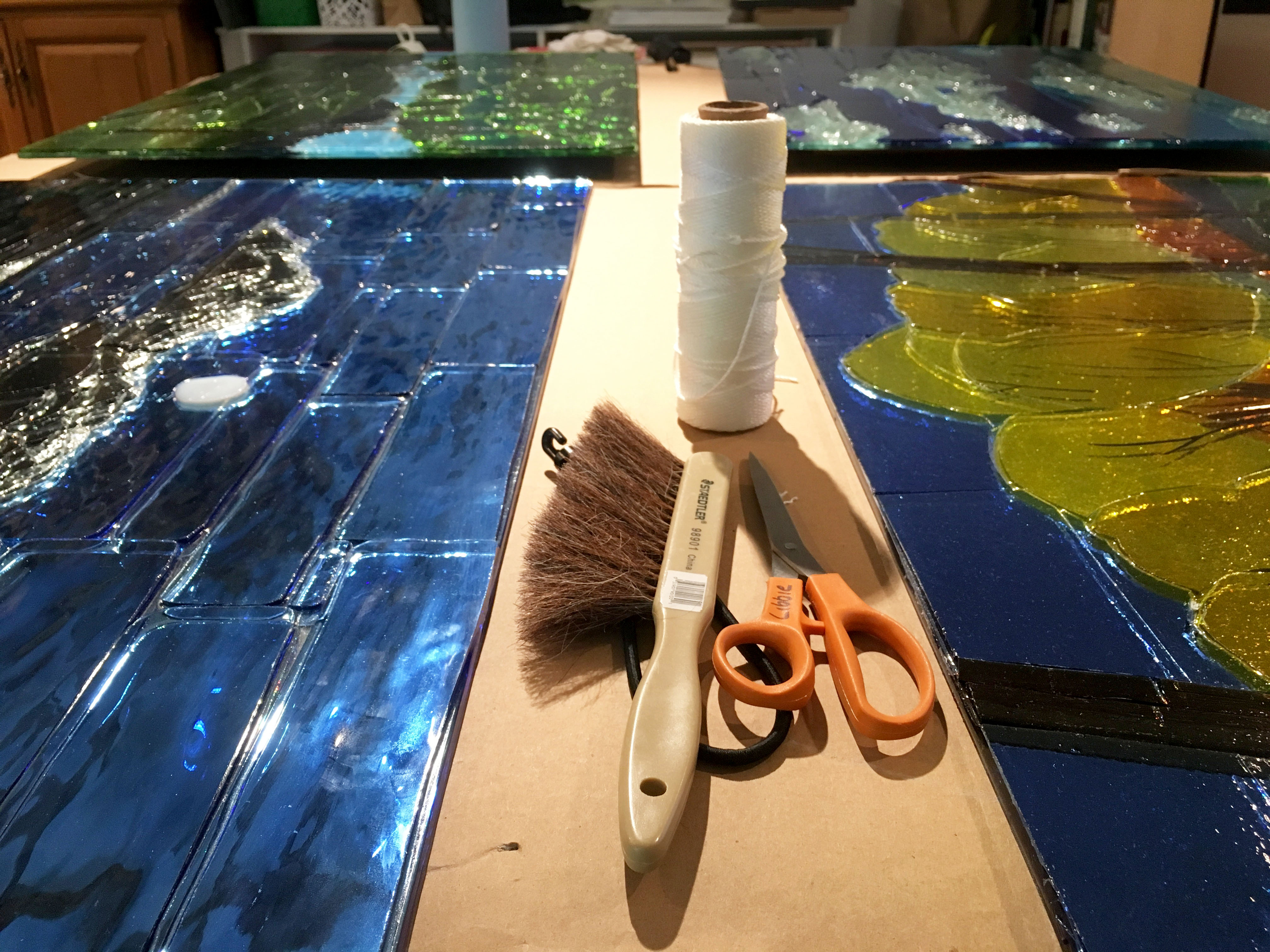 Close up of Masterson's glass mosaics
The imaginative glass compositions provide a splash of color to Masterson's otherwise monochromatic studio, filled with icy landscape photographs of deep grays, blues, and whites. These mesmerizing and meditative photos are back-lit and displayed as illuminated light boxes. Masterson walked us through the rewarding process of working with the light boxes, and calculating the perfect hue and strength of light to properly enhance the imagery without overpowering it.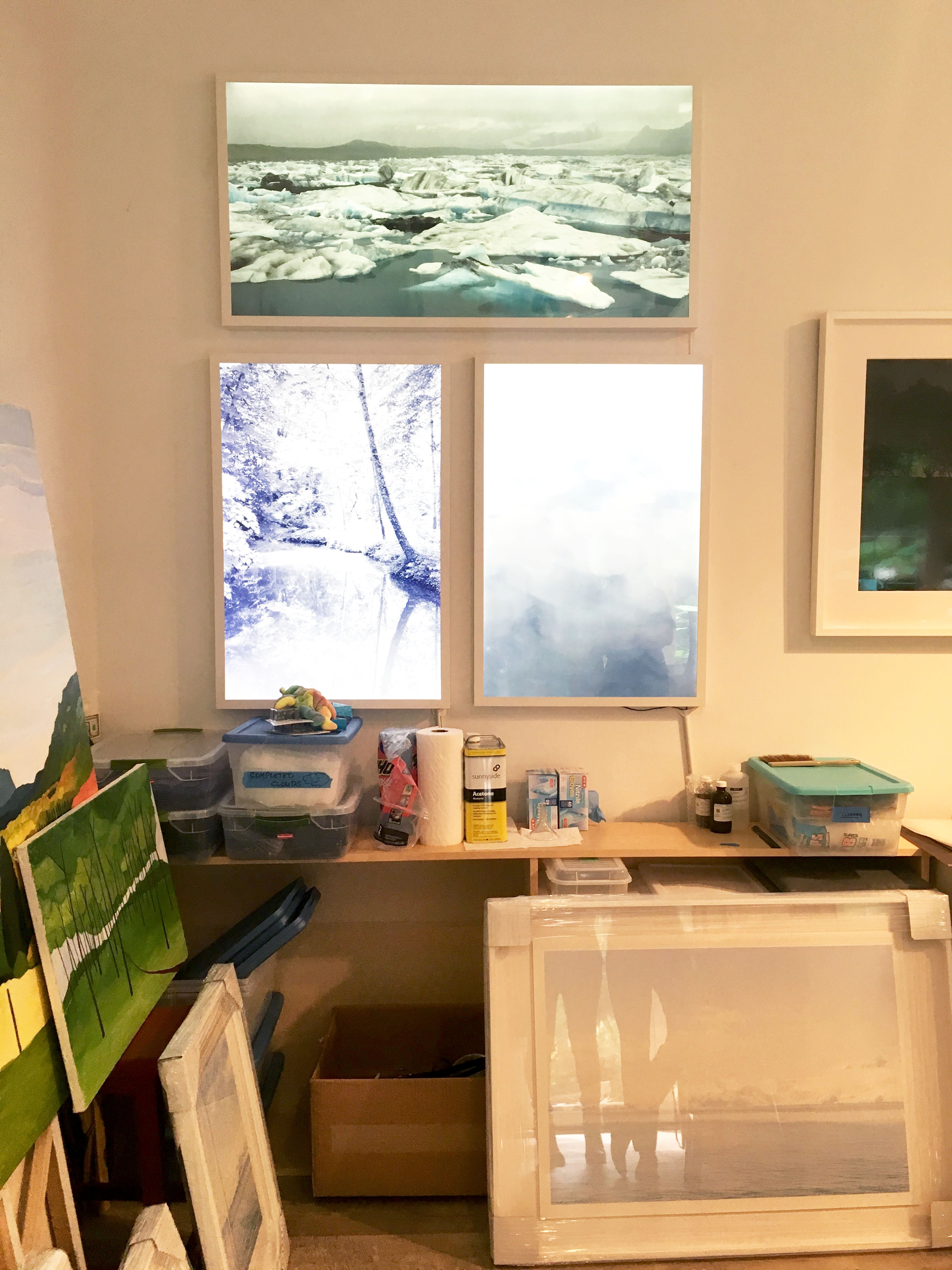 Masterson's light box photographs
Masterson's dream project: set design for an entire opera! Her infinite sources of inspiration and matching talent pose a promising future of endless possibilities and exploration. Be sure to attend her upcoming exhibition, opening September 10th 2016 at Catherine Couturier Gallery, who represents Masterson in Houston.
Tuesday, July 5, 2016 at 9:49 AM
Corporate Collection Project

Kinzelman Art is celebrating the completion of a 4-year, comprehensive art management initiative for a corporate client collection. Managing this collection has been a significant opportunity for Kinzelman Art, and we are proud of our dedicated efforts and achievements through this ambitious undertaking. KAC is honored to have been selected to expertly lead this outstanding collection.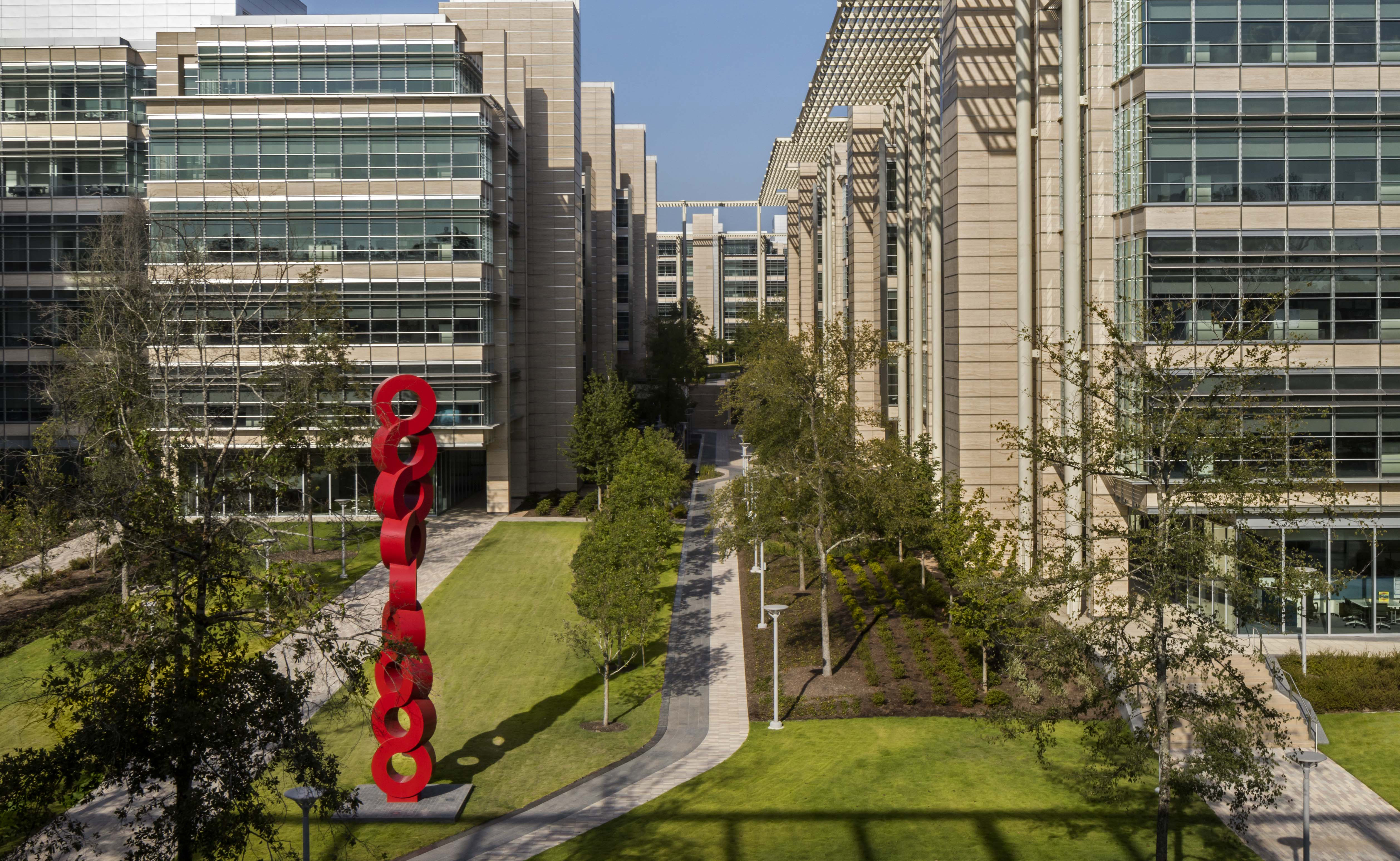 Chermayeff and Geismar, Red "O" Tower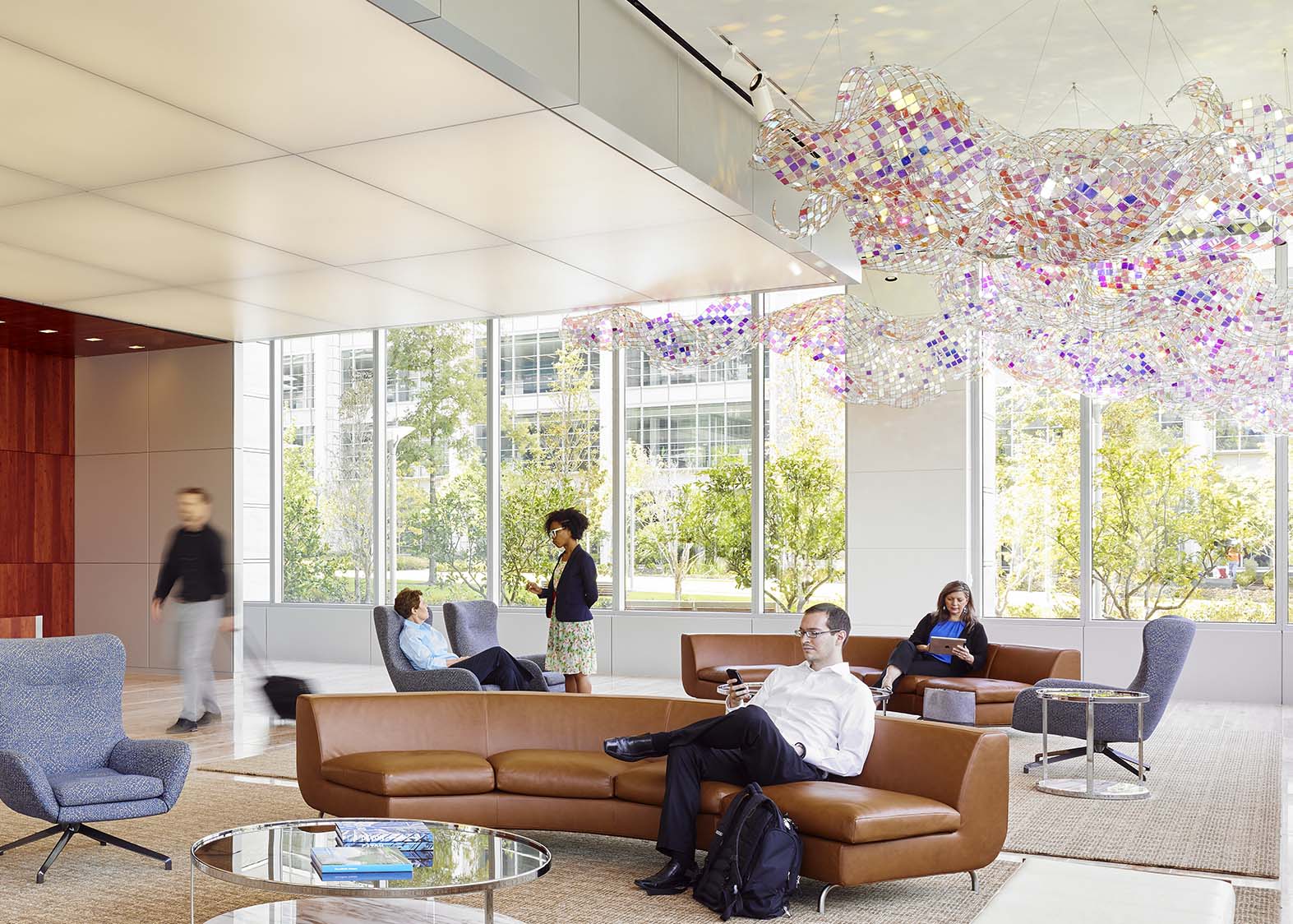 Soo Sunny Park, Capturing Light

Hughes Landing Project

Recognized by the Houston Business Journal as the 2016 recipient of the Landmark Award in mixed-use development, Hughes Landing is a 66-acre master planned community located in The Woodlands that features numerous works of public art throughout. Continuing the collecting philosophy of The Woodlands, Hughes Landing retained Kinzelman Art Consulting to procure and commission several public works of art for select locations to further enhance the community.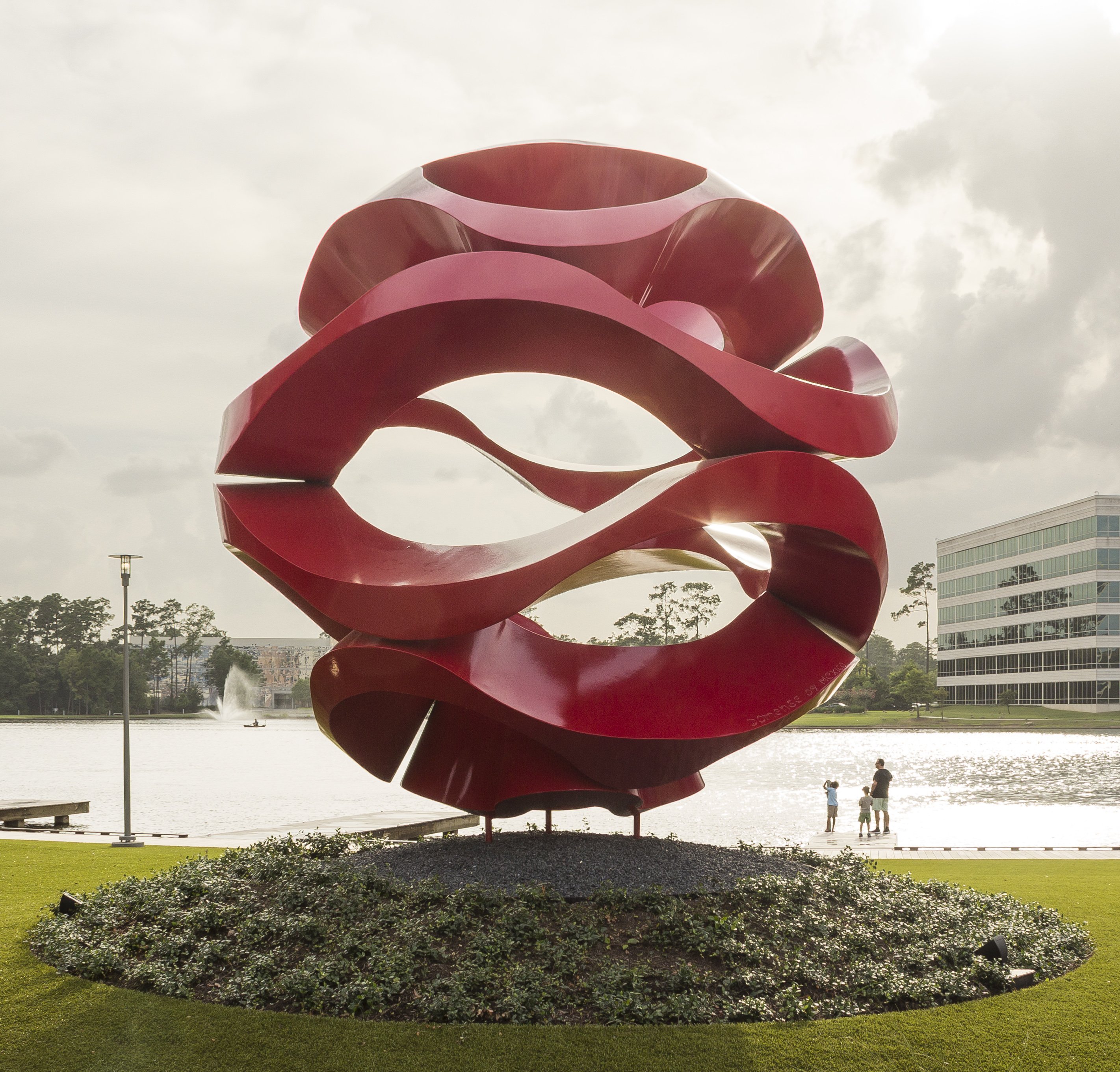 Yvonne Domenge, Wind Waves

We were thrilled to add to the magnetism of Hughes Landing via the placement of invigorating works of art by such artists as Mexico City based Yvonne Domenge, and Washington State artist Julie Speidel. We find that the overall success is seeing these public works of art serve to unify the community through an artful experience.
Monday, June 1, 2015 at 10 AM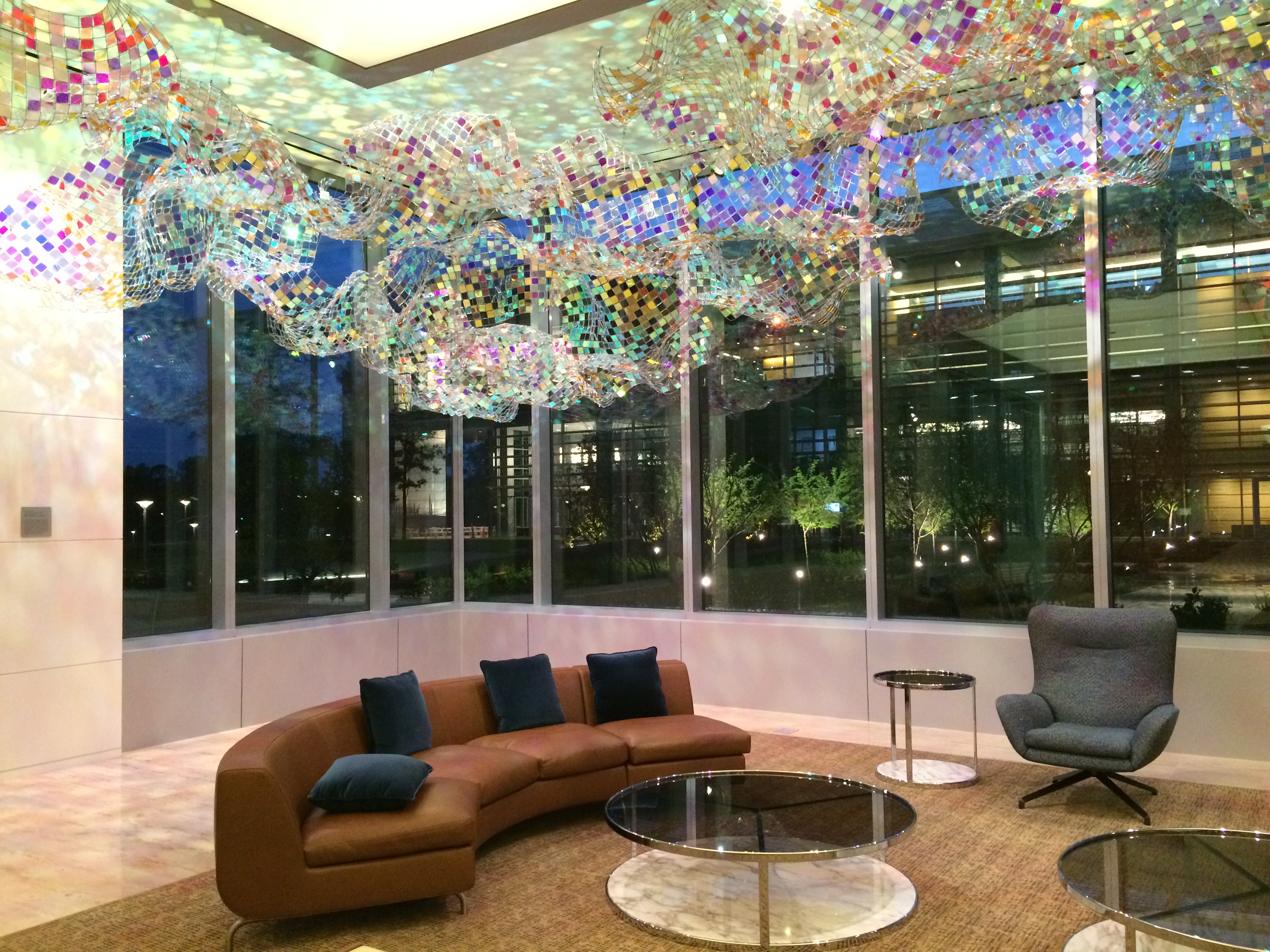 KAC had the privilege of commissioning Korean artist Soo Sunny Park to compose an impressive site-specific installation in a corporate reception in The Woodlands. Capturing Light is made up of 22 individual panels and 12,000 dichroic acrylic tiles that scatter ever-changing patterns of refracted light through the space. We thoroughly enjoyed working with Park throughout the entire process from developing the initial concept, to creating digital and physical models. After months of careful collaboration and planning, it is wonderful to see this beautiful installation come to life and transform the surrounding environment.

Special thanks to CYNTHIA-REEVES, New York and TYart Art Handling.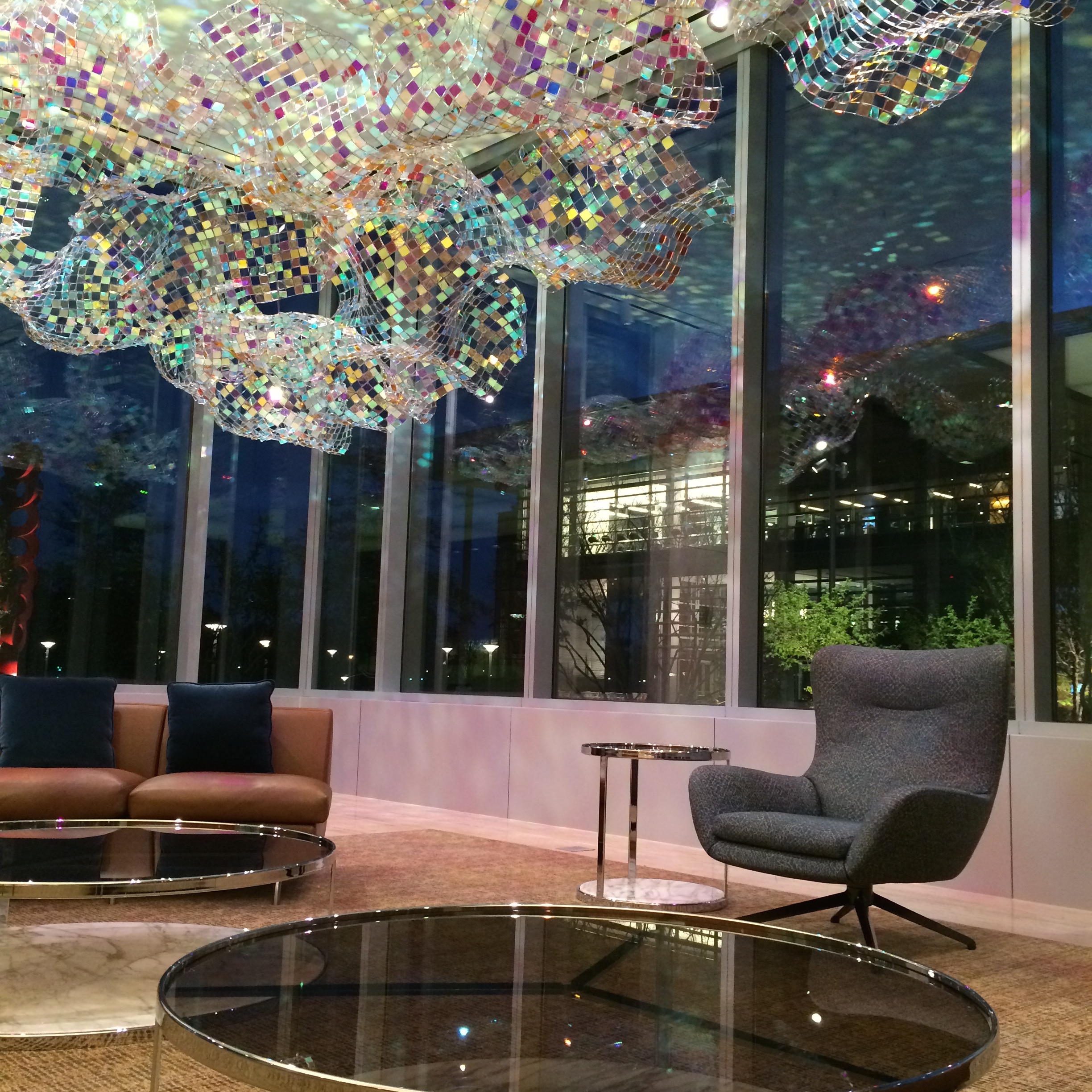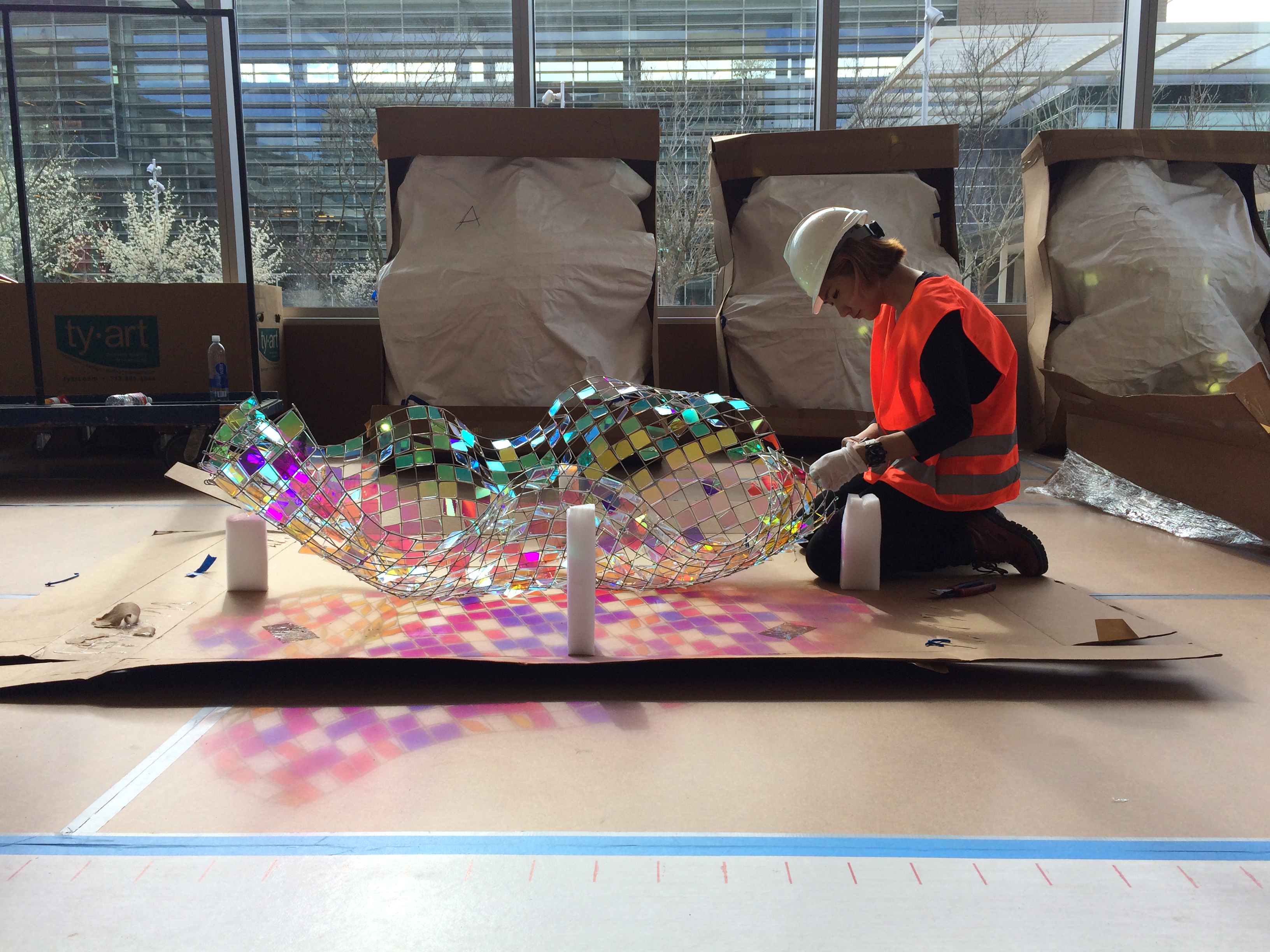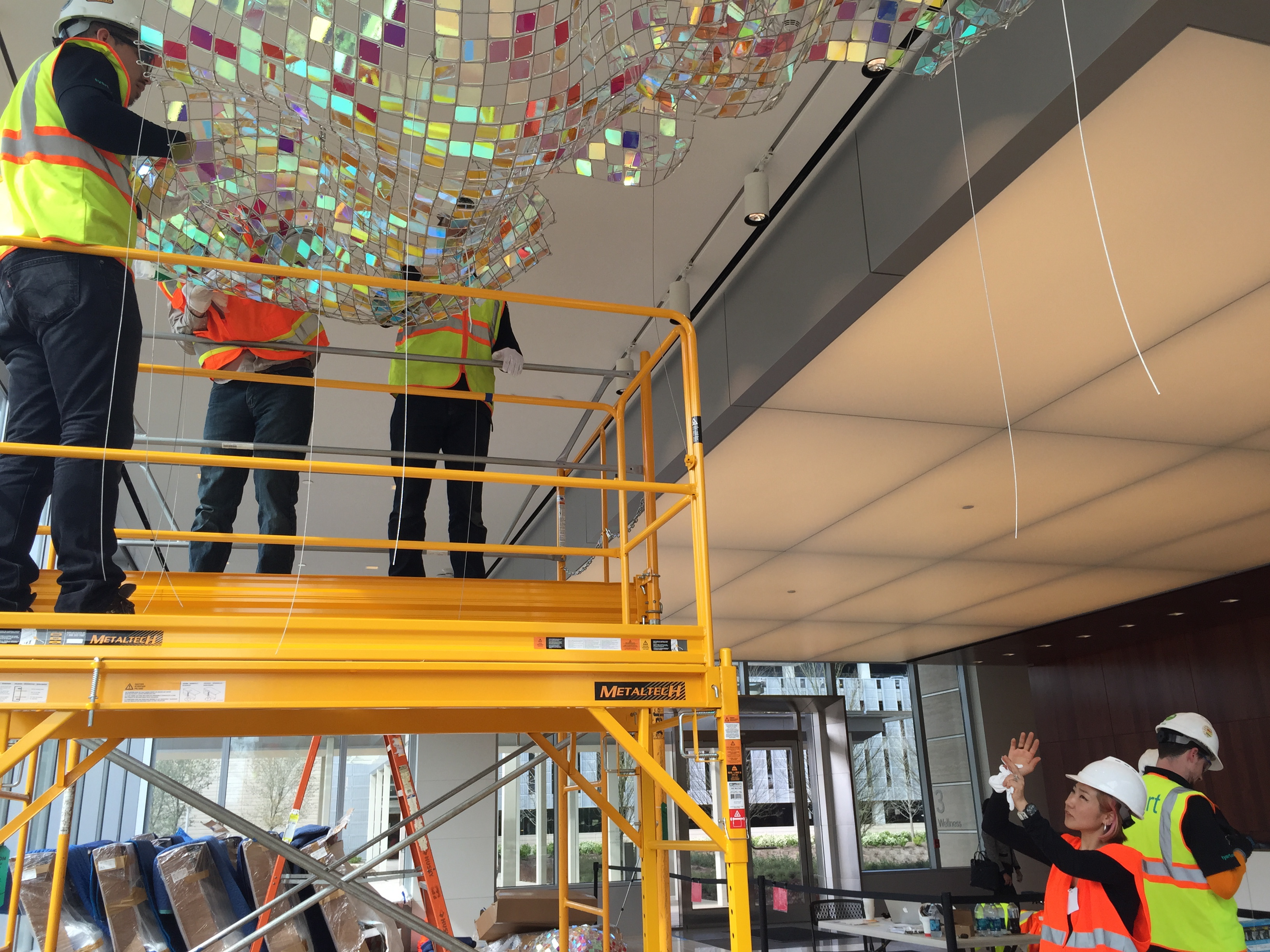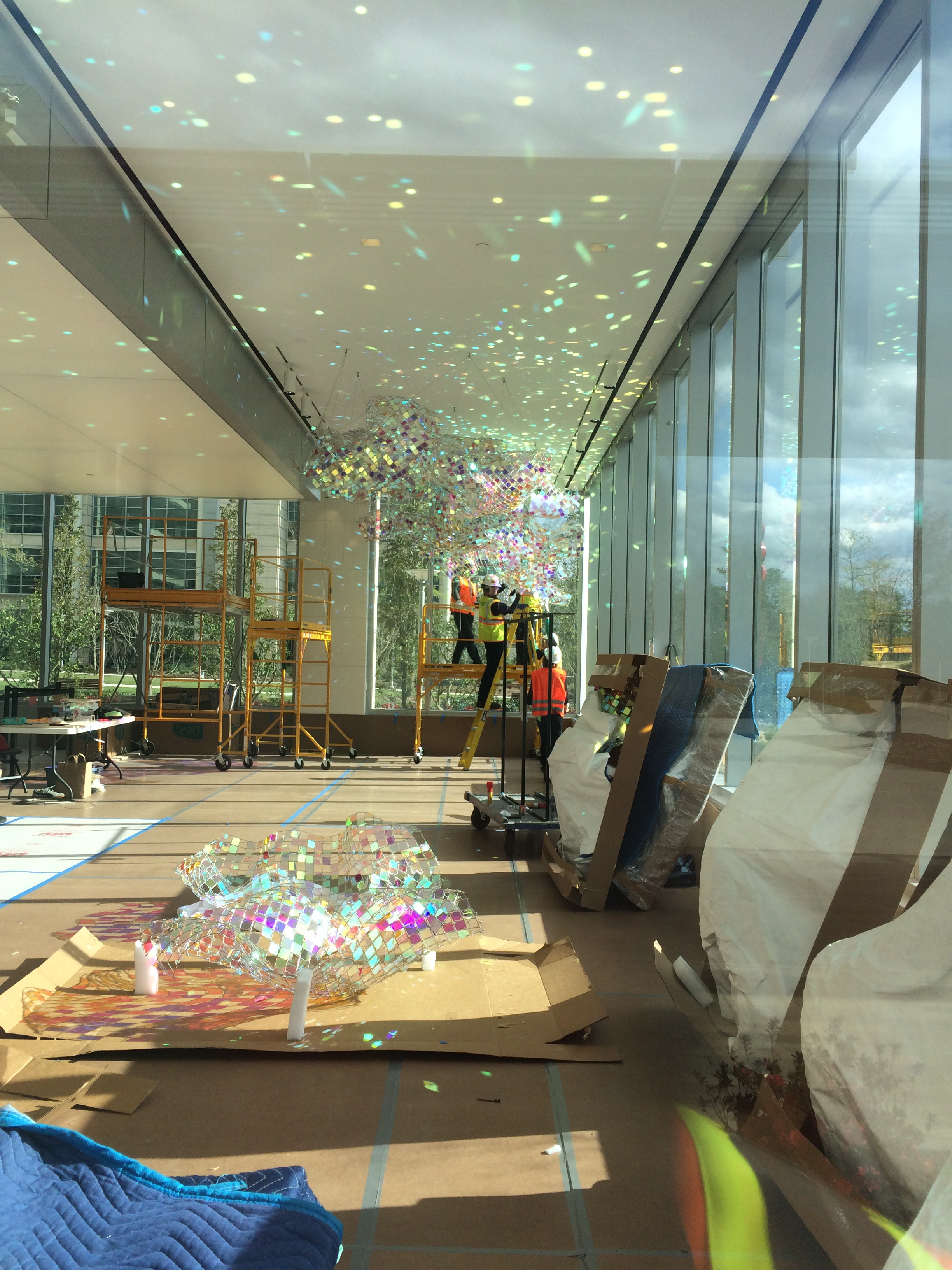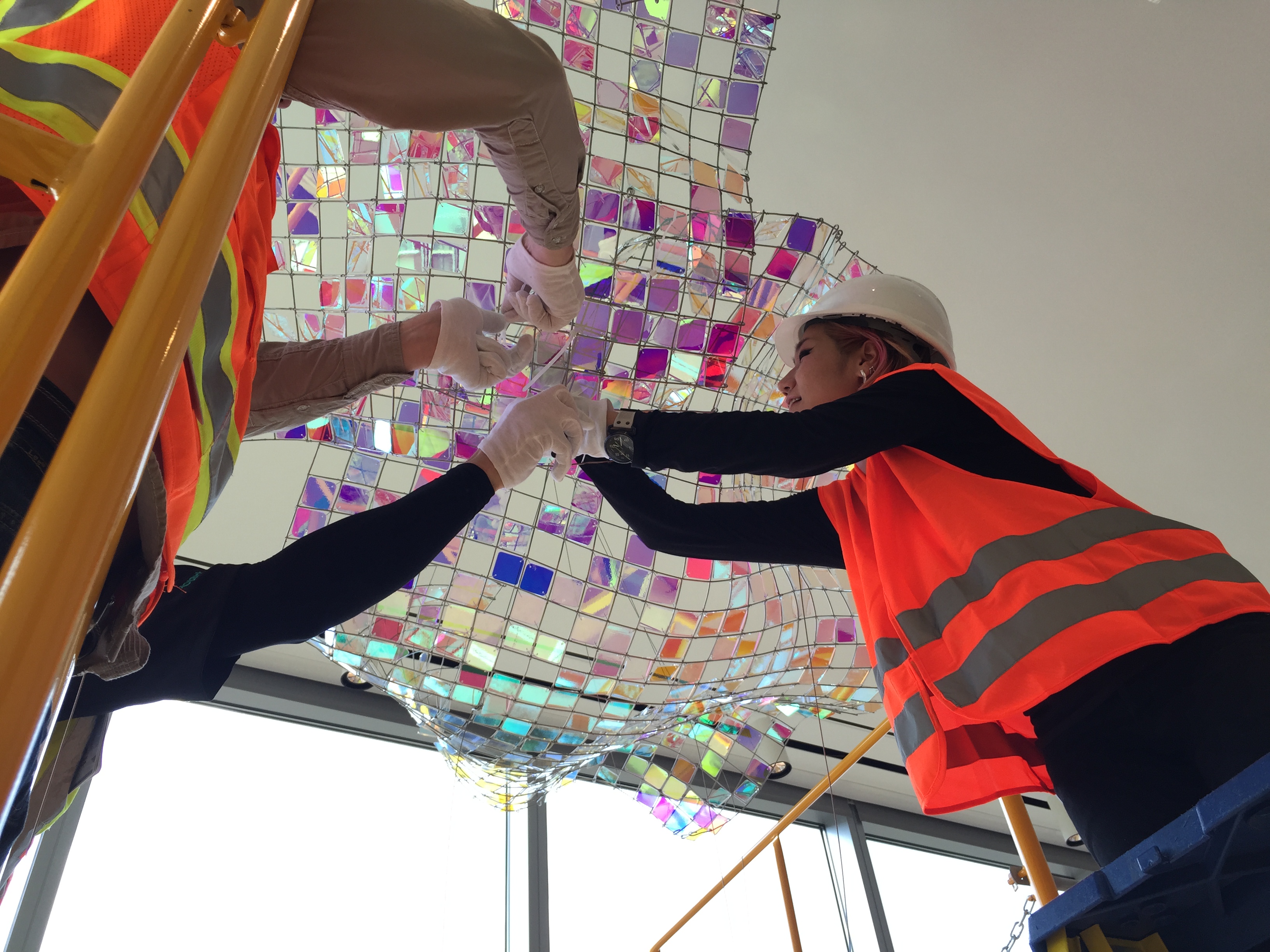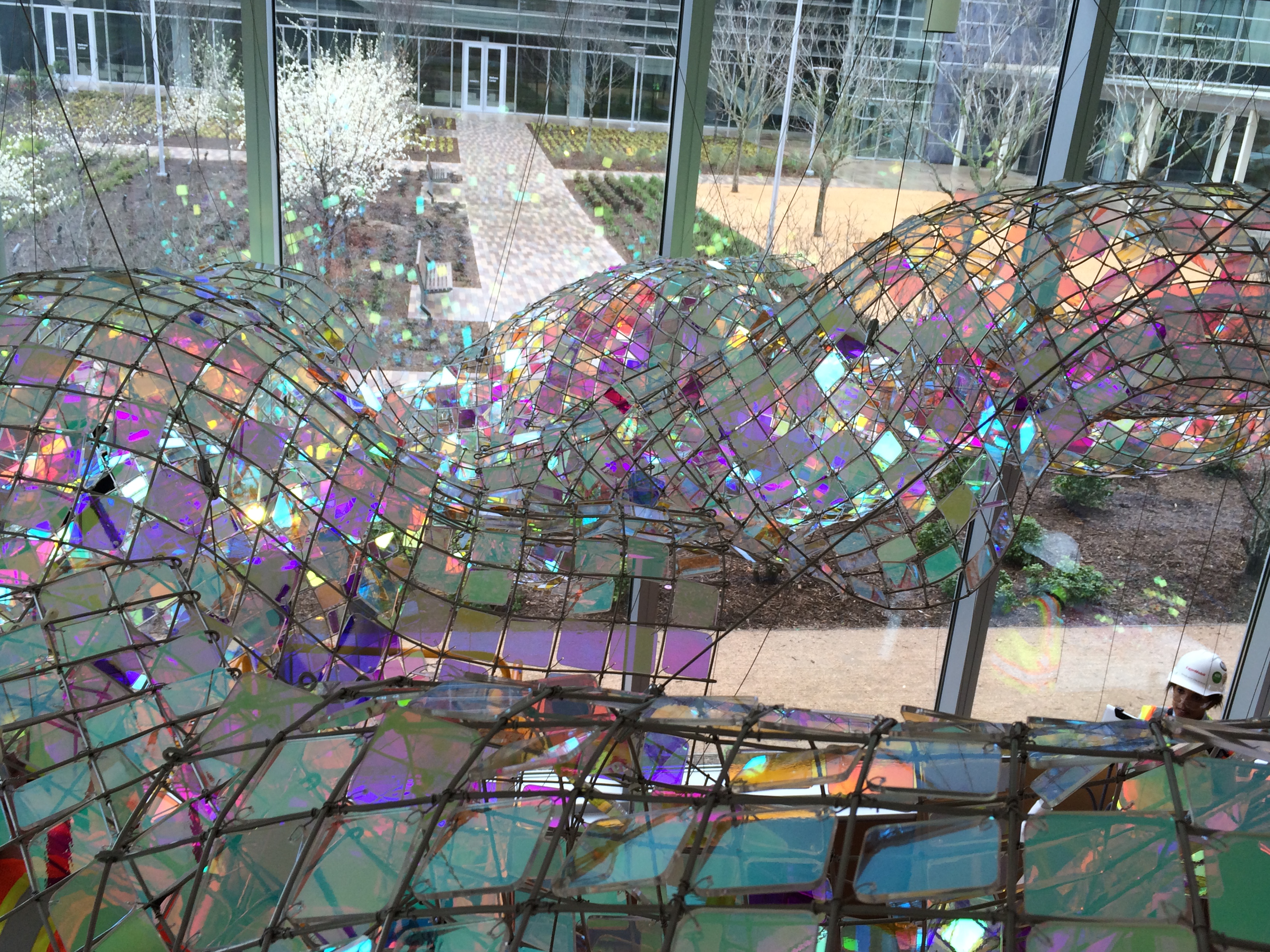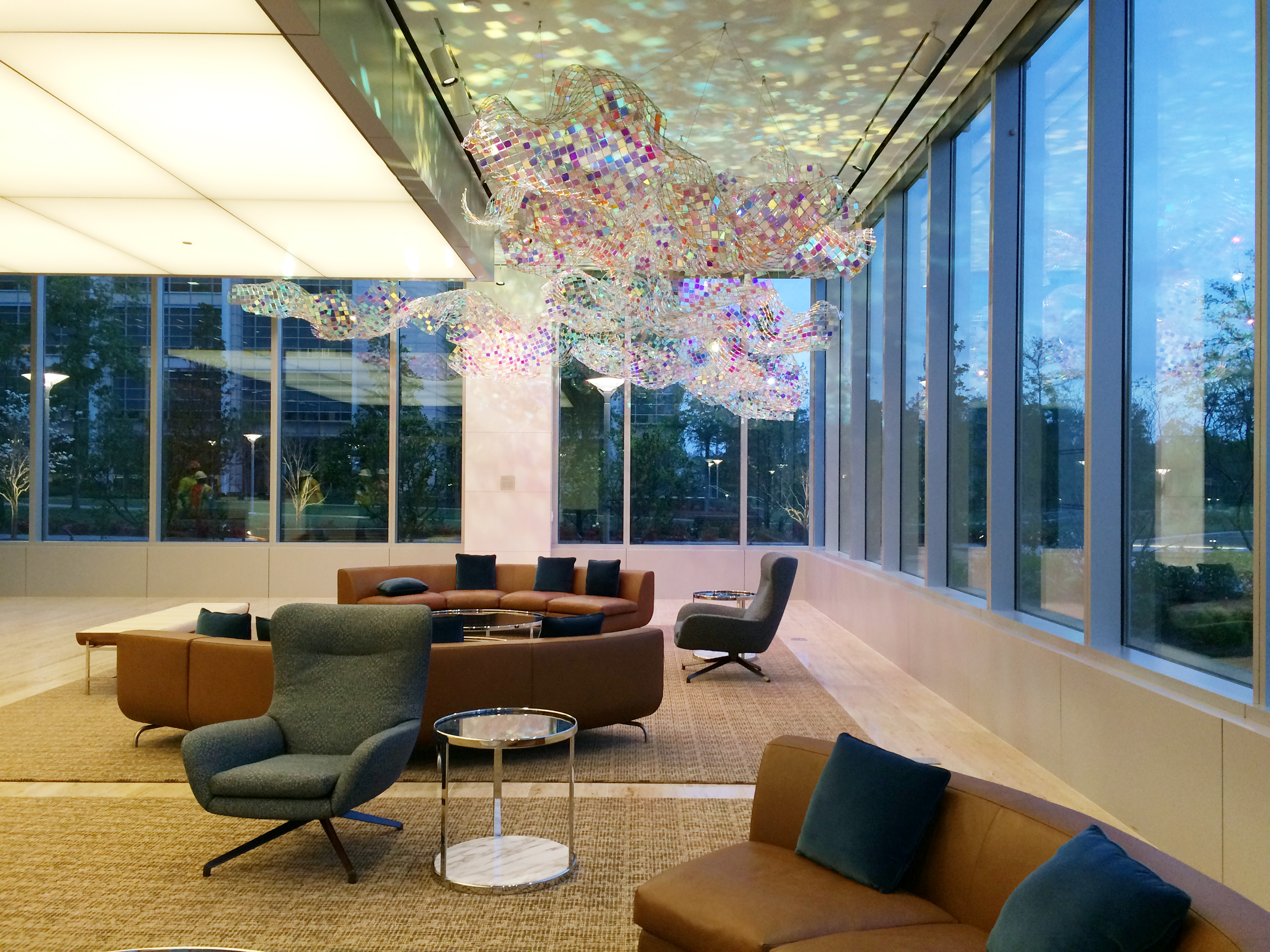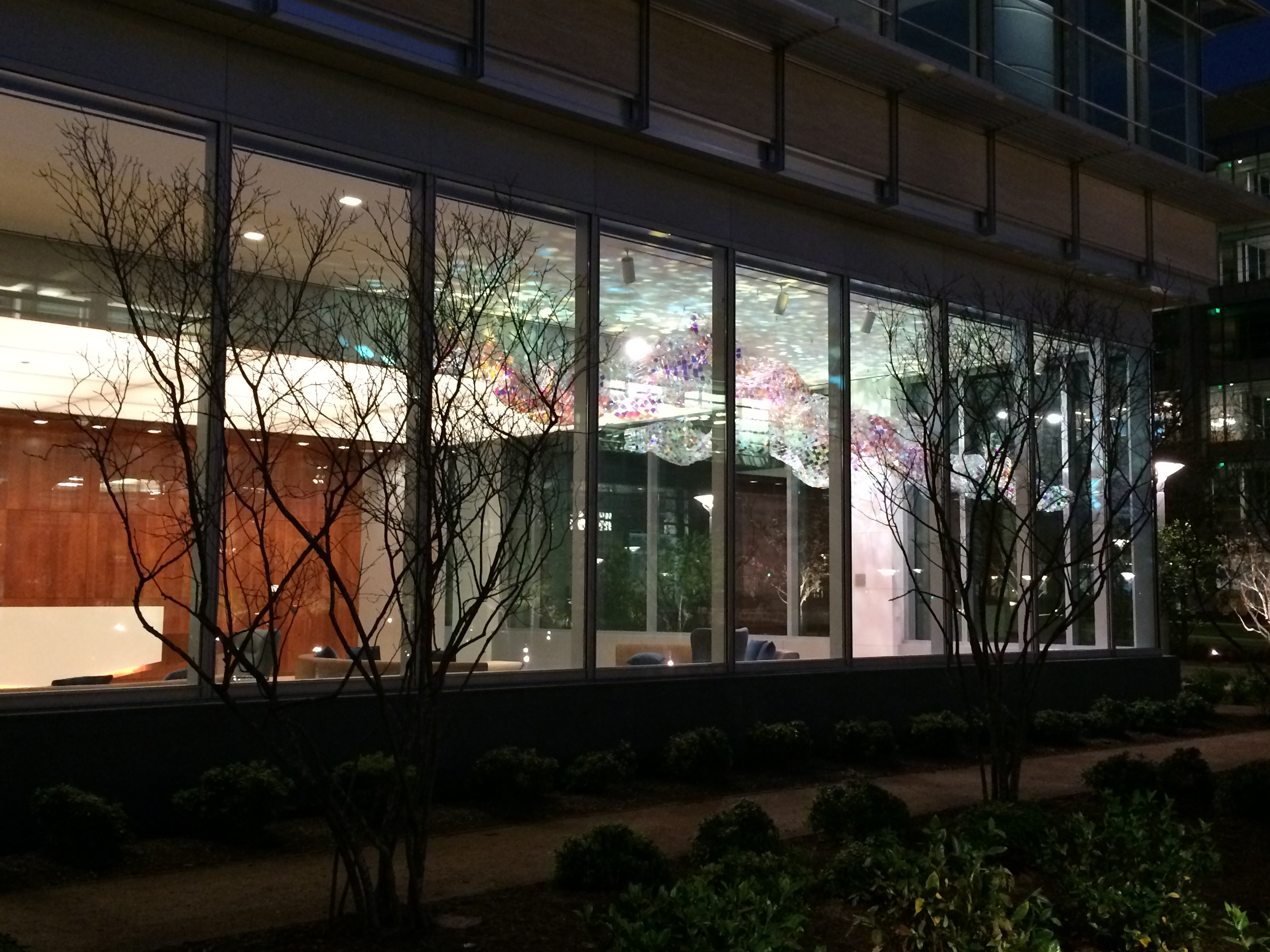 See our time-lapse video of the week-long installation:
Wednesday, January 21, 2015 at 2:26 PM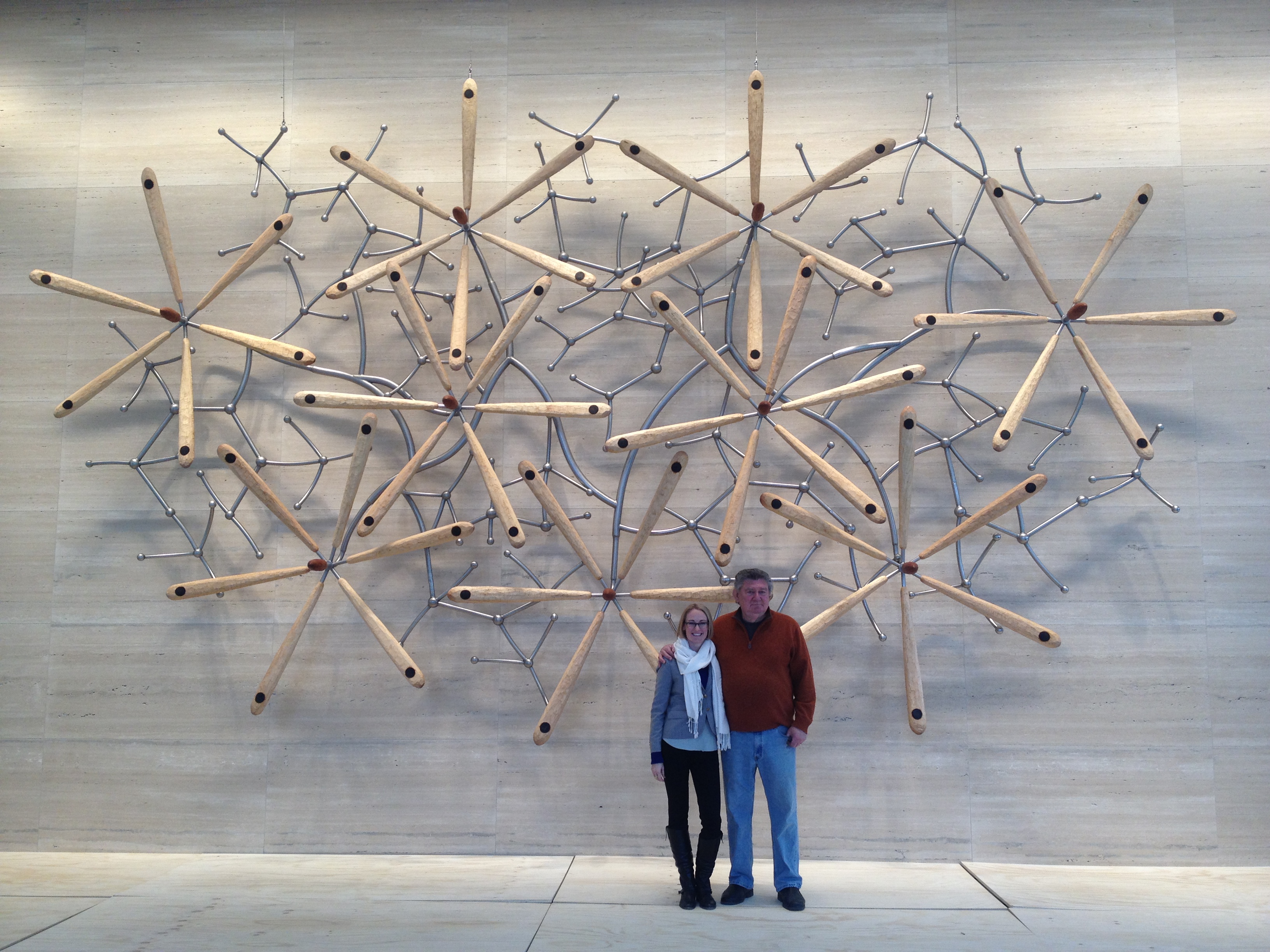 James Surls and Adrienne Johnson
James Surls flourishes in Houston! We were excited to have the opportunity to work with this Texas art icon on his site-specific suspended work that measures an impressive 14' x 25' x 19". Surls' Nature's Language resides in and enhances a corporate lobby in the Woodlands.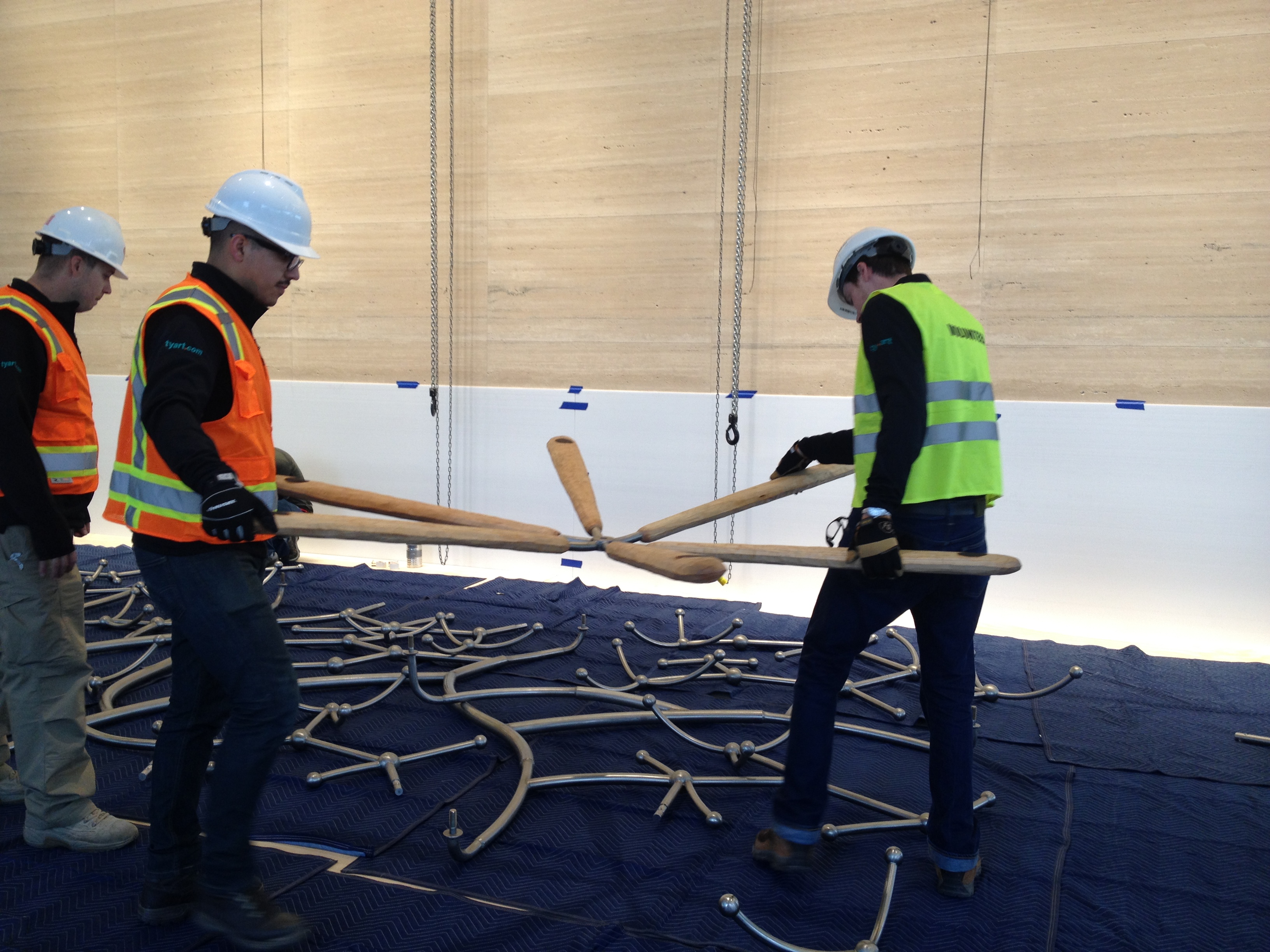 TYart Art Handling expertly installing the sculpture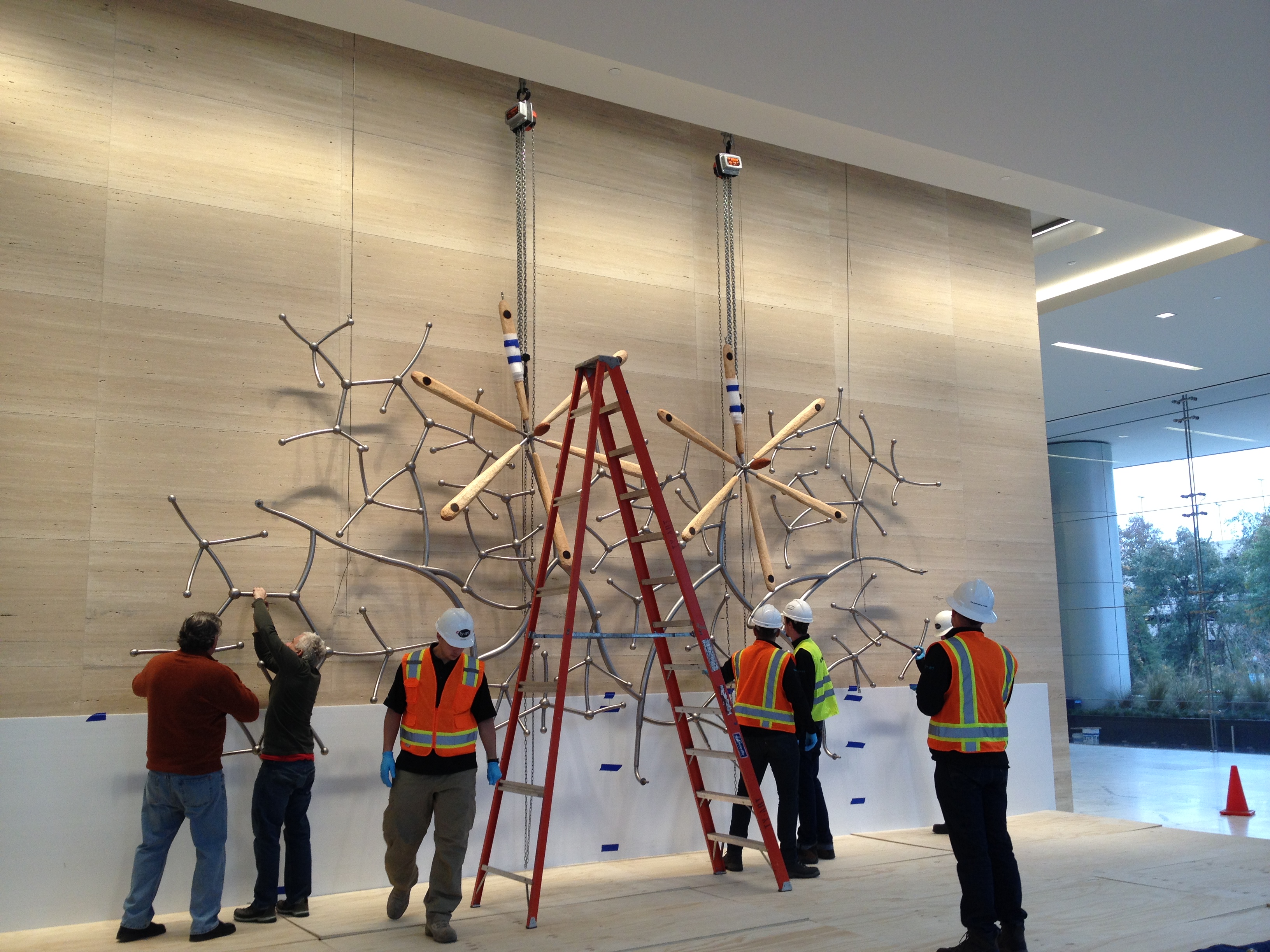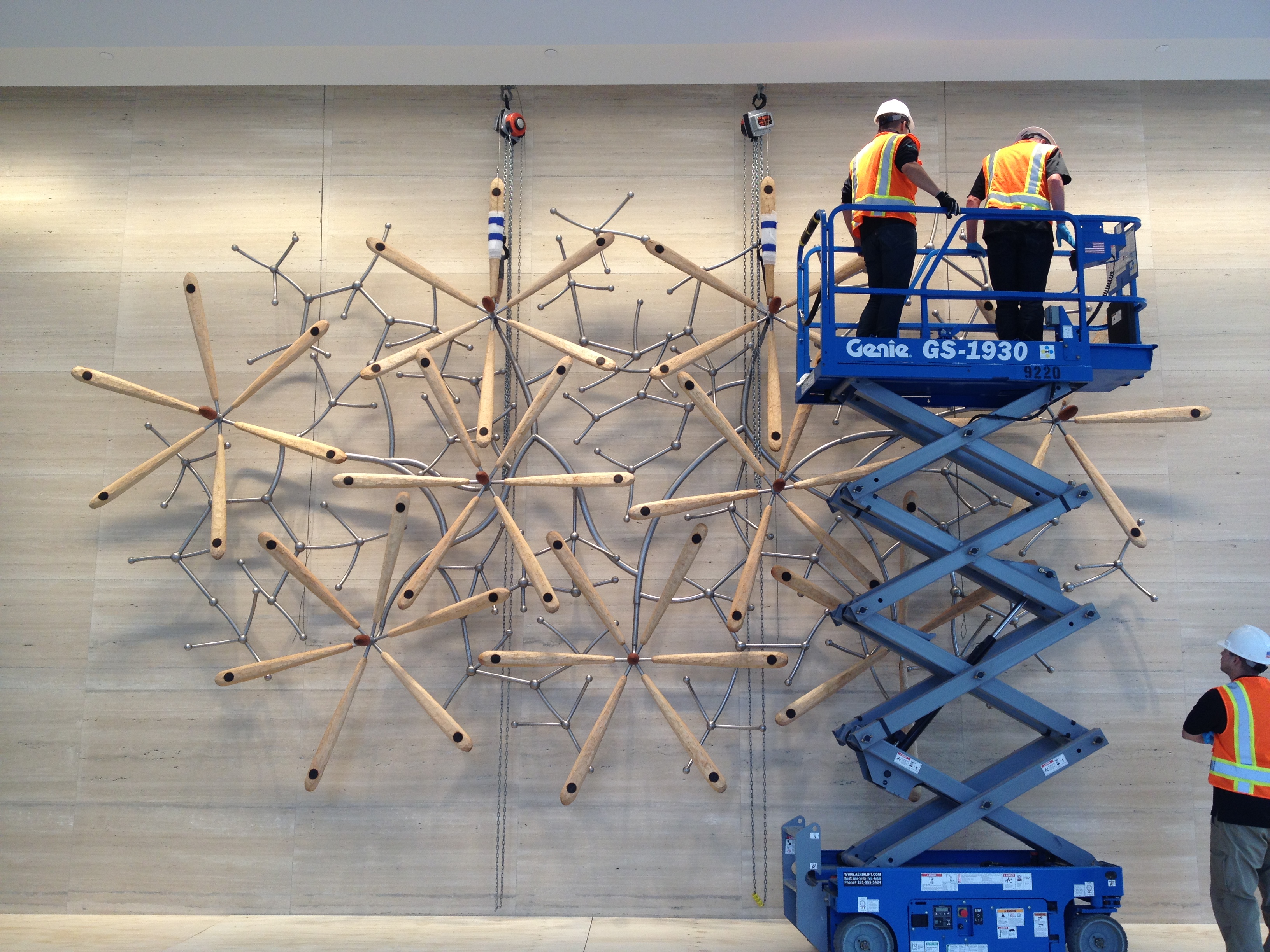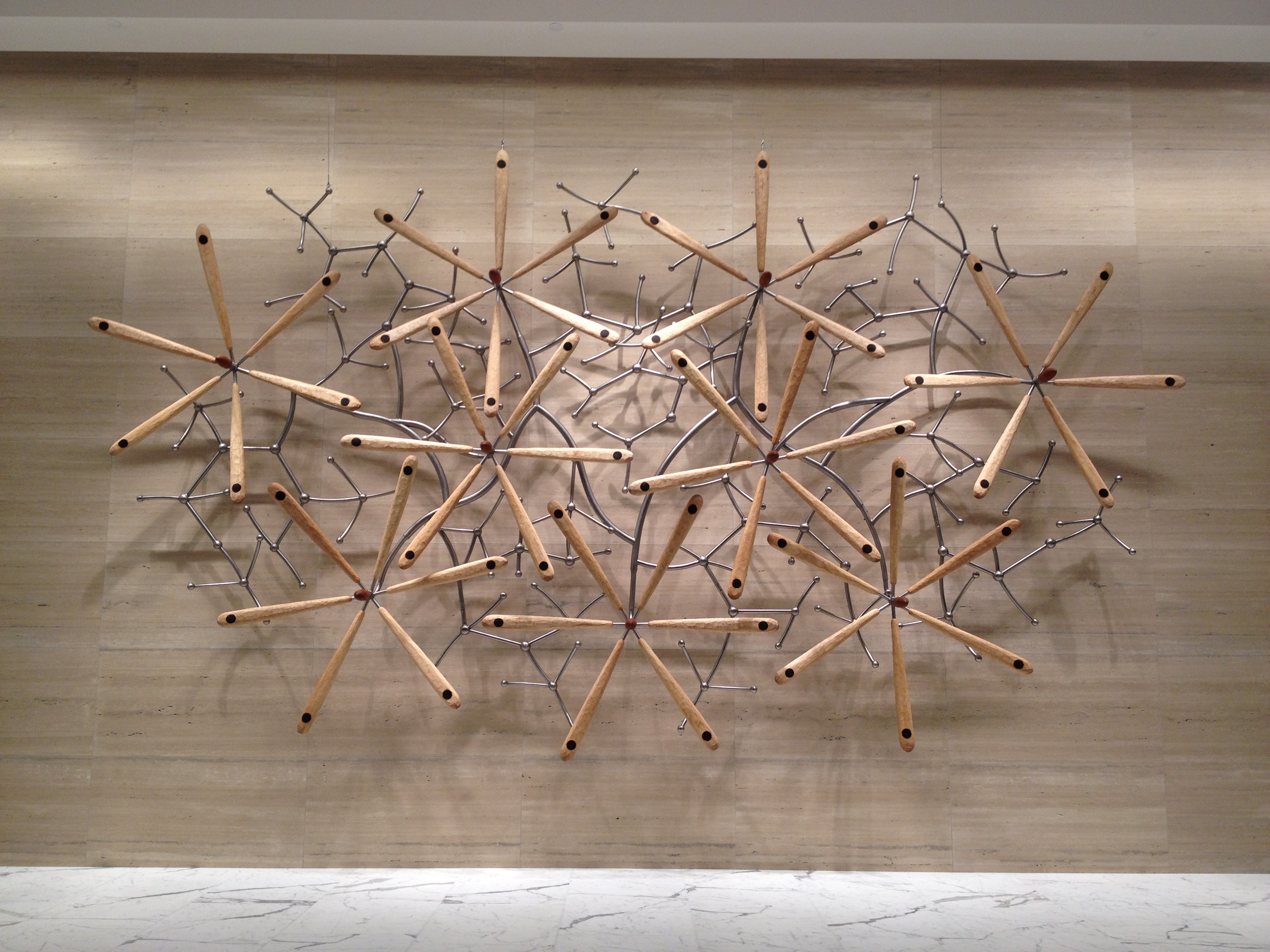 Friday, December 12, 2014 at 12 PM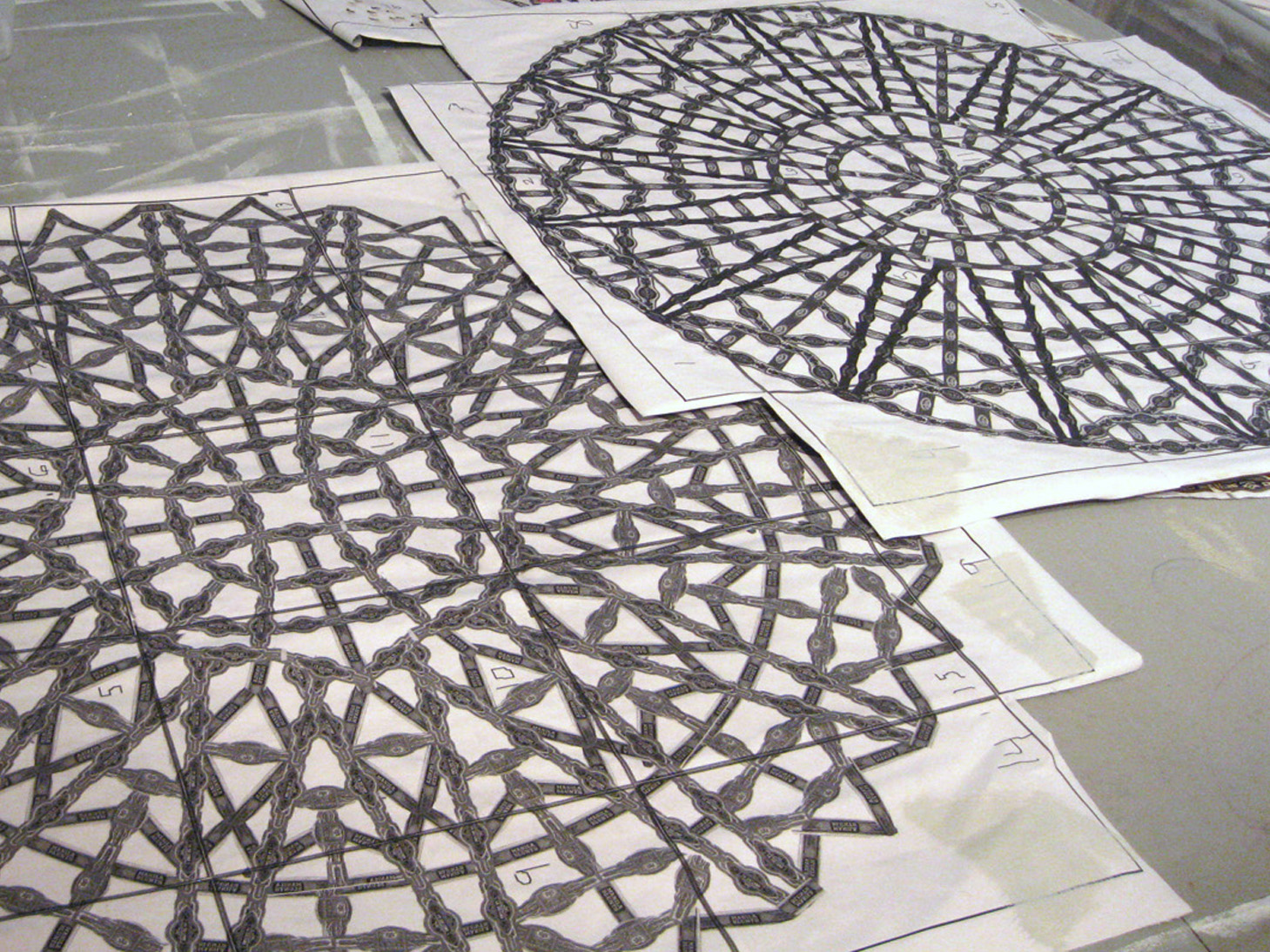 Troy Dugas's templates
Houston's premier downtown private dining venue, The Petroleum Club, is moving to a new location, and we are excited to be working with them to commission artwork that is a reflection of their history, their mission, and their new space. The four artists selected, Troy Dugas, Joshua Goss, Reinhard Ziegler, and Nancy Lorenz are hard at work on their commissions, and we wanted to share some images of their progress. See the completed works on our blog or find them at The Club in early 2015.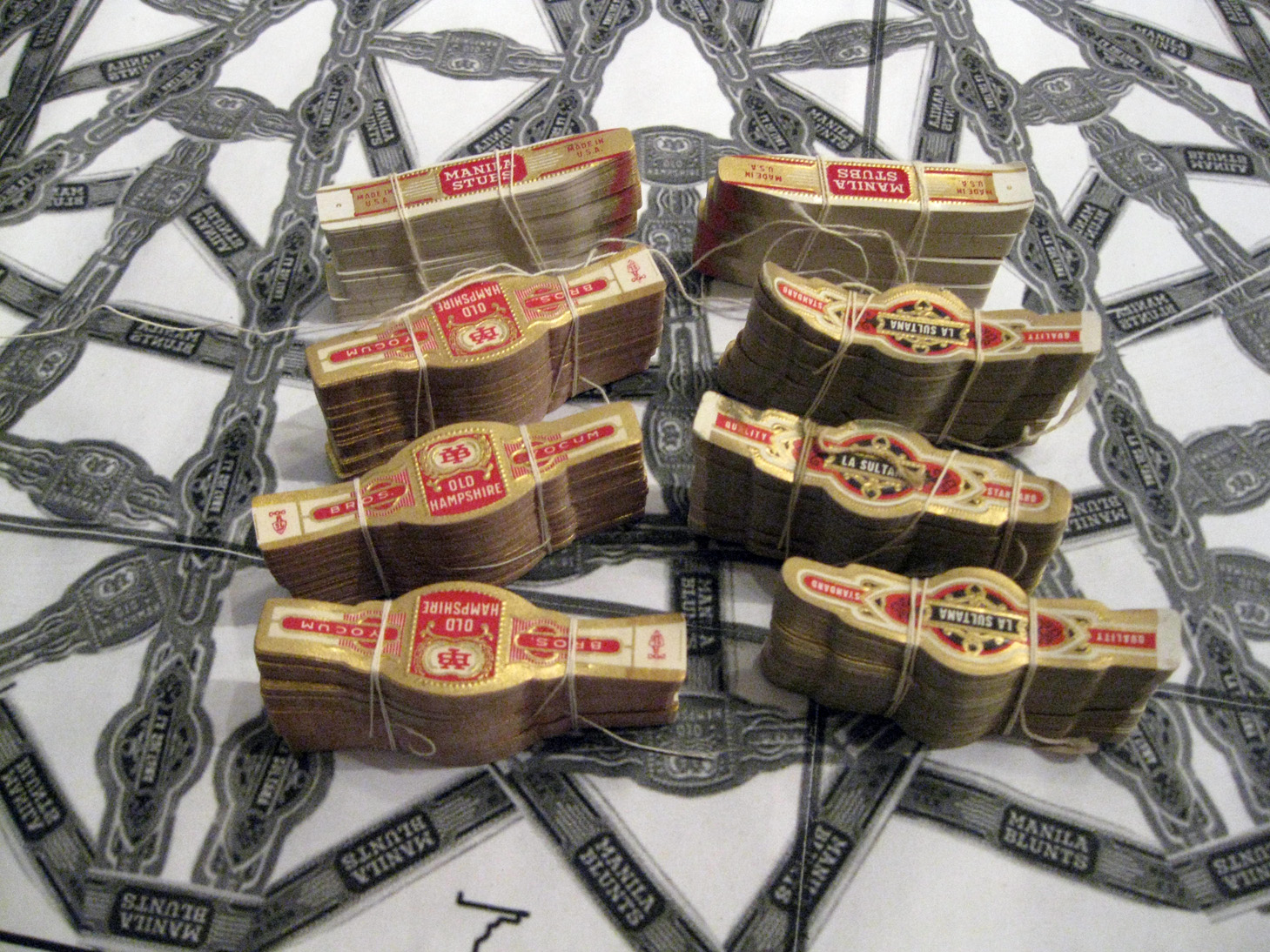 Troy Dugas's cigar labels on top of of his templates
​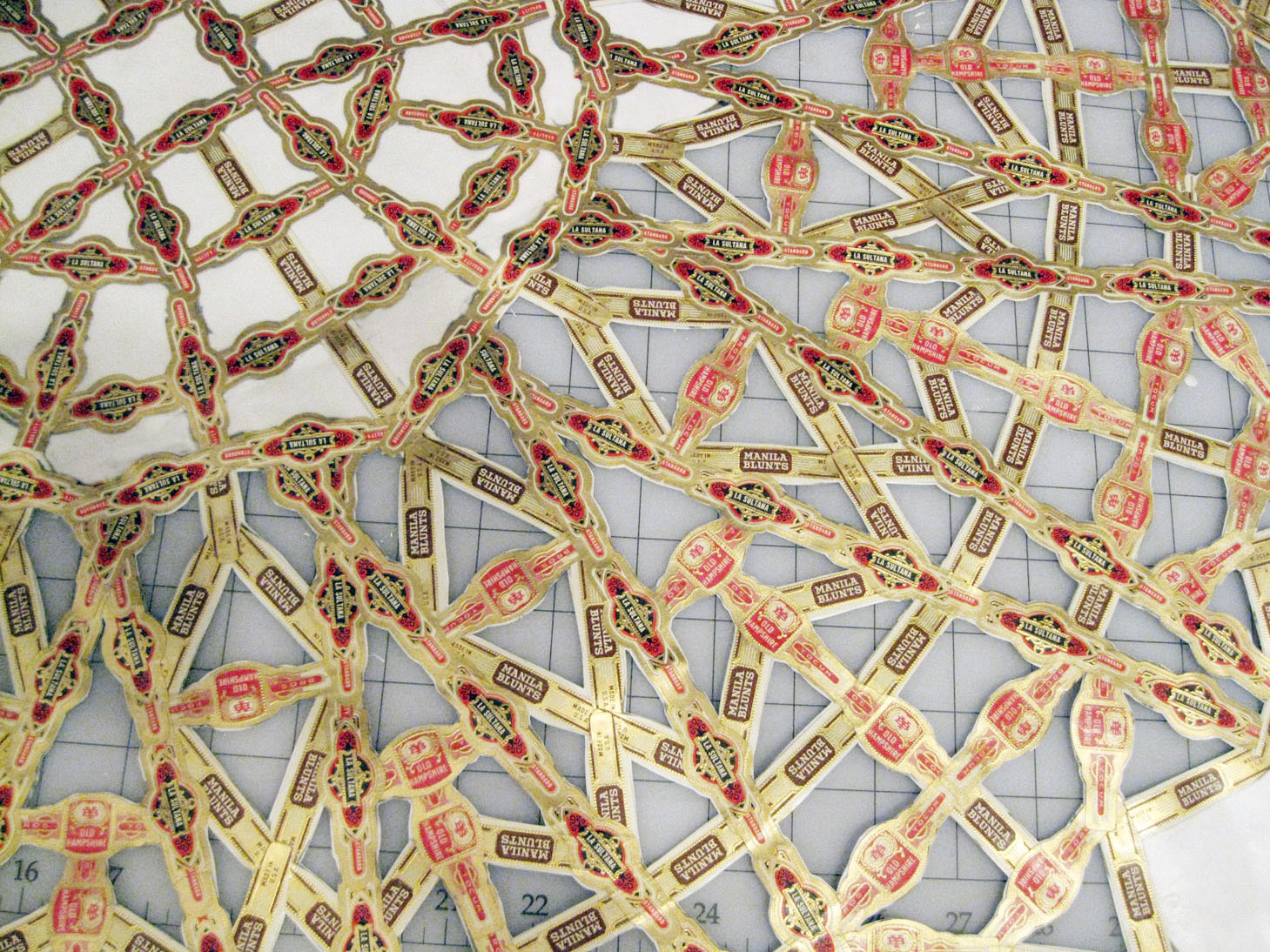 Troy Dugas's cigar labels in place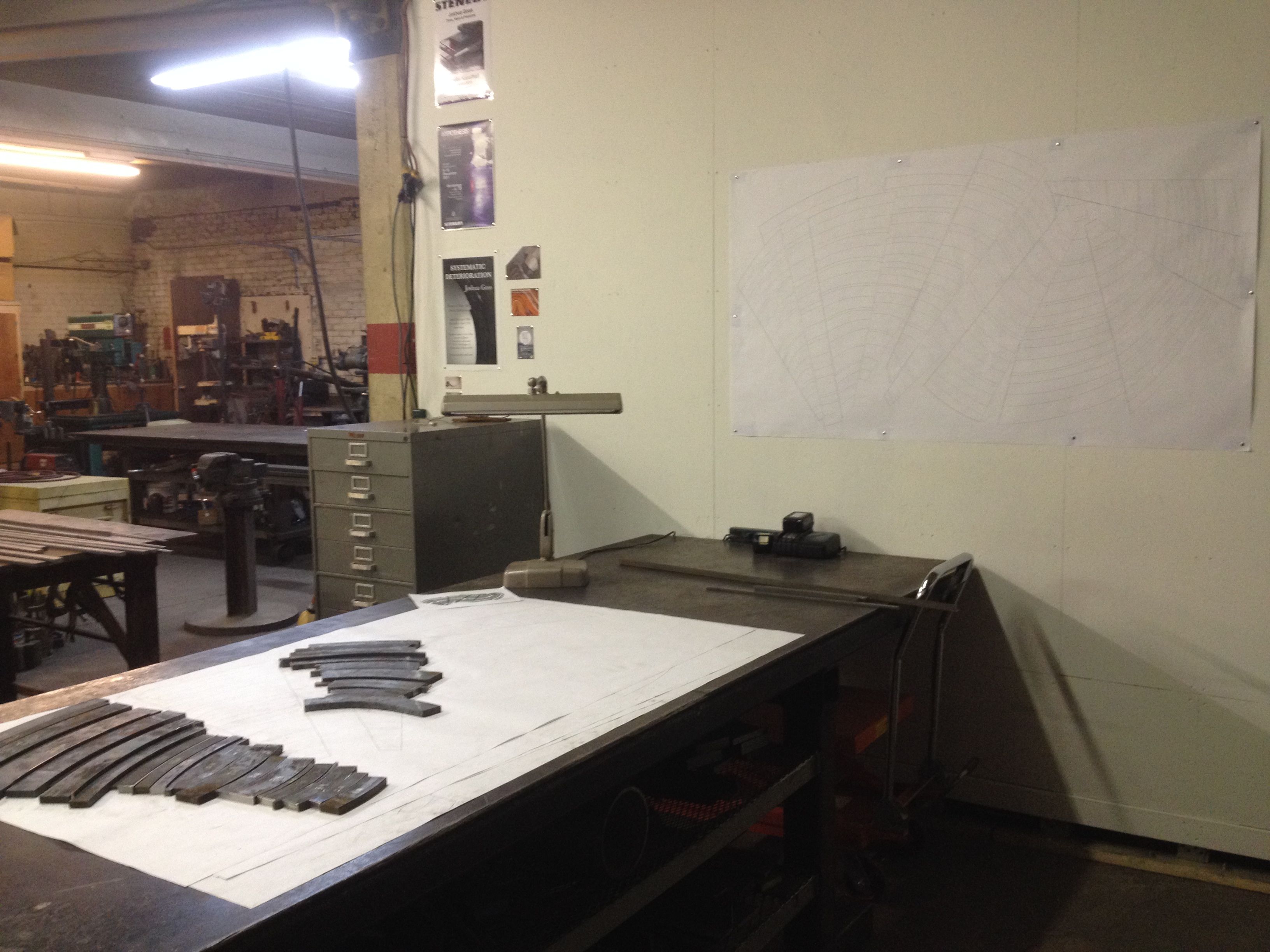 Joshua Goss, piecing together the sections of his wall-mounted sculpture under a to-scale sketch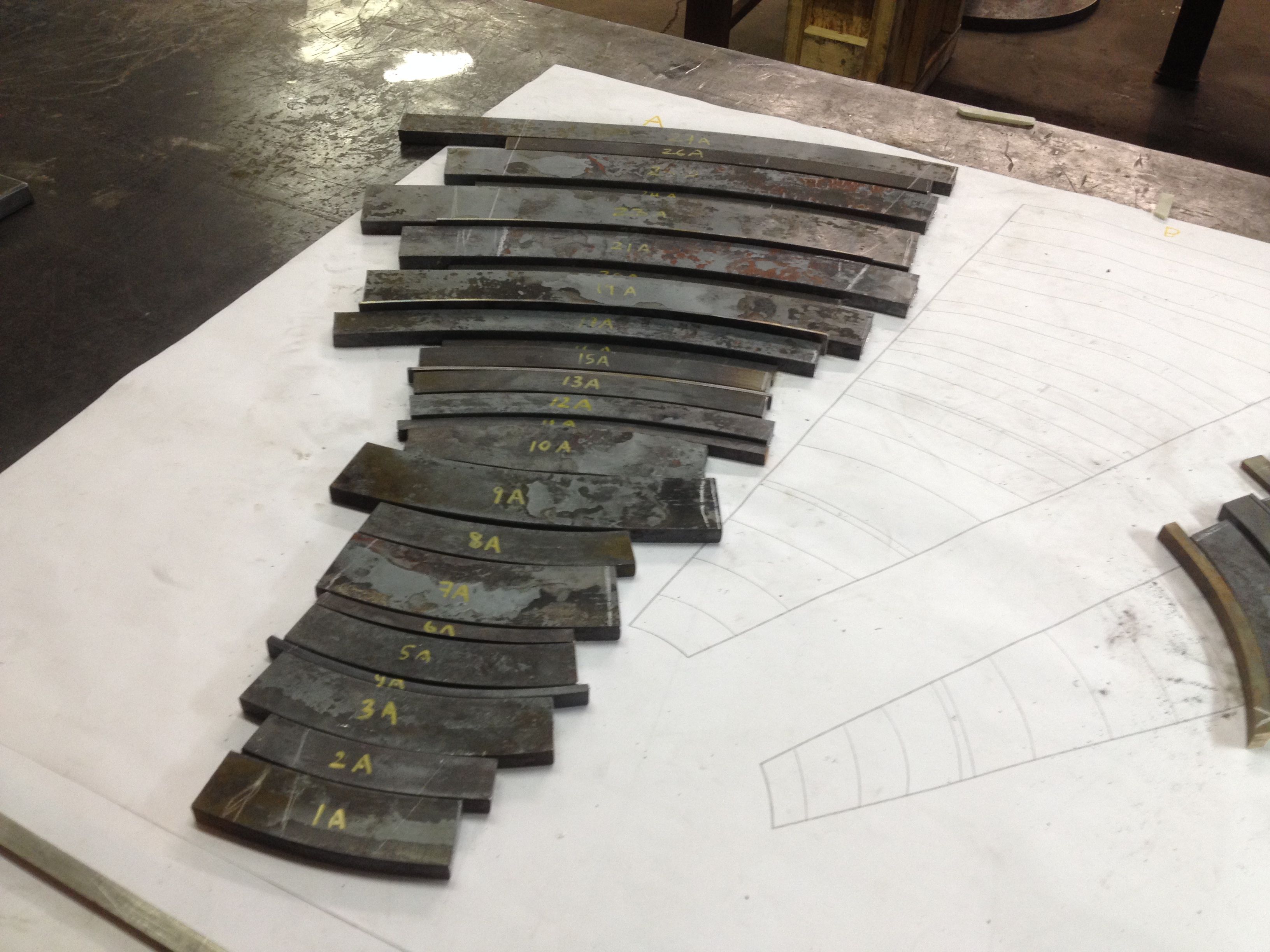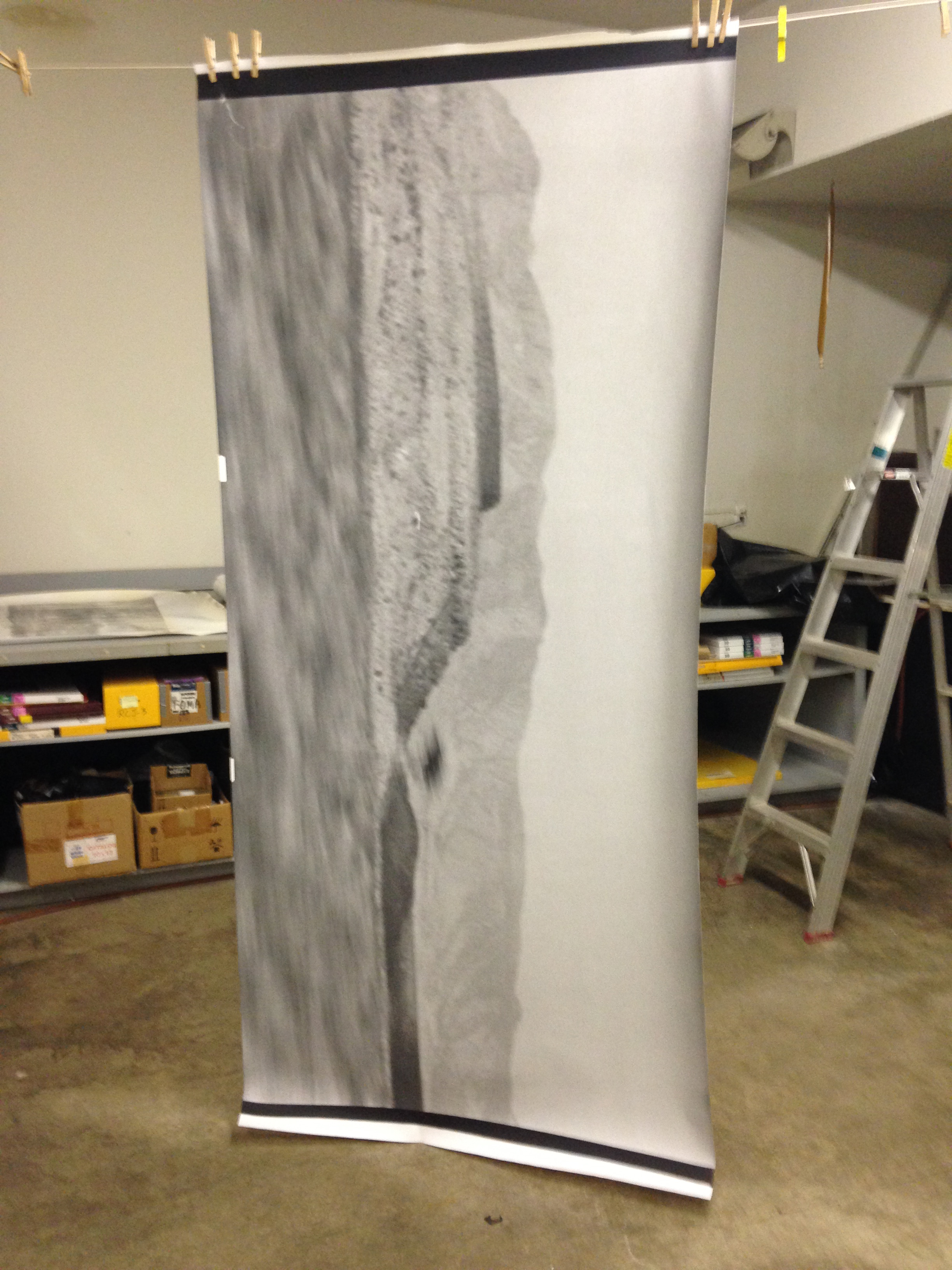 Reinhard Ziegler's photograph drying before the application of pastel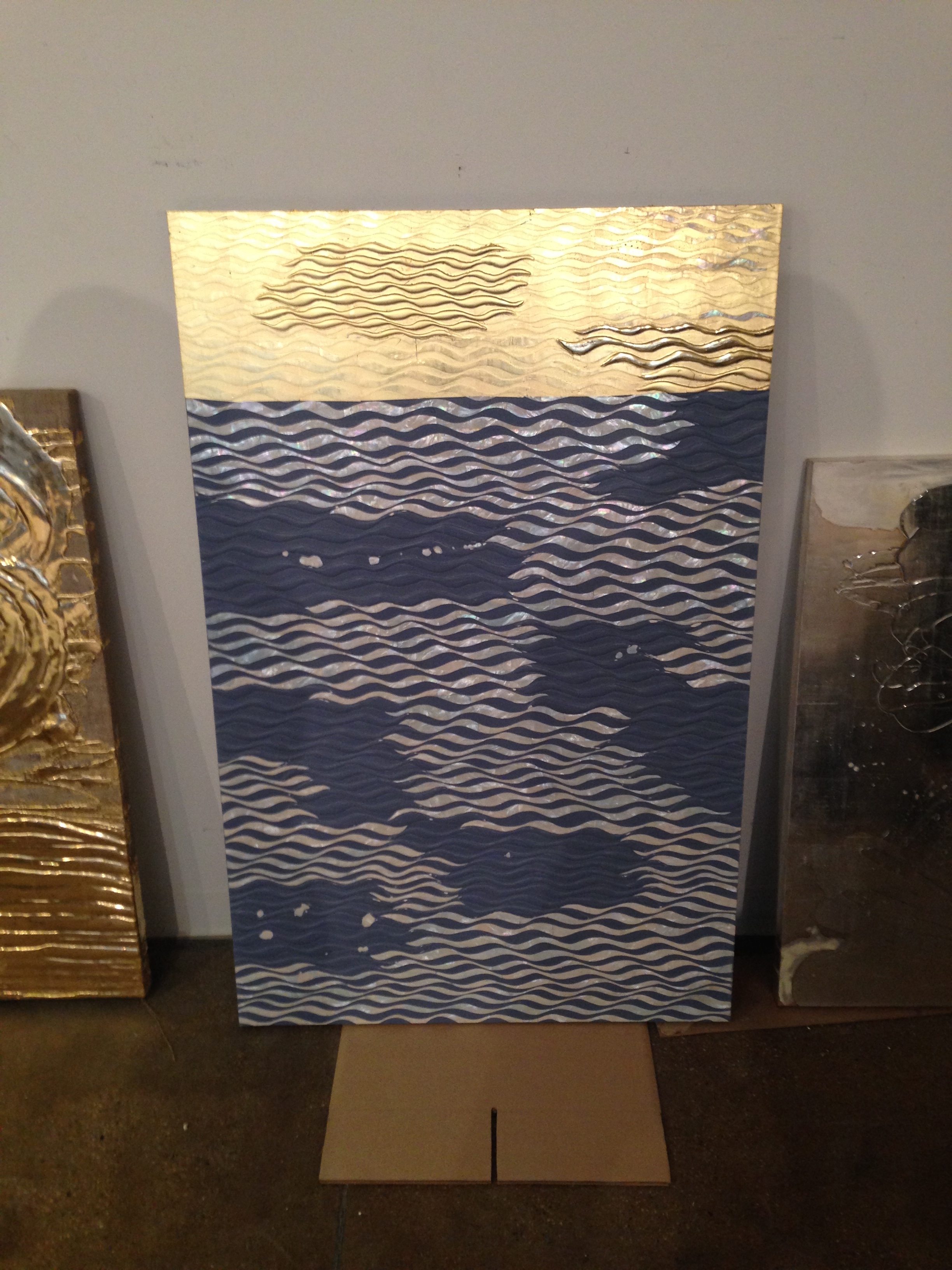 Nancy Lorenz has started to apply gold leaf to the upper portion of the work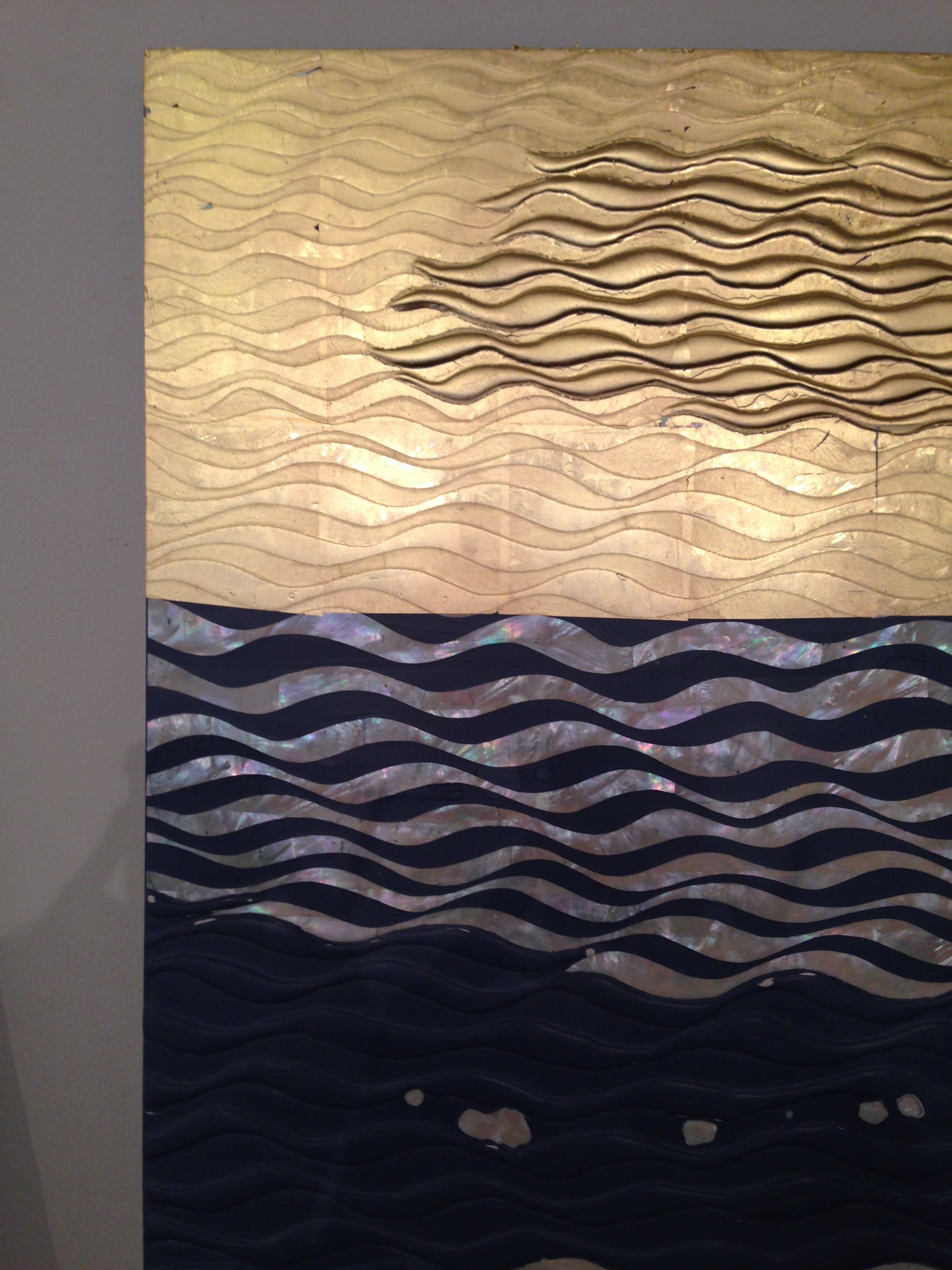 Nancy Lorenz applies gold leaf over the blue and inlaid mother of pearl, then the gold is rubbed away to reveal the mother of pearl below